Sunshine Coast for Kids: Sprockids Bike Park and Roberts Creek Trails
Words and photos by Cécile Gambin
We love the rocky and rooty trails typical of our local riding hole but this particular weekend we craved loam. We hopped on the ferry from Horseshoe Bay towards Langdale in search of that elusive much needed brown pow.
Using Trailforks we settled on The Sprockids Bike Park, just outside Gibsons, and the Roberts Creek Trail system further up the road on Highway 101. These two trail networks can be ridden in a single day by established riders but with two children we opted to stay overnight. This also allows time to fully explore both areas while making the price of the ferry worthwhile.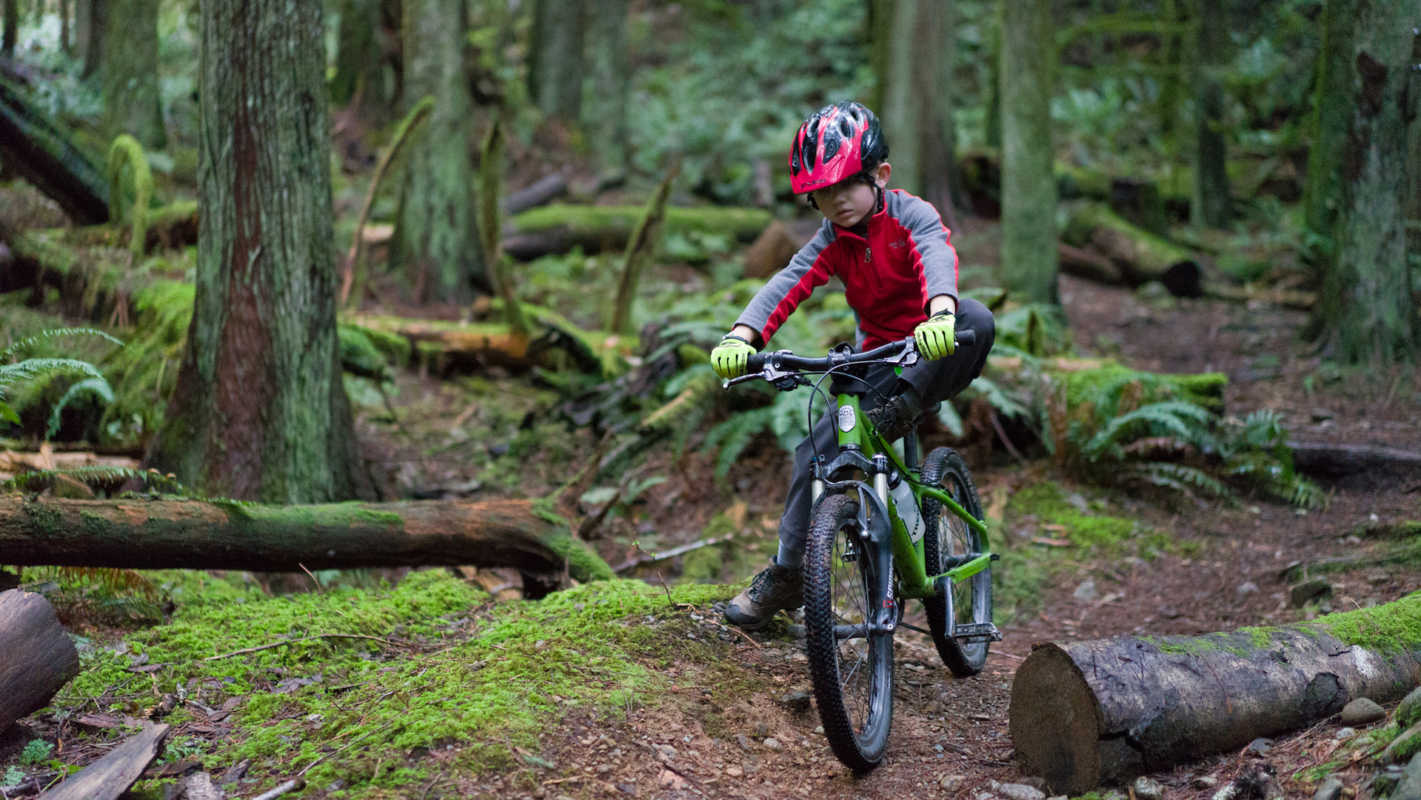 Our criteria for finding age-appropriate trails are simple – fun with minimal climbing. I stress minimal because I know it's a fallacy living in a mountainous province. But, with proper planning a trail system can fool children into riding uphill without really knowing exactly how much uphill they have done. And this was perfectly executed at the Sprockids Bike Park.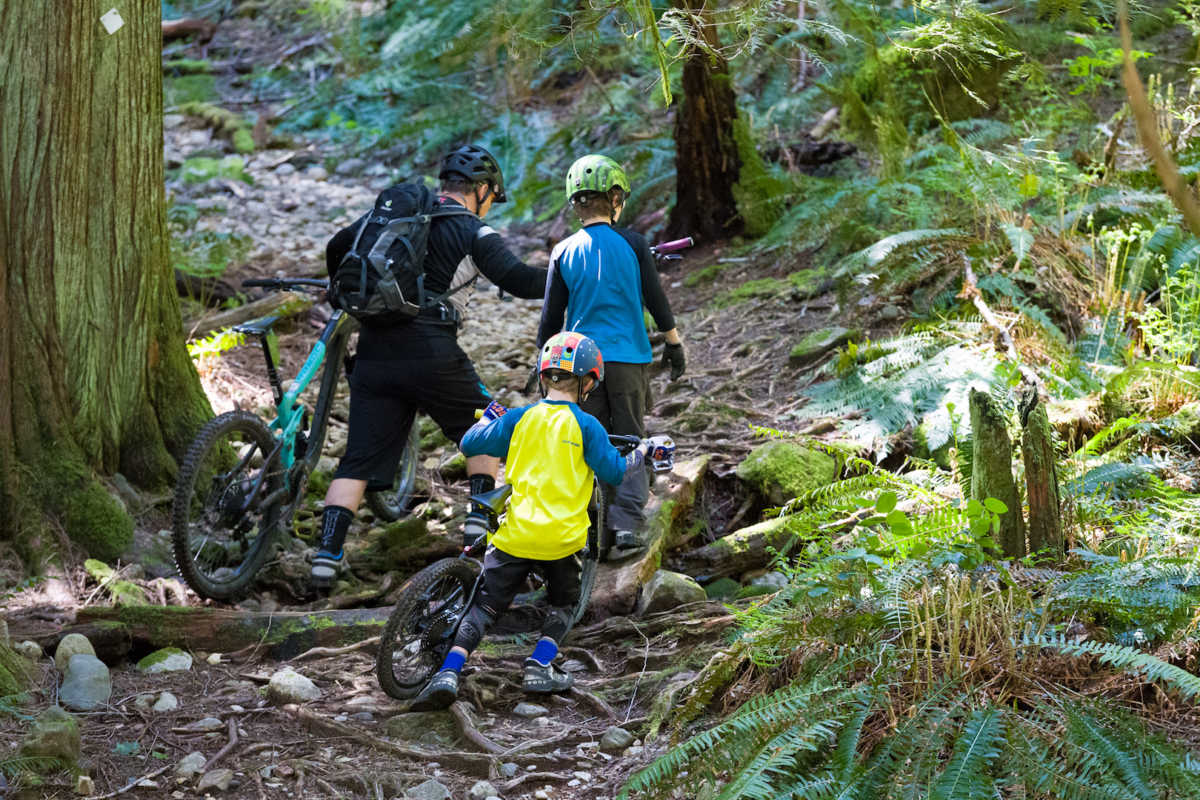 Charging out of the lower parking area there is a 382m gravel climb which proved to be the worst for our kids aged seven and nine, simply because they find gravel roads boring. I really can't blame them. At the end of the gravel road there is a welcome board. Beyond this, over 14 km (8.6 miles) of single track bliss rocked our world with 6 green, 21 blue, 9 black, and 2 double-blacks. There is flow, steep, and technical and a few trails with jumps, drops and wall rides. With fun trail names like Pineapple Express, Schoolz Out and Ankle Biter our children were eager to explore. There were a few hike-a-bike sections but for the most part our children did well and climbed the majority of the time. Most importantly we found the brown pow.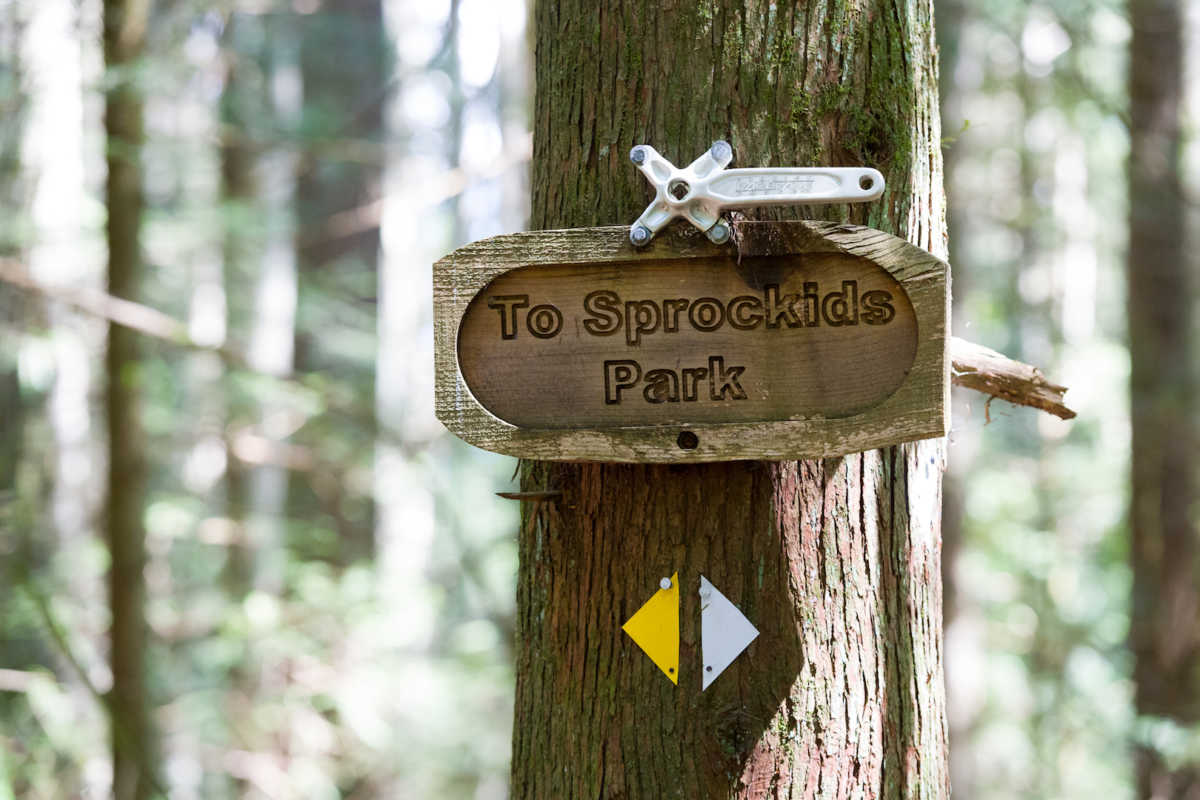 After a solid two hours ride we found Sidewinder and followed it outside the park limits. This is a gorgeous loamy trail that meanders across the mountain side with roughly 200m (626 feet) of climbing. We crossed over a bridge, checked out the large waterfall on our right, and continued climbing. Part way through the trail our youngest renamed it the 'Tired Legs Trail' because it just kept going. Luckily for us, so did he. We looped around using a combination of White Trail, The Ridge, Fuzzy Hugs, Stinger and Ankle Biter and finally to Pineapple Express. Our children were now comfortably numb and ready for dinner.
We chose to eat at the infamous Molly's Reach restaurant in Gibsons Landing. After showing them YouTube footage of The Beachcombers our children looked at us funny as my husband and I talked about a by-gone era of great Canadian TV with shows like Mr. Dress-Up, and The King of Kensington.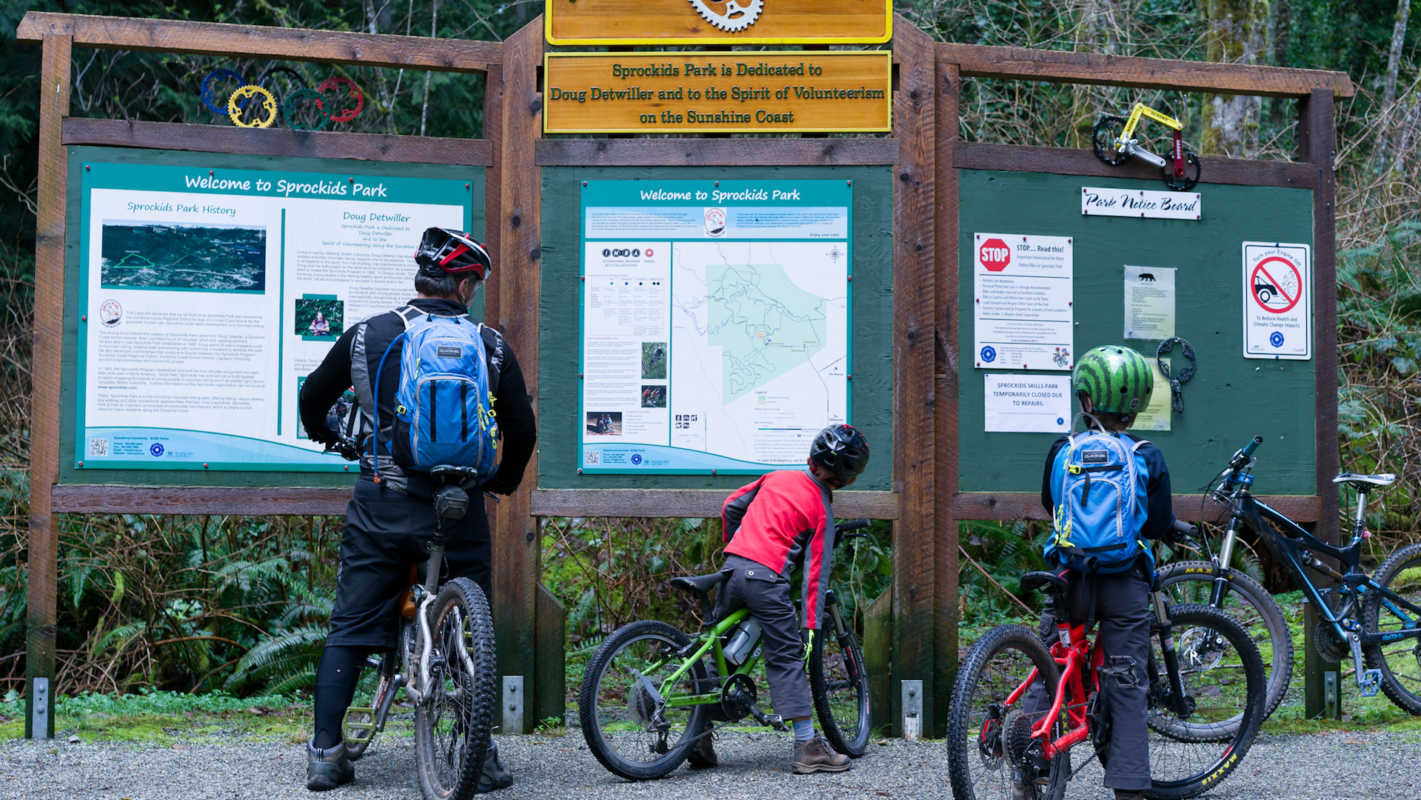 The next day we headed towards Roberts Creek – a less than 15 minutes' drive up the main highway and onto Largo Road. We parked our car a kilometer up the road. Locals greeted us and highly recommended the areas' infamous Mach Chicken trail. We checked both Trailforks and our local app (Trail Mapp for Sunshine Coast) for any single-track climbs but a lot of the trails were either one-way downhill or they were closed for trail issues. Not knowing the trail system well we opted to take the B&K Logging Road North.  After a long day yesterday, the kids were tired, and in hindsight we should have shuttled them up the road to Guys Gulch Access.
But what goes up must come down and the effort of climbing is worth the reward. Mach Chicken is all it is claimed to be – a fast, 1.6 km (1 mile) hard packed, bermed downhill with easy drops and lots of fast-flowy action. There is a big jump towards the end but it is well-marked with an alternate line. The kids loved MC, as did we, and the trails leading into it. With more brown pow we embraced the gigantic trees and mossy-green trails typical of the West Coast.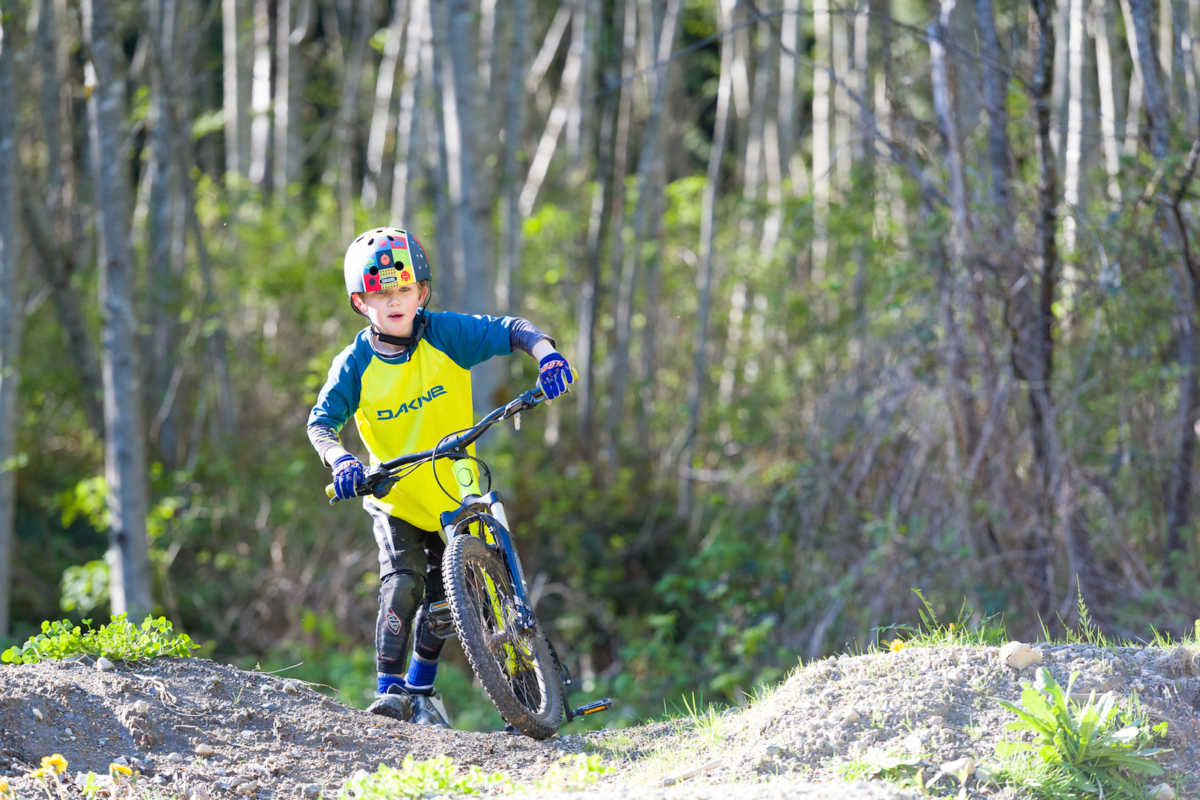 The Roberts Creek mountain bike trail system is extensive with 24 green, 74 blue, 13 black and 3 double-black and is the most popular riding area on the Sunshine Coast. There is lots of climbing, fun descents and trails with flow, jump, stunts, and steeps.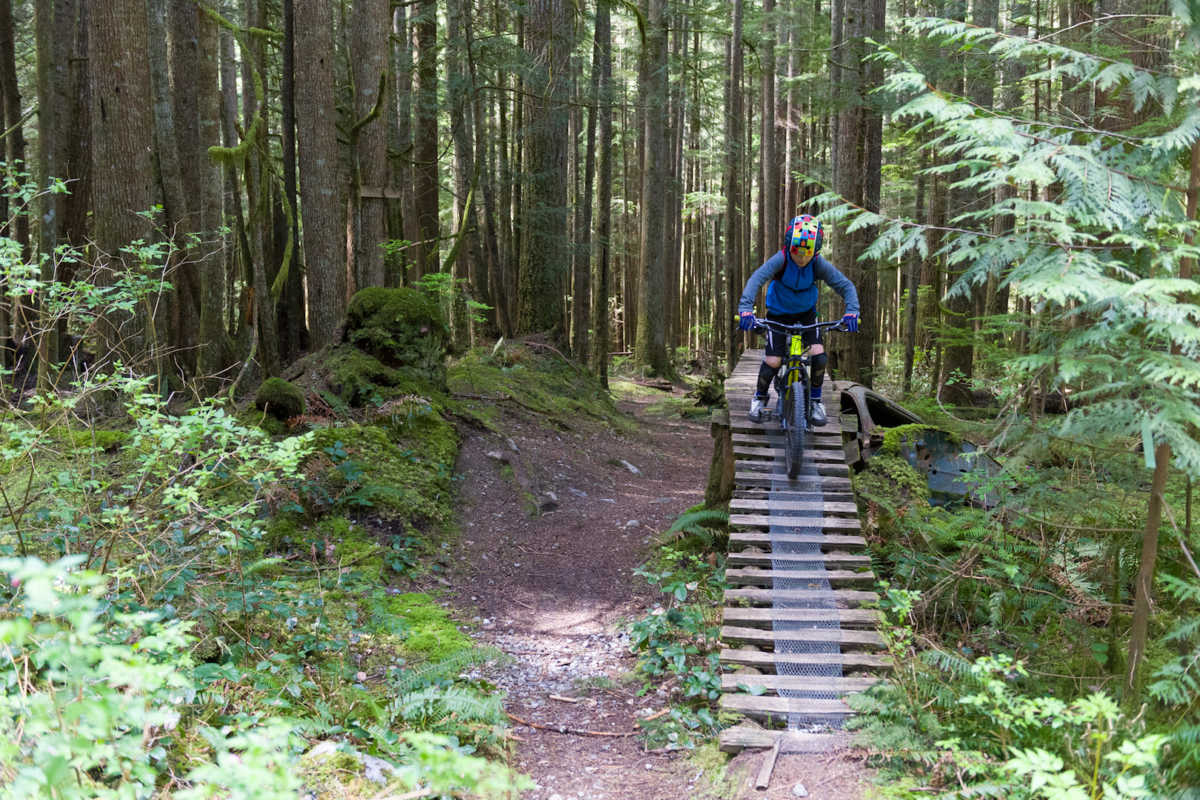 If you are paying for a ferry ride than it is worthwhile to check out both riding areas. However, we found the Roberts Creek trails not as well suited for families with children because of the amount of climbing. In contrast, Sprockids Park is better for young children and beginner adult riders as the trails are more xc-like and loop back to the start area making it a friendly place to ride and circumnavigate. Take note, Sprockids is on the side of a mountain so many of the trails are steep however, together, with the skills area there are enough trails with minimal climbing to keep young people, and beginners alike happy.