Ride Ideas
Okanagan Singletrack

Experience British Columbia's Most Diverse Bike Trip
The Okanagan Valley, in British Columbia's Southern Interior, is unparalleled. Here there are countless opportunities to enjoy the "good life" with a mix of adventure and comfort against the stunning backdrop of the OKanagan's golden hills and turquoise lakes. These trails take you from mighty mountains to lush lakeside orchards, world-famous vineyards to Ponderosa meadows in semi-arid landscapes, all connected by Okanagan Lake. Riding the mountain biking communities of Vernon, Kelowna, and Penticton will take you through boundless trails with technical descents, dramatic downhill runs, wide open rail trails, and fast and fun singletrack.
Ride statistics
Riding Communities

3

Trails to Access

1000+

Lakes to Jump In

4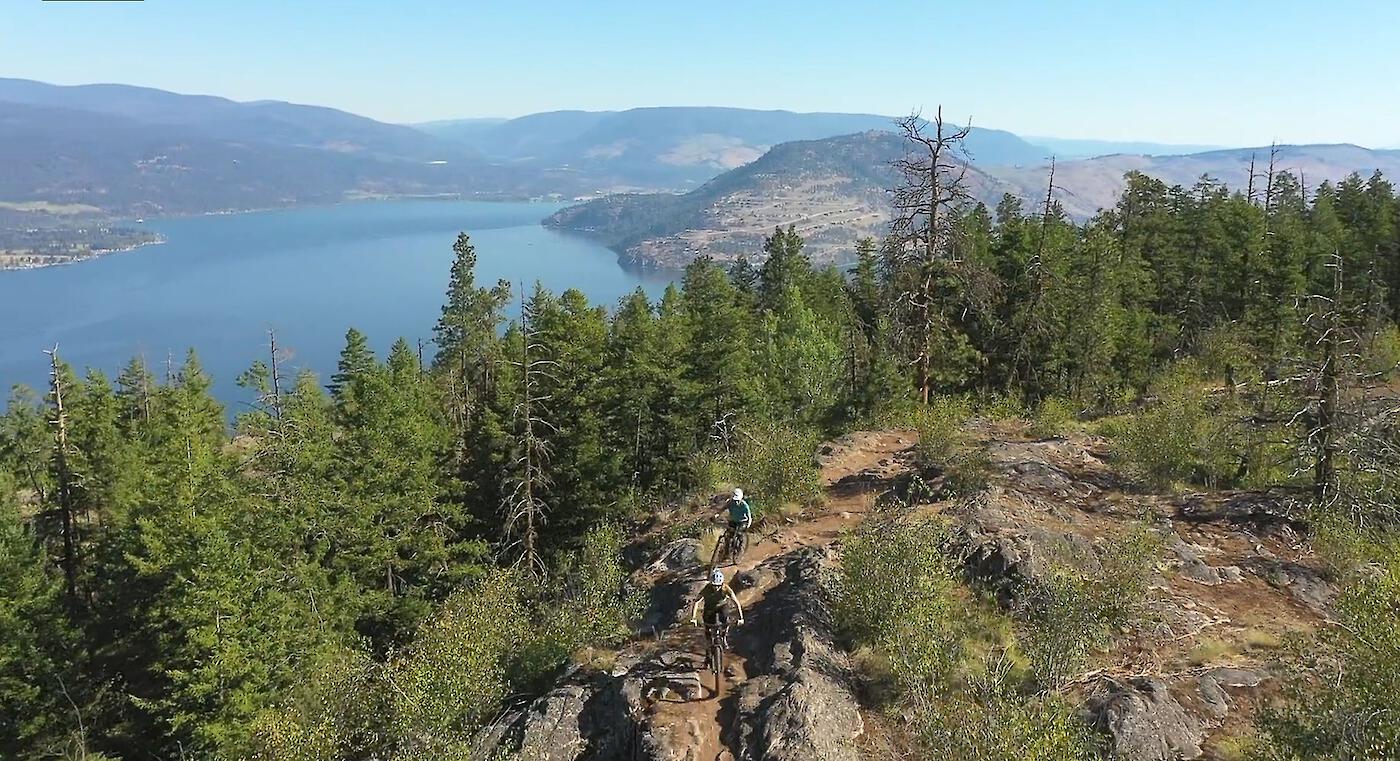 Penticton
The sunny South Okanagan is where you will find beautiful Penticton. Seemingly endless singletrack can be found in the hills overlooking Okanagan Lake and the surrounding vineyards. The Kettle Valley Rail Trail provides an easy peddle and convenient access to many of the challenging trails in the popular Three Blind Mice trail network above the Naramata Bench. 
Number of Trails:

192

Highest Elevation:

2,198

Trails:

easy

46

intermediate

96

difficult

47

extra difficult

3
Kelowna
Look no further than Kelowna for an all-around good time both on and off the trails. You'll find a diverse range of singletrack options, for the expert to the novice, in as little as five minutes from the downtown core. As the diversity is so condensed, you can easily find yourself moving from dramatic forested downhill to cross-country sub-desert trails in a day. And, when the end of that day comes you will find yourself in a vibrant city packed with wineries, craft breweries and distilleries, farm-fresh dining, and lakeside nightlife.
Number of Trails:

303

Highest Elevation:

2,171

Trails:

easy

57

intermediate

162

difficult

71

extra difficult

13
Vernon
Vernon is the northern cousin in the Okanagan trifecta offering old-growth forest, parched desert, and one of BC's most beautiful turquoise lakes. Vernon's diversity means there is a trail for every rider type and its rapidly expanding network offers fun and flowy singletrack with stunning views over the Coldstream Valley and Kalamalka Lake. The region has the added benefit of hosting some of the best downhill riding at SilverStar just 20 minutes outside of downtown. In Vernon, you are spoilt for choice with local craft breweries, quality accommodations, and tasty dining options at the end of the day.
Number of Trails:

209

Highest Elevation:

2,171

Trails:

easy

39

intermediate

114

difficult

29

extra difficult

27