Ride Ideas
Sea to Sky Biking
Sea to Sky Biking. The True Mecca.
Congratulations. You've discovered the mountain bike mecca that is British Columbia's Sea to Sky region. This is where six passionate biking communities deliver endless trail options that take riders through rugged forests, towering mountains, and stunning coastline. Exploring this corner of BC during the off-season (fall and spring), you'll find trails are less busy, the dirt is more tacky, and the best deals are available.
From gentle cruises to hair-raising descents, riding the Sunshine Coast, Squamish, Whistler, Pemberton, South Chilcotins, and Vancouver's North Shore is an unmatched experience anywhere else in the world.
Ride statistics
Riding Communities

6

Trails to Access

2,400+

Hell of a Trip

1
Sunshine Coast
Oceanfront Forest Riding
Find your technical riding fix at Sprockids Mountain Bike Park or the Powell River Bike & Skate Park, move onto the pro-carved trails of the Coast Gravity Park, then rip it up on the Duck Lake, B&K, and West Sechelt trail systems. Funky little towns lie minutes from these trails making it an easy transition from bed to bike every morning. 
Number of Trails:

693

Highest Elevation:

1,852 m

Trails:

easy

211

intermediate

395

difficult

76

extra difficult

11
Squamish
Paydirt for Flow Seekers
Ranked by Mountain Bike Magazine as one of the top 25 wildest, most exotic places to ride in the world, Squamish is hardwired for adventure and one of the most talked-about destinations for outdoor-lovers in North America. The land of loamy dirt and long descents is always in season, thanks to an accommodating coastal climate. From famous free-ride trails to gnarly wilderness single-track, to cruisy rain forest trails, you will not run out of satisfying tracks in this gem of a mountain town.
Number of Trails:

293

Highest Elevation:

2,225 m

Trails:

easy

50

intermediate

112

difficult

89

extra difficult

42
Whistler
Wonderland for Two Wheels
The trailhead to the Promised Land starts here. Whistler puts the "world" into world-class mountain biking, with riders from around the globe coming every year to shape and be shaped by the scene. An unrivalled destination, Whistler is home to Crankworx, 300 miles of coastal BC singletrack and the bar-setting Whistler Mountain Bike Park. A showcase of passion and progression, this is the destination for mountain bike bucket-listers everywhere.
Number of Trails:

480

Highest Elevation:

2388 m

Trails:

easy

50

intermediate

181

difficult

167

extra difficult

82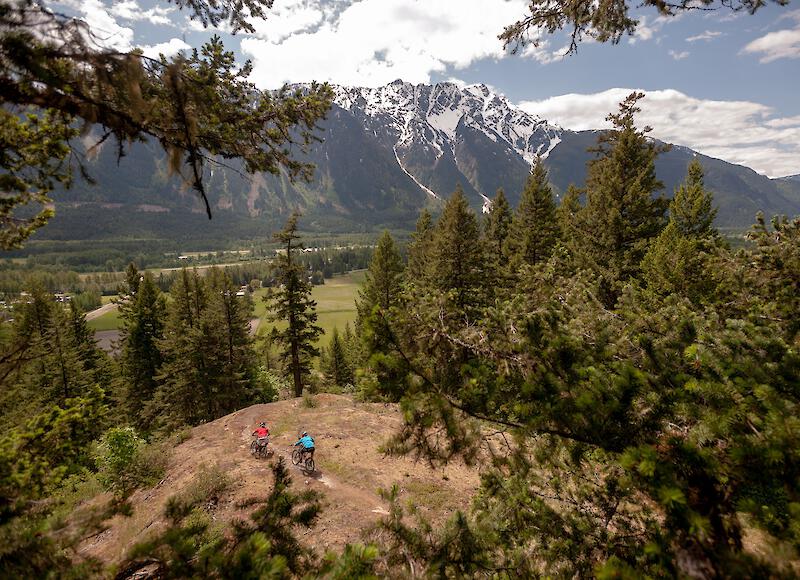 Pemberton
Rootsy Revelations, Rowdy Lines
Hundreds of trails and an earthy little town nestled up against the edge of true wilderness, Pemberton is known as the "hub of the wheel". The town is a staging area for epic rides in the Chilcotins, Duffy Pass, or Hurley Pass, and is the land of hitching posts, First Nations legends, and the world's only organic potato vodka distillery. Trail-dense and technical, the singletrack is "steep, deep and demands your full attention." Be warned. The views are dangerously distracting.
Number of Trails:

161

Highest Elevation:

2,643 m

Trails:

easy

16

intermediate

55

difficult

58

extra difficult

32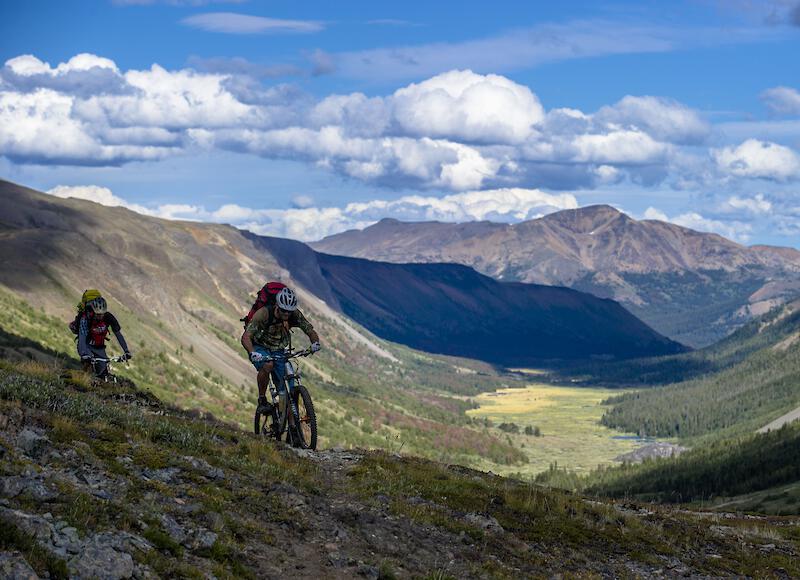 South Chilcotin
A Pocket of Riding Gold
Gold-hungry pioneers packed down the trails you ride in the South Chilcotins, and it's that bike-a-neering spirit you'll want to embody as you explore the 200 km (124 mi) of singletrack fun. It's all about the "carrot in the sky" where vertical climbs, either on two wheels or via floatplane, take you to mountain top vistas rounded out by ancient glaciers. The rewards are endless flowing descents through broad valleys, alpine meadows, and technical forest terrain. Pack spare parts, food, and water—you'll sleep well after a day riding the Chilcotins.
Number of Trails:

103

Highest Elevation:

2,820 m

Trails:

easy

3

intermediate

32

difficult

62

extra difficult

6
North Shore
Steep, Deep, Rooty and Rocky
If you're looking for rough and rugged terrain, look no further than Vancouver's North Shore. Where outdoor adventure awaits you just minutes away from a world class city. The ever-evolving sustainable trail network is complete with both natural and man-made obstacles and with three local mountains to choose from, "The Shore" has an endless amount of well-maintained trails for all levels of riders.
Number of Trails:

347

Highest Elevation:

2,079 m

Trails:

easy

51

intermediate

93

difficult

136

extra difficult

67
Trip Guides
Whether it's your first time or you are a repeat visitor, we have some ideas for your next Sea to Sky adventure.