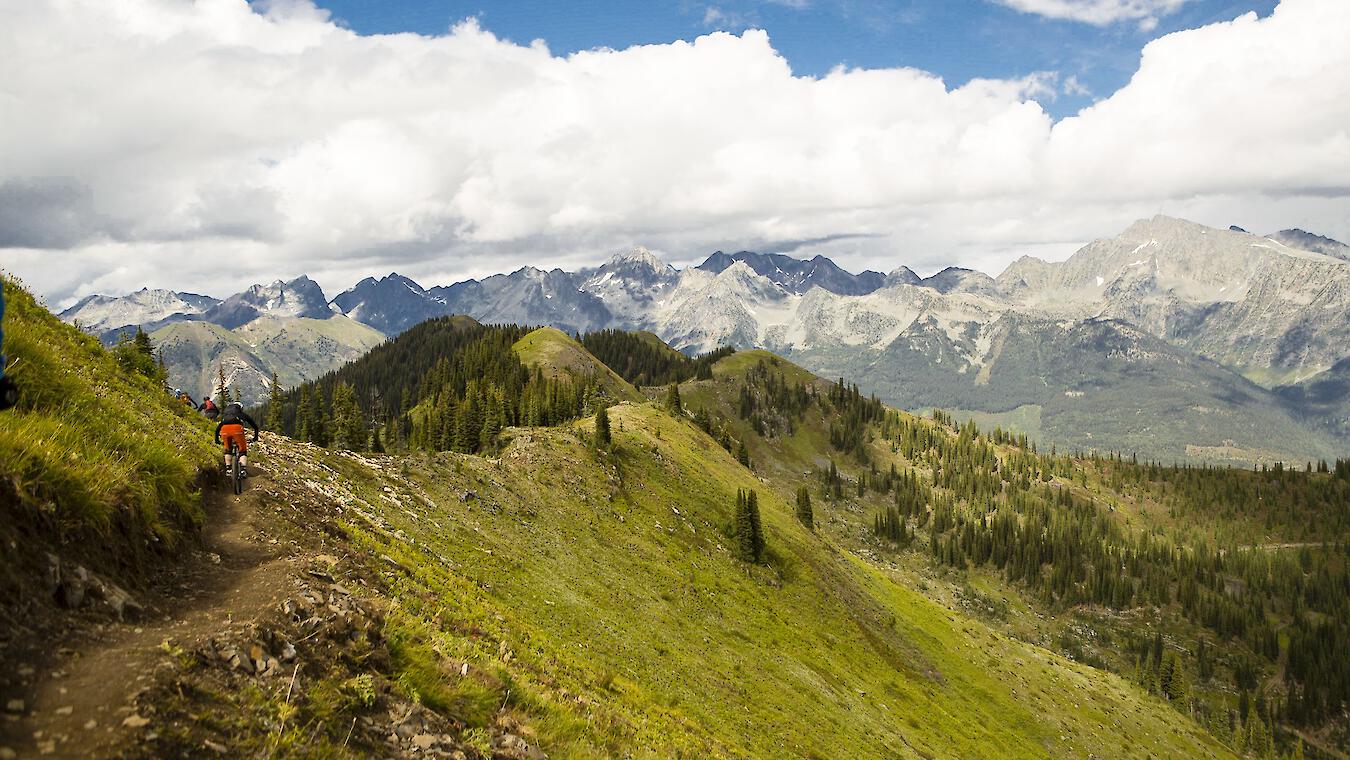 Eclectic mountain towns, artist studios, hot springs, and trails as diverse as the culture
The mountain towns in the Kootenay Rockies each have a vast network of trails, incredible biking experiences, and a community of dedicated riders to show you the way. Set amidst the dramatic Rocky and Purcell mountains in the southern part of the Kootenays, the towns of Kimberley, Cranbrook, and Fernie are paradise for mountain bikers, with diverse trails connecting right from town. To the west, the historic towns of Nelson and Rossland offer up some top all-mountain freeriding, incredible dining options, and most notably, the rightfully titled epic Seven Summits trail.

To the north, Invermere-Panorama and Radium Hot Springs offer hundreds of kilometres of twisty mountain bike trails along rivers, on alpine peaks, and through dense forests. Golden and Revelstoke have reputations for big-mountain skiing in the winter months and epic bike rides come summer. Shuttle-accessed downhill riding and long cross-country rides will reward you with stellar mountain views that eat up the entire skyline.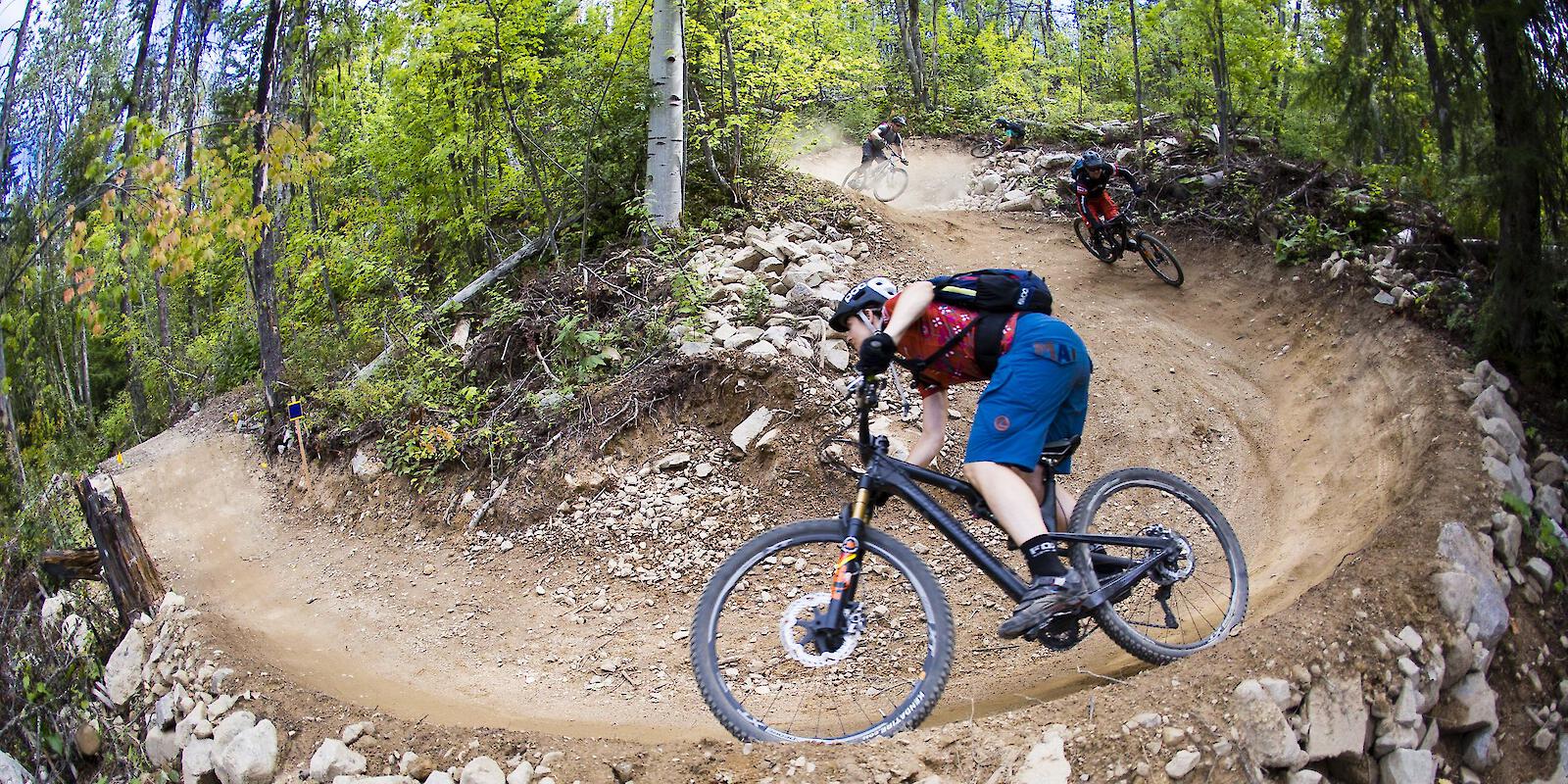 ---
"There are so many gems in the Kootenay Rockies, it constantly blows me away...from the seemingly endless alpine trails to the legit 5,000 vertical foot descents. The entire region is emerging for mountain biking and we're just starting to tap into its unique historic and recently approved trail resources."
- Lorraine Blancher, Professional Mountain Biker and Mountain Guide (Revelstoke, BC)
---
Spots to Ride
10 destinations sprawl over four mountain ranges.
Cranbrook
Cranbrook's mountain bike season starts early and ends late thanks to the abundance of sun and its valley bottom setting. Riders here can explore five riding areas and trails—from quiet singletrack to black-diamond descents and cross-country trails for every level—all situated close to the city.
Number of Trails:

149

Highest Elevation:

2,204 m

Trails:

easy

35

intermediate

78

difficult

31

extra difficult

5
Fernie Alpine Bike Park
What could be better than downhill laps in the Rocky Mountains? Gravity-fed rides combined with an extensive web of cross-country trails make it easy to see why Fernie Alpine Bike Park has some of the best lift-accessed mountain biking in Canada. 
2023 Operating Season: June 24 - September 4 (daily)
Number of Trails:

36

Highest Elevation:

1,377 m

Trails:

easy

14

intermediate

9

difficult

10

extra difficult

3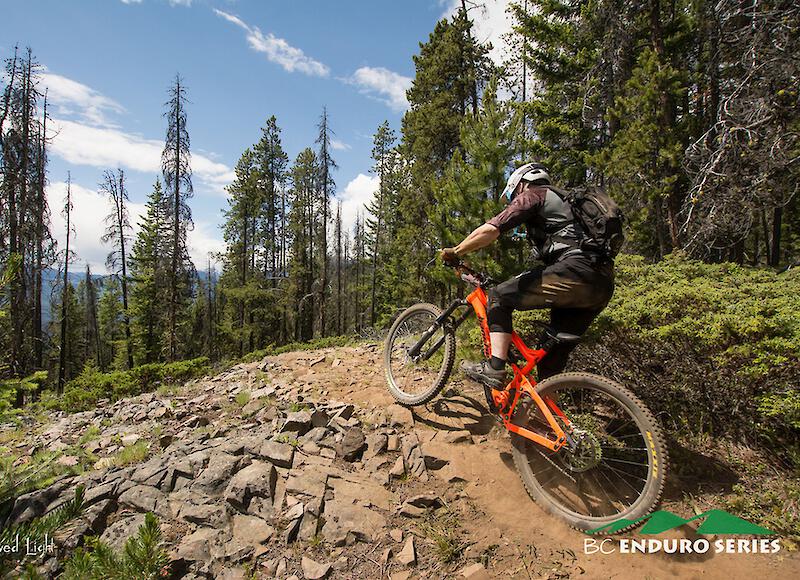 Kimberley
Kimberley is a good place to be. Home to a dedicated mountain bike community, the locals who call this place home take pride in their technical climbs and descents and fast, flowing downhills. This isn't the land of big downhill riding, but it is home to some truly exceptional cross-country biking.
Number of Trails:

130

Highest Elevation:

1,911 m

Trails:

easy

41

intermediate

75

difficult

14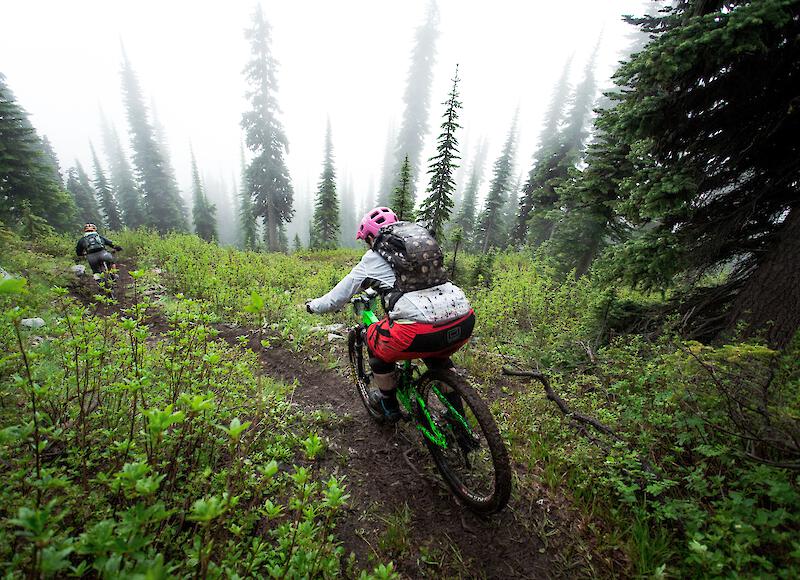 Nelson / Kaslo
In keeping with Kootenay culture, the mountain bike trails in Nelson and Kaslo appeal to the spirit of mountain biking. Ride gentle railway grades along forest trails that start minutes from town, over restored trestle bridges, and into some of the most peaceful country you'll ever encounter. For those of you who need to feel adrenaline pumping through their veins, there is a slew of steep, rocky, technical tracks and enough stunts, ladders, and big drops to keep you coming back for more.
Number of Trails:

226

Highest Elevation:

2,375 m

Trails:

easy

58

intermediate

76

difficult

72

extra difficult

20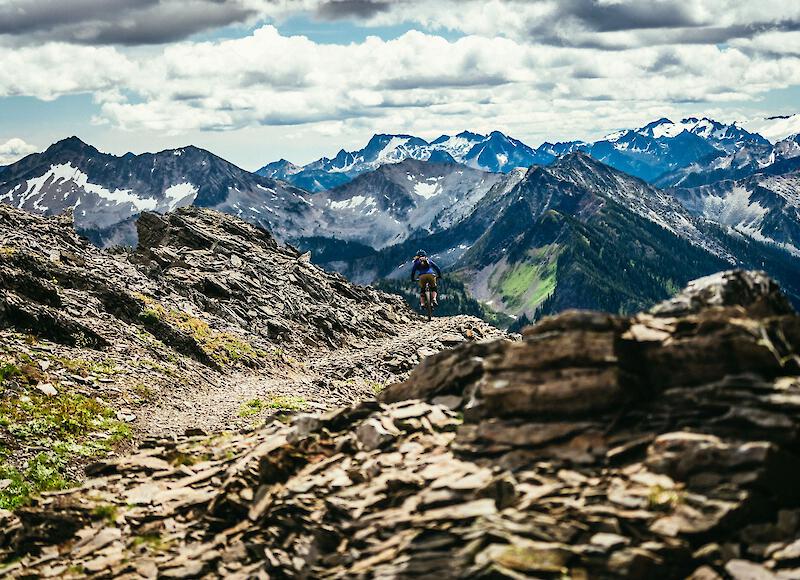 Retallack
This secluded private mountain biking domain is home to a fully equipped 11,000-square foot lodge with a huge network of trails that boasts one of the largest commercial backcountry operations in the world. With endless wilderness in sight and a limited number of riders, this MTB lodge is a backcountry mecca for riders looking to get away from the status quo and have a unique experience.
Number of Trails:

14

Highest Elevation:

2,508 m

Trails:

intermediate

3

difficult

10

extra difficult

1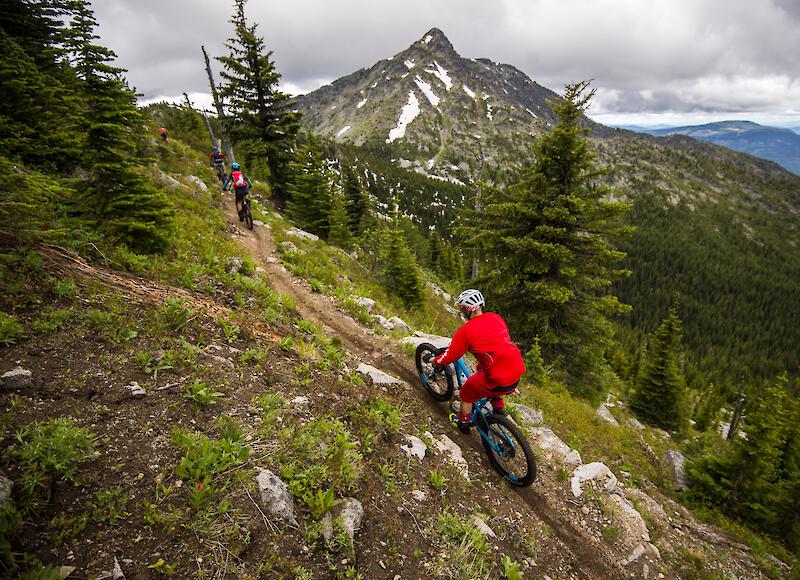 Rossland
Little ol' Rossland was voted "Mountain Biking Capital of Canada" by Explore Magazine. The trail system is a point of pride and connects 200 km (124 mi) of mountain bike action seamlessly. Unique to Rossland is that the trail maintenance is performed regularly by a full-time professional trails crew. From kid-friendly Centennial to pump 'n' swoop on Larry's to the radical rock slabs of Sudden Exposure, Rossland's got the entire spectrum of fun covered. 
Number of Trails:

134

Highest Elevation:

2,371 m

Trails:

easy

34

intermediate

58

difficult

32

extra difficult

10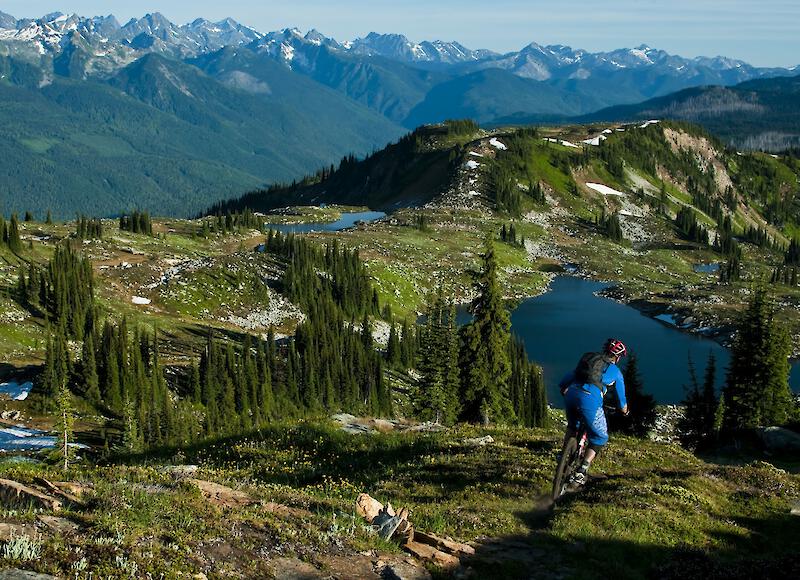 Revelstoke
Legendary for its alpine backcountry access, Revelstoke offers a mountain biking experience that changes with the seasons. From its location on the banks of the mighty Columbia River, Revelstoke has two entire mountain ranges to use for a playground—with over 120 km (75 mi) of singletrack to enjoy. 
Number of Trails:

204

Highest Elevation:

2,790 m

Trails:

easy

45

intermediate

75

difficult

44

extra difficult

10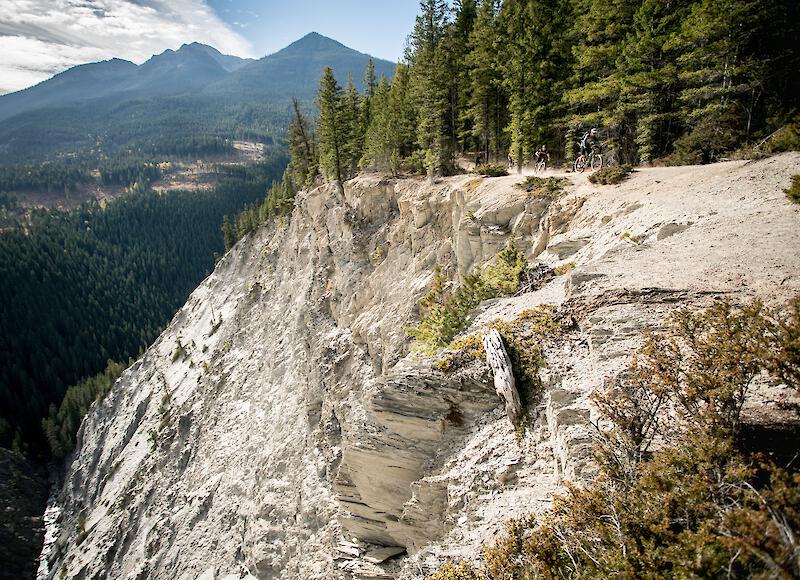 Golden
Golden is a community that lives and welcomes the mountain biking culture. With over 100 km (62 mi) of smooth singletrack easily accessible from downtown and the highest bike park in North America at Kicking Horse Mountain Resort, the biking in Golden is hard to beat.
Number of Trails:

73

Highest Elevation:

2,386 m

Trails:

easy

4

intermediate

56

difficult

8

extra difficult

5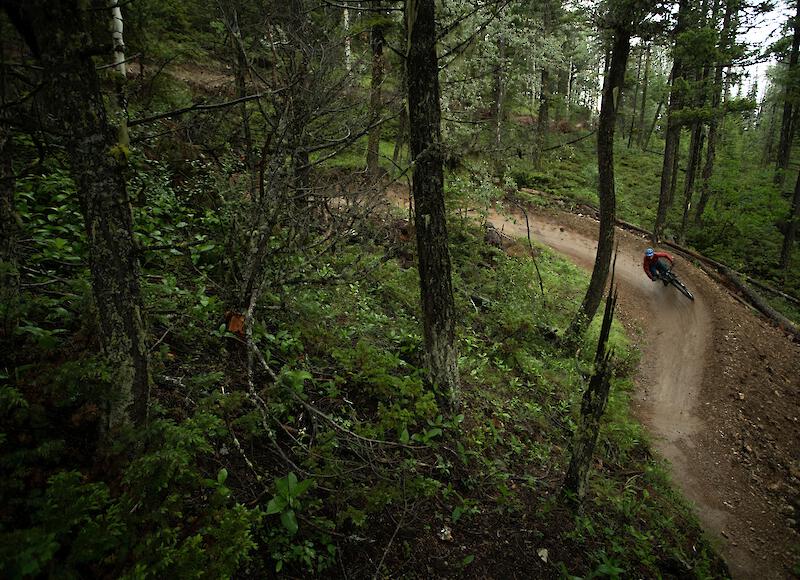 Invermere-Panorama / Radium
The Columbia Valley lies within the majestic "valley of a thousand peaks". Invermere and Radium Hot Springs have diverse riding opportunities and an abundance of natural wonders in a mountain paradise. Discover smooth single track through valley forests, epic descents from alpine peaks, challenging technical downhill trails, relaxed recreational routes, and exciting bike park maintained trails.
Number of Trails:

78

Highest Elevation:

2,782 m

Trails:

easy

9

intermediate

25

difficult

30

extra difficult

14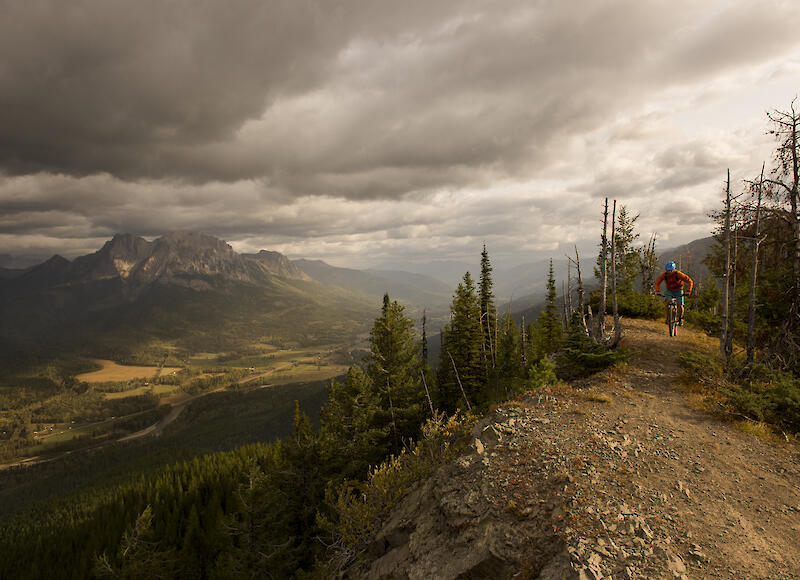 Fernie
As the only community to be included in a stage every year since the inception of the world-renowned TransRockies, Fernie is synonymous with mountain biking. Loops of singletrack leave from and return to downtown Fernie, making the ease of access second to none. Push yourself on the steeps or enjoy family time on Fernie's community trail network. Whatever your choice of trail, Fernie has you covered.
Number of Trails:

368

Highest Elevation:

2,769 m

Trails:

easy

92

intermediate

118

difficult

61

extra difficult

11
Kicking Horse Mountain Resort Bike Park
People don't come to Kicking Horse Mountain Resort to ride the same old thing. They come for the differences, and the resort has plenty—over 3,700 feet of variety. The view from the alpine launch alone is worthy of a trip—with three piercing mountain ranges and the wetlands of the Columbia Valley. From there it is all downhill and the wahoo factor is amplified by multiple berms, jumps, wooden features (Stickrock has to be ridden to be believed), rock slabs (look directly below the gondola to see the longest), and plenty of good ol' white-knuckle singletrack. The only thing missing is crowds, but most don't mind that.
2023 Operating Season: June 23 - Sept 4 (daily), plus Fri-Sun: Sept 8-10, 15-17, and 22-24.
Number of Trails:

29

Highest Elevation:

2,330 m

Trails:

easy

5

intermediate

15

difficult

7

extra difficult

2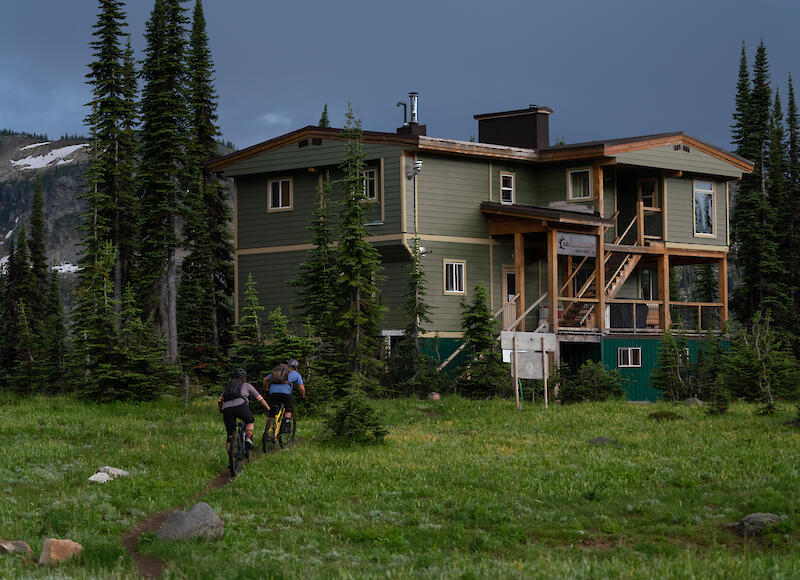 Sol Mountain
Alpine singletrack from the front door is the true allure at Sol Mountain. Wake up with the sunrise, grab a fresh cup of coffee, and head out biking until dusk.
Number of Trails:

18

Highest Elevation:

2,224 m

Trails:

intermediate

5

difficult

8

extra difficult

4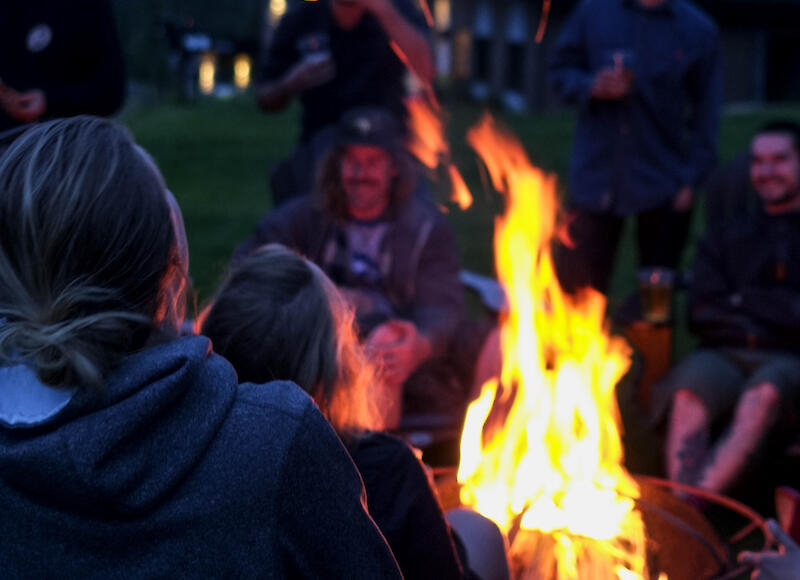 Eagle Pass Lodge
Having curated the best rides surrounding Revelstoke, Eagle Pass Lodge will help choose the best rides for you based on the conditions, season, and ability levels of your group.
Number of Trails:

204

Highest Elevation:

2,790 m

Trails:

easy

45

intermediate

75

difficult

44

extra difficult

10
Revelstoke Mountain Resort
As BC's newest lift-accessed trail network, Revelstoke Mountain Resort provides a selection of technical and flowy trails for the whole range of abilities that will not disappoint. With terrain that is naturally "sendy", our trail building team has put a lot of heart into curating the best aspects of the land and turning them into a progressive mix of epic downhill descents and picturesque enduro climbs and loops. The Revelation Gondola will bring you to the top of our trails or climb further into the alpine and back down through BC's inland temperate rainforest to access the top of the famed Fifty-Six Twenty, which is rumoured to be the longest flow trail ever built, running our full vertical drop of 5,620 feet. 
2023 Operating Season: May 20-Sept 24 (daily).  Upper Mountain opens June 24.
Number of Trails:

14

Highest Elevation:

1,710 metres

Trails:

easy

1

intermediate

7

difficult

6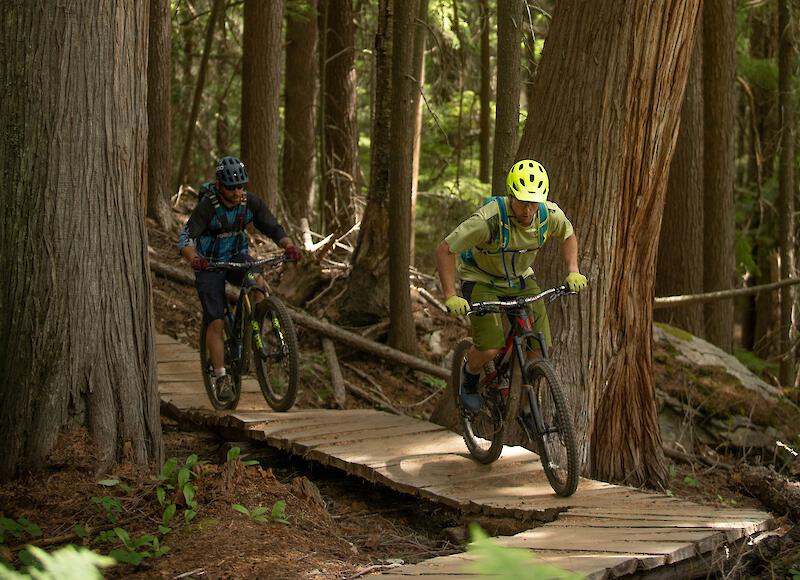 Castlegar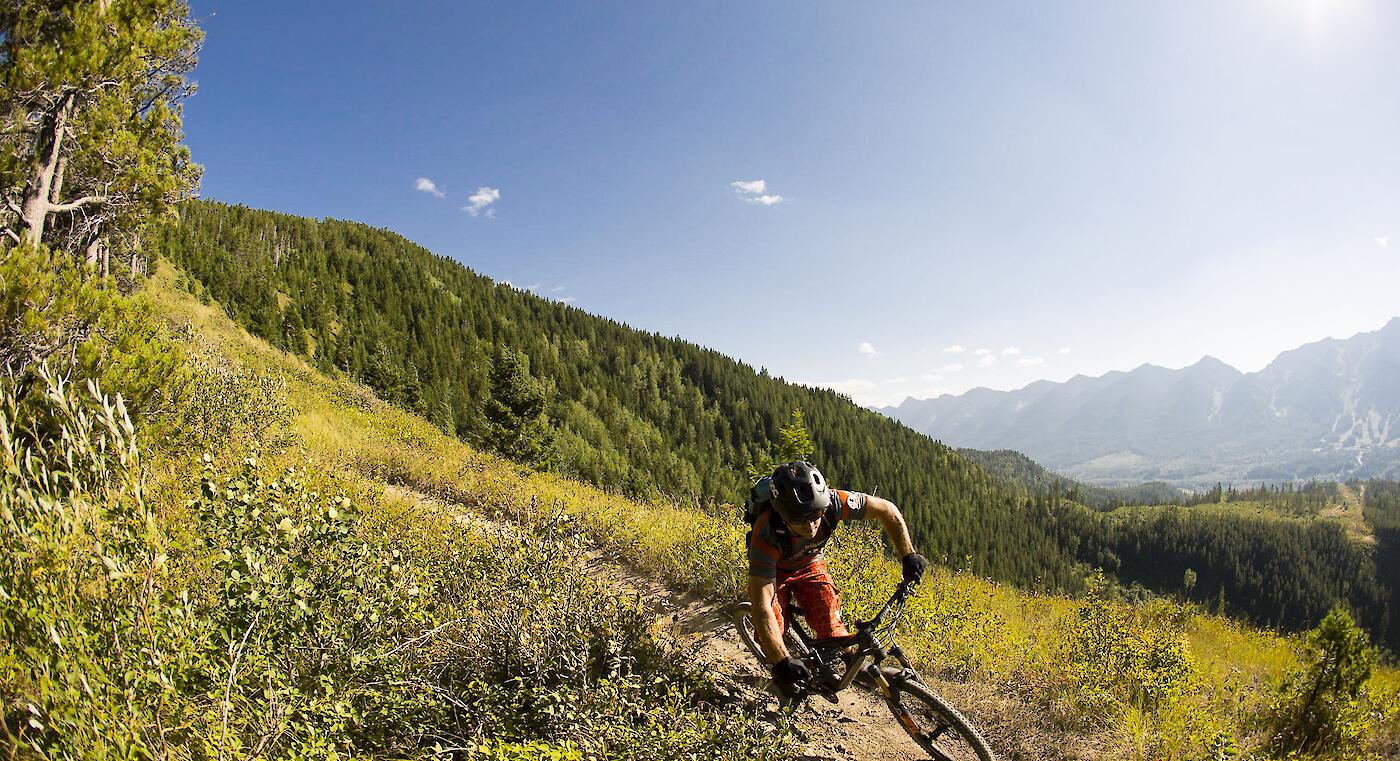 Get Inspired
Uncover stories from the Kootenay Rockies.
Start Planning Your Visit
The Kootenay Rockies is located in the southeast corner of British Columbia and can be accessed from many routes from all directions. Highway 3 traverses the southern part of the region, connecting it with BC's Lower Mainland and southern Interior as well as southern Alberta to the east. Highway 1 links the northern perimeter of the Kootenay Rockies with the Coast and the central Interior as well as Calgary and central Alberta to the east. Several Canada/US border crossings provide convenient access from eastern Washington, northern Idaho, and western Montana.