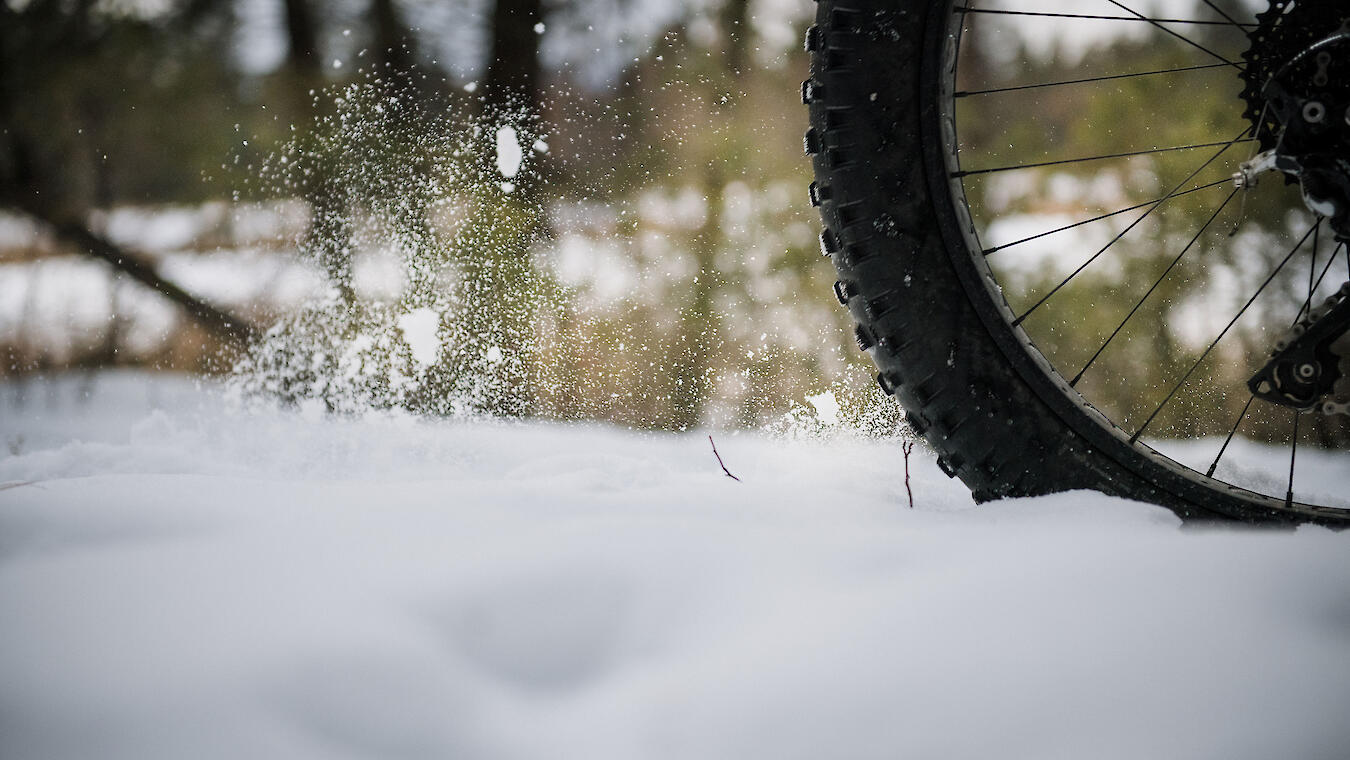 Why get Fat?
My first time on a fat bike was a first date. The guy didn't work out but the fat bikes have stuck around. I was skeptical leading up to the first ride. I wasn't really sure why anyone would want to ride a bike in the winter. I own a lot of skis, so why ride a bike? The crusty bearded fat biker who first introduced me to it talked my ear off about the whole thing, so I decided to indulge him and see what it was all about.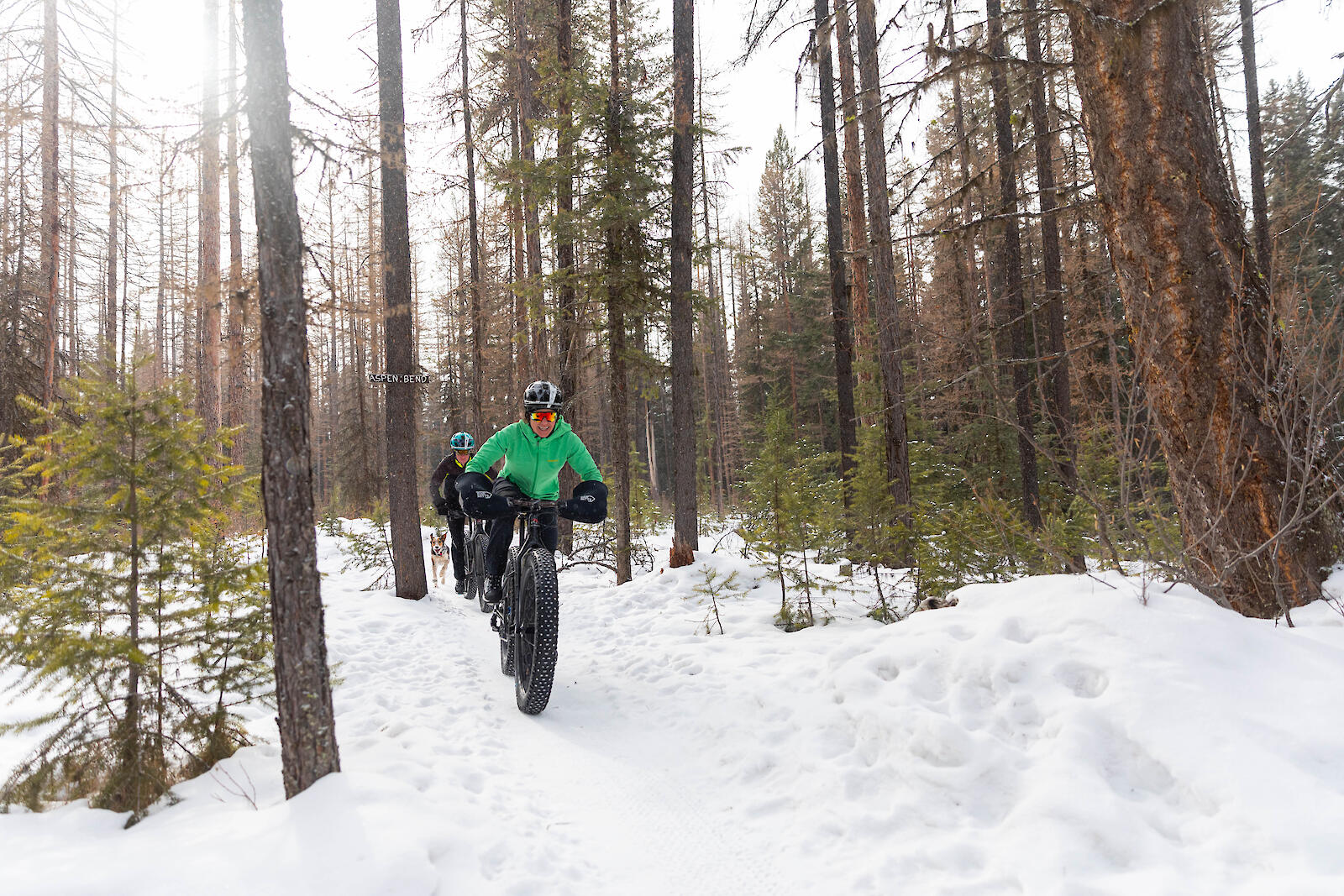 Biking at the Southstar Trails in Cranbrook, BC (Photo Credit: Cranbrook Tourism/Nick Nault)
I rode three times my first season and I remember it being challenging. Crashing and filling the holes of my helmet with powder. Tires spinning trying to find some grip on the uphill while fresh snow was falling. Going on a group ride with experienced riders on my second ride. It's all pretty funny to me now.
In the summer after the first winter I tried it, I broke my wrist mountain biking and had to take most of the summer off. I was cleared to ride again in October and so fat biking looked a little more appealing after a summer cut short. I invested in a bike and rode a lot, a couple of times a week over the winter. And then, when spring rolled around I found myself powering up climbs like I never had before. I started the MTB season stronger than ever and then it started making sense. After two full seasons of this I can say there is some method to the madness. Fat biking even just one day a week in the winter, keeps me strong to ride year-round. And as someone who has just never found the passion for a trainer, an option that takes me outside is the way to go.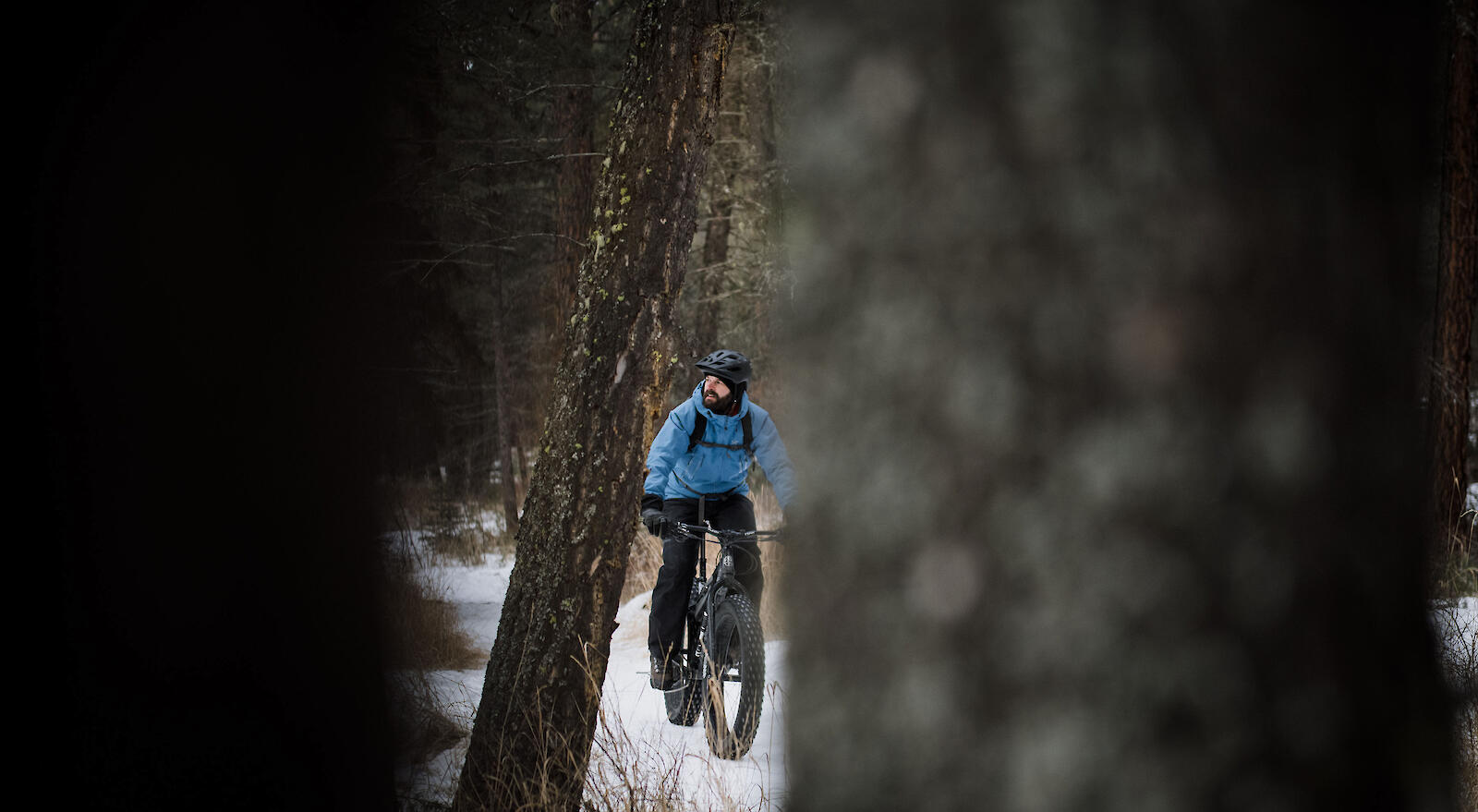 Fat Biking in the Cranbrook Community Forest (Photo Credit: Cranbrook Tourism/Chelsea Boyd Gibson)
But its more than that. With the shorter days of winter, a lot of the rides take place in the dark. Lights are strapped on the front bars and helmets and the magic happens. Old trails are new again. It's spooky and sweet. And when fresh snow is falling and the flakes are catching the light it looks like space travel. Magic. Riding snow, in the quiet, in the dark of night, has become one of my favourite things.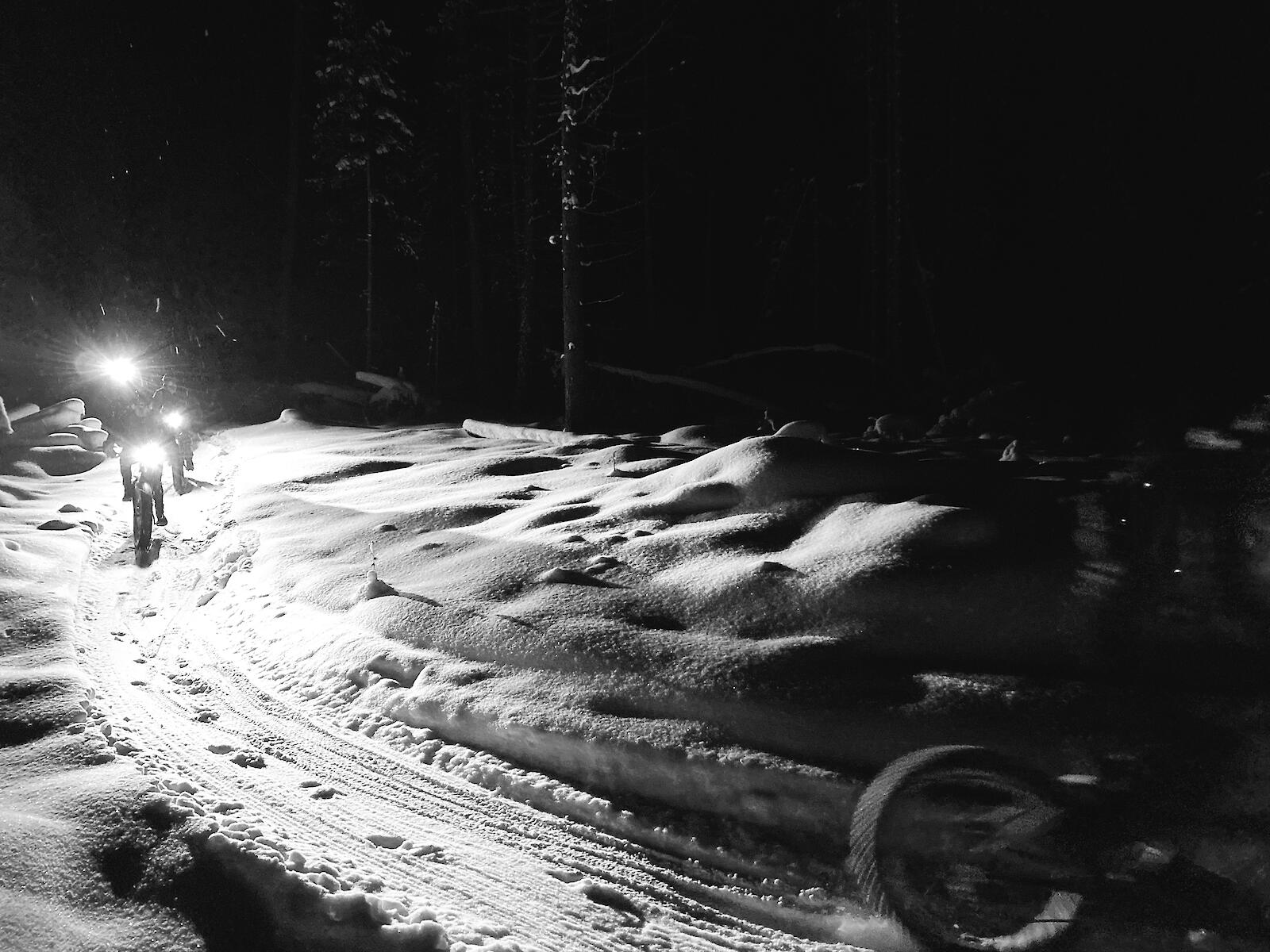 Night Ride at Nipika Resort (Photo credit: Derek Bisbing)
Recently listening to an MTB podcast there was some scoffing about fat bikes as if it was the nerdy second cousin you don't want to admit to. To the skeptics, I would say this: don't compare it to the feeling of fast flow on summer dirt but appreciate it like you have never been on a bike before. Take pleasure in the sunshine and the sparkle on the snow, drift in the corners and notice the sweet tread lines you are leaving behind.
So what's the deal? What do you need to know about this previously fringe sport that's been gaining momentum?
FAQ...
When and where did this weird business get started?
The first fat bikes can be traced back to a hardy group of Alaskans producing custom prototypes for travel on the Iditarod Trail. Surly was the first manufacturer to produce fat bikes for the mass market in 2005. It's all come a long way since then.
Why do I need another bike?
Posing this question to the aforementioned local crusty fat biking guru I got this response: "I get asked a lot if I can put these tires on a person's summer bike. No, this sport inevitably leads to another bike in the stable. The big difference, obviously, is that they are fitted with 4" to 5" wide tires mounted on quite wide rims. Fat bikes are specially designed to handle these wheels. In so much as people DO ride their summer bikes in the winter, sometimes with studded tires, they just won't give you the traction, floatation and stability that a fat bike can offer.
What do I wear?
Typically I wear the same clothing I would wear out nordic skiing or winter running. Lined pants with some stretch. My favourites are from Salomon and Outdoor Research. A base layer and a light jacket as well as a thin beanie under my summer riding helmet. Typically I wear light gloves too unless its really cold or I plan to be standing around in which case I might opt for a more substantial jacket and my lobster mitts. It's always a good idea to pack a dry layer to switch into if you have to deal with a mechanical.
And while winter rides can leave all your clothes damp and cool and toes and fingers a bit tingly, it only makes the post-ride shower or bath that much sweeter. For a master level experience enjoy the post-ride warm-up with a coffee or a beer.