Retallack's Brown Pow, The Winning Trip
Winners of Mountain Biking BC's Backcountry Giveaway contest embrace the changing seasons at Retallack Lodge.
Words by Kristen Meilicke, photos by Johnny Smoke and Lindsay Bishop
Heading down the windy road working our way east from New Denver and enjoying the beautiful lush forest and narrow valleys that the Kootenays provide, the only feeling I had was pure excitement. My partner and I were heading to Retallack Lodge for a weekend full of biking, relaxing and indulging in some great food and wine. We were heading out for the trip of a lifetime. Having spent the majority of my working years providing services in similar style backcountry lodges, I was beyond excited to find out I had been chosen as one of the winners from Mountain Biking BC's Backcountry Giveaway contest and was about to spend 3 nights at the Retallack Lodge for a weekend of big mountain shuttles. Even better, I got to bring a lucky someone along with me to share the experience!
Pulling up to the lodge it was exactly what you would hope for, tucked away in the woods and away from the daily technology distractions. We were instantly greeted with a welcoming party, that now consists of a quick temperature screening and interview with the standard COVID questions. With all of the formalities taken care of, we are taken for a tour of this beautiful lodge, shown our very comfortable room with its own bathroom, the various common areas where we are welcome to enjoy a beer and company after a big day of biking, the ever popular hot tub and the lodge's own frisbee golf course. We were told of the new COVID guidelines, which give everyone in the lodge some peace of mind, regarding breakfast/dinner services and general interactions.
We spent our first evening getting to know the incredible staff that were going to be our guides and taking care of us at the lodge over the next couple of days. We also started to get to know our fellow guests who we would spend our upcoming days biking with, bonding over beers next to a warm bonfire. Joining in with the other groups, one from Vancouver and the other from Calgary, it is safe to say there was a ton of 'Canadian' vibes happening that evening. Throughout that first night, everyone was very impressed by the quality of service, food, accommodation. The stories were coming out of the woodwork from some of the 'regular' Retallack guests and a sense of anticipation from the rest of us 'virgins' who were about to experience our first Retallack weekend.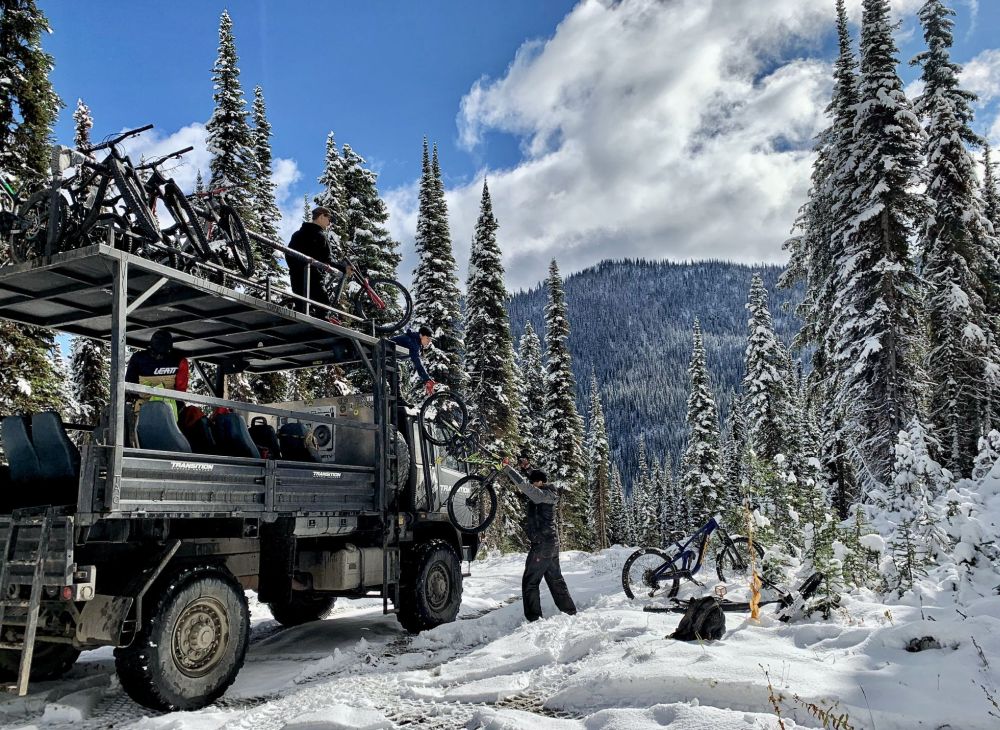 ​Waking up for our first day of biking, with the slightest of sore heads and full of excitement for what the day would have in store for us. We meet up with the legendary Johnny Smoke and tail guide Lindsay, our guides for the day. The 10 of us eagerly start loading into our Unimog chariot (this machine makes you feel even more like a badass riding downhill all day!). It's time to go biking! I won't sugar coat it, that first day was cold, rainy, snowy, muddy, rainy and again cold, I mean you can't tell if you're using your brakes or not kind of cold but you're slowing down so you must be. Thankfully with the combined enthusiasm from our crew and the uplifting booty-shaking beats on the shuttles back up the mountain, everyone seemed to forget about the temperature and only focus on how amazing the whole experience was. Then just when our socks were getting a bit too squishy and you can hear your stomach starting to speak to you, we ride right back to the lodge where the staff are eagerly awaiting our return fully prepared with some delicious sandwiches, fresh-made treats and hot coffee to warm us up from the inside out. Everyone is happy to find their own piece of sheltered paradise and realize just how hungry we are as we devour this amazing lunch. With full bellies and slightly less soggy gear, everyone is ready to get back at it for more fun on bikes!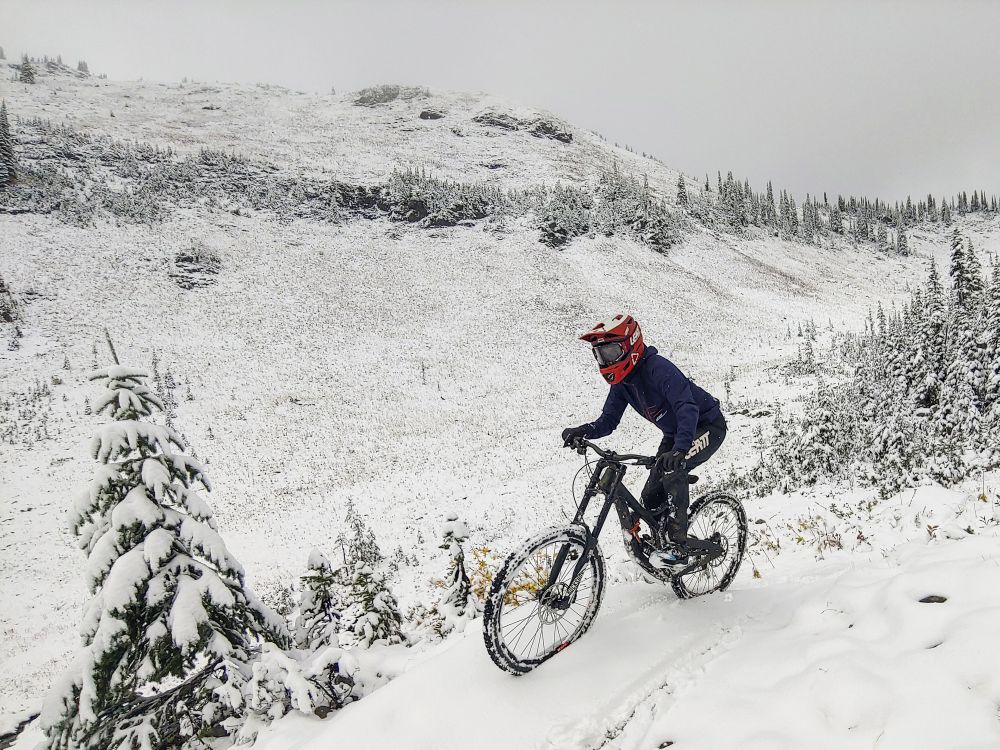 ​After this first day of biking we have seen a glimpse of what the Retallack bike trails have to offer, ranging from fast and flowy, machine and bermy, to steep and technical. There is something to please everyone. Johnny was great at easing us into the day and pushing us when we needed to be pushed but also knowing when to pull it back a bit as the day starts to wind down and fingers and legs are starting to get tired. Just to top off a fantastic first day of biking we are greeted once again back at the lodge with some hot soup and a much deserved beer to help us settle back into the lodge atmosphere after a big day of riding but only after everyone gets hosed down to remove the inch of mud covering us from head to toe. We chuck our gear in the dry room and let it do its magic to bring some life back to our clothes, crossing our fingers we're not starting our next day off with wet shoes!
As everyone joins together for another evening of delicious food we swap tales of our favourite trails and watch highlight reels from footage captured throughout the day. We all settle further and further into the couches as some of us slowly start to trail off down to our rooms preparing for a good night's sleep before we repeat it all over again tomorrow.
​Waking up on day two we all fuel up with a huge breakfast and get ready to put on our, relatively, dry clothes and load up to see what this new day will bring us. To our surprise, an evening of rain has fallen as snow and provided us with a beautiful white coating over all of the vibrant autumn colours that were still on the trees and forest floor. Our driver pushed the Unimog up to the highest point we could reach before we started to slide back downhill. It was time to unleash us on the frosty snow-covered terrain that had hints of berms and bike tracks hidden underneath. The riding was amazing, the snow kept the trail tacky not muddy and when the sun came out to grace us with its presence you couldn't wipe the smile off of anyone's face. Carry on further down the trail and the snow slowly starts to disappear, the steep coal chutes (not for the faint of heart) become visible again and we're back to a typical late September environment. We even got a greeting from a local white wolf that had been looming around the lodge earlier in the day and poked its head onto a trail only moments after we had ridden past completely unaware. The day was beautiful, our little biking hearts were full, and we once again returned to the lodge with tired fingers and achy legs, always the best sign of a full day of riding bikes. With the usual 'last night' party put on hold due to COVID restrictions we happily enjoyed our last delicious dinner, compared notes from the weekend, made hopeful bike trip plans with some new friends and slowly started to disappear off to bed to rest up for our last day.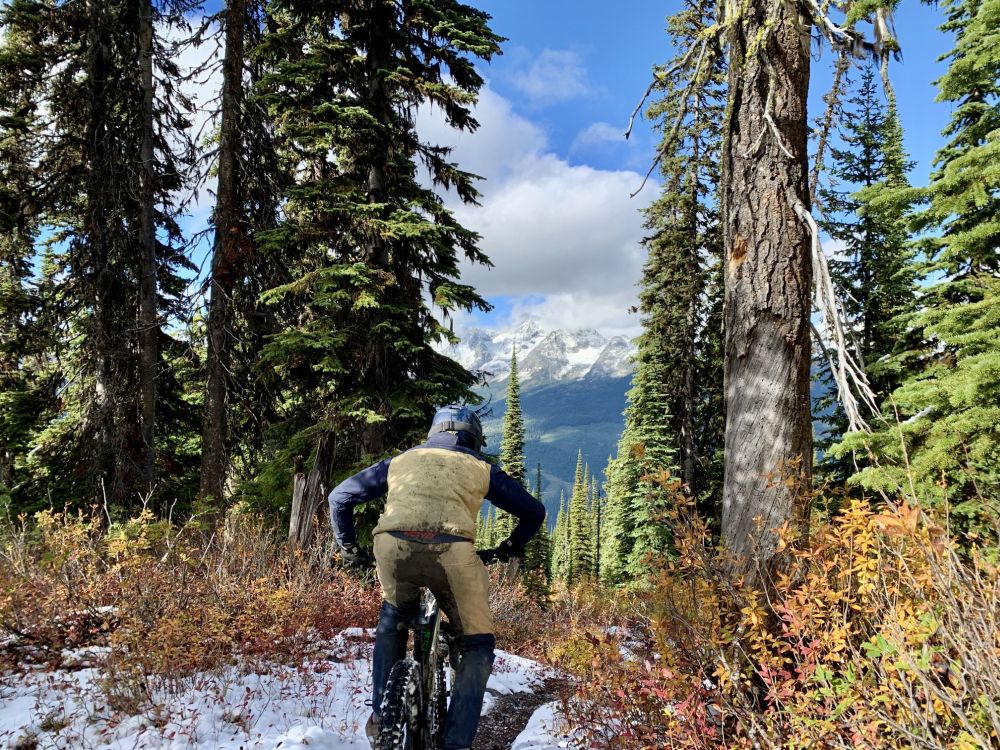 The last day of any trip always has an unusual feel to it. You're still living this dream that you never want to end, but you can feel the time counting down to when you have to pack your bags and head home. Luckily at Retallack, they don't let you off that easy, with the flexibility of being able to ride back to the lodge after every run you are able to ride as much as you can fit in on the final day and head off whenever suits your schedule. So eventually after a couple of long laps in the morning members from each group start to say their goodbyes and begin their journey home. Fortunately for us, with a relatively short drive back to Revelstoke, we were able to stick it out to the end of the final day. We biked until we couldn't bike anymore, and our time was up. Time to finally pack up, pay that (always ominous) bar tab, and say our final farewells to some great new friends. With our hearts full and the bike rack loaded up we pull back onto the highway and head home, spending the whole drive reliving our biggest highlights, talking of how welcoming and thoughtful all the staff were, and how this trip had truly been everything we had thought it would be and more. I can only hope that one day down the road we will be back to relive it all again, until then I'll be dreaming of Retallack and their brown pow.