Exploring the Snow-Packed Trails of the Whistler Olympic Park, Callaghan Valley
Words and photos by Cécile Gambin
Fat-bikers rejoice as a thick blanket of crisp, white snow signals the start of a new winter season. Welcome to Callaghan Valley and the Whistler Olympic Park – innovators and avant-garde thinkers with a network of dedicated fat-bike trails targeted to open.
I began searching areas to ride 'fatties' in my quest to continue exploring the region in a different way, mixing in a fun workout at the same time. A hard-packed snow trail is the most desirable and the Whistler Olympic Park offers a perfect solution for riding and discovering the Coast Mountains along the Sea to Sky corridor.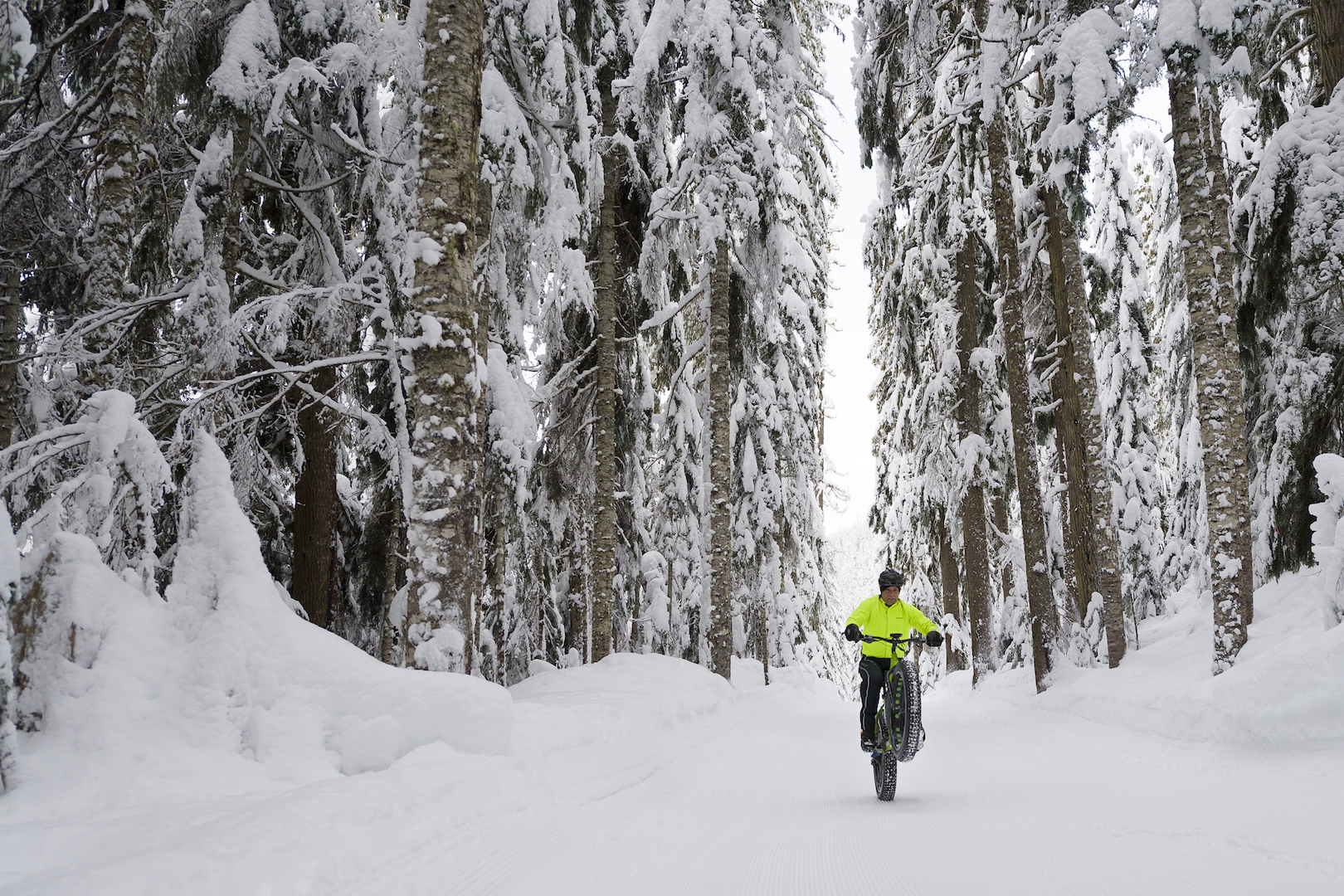 My friend Rick brought his own fat-bike but we decide to try one from the parks rental fleet and opt for an electric assist for a different experience. We catch on quickly. I just have to remember that the harder I pedal the more electric assist I get. Riding uphill will require me to put the bike in a hard gear which is contrary to what I do on a regular bike.
For the next few hours we ride hard and stop for tourist moments as morning light bathed the adjacent mountains with a soft, golden colour. We laugh, we explore and we marvel at the jaw-dropping scenery.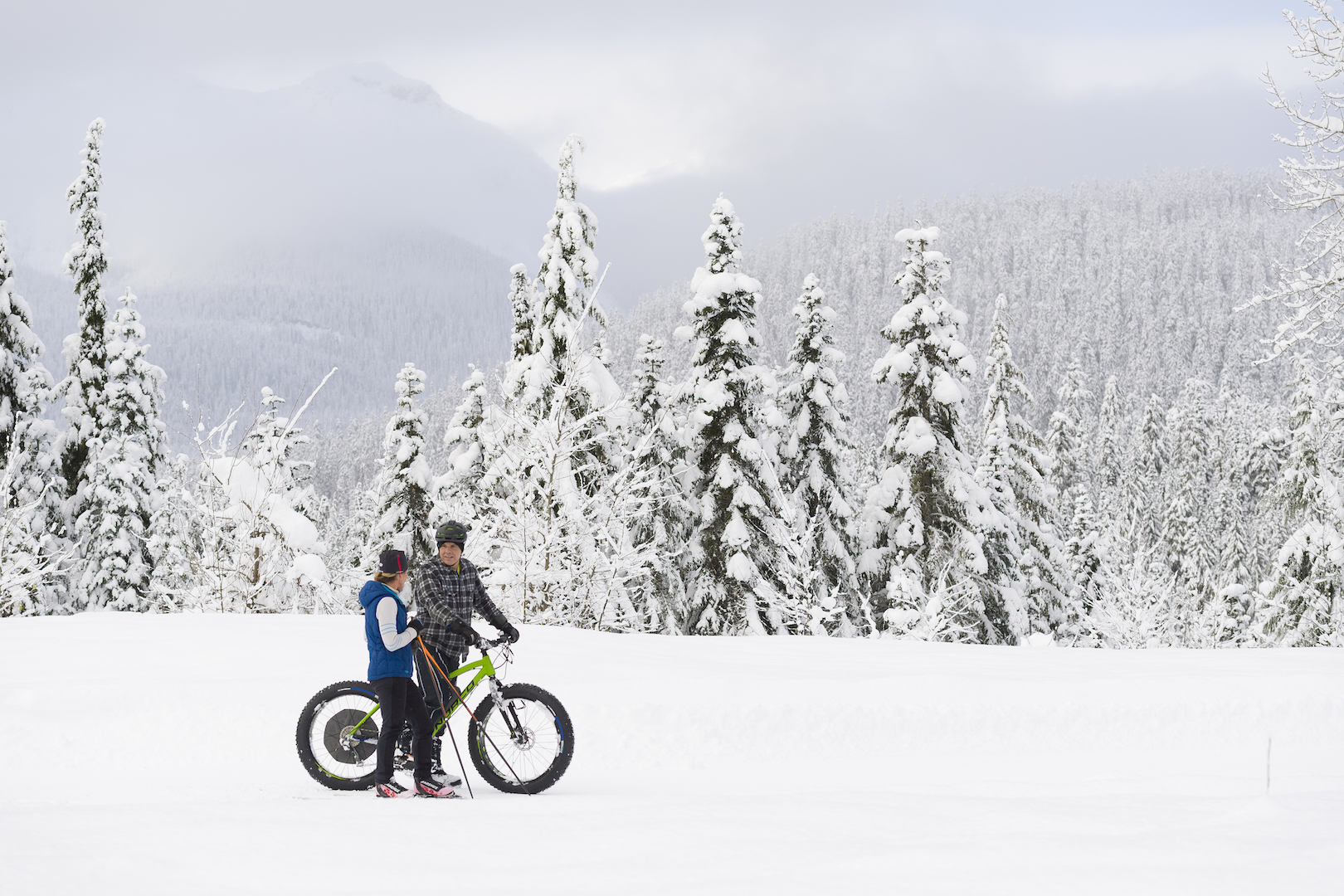 It's hard not to like this park. It's surrounded by snow-capped mountains and beautiful forests. Fat-bikers have access to shared use Nordic trails along with bike specific ones. The machine groomed trails gently weave up and down crisscrossing their way deep into the park making for a fast, smooth and quiet ride. As much as we love our techy root infested rides fat-biking on snow brings a welcome change and opens the soul.
I cannot lie. Snow biking is hard work. I consider myself in somewhat decent shape but I was red-lining. In my defense my backpack was full of heavy camera gear. I also kept forgetting to gear up on climbs. Beginner riders would be best to stay with an easier, flatter trail getting both used to the bike as well as riding in snow. Intermediate or advanced riders will be rewarded with a heart-pumping workout with a few long, twisty climbs and fast descents.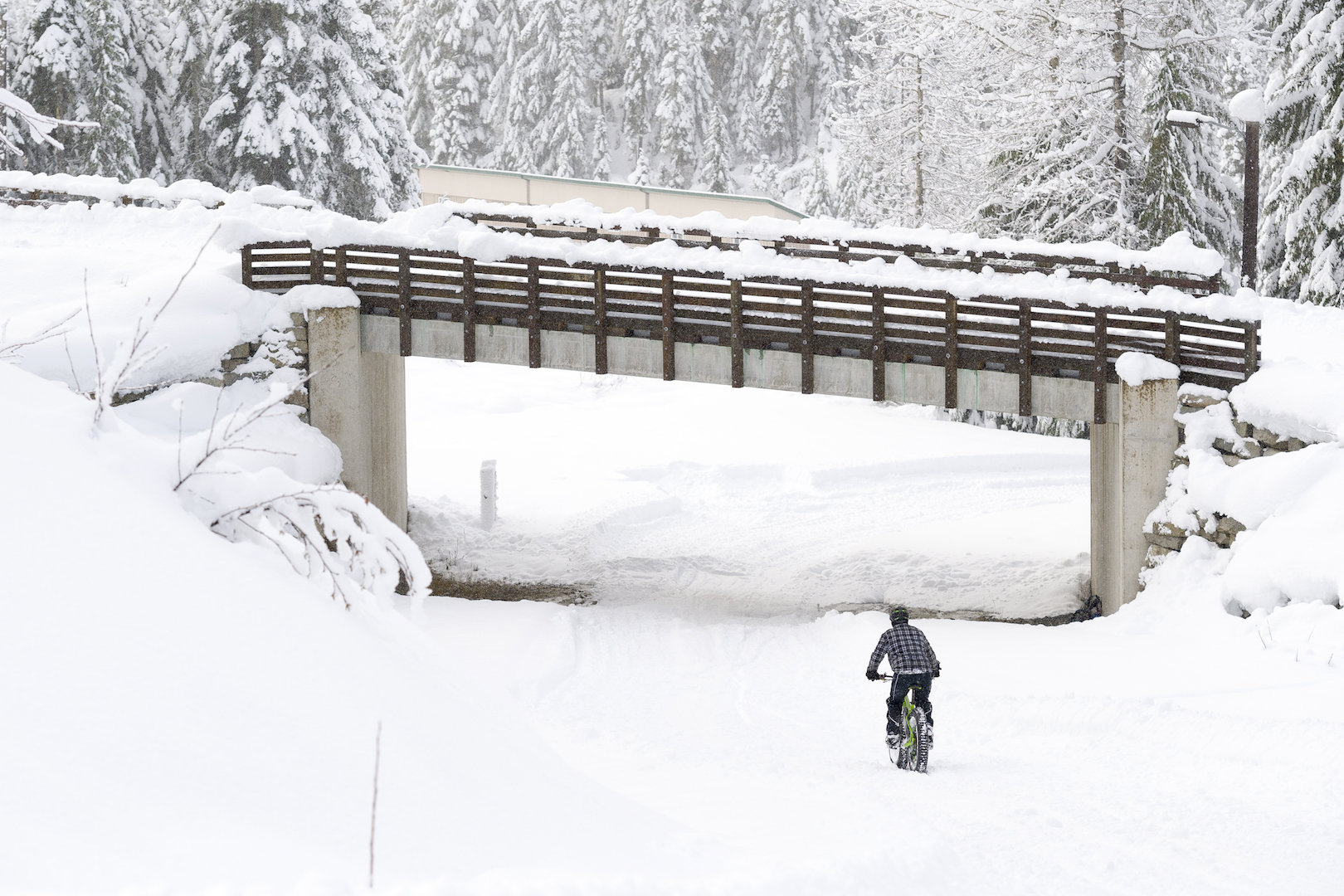 If you want a break from riding try bobsleigh, skeleton, XC skiing, biathlon, snowshoeing, baseboarding, tobogganing, ski jumping, and luge. WOP is a world class facility that honours the spirit of sport from the 2010 Olympic and Paralympic Winter Games. To say the least this is not a boring place.
Be sure to bring a camera for the scenic lookouts found throughout the park. The trails are fast, groomed, flat, and hilly and riding a fat-bike in snow is guaranteed to make you giggle.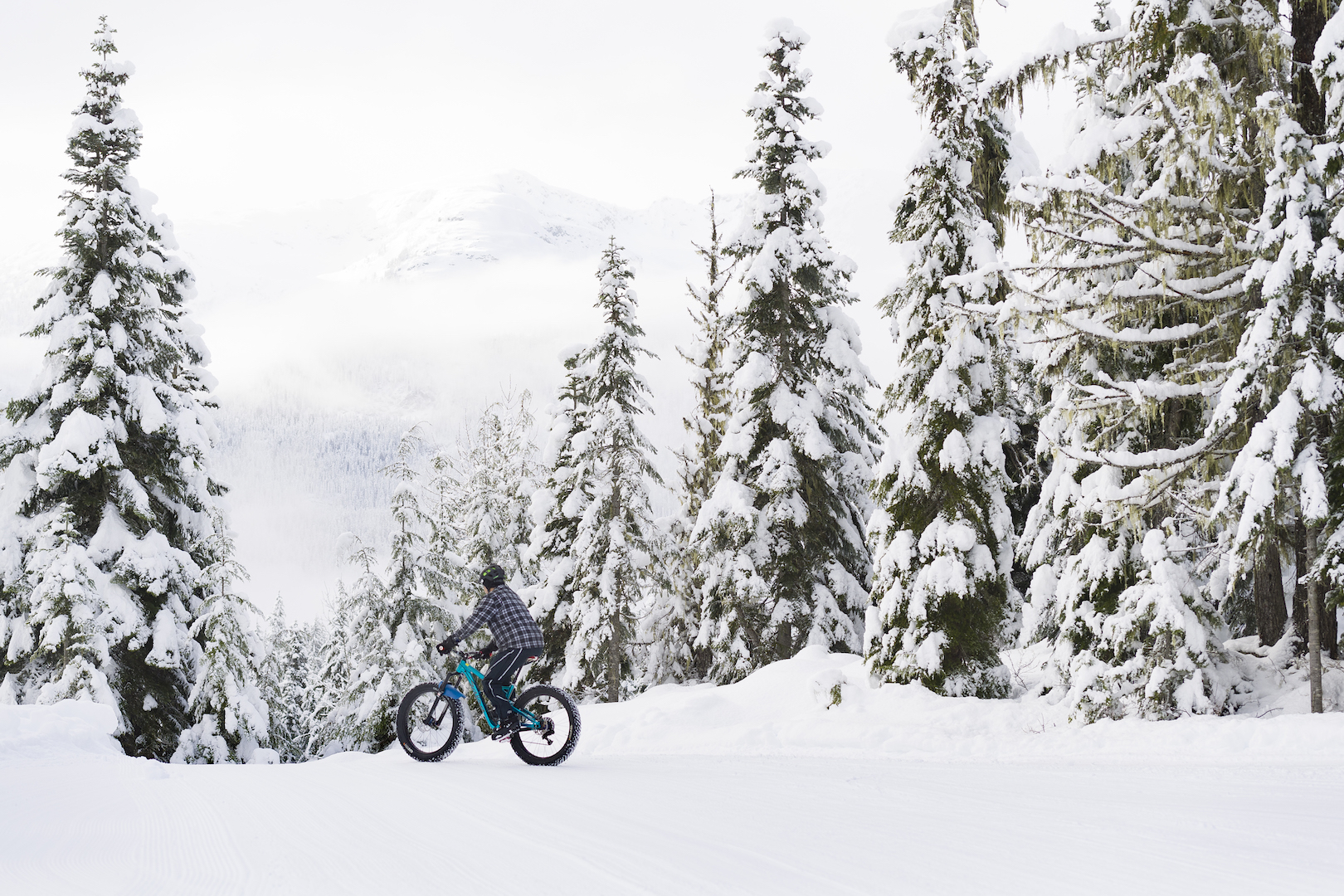 Bikes:
BYOF (bring your own fatty) or rent one. Tires must be 3.75" or wider with a tire pressure of less than 10 PSI. WOP has a fleet of Norco Big Foots for rent. They are available with or without electric assist. For current information please visit WOP's website.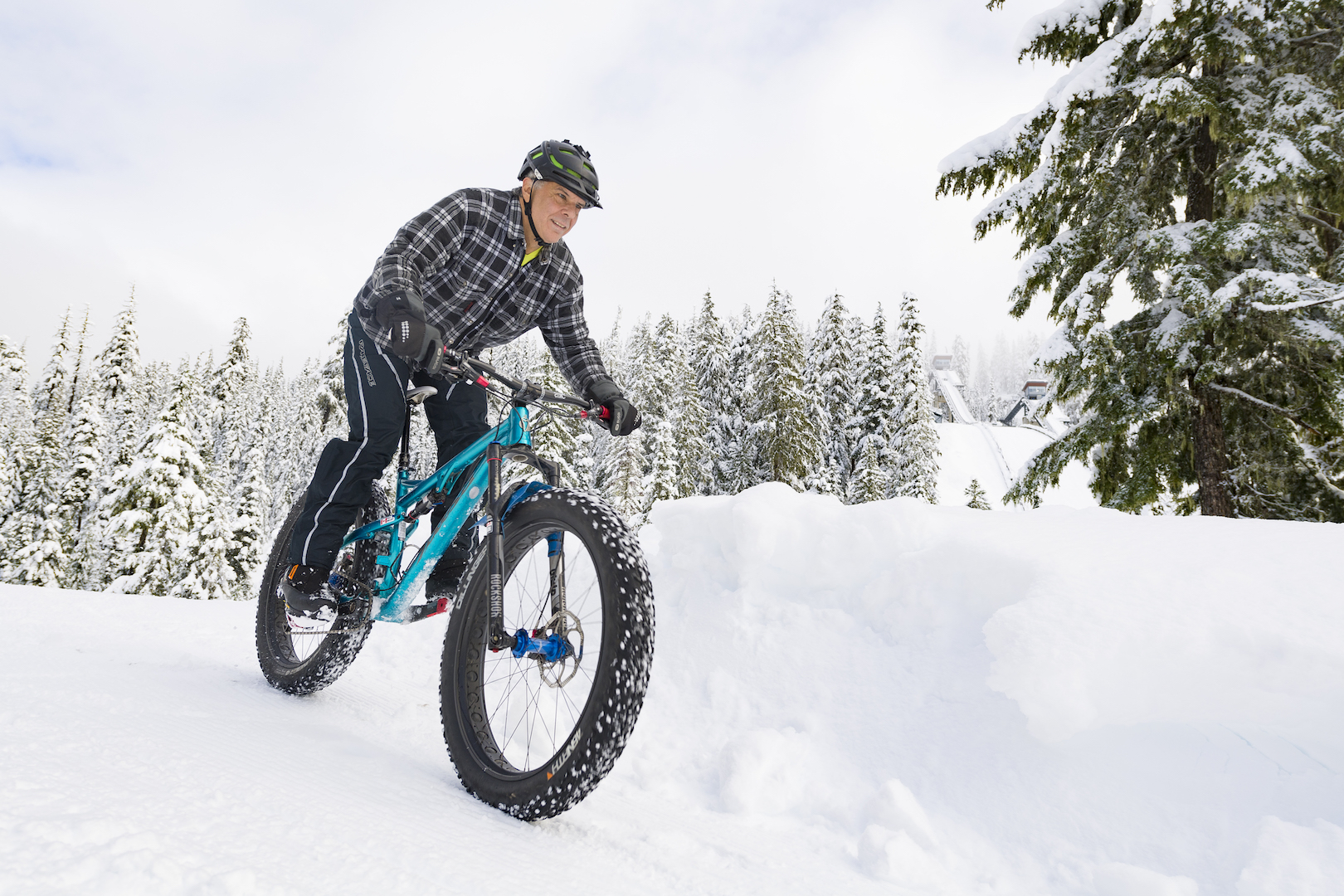 Trail Conditions:
The winter season usually opens sometime in November. It is recommended to either call or check WOPs' website to confirm trail status and opening dates. Weather permitting, WOP is targeting in excess of 10 km (6.21 miles) and will be made up of three plus trails. 
Park Fees
Trail Access is $15.50 per person (or a valid XC/snowshoe ticket or season pass).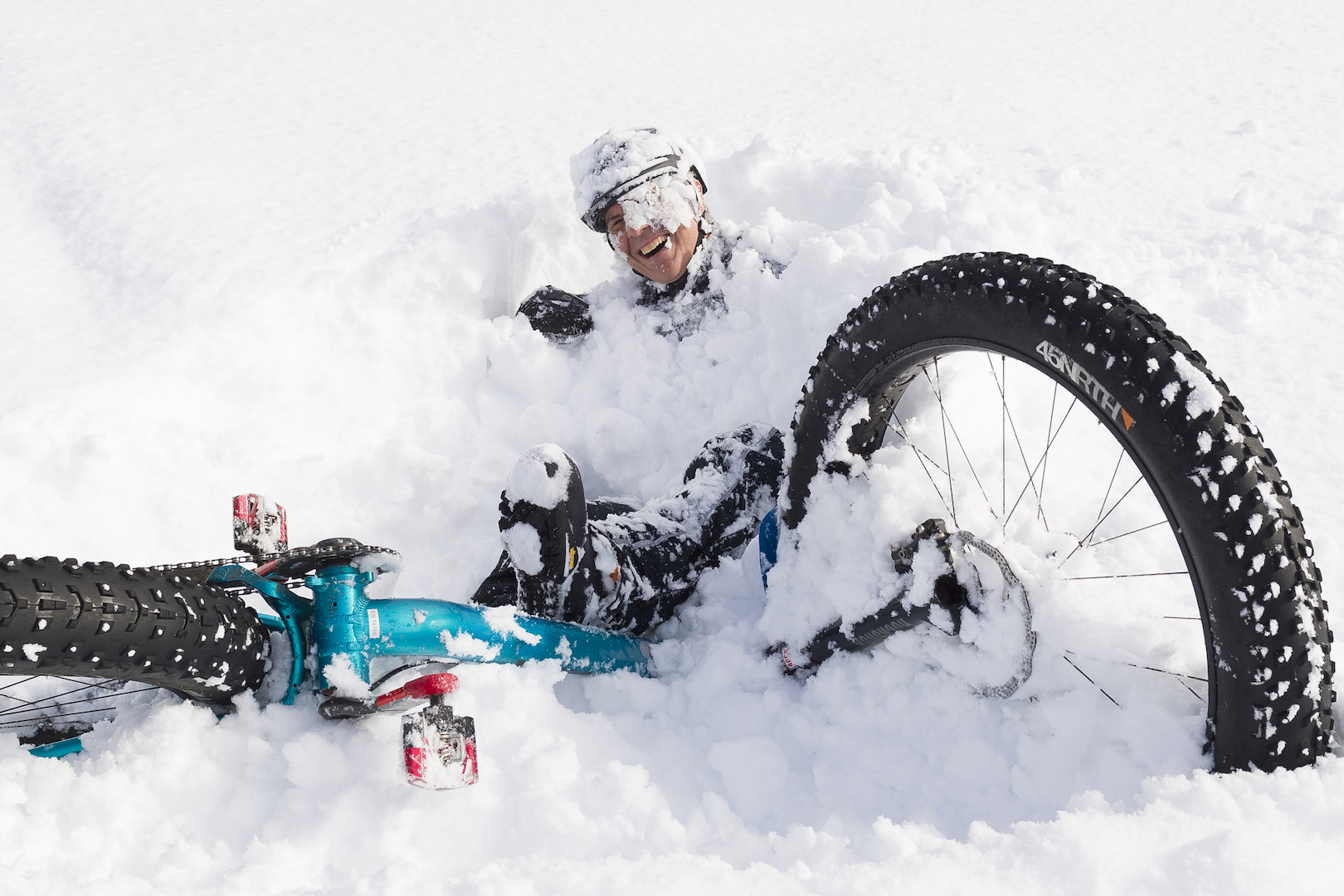 Where to Stay and Eat:
Ample accommodations can be found in Whistler. The WOP does have a licensed cafeteria onsite.
Directions:
From North Vancouver travel northbound on Highway BC-99 to Callaghan Road in Whistler. Turn left and follow along approximately 11 km to the gated park entrance.
From Whistler – drive southbound along Highway BC-99 to Callaghan Road in Whistler. Turn right and follow along approximately 11 km to the gated park entrance.
GPS Coordinates: Latitude 50.13912, Longitude: -123.1137
Contact:
For more information please visit http://www.whistlerolympicpark.com/activities/fat-biking.