Words by Geoff Gulevich Photos by Margus Riga "One for the Girls" video by Ambrose Weingart
---
The week kicked off with Margus Riga and myself on the Skytrain, headed to the airport. We were throwing around small talk about the weather forecast and the upcoming locations. It struck us, that these winners of the Mountain Biking BC 7 Day Giveaway may be the gluten free, shower twice a day type, that can make any trip less than exhilarating…
We were now sitting at the airport warming up some beers as we had arrived quite early for our flight to Powell River when these two ladies wearing a toque and trucker hat approached. We quickly became acquainted with Jacqueline Odermatt and Michelle Davies where we learned almost immediately to be of the laid back and adventurous variety. Instantly, we were relieved and began to get more excited about the trip.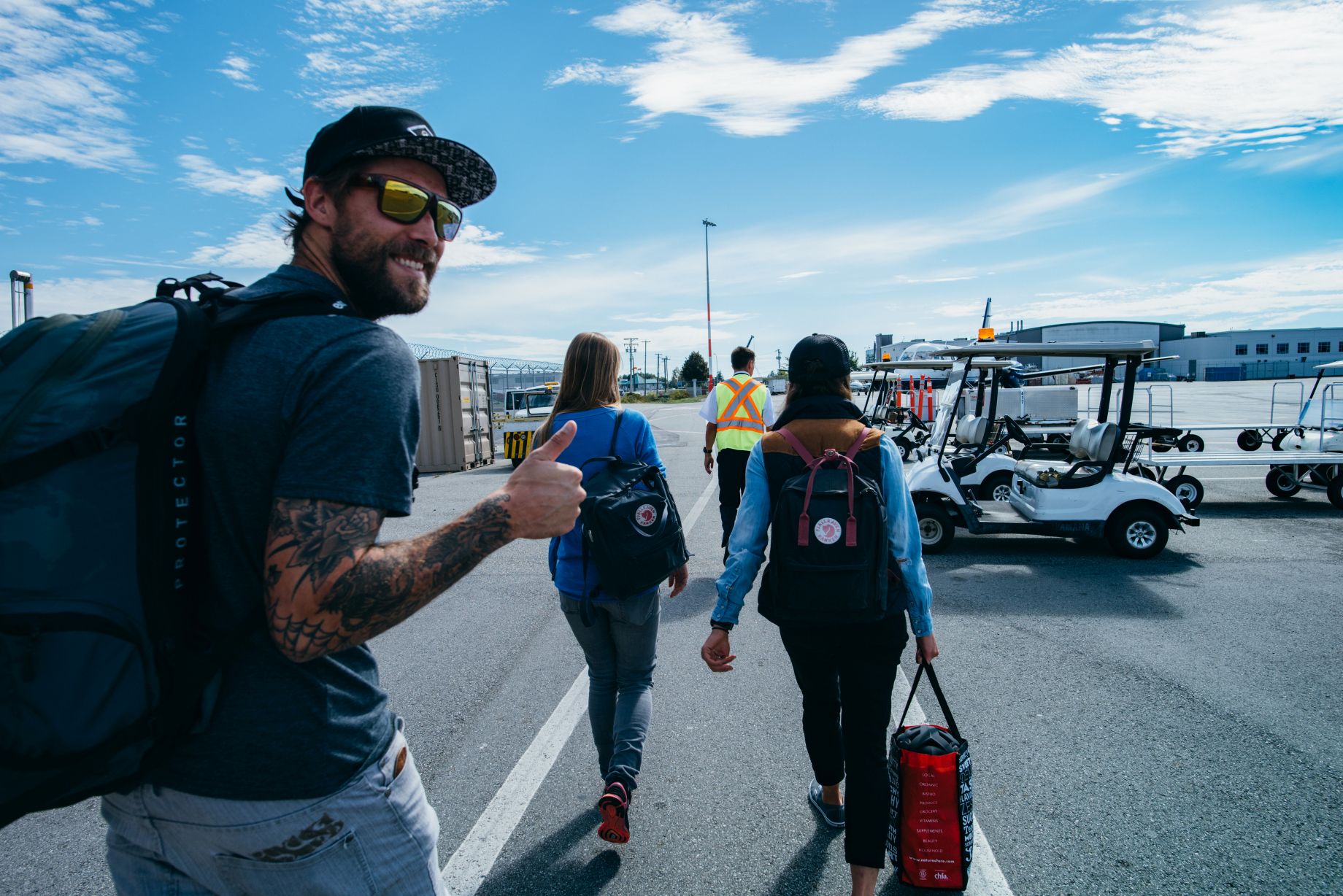 Jacqueline (aka Jacky), a Swiss native, had written an inspiring piece about her passion for mountain biking and love for the outdoors. She was a shoo-in for the trip. Jacky had met Michelle, a Kamloops, BC resident, as an exchange student going to university in Switzerland where they immediately clicked as adventure buddies in summer and winter activities. Michelle was Jacky's immediate choice to join her on this week-long mountain bike trip throughout some of BC's hidden gems.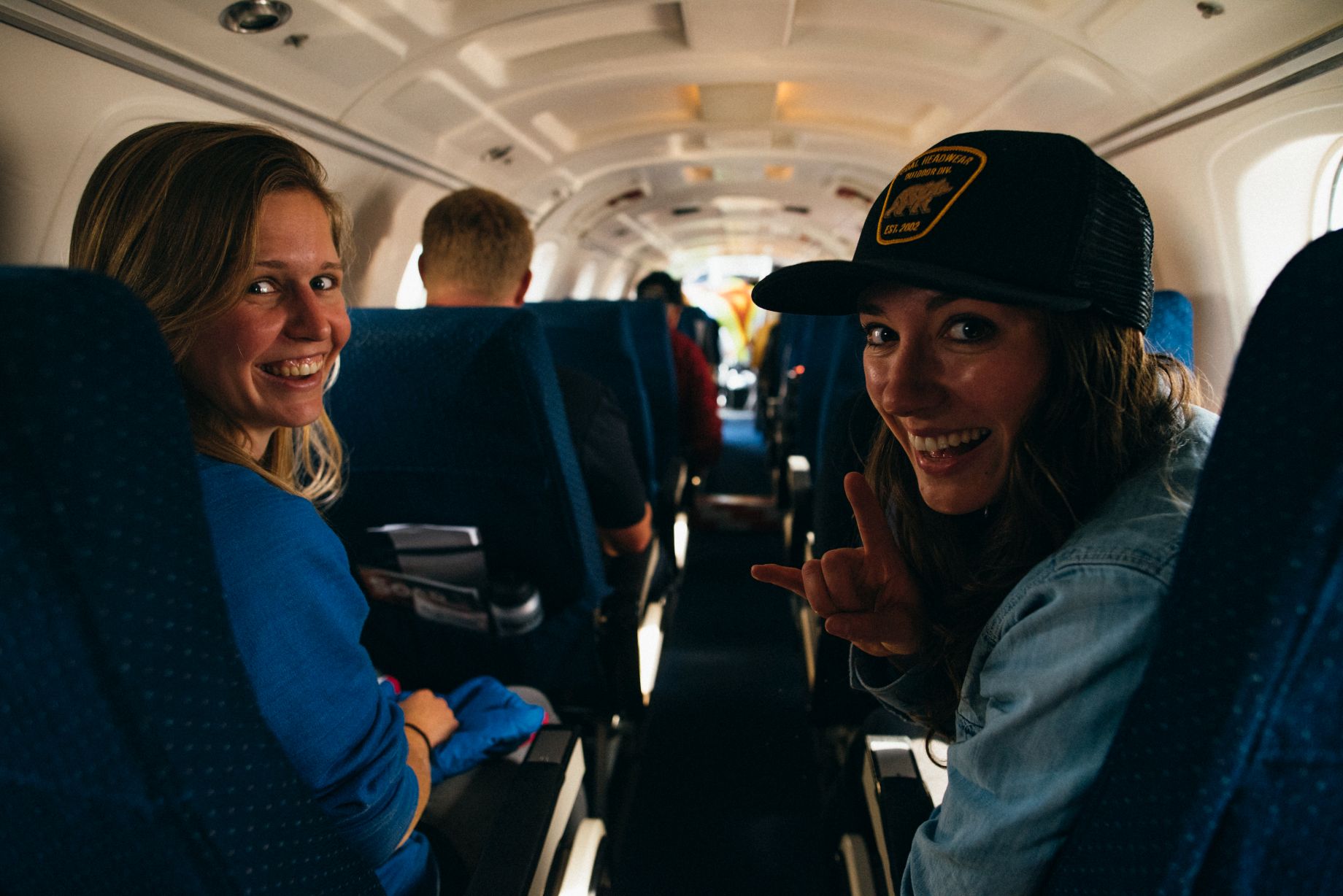 We boarded the plane as a new team and began to chat amongst ourselves about our plans and goals for the week on the 30 minute Pacific Coastal flight from YVR to Powell River. Meeting us at the other end was the Endless Biking crew, Darren Butler and Kelli Sherbinin, Mountain Bike BC's founder, Martin Littlejohn, along with the other half of the media crew, Ambrose Weingart. Making our way to stop number one at 'The Old Courthouse Inn,' we decided to drop our bags and rally our riding gear to hit the trails immediately. This was the type of enthusiasm that would certainly lead to a good trip!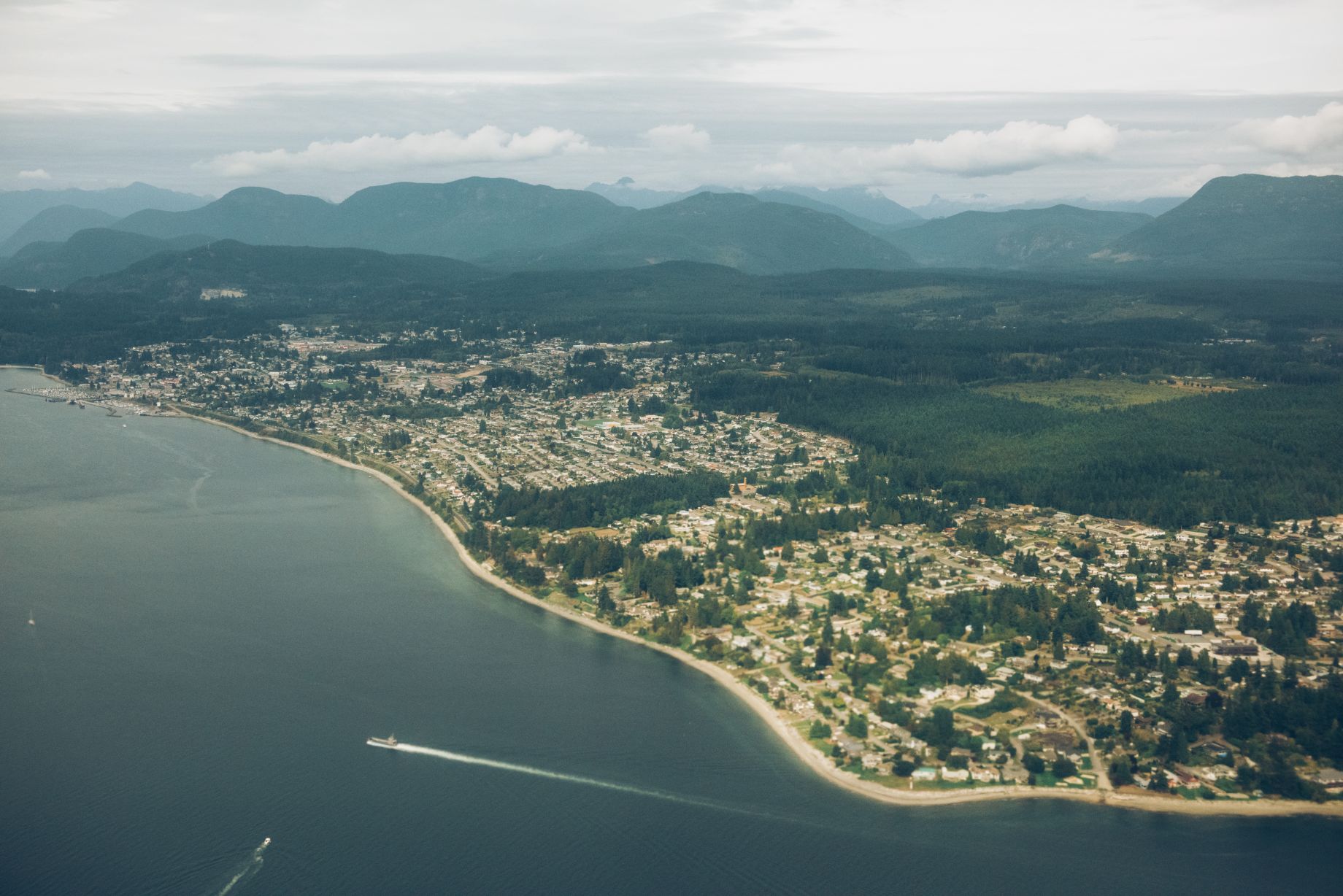 Now, if you don't know Powell River, it is an old forestry community up the coast a couple of hours and 2 ferry rides from Vancouver. They have an inside joke that all of the area's downhill trails are actually 30% uphill, which is somewhat true. Undulating terrain is the name of the game in PR and quickly became one of my favorite words to say as it rolls up and down in your mouth as you say it, just as it is defined.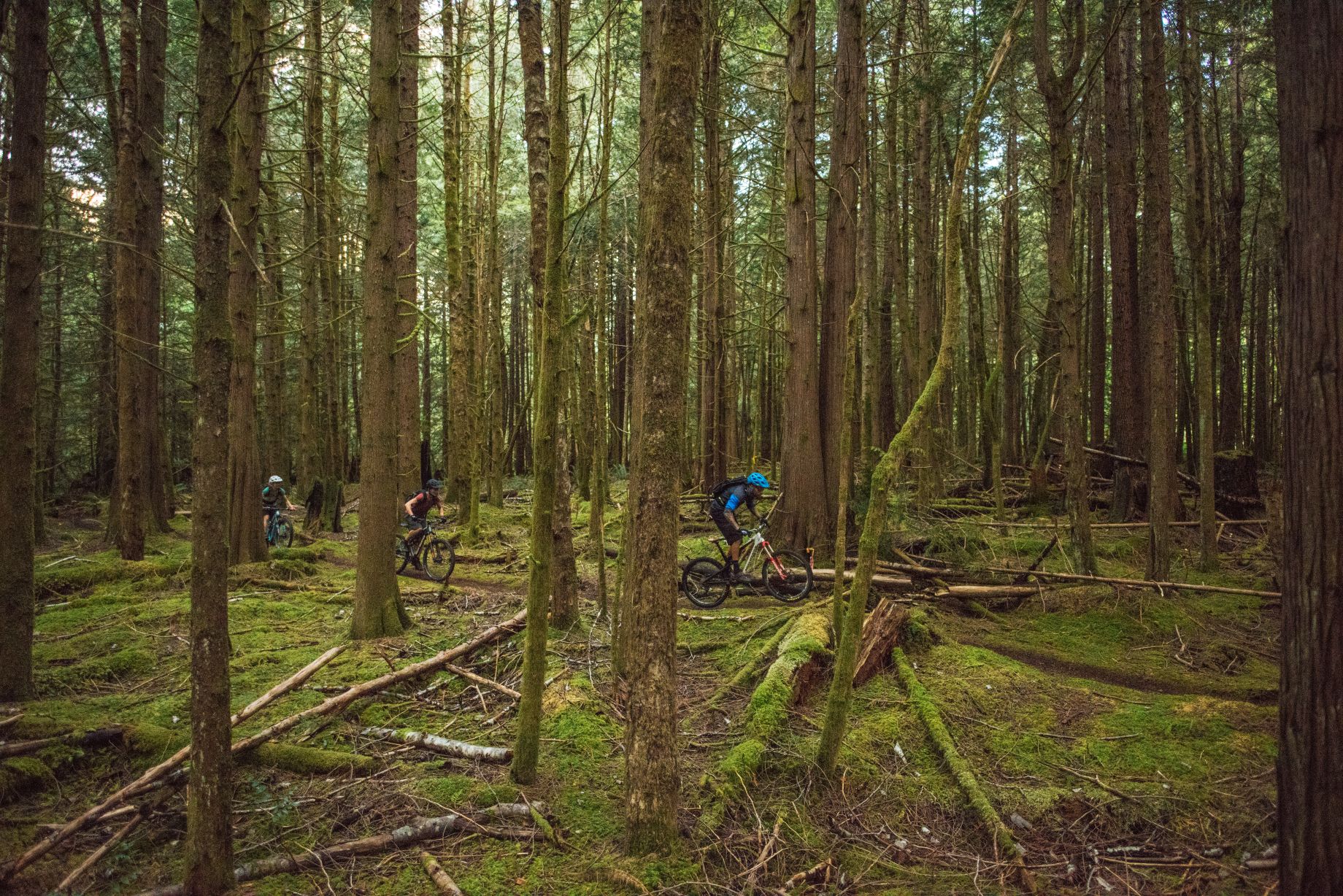 Russell Brewer, one of the heads of the Powell River Cycling Association joined us for the day as we cruised nine riders deep into the Duck Lake area to see what we could squeeze in, as sunset was fast approaching. The ride was short but lead to nothing short of optimistic thoughts for the week. The Girl's skill level far exceeded our expectations and we knew it was game on for some real adventure. No beginner's week here, all trails were green lit. The terrain in the Duck Lake area compared to your crazy Aunt's living room, showcasing a unique forest with endless green shag carpets of moss lining both sides of the trails.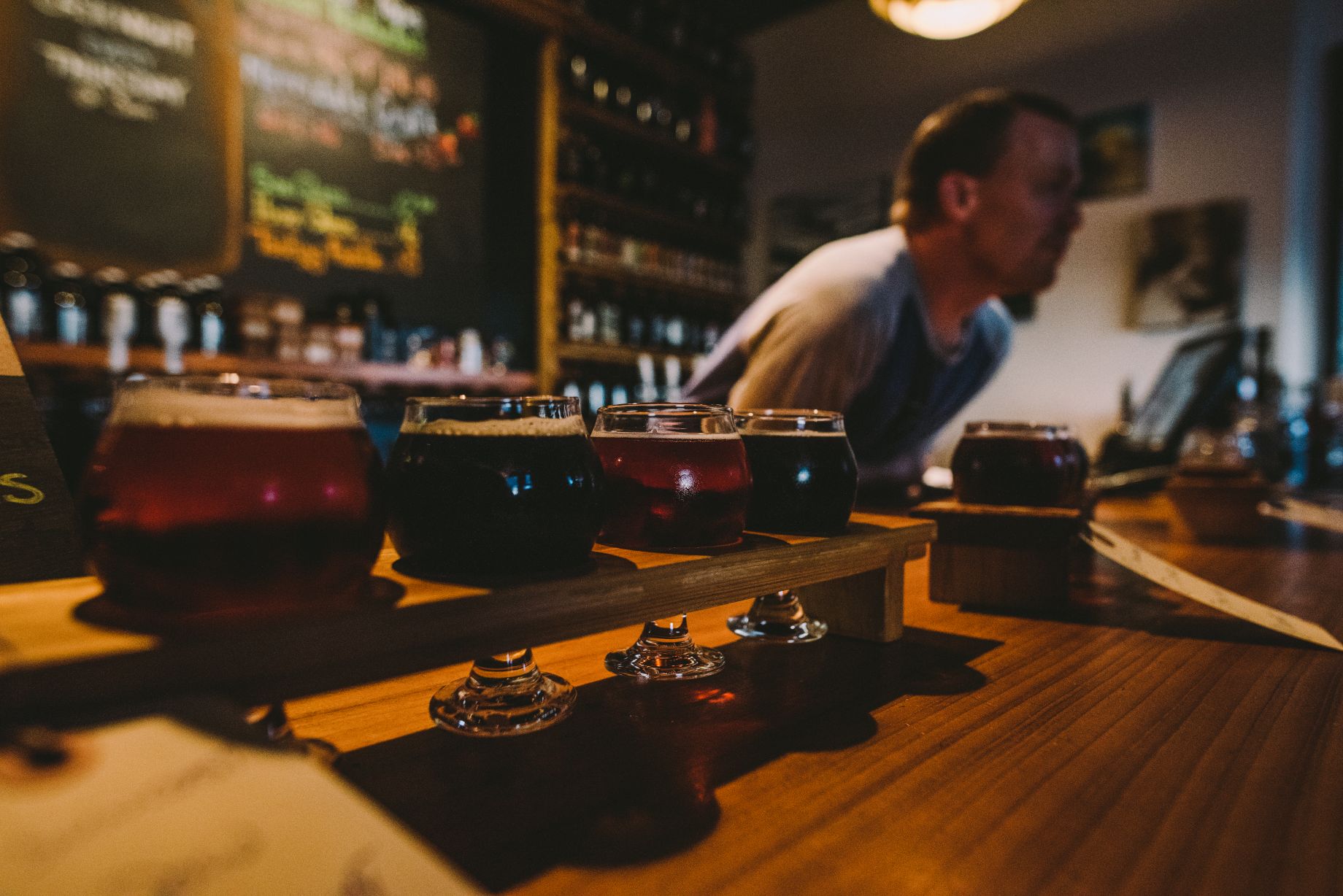 After we all became acquainted with the forest, the group decided to make haste and get to the town brewery; Townsite Brewing. A secret batch of the local Blueberry Porter occupied most of our pints and disappeared just as quickly as it was poured. The crew enjoyed one (or five) of those beverages and continued onto Coastal Cookery for dinner. After loading up on all-time meals, we were toast…the trip had only begun.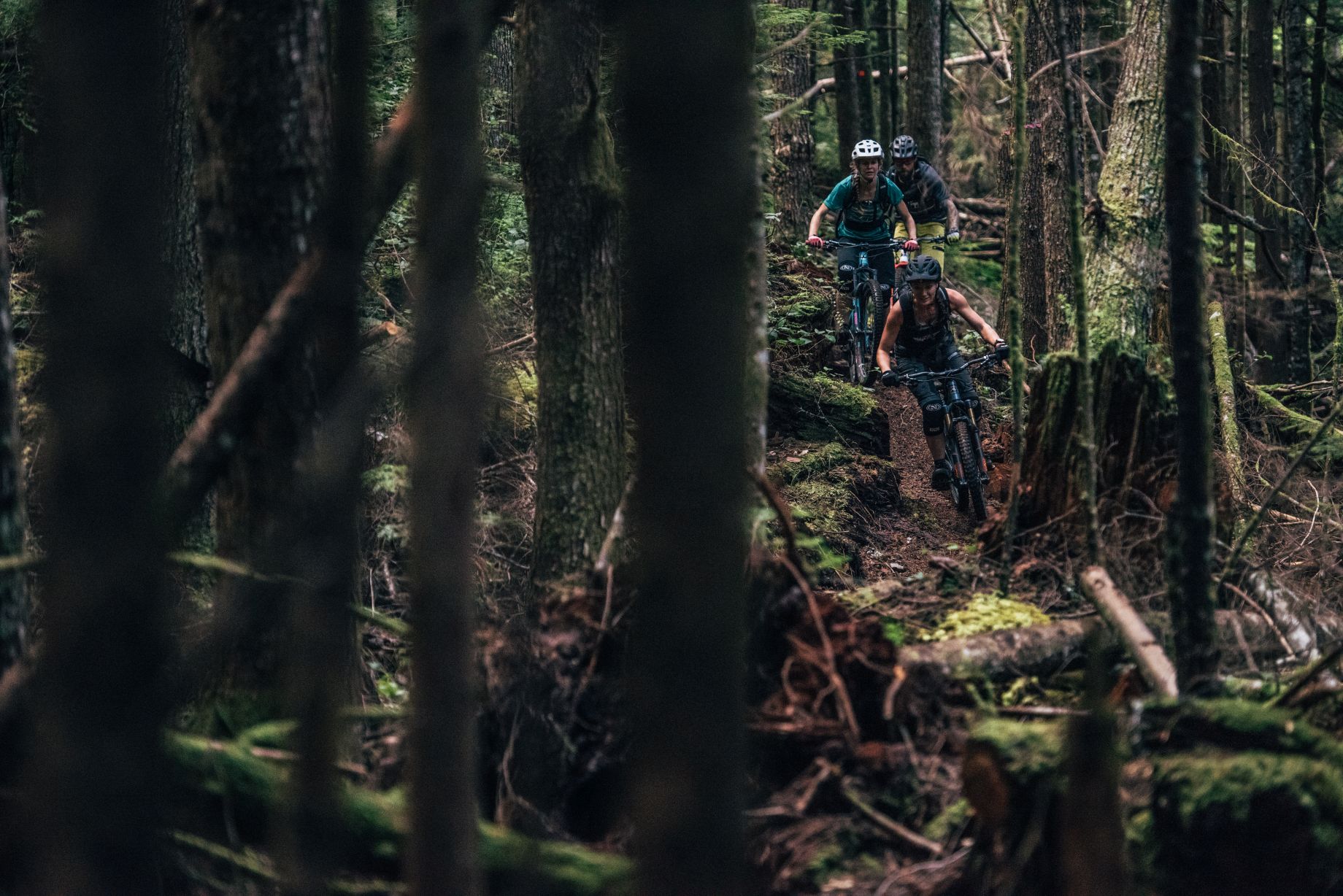 Saturday morning we got up and had to shake some cobwebs off, as excited groups tend to overshoot on the first night. Meeting for a 7:30 breakfast and rolling out to meet some of the locals for a long shuttle in a zone called 'Branch 41', a relatively unridden trail that you had to stay on your toes for. Riddled with greasy roots and tight corners, it was easy to find yourself inspecting the cabbage on the side of the trail before you knew what happened. Jacky and Michelle were on fire, conquering aggressive terrain with smiles on their faces.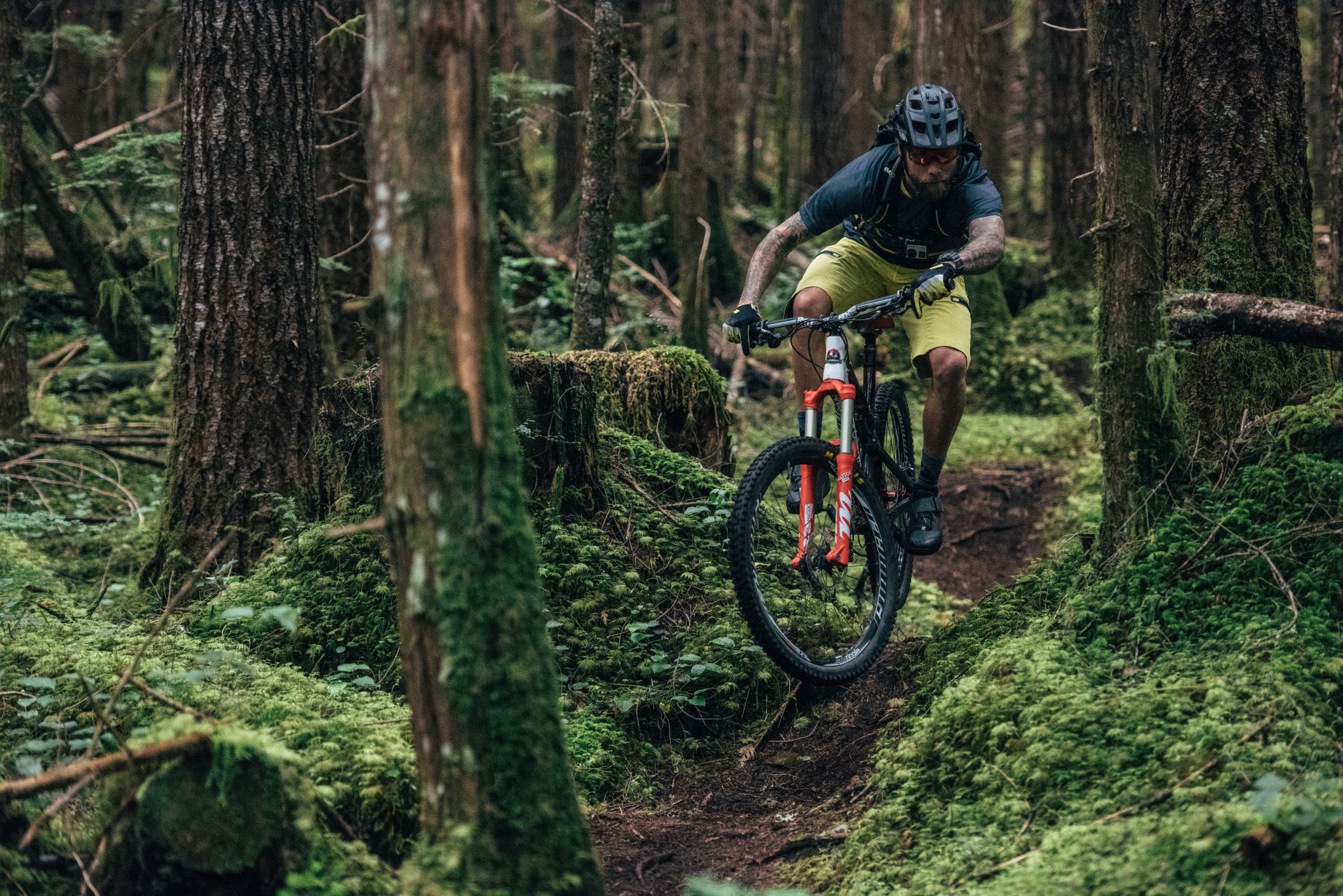 We wrapped up the morning ride to grab lunch and form a game plan for the afternoon. When the plan had come together, there were a few looks of confusion going around the group. We planned to climb Mt. Mahoney to a trail called 'Civil Disobedience', with its creator, John Rapp, shoot the peak at sunset and make our way down in the dark. The girls were game. Perhaps my favorite moment was watching Margus tell the girls "You know we're F——d, right? We're riding out in the dark…" They were game… It was adventure time. A quick stop at Canadian Tire for a couple extra headlamps, for the people who have never met Margus before; you generally get lost at least once on an adventure and often end up finishing much later than anticipated, with emptied food and water supplies. It's always a riot.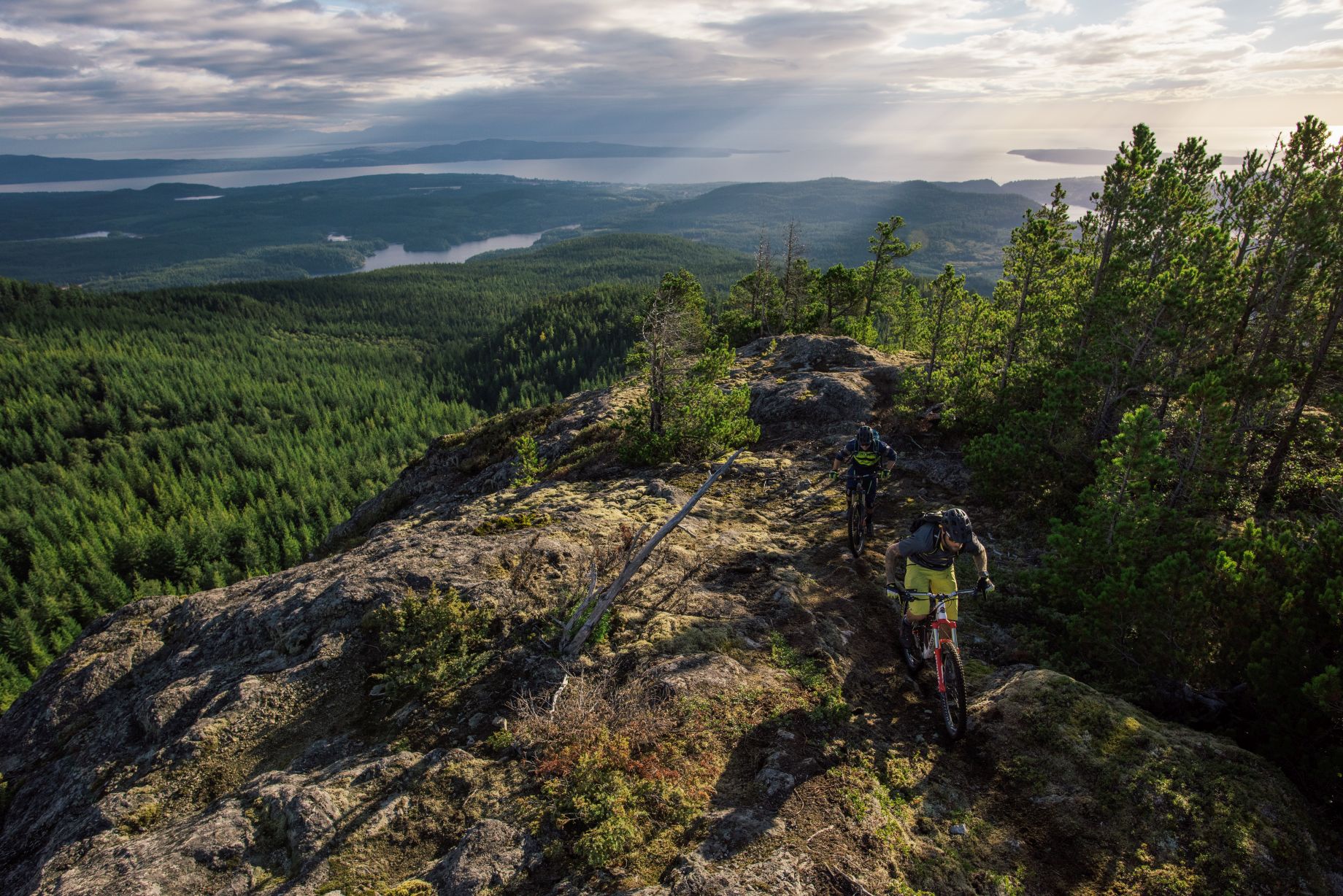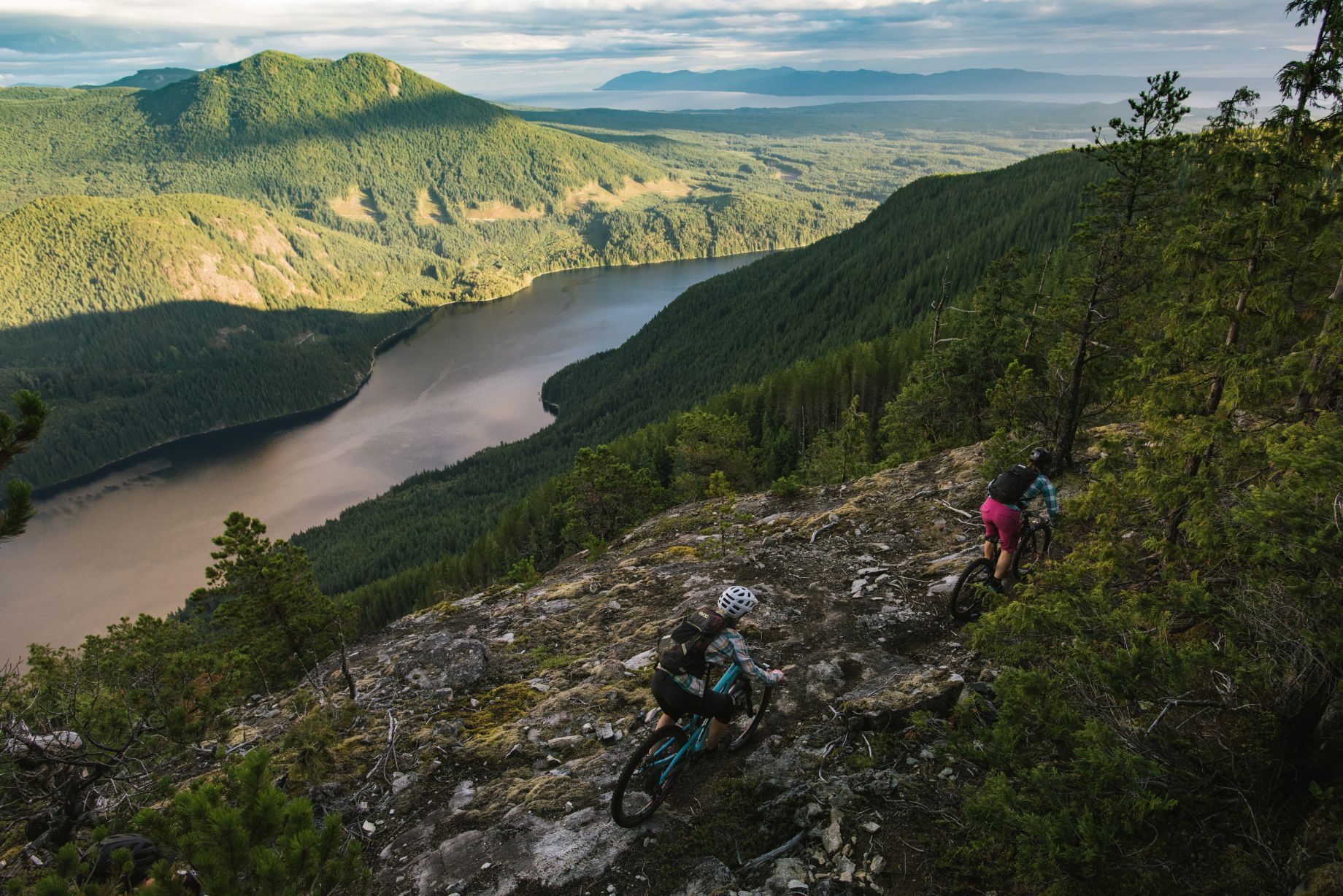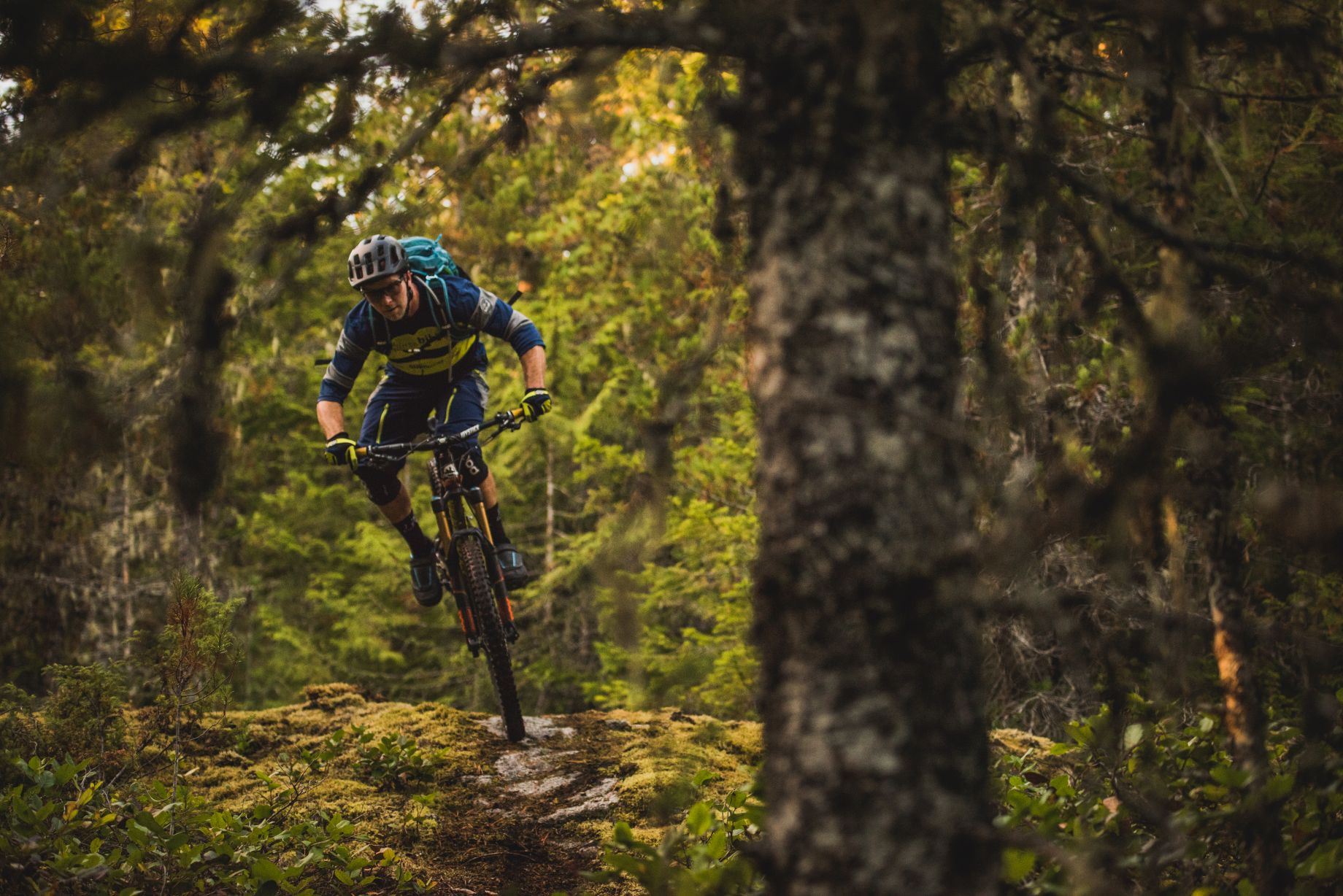 We climbed a painful pitch to the summit where we actually arrived an hour sooner than expected. The plan was quickly changed to shoot as much as we could immediately and try to enjoy the 3000 ft of vertical before having to pull out the lamps. John had done such an amazing job on this trail. Loam, rock faces, and trail hits made the descent full of laughter and high fives. Barely making it to the base of the trail that met the lake before the sun was totally gone. We head-lamped up and bushwhacked for a solid thirty minutes out to the logging area. It was only 8:30…. look at that…. we had time to get back to the brewery and empty that keg of blueberry porter. The street race was on, the time was tight but when there is beer on the line for thirsty mountain bikers, you make it happen and we did. We emptied that keg as a team!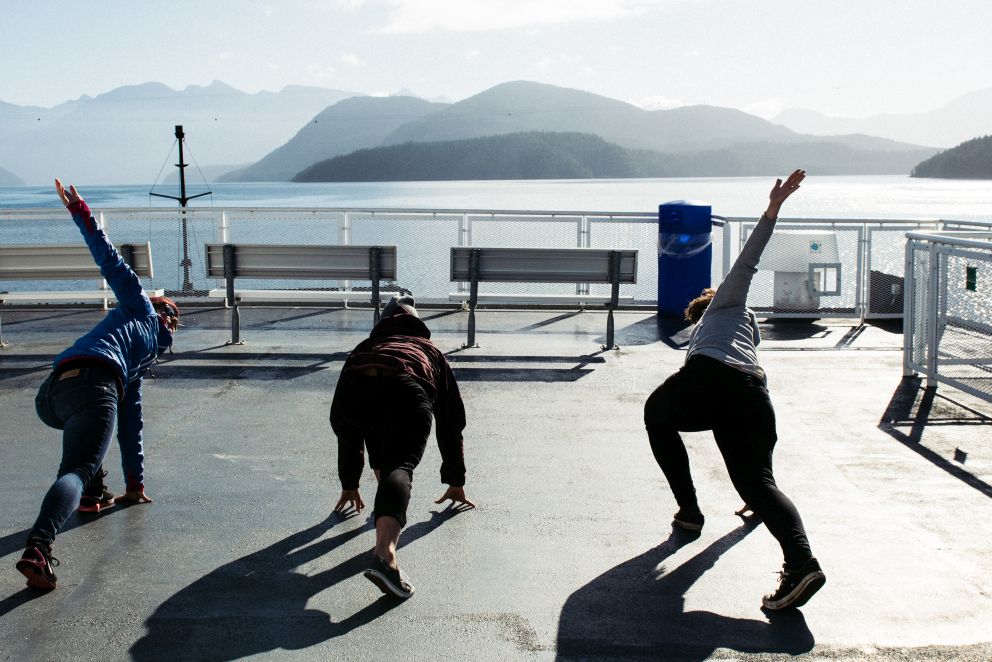 Sunday Morning spirits were high; the Endless Biking van made its way onto the first ferry from Powell River and towards the Coast Gravity Park in Sechelt. This was our only bike park day on the itinerary, therefore, we wanted to max out on all the laps we could. The CGP crew were extremely warm and even stayed late for us to squeeze in a few extra laps. I recall Jacqueline getting cross rutted on one chute and being thrown off her bike. Back on her feet in the blink of an eye and ready to try the line again. I was very impressed, to say the least. We ran through all the trails on the map. Nothing was holding us back. Met with high fives and giggles every time you rendezvoused with the pack. That park is truly a work of art.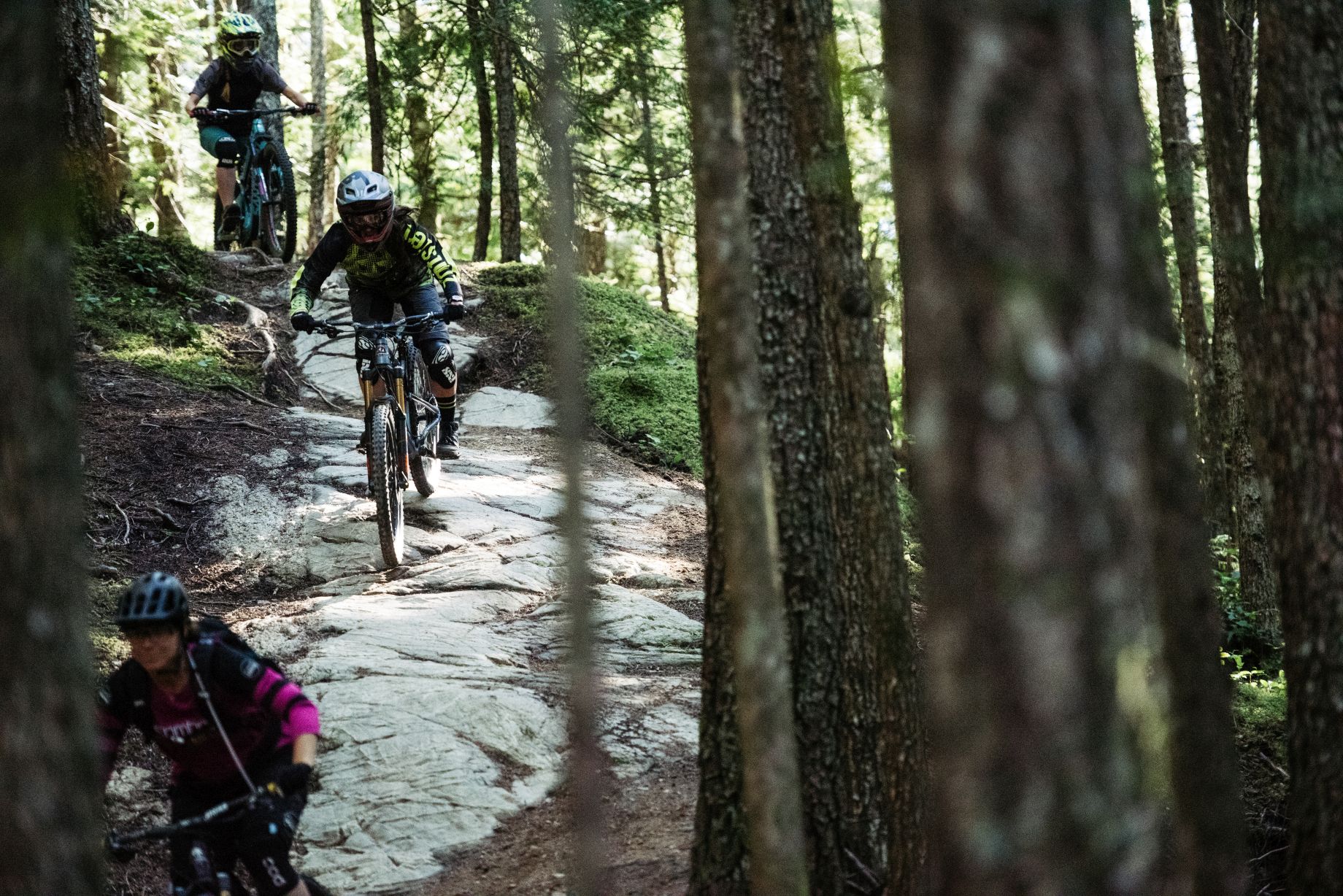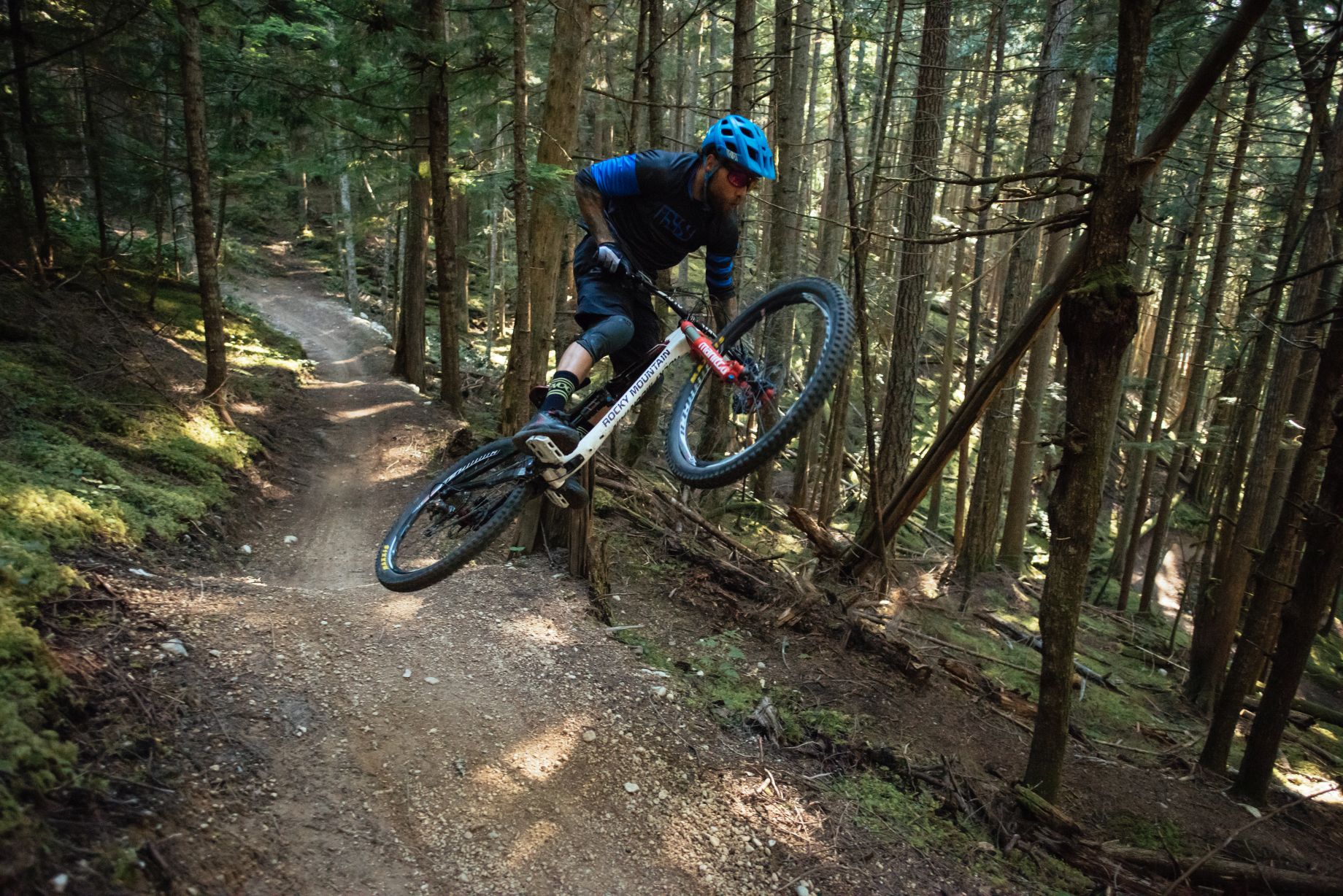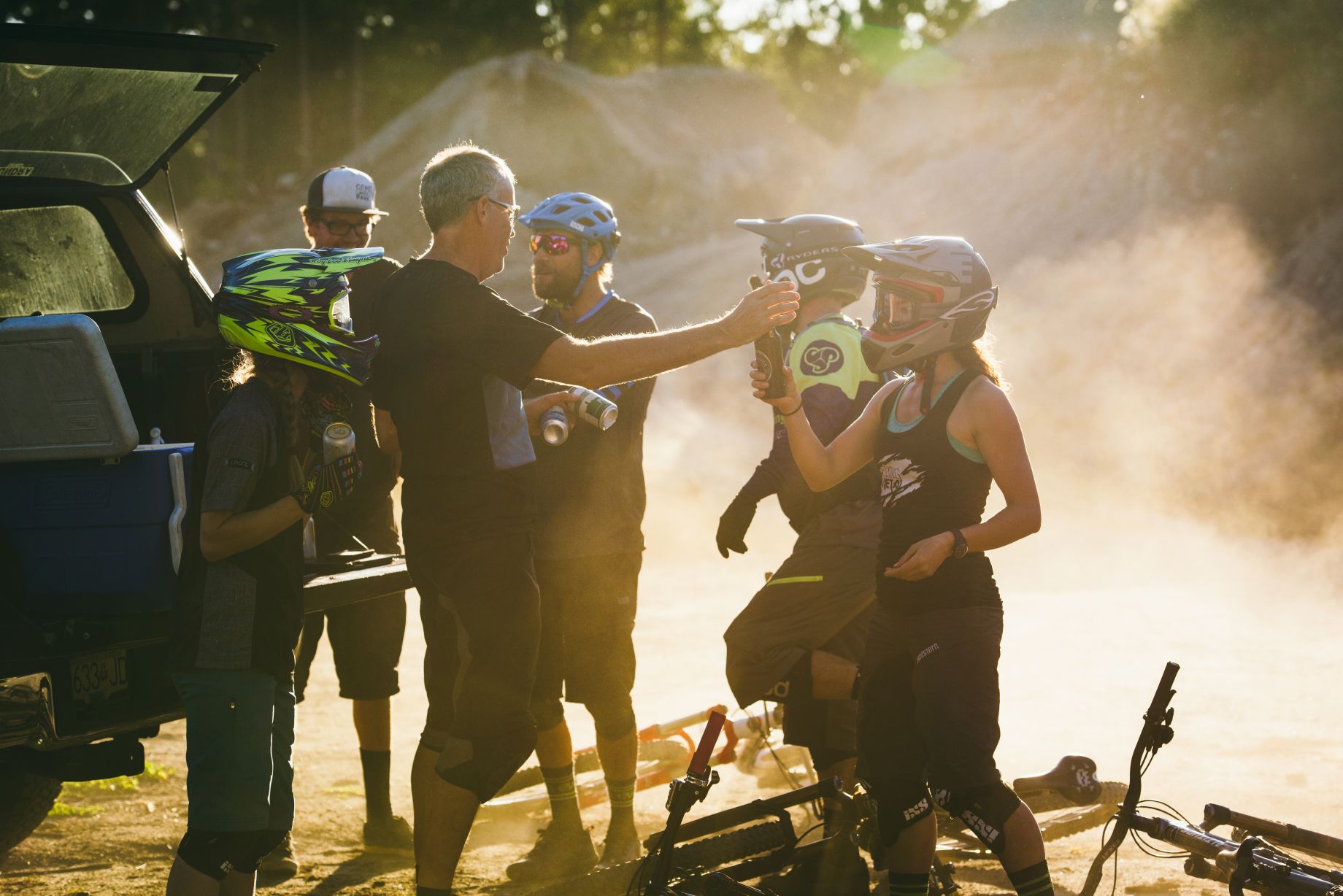 We stayed on the coast that night and continued to ride Robert's Creek the following day. Warming up on "Cunning Stunts" and "Black Tower", we made our way over to the Sunshine Coast's best known DH track 'Mach Chicken'…so smooth and flowy. No other way to describe the terrain that's raised some of BC's best riders. We shuttled back up and made our way down 'Highway 102' that actually parallels the real Highway 101, all the way to the Sprockids Rec Site. Enjoying beautiful corners and a handful of built features. We exited the forest right into Persephone Brewing's front yard…what a coincidence?! We were beginning to think this was a brewery tour, rather than a mountain bike tour. No complaints.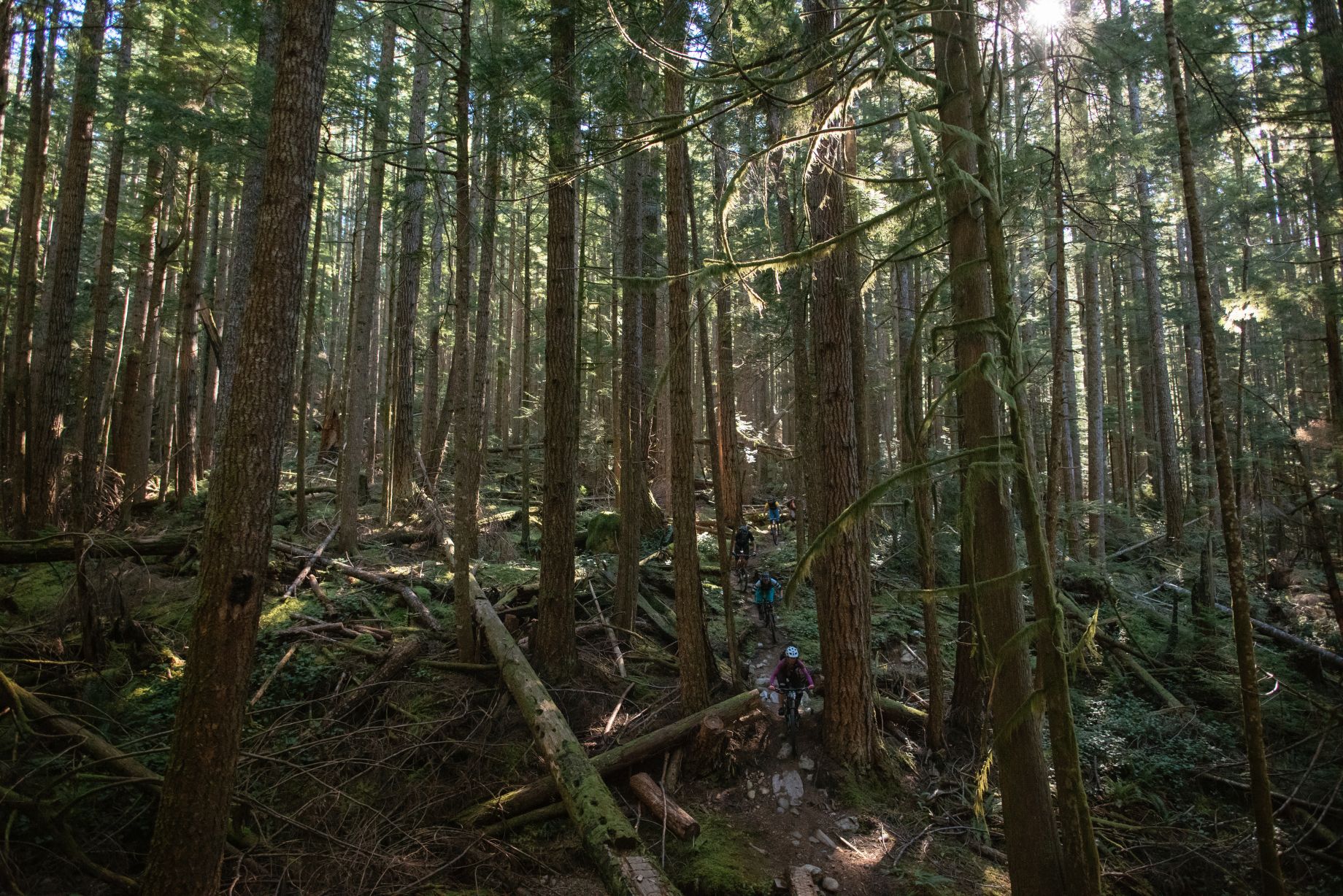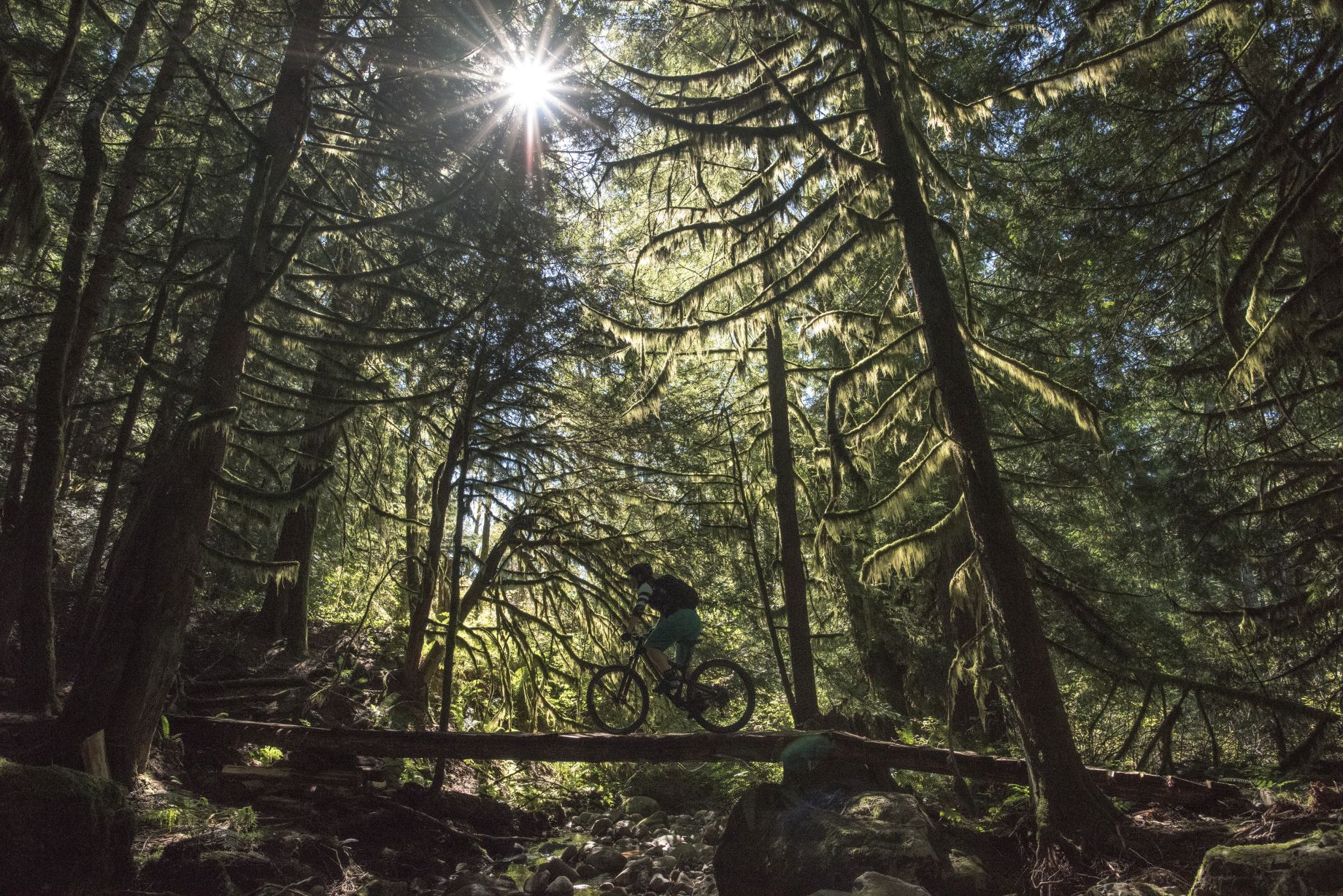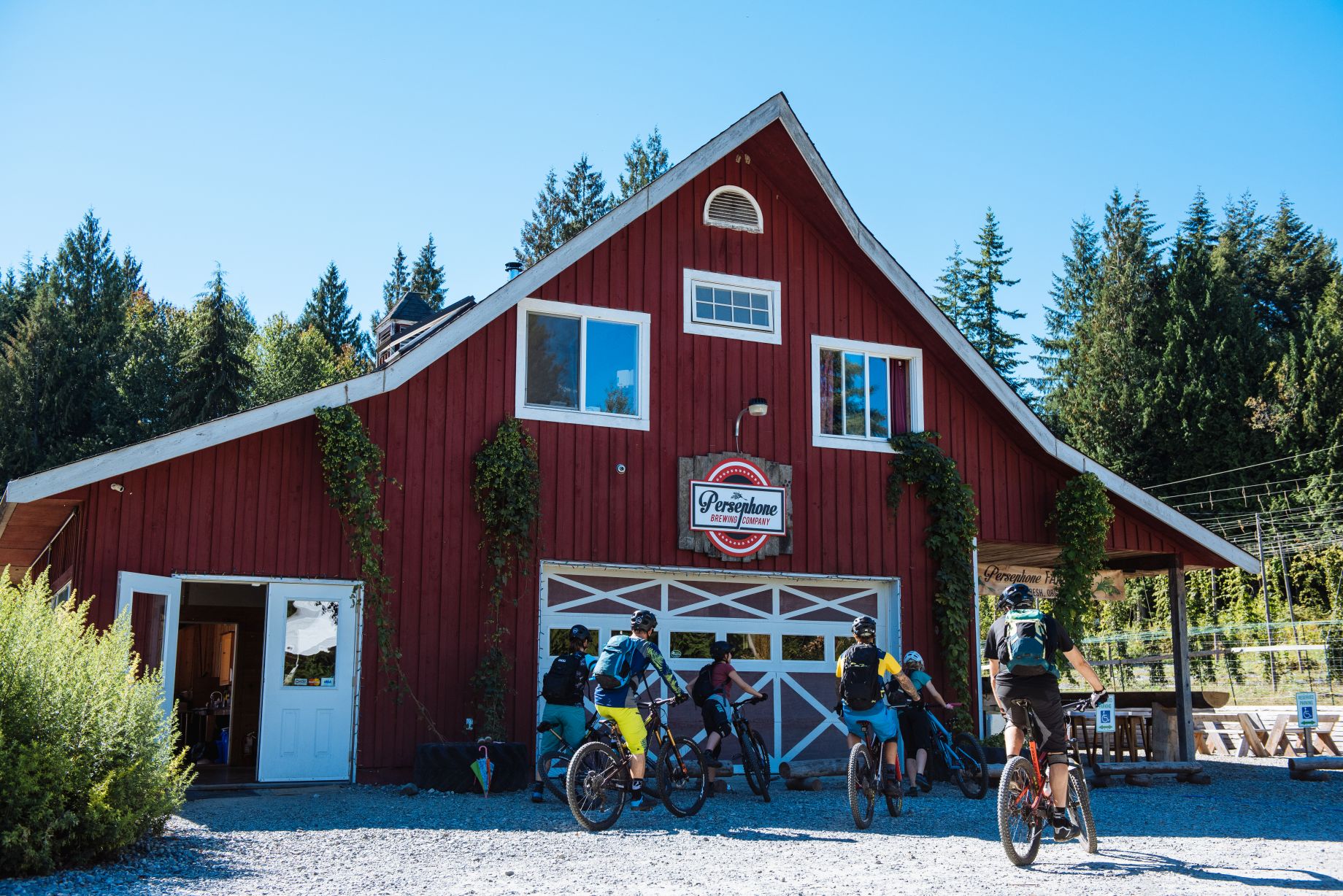 Persephone Brewing was actually closed for a hops picking day from their in-house crops. They were generous enough to fill our glasses and in exchange we stuck around to help with the harvest until we had to catch our boat back to Vancouver.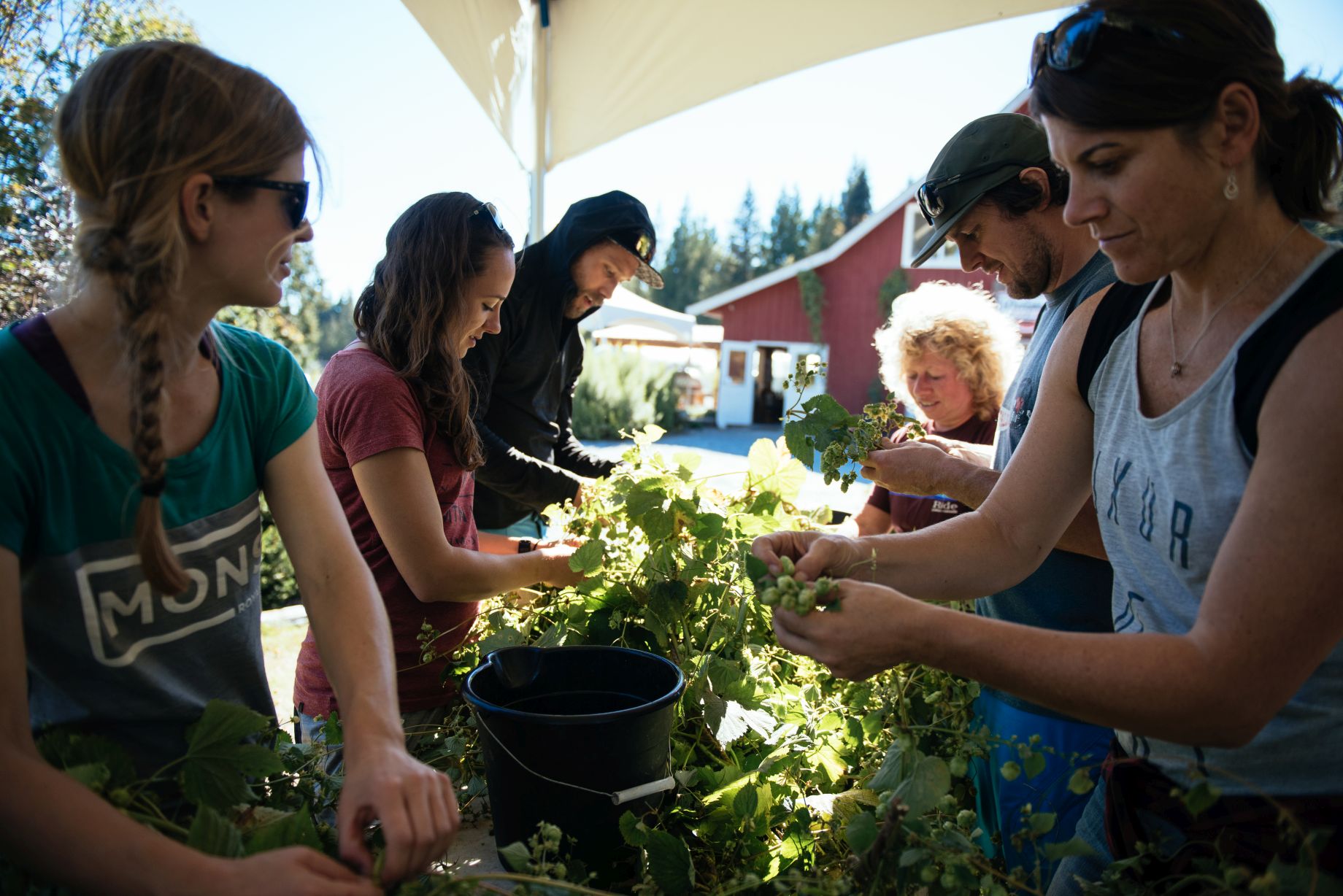 Once again we loaded in the now slightly stinky van and made our way to Chilliwack for the following two days where our good friends, Tyler Maine from Pinkbike and Kevin Koopmans from the Fraser Valley Mountain Bike Association, would meet us to display the goods.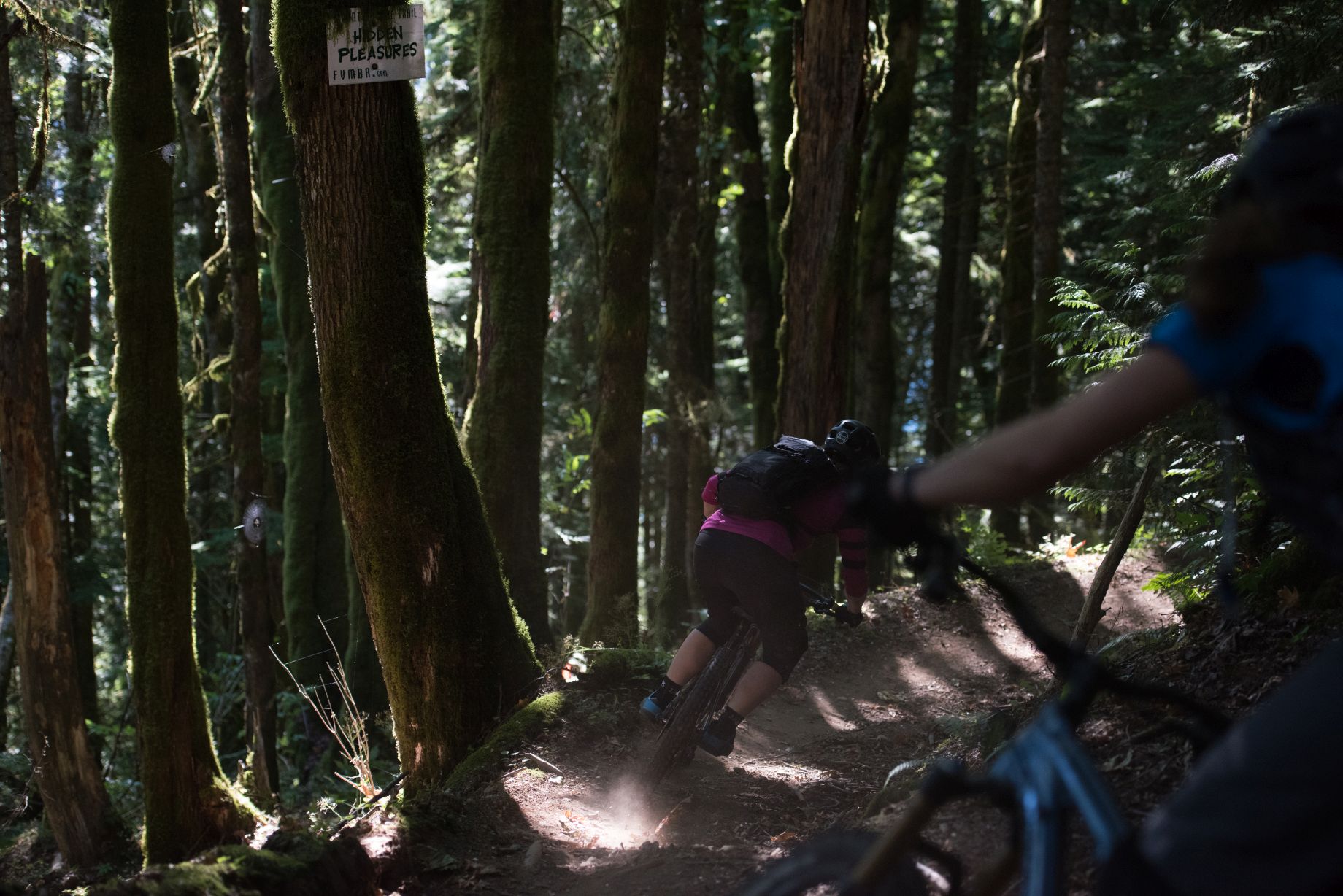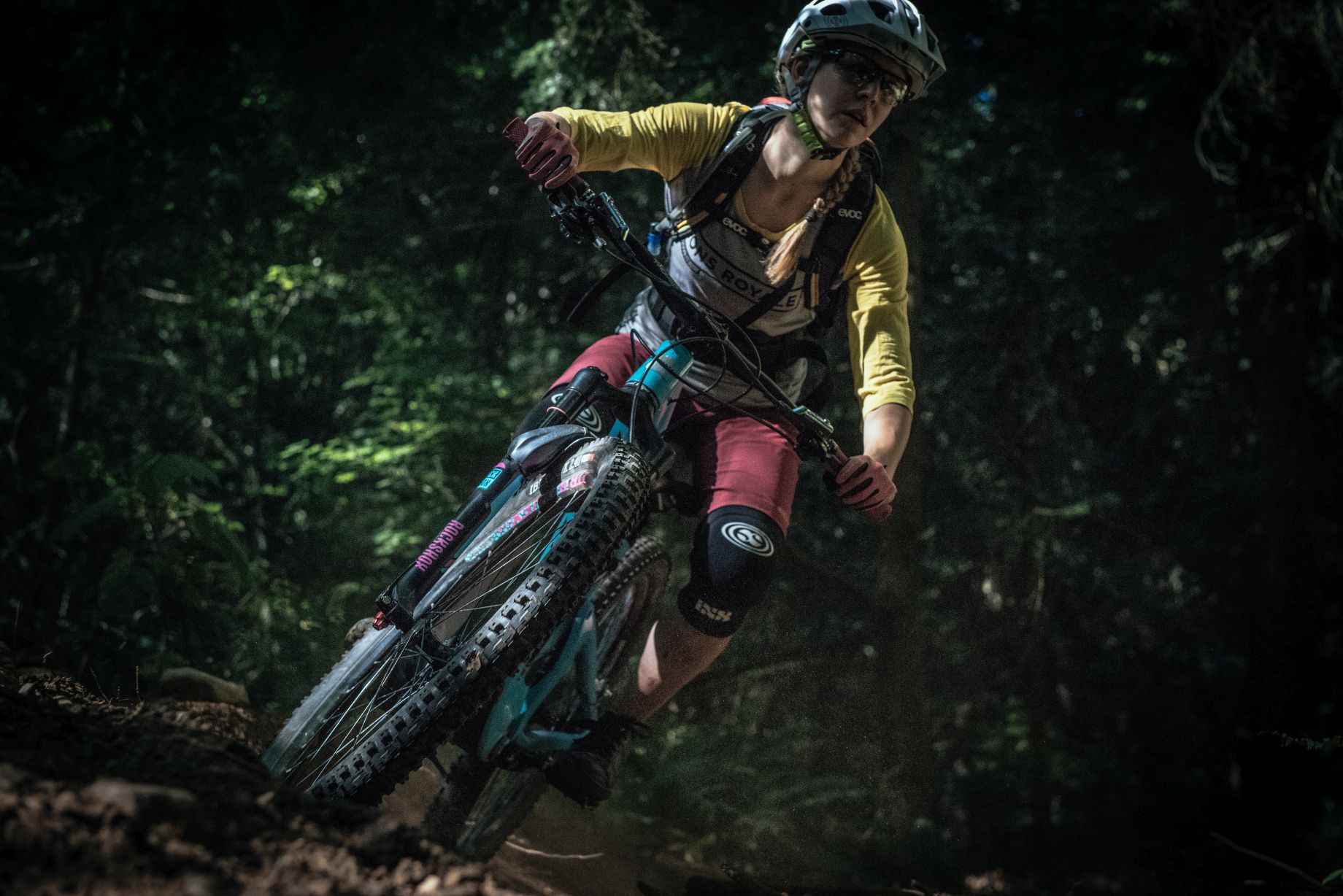 Beginning day four on Vedder Mountain with a warm up run down '2 cents', 'Skidder' to 'Hidden Pleasures' had everybody in gear and ready to ride the new local loamer, 'Black Forest Ham'. The eagle had landed, this was hands down the most fun trail of the week. Loose dirt, long chutes, jumps, sneaky lines…. you name it! The Endless Biking team was second to none in preparing and guiding the girls to success down the trail. Precision direction and coaching, lead to overcoming obstacles and growing as riders. They were PSYCHED! So were we!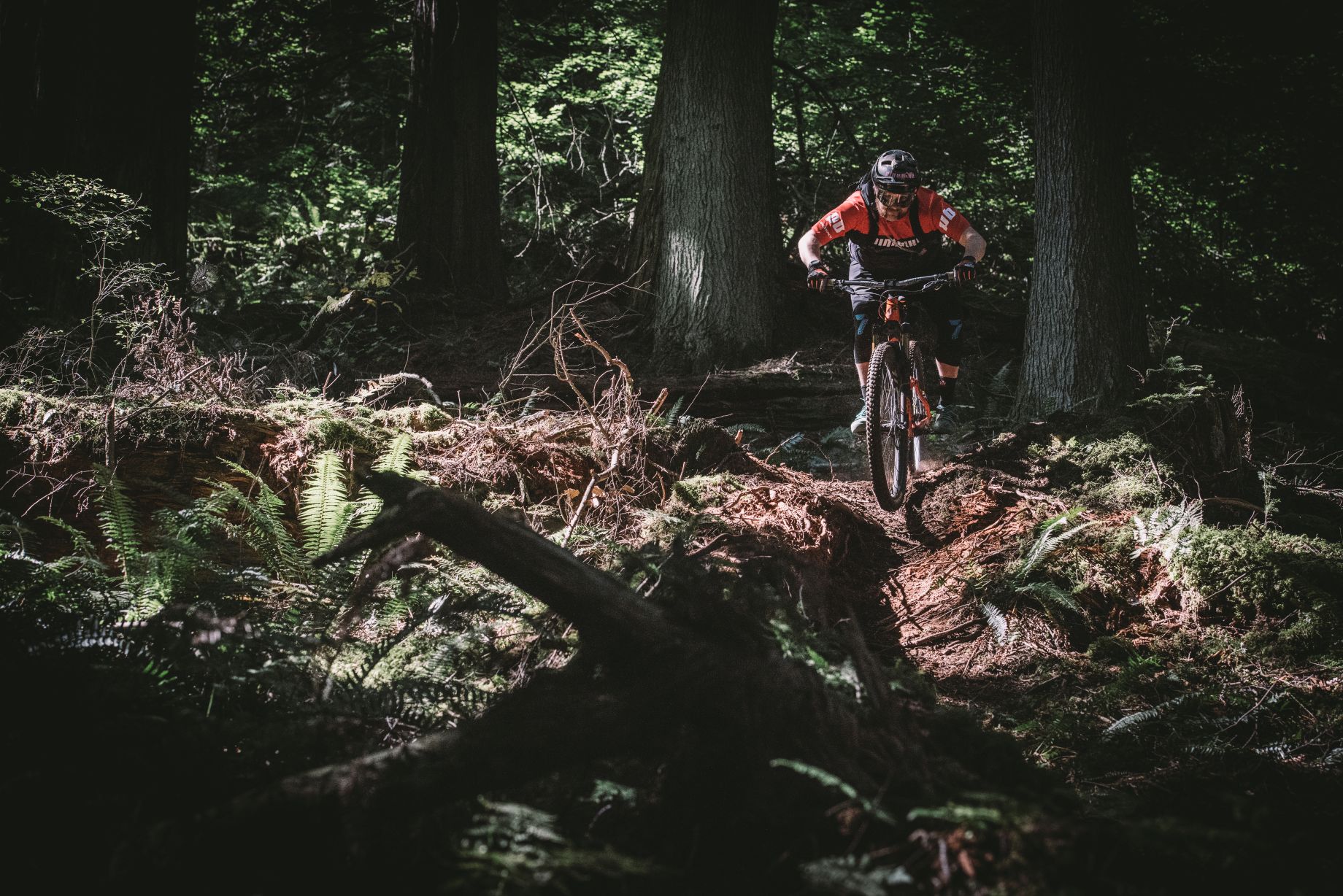 A little sushi for lunch and over to Sumas we went for the afternoon. Sumas is a little more of a ridden-in mountain, a little more old school. Arriving at Knob Gobbler, we took in views of the Fraser Valley and the USA to the south while gearing up for the descent. Making a 180 and pointing our bikes into the trail, we came immediately to a rock chute that offered different options. This was a perfect spot for the girls to progress on their trail features. A roll line, small drop and a bigger drop right beside each other. Step by step, Jacky and Michelle moved up on the drops. A few pointers and new found confidence…made it look easy.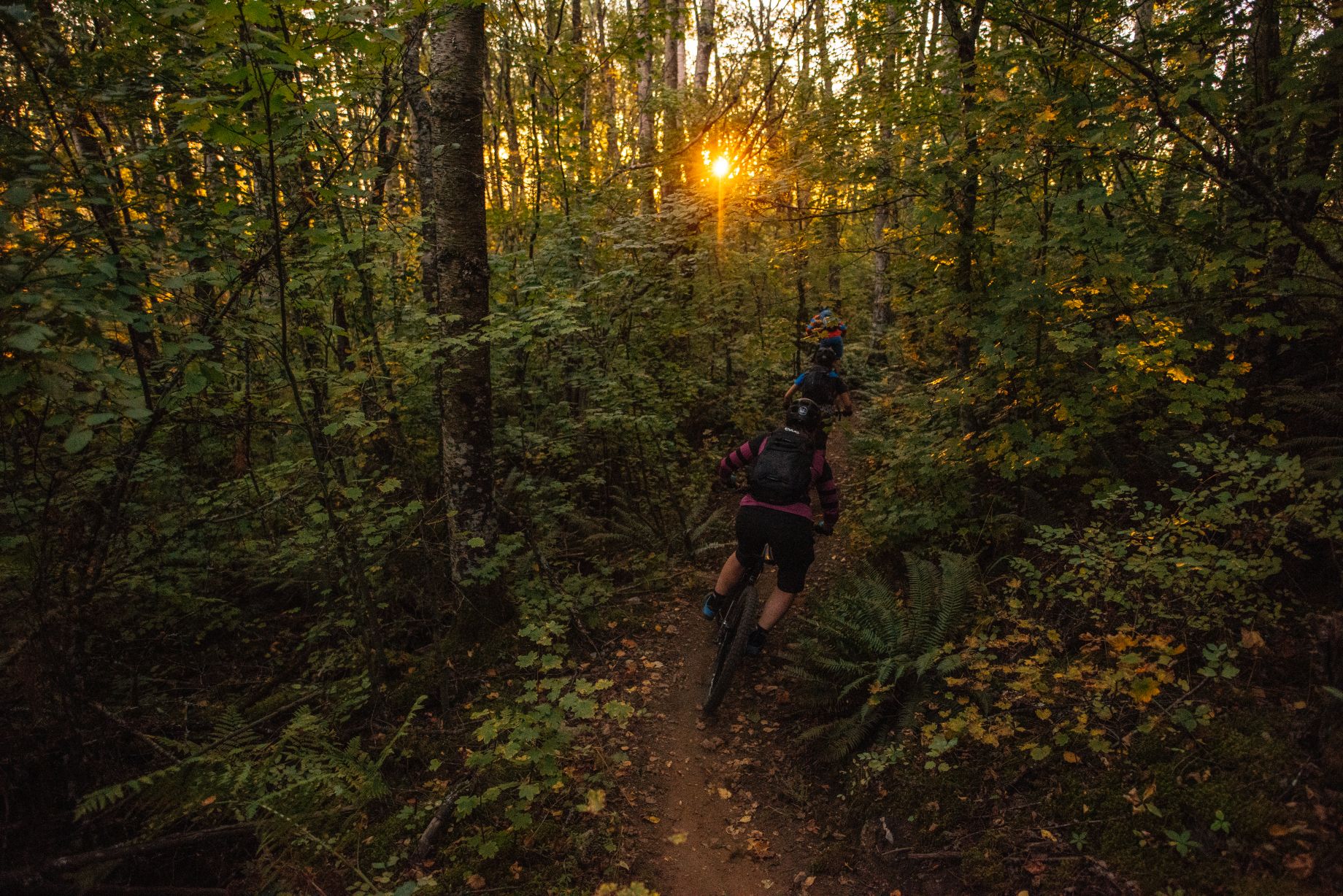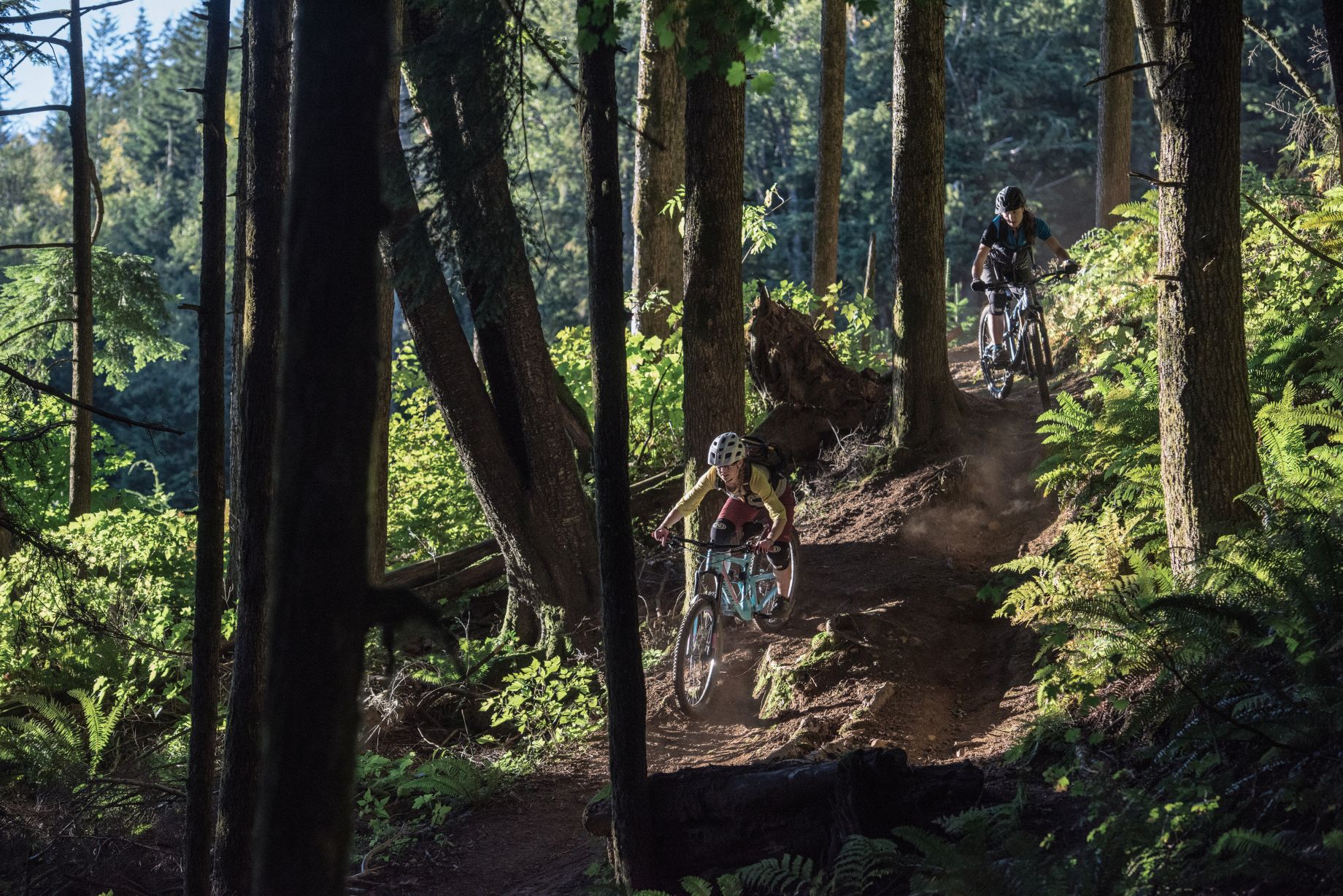 By the time we made it to 'Squid Line', it was a race against the light. Wheels up. We rocked it from top to bottom. A green trail quickly turned into a black with the speed we carried. Just barely making it out before the sun checked out, we cracked some beers and loaded the van to once again head to the local brewery. It seemed to be the theme of the day that Tuesday, just making it to Field House Brewing before closing. We enjoyed a couple tasty beers there and some dinner at Bow and Stern…our day had ended.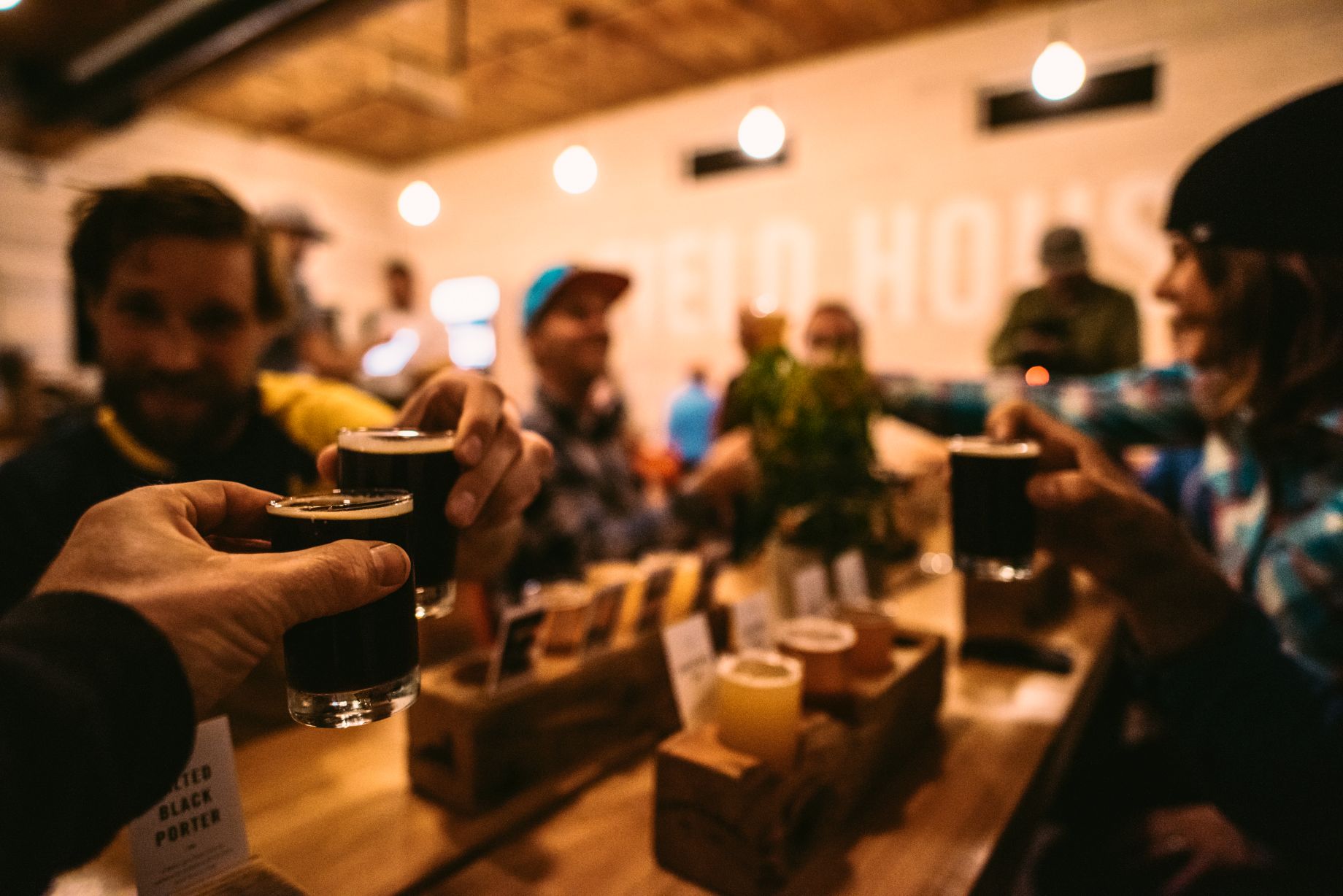 Wednesday we had Bear Mountain on the radar. A quick breakfast in Abbotsford at Anne-Marie's Café was followed by a short drive to the trails.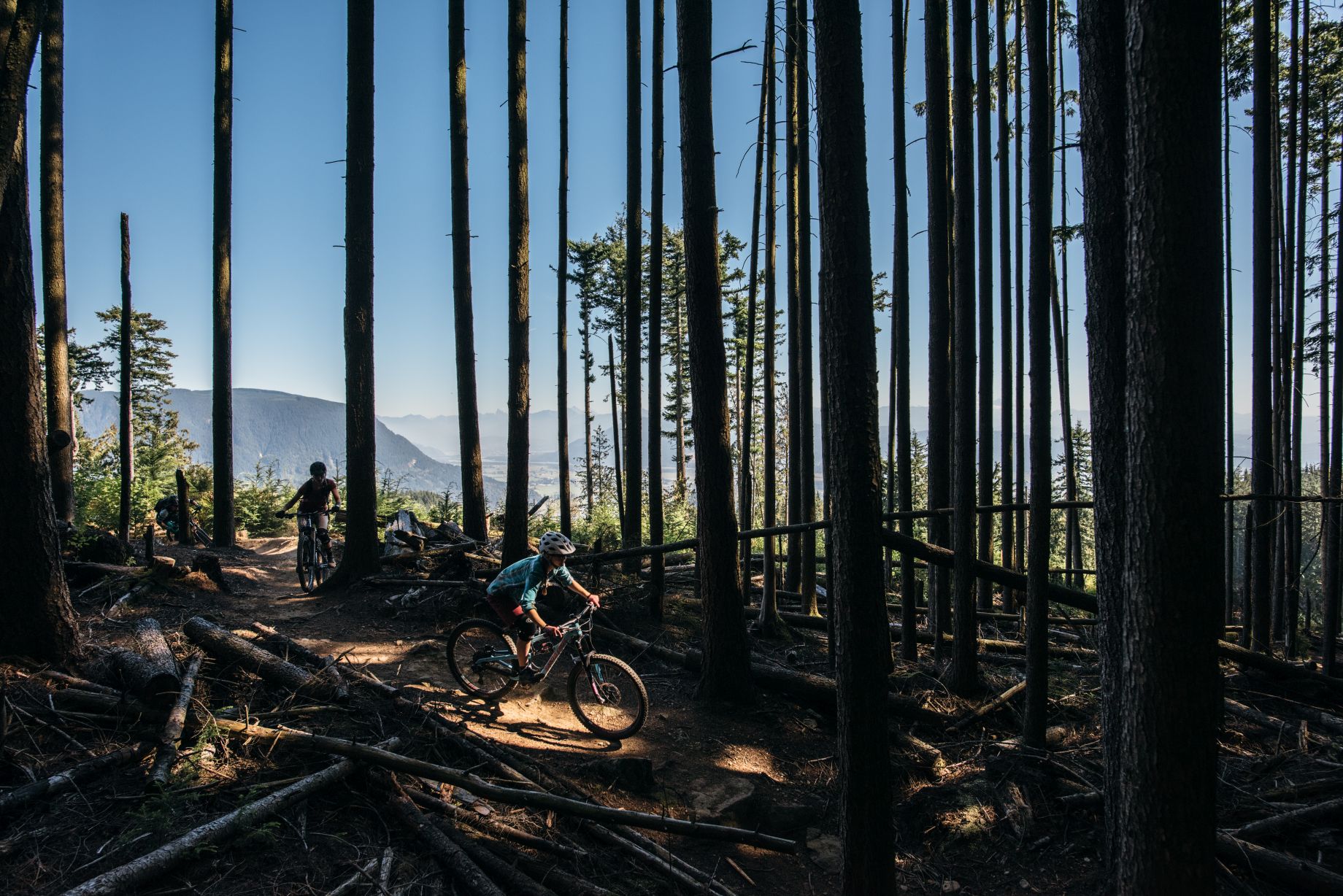 Making our way up to 'Luge' and the original Bear Mountain DH course would start our day right. Next, we made our way to 'Lorax' where bigger jumps filled the forest. Michelle took a hell of a hit when she tried to hug a tree while flying by it in the air. I wasn't there to see the impact, but those that did tell me she took it like a champ and that her smile never left her face.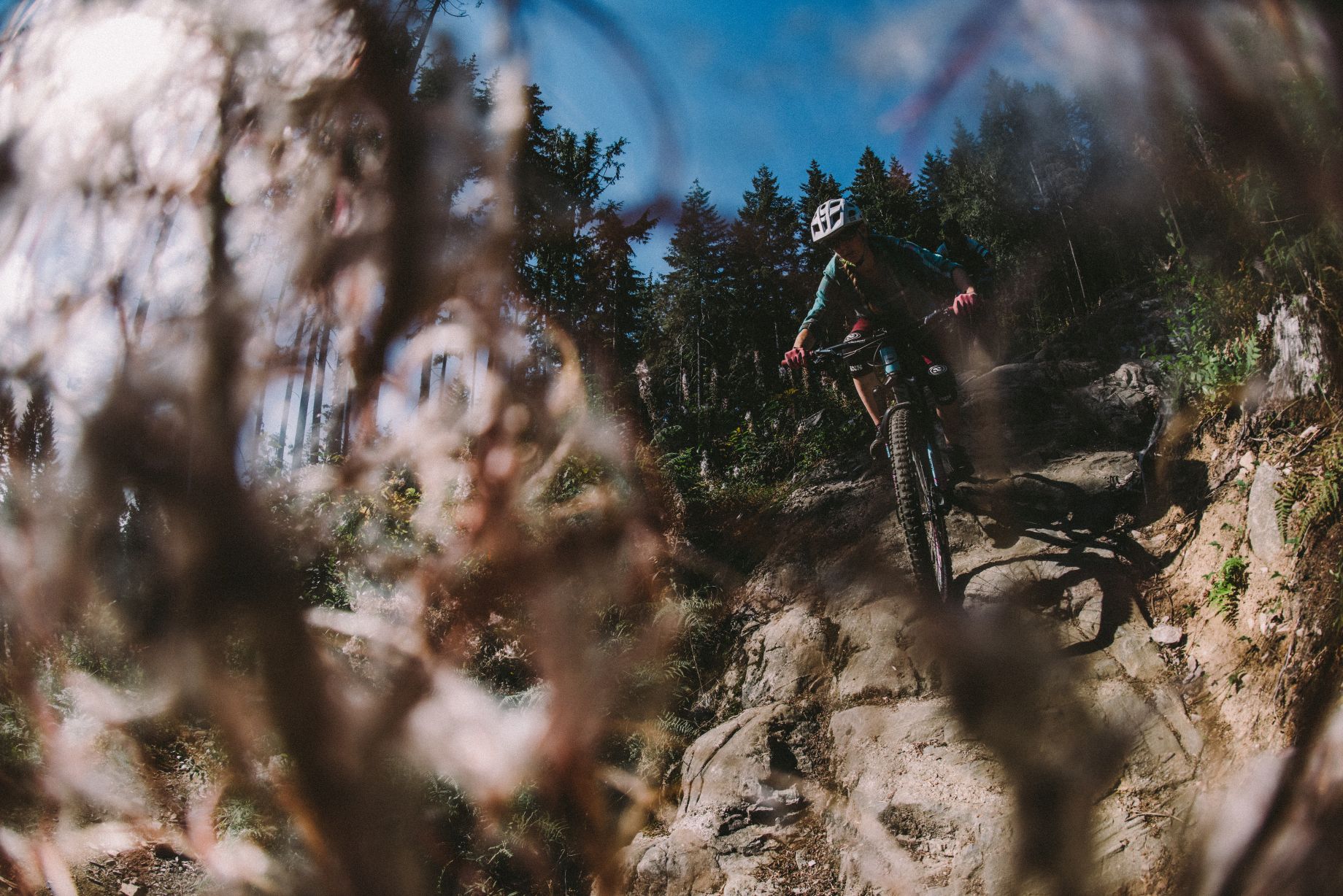 Cruising on over to North Vancouver, the crew reconnected at the Endless Biking HQ; Darren and Kelli had gathered a round of cruiser bikes so we could all cruise the Stanley Park seawall. Obviously, we stopped at Bridge Brewing before rolling downtown. We were a little late to make sunset on the Seawall, but we were able to catch it from the pier at Lonsdale Quay…epic. Making it to Stanley Park in the dark, the crew was hesitant to make the journey around the Seawall. Darren was persistent, the crew was too tired to disagree. It was 100% worth it…amazing way to wrap Day 5.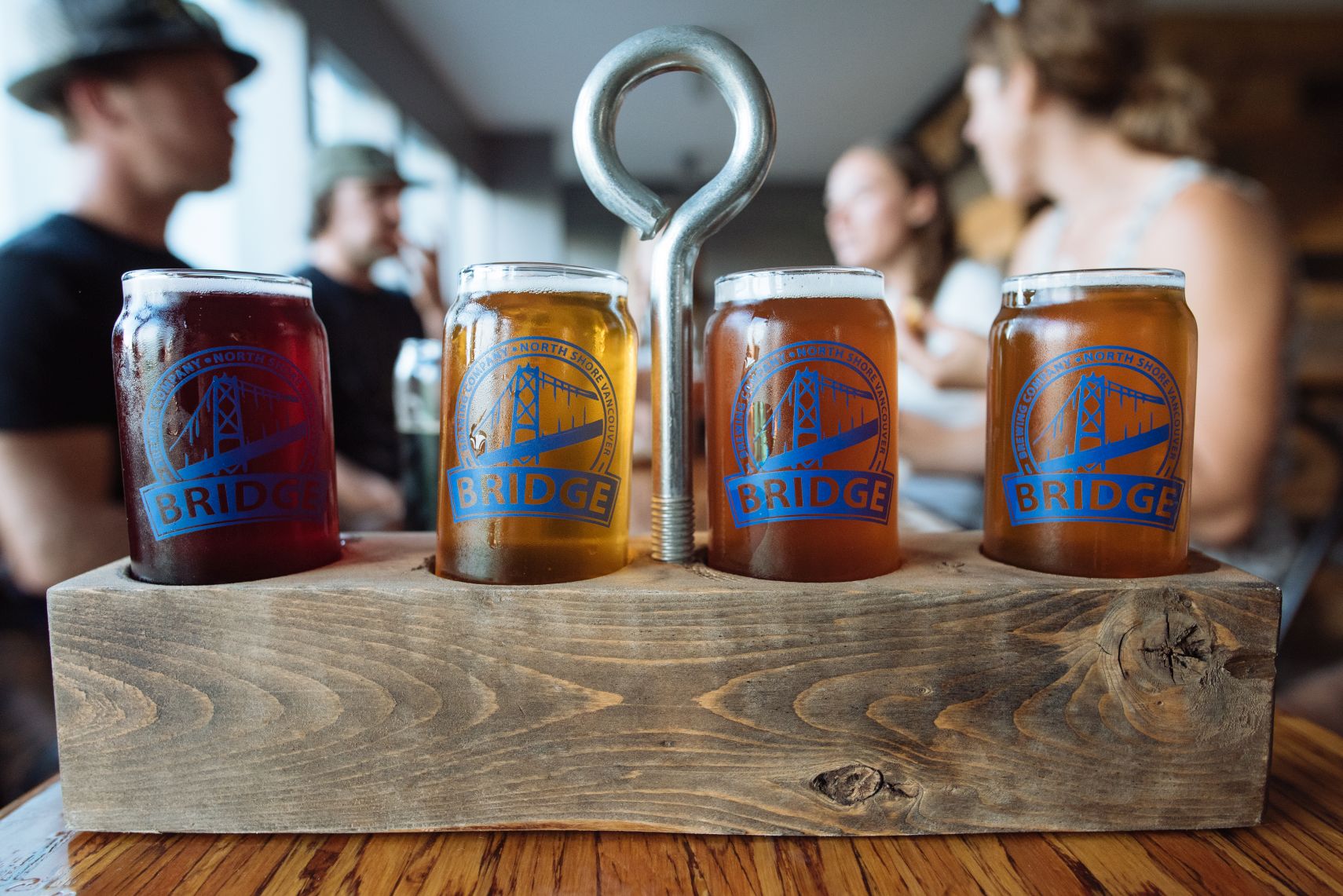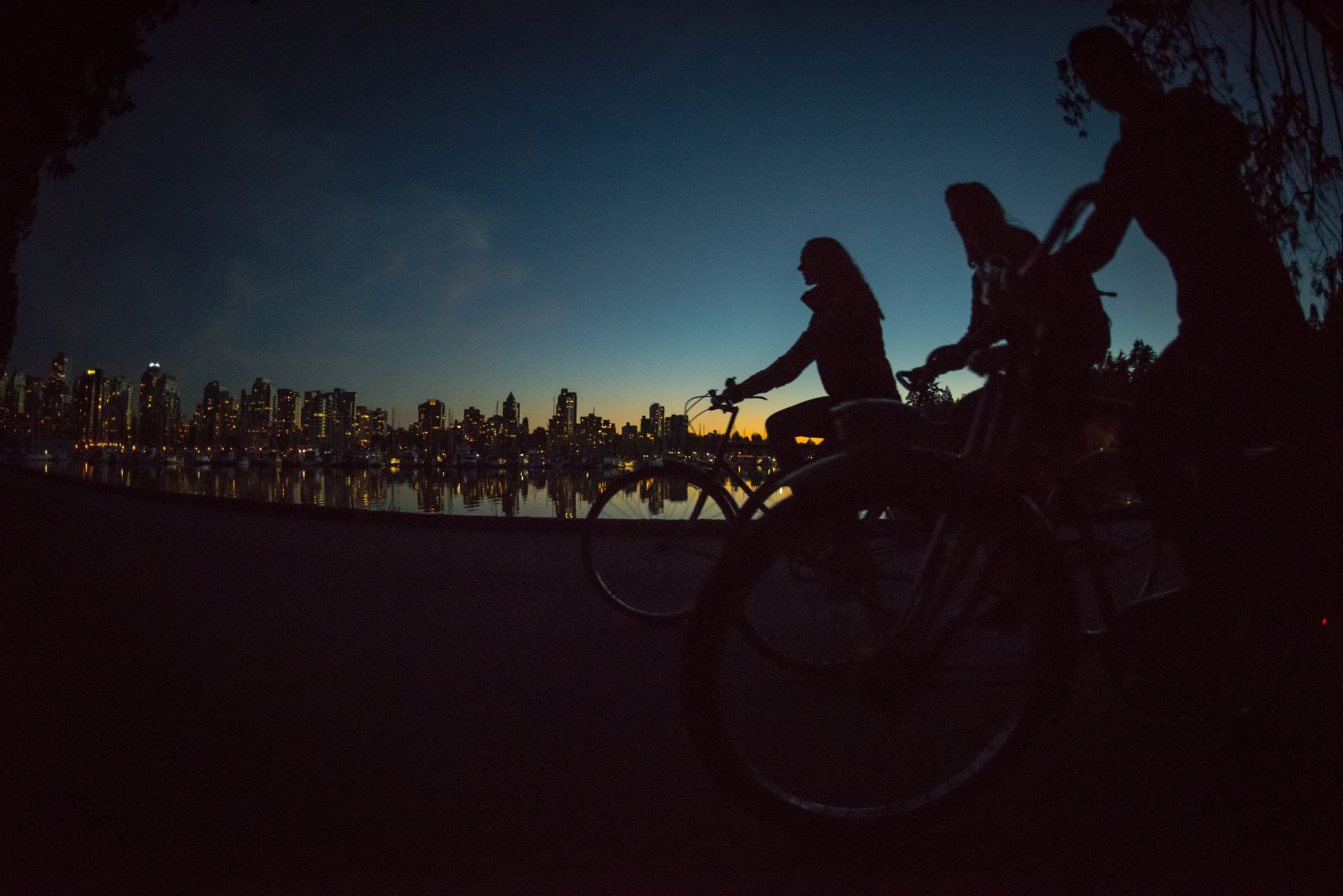 Thursday was a zoo…morning traffic in North Vancouver was a mess; an accident on the Second Narrows Bridge brought everything to a standstill. The compass was set on Squamish that day and everyone in our party worked their magic and somehow we only landed ourselves slightly behind schedule. Would have been a crime to miss a Squamish day. While getting re-caffeinated at Galileo Coffee on route, we made a plan for the day and got to it.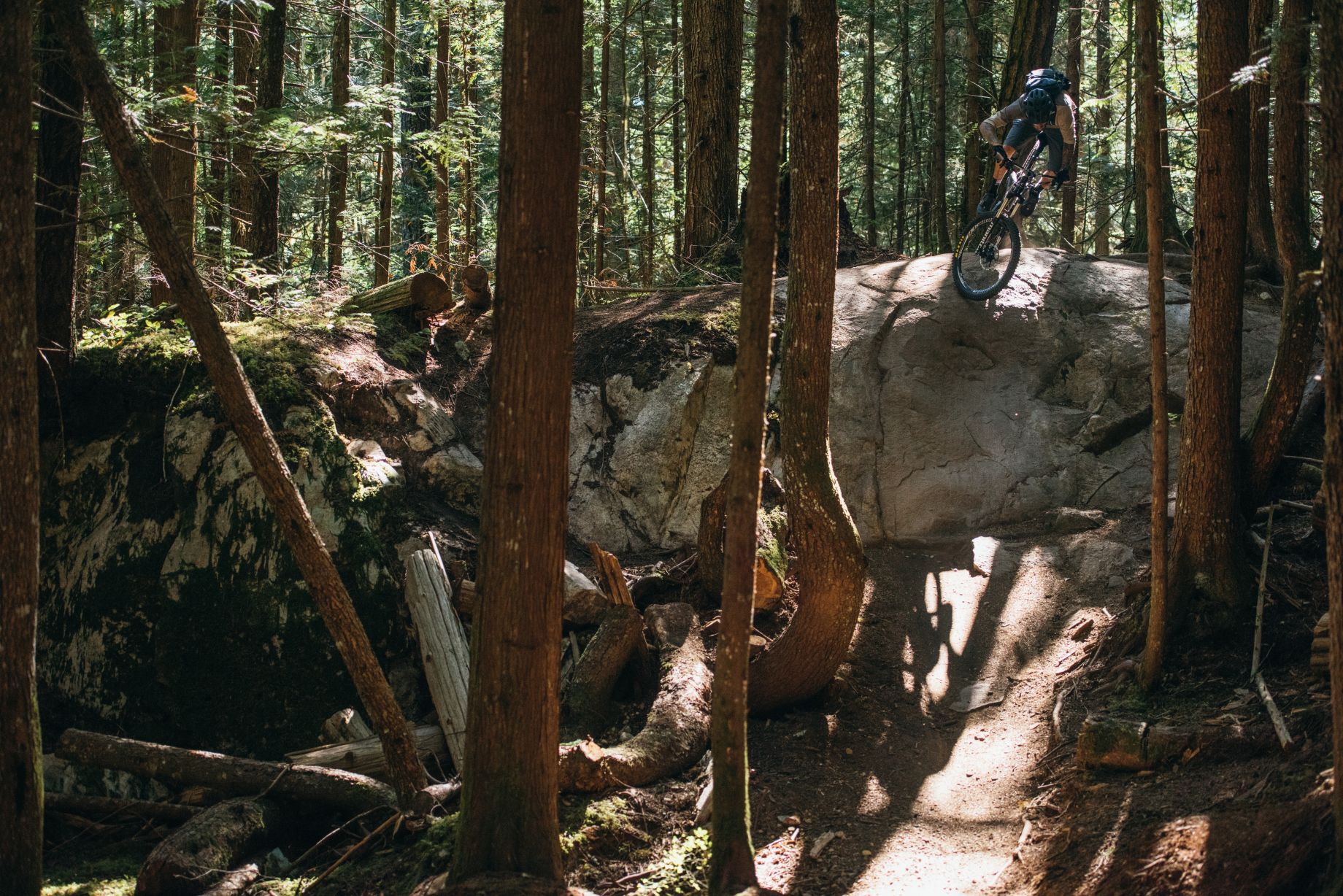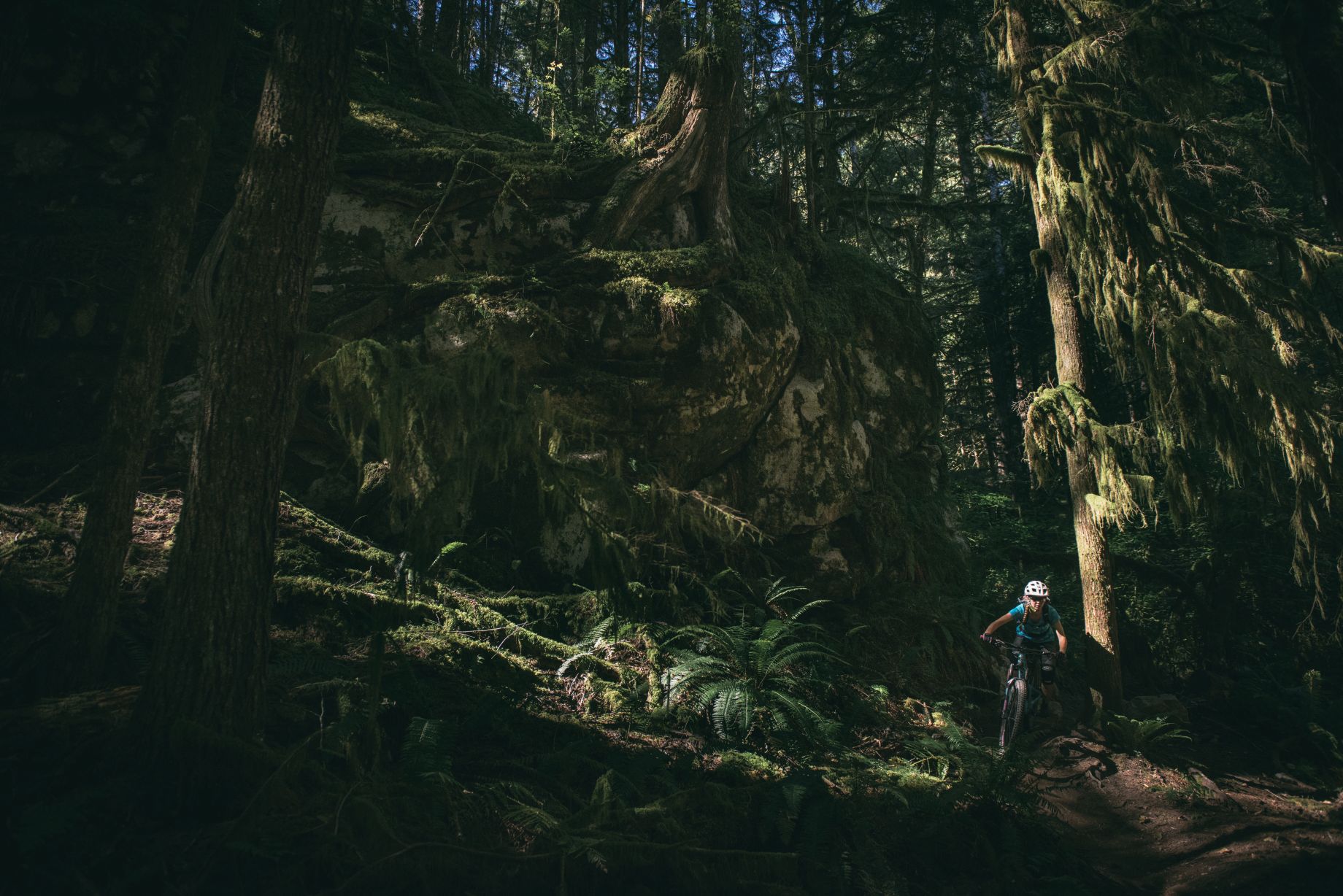 We were lucky enough to have local trail builder Rob Phoenix joining us for the day. Rob took us up to 'Rupert' and 'Tazer,' two trails he had a hand in building. Personally, I felt very fortunate to have the opportunity to meet him. His trails are some of my favorites; beautiful corners, rock faces along with fancy woodwork is the way to my heart. I know for sure that the entire crew fell in love with those trails. Whizzing down the highlands road, we came to a screeching halt at the Locavore, a memorable food truck at the Farmer's Market (if passing north to south on the sea to sky turn east on Mamquam and go about 2 blocks past the Canadian Tire and you won't be disappointed).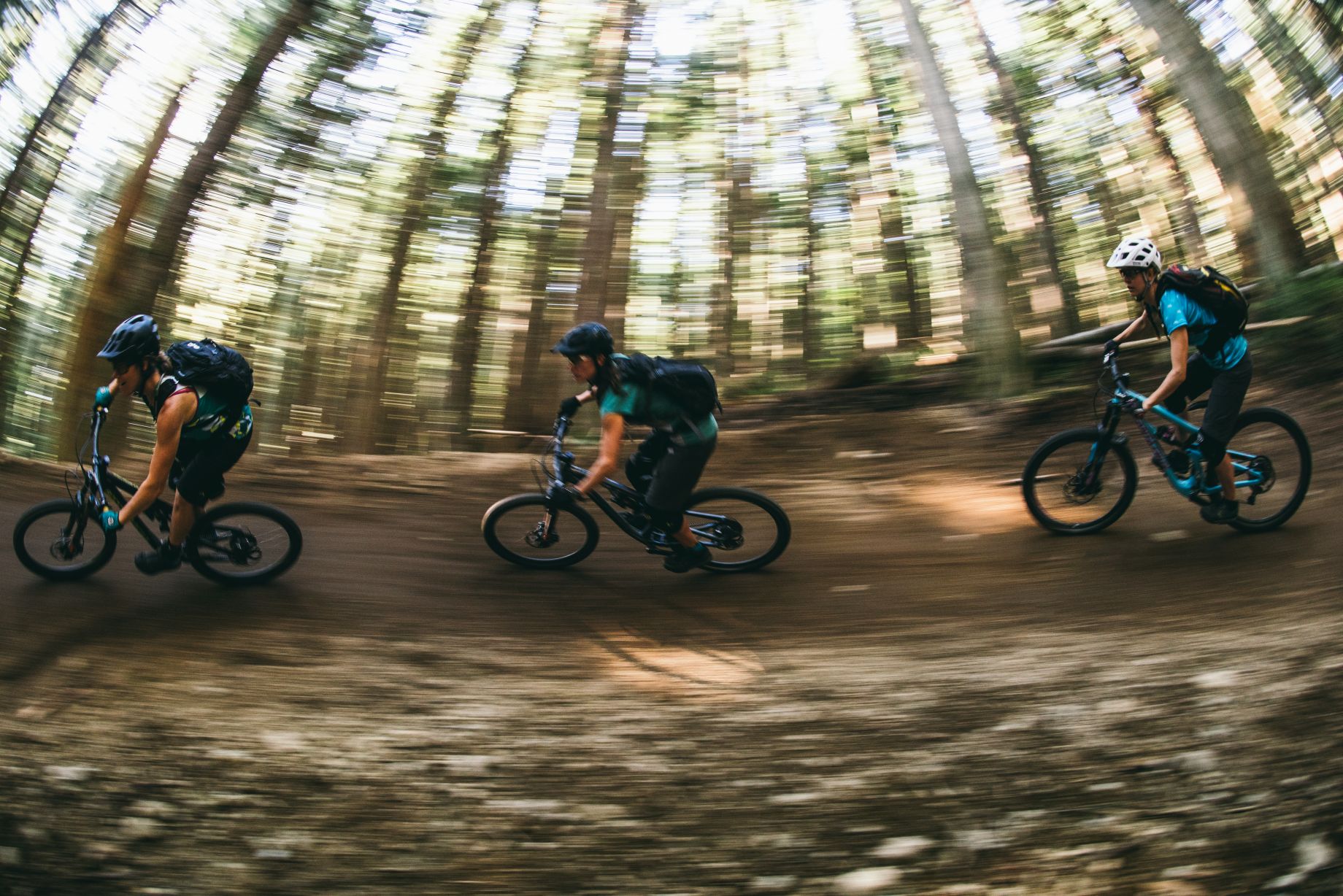 Fueled up once again, we went to the other side of the hill to climb up in the scorching afternoon heat to 'Angry Midget.' An old trail, but a classic in Squamish that has been tuned up and maintained over the years. Bobbing back and forth through the trees, we were spat out where the goods begin on 'Half Nelson'.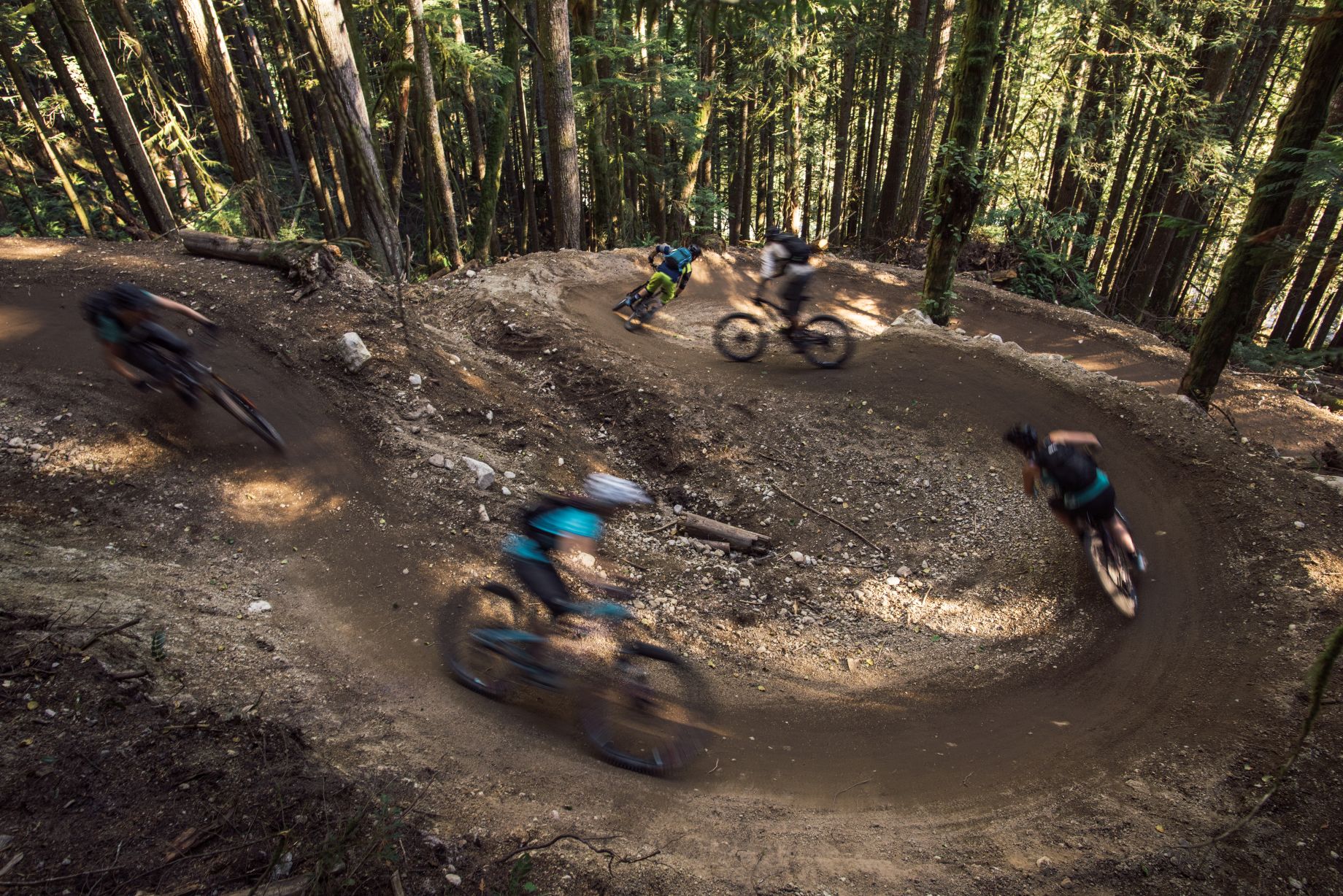 Freshly revamped by the one and only 'Big Red Ted', Half Nelson looked outstanding with berms that towered over Jacky and Michelle. This part of the day was best described by Darren Butler as a "giggle fest." Just imagine 3 full minutes of berms that you can't believe aren't butter, rollers and optional jumps for everybody. A must do for anyone that comes to Squamish. Finally, we rolled into ' Fools' Gold' to wrap up the day.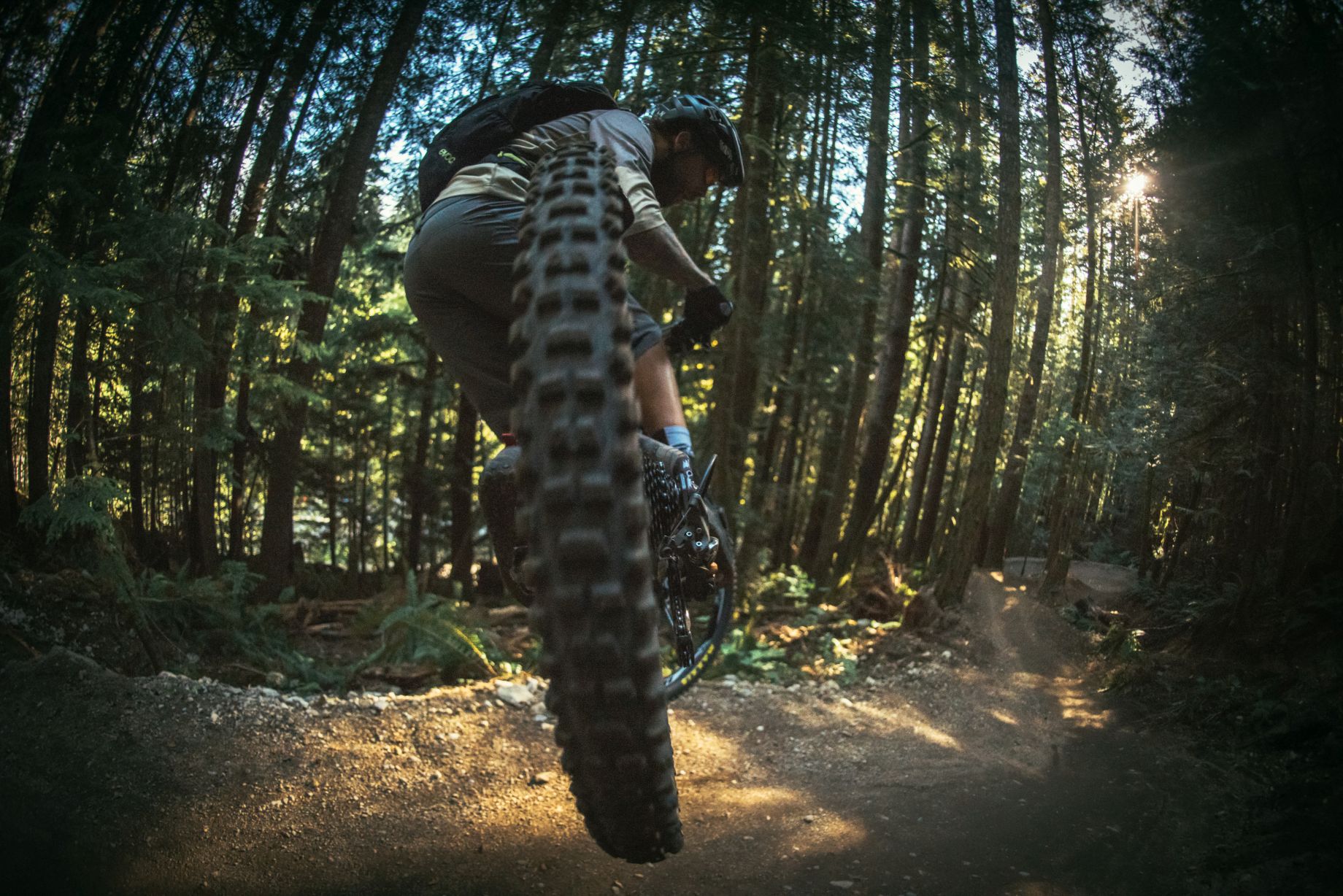 After six days of riding, you can imagine just how beat everyone was as we pulled up to the recovery vehicle. A recovery meal was in order and no better place to get that than the Howe Sound Brewery in downtown Squamish. I know… shocker.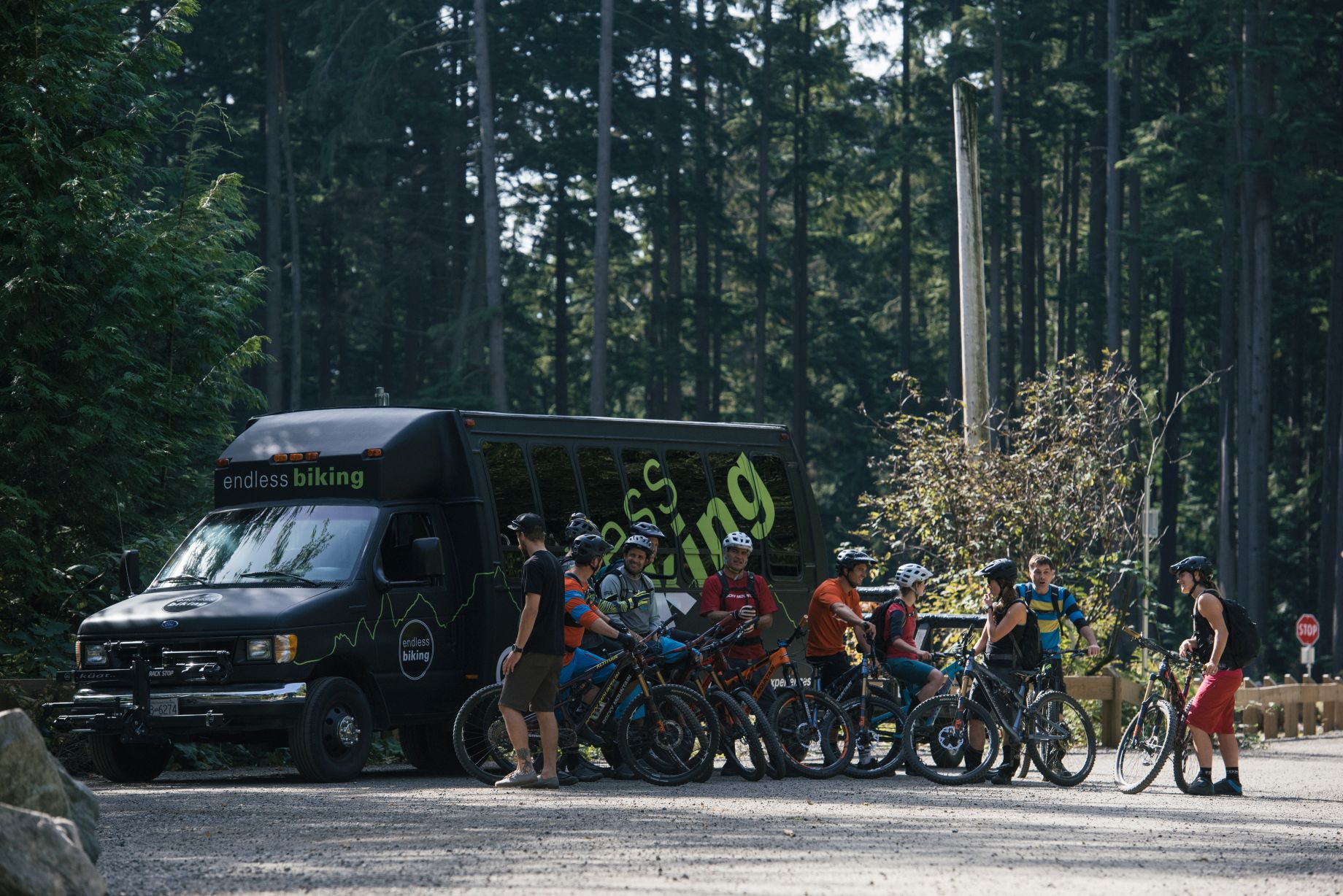 Last, but not least, was The North Shore. Starting on Mount Fromme the crew was lucky enough to have a few local legends join the team. Wade Simmons, Brett Tippie, and Andreas Hestler shared some stories and some friendly banter as we peddled up the old fire road that I have been riding since I was twelve years old. Making it up to '7th secret', we introduced the ladies to some truly old school North Shore riding. Jacky and Michelle had been getting stronger day by day on their bikes and it was showing; picking better lines, predicting slide patterns on wet roots and riding over blind trail drops with confidence in their styles. It was great to see. Making easy work of that, we moved onto 'Expresso', a trail that the North Shore Mountain Bike Association has given a massive overhaul to. It is a work of art and a true testament of the dedicated trail advocates of The Shore.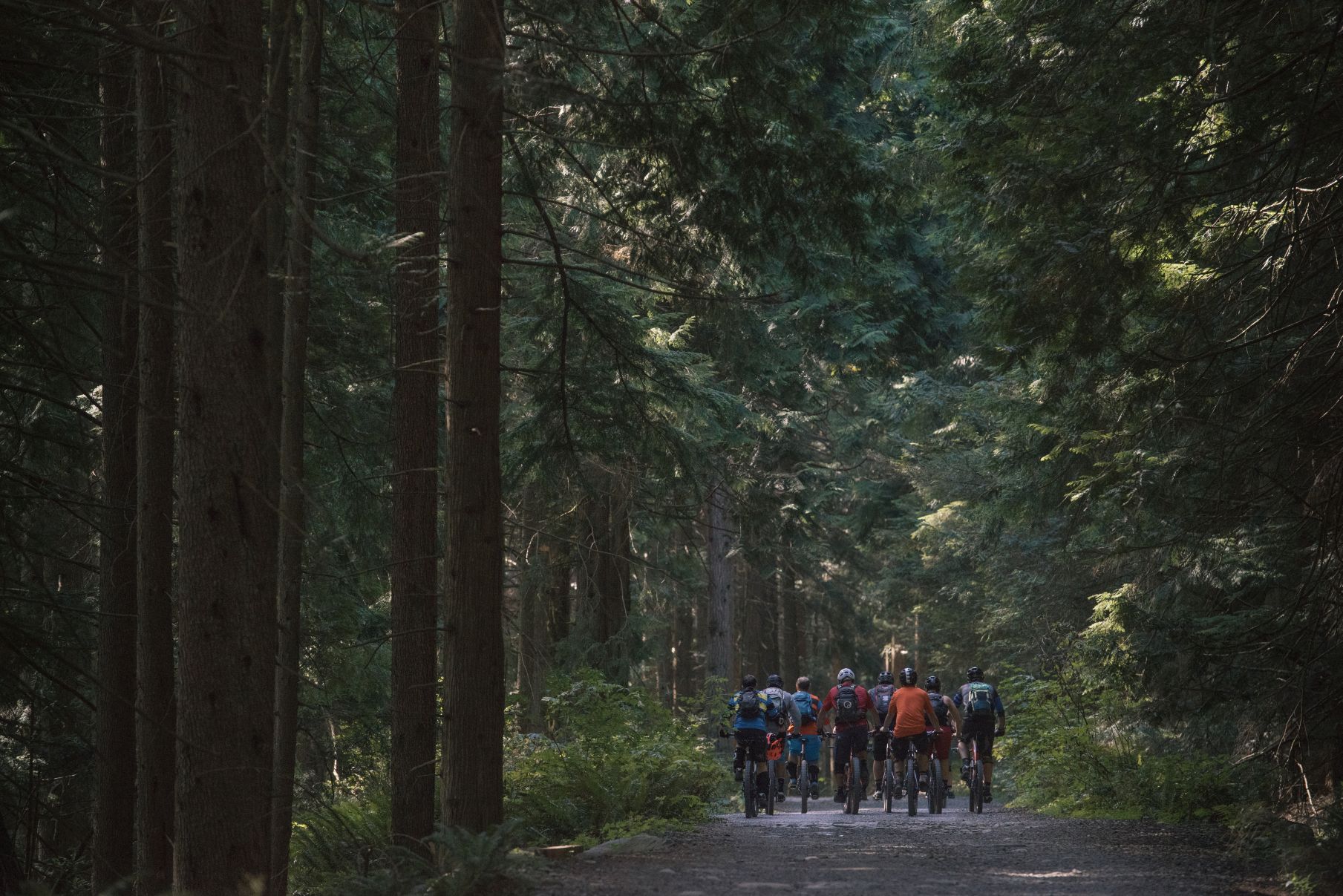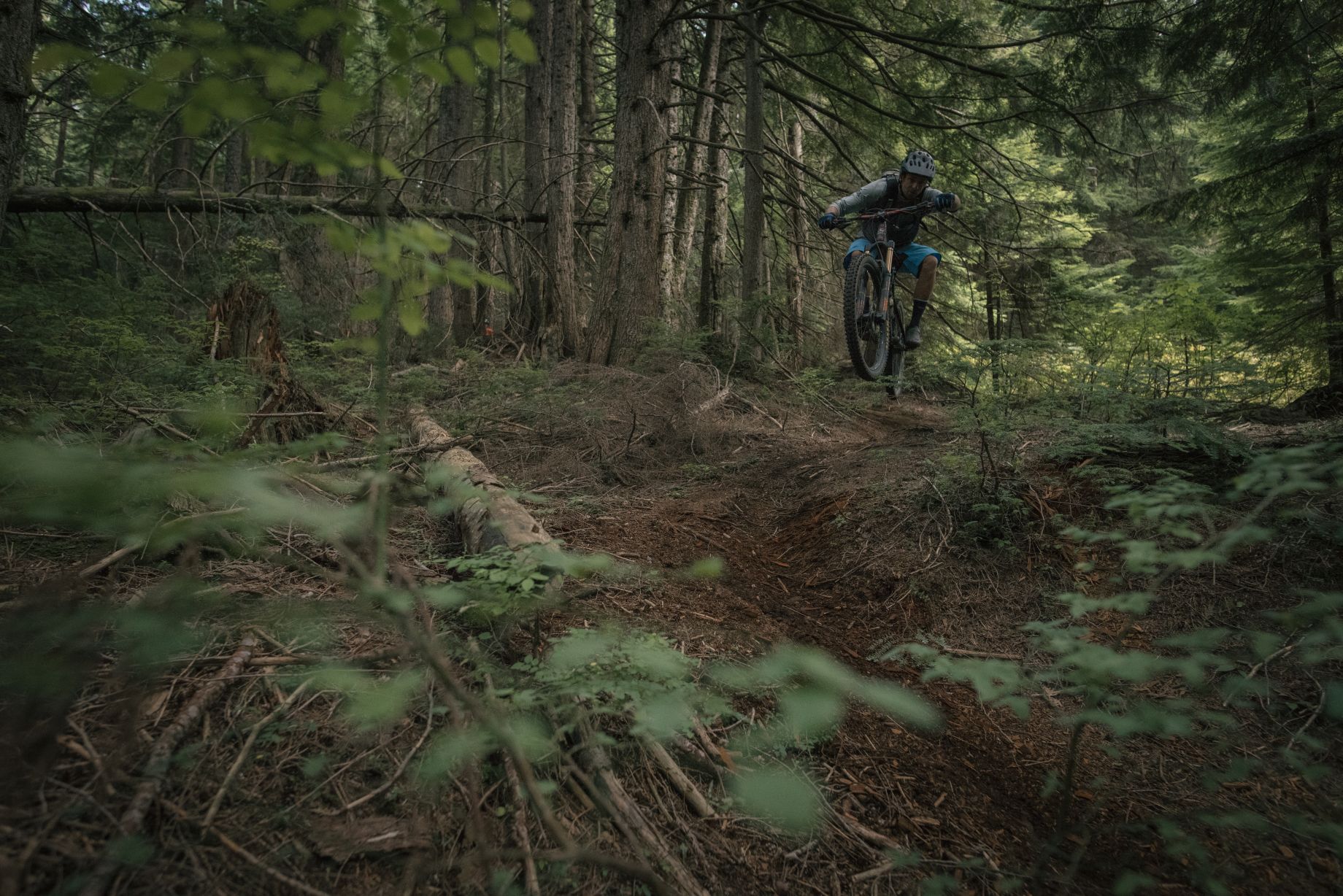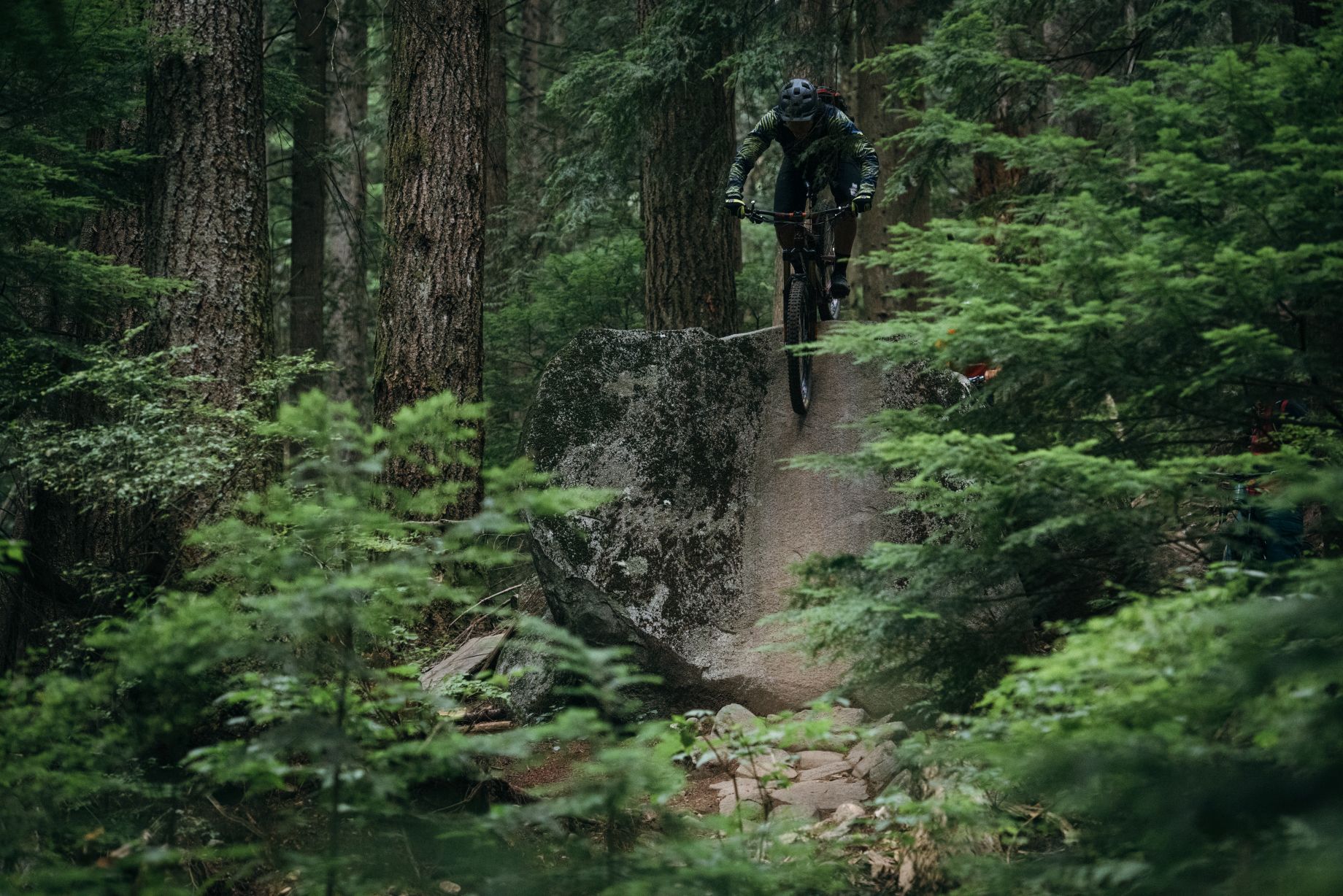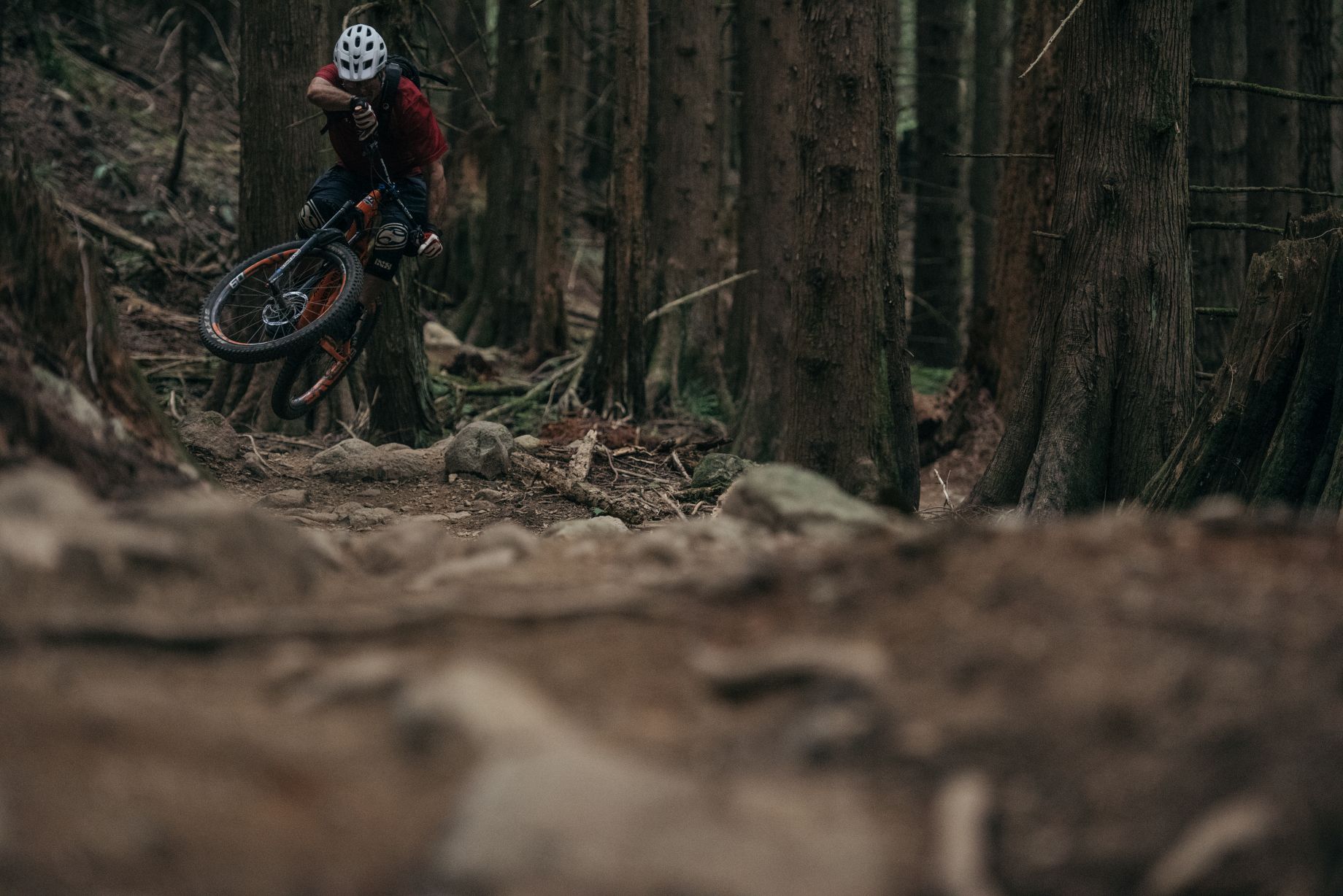 Regrouping for lunch, there was little conversation. The crew was feeling the wear of the week. We herded the cats into the Endless Biking bus and puttered over to Mt. Seymour. We had 'Corkscrew,' 'Dale's,' 'Asian Adonis,' ' Good Sir Martin' and 'John Deer' on our itinerary. Really though, we had beer on our minds…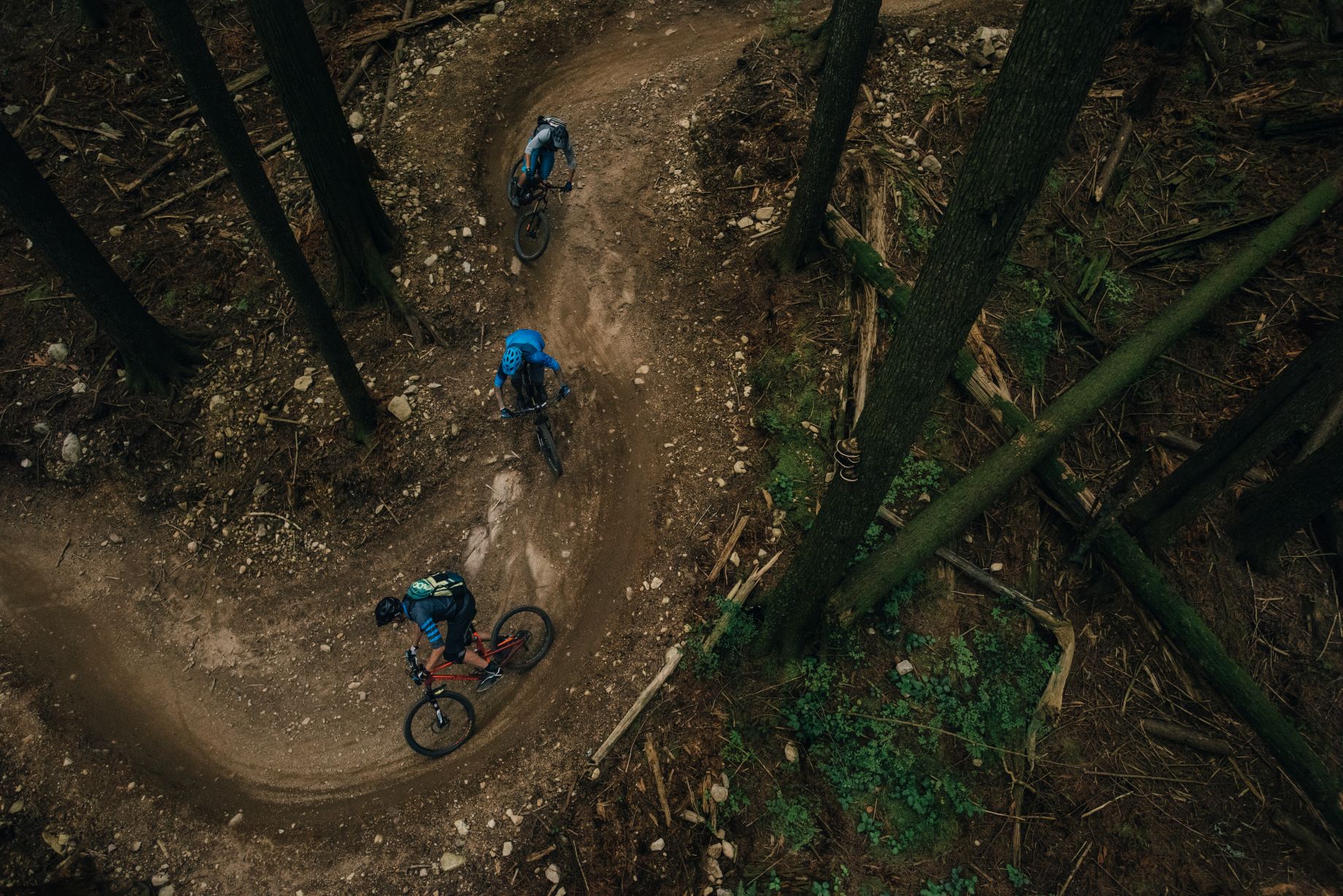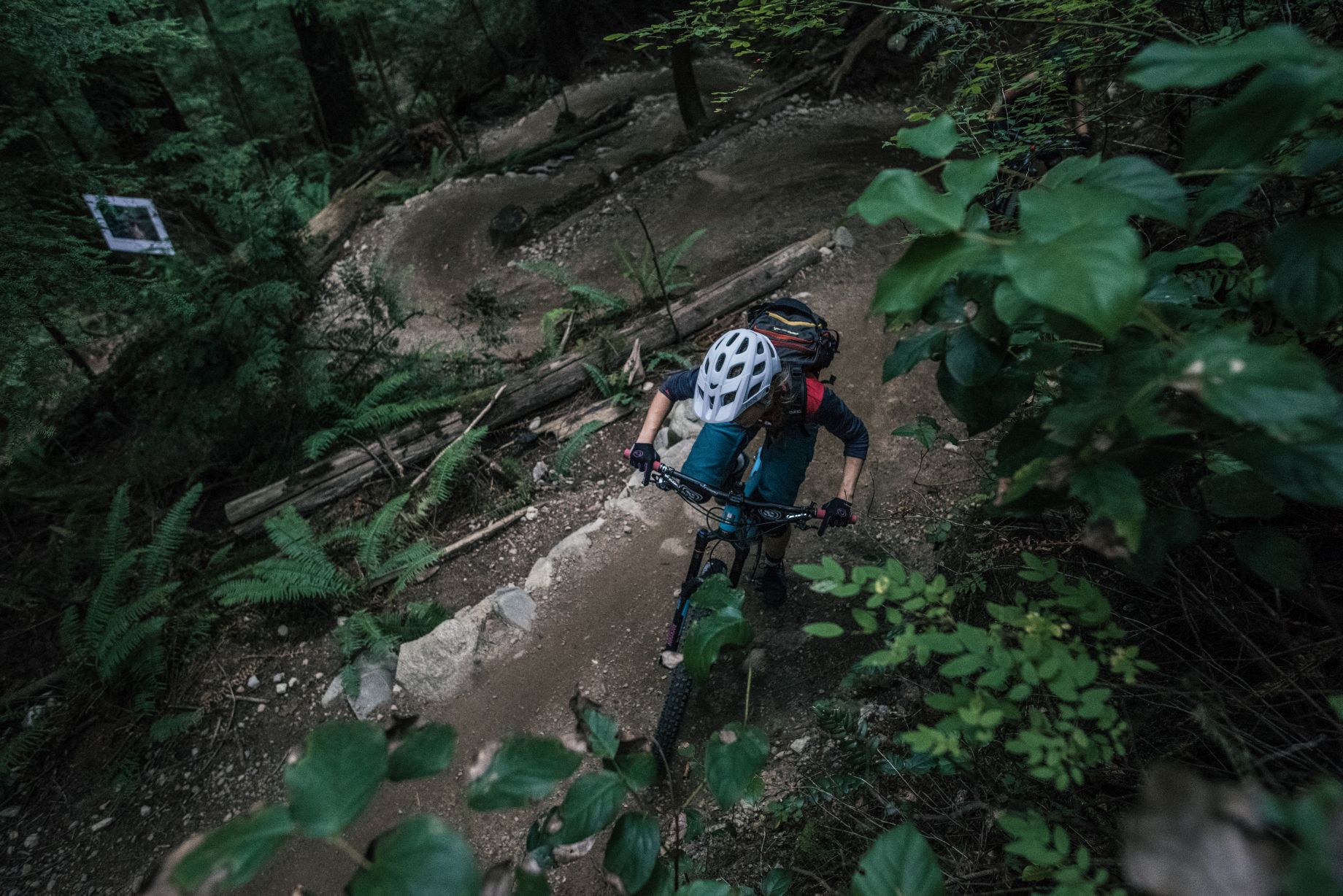 The crew rallied down the mountain in an awesome train. Laughter and high fives echoed through the forest all afternoon. 'Corkscrew' isn't much of a warm-up, it's more of an on switch, you have to be ready at the wheel immediately as you dive head first into harsh terrain. 'Dale's' was a more tame bit of trail. After being revamped and polished up, it appears to be a hidden piece of Whistler Bike Park that has been misplaced in North Vancouver. A quick pedal up a technical section and into 'Asian Adonis.' It has seen some heavy wear in the year and a half that it has existed. Once pristine rollers and corners have now become sections where you try to hold your front wheel through the corner into doubles you need to earn. Nonetheless, the crew motored through the trail at excellent speeds. Next, we worked our way up 'Good Sir Martin' to check out the photo prints on the side of the trail that do two things;
1. make the climb less painful and 2. educate the local and visiting riders of the efforts put into making this section of trail.
I love it! Summiting that enjoyable climb, we caught our breath and began to absolutely shred 'John Deer,' a beautiful new trail that runs through nothing but green. Jumps through green fauna then berms through ferns and going mach turkey through the underbrush. One of the best trails to end a ride on, but certainly not the day; we continued on through the neighborhood trails and straight into Deep Cove Brewing…. Obviously.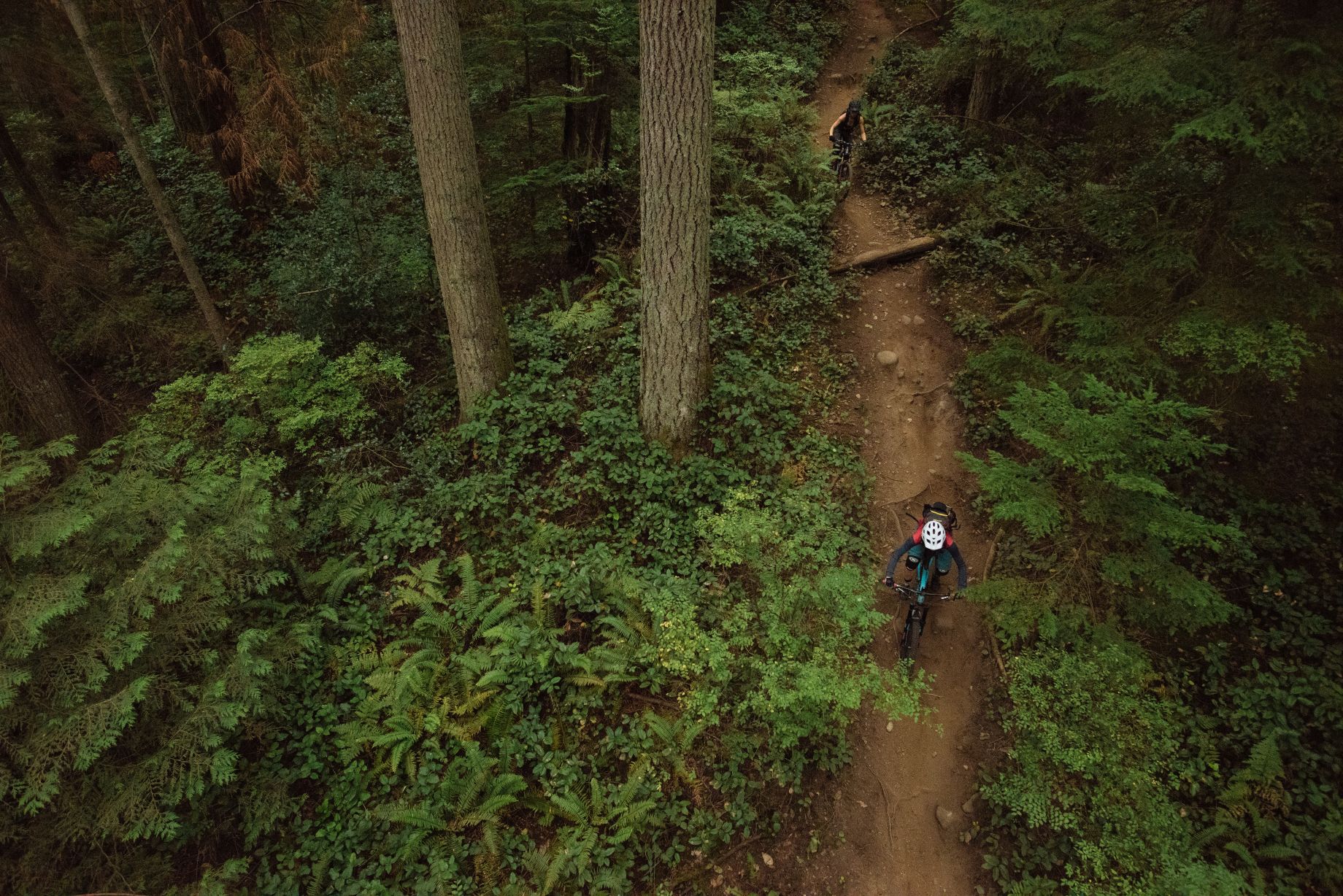 We sat there chit-chatting about the highlights of the week. Nobody could pick a single moment to put emphasis on, the trip was unreal. The crew was second to none and the trip was full of fun; hidden beer treats, progression, and all around phenomenal riding. I finished enjoying my last beer and grabbed my gear, it was time for me to depart. It was hard, I didn't want to leave this group I had built this bond with, however, the time had come for me to pack up for my next adventure. I hugged everyone in the crew, gave my last words of wisdom and was on my way.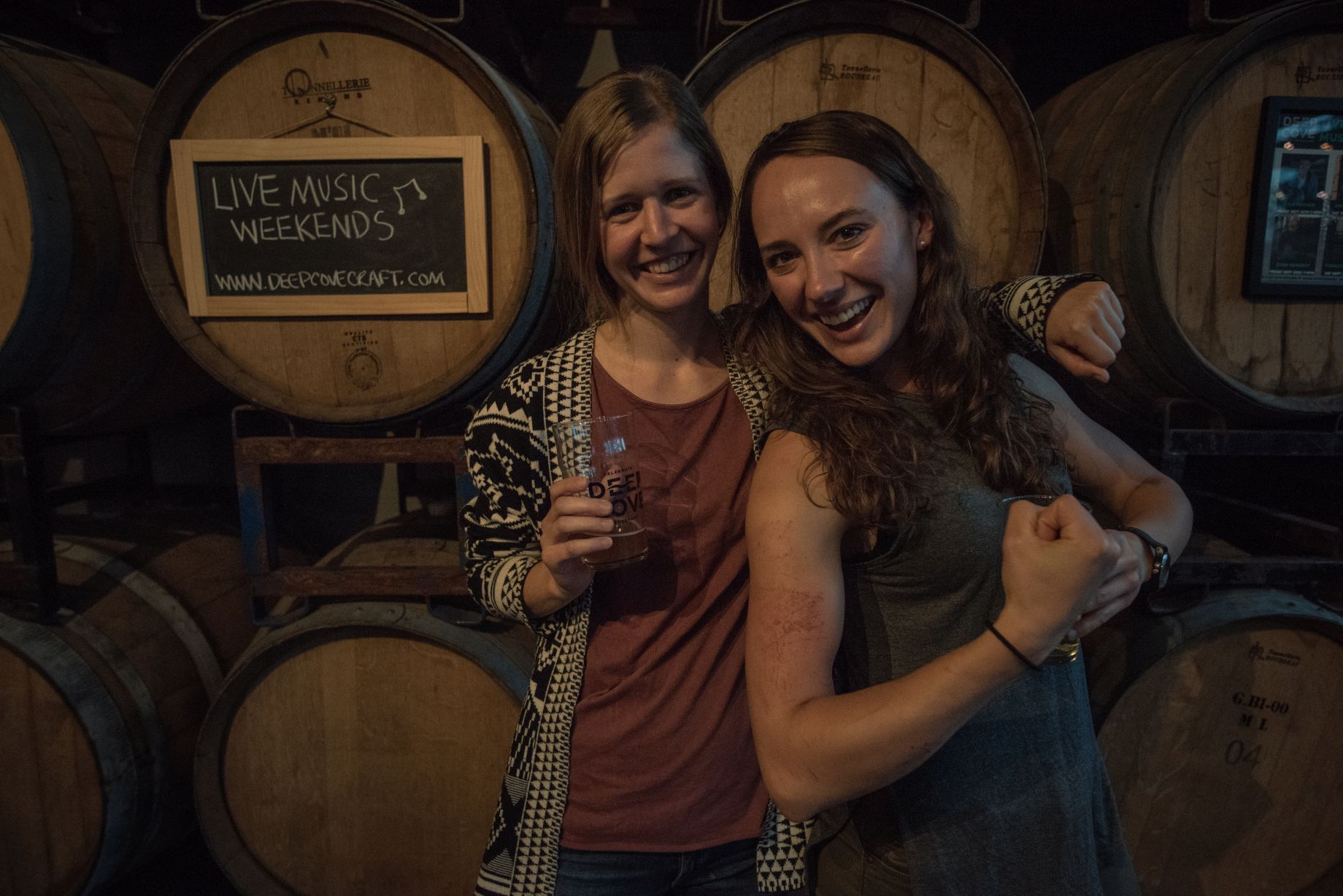 Reflecting back on the trip, it was inspiring to see the leaps and bounds made in these already incredibly talented riders. I wish them all the best as they pursue their passion and experience new adventures…you Girls rock!
---
Mountain Biking BC would like to thank the following organizations for their generous support:
Endless Biking, Pacific Coastal Airlines, BC Ferries, Coast Gravity Park, Tourism Powell River, Tourism Sunshine Coast, Tourism Chilliwack, Tourism Abbotsford, Vancouver's North Shore Tourism, Tourism Squamish
Learn more about…