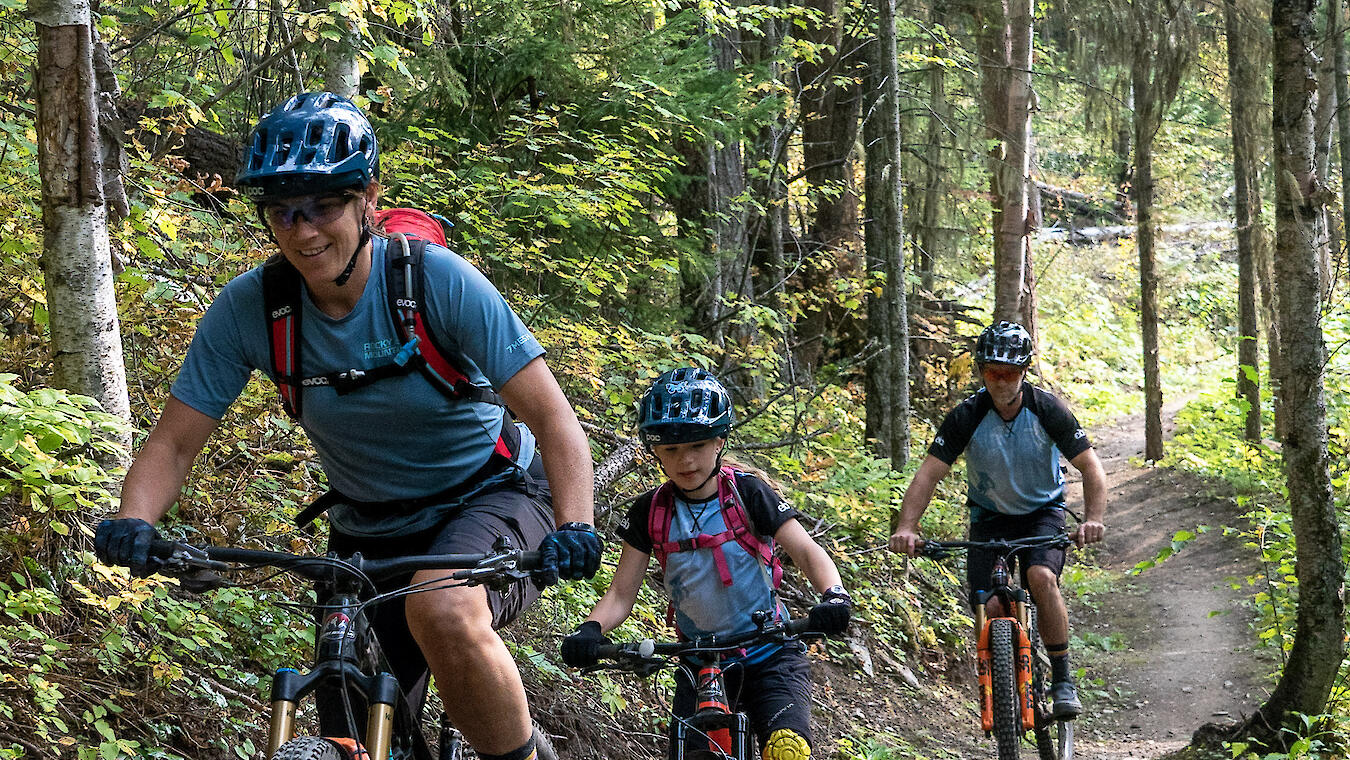 Explore Cariboo: A Family Mountain Bike Adventure
9-year old Myla Butler and her parents, Darren and Kelli, had just arrived in Quesnel at Chemo RV to embark on a week-long family trip through the Cariboo region to experience some of the area's newest and best mountain bike locations. The Provincial health officials' recommendation to enjoy the outdoors with 'fewer faces and bigger spaces' made an RV the optimal way to travel during the pandemic. The ability to rent an RV within the region meant they could maximize their time and km's to enjoy more of what they came for. Chemo RV happily accommodated them for the trip by providing a rig with a 2" receiver hitch to slot in a bike rack.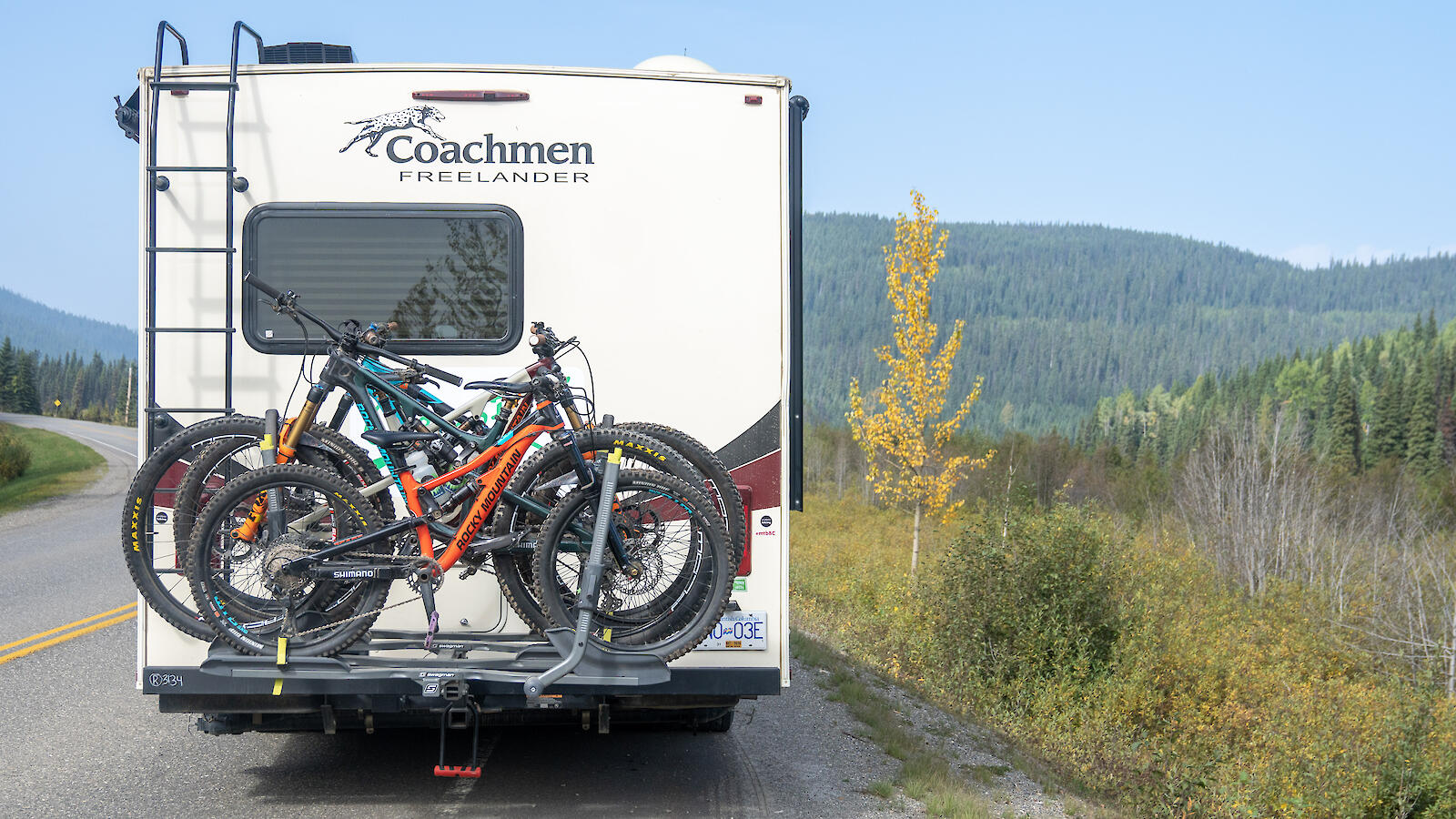 WILLIAMS LAKE: FOX MOUNTAIN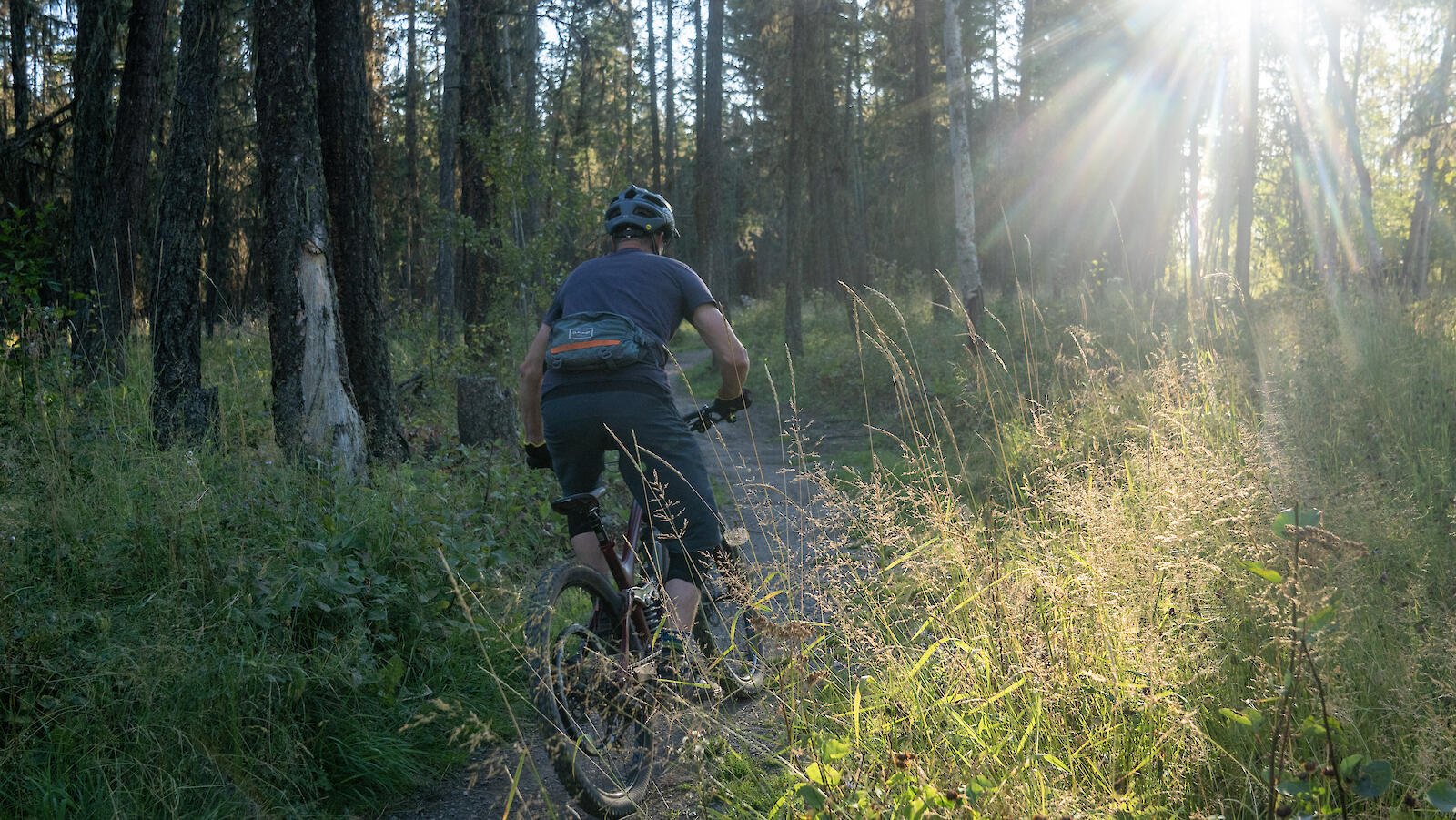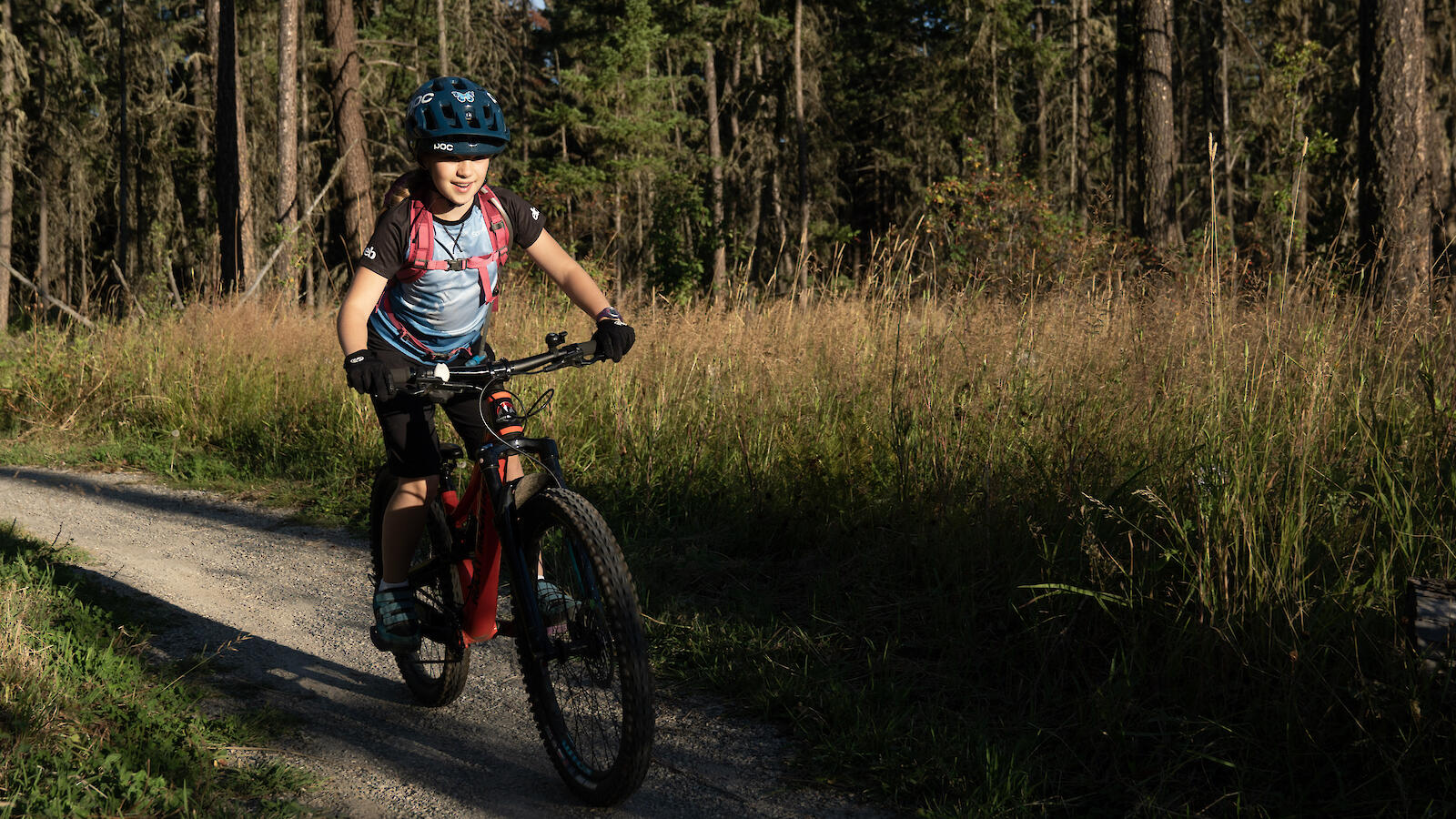 Immediately after they transferred their gear into the RV they hit up the first trail network on their list, Fox Mountain. It's the longest standing mountain bike trail network in Williams Lake with over 50km of single-track that offers everything from beginner, intermediate to advanced.
Local Williams Lake resident and head of First Journey Trails, Thomas Schoen, showed up to take Darren, Kelli, and Myla for a ride on some family-friendly green trails called Foxfire and Shuttle Bunny.
It was the perfect start to the trip for Myla – low-level inclines but fun, poppy features that could be rolled or jumped. Parents who ride mountain bikes know that fun has to be the priority when it comes to young children, and especially Darren and Kelli. They are the owners and operators of Endless Biking – a mountain bike experience provider based in North Vancouver. They offer lessons, guided rides, rentals, and are representatives for the Professional Mountain Bike Instructor Association (PMBIA).
DESOUS MOUNTAIN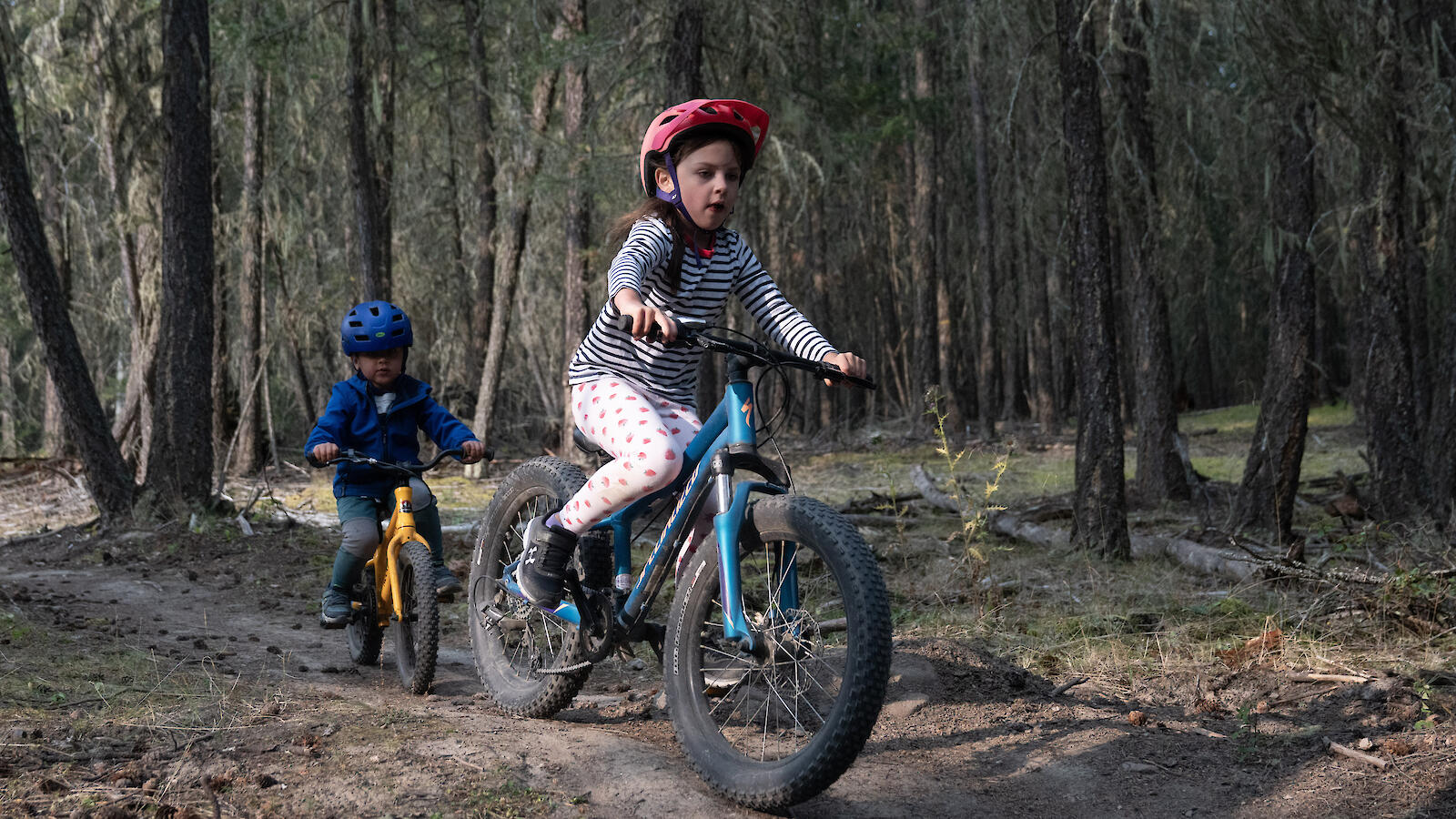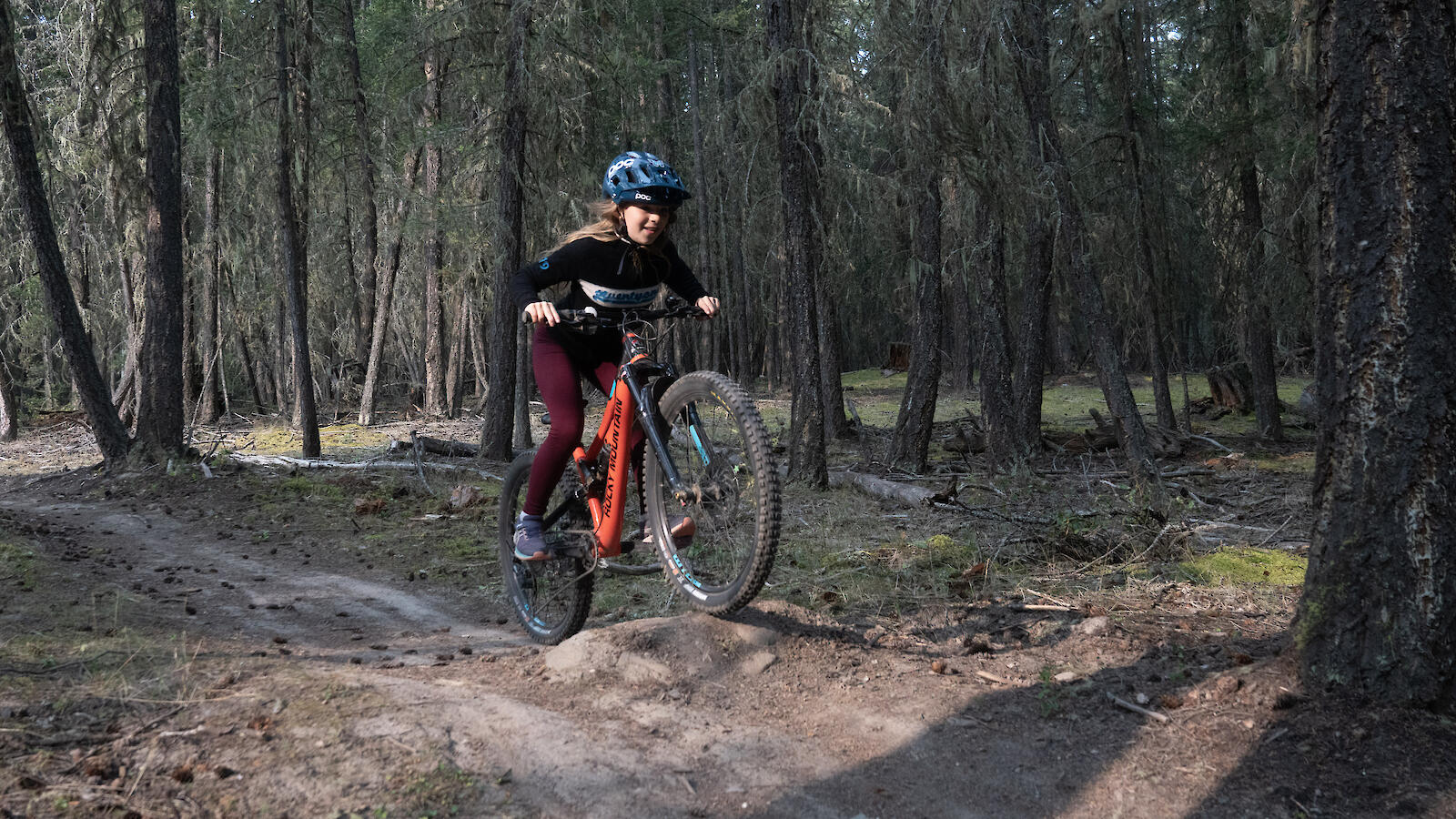 After the ride at Fox Mountain, it made sense to pick up some parental libations for the campsite at Fox Mountain Brewery in Williams Lake on the way to the Desous Mountain campground – a rec site just 30 minutes south of Williams Lake with 8 camping spots and a mountain bike trail network spitting distance from the sites.
It's strategically built with green trails closest to the camping area so kids can ride within eyesight of their parents, with the more advanced trails rideable from the campsite, but further away. Thomas and his crew from First Journey Trails have touched almost every trail project in the Cariboo region, including this one.
Myla made fast friends with neighbouring kids camped out with their parents – as far as convenience and accessibility to trails, it doesn't get any better than this. Kudos to the Williams Lake Cycling Club for initiating the idea – it's a best-in-class family-friendly zone. Desous is a true treasure in the Cariboo Regional District, and parents will appreciate the unlimited outdoor space (and limited WIFI).
The kids rode sections of the green-rated trails, Hotlaps, Bulldozer, and Smoke and Beers, while Darren took the opportunity to ride some of the black diamond trails nearby, Shiney Badger and OOsous, as well as Red Gate – an older trail with the majority of it built into a newer jump trail. It has some pretty good size tabletops and even features a couple of road gaps – so heads up! These trails are all accessible from a forest service road near the campground. Williams Lake has some of the most diverse trail offerings – all abilities and ages will find something to thrive on here. It's arid, and the dry landscape is an alternative to the wet roots of the coast, and there are plenty of low-level incline options to safely progress.
You can't pass through Williams Lake without a stop at Red Shreds. It's an iconic bike shop that does so much more than sales and repairs, although they do that extremely well, too. They're one of the biggest drivers of trail development and advocacy in the Cariboo region. Shop owner, Mark 'Shreddie' Savard, is a Williams Lake born-and-raised local and hardcore community advocate. Over his lifetime he's passionately put Williams Lake on the global mountain biking map. His store is one of the most unique you'll ever visit – it's a must-stop for mountain bikers, skiers, paddlers, climbers, and anyone who loves the outdoors.
QUESNEL: DRAGON MOUNTAIN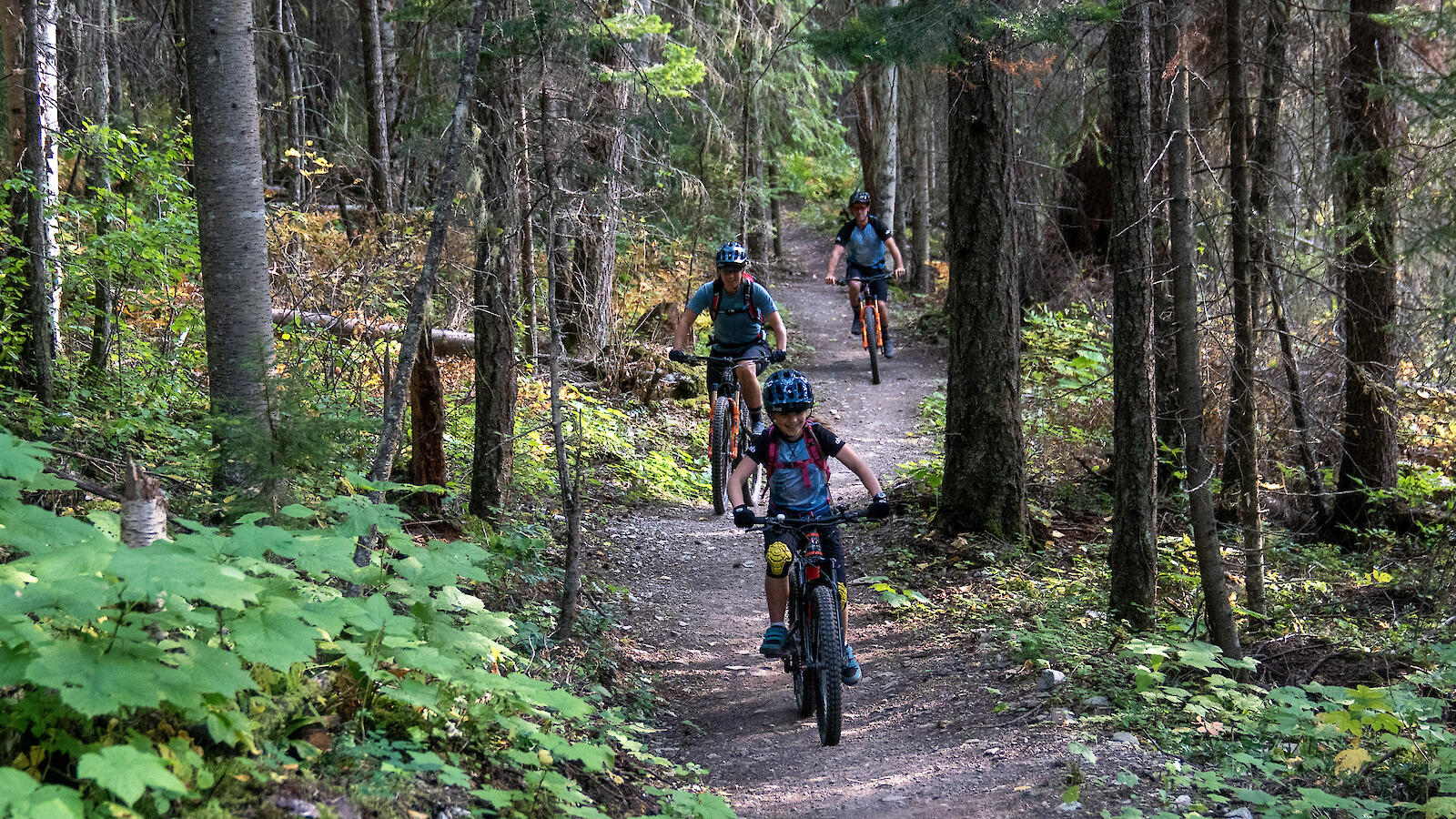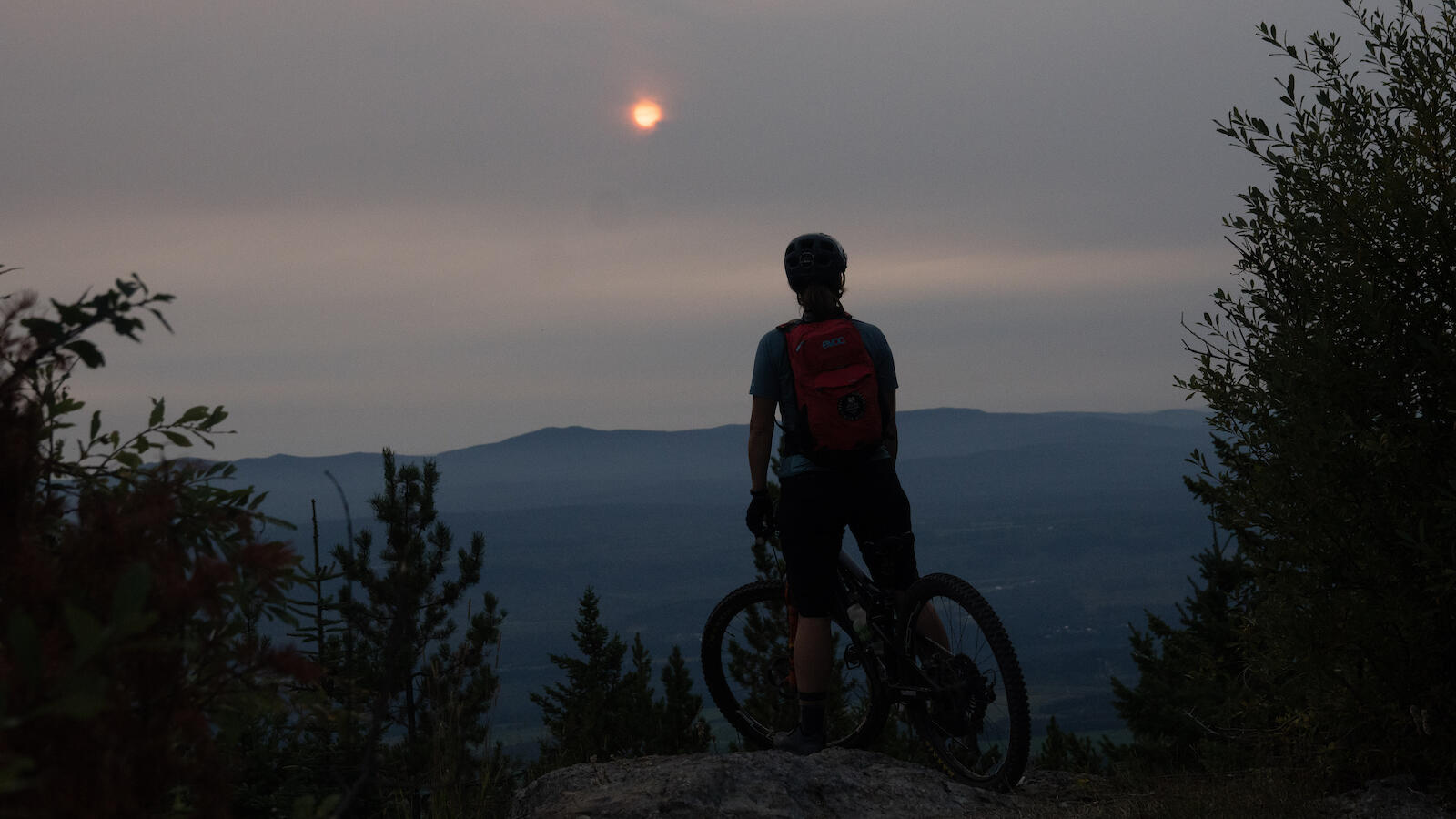 On day three the family made the 120 km journey north from Williams Lake to the town of Quesnel, located at the confluence of the mighty Fraser and Quesnel rivers. Most people know this area as the epicenter of wood product manufacturing, world-class fly fishing, snowmobiling, rafting, and skiing, but mountain biking has a relevant place on its' top ten list of outdoor activities, especially for families.
Darren and Kelli were able to drive their 28ft. motorhome to the trailhead at Dragon Mountain where they started their ride up a two-way green trail called Walk in the Park. This was another recent project by First Journey Trails and the idea was to make the up track equally as fun coming down.
Out and back trails are ideal for kids – ride up as far as they can, with no surprises coming down. Myla did a great job of pedalling up, there were a few punchy sections but Darren kept it interesting as they stopped at several points to inspect wildlife scat along the way. When it was time to head back to the RV, Darren and Myla rode down the way they came while Kelli kept climbing on blue square Rockin' The Park to the top of one of First Journey Trails and Gold Rush Cycling Club's most recent creations, Rockasaurus. The features on this black diamond downhill trail are so well built and integrated into the natural landscape it's like riding on an art piece. As a high-level rider, Kelli felt the spice with its' committing drop-ins, rock work, and slabs.
After the ride, they loaded up on some food from Long Table Grocery, an eclectic food supplier that supports over 50 local farms and food entrepreneurs before retreating to their campground at 10 Mile Lake Provincial Park – a short 10-minute drive from town. Some of the best camping in Quesnel can be found at either 10-mile or Robert's Roost RV Park on Dragon Lake.
WONDERLAND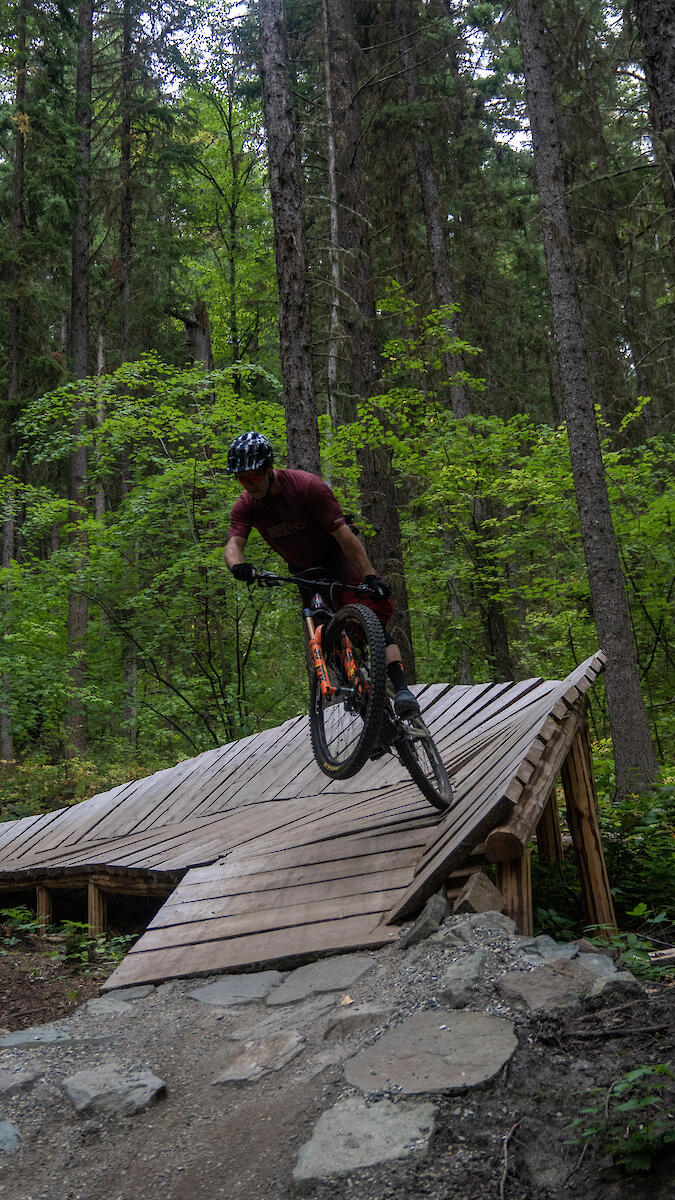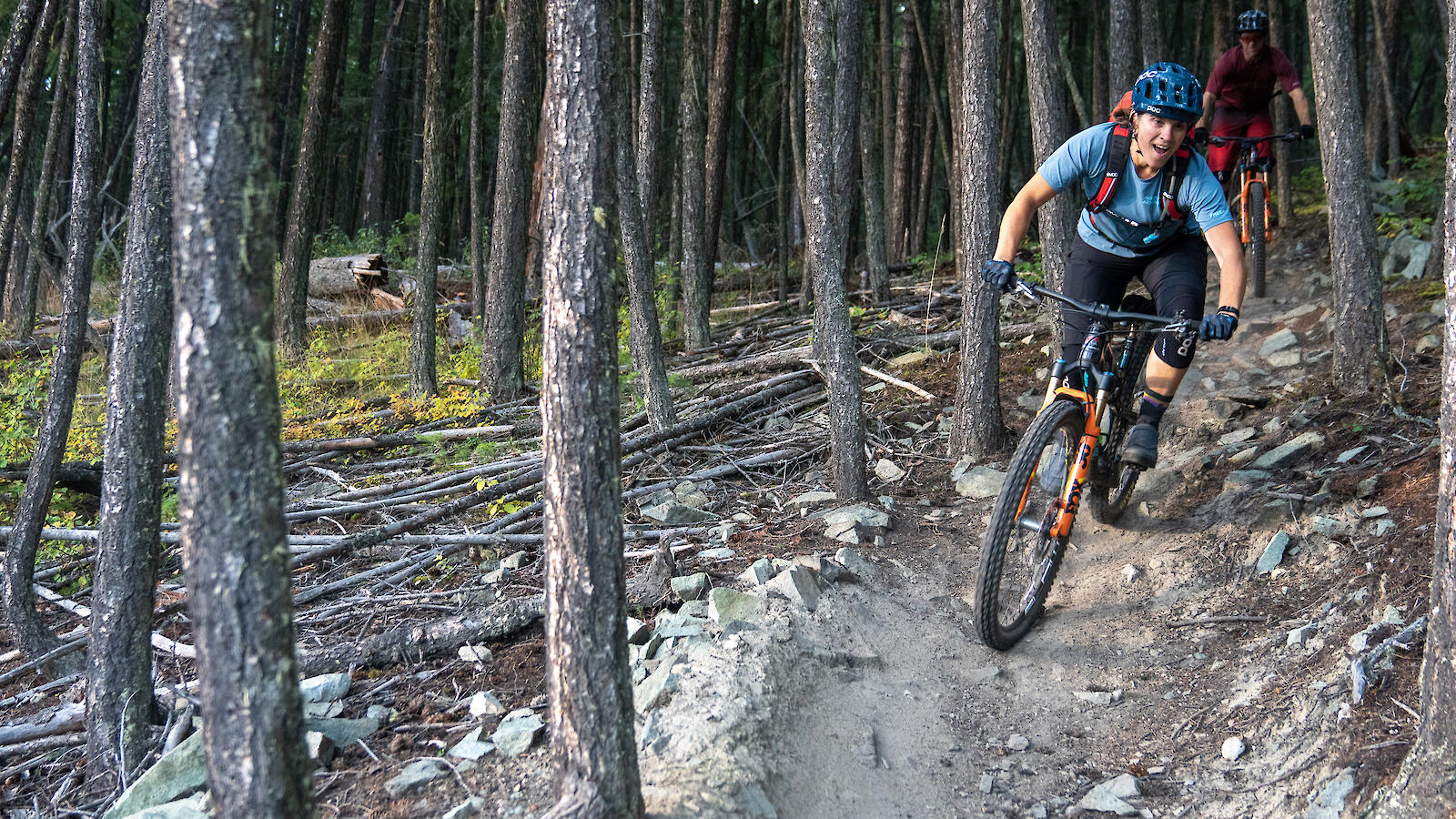 Before they pulled out of town the next day it was off to explore Quesnel's other trail network, Wonderland near Dragon Lake. This network has seen four new trails laid down in the last year.
They started up What the Huck, a two-way climb / descend trail that topped them out at the start of Woodbury's Way – a trail named in memory of Dick Woodbury, a dear American friend who passed away suddenly in Williams Lake while on a mountain bike vacation with his wife Laurie. Darren and Kelli knew the Woodbury's well – it was a special moment to honour a member of their mountain bike family…Dick would have loved the flow and there will be many rides in his memory on this trail.
This led them into Angry Beaver, another flowy blue single track with tight trees that dropped them back to where they started. From here, Kelli and Darren headed back up the mountain via What the Huck, coincidently meeting up with Gold Rush Cycling Club Director, Ben and his dog Lou, for a blazing run chasing them both down Mucho Oro – a must ride blue flow trail full of berms, rollers, some fun jumps and a great grade of trail for anyone to enjoy. You truly can ride at your own pace!
WELLS-BARKERVILLE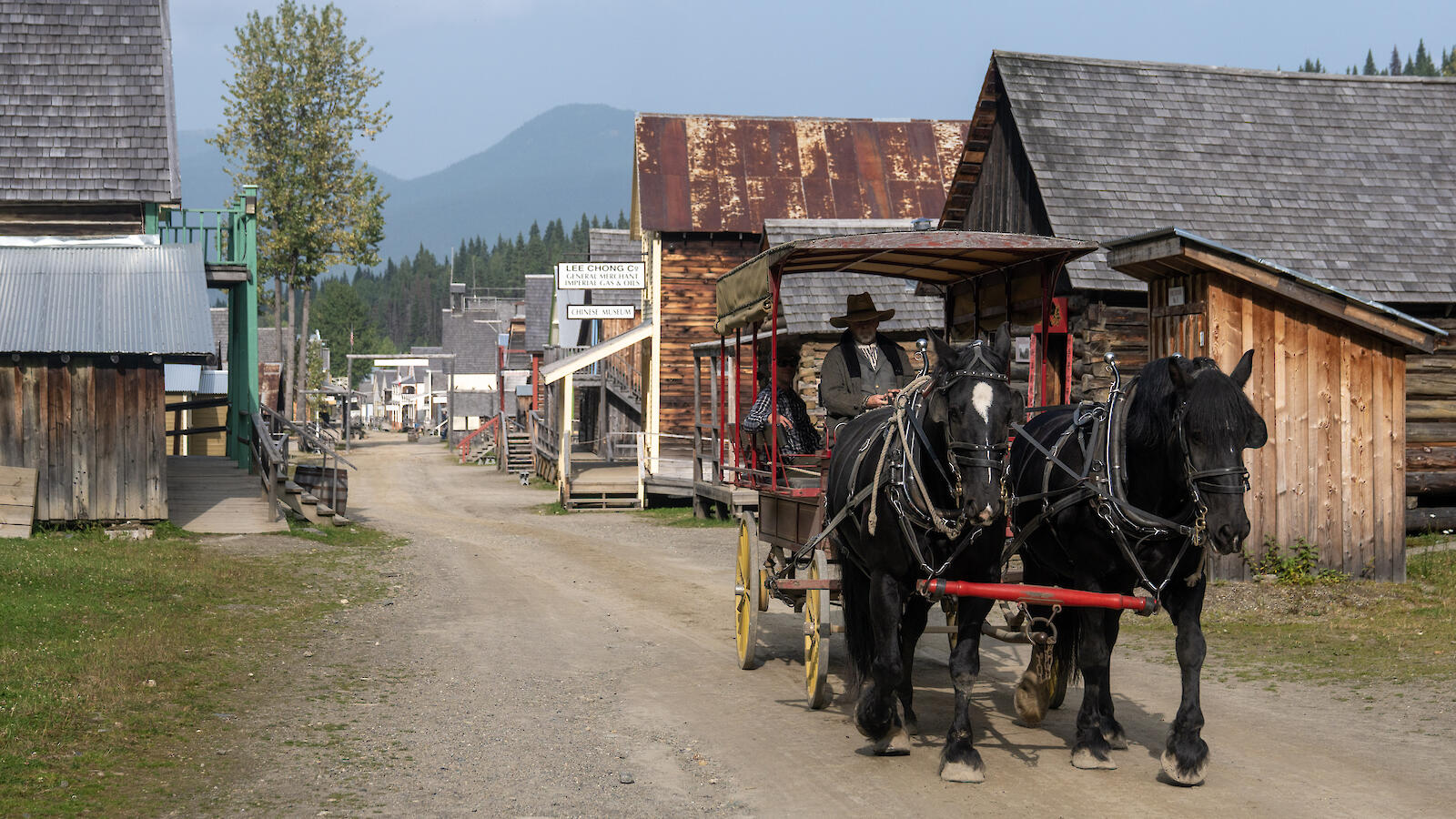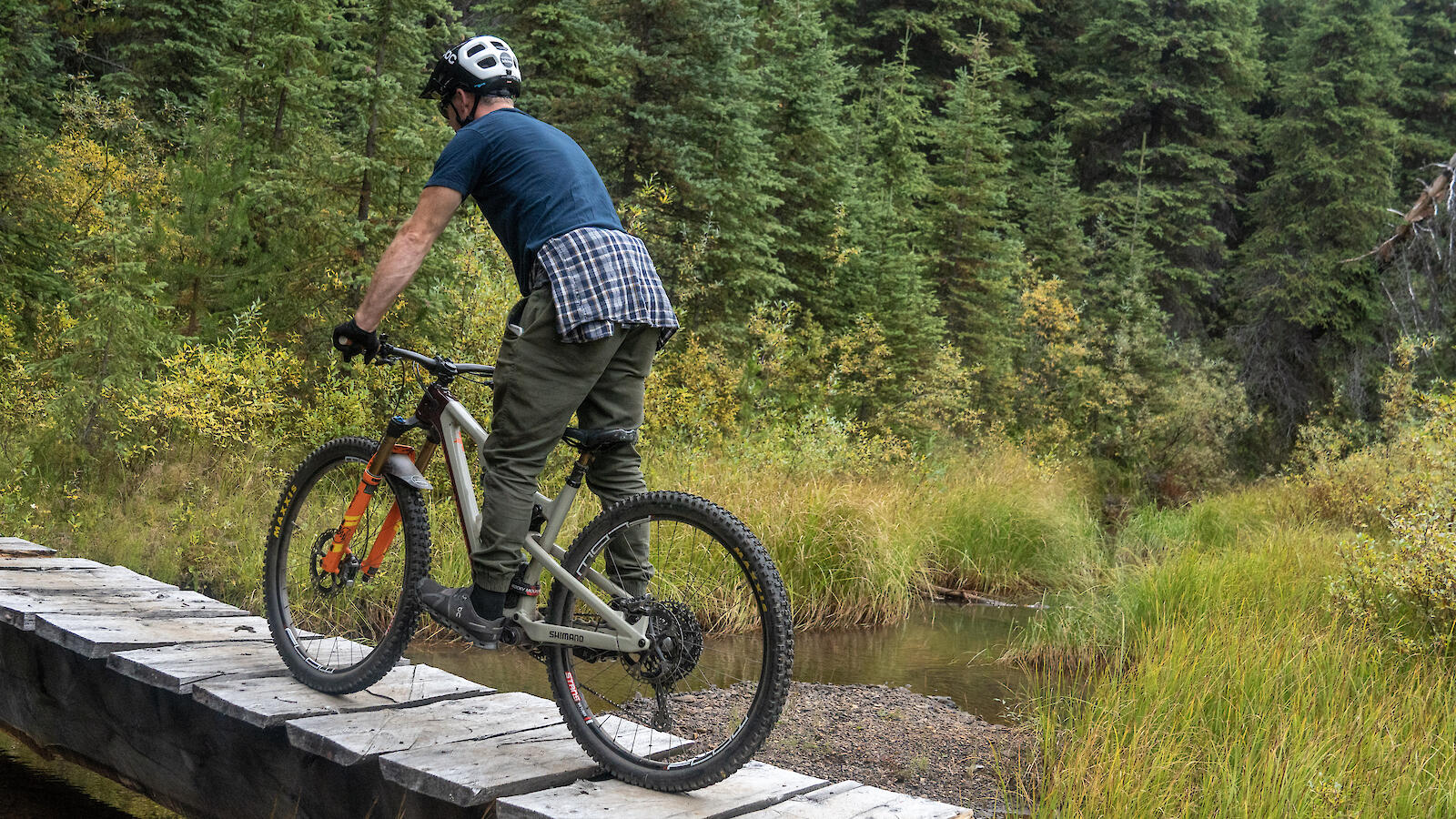 East of Quesnel they headed to Wells and Barkerville, the last two towns on the famous Gold Rush Trail – a section of highway that runs from the mouth of the Fraser River in New Westminster to the very end of the road – historic Barkerville. This route follows the traditional Indigenous peoples' trading routes utilized during the fur trade and expanded during the gold rushes of 1858-1862. A mountain bike journey along this route offers so many opportunities to educate both parents and kids on the background of Cariboo country. This area is young by colonial standards but the traditional territory of the Dakelh and Secwépemc Nations goes back for centuries.
Barkerville is an extraordinary place. If you're a BC resident and haven't experienced it, you must – especially with kids. It's a legendary town that will draw you in and take you back to the original Gold Rush era that shaped the province of BC. A National Historic site in Canada, Barkerville is the largest living-history museum in western North America.
The Lowhee Campground was the perfect place to be based for visits to both Wells and Barkerville, and there's a route called Valley Trail that connects to Wells directly from the Lowhee Campground. The network around Wells and Barkerville is still evolving with about a half dozen blue and green trails in the area. What's super cool for kids (and adults) are all of the other activities to partake in.
Myla loved the horse and carriage ride through the downtown core where over 120 historic buildings stand. Professional actors filled the streets and played out life of the period doing blacksmith work, newspaper printing, indigenous history with an elder, and Myla's favourite – an old-time candy store from the era. Above Barkerville are hiking trails and lookouts to take in the views of the town and its still-standing antiquated wooden flume.
100 MILE HOUSE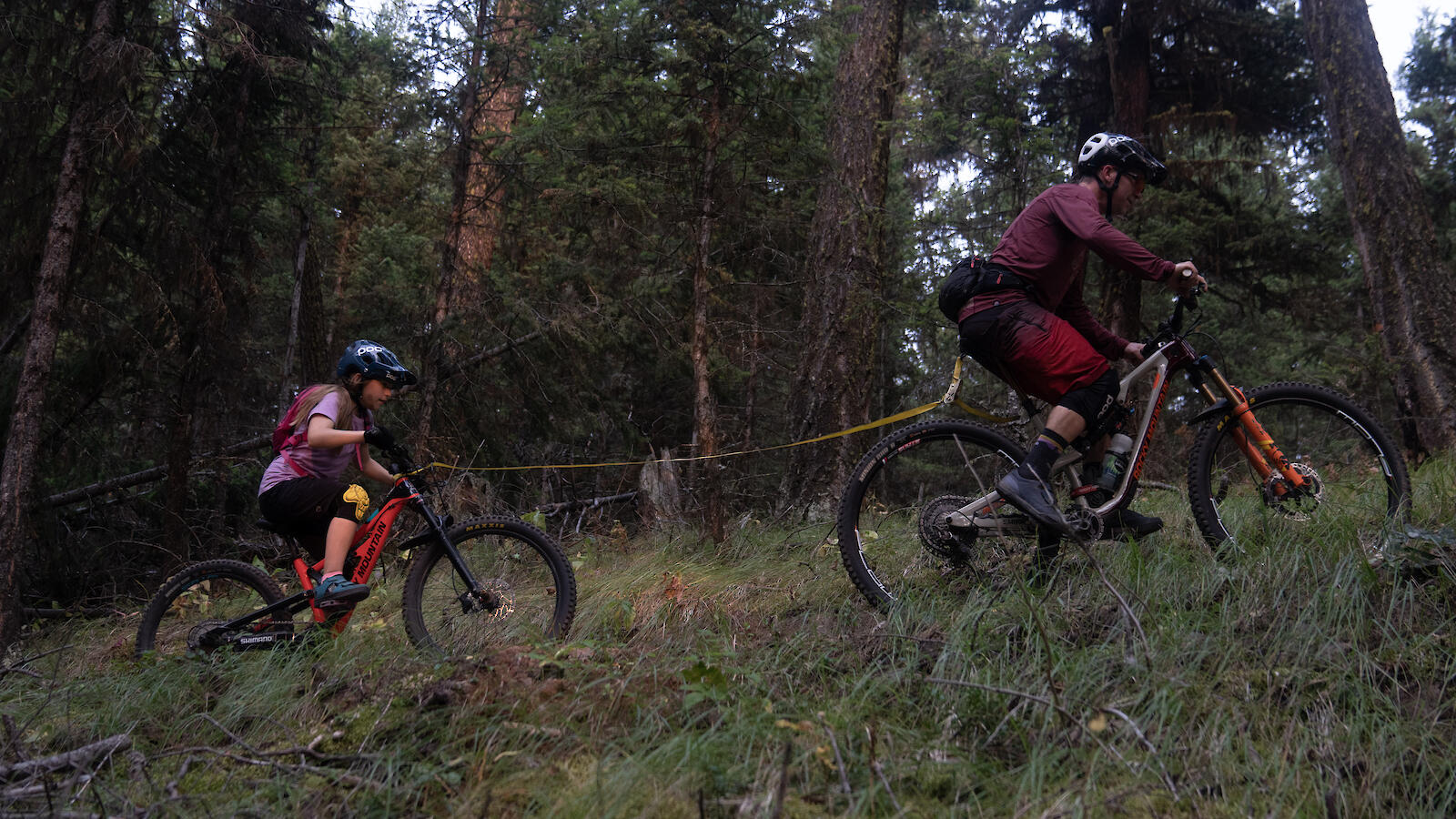 With the week wrapping up they had one last zone to check out just minutes south of 100 Mile House where an all-new, machine-built mountain biking area is being constructed at 99 Mile Forest. The trail-building here is brilliant. Hun City Mountain Bike Club and First Journey Trails took a blank canvas and maximized an area that would appeal to, and serve, every level of rider.
There were still a couple of trails under construction but they had the chance to ride Lower Climb and Punishment and 99 Mile XC Bike Trail. It's a gem of a climb, that's fun (yes, 'fun') and goes up steadily but still allows for conversation and flow – hard to do on an up-track!
Myla made most of it on her own steam but for the final push to the top of downhill, Hustle and Flow, Darren hooked up a long-line from his seat rails to tow her to the top. Parents will do what it takes to ensure the experience is great for their kids and every little bit helps ensure they have a great time – Myla loved the tow up!
Hustle and Flow was the ultimate ending to their Cariboo journey. It welcomes you with a grandiose start gate and then rolls into some fun bumps and rollers that can either be jumped or pumped. On the way down are many more fun and playful features, berms, small jumps (some hidden bigger ones too, if you can see them!), and small drops. Given this network is so new to 100 Mile House, even the 60-something local grader operator near the parking lot was intrigued…
"Makes me want to give this mountain biking thing a try", he said, "Everyone I see that comes off the trail has a huge smile on their face!"
CARIBOO REGIONAL DISTRICT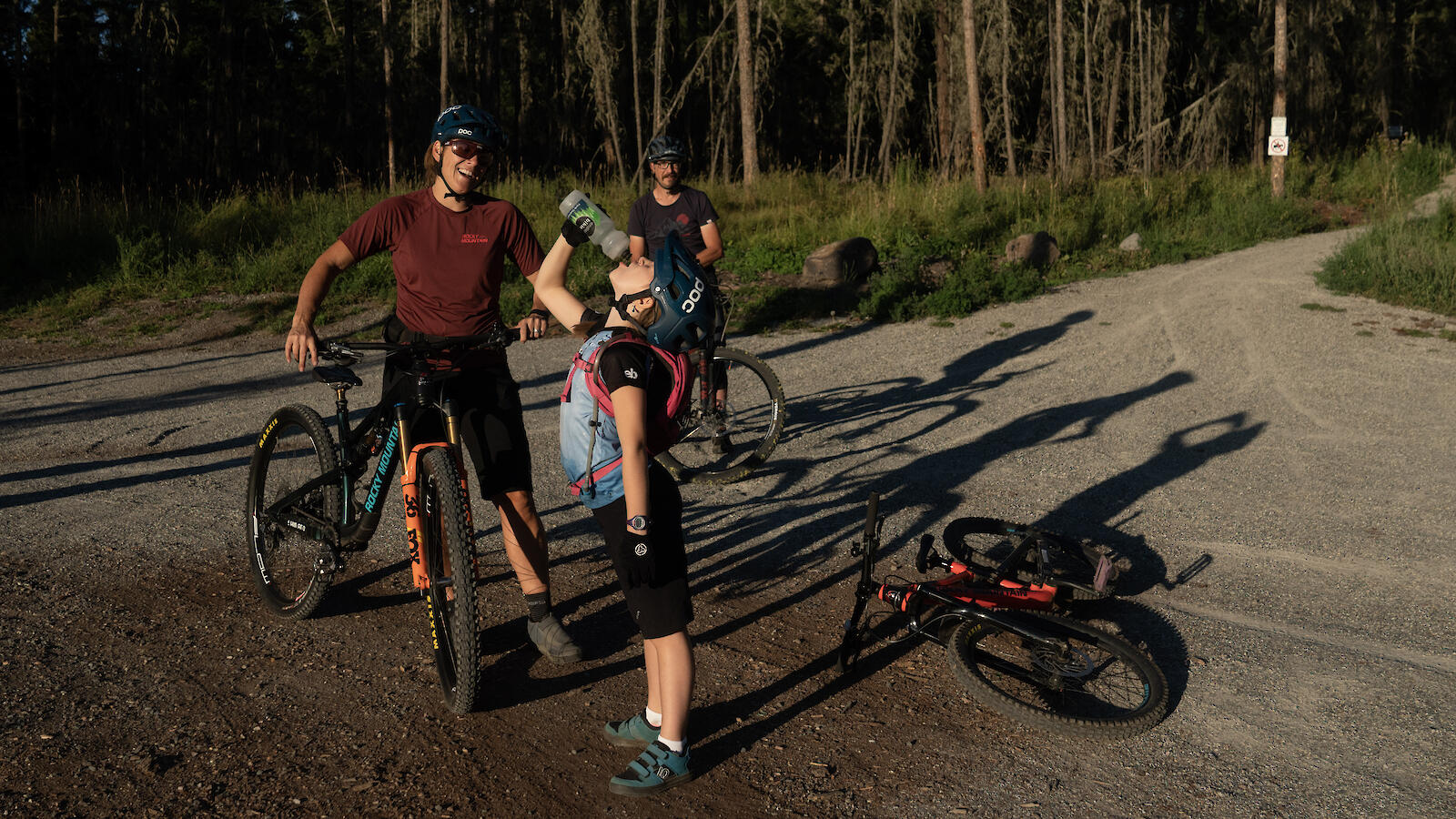 The collaboration between the local trail clubs, municipalities, the Cariboo Regional District, and First Journey Trails is a shining example of how an entire region got together to create a master plan for mountain biking.
As BC locals we often travel to far-away places to ride our mountain bikes or assume it's too gnarly to bring the kids along. The Cariboo is a local treasure with both a new and ancient history that serves up network after network, town after town.
The diversity of this area is astonishing, and so much closer than we realize – just 6 hours from the Lower Mainland and central to every other region in the Province. Friendly locals, uncrowded spaces, modern food, delicious coffee, and neighbourhood breweries…add countless trails to the mix for every age range and ability and it becomes one of the most viable backyard mountain bike destinations in BC. In this new world of keeping our distance, the Cariboo might just be the best, and most fun way to do it as a family!