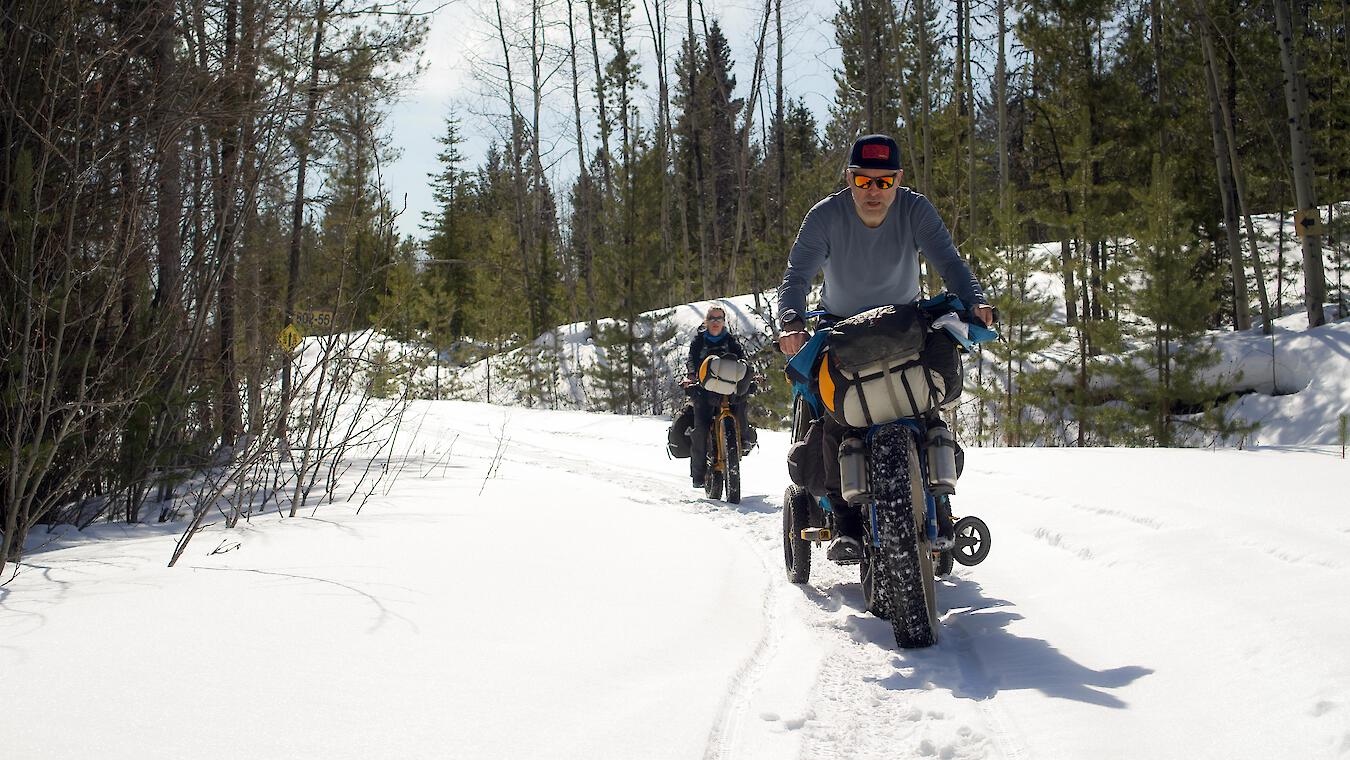 Unlikely - A Family Bikepacking Misadventure
Location: Gold Rush Snowmobile Trail, Cariboo Region, British Columbia
As we neared the one-year anniversary of the COVID-19 pandemic, I was itching for a multi-day winter bikepacking trip. I could almost feel the mold growing on my cold-weather kit, which was marinating in tightly sealed bins full of mothballs. With borders still closed, winter events such as the Iditarod Trail Invitational weren't accessible for us Canadians. Not to mention that I couldn't ignore the irony and moral pretense of attending an event that runs along a trail made famous nearly a century earlier by sled-dog teams transporting a serum to save surrounding communities from their own developing epidemic in 1925. History has a way of repeating itself, especially when we ignore it.
I had maintained a mostly positive attitude throughout the 2020 lockdowns, but it was hard to deny the underlying fatigue. One giant fucking global bonk. Any silver linings were threadbare, and my bathroom mirror was smeared with streaks of personal affirmations. Aside from the more obvious external ramifications and setbacks, there were more corrosive invisible forces at work. The pandemic had inflicted a kind of spiritual atrophy on so many, and I was not immune. This was the emotional and psychological trauma of a year dictated by limitations, isolation, and loss. I was fine with the isolation. In fact, before the imposed shutdowns, I thrived on it, regularly seeking solitude through bikepacking. I relished breaking free from the world, but as it stood, the world suddenly felt all too broken.
So, in an effort to reset, I turned my attention to the map of my home province of British Columbia, Canada. The goal was to find a winter destination for a family bikepacking trip to commemorate this dubious anniversary and exercise—if not exorcise—it from our being.
But piecing together a winter route proved to be a cartographic puzzle. Finding a proper trail was difficult so close to home. Don't get me wrong, winter was all around us. In fact, we were living in the shadow of a 1,000-metre mountain. But we also lived a stone's throw from the ocean. Snow could only be found at elevation, where most trails were either too steep for traction, too narrow to pull a child trailer, or just too short, thwarted by the dead-end of a summit. I was looking for a bikepacking adventure to undertake with my wife Sarah and our two-year-old son Oliver, something that stretched out over the landscape and covered some distance, yawning and arching its back over rolling hills. I also wanted something that went somewhere. Anywhere. This year had been full of out and backs, and ups and downs. Most bikepackers were quarantined with only our hamster wheels for exercise and entertainment. Our bikepacking highlights were limited to hauling goods from supermarkets and liquor stores. Here and there but nowhere.
In a final, desperate plea, I slid my fingers over the surface of the map like a mystical planchette across an old Ouija board with hopes of conjuring a route from the ether. And it did. There it was: The Gold Rush Snowmobile Trail.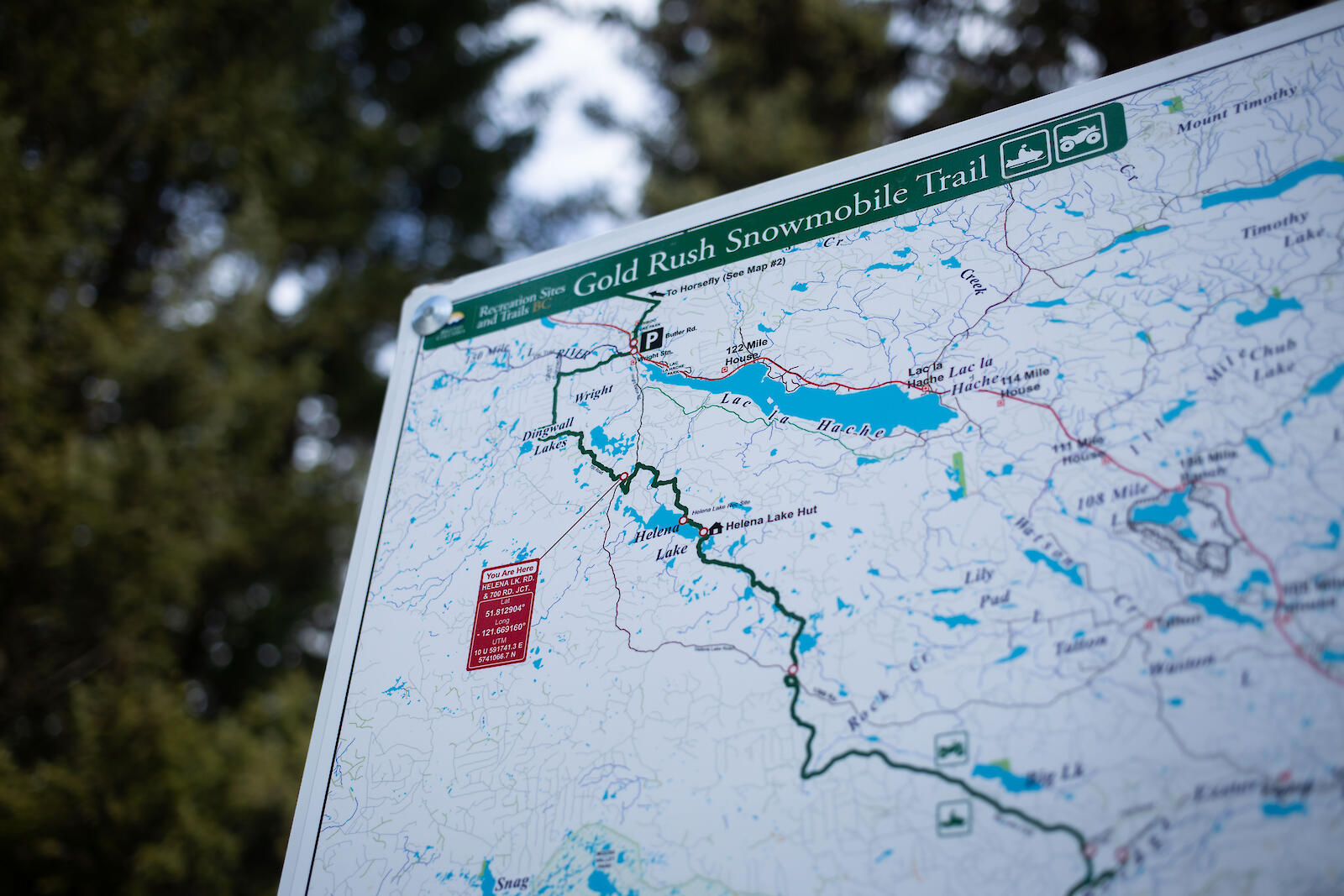 The Gold Rush Snowmobile Trail (GRST) seemed like the perfect antidote for the pandemic blues. On paper, it looked fat-bike-friendly, with rolling grades that never got too extreme. The region was prone to consistently cold winter temperatures and the route was already covered by ice and snow. What could be more perfect for a family caravan seeking a wild adventure on the western frontier?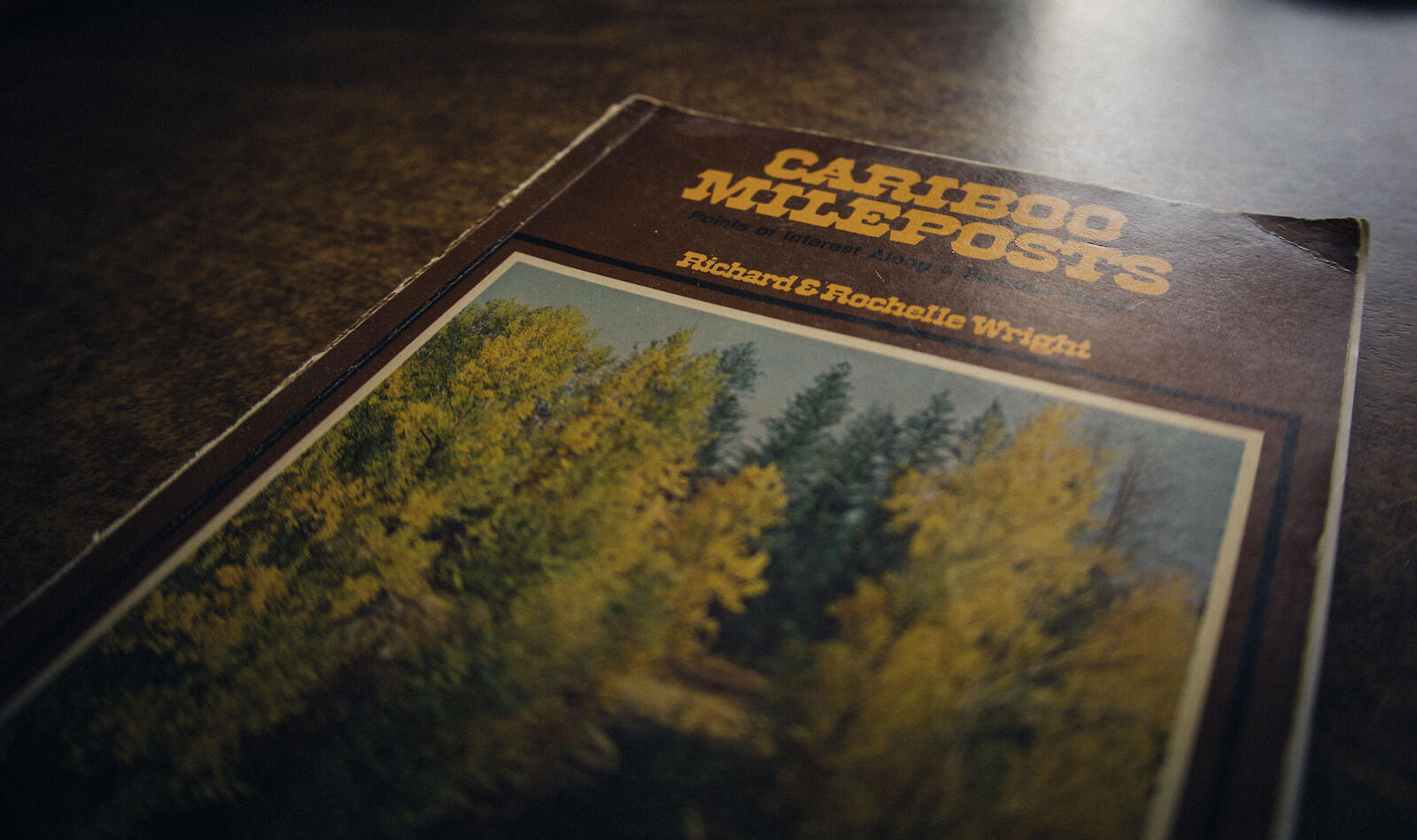 The route that became the GRST was originally a long-term project connecting rural communities that were founded on real prospects of gold in the mid-1800s: Clinton, 70 Mile House, 100 Mile House, Lac La Hache, Horsefly, and Likely. Even their names, so literal and functional, oozed with lore from bygone days. The route now extended on from there, climbing up and over Yanks Pass to the quaint towns of Wells and Barkerville, the latter being a living time capsule of the Canadian gold rush—a John Wayne diorama.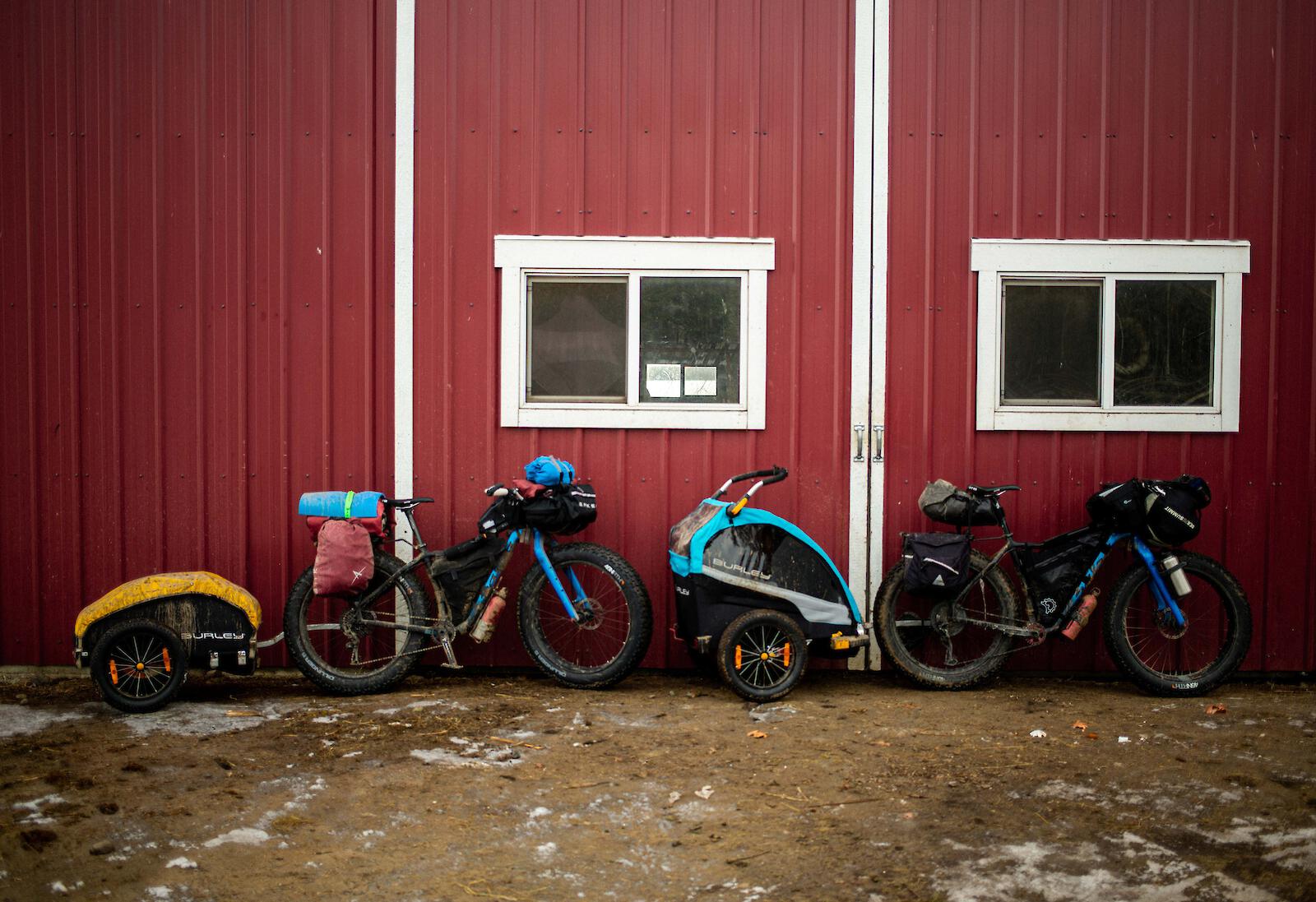 We would be pulling trailers behind fat bikes, on snow, with our toddler inside, which presented its own set of challenges. I'd nibbled at the idea of completing the entire route of more than 500 kilometres, but there was no sense biting off more than we could chew, especially with a little one in tow. When travelling as a family, bigger risks have to be mitigated.
I reached out to the local snowmobile clubs ahead of time, as much for local intel as for unofficial permission to ride the route. Trail hierarchy and recreational politics exist anywhere there are coordinates pricked on a map, and I presumed this route was no different. From what I could tell, no one had biked the full length of the route before, certainly not in the winter, so I had no idea what the local response would be. It was best we check our guns in with the sheriff lest there be any duels between fat bike and snow machine. Ingratiating ourselves smoothed a physical and communicative right-of-way.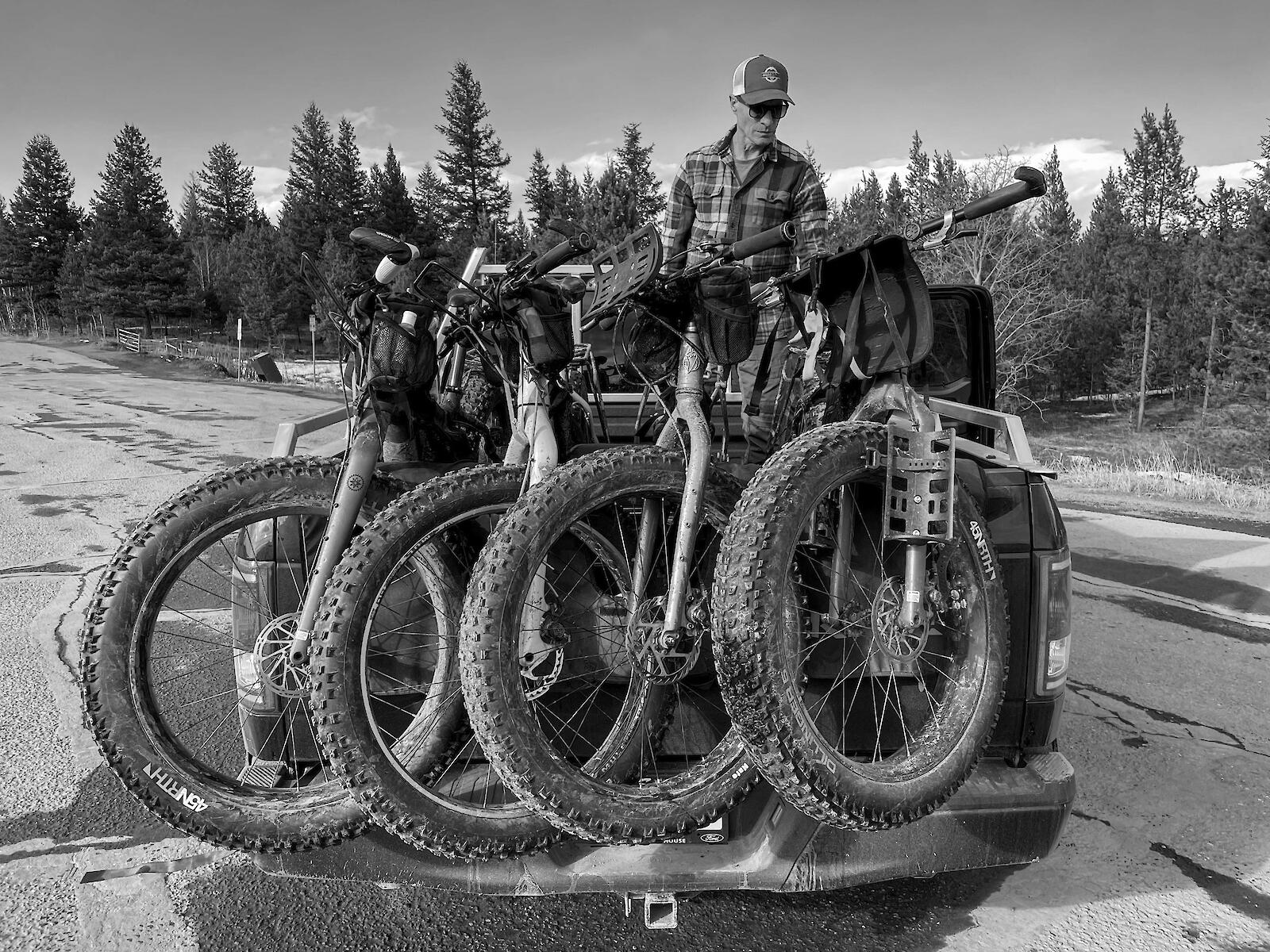 With local blessings and enthusiasm, we set off for the GRST. We invited our longtime friends Sylvia and Frank to come along for the ride. They were wonderful riding companions—experienced and already a part of our little bubble, having supported us in our care for Oliver throughout the pandemic.
Our modern caravan of carbon and steel rolled out late morning from a tiny hunting cabin on Meadow Lake, a rural strip of farmland just north of the town of Clinton. After a mostly sleepless night spent wrangling our restless child, we hoped our biggest challenge might already be behind us. The treads of our fat tires crackled over the fresh snow as we quickly picked up the trail heading northeast towards the town of 70 Mile. An overnight snowfall draped the landscape in a beautiful white frosting. The road surfaces and grasslands shimmered with a crisp, clean sheen of wintery perfection. It was an idyllic start.
---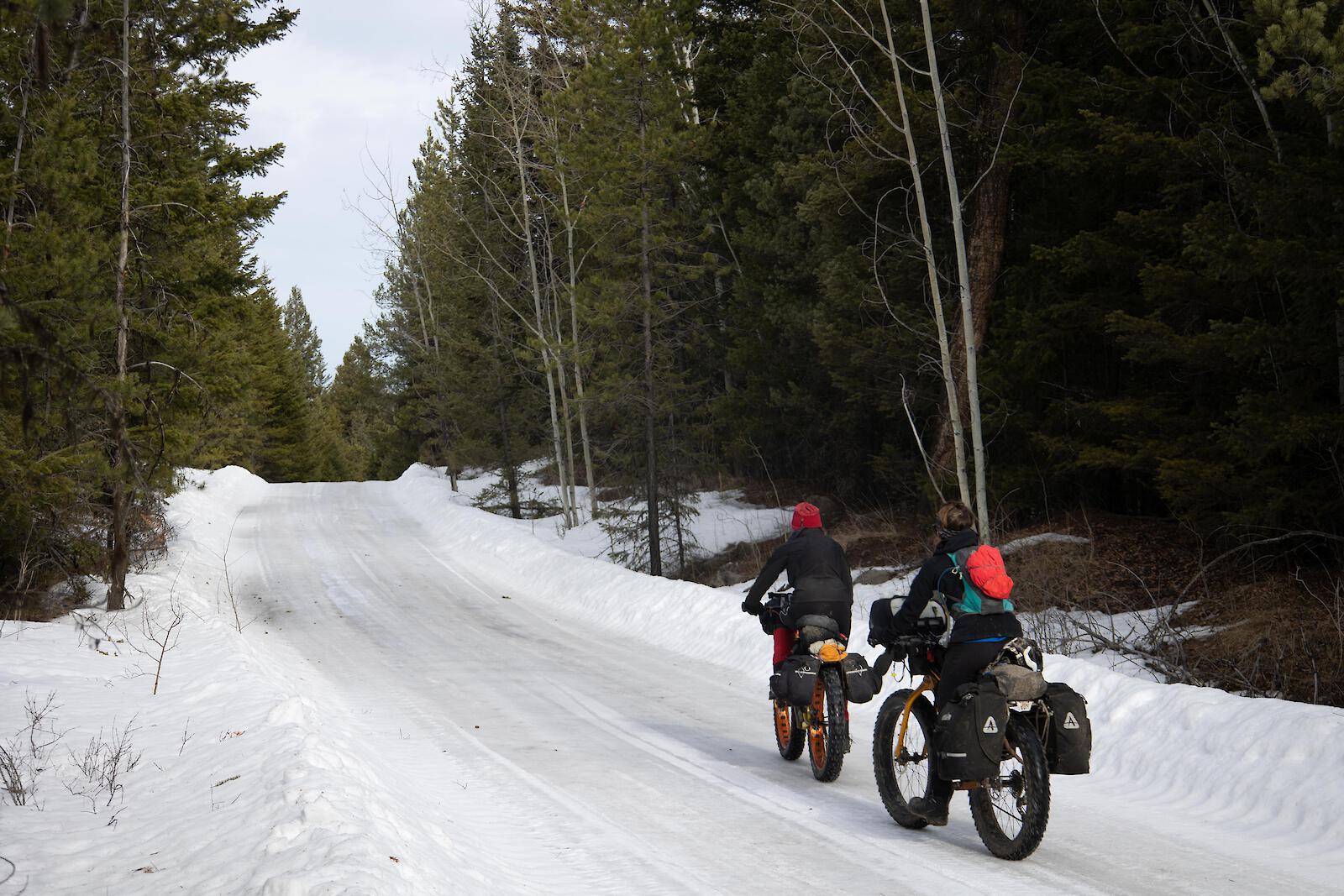 ZEN OF BIKEPACKING
As a Canadian, I'm well versed in the traditions of meteorological small talk. We can hardly be blamed for reducing our status to casual weather forecasting; like many northern environments, the reports consciously and subconsciously dictate our every move. At the very least, weather is an omnipresent variable that impacts comfort, safety, and in extreme circumstances, survival. Here I am monologuing to you about it right now.
While winter bikepacking poses many unique challenges, weather is most often the most important variable. Mother Nature always dictates the terms. Part of what made this adventure so unique and exciting was that trail conditions were unpredictable from one mile to the next. But the looming threat of changing conditions doesn't mean fixating on what-ifs. Negative speculation is a poisonous affliction for any adventure. Once it seeps into our subconscious, it festers and turns our imagination against us. When bikepacking, all we can do is show up prepared and open-minded, manage possible outcomes, adapt, and then relish what is in front of us. Especially when it's working. When calamity comes our way, we deal with it. I appreciate that everyone manages the spectre of change differently and approaches their craft in their own way.
In literature, some authors write by hearing words, while others translate the imagery they see. In bikepacking, some cyclists are human odometers, systematically ticking off each mile with a balance sheet holding the trip to account. Others are speedometers, measuring accomplishments through speed and time, riding within a predetermined window, and achieving as much as possible within a specific timeframe. Some go by the size of their fuel tank, just getting as far as they can with what they've got. And then there are those with the windows rolled down, wind in their hair, where time and distance have no meaning. An emotional tailwind. The zen of bikepacking.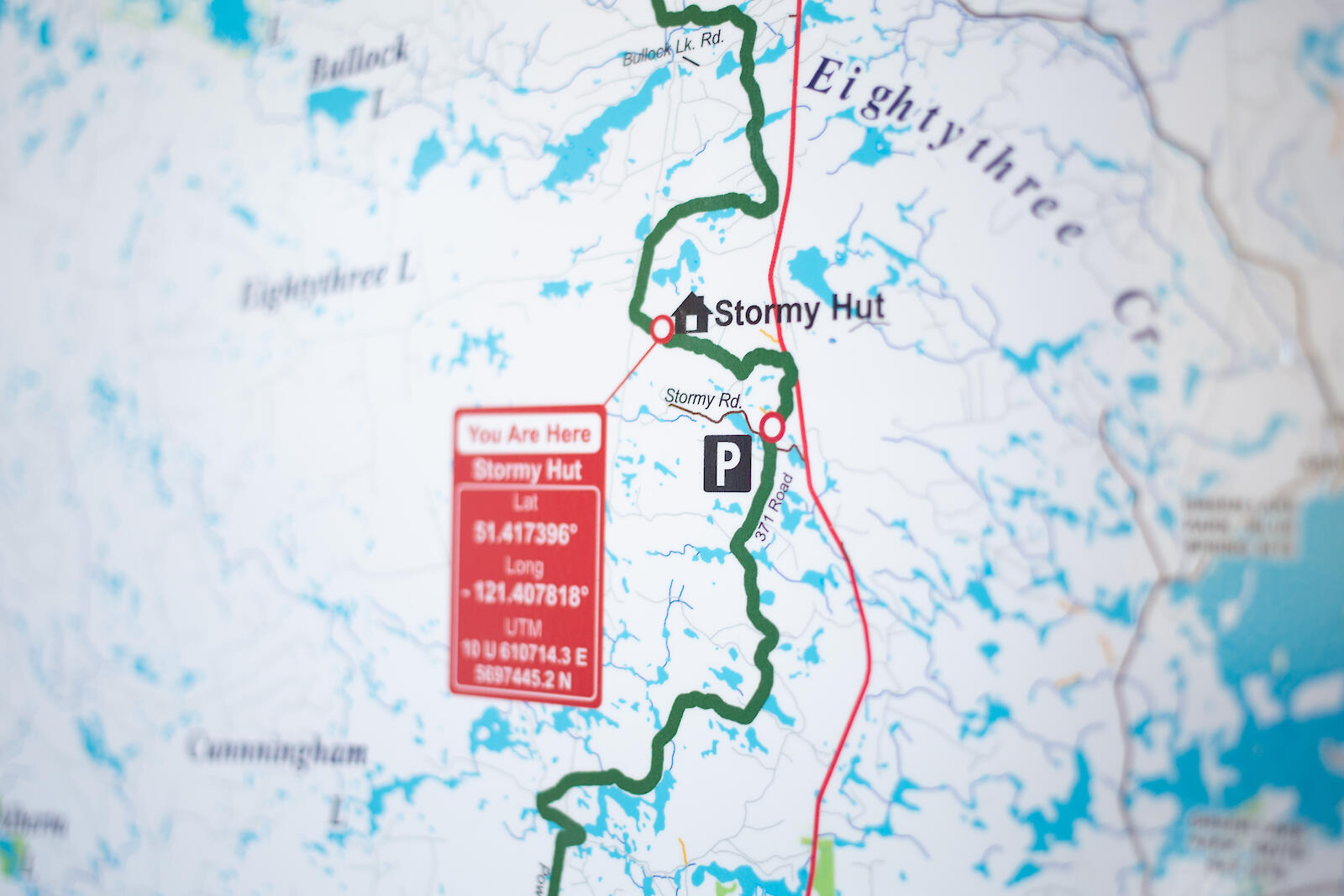 Personally, I am motivated by carving out a destination in my mind. A visual. This makes my goal as emotional as it is physical, based on reasonable expectations formulated through logic but driven by my insatiable curiosity. By not fixating on pace or distance I can appreciate the nuances of the trail as much as any breathtaking landscapes. As the trail gets harder, I slow down. As the conditions improve, I go faster. It's simple. Admittedly, this attitude took time to develop. In my first few years of long-distance riding, my internal monologue was more backseat driver than Buddhist monk. Are we there yet? In the end, that thinking got me nowhere.
---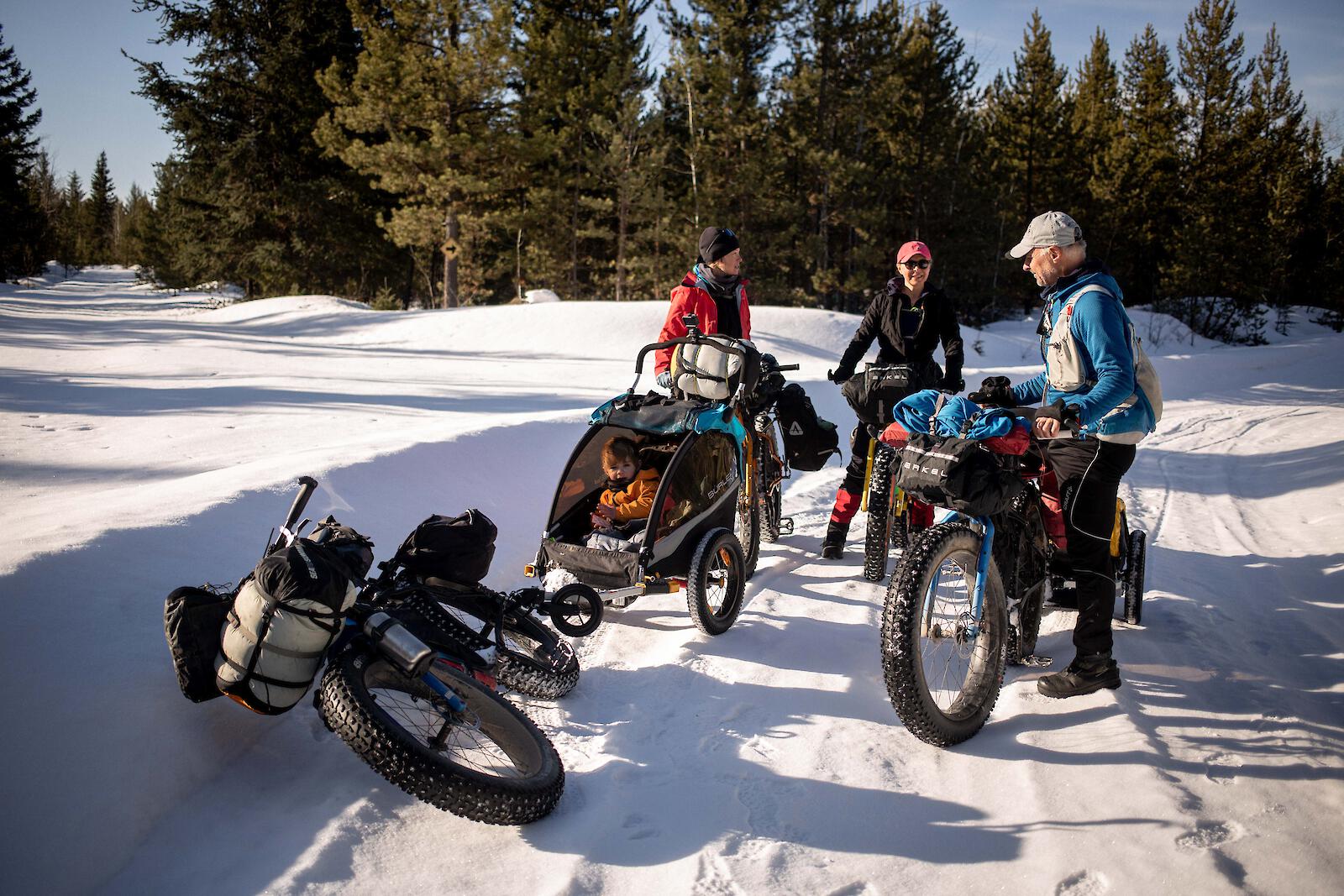 THE WINTER CARAVAN
Our caravan continued to make good progress on solid trail conditions made possible by the freezing overnight temps. I was mesmerized by the lack of sensory stimulation within the winter motif: no smells, no sounds, only a pale, monochromatic palette of white and grey. Animal tracks crisscrossed over the fresh snow, hinting at a secret, bustling metropolis all around us. I wondered what they made of our added tire tracks. I could only imagine the confounded fox heading off to work, analyzing our unfamiliar treads, perhaps thinking we were a slithering Arctic python, lost and confused, another victim of premature migration caused by climate change.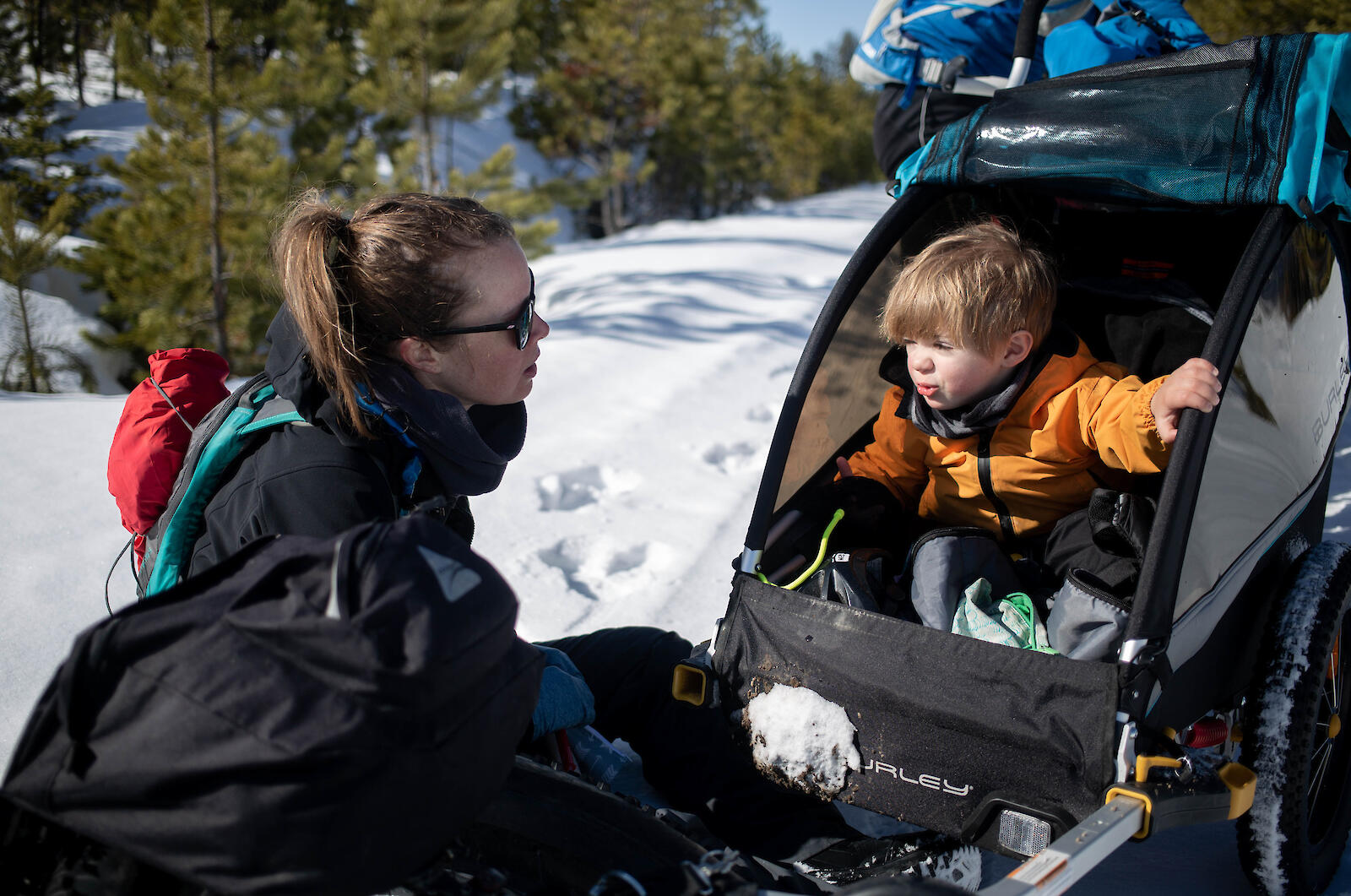 When briefly stopping trailside, Oliver's little fingers would emerge from inside the shadows of the trailer in search of handouts. His dainty tentacles had quickly adapted to their surroundings and travel companions. Stoppages meant elevated odds for snacks, and if the little Kraken squawked and squealed enough, he was rewarded with gummies, nuts, energy bars, crackers, and chips. If lucky, even a hit of spicy water from our Nuun-infused hydration bladders to wash it all down. It was a pretty good life for him, although it was shocking that despite all of his pent-up energy, he was so content and willing to be corralled in his trailer for hours on end.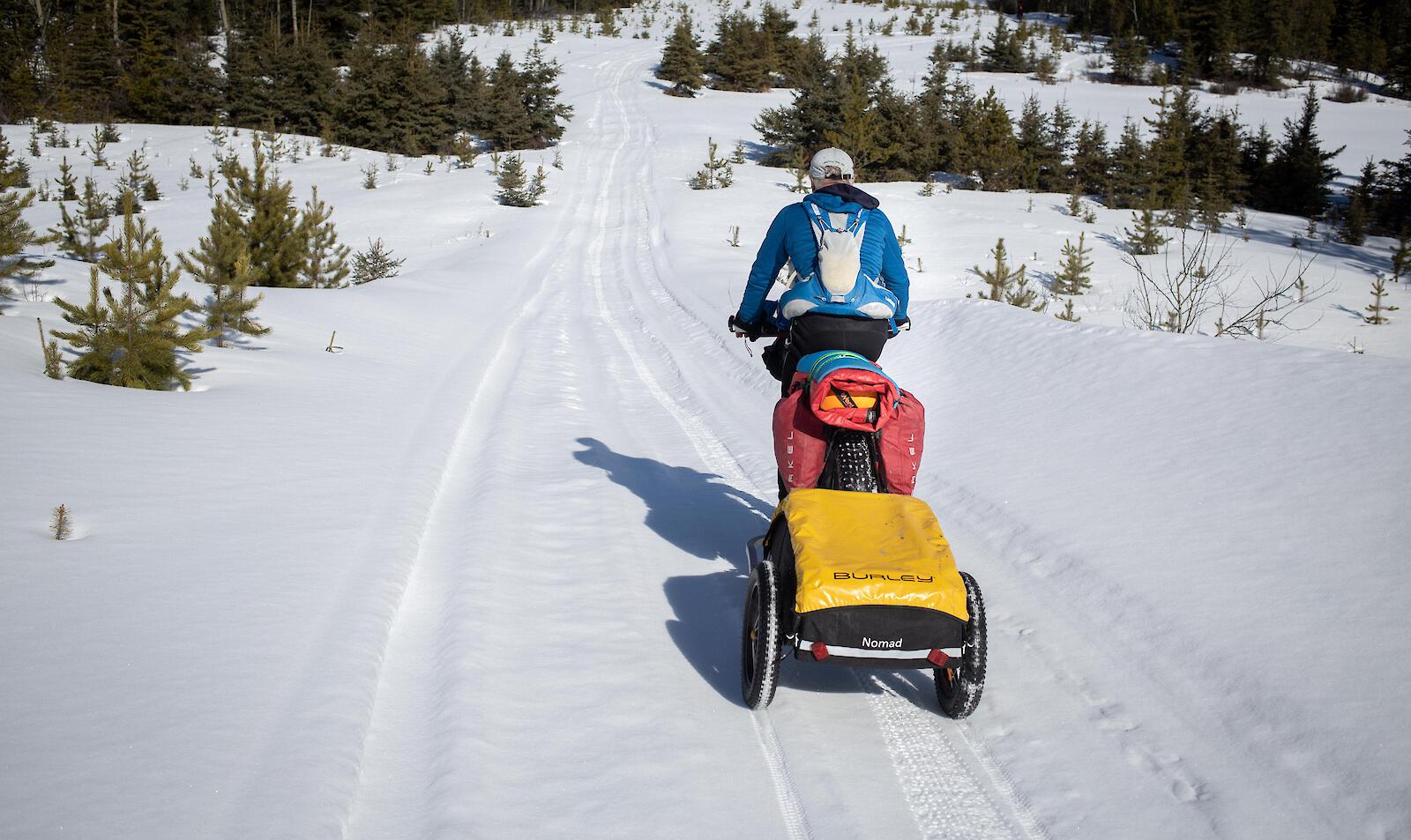 We continued to deflate our tires a little each day to grip and float on top of the softening snow. It was a simple winter fat biking formula: as temperatures go up, tire pressure goes down. The cold temperatures were like steamrollers, hardening the snow into a highway. This is what makes riding through the night, or at least setting out early, a successful strategy for riding winter trails. We didn't fully capitalize on this, given the less compatible variable of traveling with a young one. We had to weigh the pros and cons of suddenly adapting his sleep patterns to accommodate the changing temperatures. We could have just thrown him into his trailer and he would have endured, but that was no fun for anyone. This wasn't a strict laboratory experiment; we were here to experience the trail together. Thus, we sacrificed some prime riding hours in the name of family unity.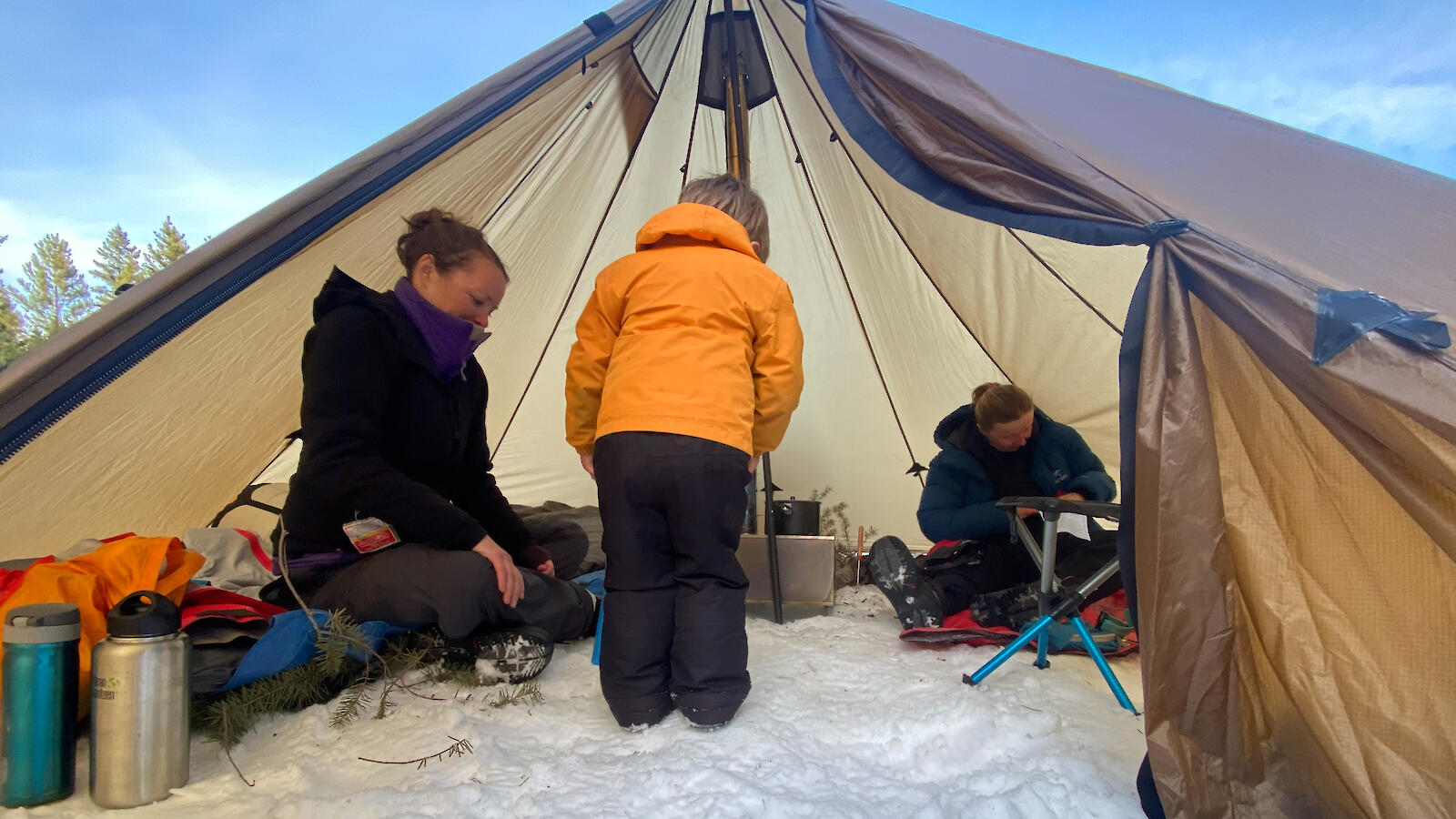 We stopped relatively early each afternoon to set up camp. Winter camping always takes much longer, as there's a lot of collective work to be done. Sarah took on tireless toddler duties, changing diapers and clothes. Meanwhile, I fired up the stove and collected snow to melt for water. Stray pine needles steeped in the melting snow, infusing it with the scent of the forest—the herbal tea of winter camping.
Once stoves were lit and snow was melted down, I set up the tent; cut bows of spruce and fir to put down for an aromatic layer of insulation; inflated sleeping pads; unpacked sleeping bags; gathered and cut tree-fall for a fire; made warm drinks; and tended to the frayed ends of the day such as nagging blisters, cuts, and gear malfunctions. Two hours could easily pass until we sat down with a hot meal to soak up our peaceful surroundings. One payoff to winter bikepacking and camping is the lack of competition for resources. On this trip, we'd yet to see a single other person along the trail.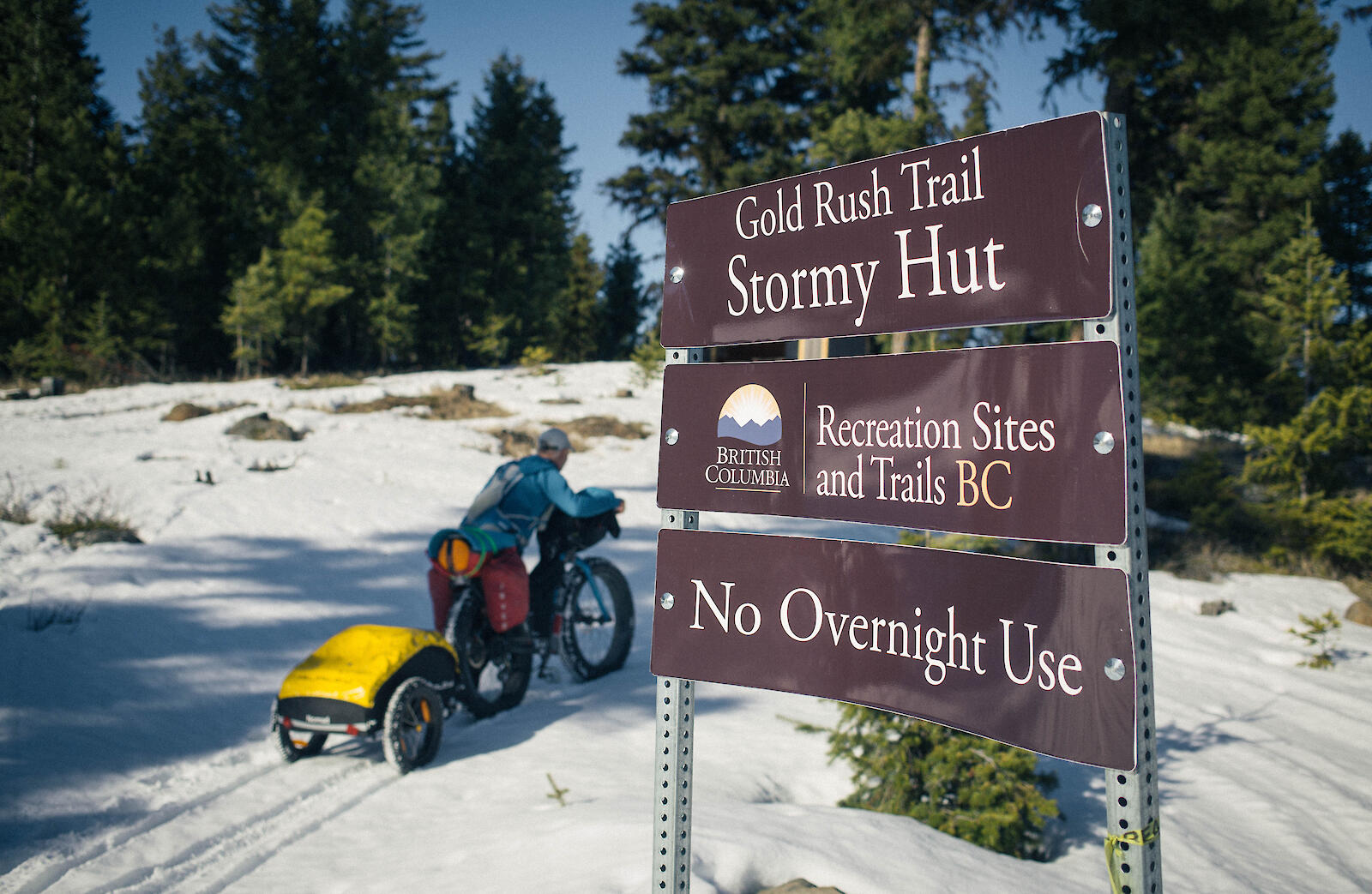 For me, the hardest part of the journey wasn't the riding, even when poor conditions or steep grades forced me off the bike to push uphill with the claws of gravity clinging to the weight of the trailer behind me. No, that was fulfilling and expected. That was the contract I signed any time we took to the trail. The hardest part wasn't the climate, or lack of luxuries, or myriad tasks involved in setting up camp. Those were necessary and rewarding chores. For me, the hardest part was going to sleep at night—if you can even call it sleep. Whether a racing mind or restless body, I always struggle to sleep and count the minutes until morning when the first light would mercifully summon us to rise and I could start another day.
So, with a sense of doom each night, I filled my water bottle with a warm, vintage eau de neige and slid it deep into the cellar of my down sleeping bag to keep the water from freezing, with the added comfort of a hot water bottle for the long night ahead.
---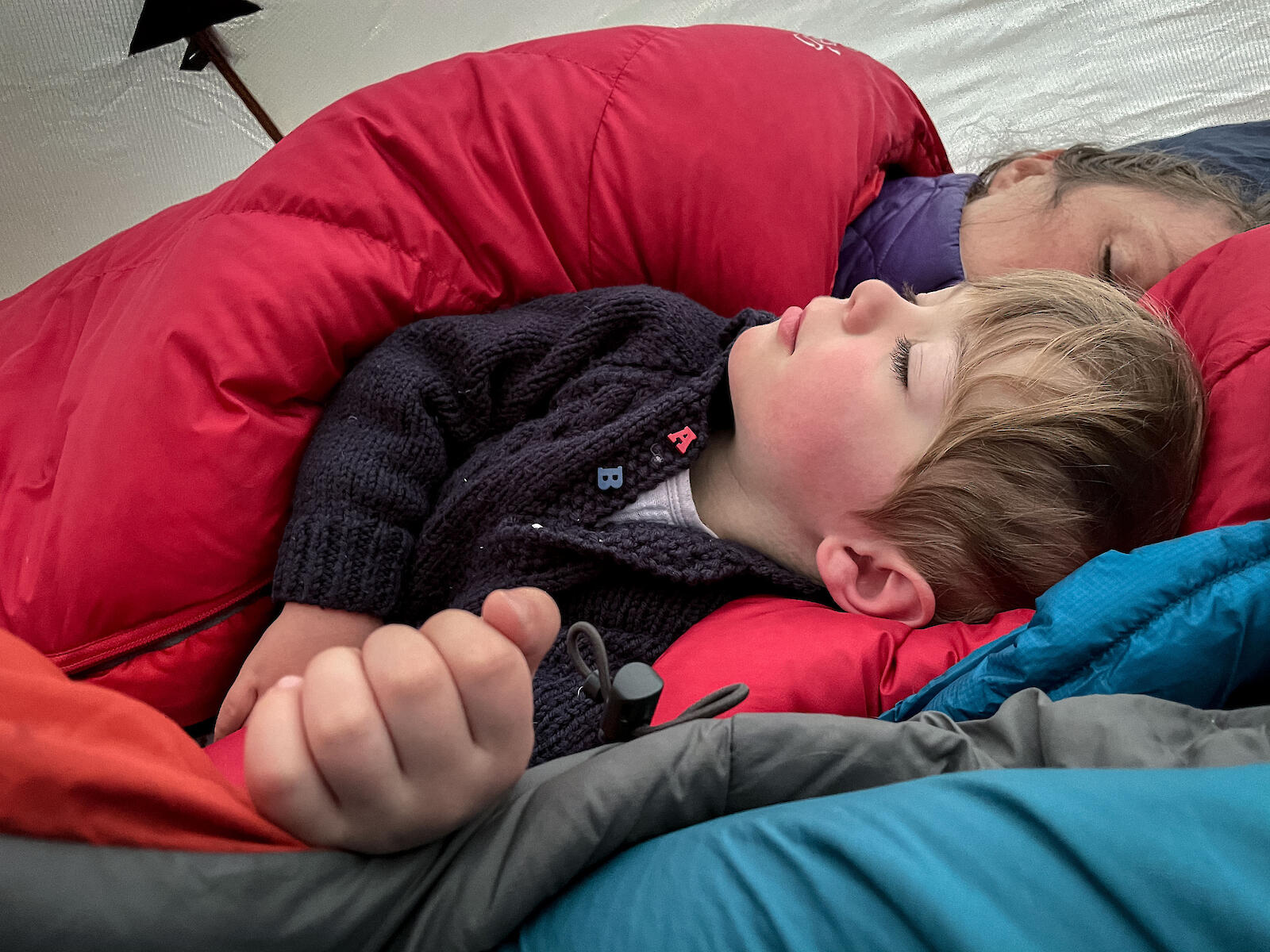 SPRING HAS SPRUNG
In the morning, Sarah and Oliver were a twisted mess of sleeping bags, and I could see a few small limbs exposed through cracks in the down. A layer of frost crystals rained down as I scraped the interior canvas of the tent to slip outside into the crisp morning air. I set the water to boil for bowls of oats and warm powdered drinks. In the winter, fuel in all forms is critical: food for energy, white gas to boil water for cooking and drinking, and wood to burn for warmth and wide-eyed fireside meditation in the idle hours before sleep.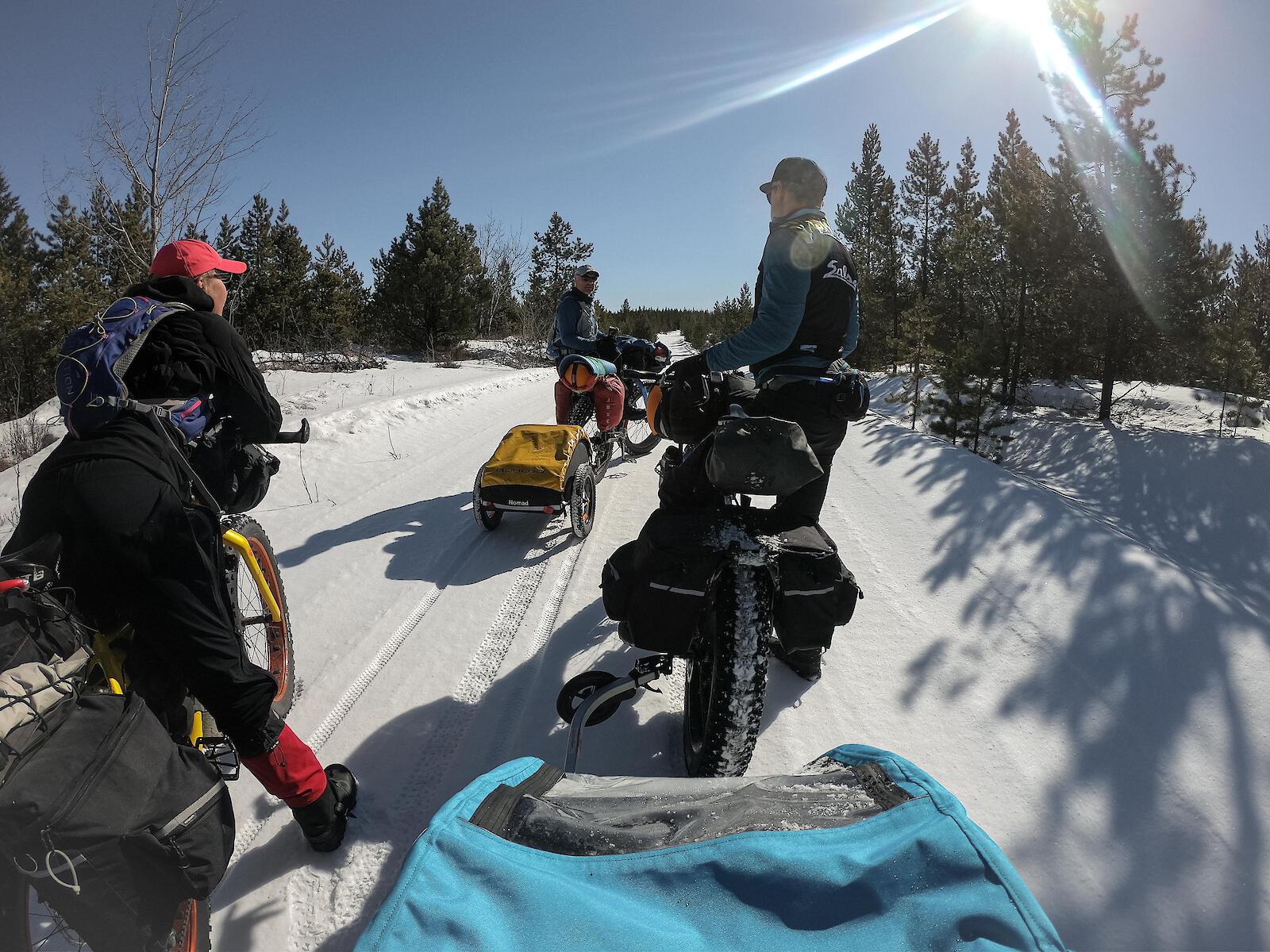 We followed the trail further north on our third day, leaving Valentine Lake past 100 Mile House and continuing to Helena Lake, where we had booked a couple of one-room cabins just off the route. The cabins at Helena Lake Ranch were nothing short of magical. Amber, our host and the owner of the working ranch, whipped up hearty and delicious homemade meals with fresh ingredients sourced from her farm. We appreciated her support for our adventure. It turned out her brother was a pioneer of Vancouver's North Shore cycling community and an avid fat biker. He had relayed his condolences for our endeavours. His empathy sounded a lot like pity.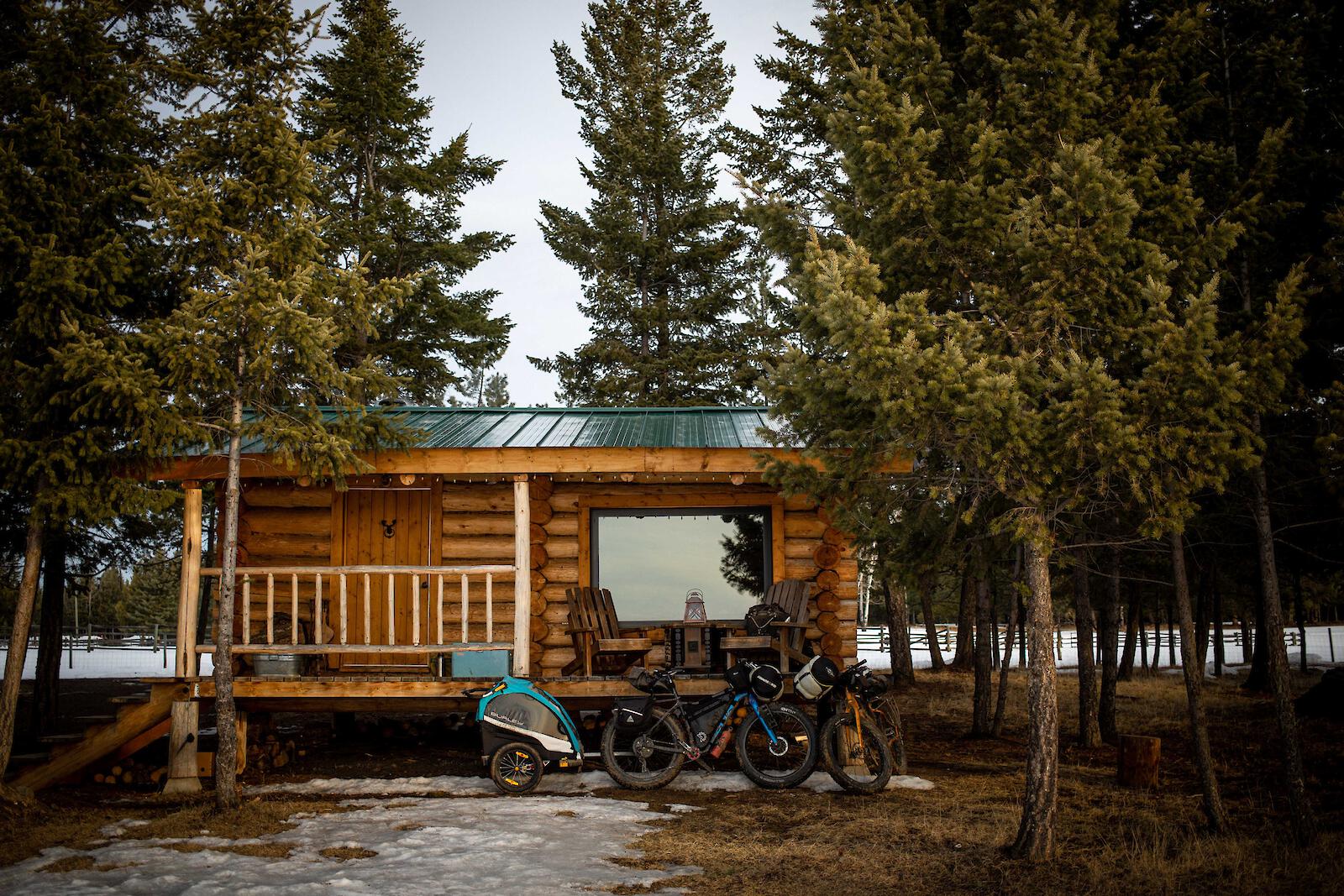 Hunkered down in our cabins, I feared the manacles of comfort holding us back from completing our intended route, or at least planting a seed of mutiny within the group. The sirens of the trail have lured many ambitious bikepackers into warm cabins, never to return or be seen again, trading the glory of adventure for freshly brewed coffee and a crackling, wood-burning stove to dry their feet.
Despite our evening of comfort, we were able to pry ourselves away and set off into the cold again in the morning. But not without concession. With the slower trails, it felt like we were stretching ourselves, so we decided to reduce the daily ambitions to roughly 35 kilometres. I was refreshed and optimistic as we set out on our fourth day. And as the initiator of our journey, I felt a sense of relief about having found a healthy resolution within the group. I was happy to ride more each day but I also didn't want us rolling into camp jaded or frustrated every afternoon, nor did I want to be the pariah pushing everyone outside their comfort zone.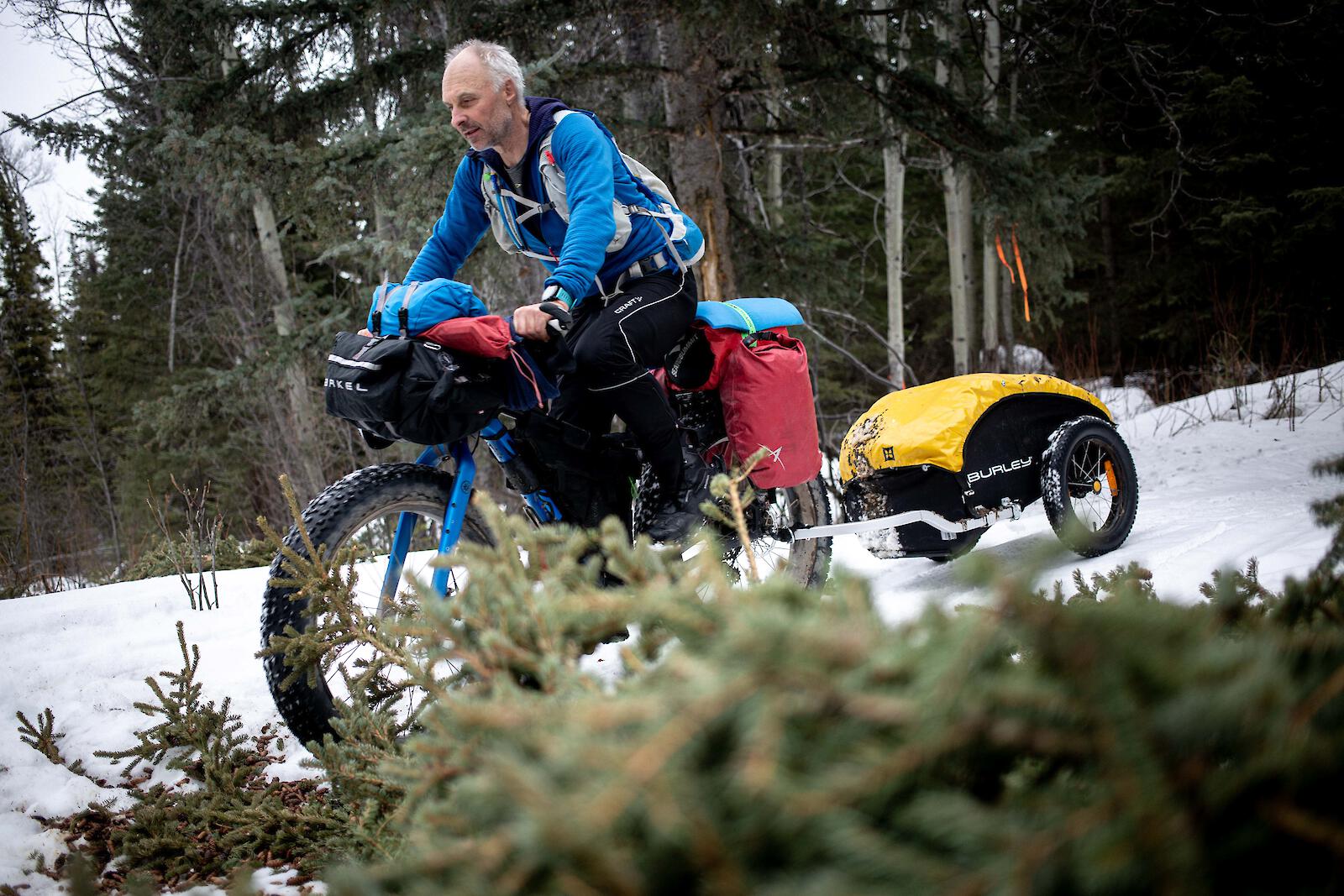 That optimism didn't last long. Suddenly, the frozen rug was pulled out from underneath us. Over the course of the previous four days, the temperatures had risen from -12 to 12°C. These higher temperatures had turned our firm winter trail into mashed potatoes. I could see frustration grow on faces as our pace was cut in half, and we struggled to keep the wheels rolling through the soft snow, especially pulling an extra 50 pounds behind the bikes. The trailers turned into anchors. It was abundantly clear that spring had sprung its trap on us.
We stopped and gathered for an impromptu group conference, the kind of meeting that unexpectedly and unwittingly becomes the climax of the story. There are no obvious signals like explosions, car chases, or shootouts. Just a quiet revelation that negative speculation had infected our collective subconscious. Some tears were shed, and the emergency can of Pringles was popped to salve frustrations and the "emotional climbing" endured the last few hours.
I could sense that we were beyond just deflated tires; the wheels were now fully coming off of our adventure. I maintained a positive outer facade but could feel sadness and disappointment welling inside. I didn't feel ready to throw in the towel, but the pictures I had painted in my mind of the remaining trail and unvisited towns of Horsefly and Likely, now seemingly so unlikely, began to disappear.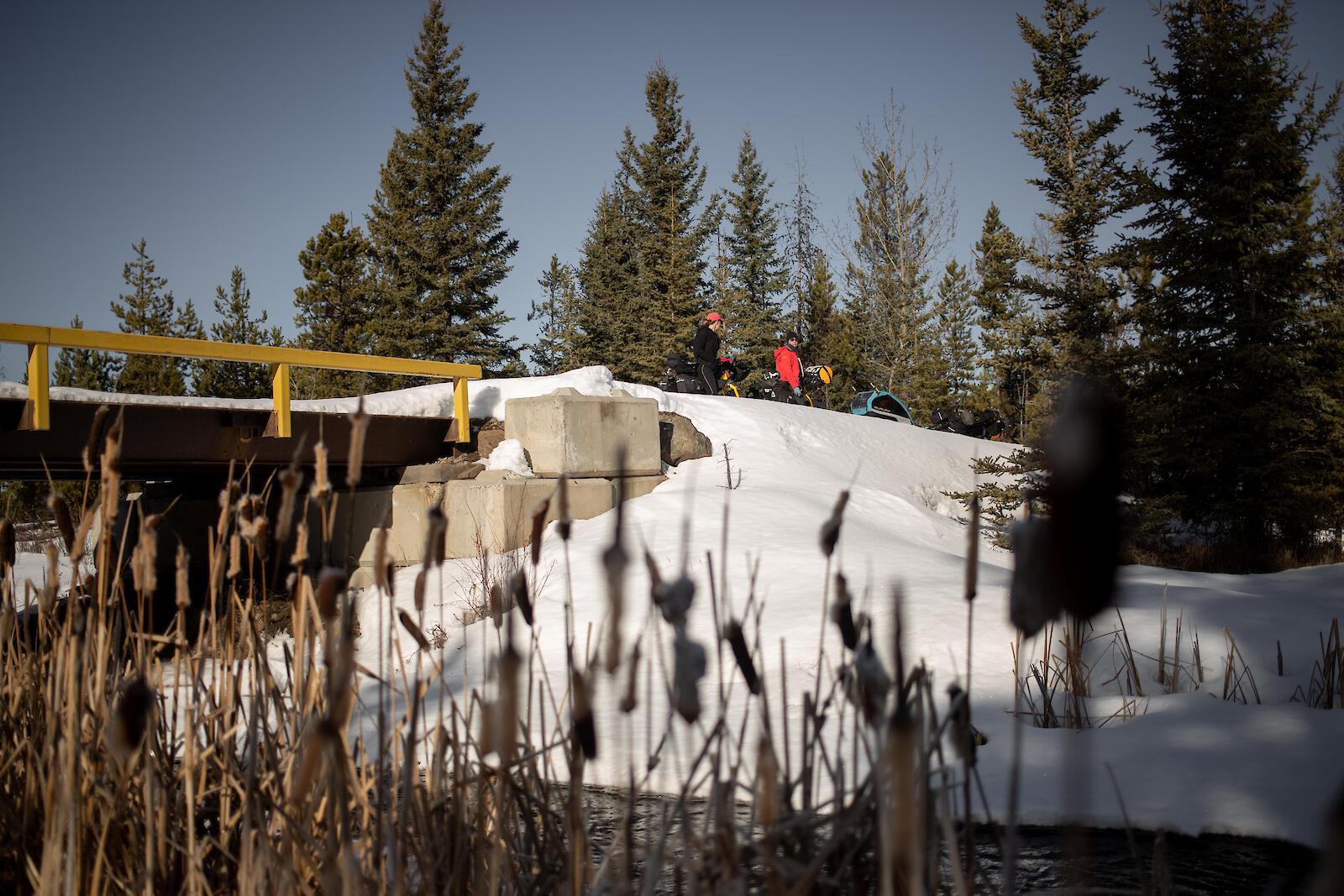 In that moment, I knew I had to listen to the rest of my riding companions. Whatever my own ambitions, I couldn't be the resistance to the will of my fellow travellers. But it was difficult for me to turn back. I always strive to finish what I start. I also didn't want to have to defend my desire to push on when it might be misconstrued as stubborn or rash. I didn't want to explain that it wasn't the success of finishing that drove me but the soul-filling pleasure and excitement of finding. Not just what's at the end but what's around every corner. As a kid, I coveted that big chocolate bunny on Easter morning, but the real excitement was searching for those little tinfoil-wrapped eggs that led me down a trail of discovery. It was all about the journey, not the payoff at the end.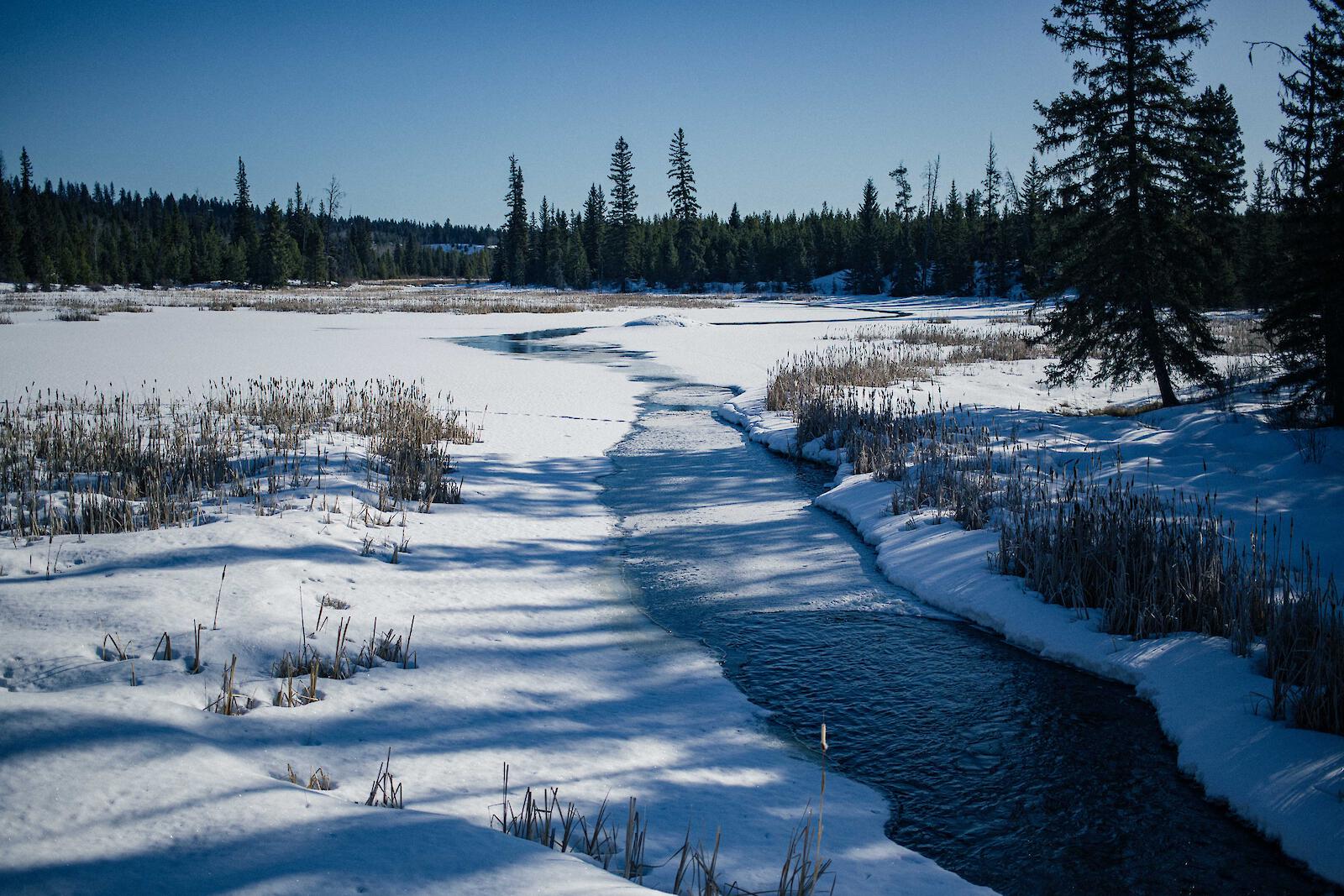 I took comfort in the idea that this was a local trail for us, and I would be back to fill in those blanks someday. Ultimately, The Gold Rush Snowmobile Trail, finished or not, still offered everything I could have hoped for: a peaceful trail hidden in the woods, a connection to local communities, and most importantly, time spent alongside my friends and family. Our little adventure brought me one step closer to escaping the anxious cloud of the pandemic. The full experience of the Gold Rush Trail would just take not one shot, but two.
---
Mountain Biking BC is pleased to have had the opportunity to help support RJ Sauer's family bikepacking adventure in the Cariboo which took place in early 2021. The story was originally published earlier this year in Bike Packing Journal - Issue #6.