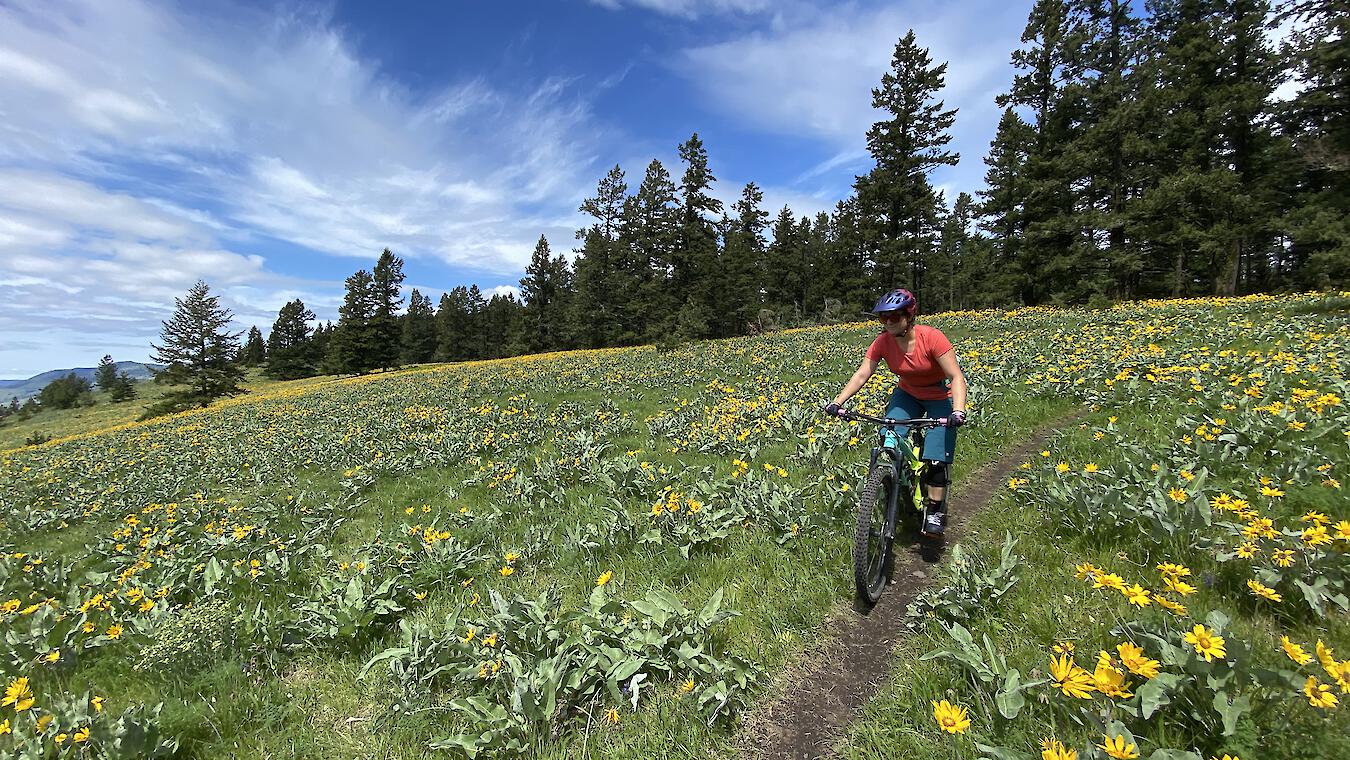 Riding BC with guestagrammer Ryan Van Veen
This week we feature photos from Ryan Van Veen. Ryan is has been riding mountain bikes for a long time. He is based in Vernon and likes riding everything from local trails to trails far beyond his city borders.
"Being from Vernon we have a huge selection of riding nearby but it's still great to go and check out other areas of the province!! Nothing is more fun than discovering new trails with new and old friends alike!! Hope you enjoy these selections and maybe, just maybe, I'll inspire you to take a road trip!!"
Trail – Granite
Location – Predator Ridge and Ellison Provincial Park in Vernon
Rider – Sabina Eschbach
So predator ridge and Ellison provincial park is one of our most popular riding areas and one that we frequent almost weekly during riding season! It has the perfect mix of easy, medium and advanced terrain so there's something there for everyone! This trail is called Granite and starts at Predator Ridge and features a wide range of riding along its length! This particular ridge where Sabina is riding is the highlight of the trail and drops into one of everyone's favorite riding sections where there's rock rollovers, machine-built berms and beautiful forest riding! If you're ever in Vernon we highly recommend visiting this trail network as it's a gem for sure!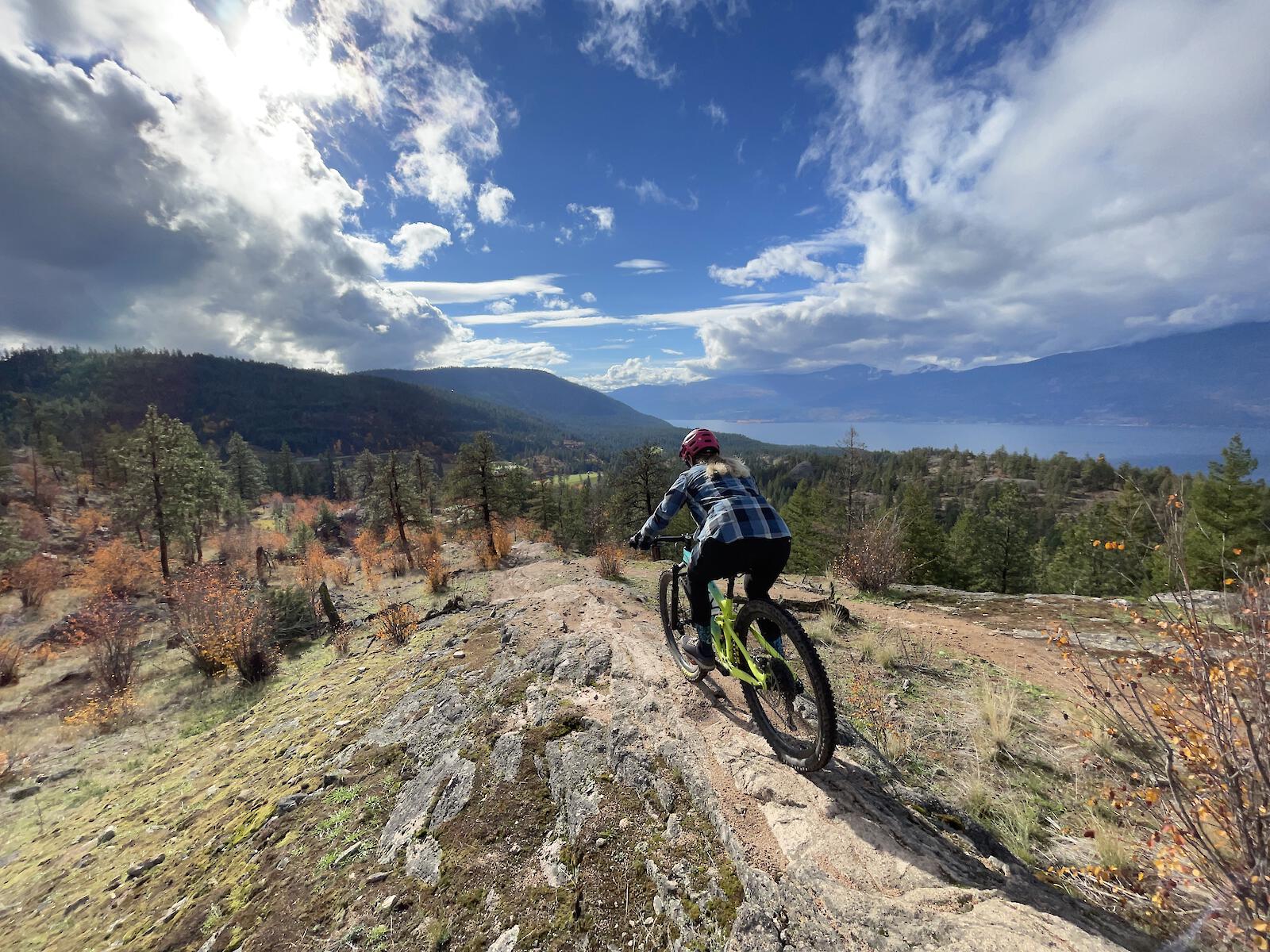 Trail – Infinity
Location – Sol Mountain Lodge and Monashee Provincial Park near Revelstoke
Rider – Sabina Eschbach
Sol Mountain has been an area I've wanted to hit up for several years and last fall we finally got our chance to go out there and explore the riding options! We took the long drive up to the lodge where we got some trail information and then headed out from there! We made our way up to Sol Lake where we took a relaxing break one the shores of the lake before heading back out onto the trail! We rode up a newly built trail called Infinity which is a black diamond trail leading from the lake and heading farther up into the alpine! The trail is full of technical features, ponds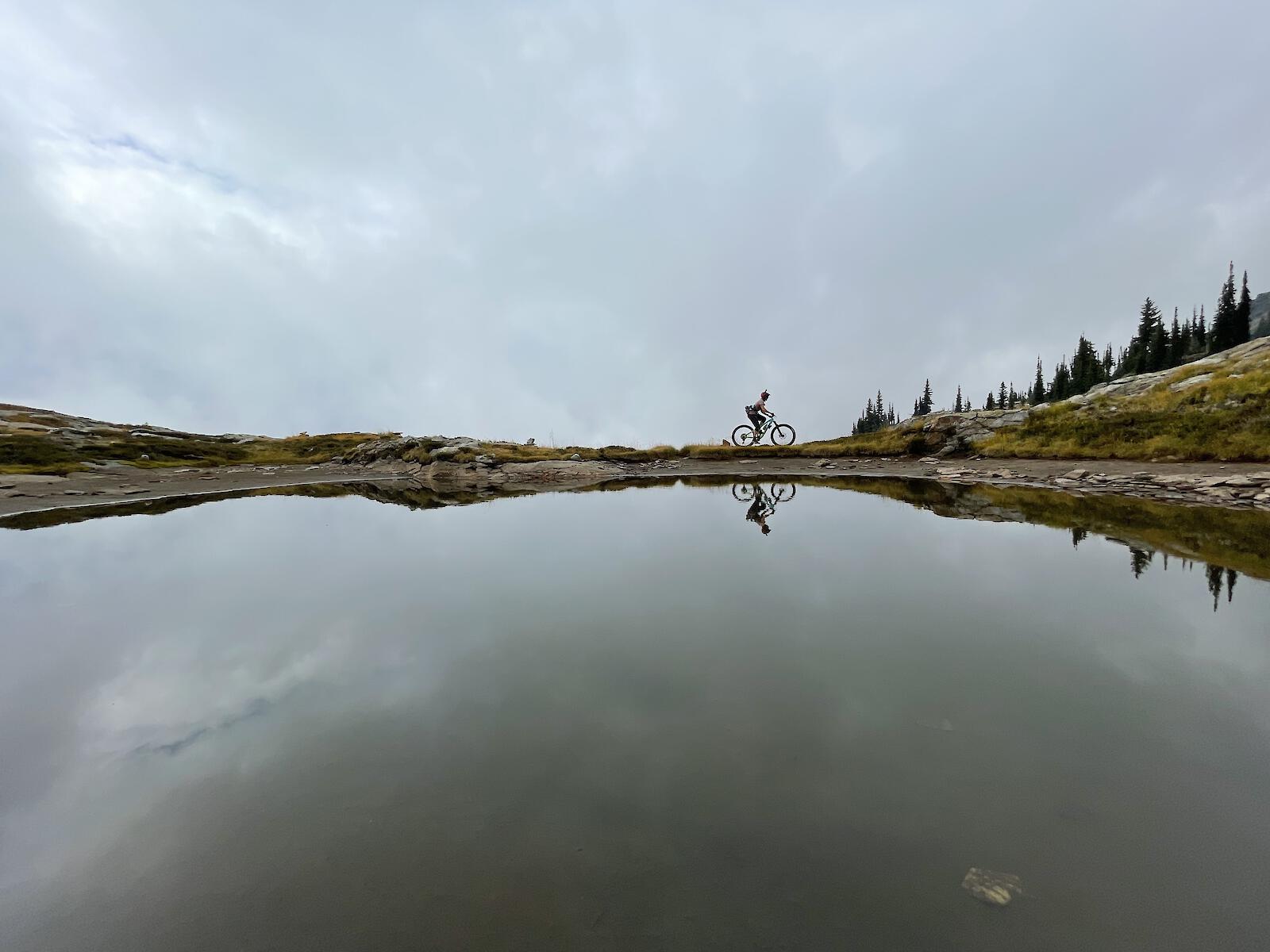 Trail – Frisby Ridge
Location - Revelstoke
Frisby Ridge is one of the iconic trails that everyone should do at least once in their lifetimes! If you're lucky enough to live close by then you get to ride this beauty a couple of times a year! Being a purpose-built mountain bike trail it is designed to both climb and descend in excellent fashion! The grind-up is a bit gruelling for the beginning rider but you can turn around at any time and head back down! For other riders, the climb is still a long one but so worth it once you get to the alpine! You can make Frisby Lake your destination before heading back or extend your ride farther on the amazing Frisby Vistas Trail! Whatever you choose you won't be disappointed with some of the smoothest downhill, best views and coldest swim that you'll come across! For those of you that have the skills and the energy at the end, it's highly recommended to add on the adrenaline-inducing Ultimate Frisby!!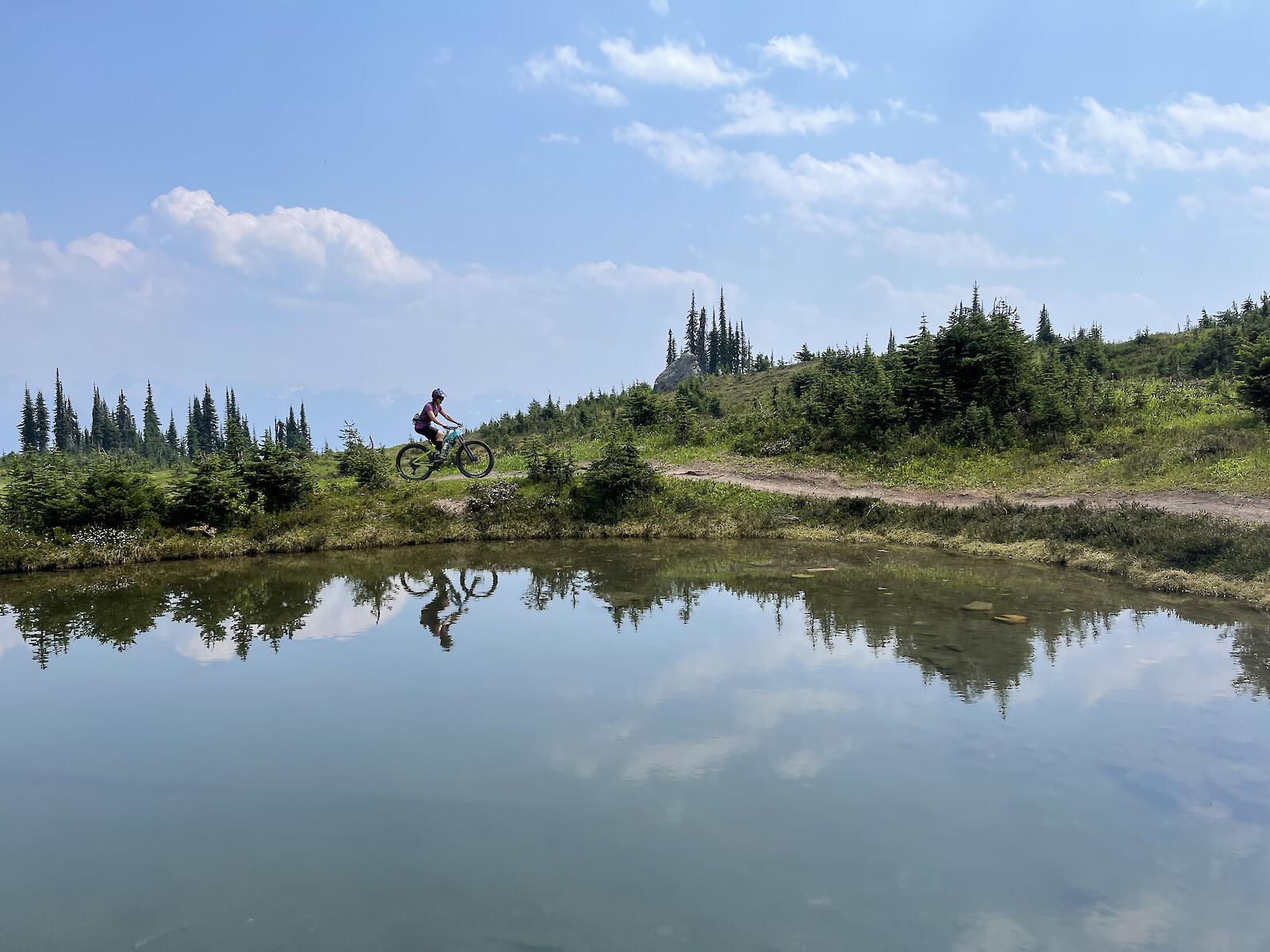 Trail – Partridge Lookout to Watchdog
Location – Partridge Hills in Victoria
Rider – Sabina Eschbach
A recent visit to the island brought us to our friend's place in Saanich where we jumped onto the bikes where he guided us around and we got to sample the best of Partridge Hills and Hartland! After riding around the lake and climbing up to the view point at the top of Partridge Hill it was time to rip some downhill! We chose Watchdog as our trail down and it was a black trail and we wanted a bit of a challenge! It ended up being super fun and just the warm-up we needed for Hartland! We found the trails so be so fun and we all agreed that we needed to come back for more fun times!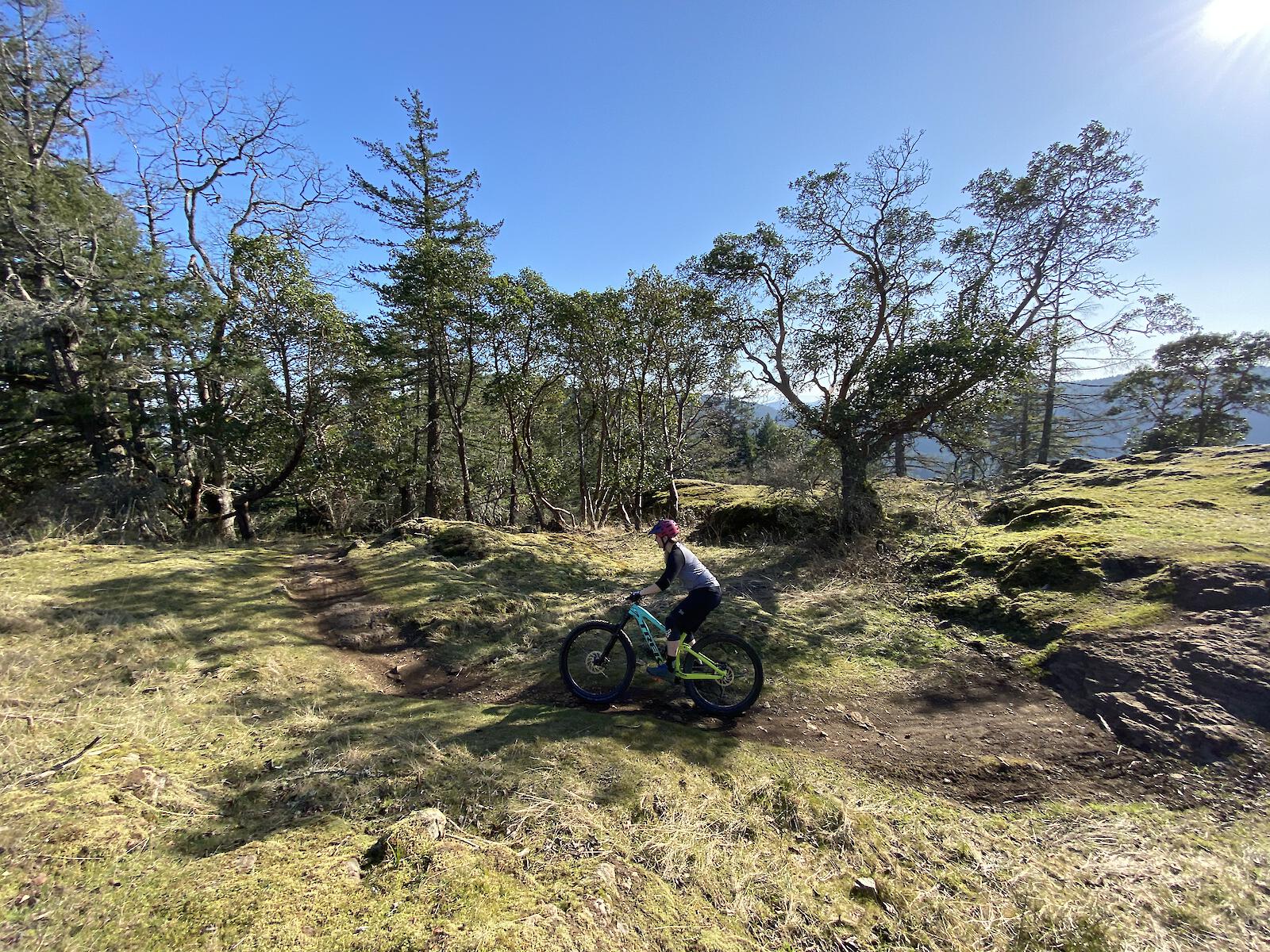 Trail – Canyon Creek
Location – Moonracker Trails in Golden
Rider – Sabina Eschbach
A bucket list item for biking has always been the Golden area and trails that the area has to offer! We went for a four day trip where we rode the Moonraker, Mount Seven and Kicking Horse Mountain Resort trail networks! This shot of Sabina is on Canyon Creek which is an incredible rolling blue trail that runs along this vast canyon! After riding the black diamond trail LSD this blue was a welcome cool off after the excitement of the rugged black trail! This whole network was amazing and is worth the trip alone to Golden, however, after riding the resort and the mount seven trails, i'd give yourself at least a long weekend to explore all the area has to offer!!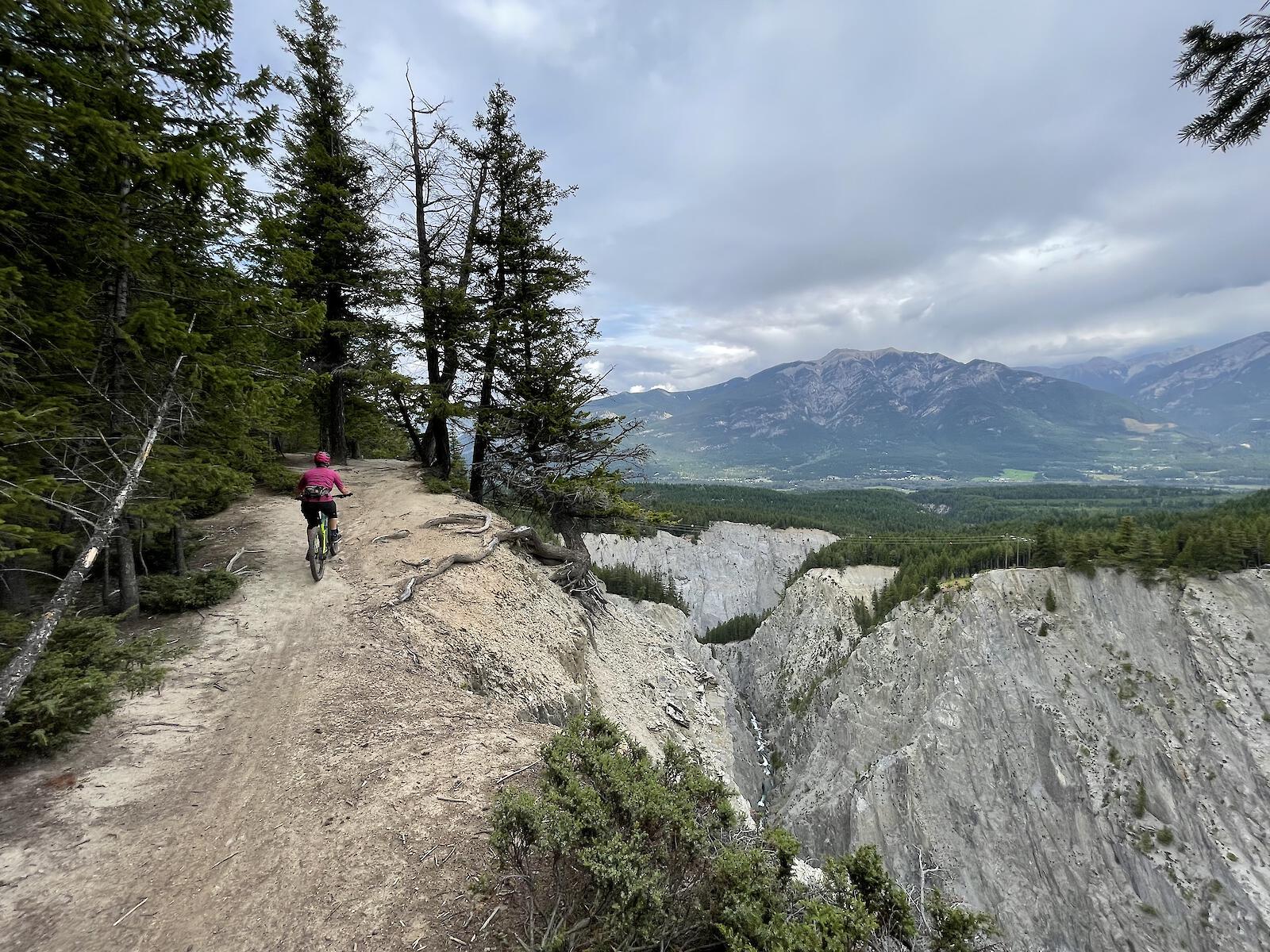 Trail – Man Quads to Logging Leftovers
Location – Boulder Mountain Trail Network in Revelstoke
Rider – Sabina Eschbach or @sabinaeschbach
The Boulder Trail Network in Revelstoke is an incredible set of trails that range from incredible blues to formidable blacks! We were riding some blues to start the day and had to stop and check out this awesome rock rollover that ended with a great wall ride after the runout! We sessioned it a friend who was new to these types of features and after she nailed it we continued on our way! The trails were well marked, well built and well...lots of fun!! If you've got someone to shuttle you for the day it makes doing laps so much fun as there isn't really an uptrack to take you to the top!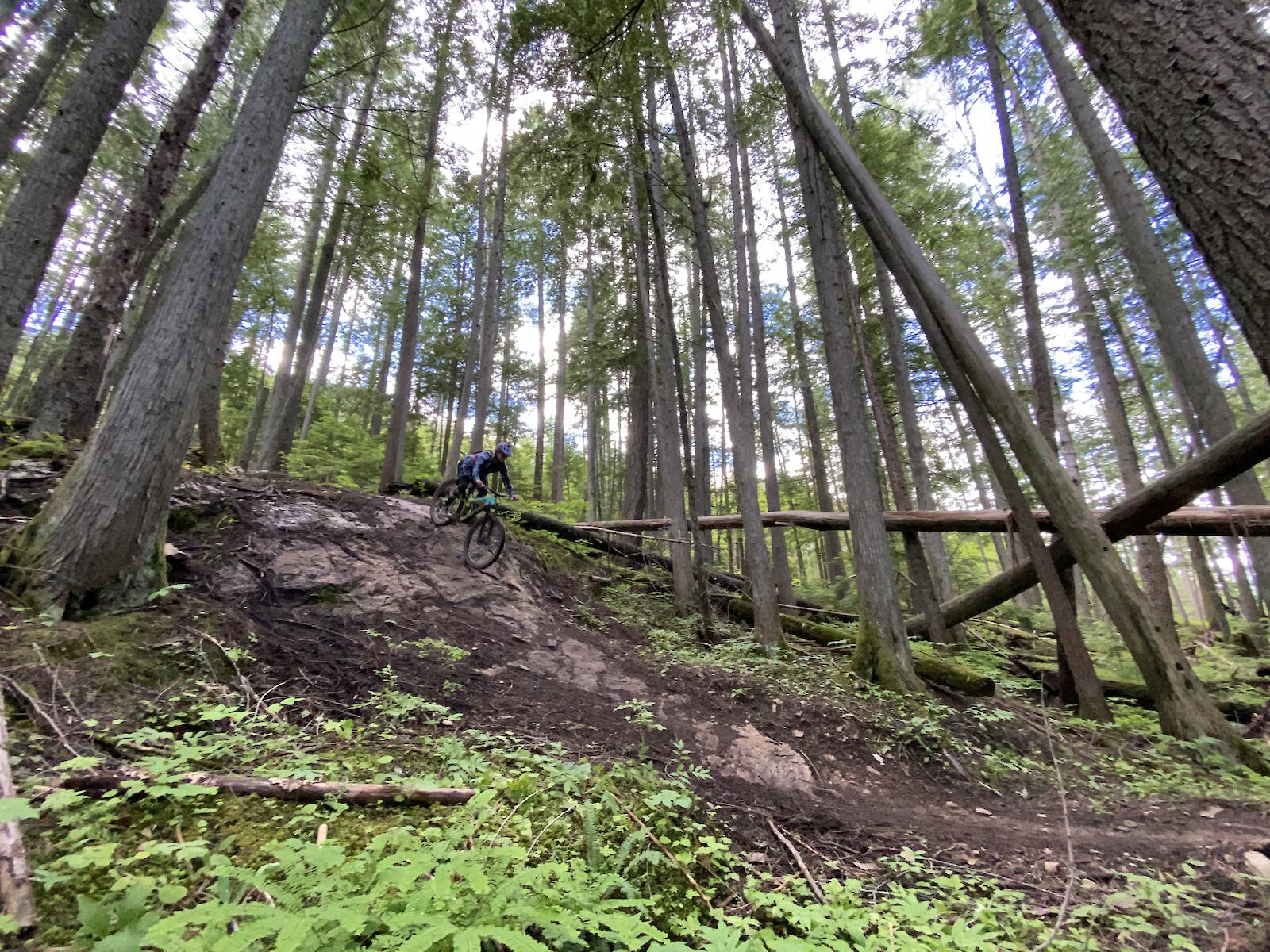 Trail – Ket-R-Done
Location – Harper Mountain in Kamloops
Rider – Sabina Eschbach or @sabinaeschbach
Harper is one of those areas that we have been riding since the days of skinnies, drops and old school features! The riding has changed significantly since back in the day and that's not necessarily a bad thing! The climb trail that starts from Paul Lake and makes its way up to the top is called Ket-R-Done and is one of the best built climb trails you'll ever ride! Although there are a few steeper sections it is smooth, challenging and doable for any ability of rider! In the spring time is one of the best times of the year to visit as the Arrow-Leaf Balsam Root Flowers are in full bloom and the ground is still tacky and mint for riding! With views and incredible riding it's hard not to love this area and to keep coming back to it year after year!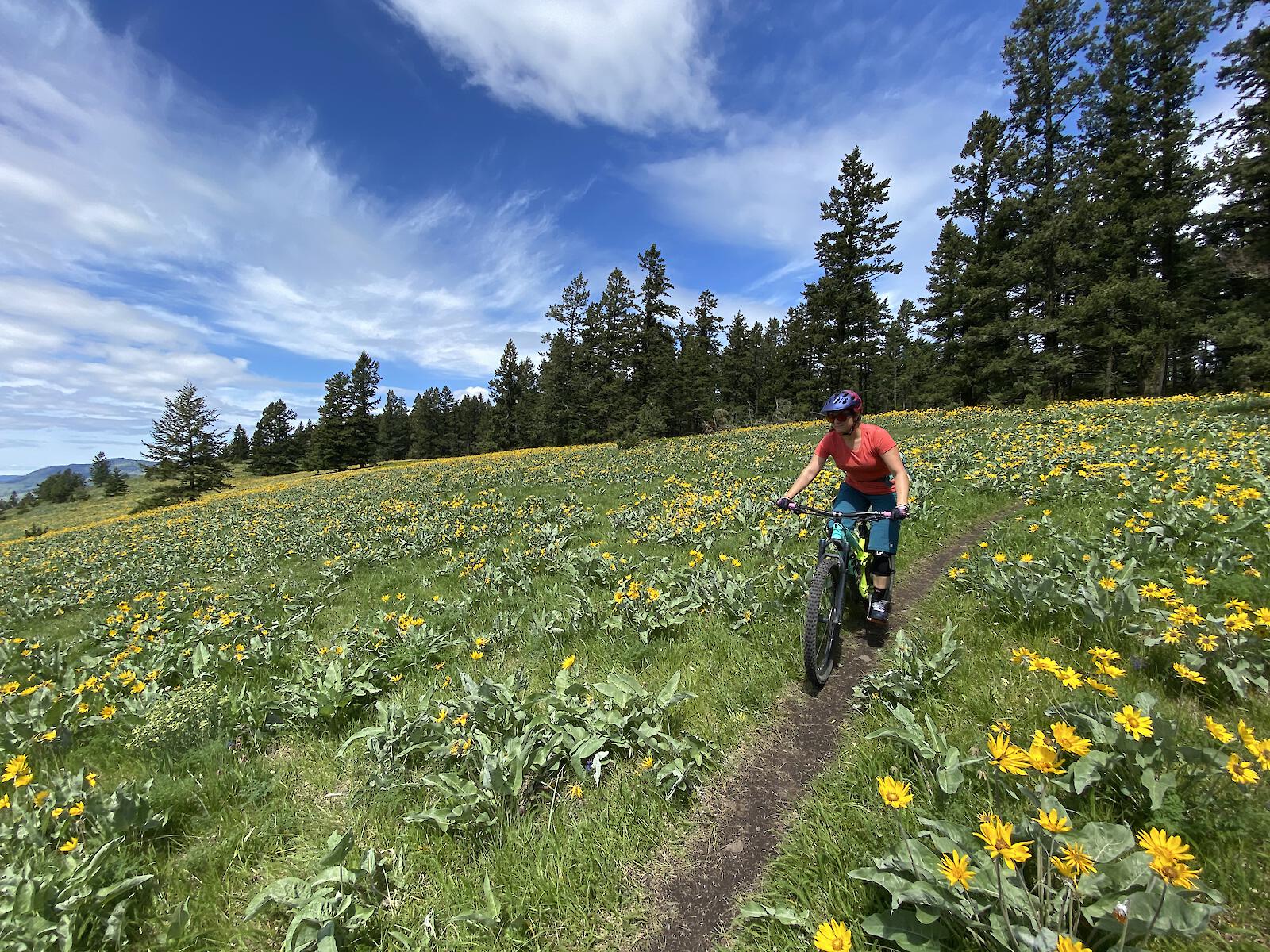 Think you have what it takes to be our next #mtbBC Guestagrammer? Email us at media@mountainbiking.bc!