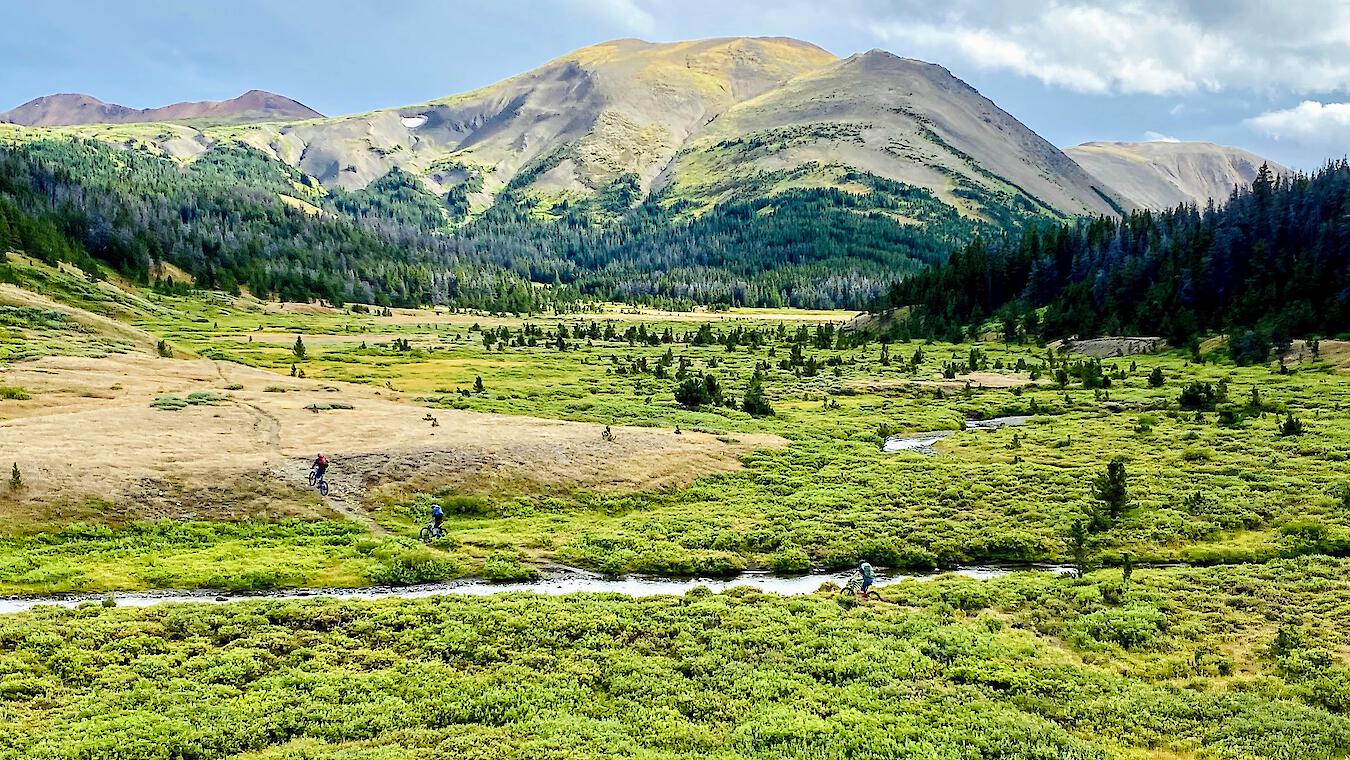 Wild Reconnections: Rekindling Friendships While Biking in BC's Backcountry
It's a safe bet to say that we're all searching for meaningful ways to reconnect to the people, places, and activities we love. After living through a period of lost connections, many of us are slowly putting those pieces of our lives back together. Late this summer, four women set out on an adventure into BC's backcountry—mountain bikes in tow—to do just that. Steffaine Warriner, of Vancouver's North Shore, was the winner of Mountain Biking BC's Backcountry Giveaway Contest that gave her the chance to round up three of her best riding buddies for a trip they all needed. With the demands of raising kids, balancing work schedules, and just getting through life's everyday challenges (exasperated amidst a pandemic), these women were ready to reconnect to themselves and to one another. A trip into the remote, alpine wilderness on bikes sounded like the perfect place to do it.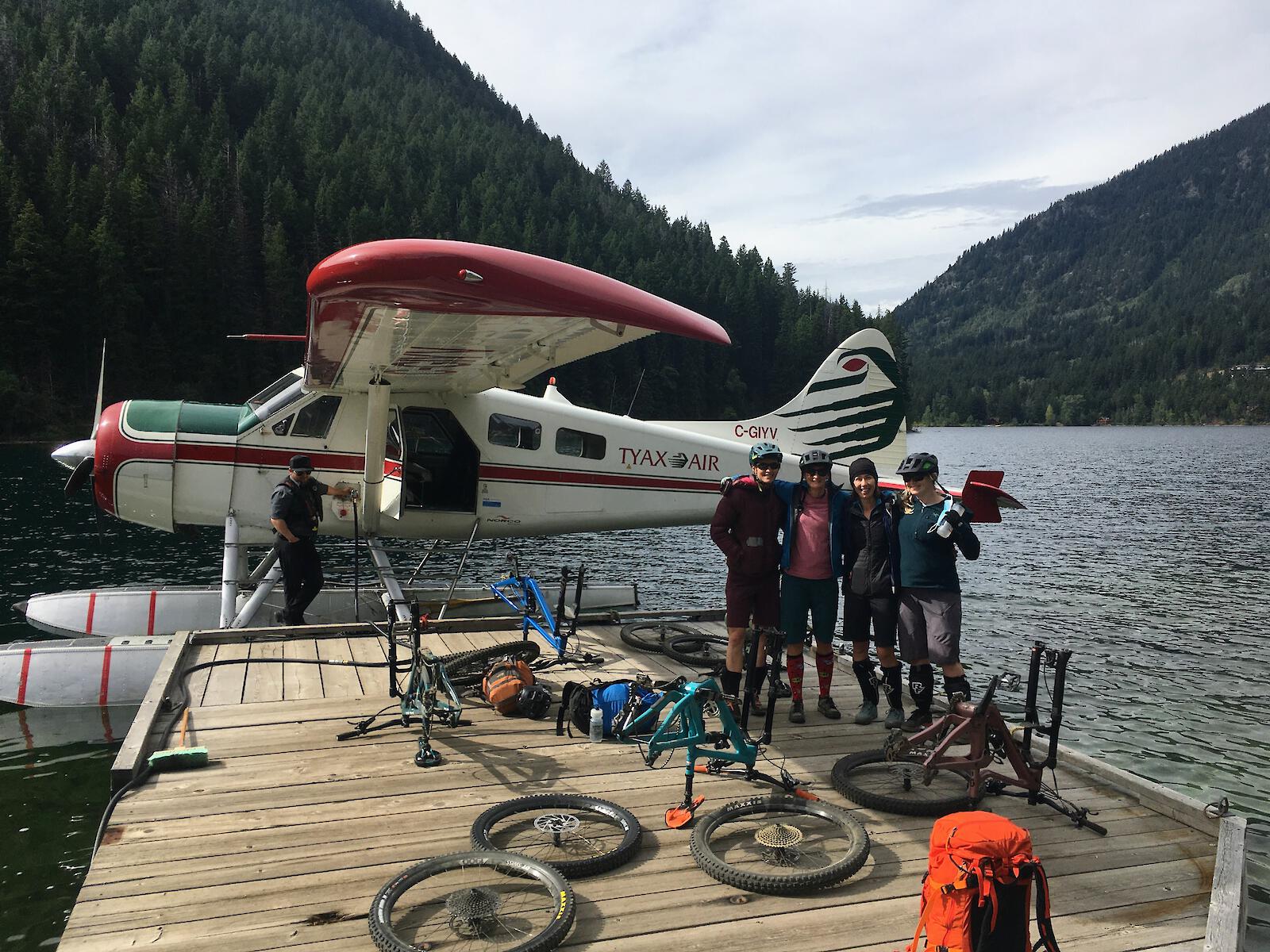 Loading up gear and bikes for a Tyax Adventures experience.
The itinerary before them was a three-day, two-night backcountry adventure into the South Chilcotins with Tyax Adventures. The thought of five to seven hours in the saddle each day seemed a bit daunting at first, but Steffaine and crew sunk into the pre-trip planning with enthusiasm. They were ready to tackle whatever was about to come their way, together.
The four women loaded up all their bikes and gear into the de Havilland Beaver floatplane from the dock at Tyax Adventures' home base for a smooth ride to turquoise blue and glacial-fed Lorna Lake. The group flew over the colourful mountain range below gazing in awe at the terrain their tires would soon tread. Gliding down onto the waters of Lorna Lake, the journey had officially begun, and the routine of life's everyday tasks slowly faded away. Lead by expert Tyax Adventures mountain bike guide, John Ganerton, the group was about to spend three days traversing upwards of 75 km (47 mi) of terrain, with overnights in backcountry cabins staffed with full-time camps hosts to keep bellies full, beer flowing, and beds cozy.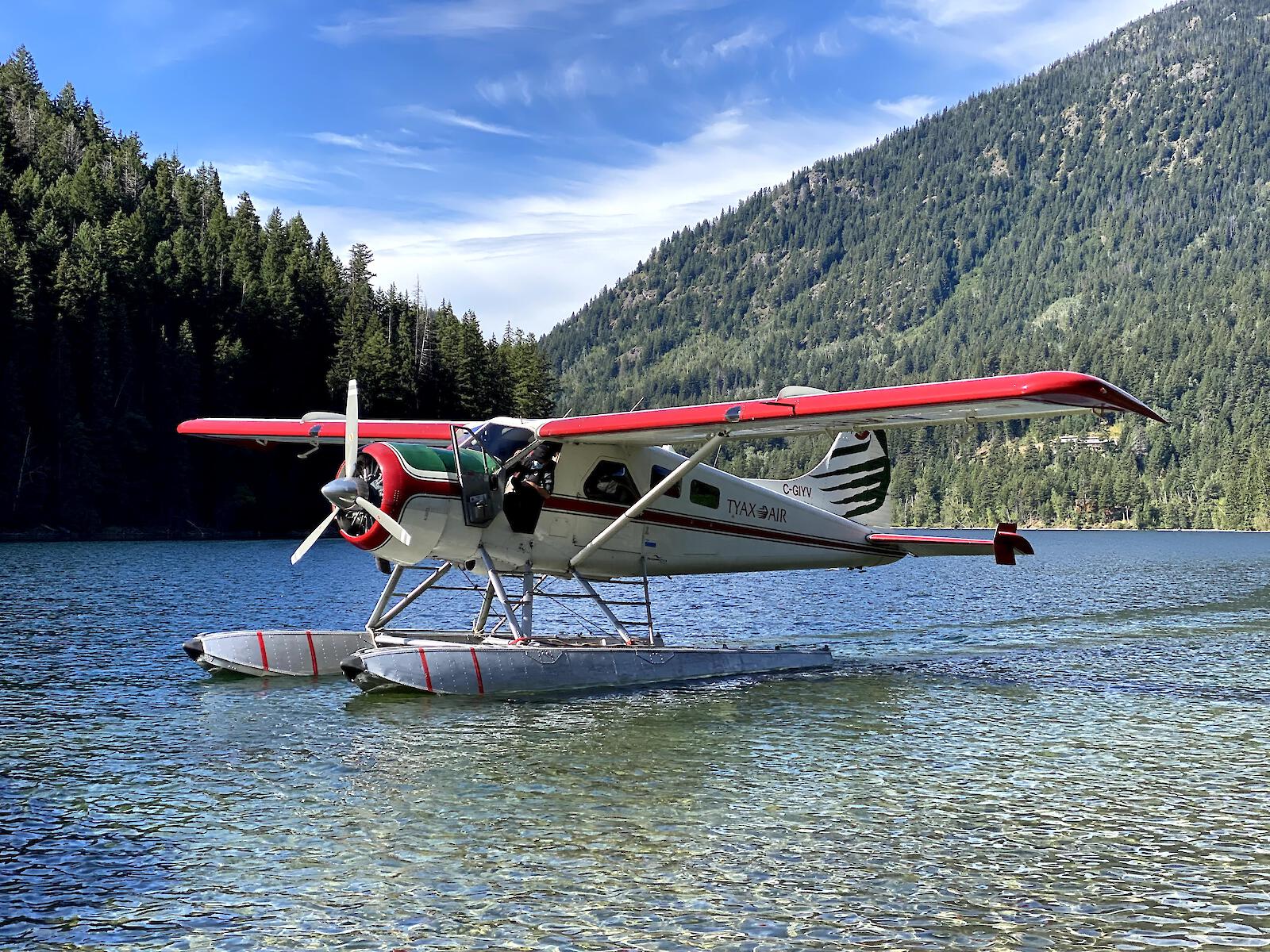 Floatplane touchdown on Lorna Lake.
From Lorna Lake, the group set out on a 10-km (6.2-mi) ride along Big Creek Trail towards Graveyard Creek Trail. Riding beneath volcanic rock and over creeks on log bridges (or, at times, through the creeks themselves), the magnitude of the remote wilderness they were passing through unfolded around them. Tensions began to fade, and the conversations went deeper with every passing kilometre of trail. They were all letting go. Mother nature's spell had been cast, each of them at the mercy of her force and giving in to her ability to ground you and put you right where you need to be.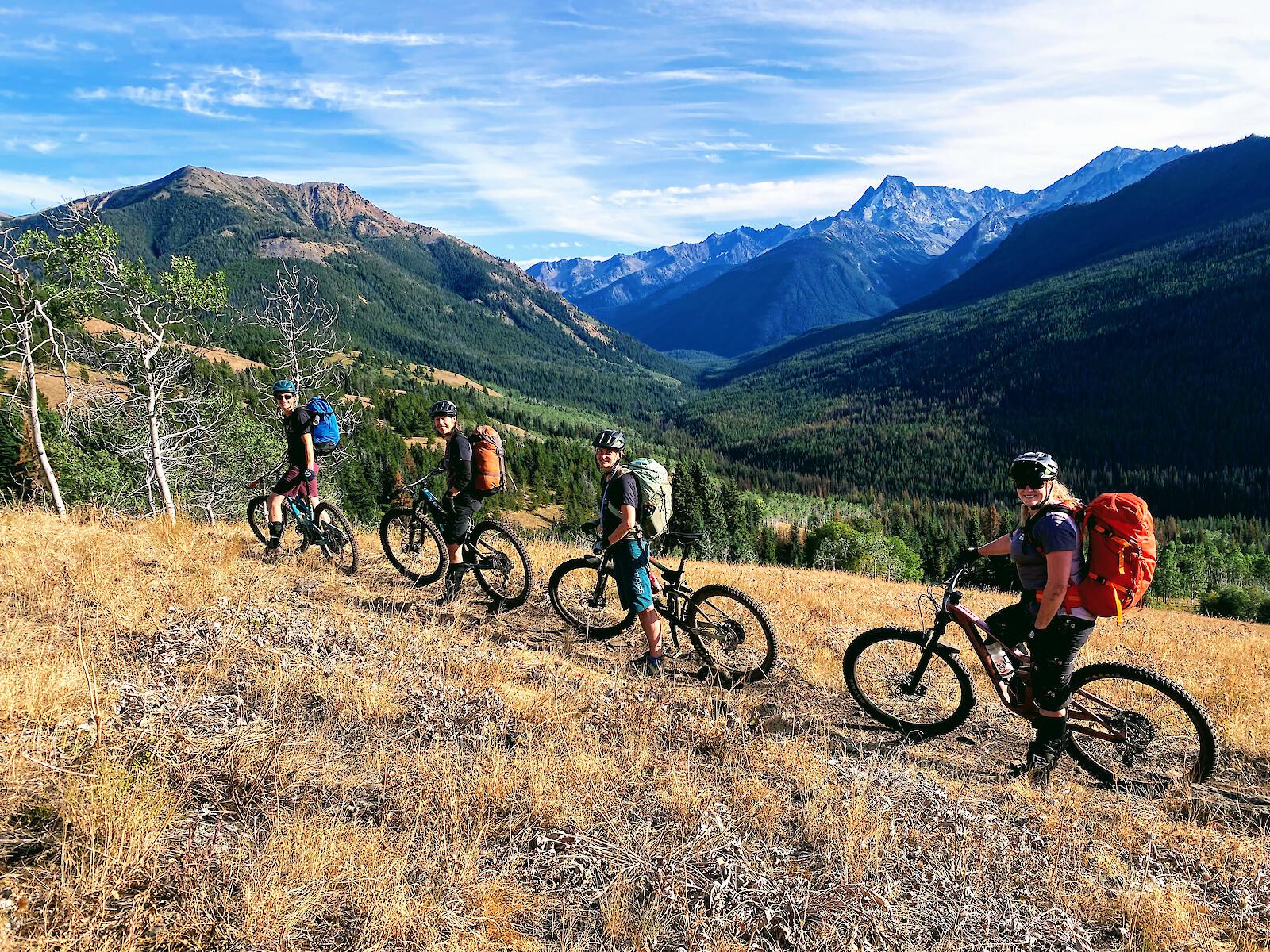 Views for days in the South Chilcotin Mountains.
The group rode the 8-km (5-mi) trail through Graveyard Valley—named for the battleground of the St'at'imc and Tsilhqot'in Indigenous peoples who have called the region home since time immemorial—before the first real challenge was laid before them. Bikes were hauled up 300 vertical metres (980 vertical feet) over Elbow Pass. The conversations faded from life updates to motivational chants, each person encouraging one another to press on. Getting through it together was what they were all there to do, and the 5 km (3 mi) singletrack descent to their final resting place at Bear Paw Camp was the tease to push on. After all, cold beer, hot showers, delicious food and awesome friends to reminisce with is the ultimate reward after a long day of riding.
Steffanie recounts how each day felt once the gear was off and they were nestled into camp. "It was so refreshing and re-energizing to disconnect with the outside world and to simply be present with each other surrounded by such an expansive wilderness landscape. The sky was darker and the stars were brighter. There was stillness and peacefulness all around and within us. Our conversations were rich, our smiles were bright, and there was a wonderful and uninterrupted positive energy that connected us. It really felt like we were in a whole other world with a special secret held between us."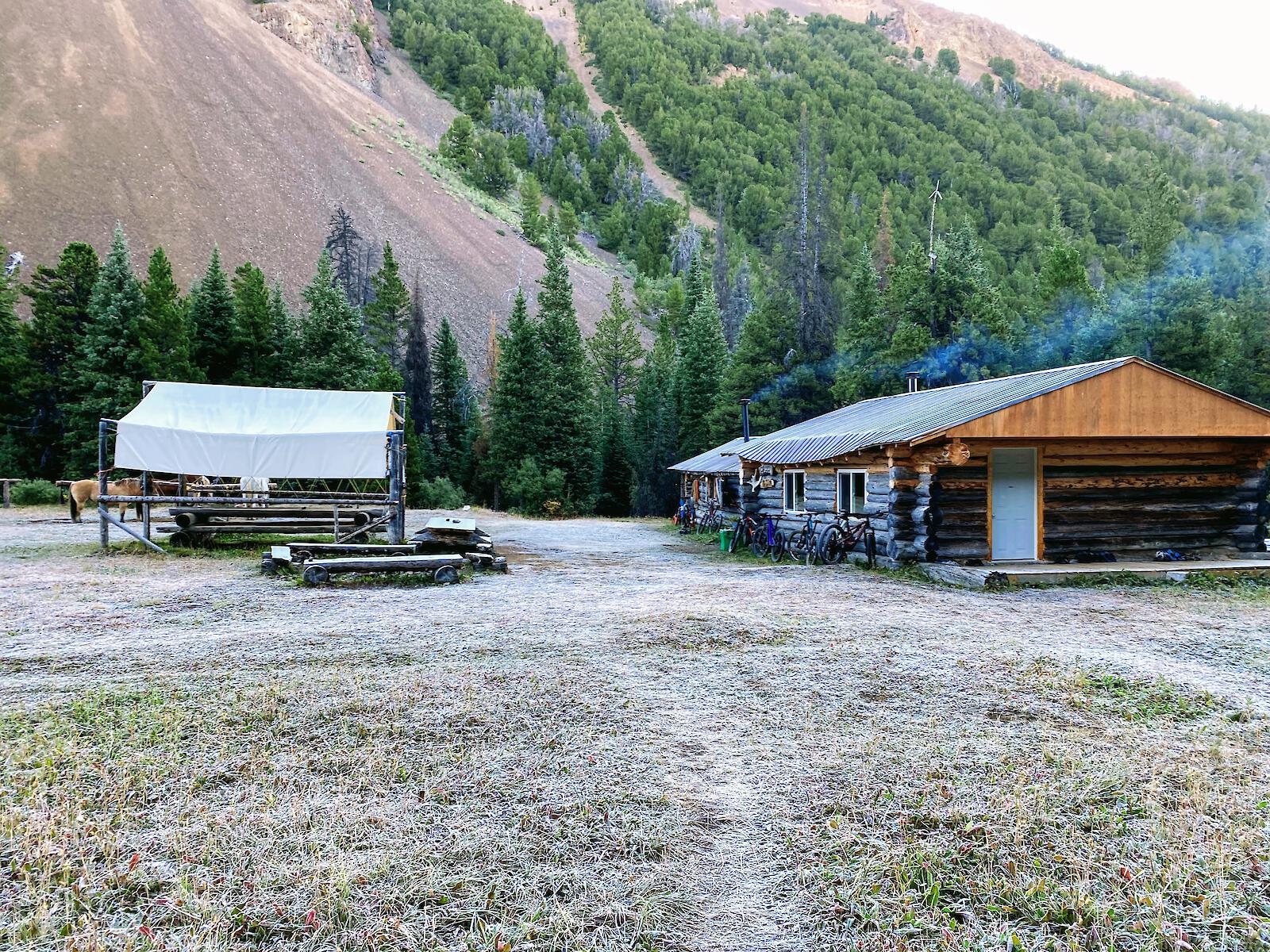 Overnight at Bear Paw Camp.
The group woke up to a frosty morning landscape, a reminder that the last days of summer we're slowly fading away. John prepared the group for the toughest hike-a-bike section before them. A steep 600-metre (1,900-foot) vertical climb through iconic Deer Pass. Steffanie recalls moments where each of them were tested, "...but in those same moments, the joy of overcoming an obstacle together is what made it all memorable. Tackling the unknown, pushing through difficult situations, and persevering." As Steffanie recounts her experience, it's hard not to think how our own lives have played out in much the same way over the last year and a half. Pushing through tough times and leaning on those around you, just as they had to lift each other up every pedal stroke—or hike-a-bike section—of the way. The gruelling climb at least came with a reward. A 360-degree view of the South Chilcotin landscape and a long, 800 metres (2,600 feet) of cross-country descent to the headwaters of Gun Creek all before the final 14 km (8.5 mi) of rolling technical singletrack to Spruce Camp. Waking up on the final day was a relief that all the hardest challenges we're behind them. It was a full-on, downhill thrill ride from Spruce Camp back to the Tyax Adventures home base where the group could take in all they accomplished over three unforgettable days together.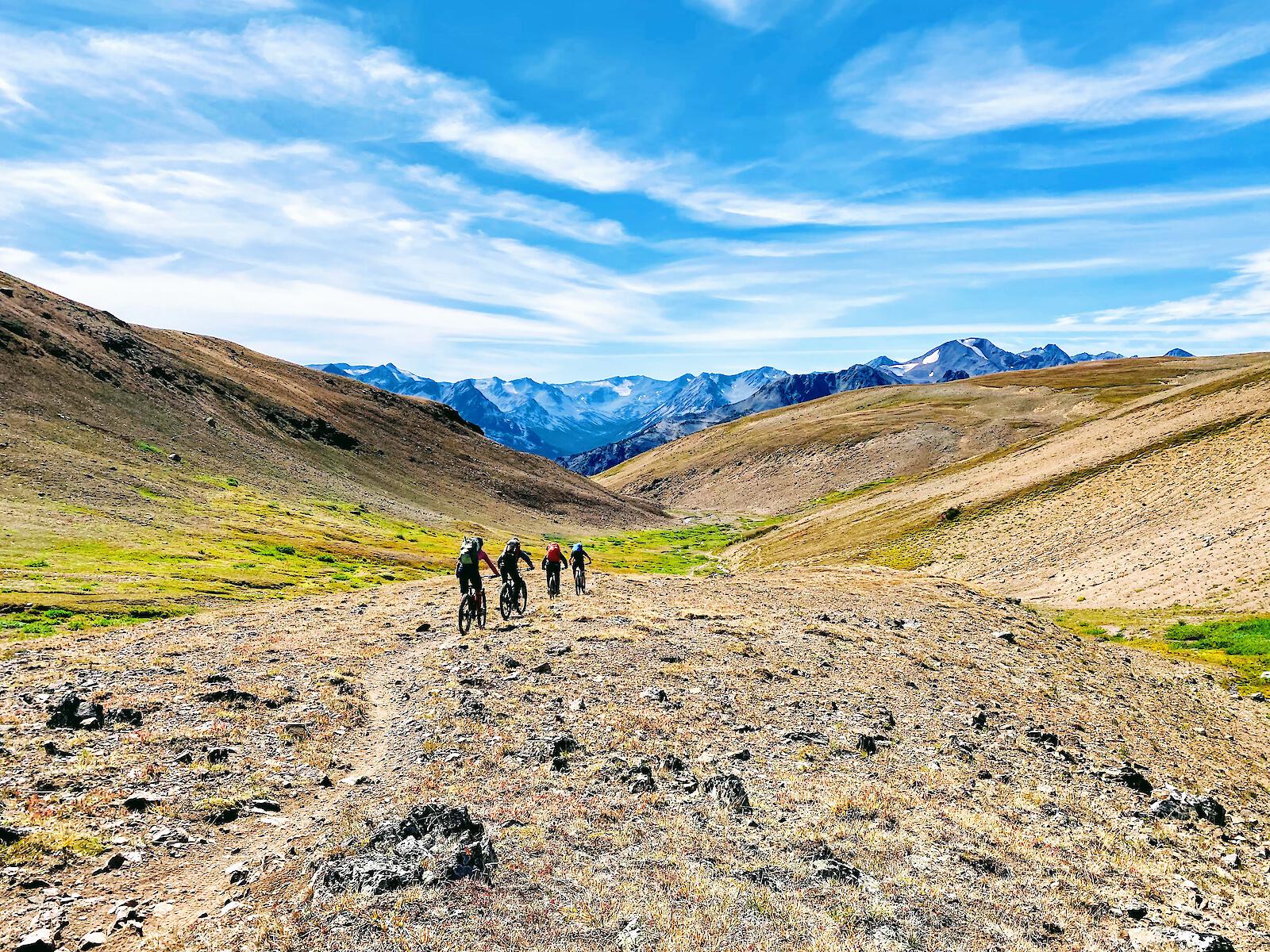 Endless singletrack descents.
As Steffanie recalled the trip, she thoughtfully answered what made it so memorable. "This experience brought out the best in each of us. Even in the moments of personal challenge and physical perseverance, we relied on each other and our individual strengths to make it through, all with the biggest of smiles and fullest of hearts."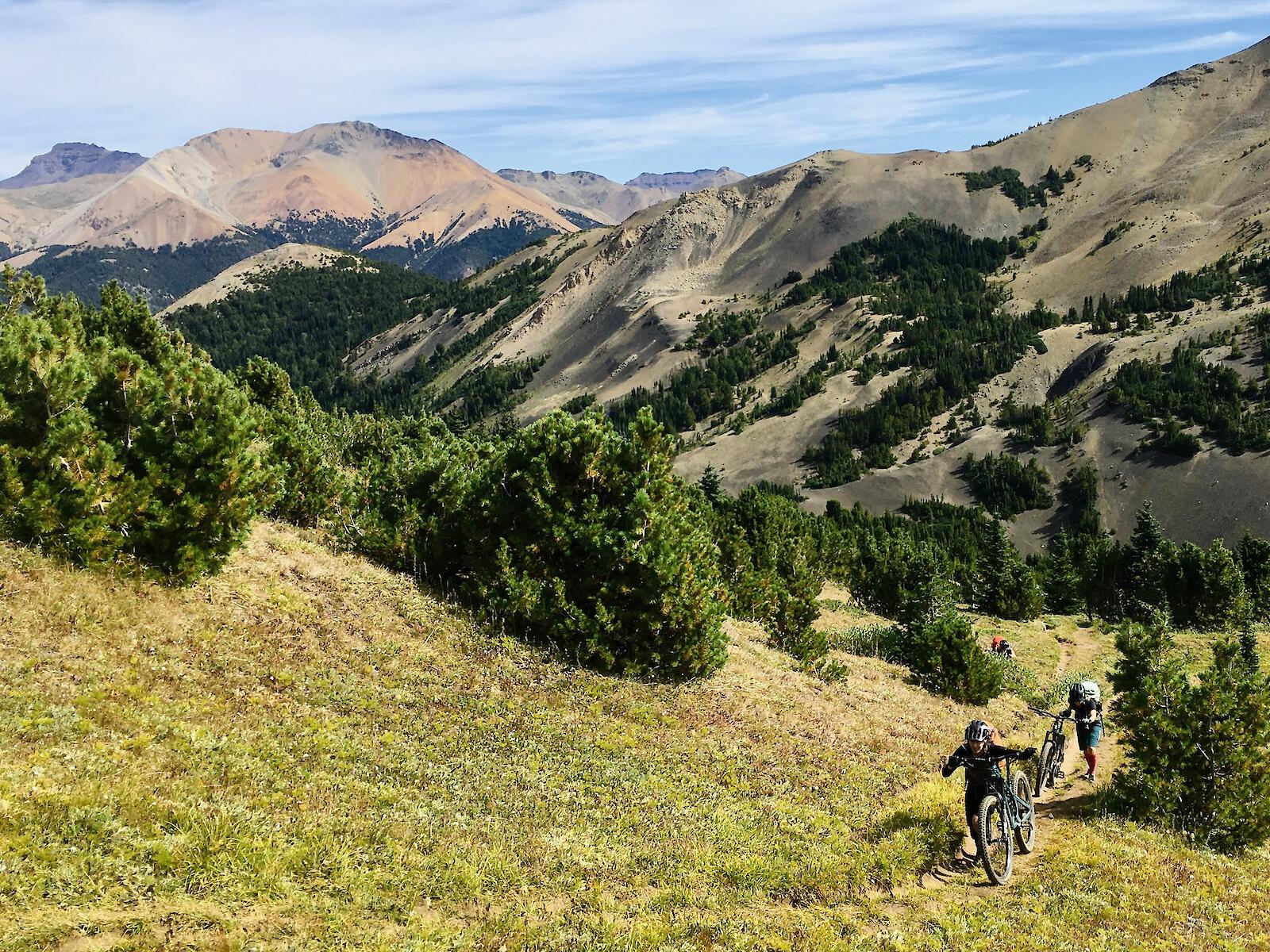 Tackling the challenges head on.
Asking Steffanie if she had any advice to others thinking about booking a trip with Tyax Adventures, she simply said, "A trip like this is an adventure of a lifetime that has something for everyone. You work hard together, you laugh together, you experience wildness and unimaginable beauty together. And a trip like this can really bring people closer. Not only are bonds strengthened within your group, but new connections are also made with the amazing people you meet along the way" For Steffanie and her pals, they are already planning their next trip back, and next time, it will be with an even larger group of women in tow. Pushing their limits together in a wild and magical place, conquering an epic journey with one another.
Here's to more of that.