Rules of the Road: Trail Tripping Through British Columbia's Kootenay Mountains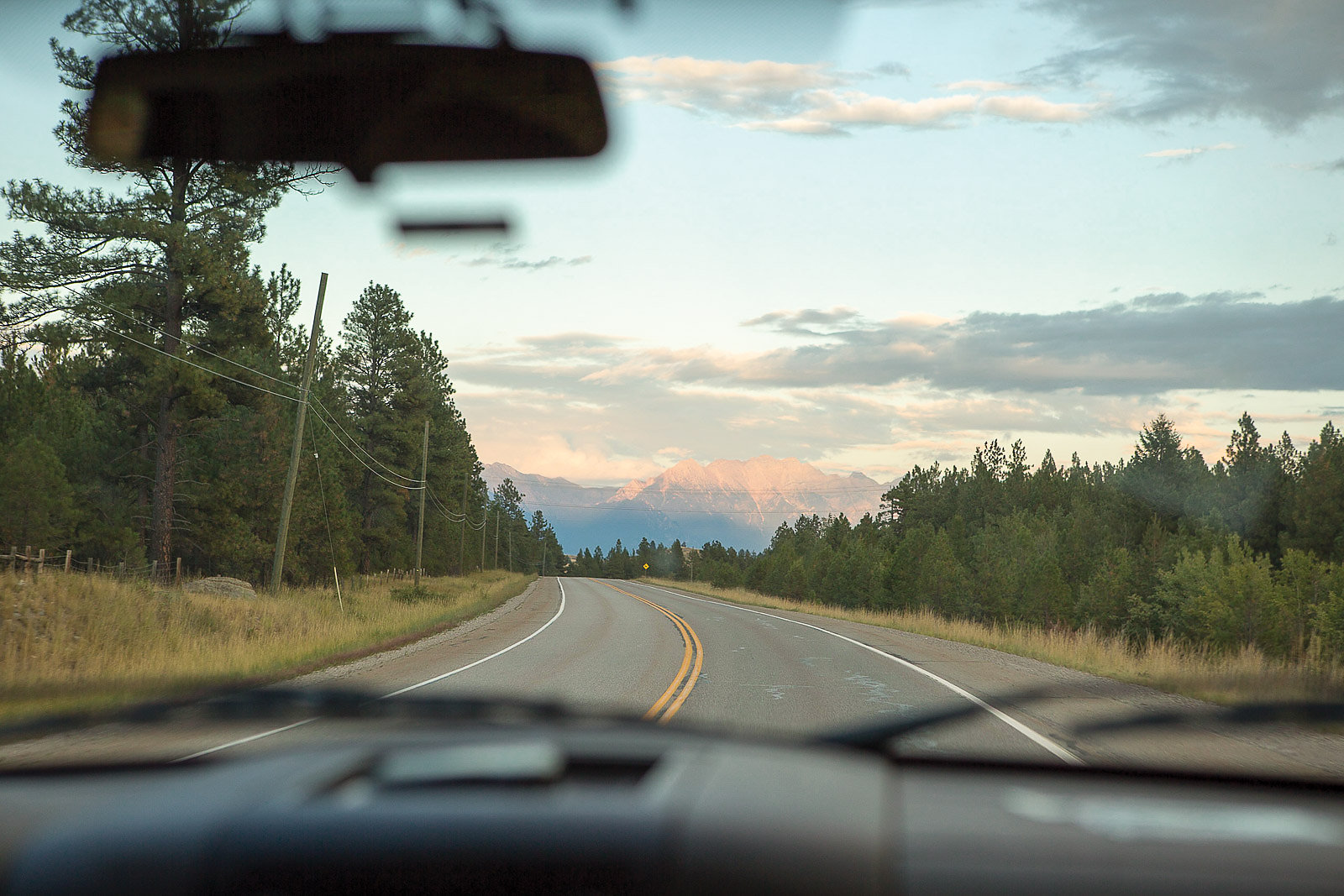 Miles of trail and pavement behind, early morning alpenglow ahead. The Lizard Range provides a stunning backdrop as the crew rolls into Fernie.
Words and Photos by Ben Gevalda
The whole affair began at the Flying Steamshovel.
One of the oldest saloons in British Columbia and by far the oldest in Rossland, the name comes from a steam-powered helicopter plane constructed by Lou Gagnon, an ambitious Gold Rush-era inventor. Built of iron, wood, brass, canvas and piano wire, Gagnon imagined the "Flying Steamshovel" would carry ore down from the steep slopes of nearby Red Mountain. It didn't. The craft first took flight in February of 1902, leaving the ground and wobbling a few stories skyward before crashing near the very spot we're currently putting back burgers and beers.
The crew around the table includes Kelli Sherbinan and Darren Butler of Endless Biking, Martin Littlejohn of British Columbia's Mountain Bike Tourism Association (MBTA), Natasha and Ian Lockey of Kootenay Mountain Bike Coaching and Mountain Shuttle Rossland, writer and photographer Danielle Baker, and Big Winner Jason Wright, a lucky Pennsylvanian who won a contest held by the MBTA. We've met up to explore and ride the best of the Kootenays, a large area in southeastern BC loosely encompassing mountains from the US and Alberta borders north past Revelstoke and Golden. Tomorrow we head out on the road. Tonight we talk bikes.
After the Steamshovel we head off to the Red Shutter Inn, a cozy cabin our guides Ian and Natasha have managed for over 10 years, and drift off into anxious dreams of what may come in the days and miles ahead. This brings us to Rule of the Road Number One: Trust the locals, whether it's for food, beds or trail. Being wary of homemade aircraft is a given.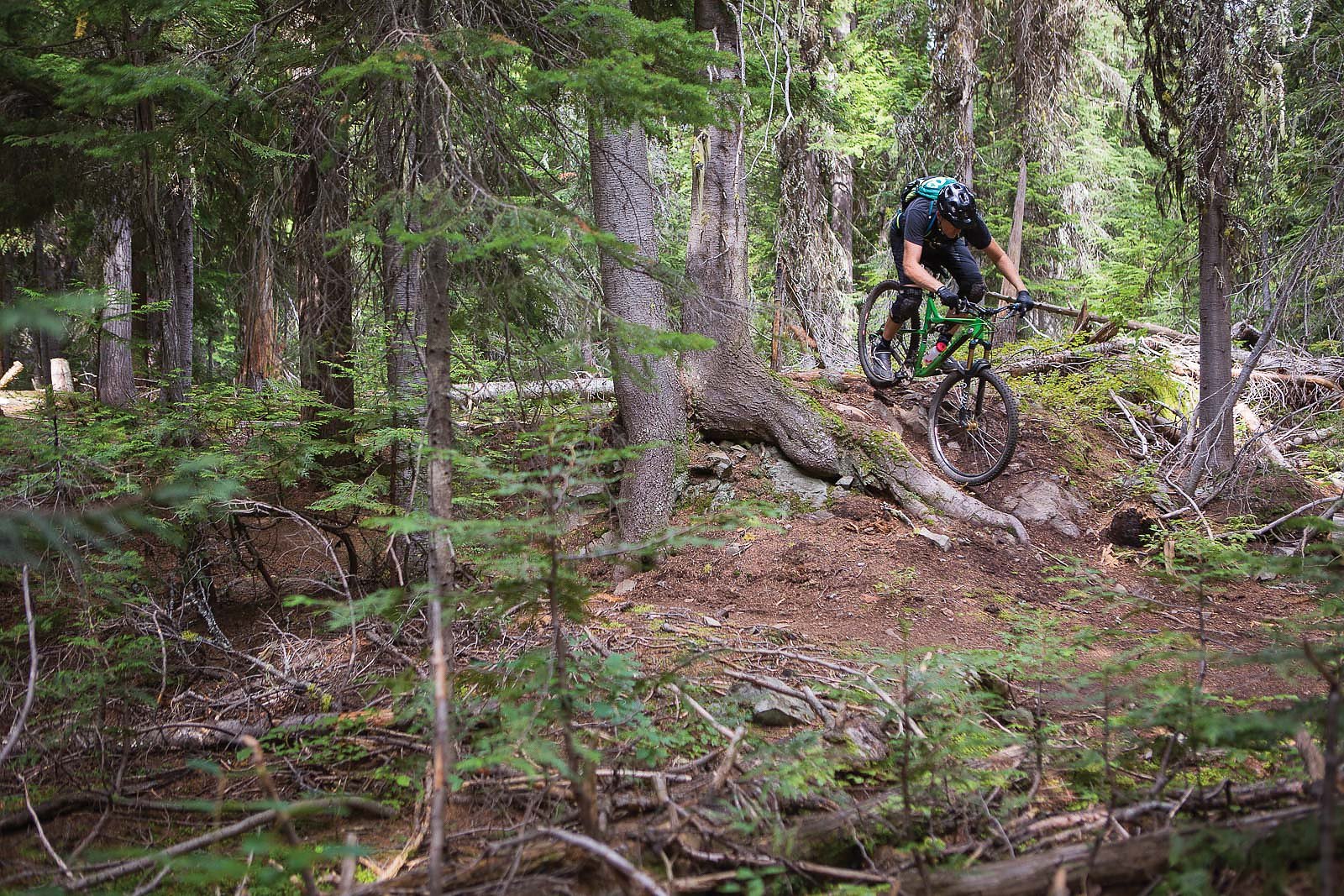 Our fearless group leader Martin Littlejohn works through the Rossland forest with smooth, lanky-guy style. Martin has a lengthy professional background in the travel and tourism industry, and over 30 years in the saddle of a mountain bike—from the birth of the sport in BC to the North Shore freeride scene, Martin has ridden alongside it all. Under the direction of folks like him, the fate of BC singletrack is in good hands.
While Whistler may be the Golden Boy of the Canadian mountain bike scene, Rossland is technically its center. It was awarded the title of the Mountain Bike Capital of Canada back in 1993 for the extensive network of trails encircling the town, and in more recent years has gained international notoriety for the Seven Summits Trail, an IMBA epic. But there's far more to The Golden City's riding than this septuplet or the 20-plus year-old designation, and Ian and Natasha make sure to show us.
After grabbing coffee and frittatas at Alpine Grind the next morning, we load up for a short drive to some newer trails, built in 2011, just past Red Mountain Resort. Given the northern climate and thick pine trees, mistaking the terrain for a more coastal zone is understandable—it is damp, loamy and rooty, broken by brief vistas of fog-soaked forest and the town of Trail below.
The shuttle is easy, and we spin lap after lap on the flowing web of dirt and duff. On our last run we cross paths with a group of ladies, one of whom turns out to be Sue McBride, the past Big Winner of a similar contest put on by MBTA. She was living in California's Bay Area when she won but became so enamoured with Rossland's riding she straight-up moved there after her trip.
After a short break, we re-enter the forest to find Bob Marley's Stash and a technical descent on Super Megadeth (or Mega Awesome, depending on which final spur you take). Along these once-rogue trails we roll over cragged rocky sections, wind around old open mineshafts, navigate wood ladders, lean through tight berms and loft a drop next to a dead deer carcass, finally coming to a stop right near the US/Canadian border. It's the type of ride that gives credence to Rossland's 1993 title.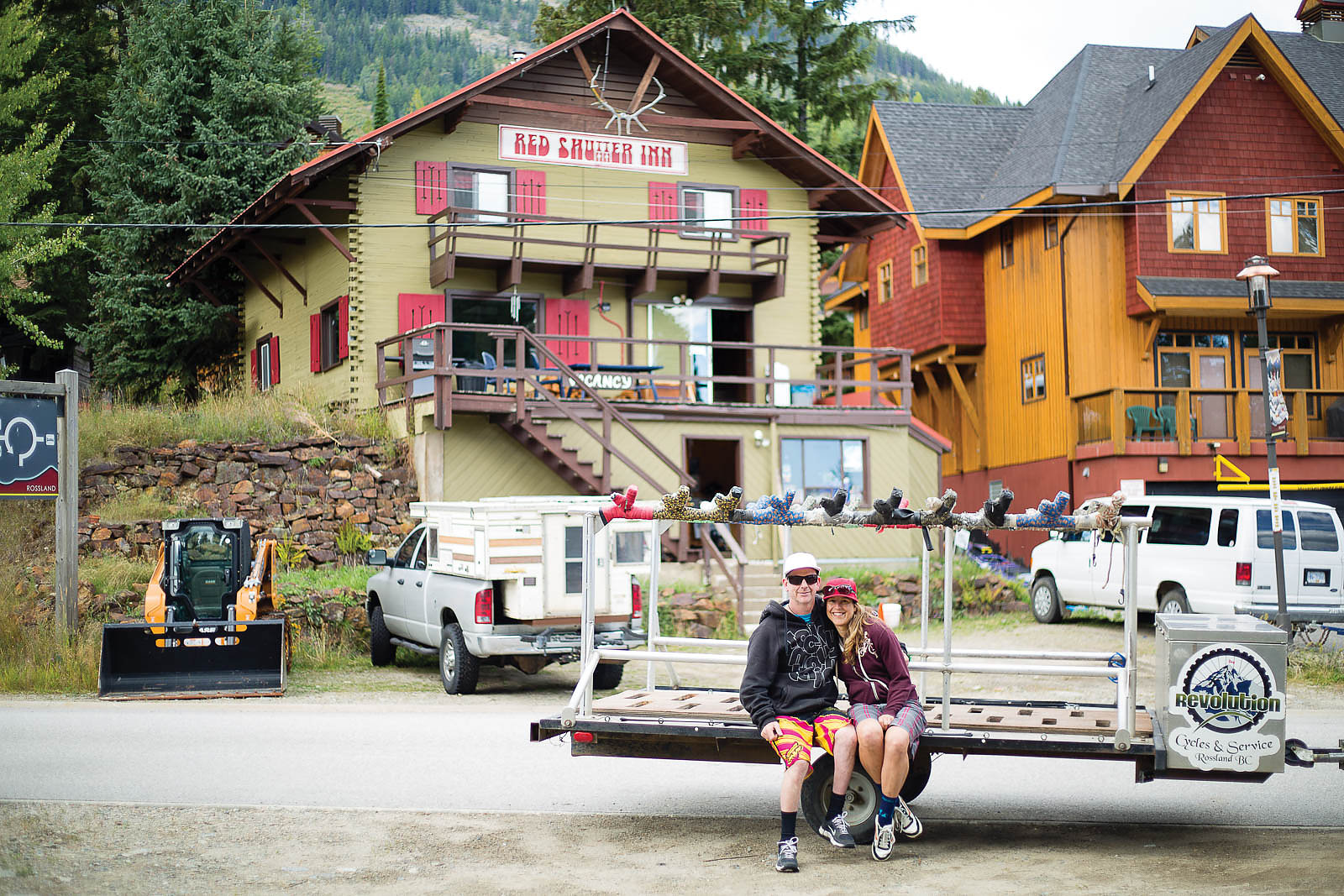 Ian and Natasha Lockey hail from the North Shore of New Zealand, but have made Rossland home. Between the bike guiding and coaching, lodge management, and shuttle business, they remain rooted in the community regardless of their origins being an ocean away.
Our hosts' resume is equally impressive. Aside from managing the Red Shutter Inn and running the shuttle, Natasha is a guide at the nearby Big Red Cats catskiing operation and Ian is a Paralympic-level boardercross racer and snowboard and mountain bike coach. Ian was paralyzed when he crashed snowboarding in New Zealand years ago, but now—despite a lilting stride and a shrivelled calf—once he gets on his bike it's like his nerves are revived. He pedals with his heels and has complete control at the bars. This brings up Rule Number Two: Pass cars, not judgment.
Existentially content but physically drained, we roam the aisles of the local grocery store and stuff our stomachs and coolers for the miles of dirt and asphalt ahead. Tonight we're headed to Kimberly, 165 miles east, and as is usually the case with road trips we're quickly forced to leave behind our normal eating habits. Couple that with odd grazing hours and odder Canadian snack food, and your internal plumbing may not be functioning at its optimum. So as we tear off into the night towards Kimberly, it quickly leads us to Rule Number Three: Roll down the window when you fart.
We wake to crystal skies, deer roaming the hotel grounds and a hearty breakfast of eggs, hash browns, bacon and toast at BJ's Restaurant & Creekside Pub. Our guides for the day are locals Becky Bates and Ian Binnie, and we start pedalling directly from downtown, meandering into the dry, open stands of lodgepole pine, past Nordic ski routes, and along mossy north faces as we move deeper into the forest. The benched trail cuts through fields of red and lavender stained talus and spins past Dipper Lake, an enticing name during a hot summer day. We top out on a rock slab with an expansive westward view of the peaks separating Kimberly from the 65-mile-long Kootenay Lake.
From our stony vantage, we rally down Thunder Turkey, Shape Shifter and Hoodoo View, through pale grassland and second growth forest. It's a lung-stinging sprint trying to stay on Ian's wheels. He and Becky did build a significant amount of this trail and it does happen to end right at their house, near a campground with a beautiful view of the rock hoodoos above the tumbling Saint Mary River. Not bad.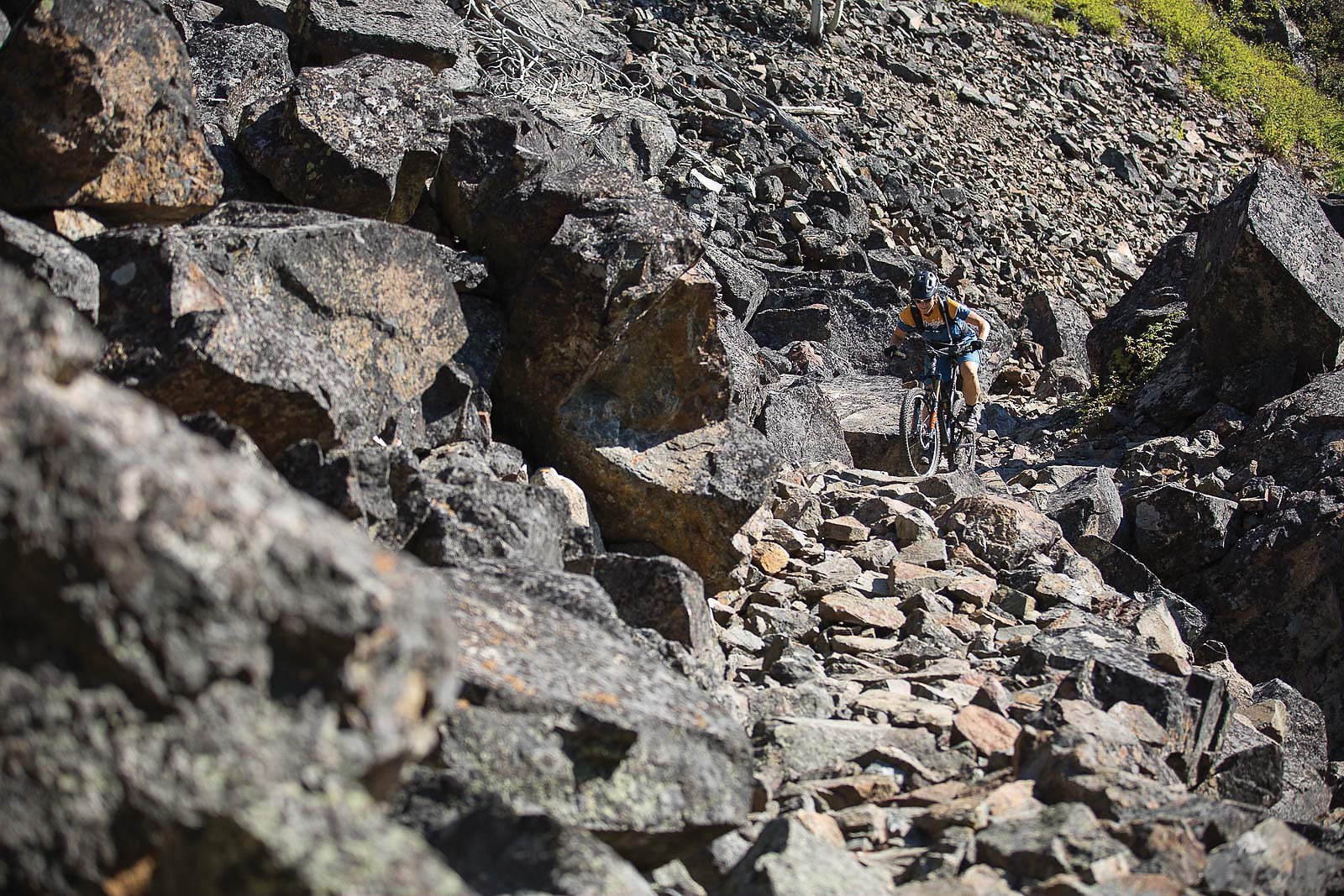 Kelli Sherbinan navigates a talus field outside of Kimberley, the result of a landslide. This brings up a crucial Rule of the BC road: It's not all loam and fresh dirt.
The second ride of the day brings us to a more mysterious shuttle trail up the valley, called Pinch and Roll. Composed of faint trail, rock rides, doubles, drops and rickety woodwork, this is the kind of line we've been looking for, the kind you can't just show up and find on a map. It's fluffy, loose, raw and a bit unpredictable—"Full-on Kootenay style!" as Darren would say.
Toasted from the day's dual rides, we peel into town for food and brew at the aptly named Pedal & Tap pub. Although they're both strikingly modest and humble, I gather that Becky and Ian both work as stunt coordinators for Hollywood-level movies—productions like X-Men, The Imaginarium of Doctor Parnassus, The A-Team, Fantastic Four, Night at the Museum and a bevy of other films you've likely heard of and probably seen. Their expertise lies in roping, climbing, rigging (they are also avid climbers) and various forms of special effects and they spend months on set broken by months at home on their bikes. We talk about their life on the road, past and future destinations, before hitting on vehicles and campers. Apparently, special effects systems employ a lot of batteries, including 12-volt RV batteries—the kind I'm in need of for my current truck-camper re-build—and they gift me a spare battery when we leave to make the late haul east to Fernie. This brings up Rule Number Four: Souvenirs come in many forms.
For those generous with the Kootenay label, Fernie marks the area's eastern edge where the mountains are more arid, yet still towering and fully exposed from glacial scouring. The chairs keep spinning through the summer at Fernie Alpine Resort, which offers lift access riding of its grassy runs, dark and rooty forests, and alpine wildflower fields. Bikers can even connect to the local trails from the resort, meaning you can take a chairlift and work your way back into town from there. That's our mission the next morning, and given the two-rides-a-day schedule we've been mashing on, we convince the hill to let us up early with a vehicle bump.
We are joined by Fernie biker extraordinaire Scott Fieldhouse and his wife Jacq. Our guest guide for the day, John Shaw, shows up with a curious container in the cage of his Specialized: rather than a water bottle, he totes a can of bear spray. Encounters with grizzlies are not uncommon on the more remote rides in this area, especially when forest berries are ripe. We don't run into any bears, but we do encounter a smaller denizen of the animal kingdom. A fox, fluffy tail and all, follows us for the initial descent, and when we stop it begins bounding around the group with curiosity.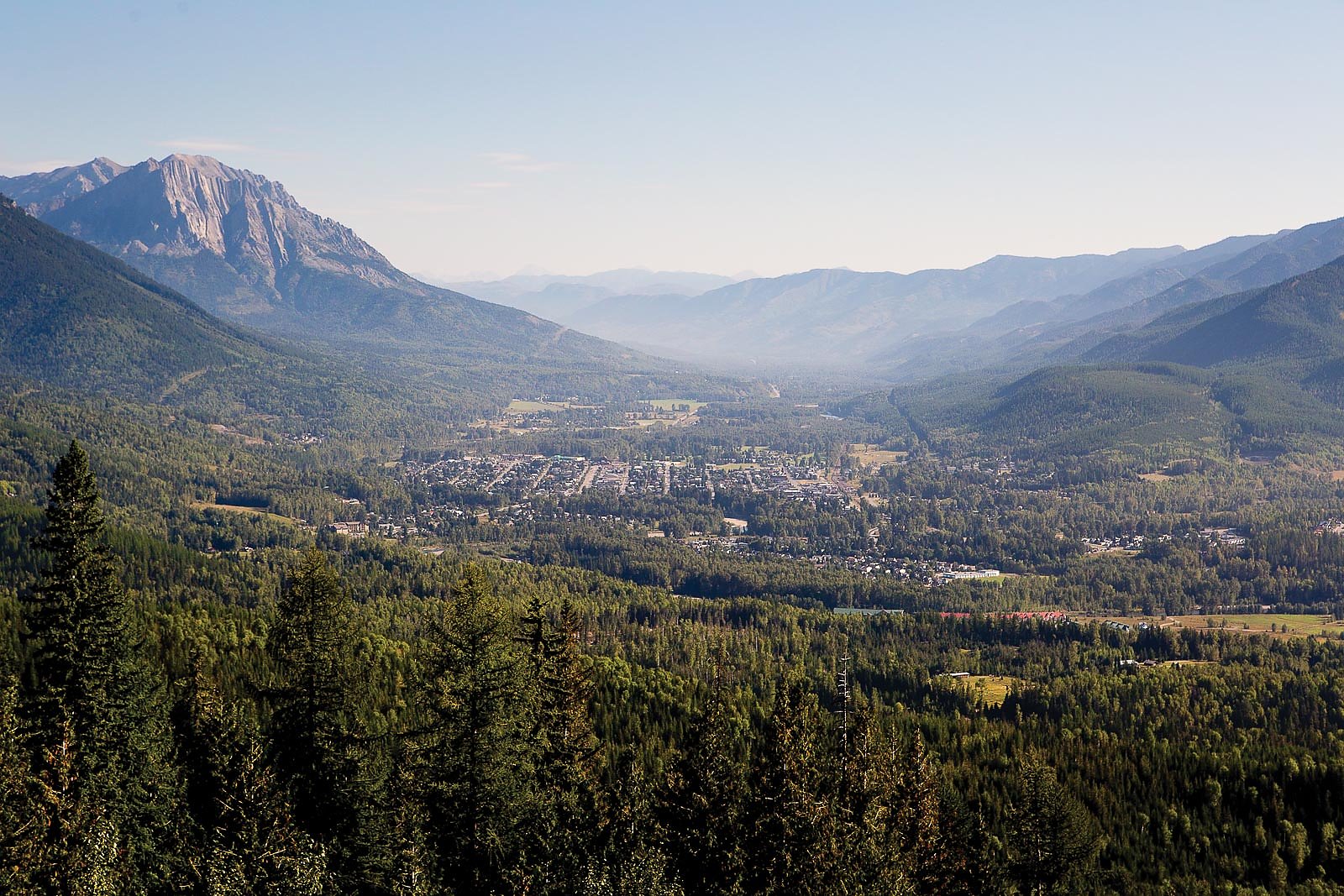 Mount Fernie towers above the Elk Valley and Fernie's downtown, as seen from the top of the lift-accessed trails on a hazy morning. Riders can either rally laps via Fernie Alpine Resort's chairlift, or use the bump to connect to local trails and navigate into town.
It refuses to pose for a few ironic "fox and Fox Shox" photos, so we continue on into the forest and through fields of head-high purple wildflowers. We work through deep berms, over dusty roots and the continuous roll of the dark woods. By the time we reach groves of salmon berry bushes in the green valley bottom our rotors are broiling, the temperature is rising, and we are feeling the strain of back-to-back rides.
With the lure of the un-ridden driving us, we continue on a slog above town before descending a twisting section of dry singletrack that ends with a table top over an old rusted car. After a hearty lunch at Freshies Coffee Shop, I fall into an impromptu nap in the shade of the patio floor, which brings up Rule Number Five: Sleep when and where you can.
As tired and wrung-out as we are, a heavy dose of caffeine gets us back out for the second ride of the day. This time we're led by Mark Gallup, legendary snowboard photographer and owner of The Guides Hut, who tows us up a string of trails with names like Uprooted, Roots, Hyper Ventilation, Queen Bee, Eco Terrorist and Sidewinder. It's a gruelling climb, through logged forest and up sharp cutbacks to the top of a knife ridge above town.
The descent pays off the suffering in full, and we whisk down an exposed ridge with open views in all directions and clouds of dust roosting from our tires. Parched and pedal-worn, we roll back into town for beers, water and salty food—the three recovery requirements, important since we have four hours of driving to our next stop. As we load up and head west towards Nelson, this brings up Rule Number Six: Stay hydrated, but keep your pee breaks and gas stops in sync.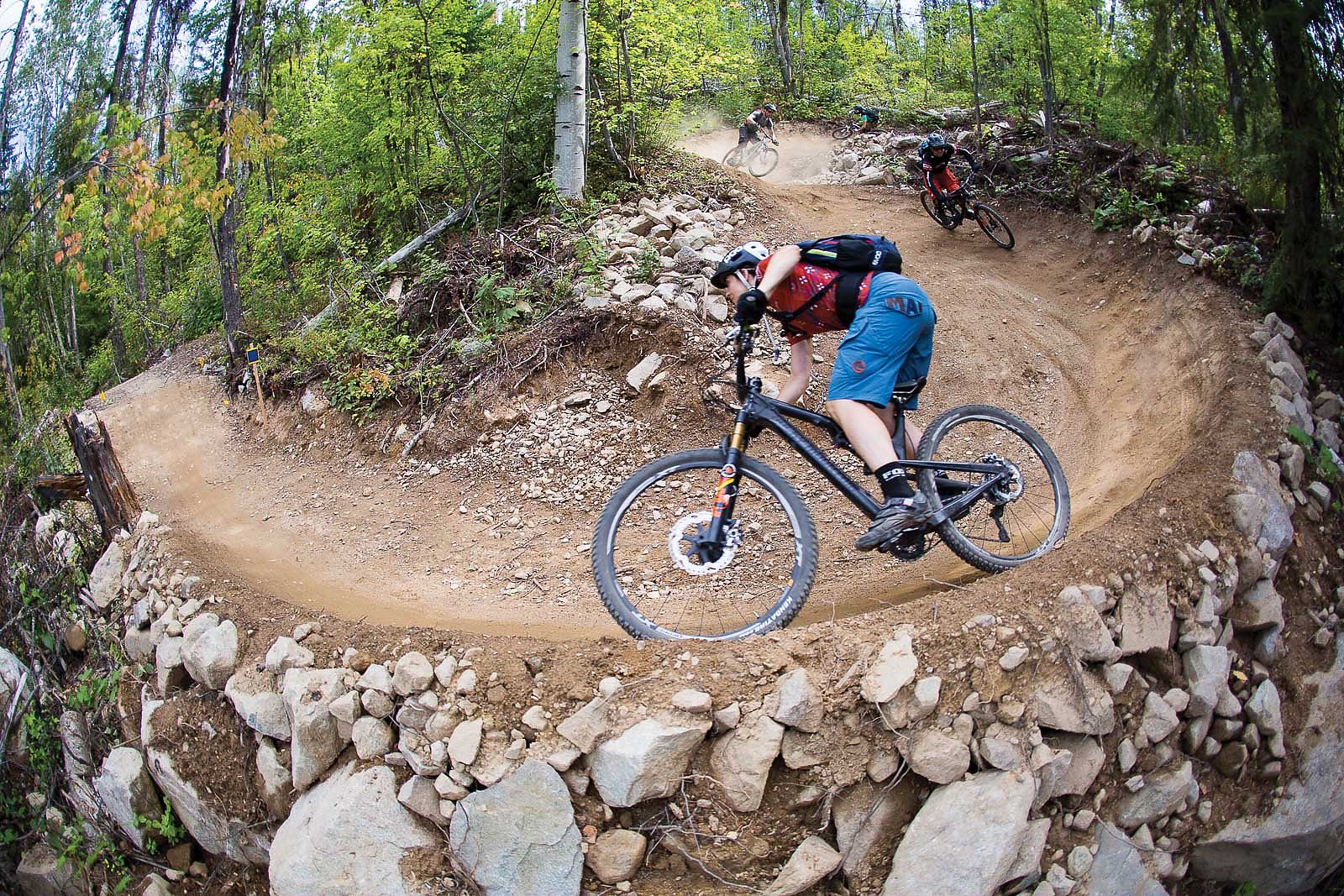 The whole gang—Kelli, Darren, Jason and Deb—barreling berms on Lefty, one of Nelson's newer trails, at the recently developed Morning Mountain trail area. The town is home to seven main riding areas, each chock full of classic Kootenay shredding.
Before Vancouver became a bustling seaport metropolis, Nelson and the surrounding towns were the hubbub of British Columbia. The alignment of water and large mountains funnelled the fur trade, logging and mining through the area, fanning the explosive growth of industry-town upstarts.
This has drastically faded over the last century, but Nelson maintains a store of riches: robust mountain town charm, an abundance of arts, culture, food and a new type of mining. The pickaxes and shovels still swing—these days it's just aimed at breaking trail rather than uncovering valuable ore. In recent years Nelson has become recognized for its raw and rowdy trails that dive through the area's rugged terrain. The going joke in the area is that a downhill bike is a trail bike. Kidding aside, it's a legitimate statement.
The loop from Fernie back west to Nelson is the last leg of our trip. Kelli is from Nelson, and she and Darren are currently building a cabin outside of town, in the thick forests that harbour an extensive amount of riding. We begin our ride on a new, sun-exposed network of trails on Morning Mountain, with Kelli's childhood friend Deb MacKillop as guide and impromptu entertainment. The short, wide and benched climb delivers us to the top of a bike-park-like lap, where we dip through berms and float over gaps. It's the kind of trail you're more apt to find at a lift-accessed area than on a hill behind a small mountain town.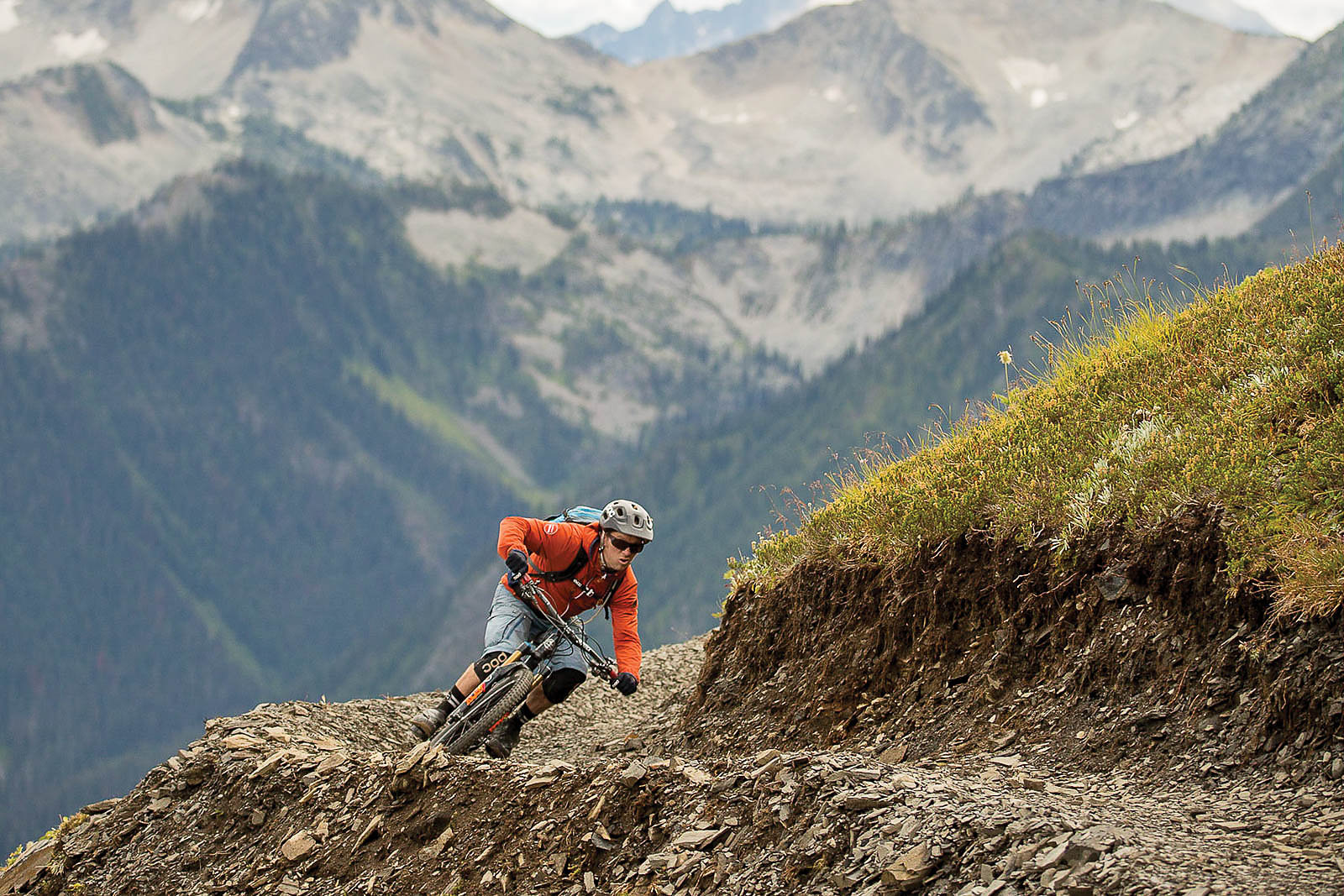 Darren dips into the fresh dirt and shale on the alpine section of the Peak to Creek trail at Retallack. Lying somewhere between an alpine pump track, backcountry epic and bike park, Peak to Creek bends the boundaries of trail design.
Deb later takes us to the Smallwood and Bigwood zones, fueling the ride with homemade plum fruit leather and hearty laughs. Atop the climb, we take in spanning views of the Kootenay Lake Valley in the calm, warm light of afternoon. This is the momentary reprieve before we barrel down the rowdy route of duff, rock and root-gripped terrain, a mellow between the trail tunnel vision and relief from our long hours on the road. We take in the scenery, munch on fruit leather and dive in.
Venturing outside of Nelson brings us to Retallack, a busted mining locale turned gravity biker's dream destination only a short drive away. Here the trails are steep, long, rugged, remote and all shuttle-able and the nearby New Denver area offers a mix of public trails in addition to Retallack's private, purpose built tracks. We down catered food and enjoy van-assisted laps on Retallack's proprietary trails, and then head past the ghost town of Sandon to old mining roads and additional riding. Silvery clouds brew across Slocan Lake, which pummel us with heavy rains on the last stretch of trail.
It's late in the season, which means alpine berries are prime along Retallack's access roads. Darren and Kelli show us the technique of filling a spare water bottle with huckleberries, which, when mashed up from riding and paired with some liquid, deliver a Kootenay style, mid-ride smoothie. Aside from being gifted with bundles of nature's candy, Retallack just put the finishing touches on their most extensive trail to date: Peak to Creek, a collaboration with Freehub, a hearty build crew and a cadre of generous sponsors. And we're one of the first groups to point our tires down its path.
After a technical truck shuttle involving a three-point switchback on an exposed jeep path, we begin the hike-a-bike to the Peak to Creek's start at the summit of Mount Reco. It's a test on our tired bodies, but clear skies at the top are a worthy reward. The Kokanee Glacier lies off in the distance, and the scaled peaks of Whitewater Mountain and Mt. Brenan stand to our backs. The trail itself runs through a gamut of terrain and styles: a top-of-the-world feel at the shale-scattered start, to the benched alpine tundra, to the backbone ridge section, to the dim forest valley. There's a spongy, springy flow for the entirety of the descent. It's hard to keep the rubber of our tires on the ground as countless undulations pass under our wheels, lofting bikes and bodies through the mountains.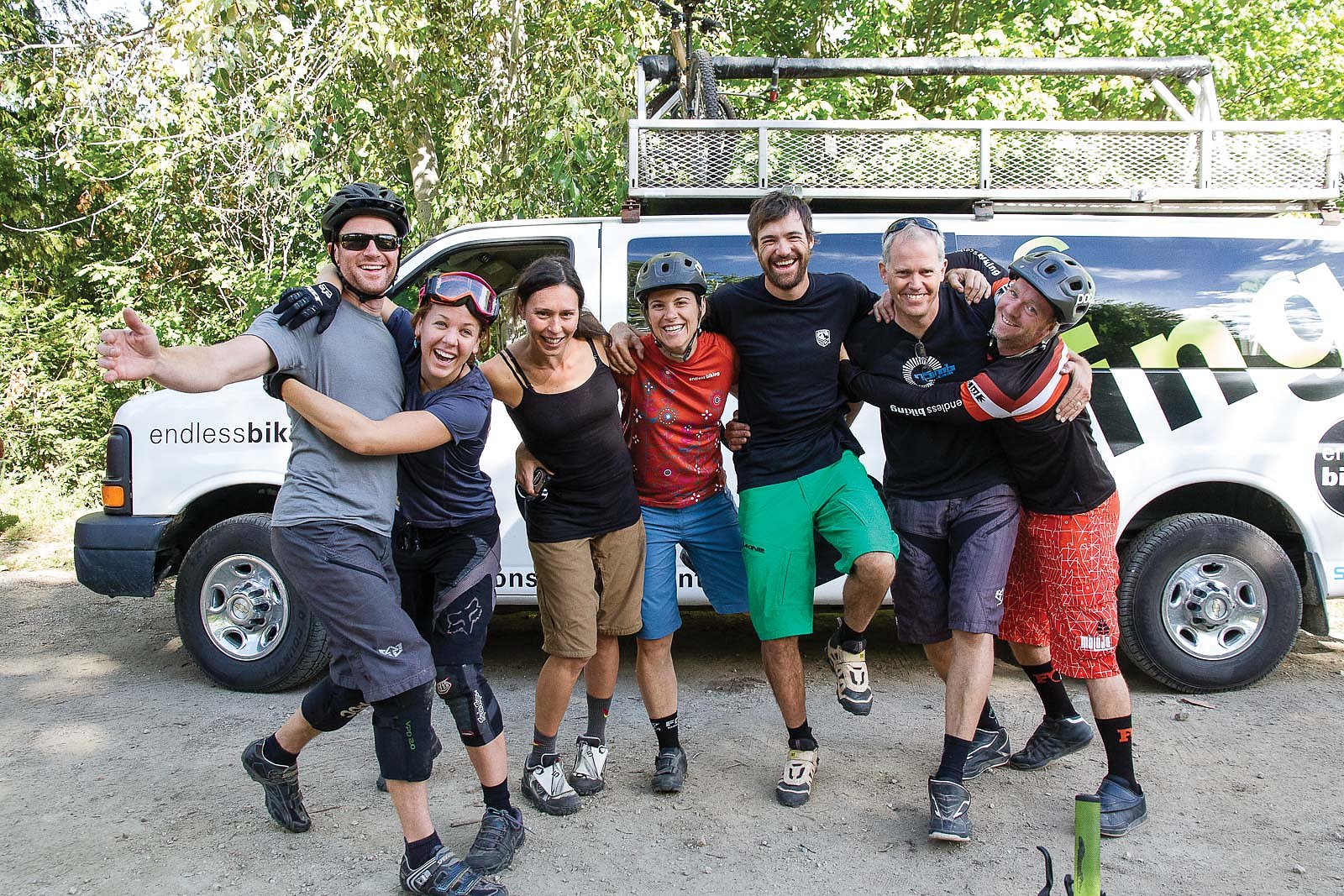 Nelson group photo: Jason Wright, Jenna Renwick, Deb MacKillop, Kelli Sherbinan, Ben Gavelda, Martin Littlejohn and Darren Butler. Photo by Danielle Baker
After twisting through wet cedar forest and pure Kootenay loam we find ourselves in the lodge parking lot, speckled in dirt, spruce tips and twigs, cold beers in hand and grins all around. Dazed from the nine-mile, 6,000-foot descent, we stare past the evergreen tips of the forest and into the grey sky above, revelling in this shared experience.
It is a worthy end, but an end nonetheless. Now that we have found our rhythm on the road and the reward of each day's venture, it is painful to retreat. Monday we'll return to desks and deadlines, and we are tempted to continue the gamble of new towns, new trails and new folk. We've come to our final Rule of the Road: You can pull over or put it in reverse, but what's in the rearview mirror is gone and past. All that matters is the road ahead, wherever it may lead.