2017 BC Cup #2 and BC DH Championships at Sun Peaks Resort
The BC DH Championships and second stop on the BC Cup circuit roared through Sun Peaks Resort this past weekend, bringing with it some of Canada's fastest riders. With forest fires ablaze throughout the northwest, fortune smiled over the resort on race day with a bright blue sky, mostly clear of smoke. Consistently scorching temps made for a fast and loose track that had racers testing their traction at every turn, right out of the gates.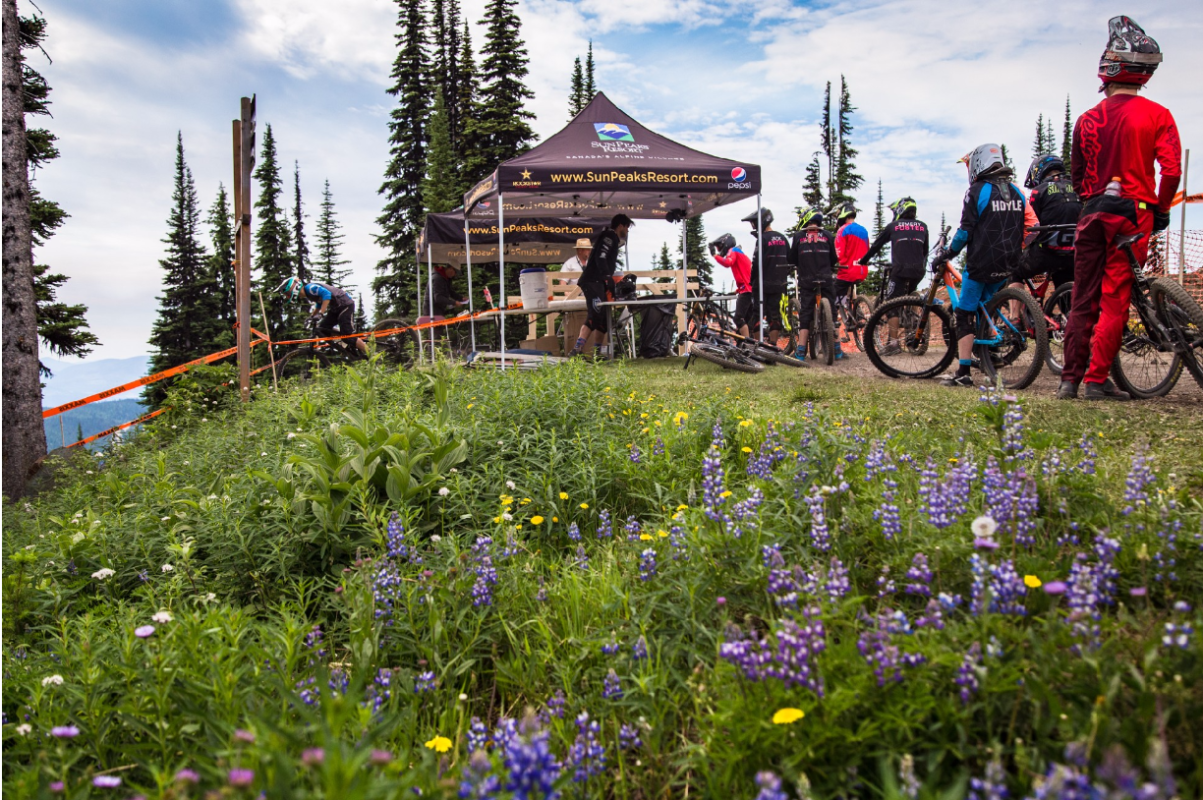 North Vancouver's Matt Beer reclaimed his title as fastest man on the mountain, and Provincial Champion, with a white-knuckled five minutes flat, nearly 14 seconds faster than anyone else in his class. Laurie Citynski went home with the Provincial title for her Elite Women category, and Junior Women champ Aleda Toronitz was the talk of this small town for recording the fastest female time of the day.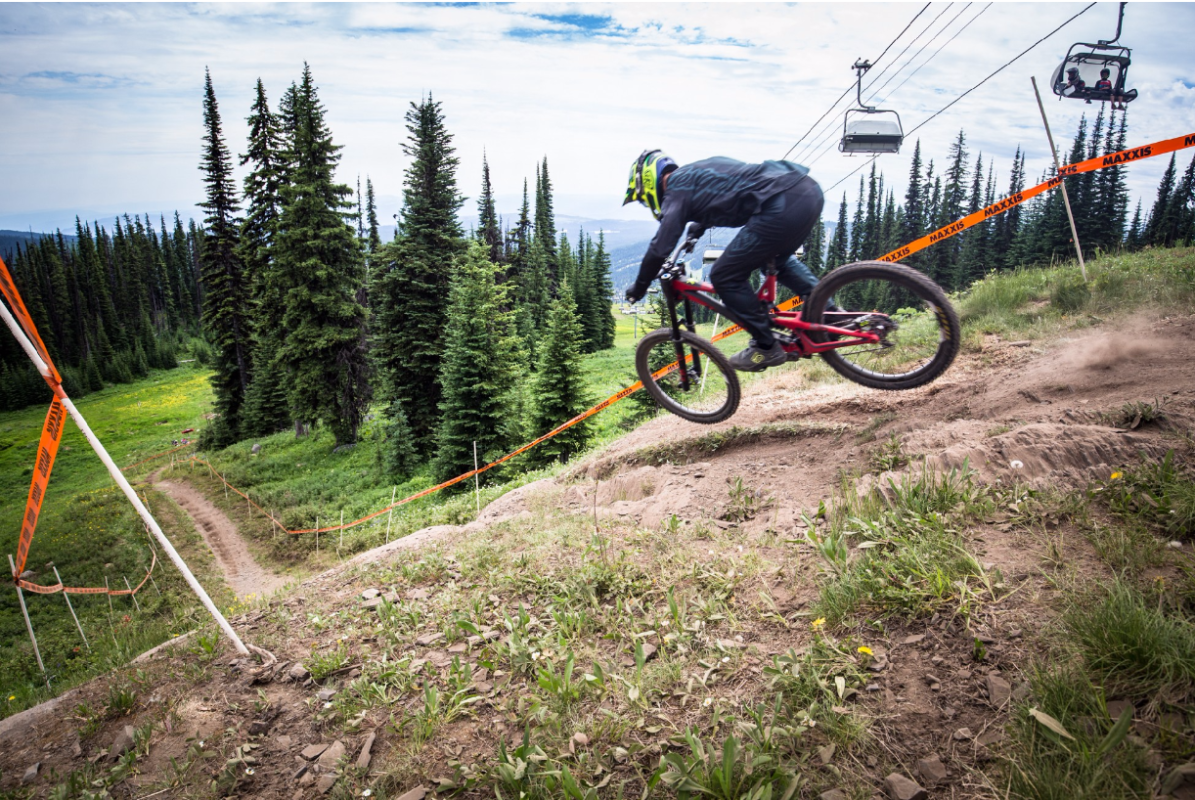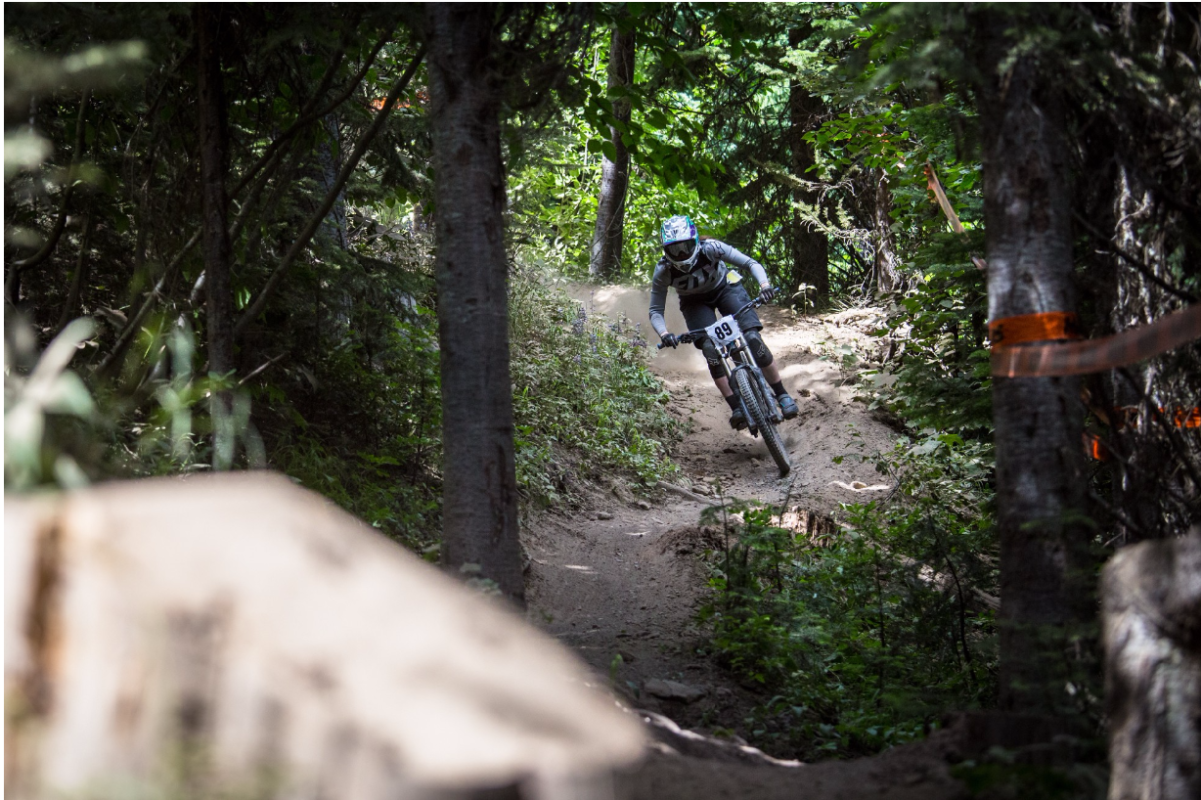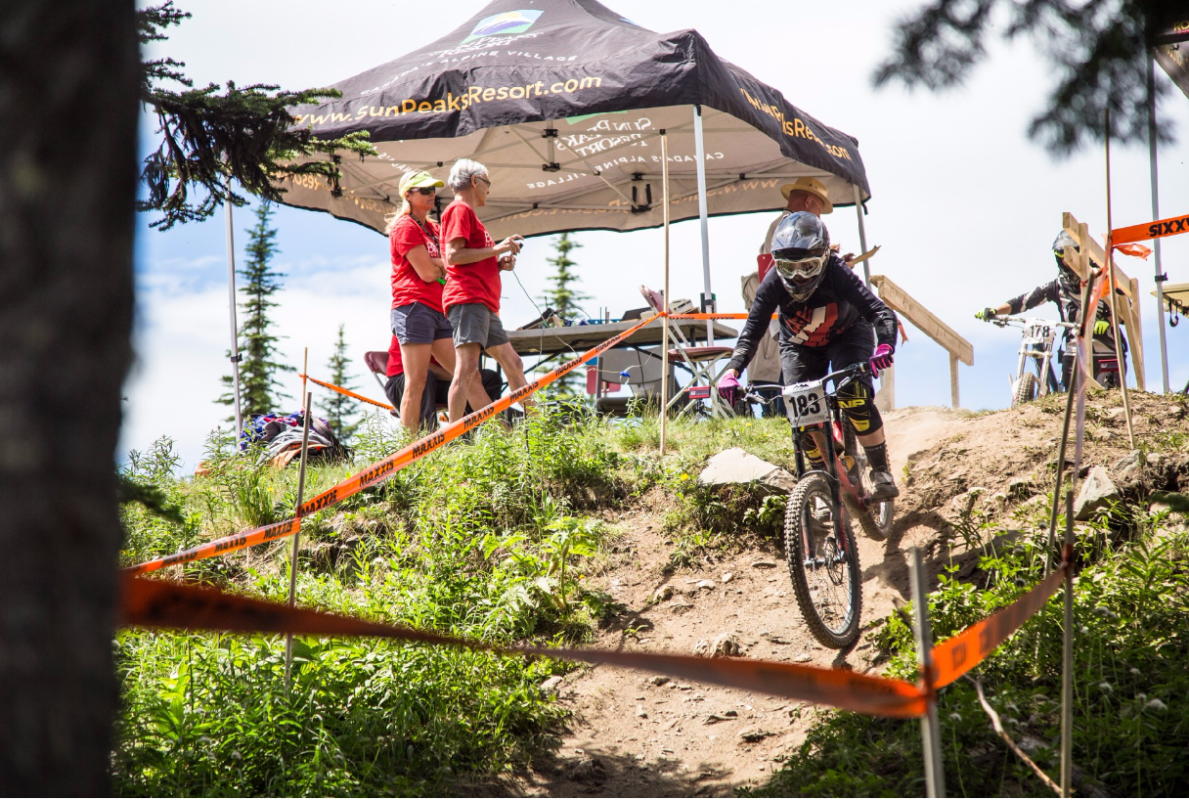 The Sun Peaks DH course's 600 metre vertical descent starts from the top of the Sunburst chairlift and then drops directly under it, into the rock-face-laden Insanity One, where countless riders have pushed their limits while racing the clock over the past couple decades. This is a trail with infinite opportunities for ingenuity, though, and line choices abound for those creative or courageous enough to try them.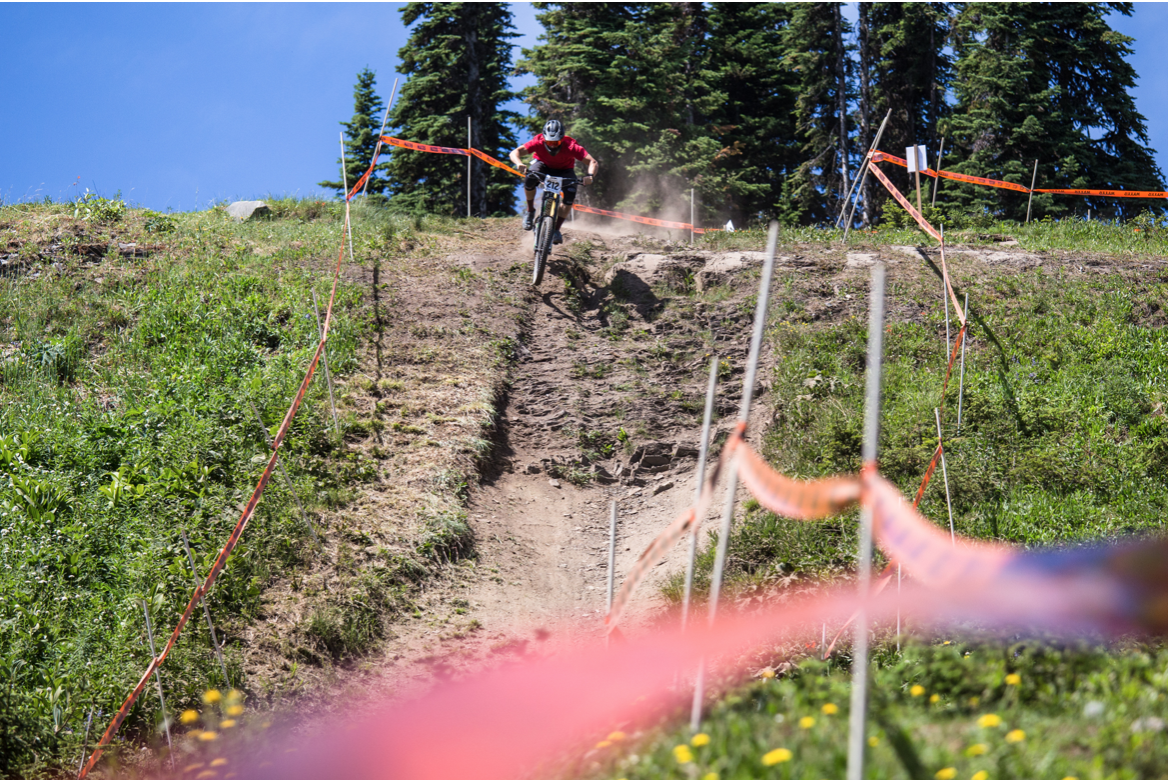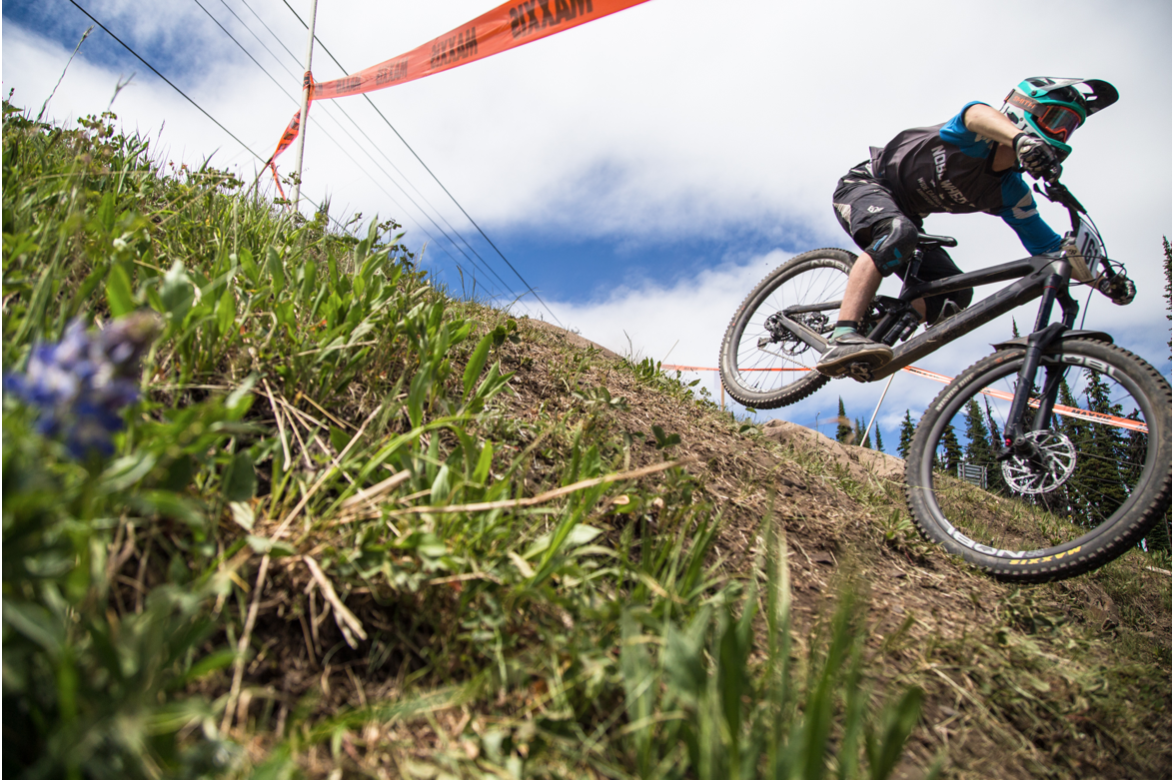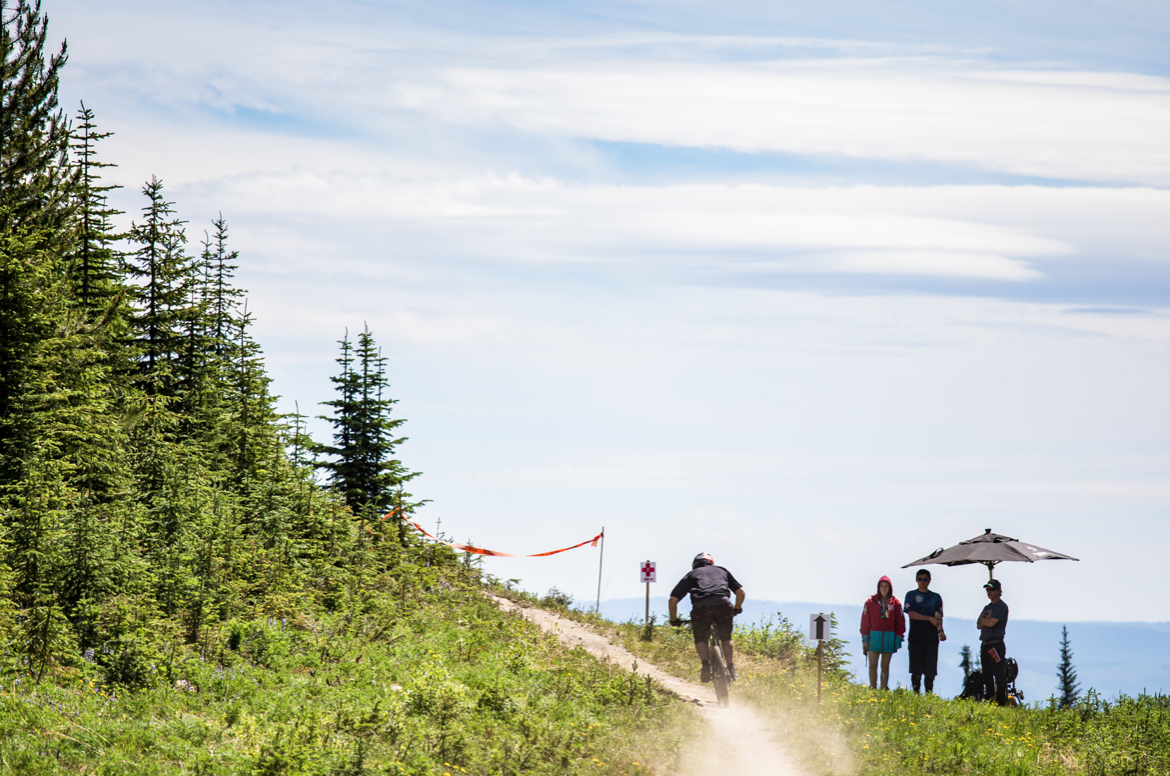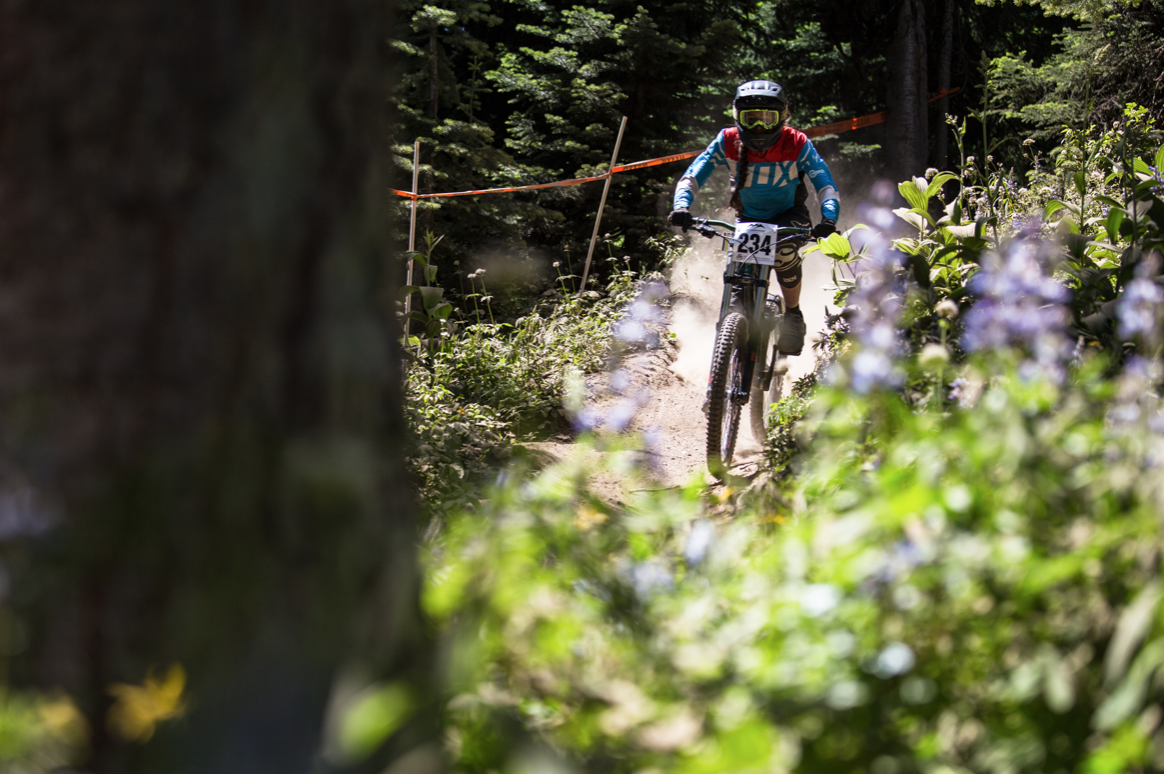 From Insanity One the course hangs a right onto the recently sculpted Sticky One, and, although the lower rock faces of the former began resembling rivers of fine silt as the weekend's traffic wore on, the latter was where things got really loose and the dust barely settled, if at all, between racer intervals.
When asked if anyone was opting for the ride-around on one of the trail's testier features a local course marshall confirmed, "Just about everyone's rolling the rock face, a few have launched right into the corner where you can see the tape's been tied back together. It's pretty loose and most that go off end up disqualified, it takes them a while to fish their bike out of the woods."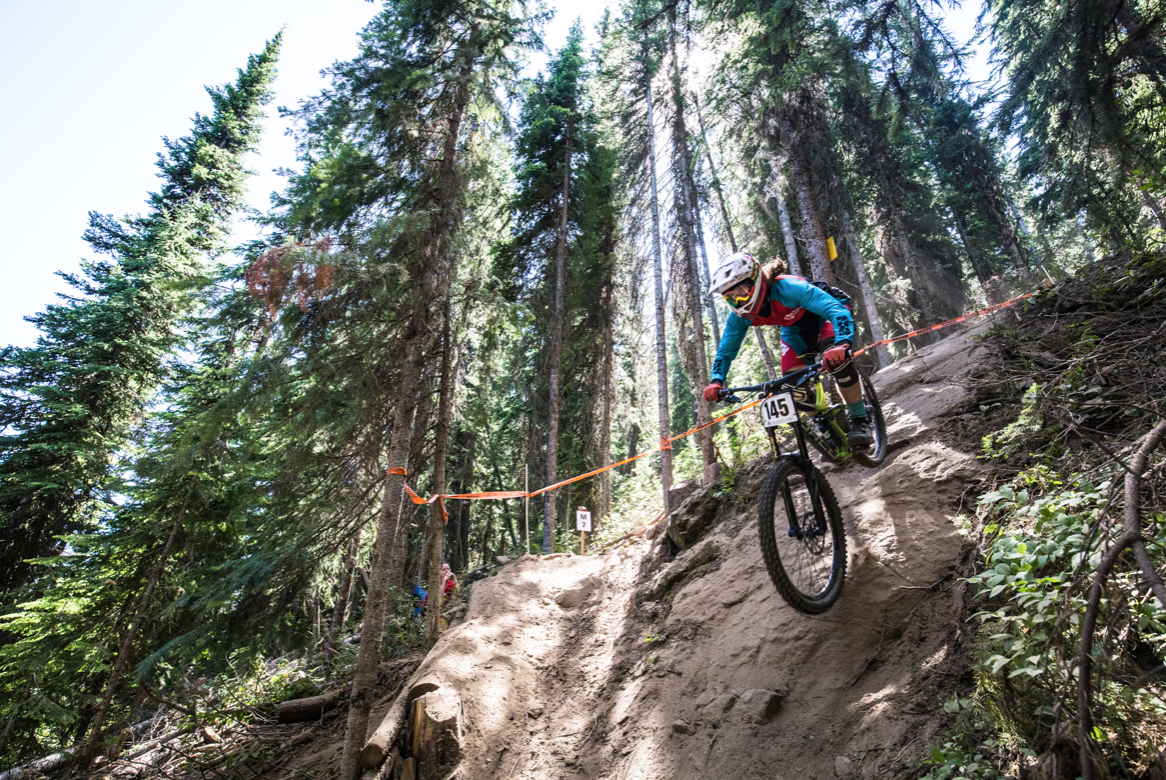 Out of the woods and across the winter season's Intimidator ski run, the course meets another Sun Peaks classic; Honey Drop. Meeting this double-black about halfway down, the intersection features a large boulder that needs to be mastered before passage is granted.
Squealing brakes and a tidal wave of dust followed everyone lucky enough to stay over the saddle through the technical descent of Honey Drop, and a barrage of out-of-breath colloquialisms emerged from clouds of brown with those not so lucky.
Resurrection is another recent addition to the Sun Peaks Bike Park roster, and rescues riders from the bottom of Honey Drop with an intermediate grade and somewhat hybrid terrain; pairing choose-your-own-adventure single track with machine-made corners and a few good booters for good measure, flowing right to the finish.
Across the finish line beers cracked as bikes were hosed down, along with just about everything else, and results were reviewed with shock and awe as the risks and rewards of gambling each corner were revealed.
As the dust settled from the final UCI Elite Men and the most outrageous times were announced, Cycling BC brought everyone around the awards table to take their places on the podium and, for the top spots, receive their Provincial Championship jerseys.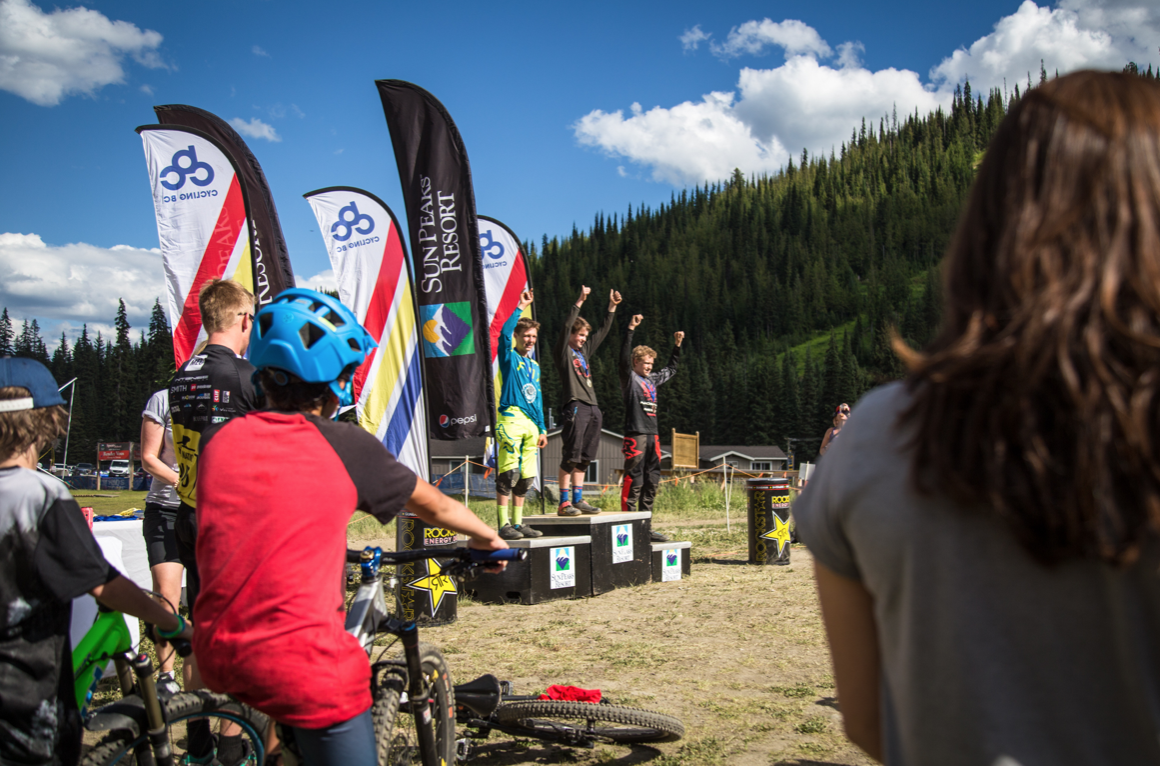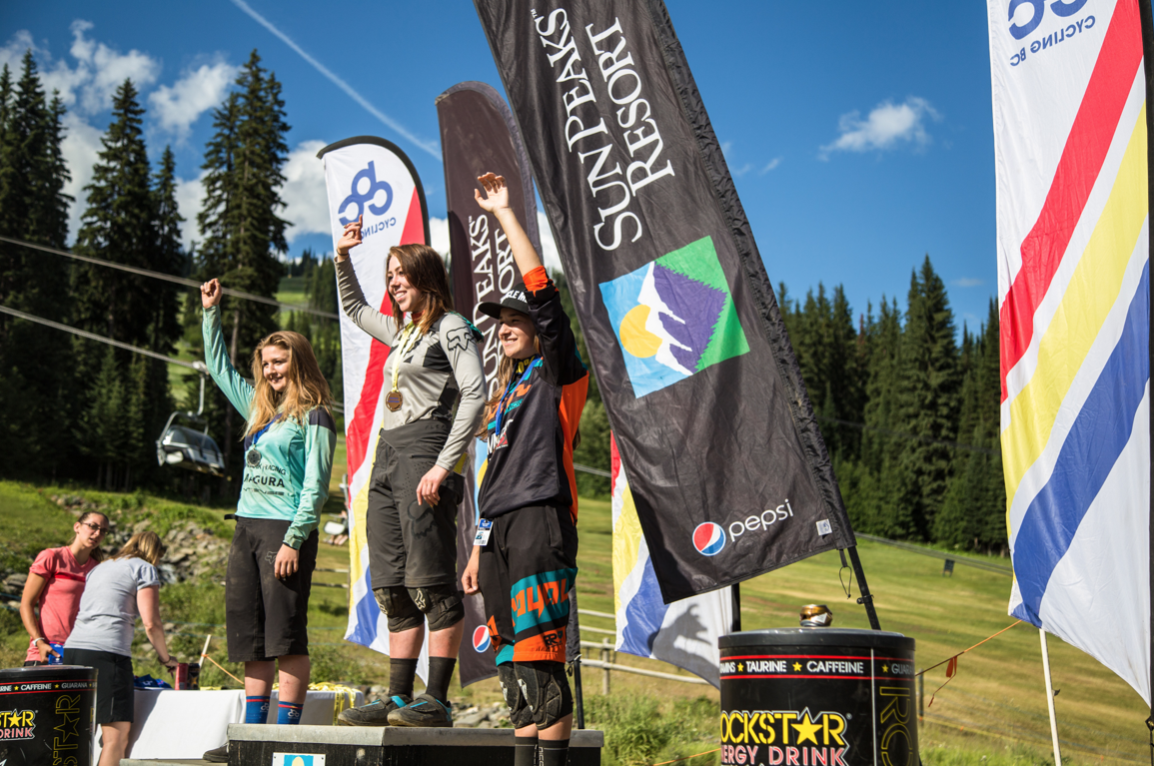 Full results are available on Cycling British Columbia here. Congratulations to everyone that came out to test their nerves in Sun Peaks and good luck in the Kootenays this weekend, at the Canadian DH Championships in Invermere! Find out more about the Sun Peaks Bike Park here, and plan your next trip to Kamloops' lift-accessed trail network.
Words and photos by Sam Egan of Cedar Line Creative, photos are available for purchase from a full album at Roots & Rain here.