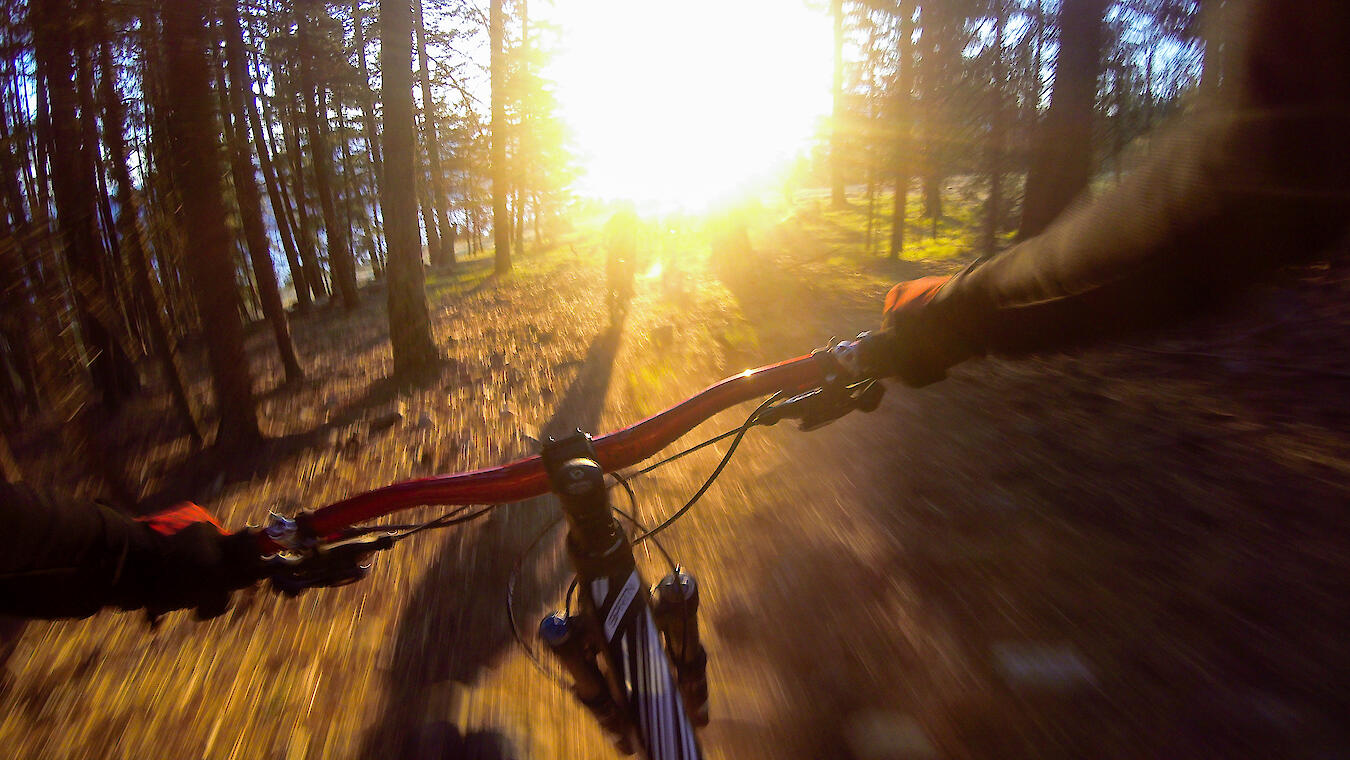 There's something for everyone in Penticton
For the Casual Rider
Mountain biking doesn't have to be "EXTREME" to be fun. For every Rampager there are at least 10 more casual cyclists who love the fresh air but are maybe not as into the risks often associated with off-road biking. Luckily Penticton has one of the most scenic networks in the world for the enthusiastic yet less skilled rider.
The Kettle Valley Railway (KVR) used to run right through town, and now the abandoned railbed is used by non-motorized recreationists of all types to get some fresh air and exercise. Combined with the lake-to-lake route along the Penticton River Channel, there is an abundance of easy places to cycle in town. Most people like to start from the north end of town, as there's good access to the routes and there are several bike rental outfitters like Freedom Bike Shop and Hoodoo Adventures located nearby.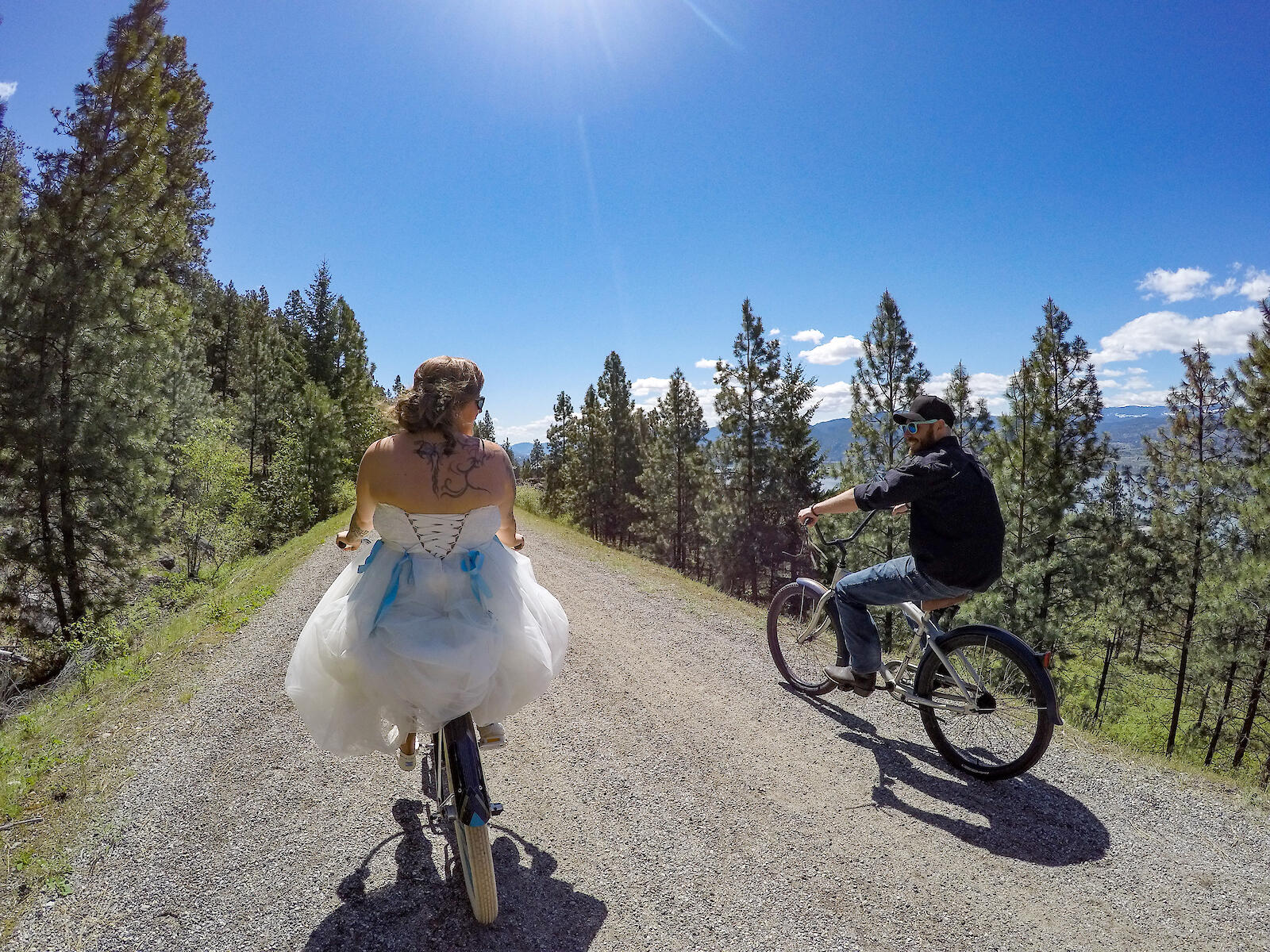 The KVR line to the east of town was formerly the longest 2.2 percent sustained grade in the world, so the views are stupendous. On a traditional bike, the ride up to Little Tunnel is typically 90 minutes for the casual rider, or with an E-bike, it can easily be done in half the time. The surface up to that point is very well maintained so even road cyclists can take advantage. However, the further from town you go the rougher the surface will get. As the route is an out-and-back ride, you should be able to easily judge your capacity for the steady (but relatively easy) climb. Keep in mind, once you get to the tunnel, you get to enjoy one of the longest most scenic gentle downhill rides you will ever experience, all the way back to town.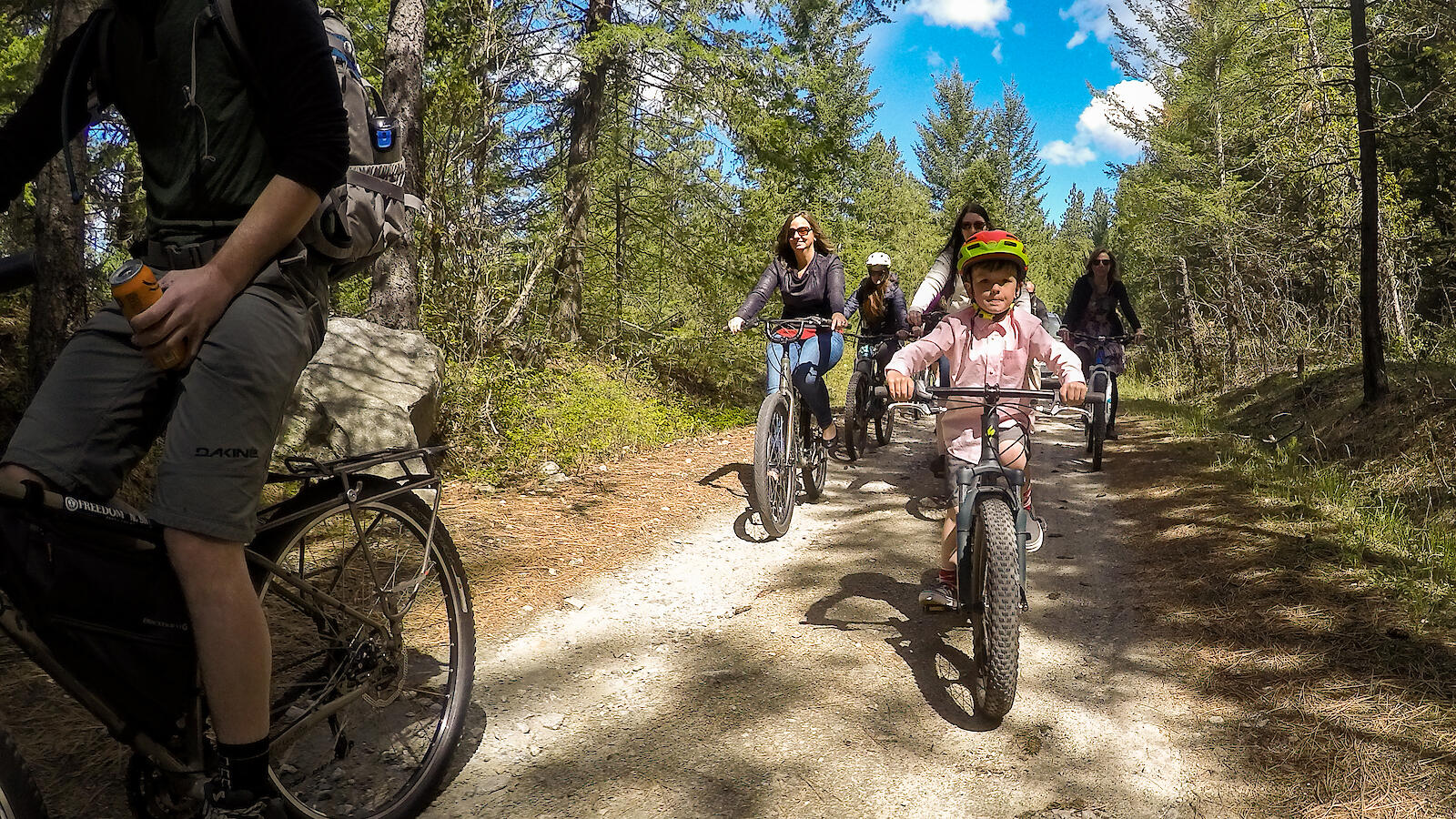 You can easily connect to the Penticton River Channel route from the KVR. Either end is simple enough, with the beaches connecting directly into the river channel path. The old rail grade also connects midway along the river channel near Green Mtn. Road.
The City of Penticton is presently working on more cycling route upgrades to help make Penticton an even more cycle-friendly town than it already is.
A great ride deserves a great reward, so why not stop into Tickleberry's for some ice cream after. Just be careful, they are known for generous portions!
Endless Intermediate Rides
The intermediate and novice rider should have no problem finding an appropriate level of challenge in Penticton. The semi-arid landscape here has an abundance of long trails at a modest grade. The lower elevations in the valley are dominated by sandy glacial deposits that make for smooth riding. Not that there aren't rocks around. Make sure you bring a spare tube...or two.
Your go-to area for the aspiring mountain biker is Campbell Mountain. It's just a few minutes from the beach, accessed off of Reservoir Road just to the east of downtown. Nearly all the trails here are suitable for beginners and intermediates. A few small technical features can be easily bypassed, and if the exposure off the side of the Canyon Trail is too much, there is a way around. Ensure you go to the top, because Whoops starts from near the summit and is not to be missed.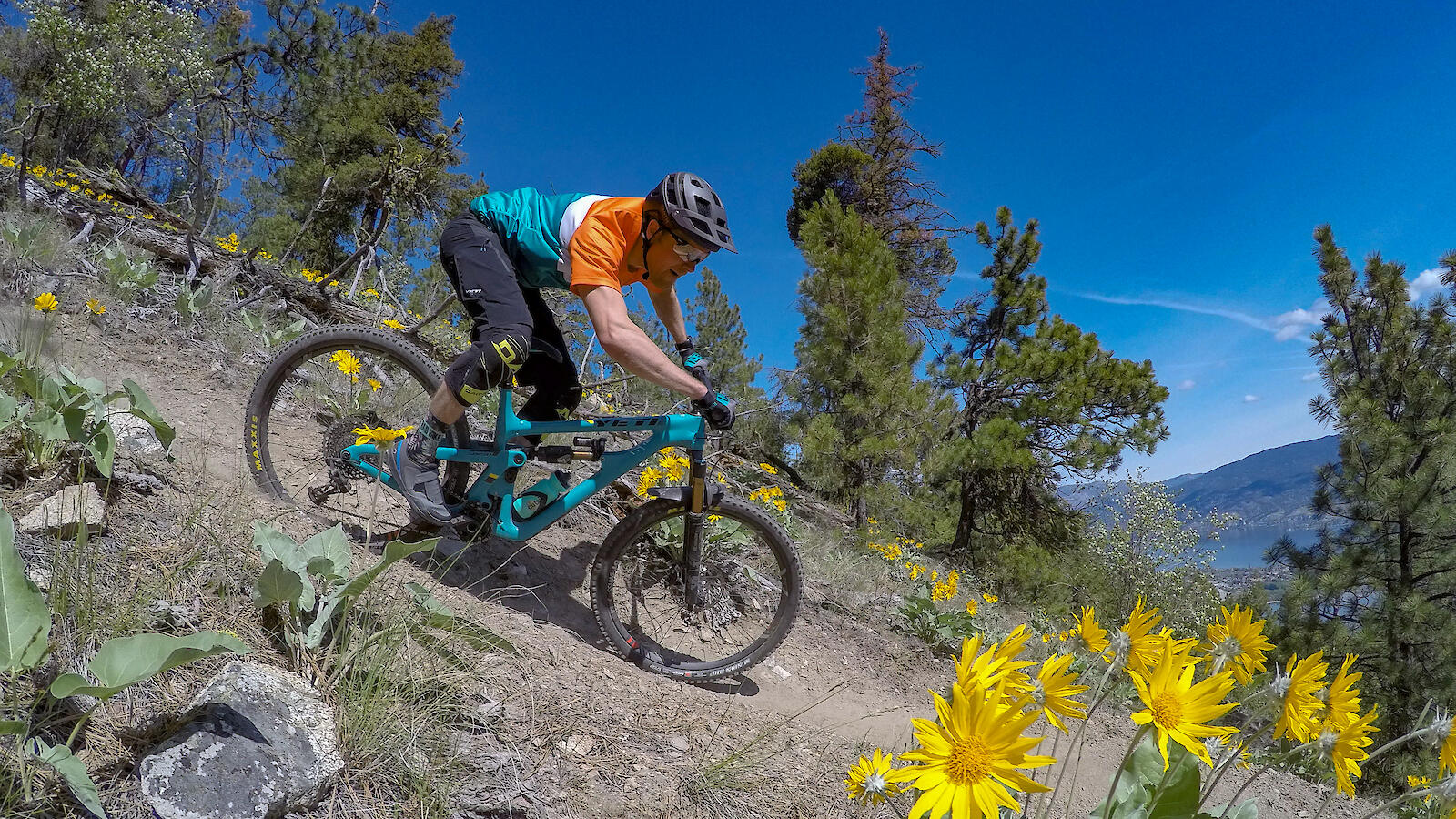 For stronger intermediates, head over to the 3 Blind Mice network. There is a parking area at the intersection of Naramata Rd. and Poplar Grove Rd. with some basic facilities, and a pump track. This is also where the KVR trail crosses the road, so you have multiple options. The climb up Yellow Brick Road to Neverland is a little more challenging than the riding on Campbells, but it's still well within the realm of intermediate riding. If you choose to ride all the way up to the top, it can be quite a challenge as it climbs 900m. Fitness will definitely help!
Or you can utilize one of the other trailheads up Arawana Rd. There is a midway point at the Rusty Muffler trailhead that you can use to cut the climb in half or just start heading in for the descent. It's also possible to drop in from the 8km marker on the road (stay right at the junction) and descend from the top, but either way take care to choose trails suited for your abilities. There is a dizzying array of trails in this area and some routes are not for the beginner. Sidewinder is a good choice from the top, and lower down the Rusty Muffler, Fred, and Flow Coaster are excellent options for strong intermediates.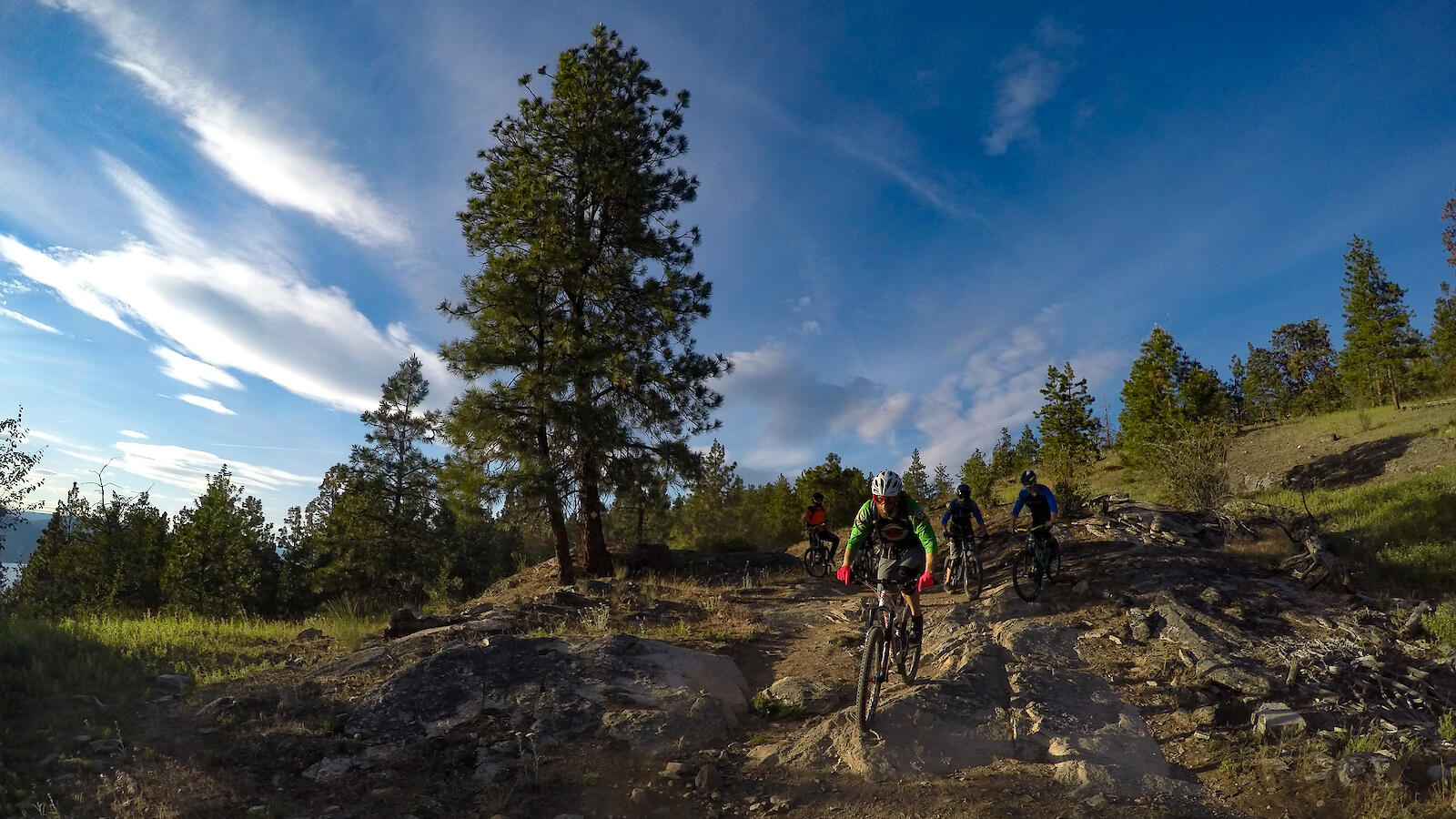 Be warned, there is a lot of riding to be had in this network. You'll soon figure out where its name came from. Before there were reliable maps available, it was not uncommon to spend hours wandering this network seemingly in circles. How you can be going downhill for so long and still seem to be back where you started was always a mystery. The Penticton and Area Cycling Association has been very busy putting in signage and maintaining the trails to help you get around, or check out these routes:
Intermediate Loop - Half Elevation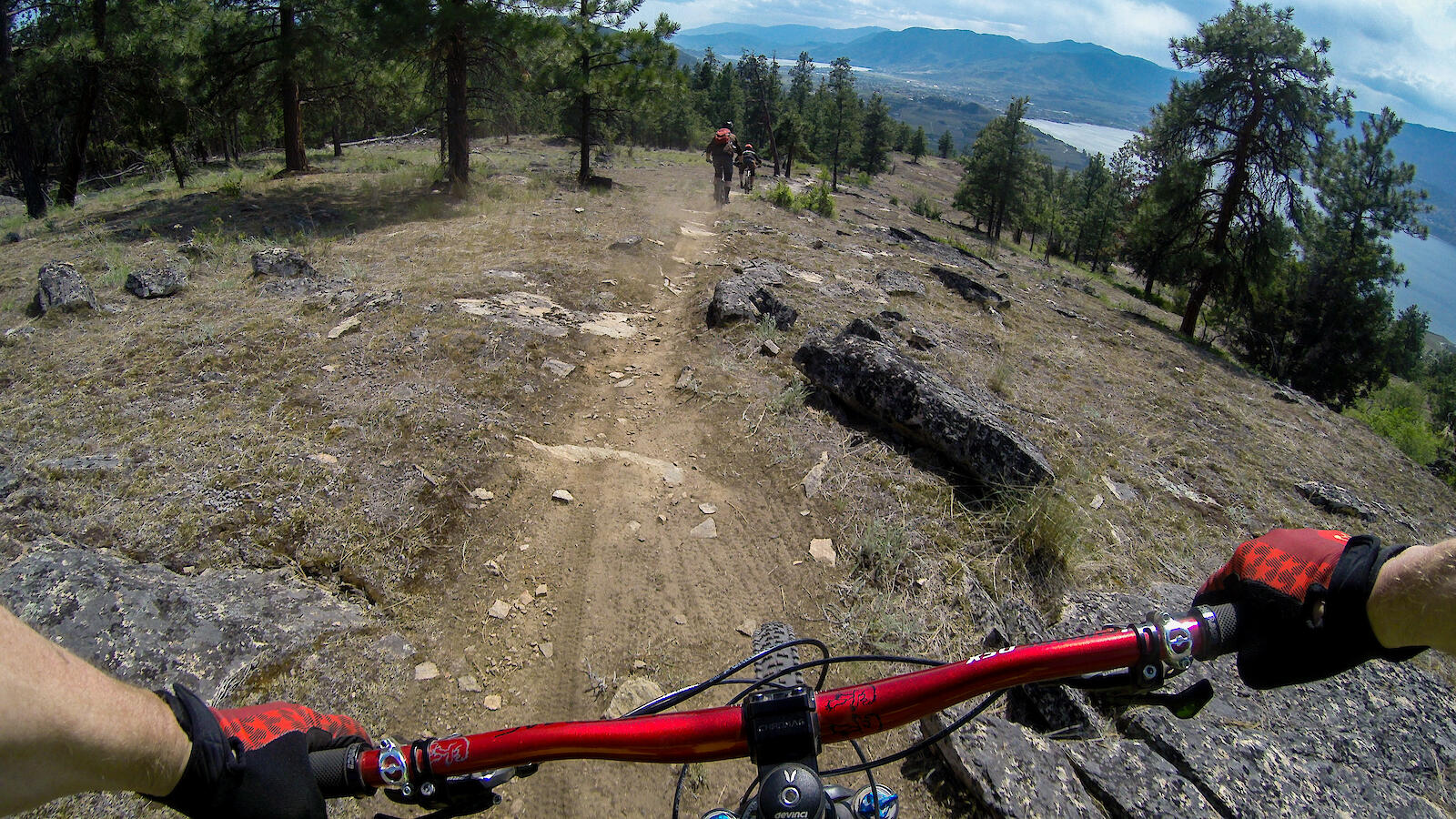 If you're getting into the more advanced trails, then Rainbow is your go to from the top. From the mid-point on the mountain, check out Drops A Lot. The Mice is an excellent place for people who are looking to transition from intermediate to advanced riding, as the advanced trails here really are just incrementally harder.
If you're looking for some fuel before or after, stop in at The Bench Market on Vancouver Avenue or check out Brodo at Main Street and Padmore.
For Those Looking for Adventure
We've addressed the casual and intermediate rider, but what about the hardcore rider that thirsts for more adventure? What does the South Okanagan have to offer?
So glad you asked. First of all, we're going to talk about the 3 Blind Mice area again. It's a huge network and it really doesn't have any bad trails. A great way for an experienced rider to approach the Mice is to have an open mind. Everyone goes to the Flow Coaster and Drops A Lot, but what about Slabs, or Southern Dancer, or Tripod? I often tell people to just take that turn that looks like it doesn't get ridden much. So long as you're not going down a road, it should be amazing.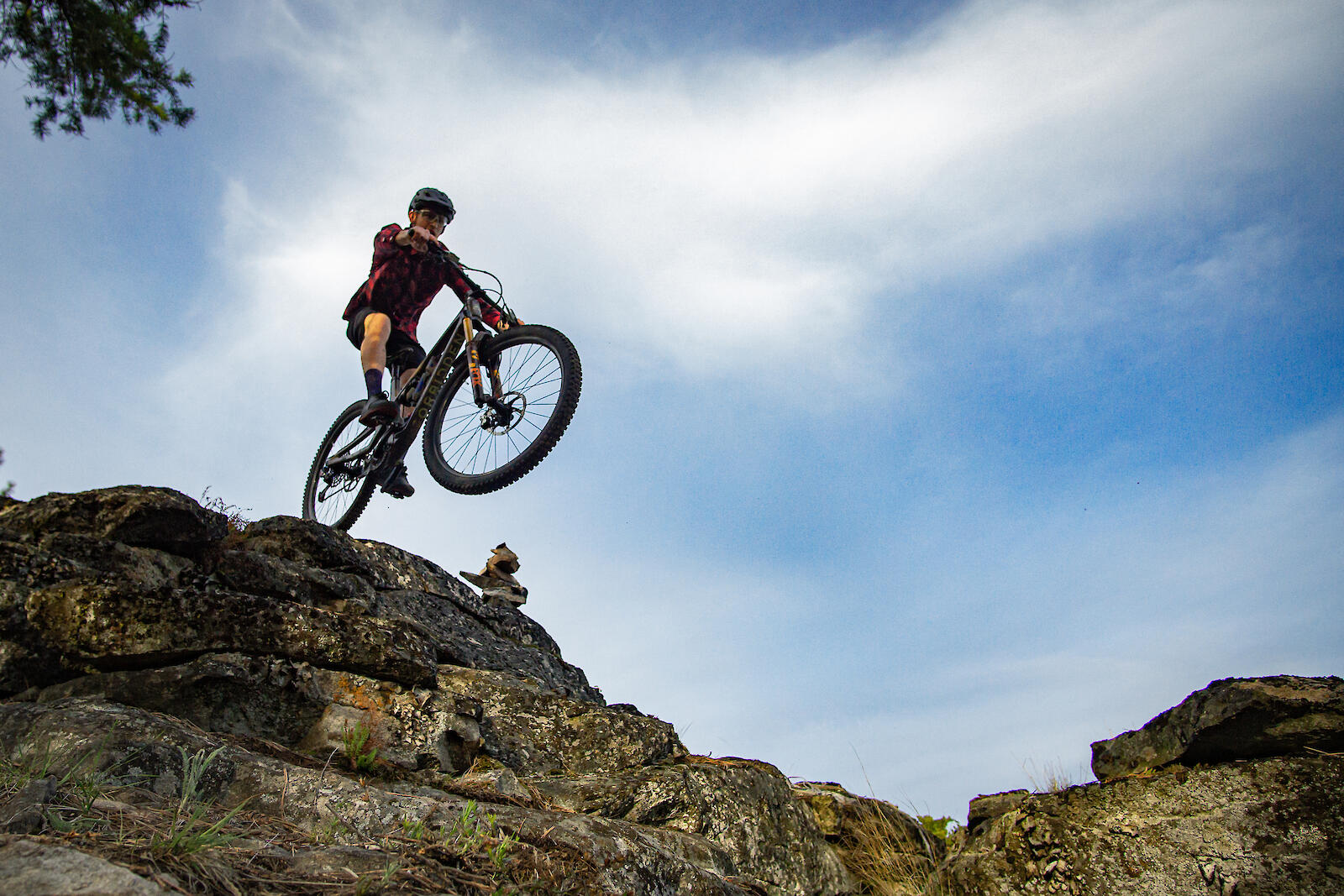 If you're having a hard time navigating, the locals are quite friendly and easy to link up with. The two main bike shops in town have a strong culture and provide excellent service. Drop by the Bike Barn or Freedom for the latest local beta. Maybe you'll get invited to one of the many regular group rides or events.
There's a lot more than just Naramata though. Other areas nearby offer plenty to explore. Summerland has several networks, there are some very challenging routes in Skaha, and Apex has some high elevation riding.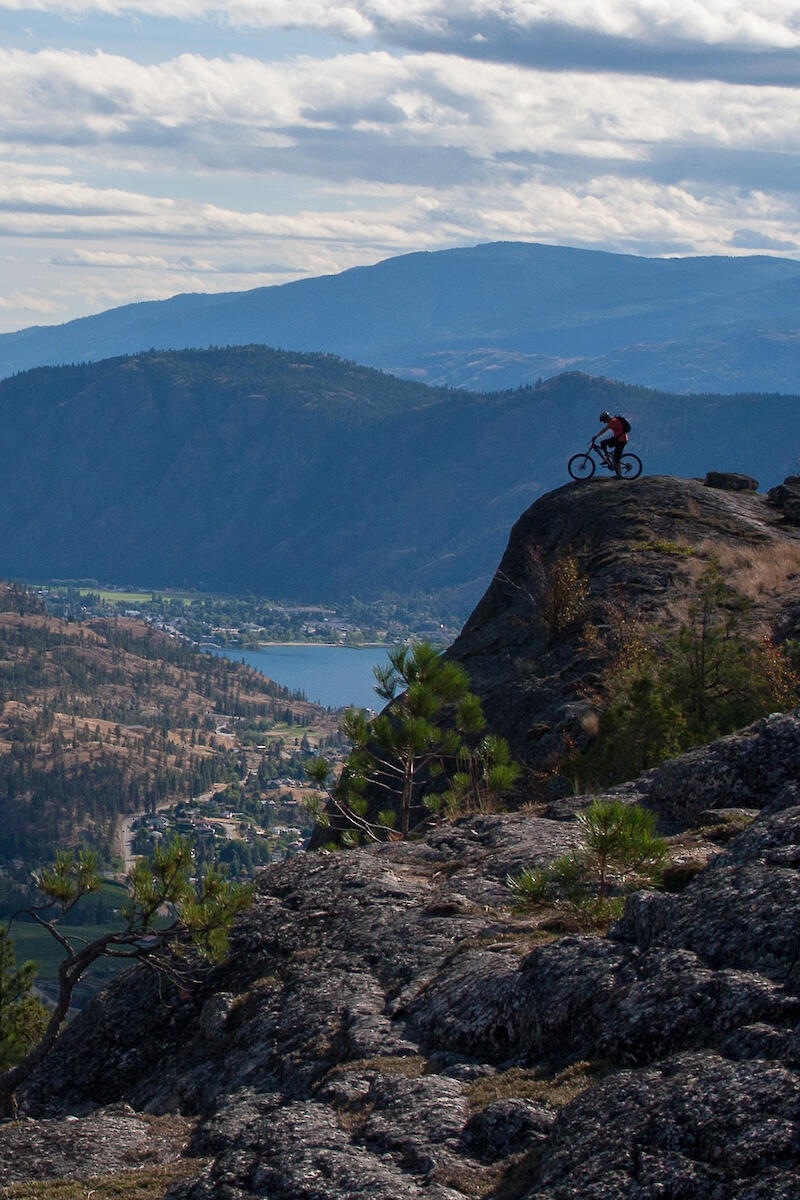 The Summerland zone used to be the site of the Action Quest race back in the 90s. There was a significant loop out on Cartwright Mtn that hosted many years of events. Over time it was taken over by quads and other motorized users, but recently there's been a resurgence of trail development for bicycles. The rides here are more cross country style routes, and you can link up trails for some very long days. This looks to be a highlight for the upcoming BC Bike Race this fall. Check out Conkle Mtn and the new Joyride Trail on Cartwright for some excellent riding.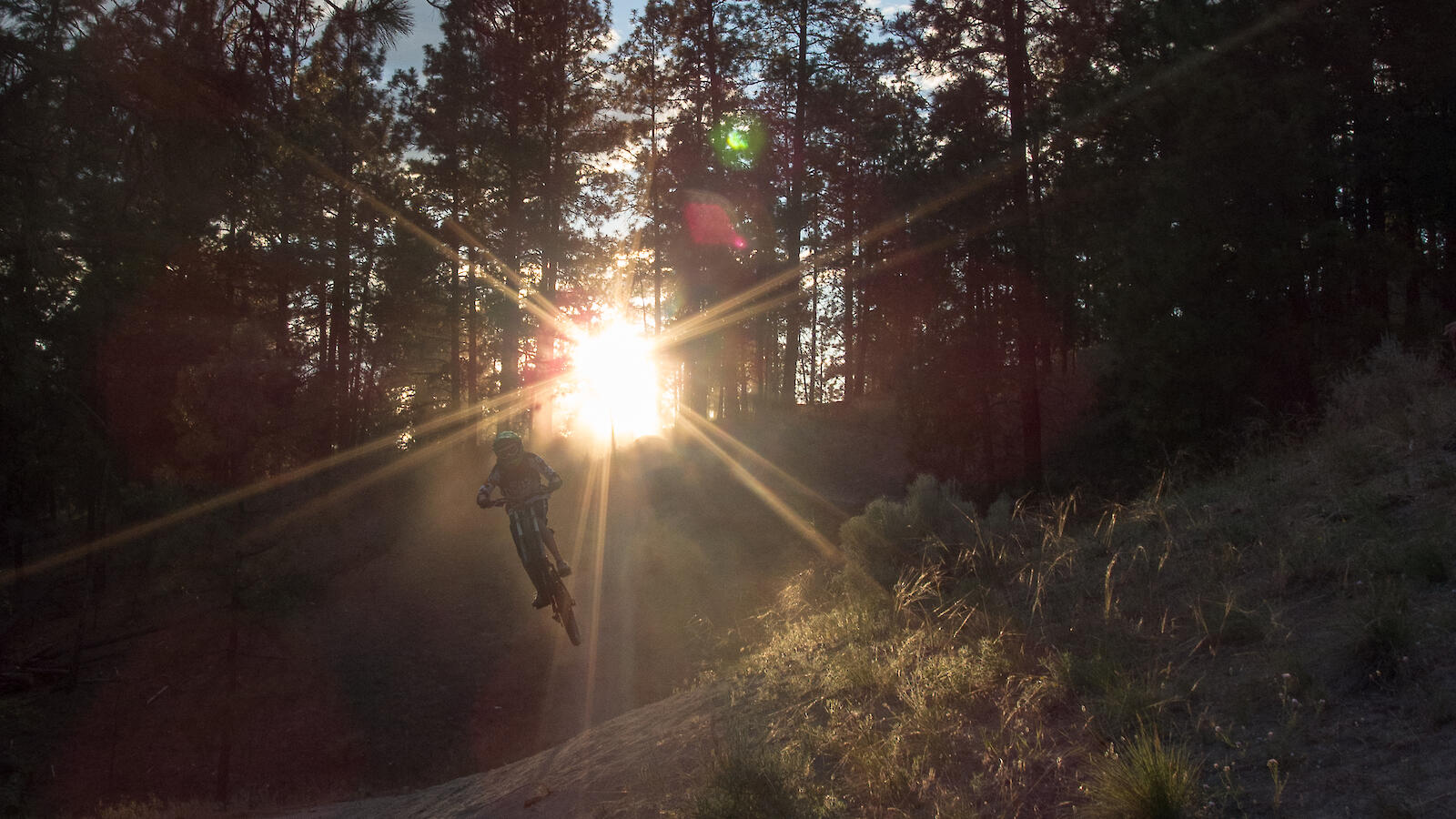 When it's too hot in the valley, Apex offers some stunning riding at treeline. Most of the trails are over 6000 feet (1850m) with high points up to 7200 feet (2200m). Green Mountain is a quick hit if you want to get a feel for the area, or get yourself into the alpine via Shatford Creek to Sheep Rocks. These trails are much less used so be prepared for the backcountry. There is little signage and navigation can be tricky.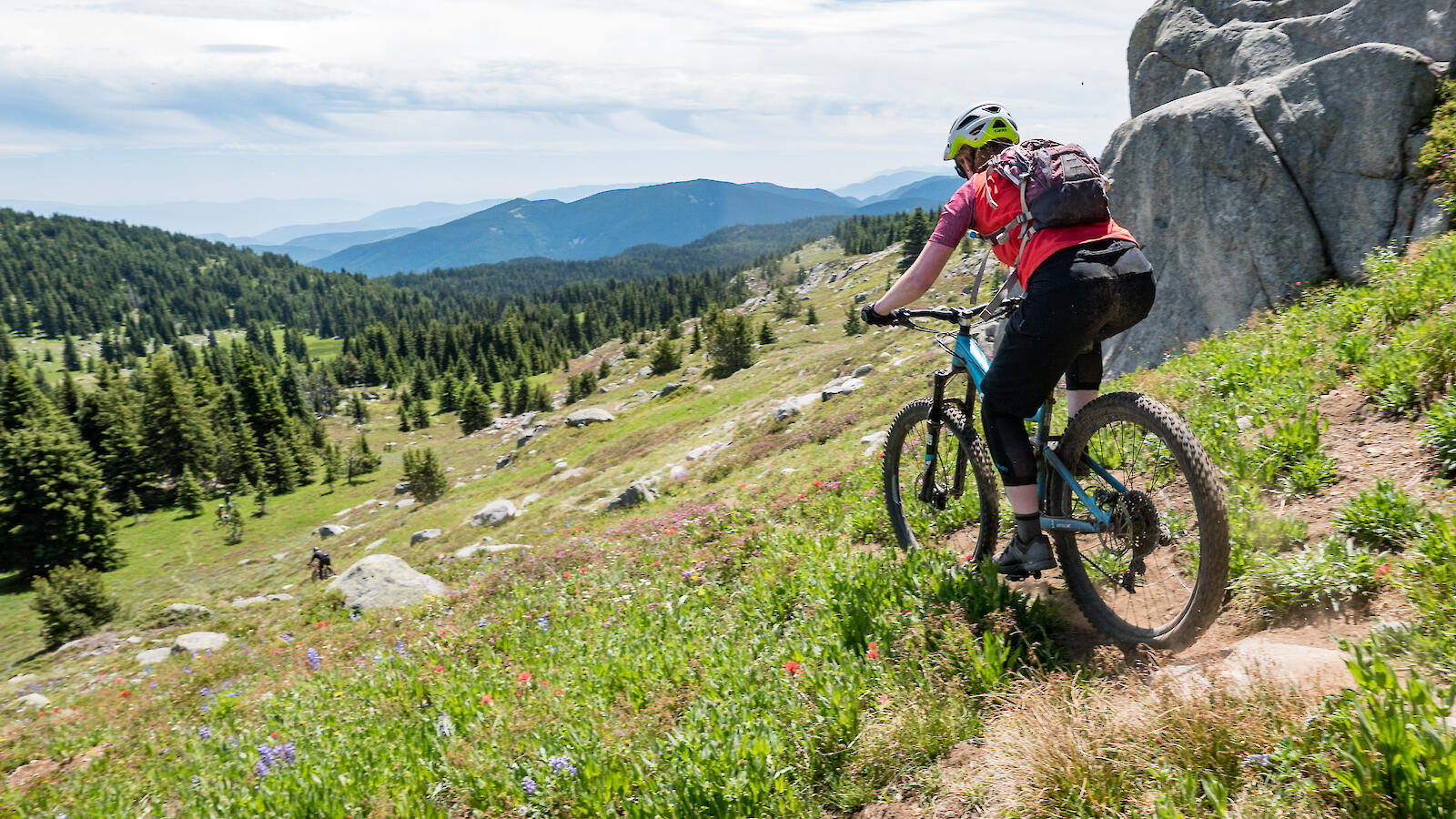 Skaha Bluffs has one of the best trails for experts in the valley. Rock Oven is a technical loop that climbs up through the Provincial Park via a variety of trails and old roads. It starts easily enough but in the upper reaches it gets very steep, with lots of rock slab features to challenge advanced riders. The descent is very steep in places, with cliffs and large rock slabs. The views are absolutely stunning. This area was burnt by wildfire in 2020, and is currently restricted for access in the summer of 2021 to allow for this sensitive ecological zone to regenerate. It should reopen in late 2021. Check with BC Parks for the status before heading up.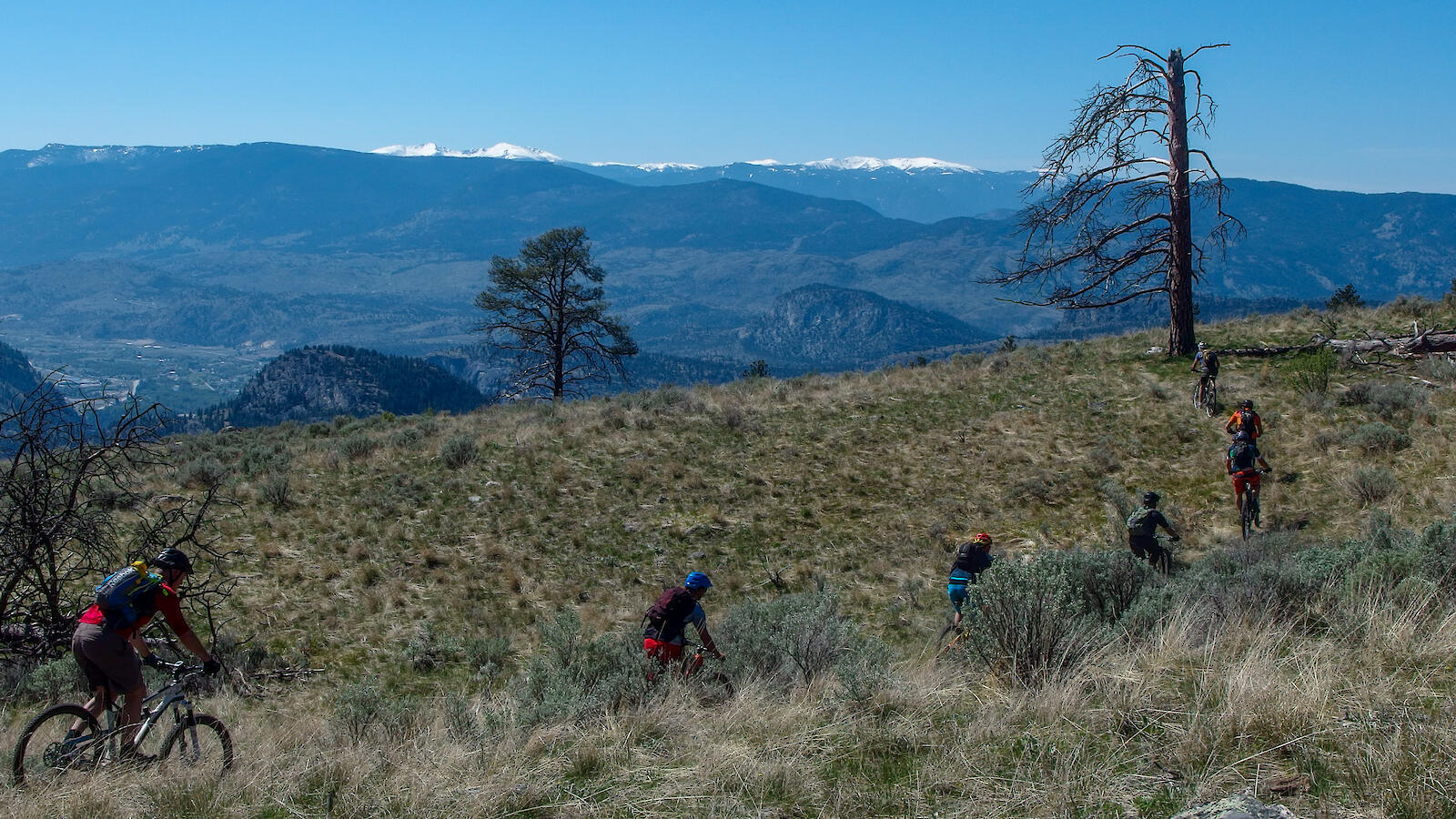 Expert riders can be counted on to have healthy appetites and a big thirst. Head over to Neighborhood Brewing to satisfy both urges with some craft brews and some excellent tapas fare.
---
For visitor information on Penticton and the South Okanagan checkout Visit Penticton. Please support the great work that the Penticton Area Cycling Association does to maintain the local trails by purchasing a membership or by making a donation.