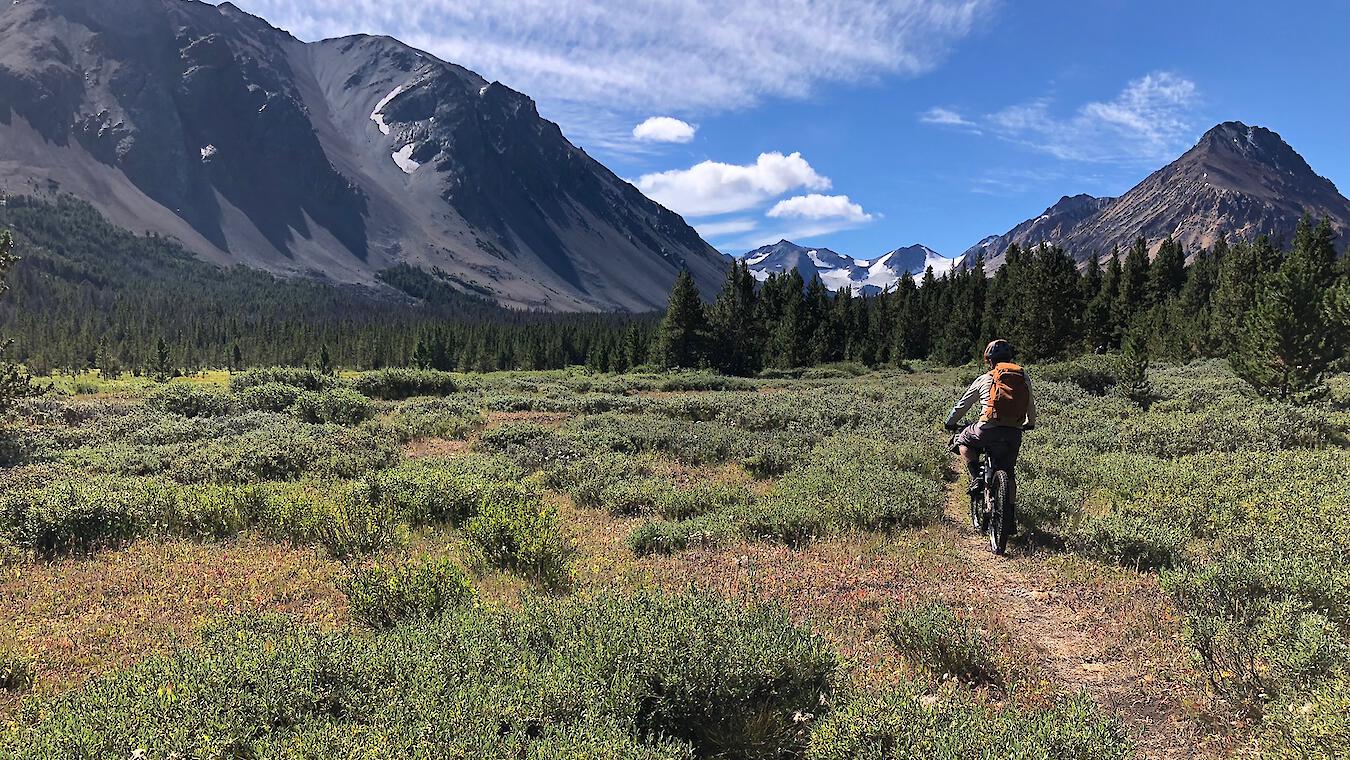 Nature Connection through Conservation in the South Chilcotin Mountains
A Spectacular 7-day Hut-to-hut Bike Trip in the South Chilcotin Mountains
Located within the Chilcotin Ark, the South Chilcotin Mountains have some of the wildest and most rugged terrain. Nine months a year the mountain passes are covered in metres of snow, only July, August, and September allow access to this hidden treasure and untamed wilderness. During our mountain bike trip through the South Chilcotin Mountains, we got immersed in this wilderness as we rode our mountain bikes through the colourful alpine meadows and smelled the different flowers. We rode through the valley forests and had to push our mountain bikes up to the steep mountain passes, where we could enjoy the sun on our face. We drank pure mountain water from the little creeks and picked wild strawberries and blueberries along the way. We also had the opportunity to view wildlife in their natural habitat, from grizzly bears to mountain goats. A mountain bike trip through the South Chilcotin Mountains just facilitates a whole different level of nature connection. When we are connecting with nature on this level, we do not want to impose ourselves on nature. Instead, we want to be part of this unique place, respect it and look after it.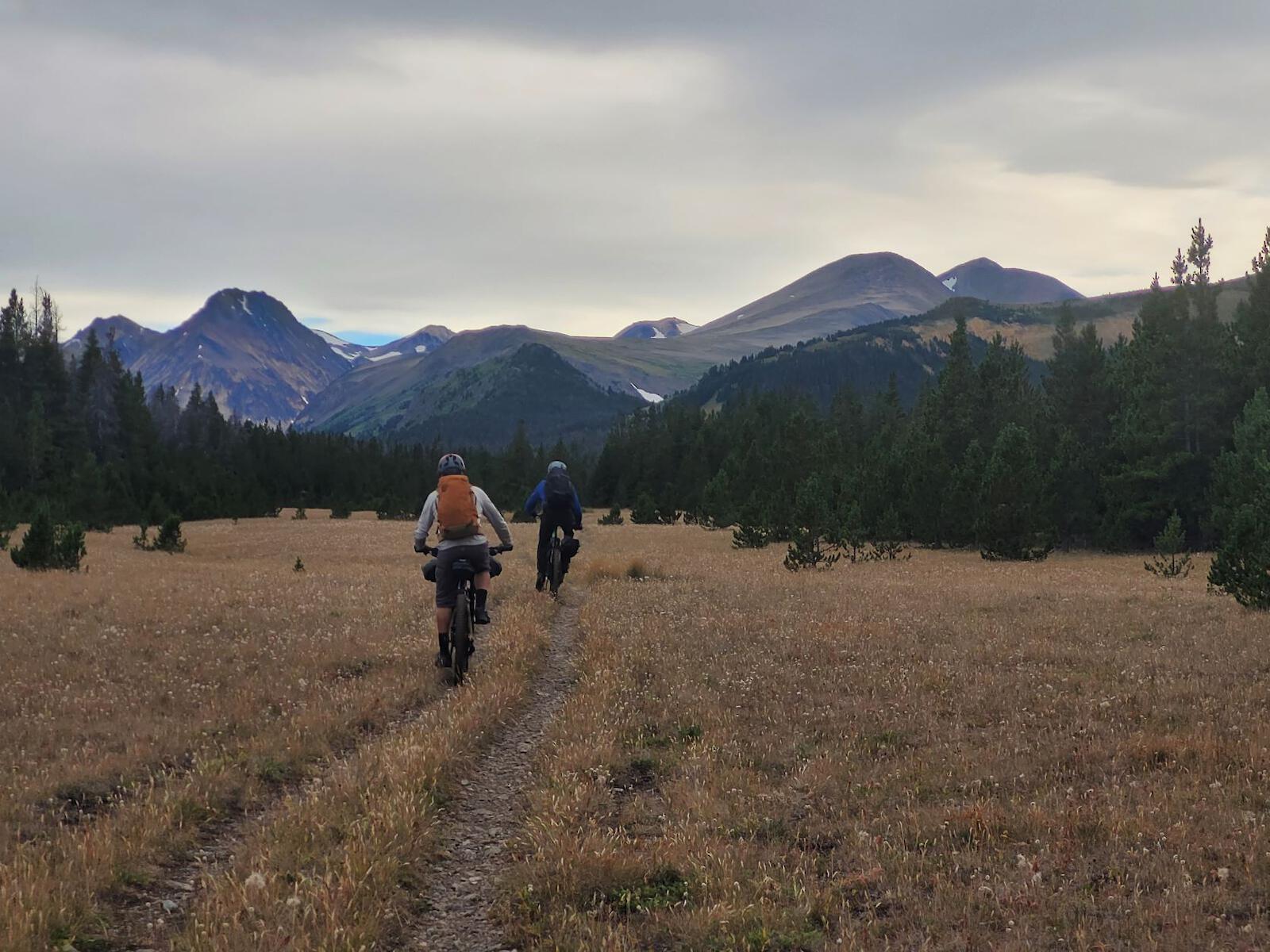 Riding our mountain bikes through the alpine meadows of the Chilcotin Mountains.
When looking at the options on how to access the Chilcotin backcountry without leaving a negative impact on nature and wildlife, we came across the 7-day Hut-to-hut backcountry mountain bike circuit offered by Chilcotin Holidays. This self-guided hut-to-hut mountain biking trip is the perfect opportunity for a true nature connection and an environmentally sustainable alternative to accessing the backcountry by helicopter or float plane. We were able to explore the Chilcotin backcountry under our own power while we were riding through the Relay, Big Creek, Upper Tyaughton and past Trigger, Lorna, Hummingbird, and Spruce Lake and Eldorado areas. Every night we stayed in one of Chilcotin Holidays' rustic, fully stocked satellite research huts. They provide the most important things such as a cabin and wall tents to sleep in, cooking facilities, and a sleeping pad. Being able to use the huts allowed us to pack light. Overall, we found that travelling light with a few clothes, fresh food, and a sleeping bag was very manageable. As we were riding through Grizzly bear country, we also did not have to worry about where to hang up our food and could enjoy the safety of the cabins overnight.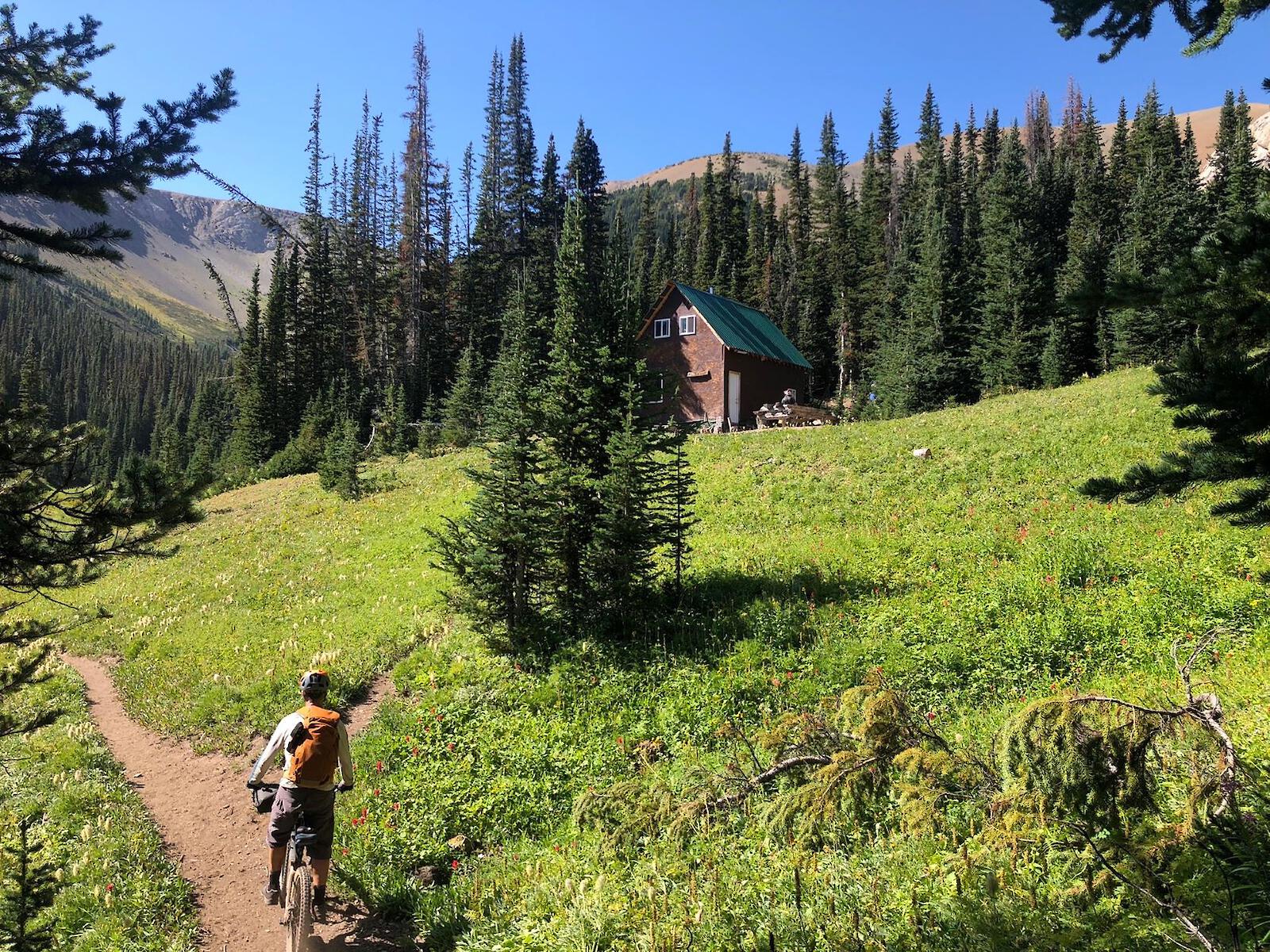 Arriving at one of the rustic satellite research huts which provided a safe place to sleep and allowed us to pack light.
What was truly amazing on our mountain bike trip, was the way we were empowered to look after the Chilcotin Mountains, an ecologically important place. We learned that Chilcotin Holidays collaborates with the Chilcotin Ark Institute on conservation and stewardship projects in the Chilcotin Ark. Before our mountain bike trip started, we were educated on the area, its history, flora and fauna as well as ongoing conservation projects and how they relate to the bigger picture of protecting this ecologically important place. Next, we were provided with their current research tools and information on how to use them during our mountain bike trip.
The connection with nature on a mountain bike is different than on foot. It is faster and the immediate things around you are more intense: The roots and rocks on the trail, the smells, the next turn, and the possibility of a grizzly bear encounter after that turn! We had to push our mountain bikes up the steep mountain passes of Relay, Lorna, Deer, Windy, and Camel Pass which we could ride down after. But we made sure to not go too fast as nothing surprises a grizzly bear or other wildlife more than a fast mountain biker. We would pause along the way to get immersed in the wilderness by taking the time to appreciate the colours of the soil, the wind blowing a cool breeze, and the quietness and peace of the untouched wilderness. We would scout for wildlife and learn about the plants along the trail. It is important to stay on the trail to protect the wildflowers and vegetation in the alpine. Every night at camp we would fill in the forms about where we saw wildlife and how it behaved or what kind of plants we saw and collected grizzly bear hair from trees for DNA analysis. When we returned to Chilcotin Holidays' Guest Ranch for our final night, we reviewed all the information and data we collected throughout our mountain bike trip. The data we collected is used to gain a better understanding of wildlife population numbers and habitat changes and provides the basis for implementing conservation projects. This incredible mountain bike trip provided us with the opportunity to participate in hands-on conservation projects and contribute to the protection of this ecologically important place.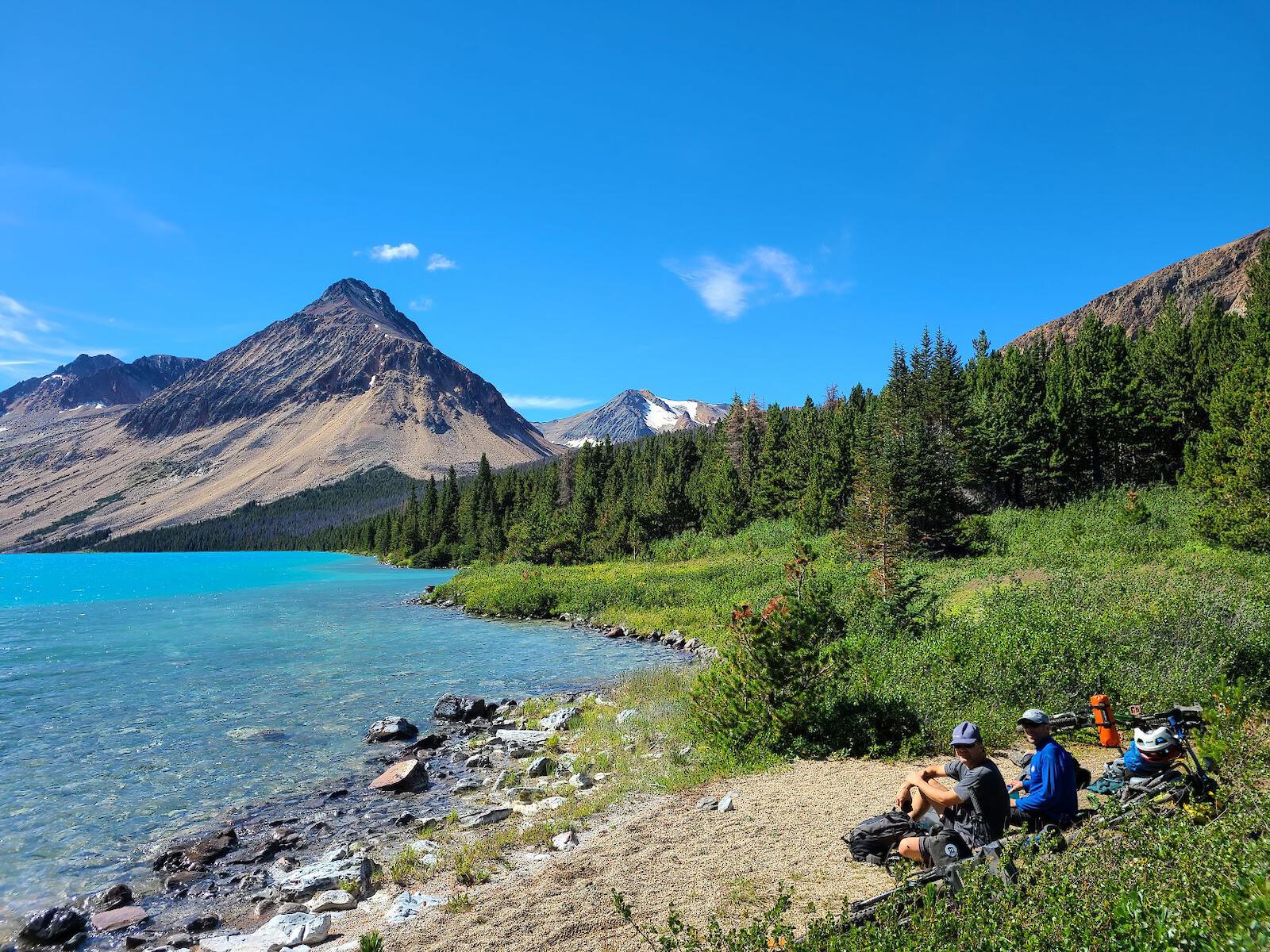 At Lorna Lake, we took a break to enjoy the rugged scenery and fresh mountain water.
Our trip ended with wonderful experiences, impressions, good feelings, and memories we will cherish forever. We do mountain bike trips like this every year, and this was the best one overall. Accessing the backcountry of the Chilcotin Mountains under our own power might have been challenging, but it was more rewarding than any other way. Not only was it a great opportunity for me to experience what I was capable of, but as a group, it was also a great bonding experience as it brought us closer and everyone was involved in making the trip a success. However, most importantly, we felt connected to nature and appreciative of it. We developed a better understanding of how our actions can impact the wilderness and were empowered to take responsibility for it. As the untouched wilderness of the Chilcotin Ark facilitated our adventures, we were able to reciprocate by looking after it and by participating in ongoing conservation projects that will help protect this area long into the future.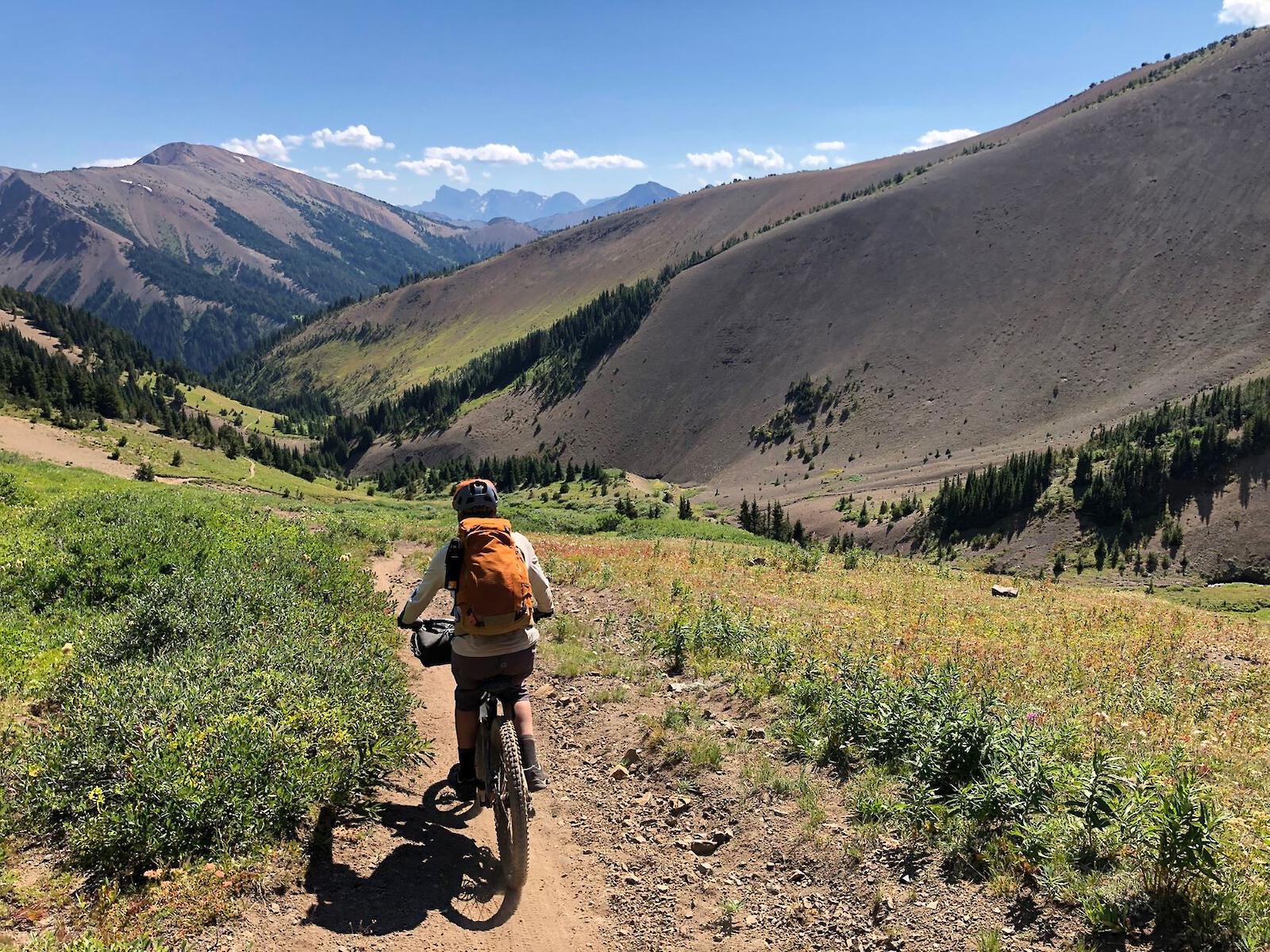 During our mountain bike trip, we were able to contribute to conservation projects that look after this untamed wilderness.