Accessing the Remote Reaches of BC's Chilcotin Singletrack
Words and Photos by Sam Egan
British Columbia's Chilcotin region is a wild pocket of mountains and forest, lakes and rivers, and some of the most remote single track in the province. Warner Lake was our trailhead destination, tucked into the South Chilcotin Mountains Provincial Park northwest of Gold Bridge, and a floatplane chartered through Tyax Adventures was our shuttle vehicle for the adventure ahead.
We arrived the night before our flight, just as the sun was setting behind the rolling hills of Tyaughton Lake, and snagged a few spots at the closest of the many Recreation Site camping areas en route to Tyax Lodge. With a 7:30 am flight the following morning promising at least 50km of backcountry terrain to cover, we retreated to our tents early after briefly reviewing route options and gear choices for the following day.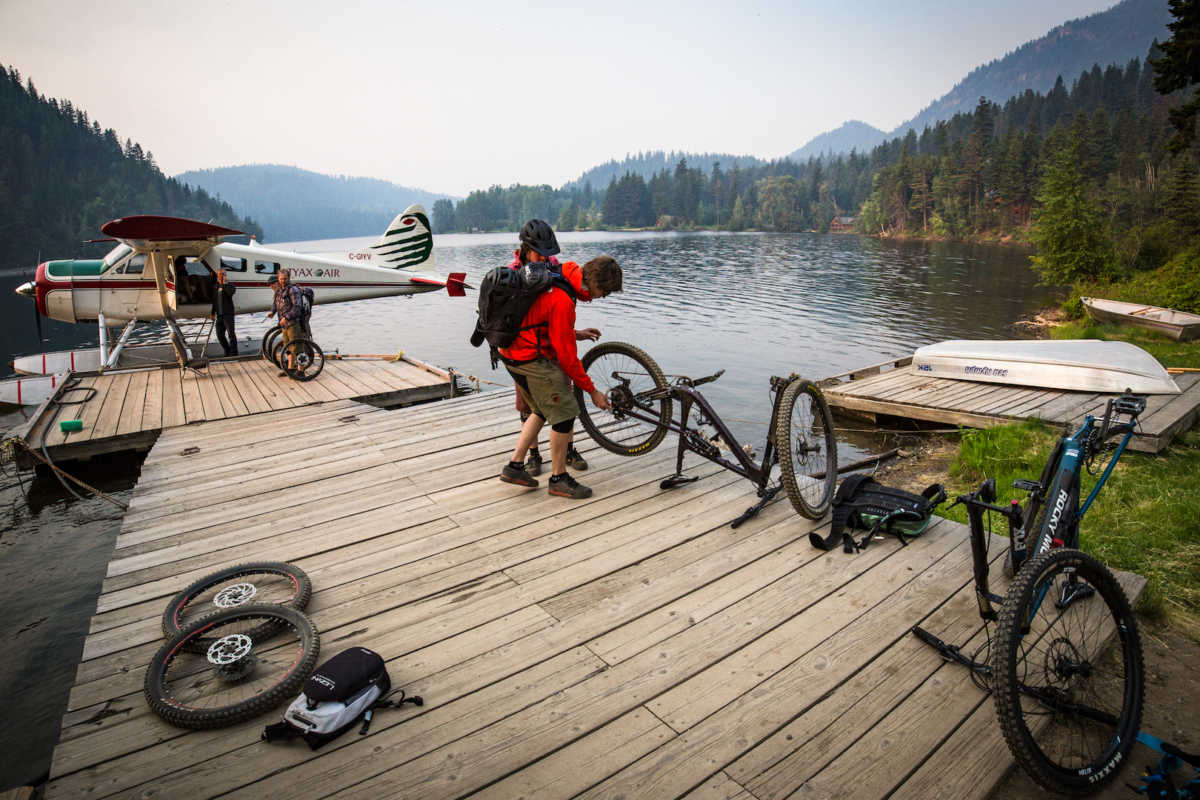 Catching the first flight of the day proved a bit awkward, with the lodge still sleeping there was no one to consult on protocol until we were already late for our ascent. Scrambling to disassemble wheels from frames and pack everything into the little plane, camera bags and phones were mostly locked out-of-reach in the scramble to get going. There wouldn't be much of a view until we reached the alpine anyways, as shifting overnight winds had blown in smoke from forest fires elsewhere in the province.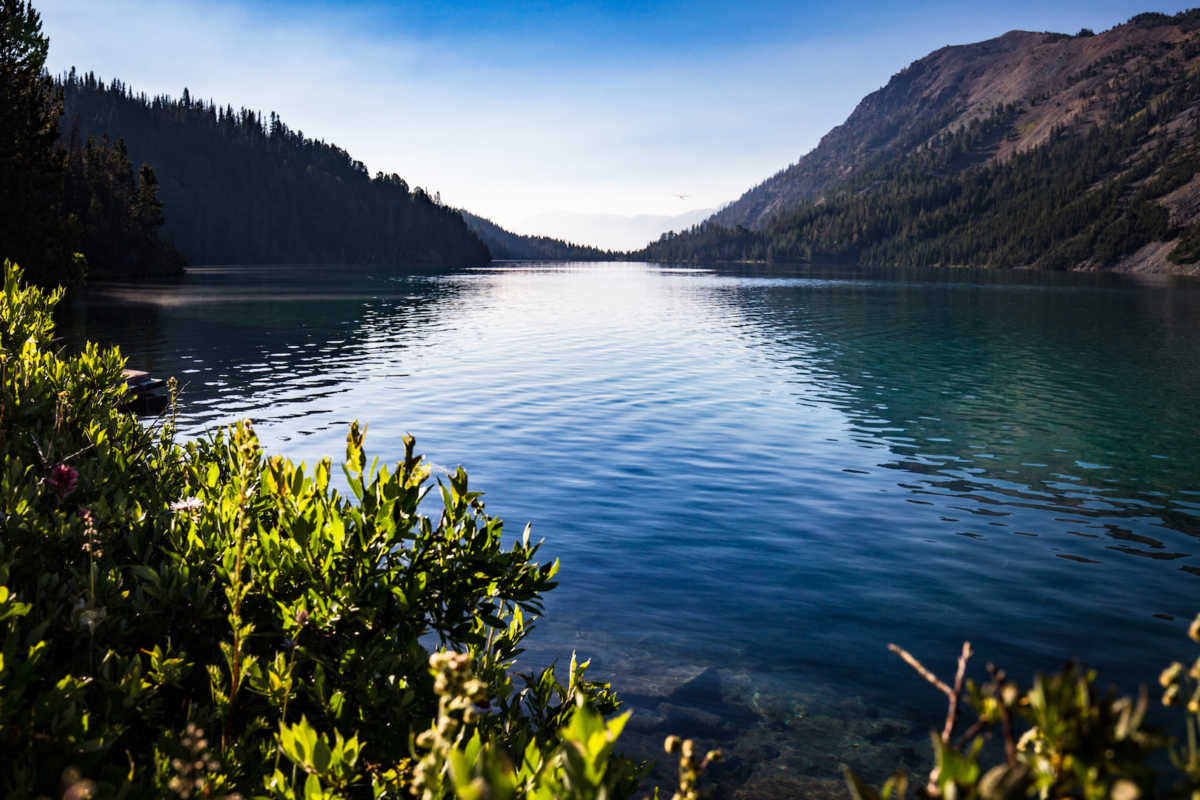 After leaving the smoke behind in the valley below and double-checking ten wheels, five bikes and five packs were on the lakeshore, our pilot bid us farewell and expertly sailed into the horizon. One member of our party had completed the ride about five years previous and quickly pointed us towards Warner Pass trail that parallels the lake just above the floatplane dock.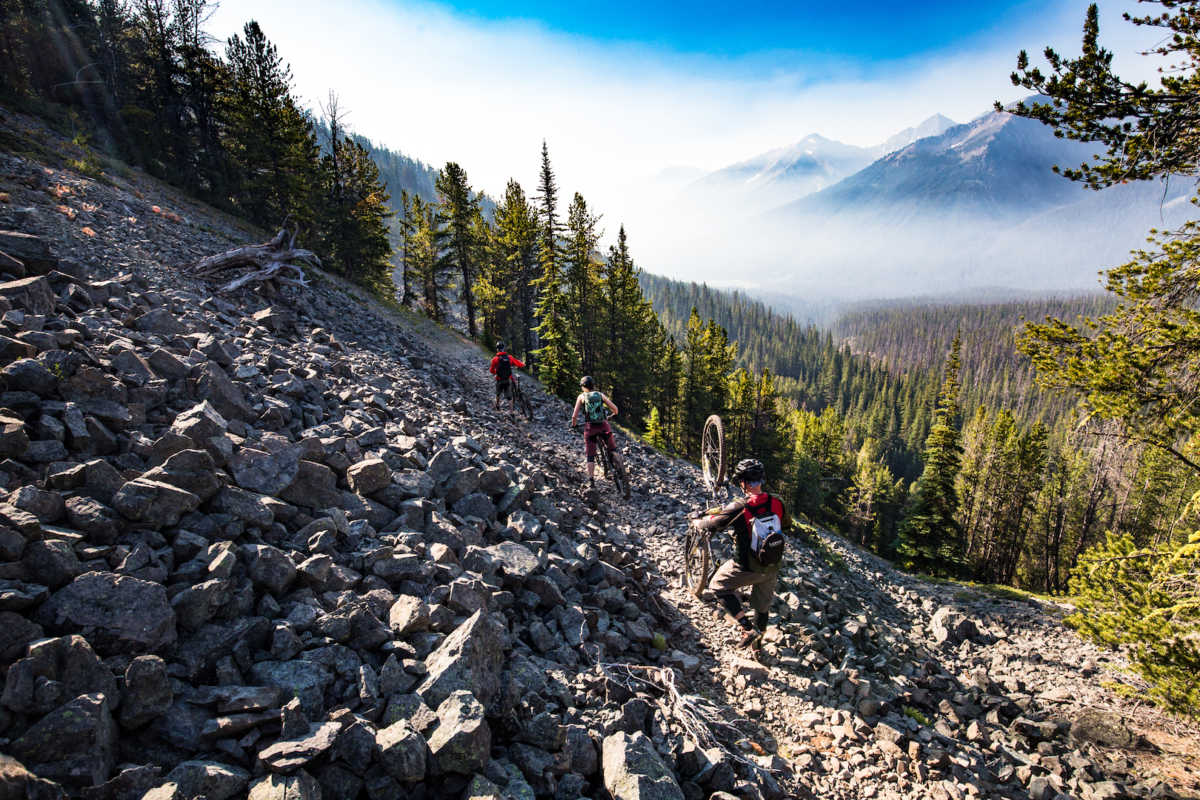 The first stretch of trail, between Warner Lake and Trigger Lake, offered up some stellar mountain vista views and some of the most technical stretches of singletrack on the entire route. Fording creek after creek, and traversing scree slopes and boulder fields, we experienced a couple of early low-speed wipeouts that emphasized the remoteness of the area and got us focused on the trail.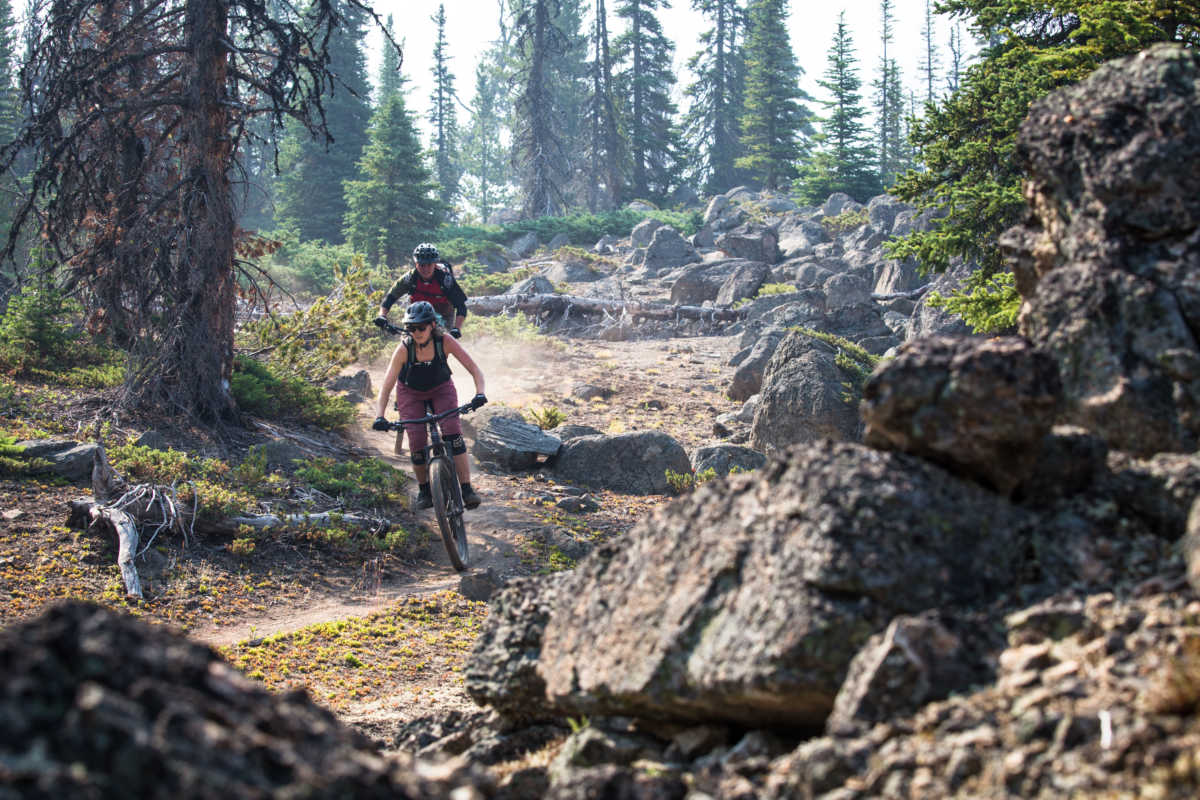 Descending a couple hundred metres from our drop at Warner Lake, the route relented with a little flow when it became Mid Gun Creek trail from the junction with Deer Pass trail, and we found the smoke from the surrounding forest fires right where we'd left it. Hanging a quick right off the main trail, at a homemade signpost, we stumbled across Tyax Adventures' Trigger Lake Camp.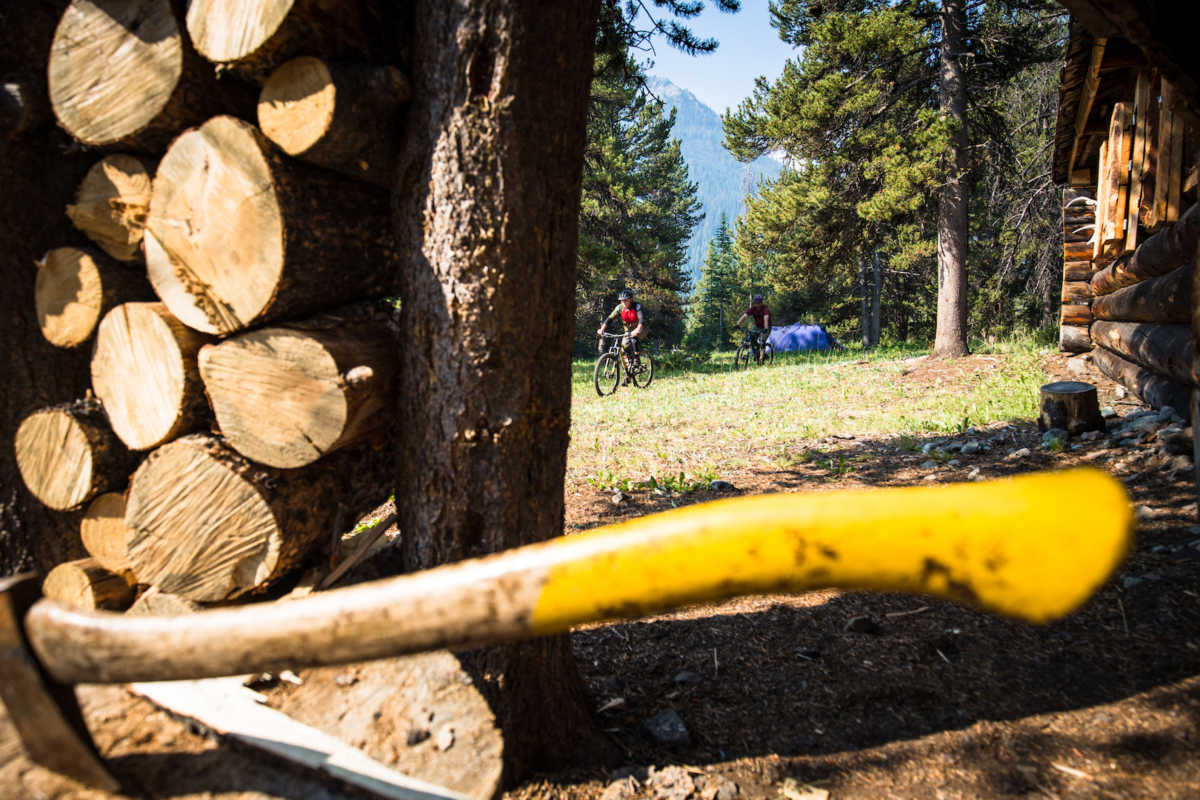 The camp chef was expecting a large group of trail runners, who were attempting a route much more noteworthy than our own, for lunch, and sat us down with a heaping pot of coffee and a few words of wisdom for the road ahead, while she chopped veggies. Complete with evaporated milk, this brew topped even the richest French Press just then.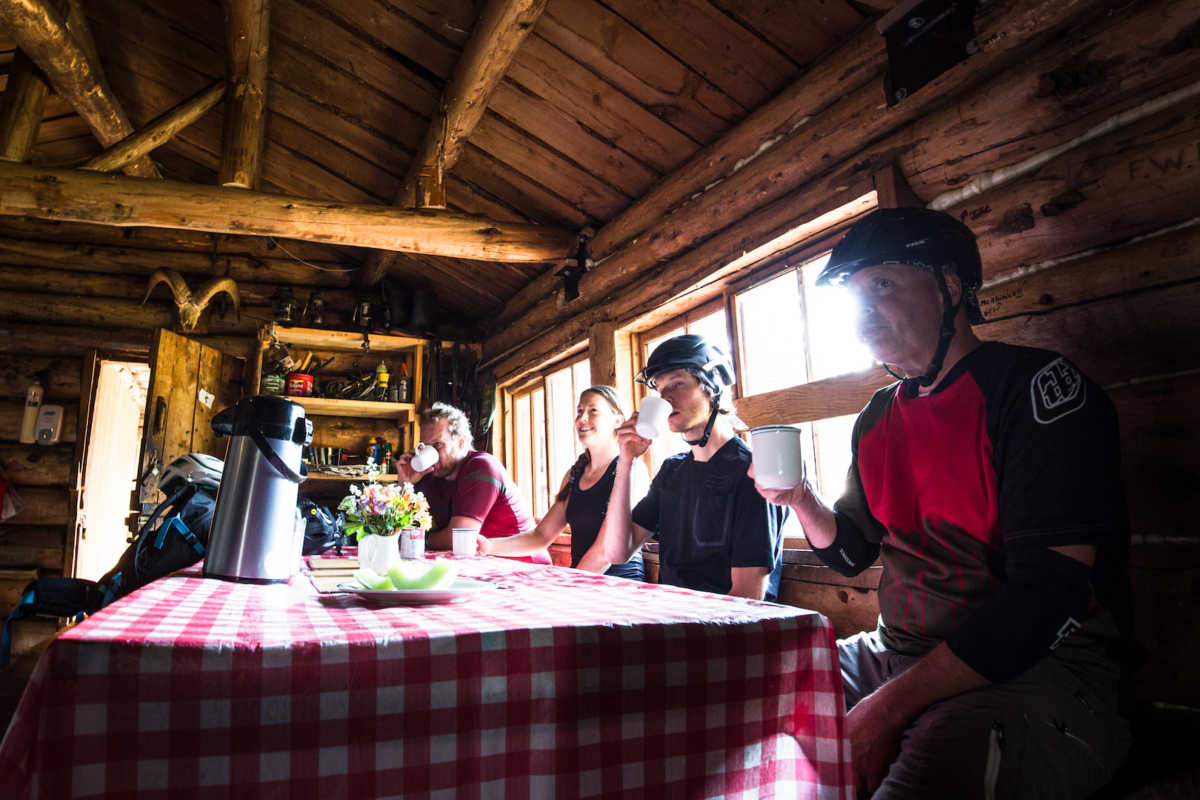 After some much needed R&R to recoup from a rocky start to the morning, we left the camp feeling refreshed and joined back up to Mid Gun Creek trail, side-hilling through open valleys high above the rushing waterway below.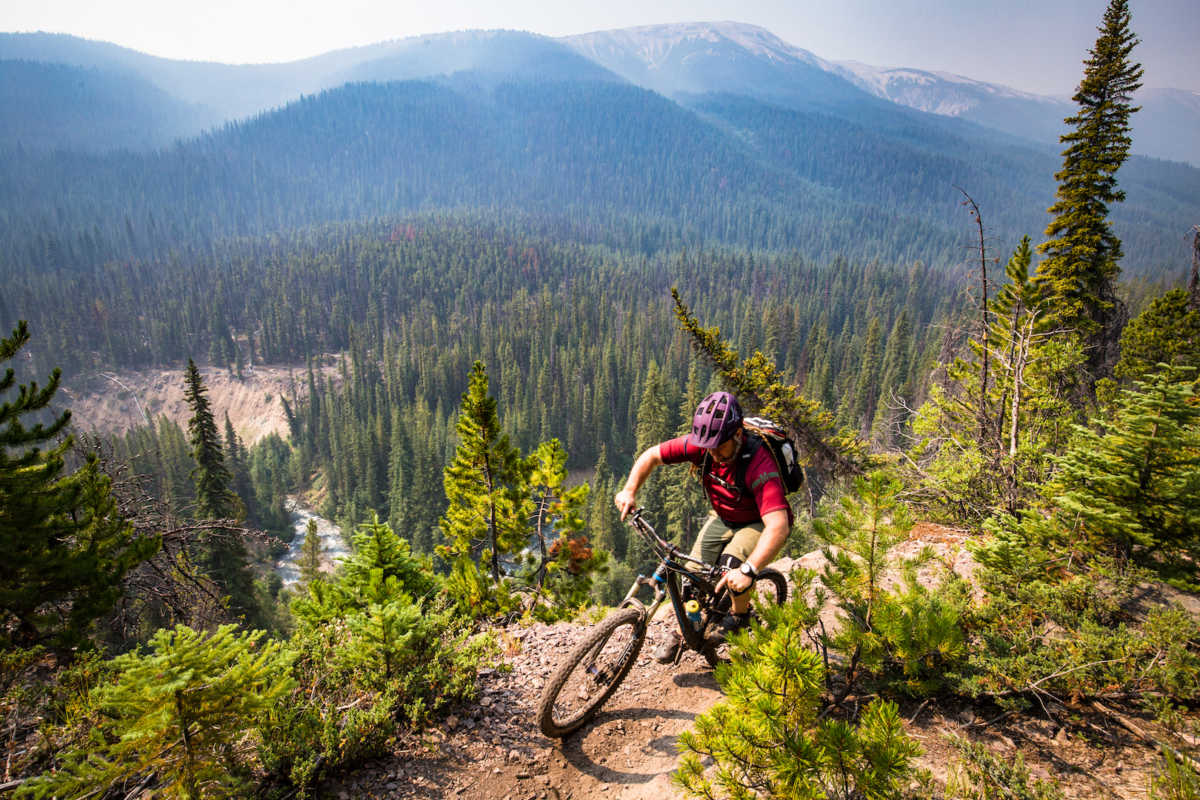 Fast and fun stretches of flowing singletrack were approached with due caution; with loose corners, exposed ridges, and streams of varying depths jumping from the bushes to surprise the over-confident rider. We didn't see any signs of bear activity on the trails during our trip but this seemed like prime Grizzly habitat. Rather than running into bears, however, we discovered something much more peculiar when arriving at Hummingbird Lake.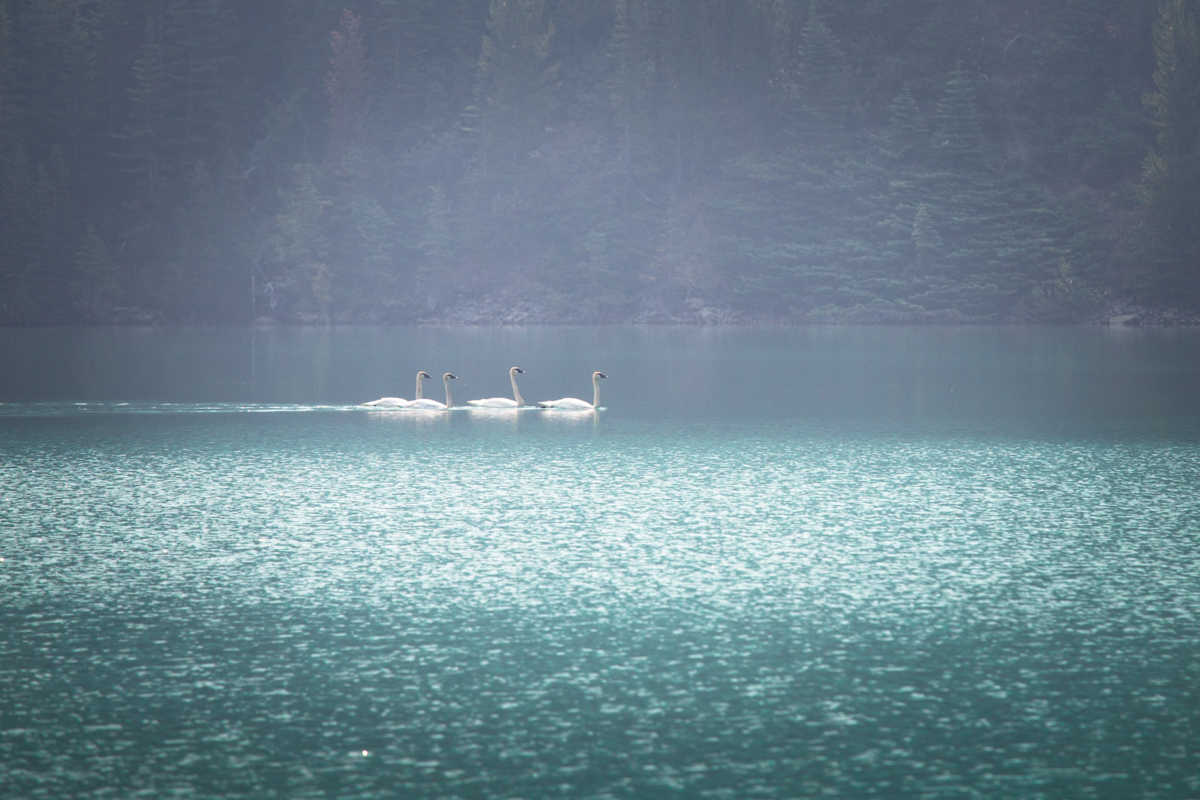 Four giant swans welcomed us to their lair, approaching through the thickening smoke on the water. After snacking and snapping away at these strange beasts, we discovered the stream crossings were becoming rideable as the muddy depths gave way to smooth stones and clear water, then climbed back up out of the valley.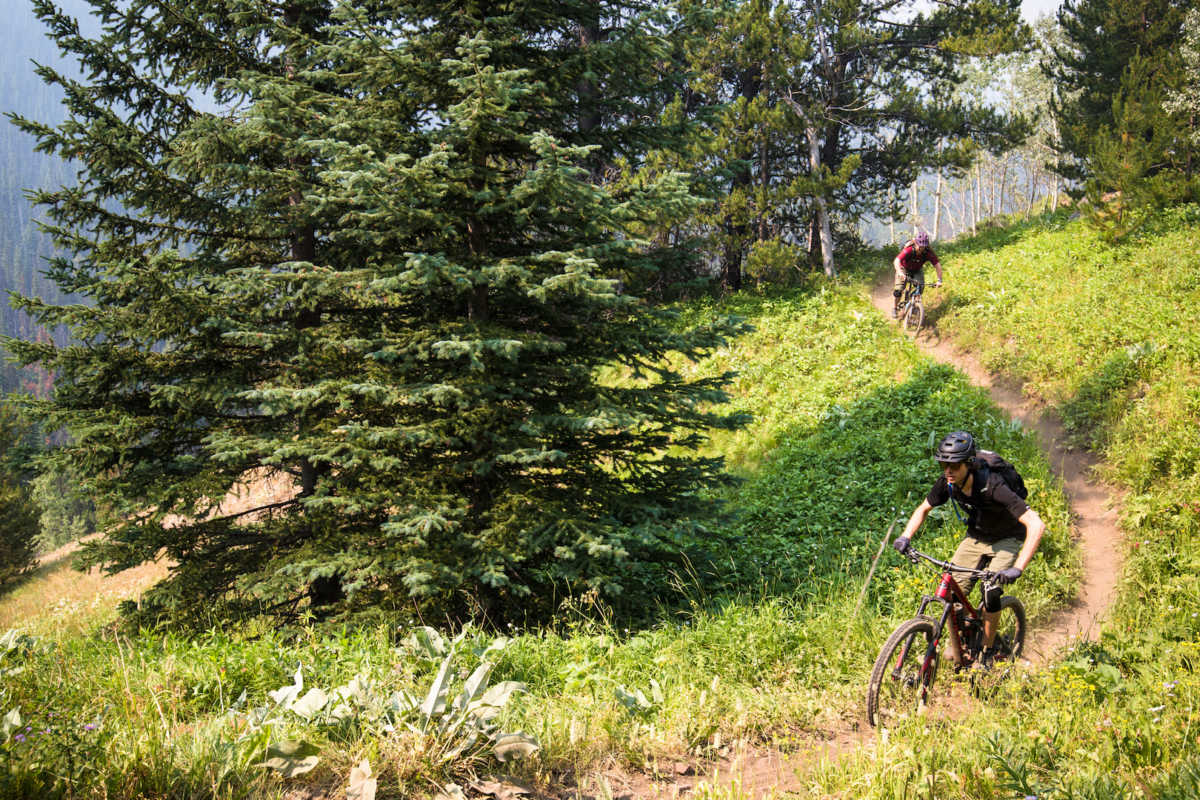 Arriving at the junction of Lower Grassland trail we stopped for a snack and to review our options for the rest of the day. Spruce Lake is a relatively quick detour offering, in addition to a lake, a loop of singletrack surrounding the body of water. The larger decision, however, was whether we would tackle the infamous High Trail over Windy Pass. A large addition to the standard route, our backcountry barista from the Trigger Lake Camp estimated an extra 2-3 hours of climbing; two extra passes to travel.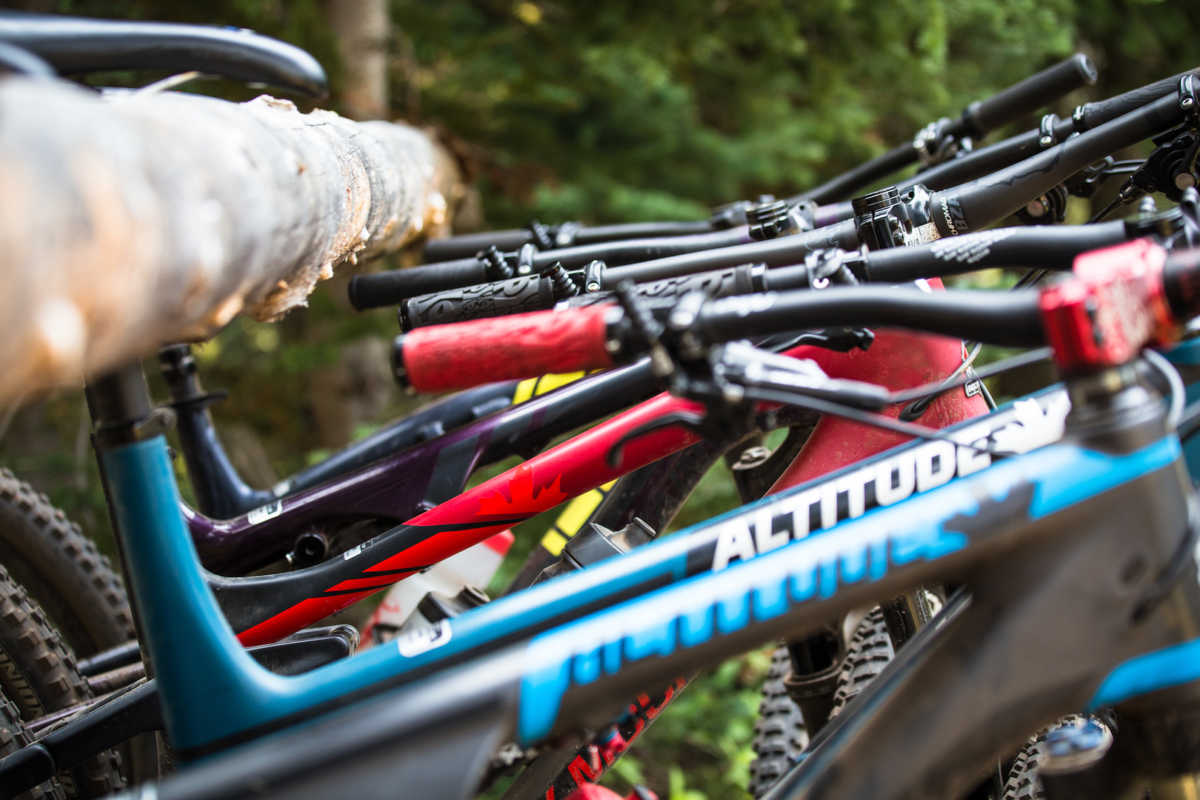 Taking stock of the time, our energy levels and food rations, we decided that attempting the High Trail would be foolhardy. Opting instead to visit Spruce Lake and cool off, we climbed the Lower Grasslands trail until getting a bit turned around, ending up on an unmarked trail and descending much lower than necessary below the lake.
After a long hike-a-bike under the beating sun, we leveled out and found some excellent intermediate singletrack around Spruce Lake Main, mustering as much energy as possible for the zigs and zags that eventually delivered us to the lakeshore.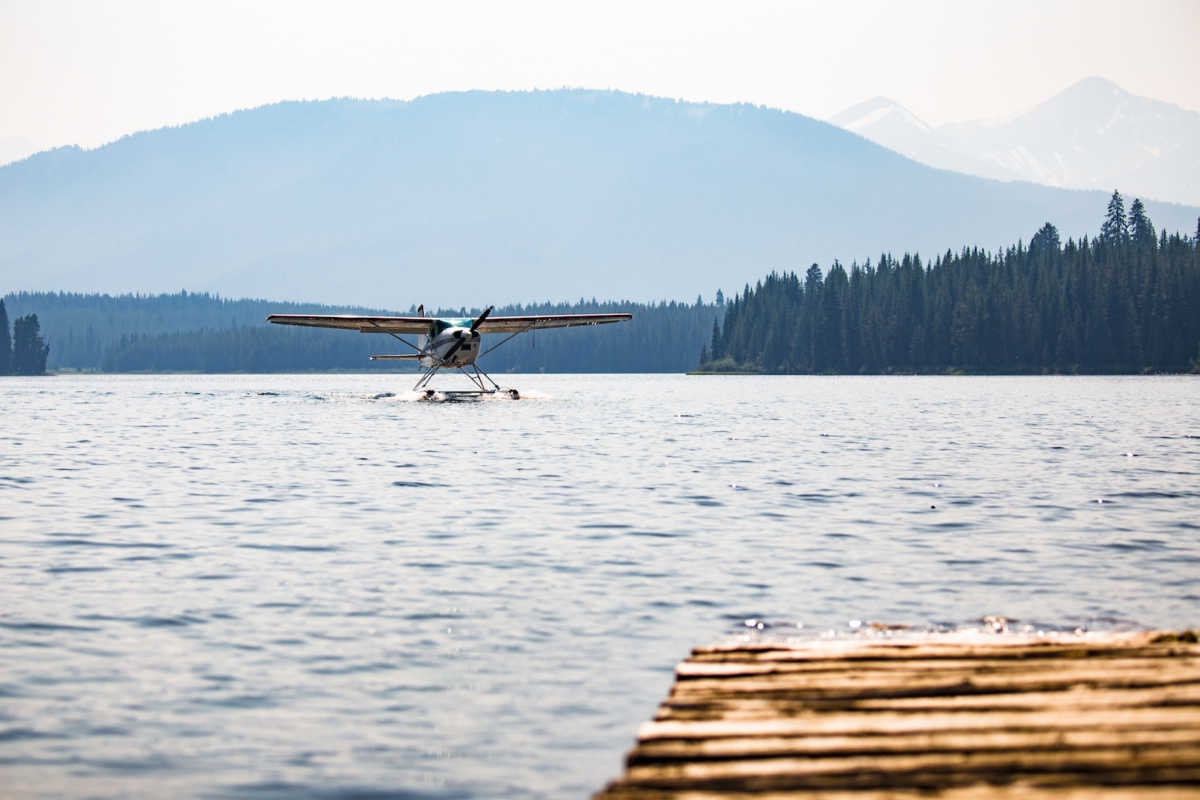 After a long soak off of the BC Parks dock we hit the dusty trail back to the junction with High Trail, and started our descent through Gun Meadows, to meet up with Lower Gun Creek trail.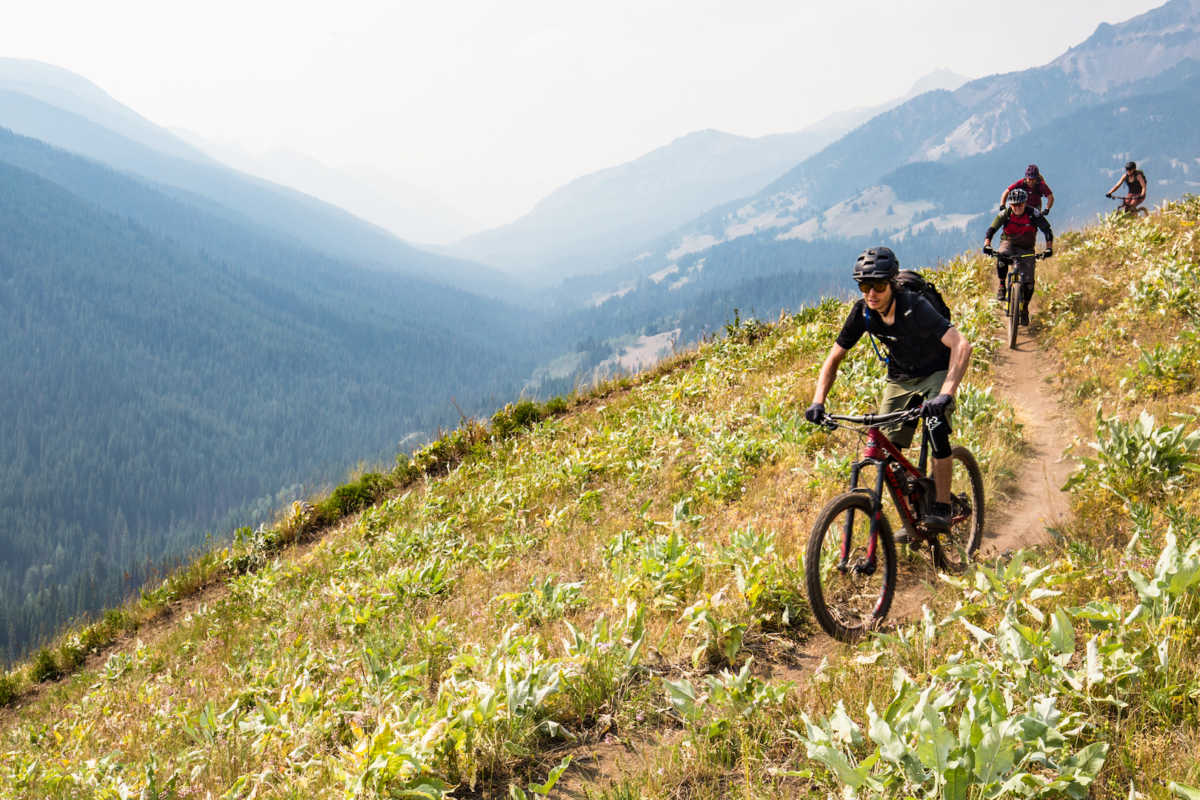 By the time we had completed our descent down to Gun Creek we were all running low on water, despite starting the day with about three litres each, and the cool, clear waters of the creek were soon being sloshed around with purification tablets in various bottles and bladders. By the time we'd used the majority of our energy reserves on the flowing singletrack of Lower Gun Creek trail and arrived at Gun Creek Road, we were all well into our treated water and second, or third applications of sunscreen.
Back at the junction with Tyaughton Lake Road we kicked our morning-selves for not leaving a shuttle vehicle behind, to escort us back up the long hill to where we'd started our day. Briefly trying our luck with hitchhiking, we quickly gave up after our efforts were thwarted by swarming mosquitos and very little traffic, and dragged our tired bodies the last stretch back to camp. A more glorious sight could not be imagined just then, where cold beers awaited along with a clear lake to wash off over 55km, and 12 hours of trail dirt.