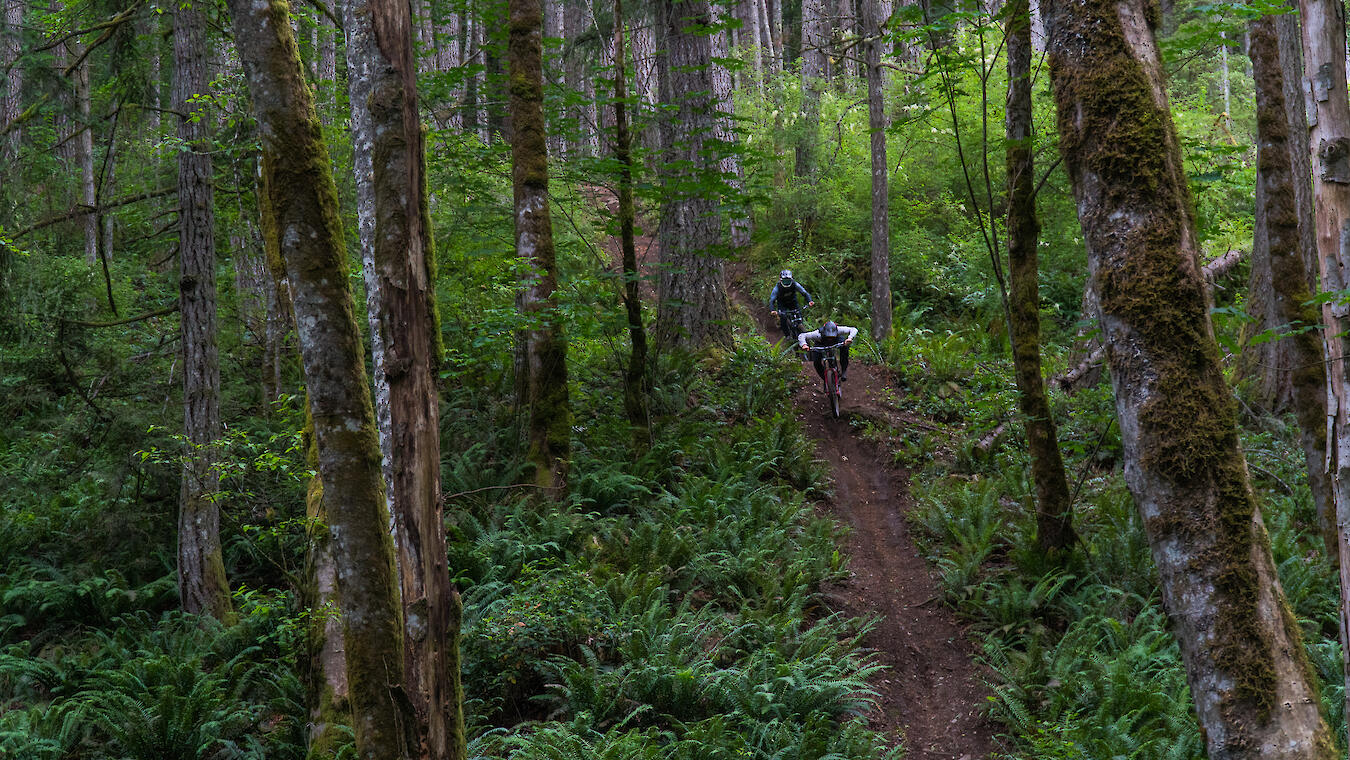 A Riding Adventure on Vancouver Island: An Enduro and Downhill Vacation
The Vancouver Island Ranges and Washington's Olympic Mountains create a rain shadow that shelters the southeast coast of the island from the most brutal of weather rolling in off the Pacific Ocean. The protected area stretching from Victoria to Bowser, enjoys a Mediterranean-style climate of long, mild and wet winters and dry summers. The history of the island is evident almost everywhere you visit as the communities nestled around the island do a great job paying homage to Indigenous peoples by continuing to practice environmentally conscious ways of living.

This temperate climate and appreciation of nature makes Vancouver Island one of the more beautiful places to visit in the province. Last summer, Mark and I were fortunate enough to travel to the island to create two separate, week-long trip itineraries for this burgeoning mountain bike mecca.

Although Vancouver Island is often overlooked by thrill seeking riders who naturally gravitate towards mountain biking's mecca, The Whistler Bike Park, the massive jumps of the Kamloops Bike Ranch or the slabs of Squamish, the island offers some of the highest quality downhill and aggressive trail riding in the entire province. It's no wonder this sparsely populated region has produced some of Canada's preeminent World Cup talents and is a regular training ground for up and coming riders looking to cut their teeth on the Circuit.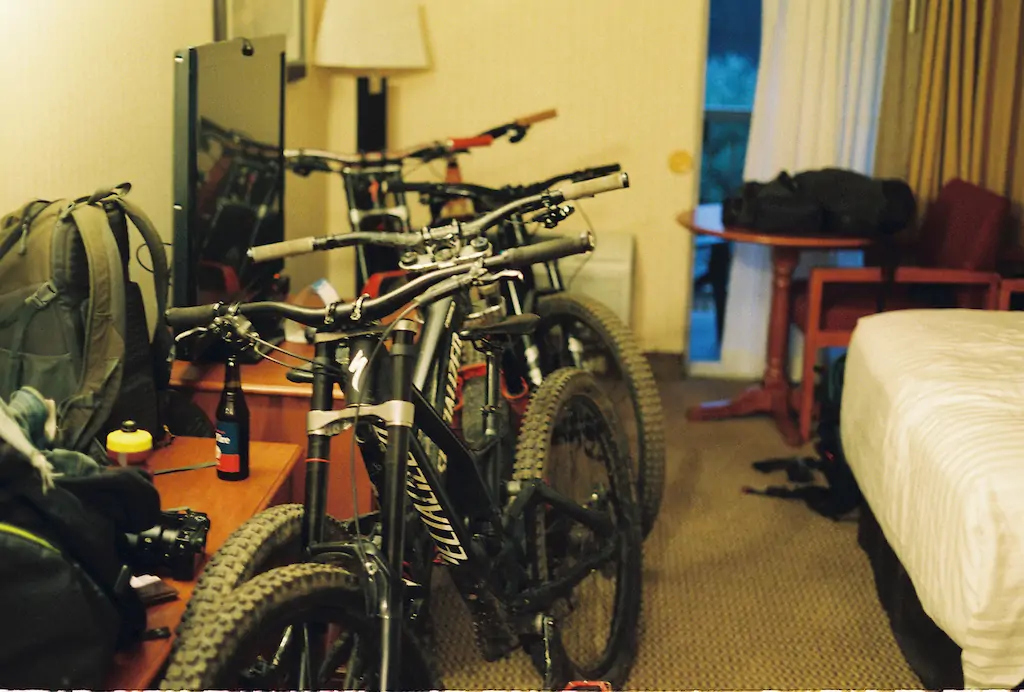 This, our first itinerary, has a gravity fed focus, and is for advanced to expert level riders. If you own a DH bike or a long travel trail bike and are looking to put it through its paces on Vancouver Island, look no further. Read our other itinerary for those of a more xc/trail penchant, who appreciate a good climb trail and are more concerned with finding a glorious vista than a sick drop.
Cowichan Valley
There are three main trail networks in the area surrounding Duncan, two of which, Tzouhalem and Prevost are must ride destinations for those looking for downhill or aggressive trail riding.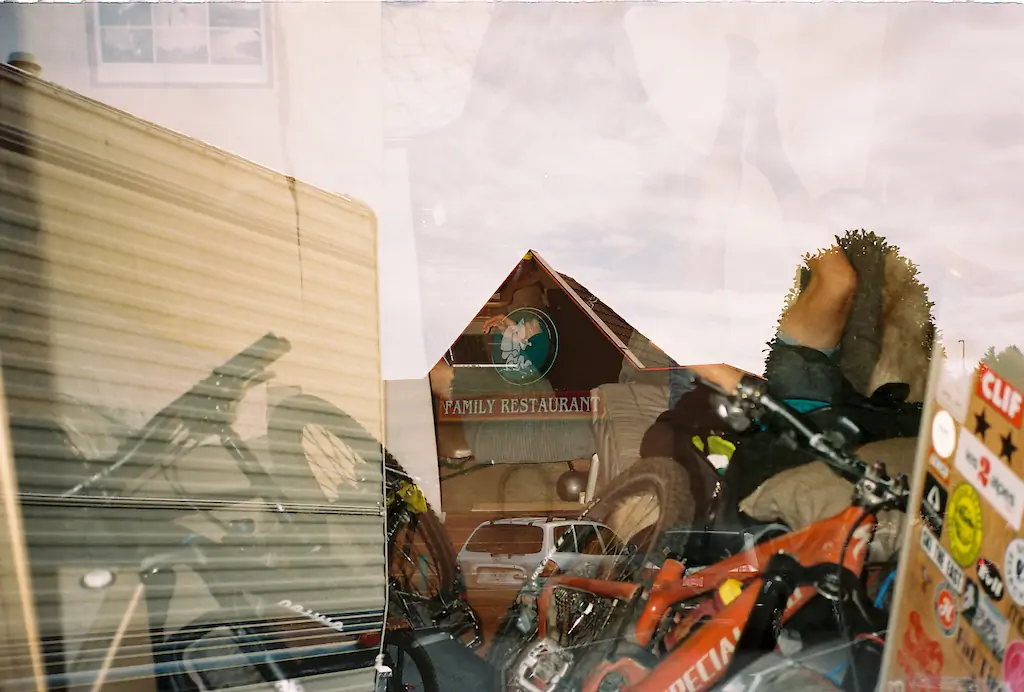 The early morning wake-up is worth it in our opinion because it gives you a full day to ride, but first, breakfast. The Doghouse Restaurant has always caught our eye, and it wasn't until this trip that we stopped in and were pleasantly surprised with the findings. A hearty, sit-down breakfast that will keep you rolling all day. Best be sure to finish with the breakfast pie as you'll need the extra calories!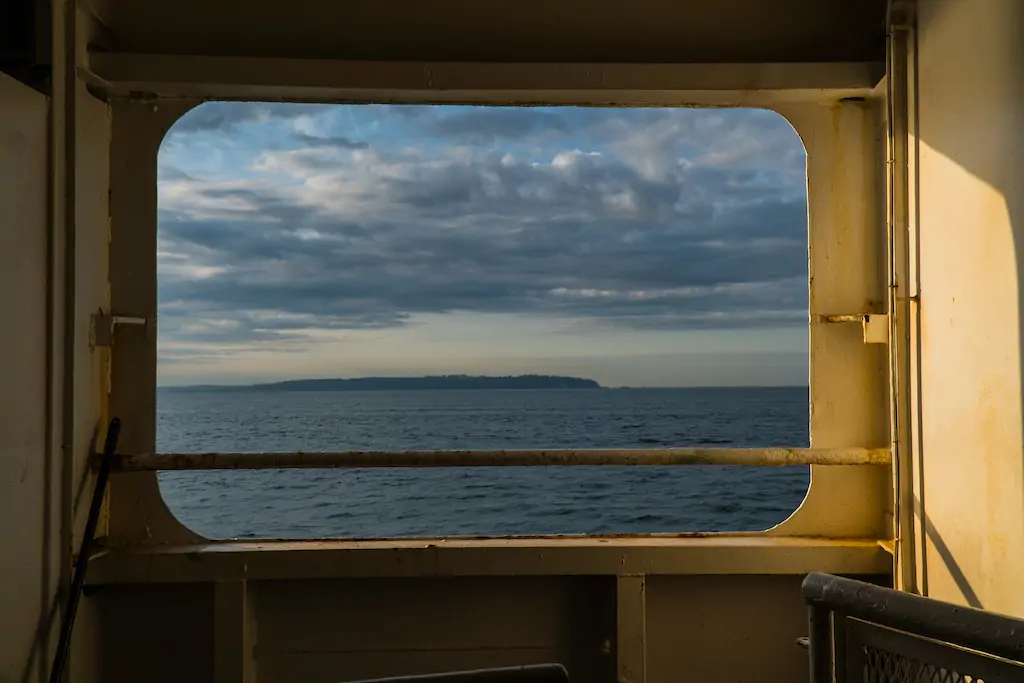 From the Doghouse, it's a short drive to the Tzouhalem trails parking lot. They have expanded the lot recently to accommodate increased traffic, it's quiet in the mornings, but don't be fooled, once the 9-5 crowd are off work, you'll be lucky to find a spot.
Tzouhalem is great because the climb to the top via the road is short and sweet, allowing you to really pump out the laps. We would recommend starting with the classic Double D, which received a facelift in the fall of 2020 thanks to the CTSS and their Youth Trail Builder Program. Other noteworthy trails are Loam Line, Bisecticon and Toxic Tea Cup.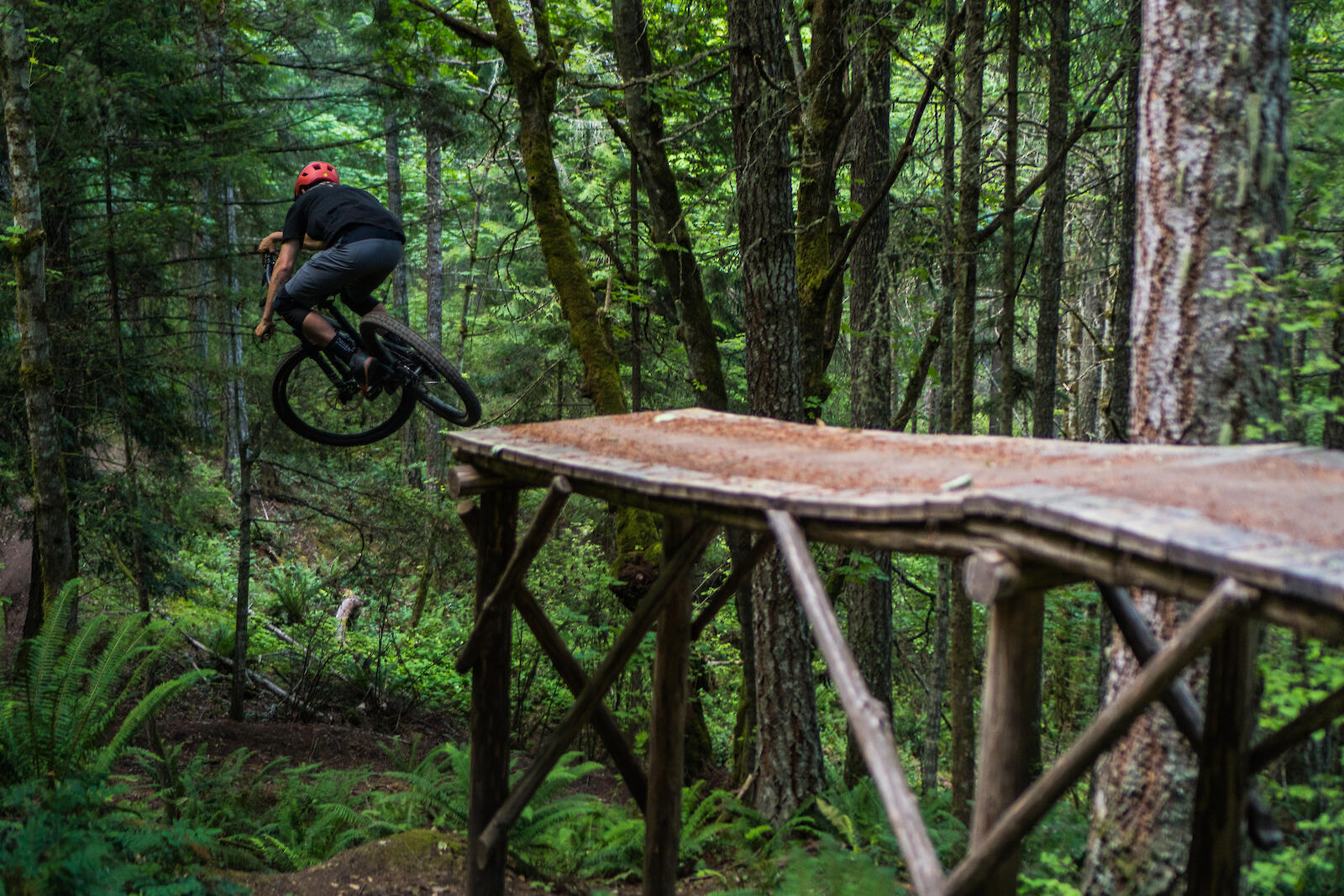 The parking lot at Tzouhalem is equipped with a bike wash, which we've been frequent users of, and may or may not have used to shower in years past.
Duncan has surprisingly great dining options for a town of its size, easily showing up other notable riding destinations around the province. There are ample dinner options in town, so pick your poison. We would suggest either Craig Street Brew Pub or Hattie's Farm to Table, both are solid options that won't leave you hungry after a day of riding.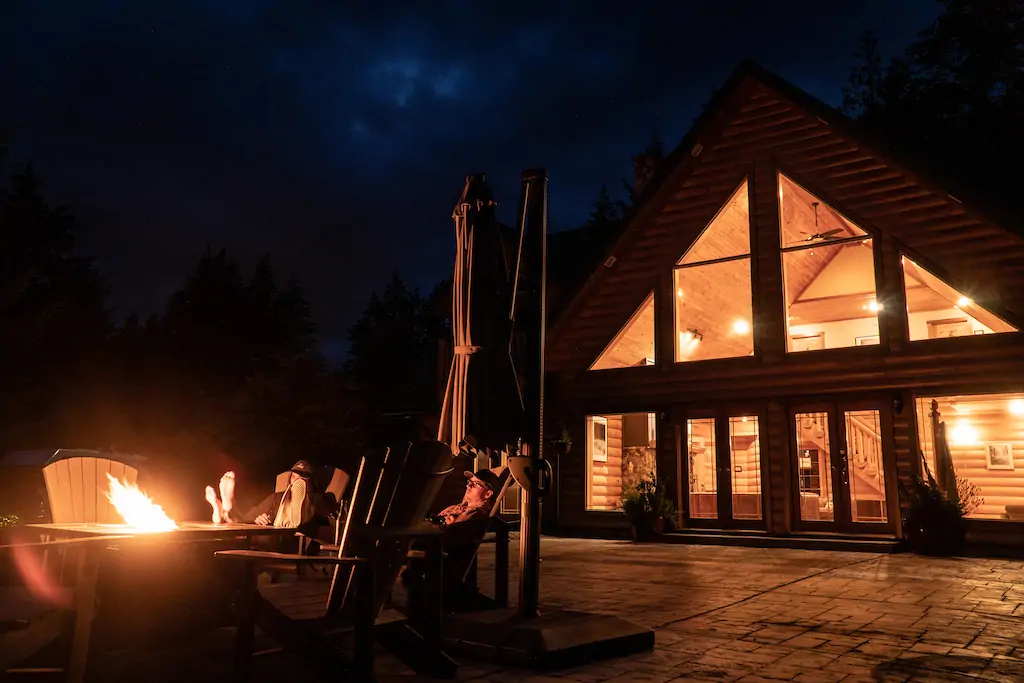 Going on a trip funded by tourism associations has its perks, great accommodation being one of them. On this island tour, we were very fortunate to experience the Cowichan River Lodge, a gorgeous log cabin and fisherman's paradise situated right on the Cowichan River. John, the owner, is passionate about the region and has a detailed knowledge of the area's history and a strong vision for its future. He really piqued our attention when the discussion turned to trails. Pointing out from the lodge's back patio, across the river to a large hillside with meandering forest service roads, John mentioned that the land is owned by Mosaic Forest Management.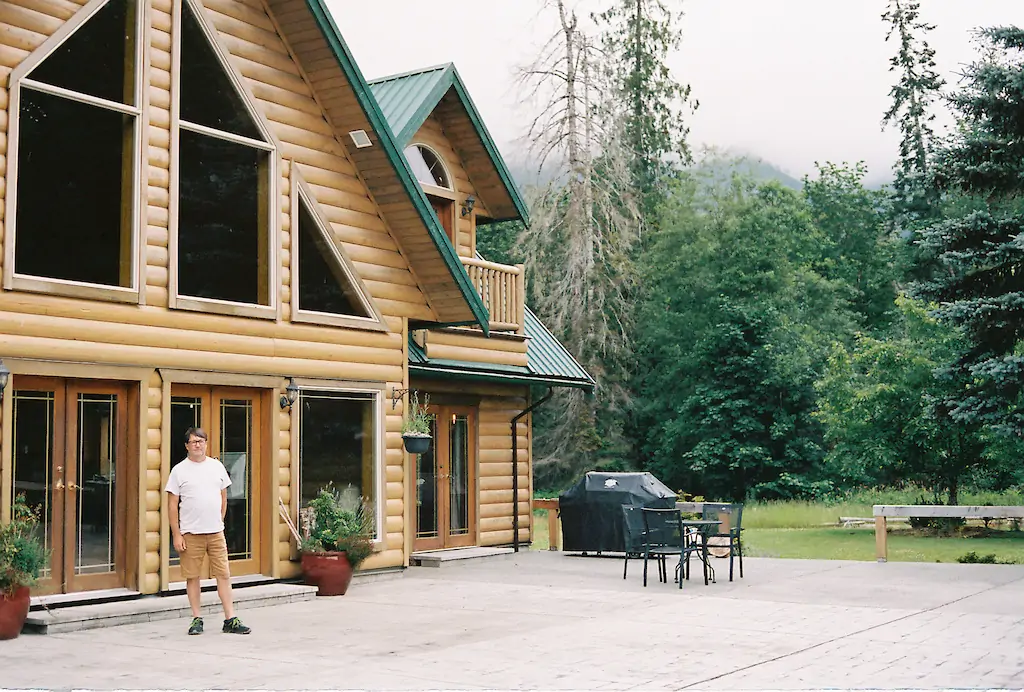 Mosaic is the same forest manager responsible for the majority of land around Cumberland, and have been receptive to working with the town's trail association to build and develop a prolific riding network on their property. It is believed that the Lake Cowichan trail association is in the process of developing a land-use agreement with Mosaic for this very hillside, which could mean a bright future for mountain biking in the area.
After a night of dreaming about future trails, we were up early to smash a delicious homemade breakfast and hit the road, bound for a day of shuttles on Prevost.
You might want to make a stop for beers and food in Lake Cowichan before heading up Prevost, it's a 20-minute drive into town to get any supplies you might need throughout the day, so better come prepared to maximize your laps.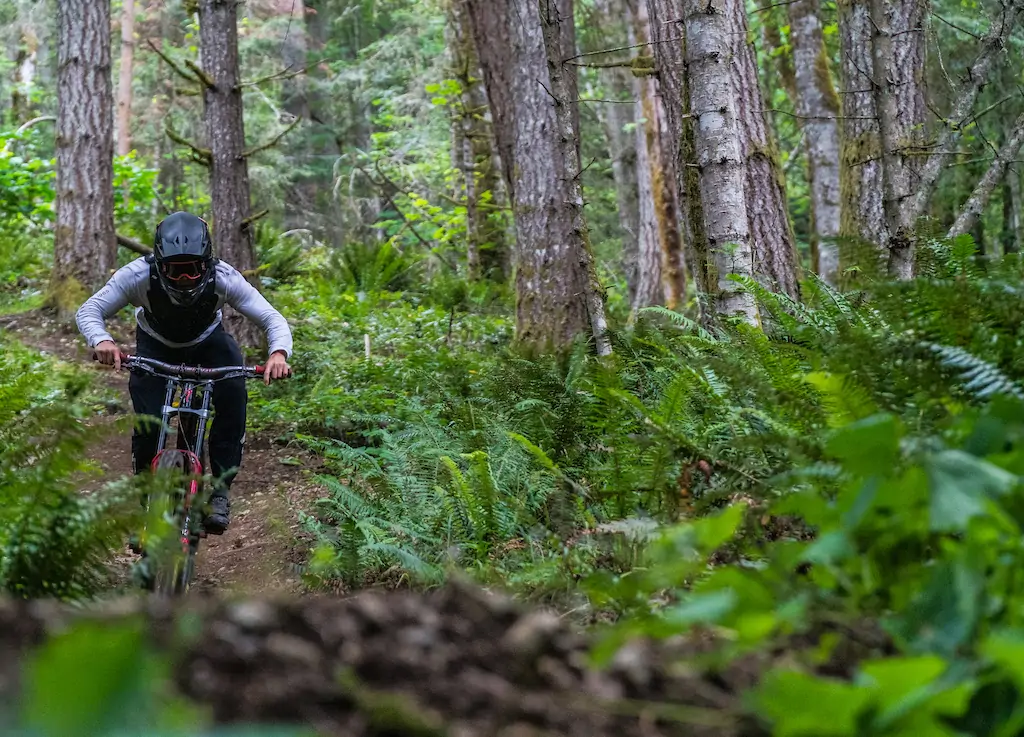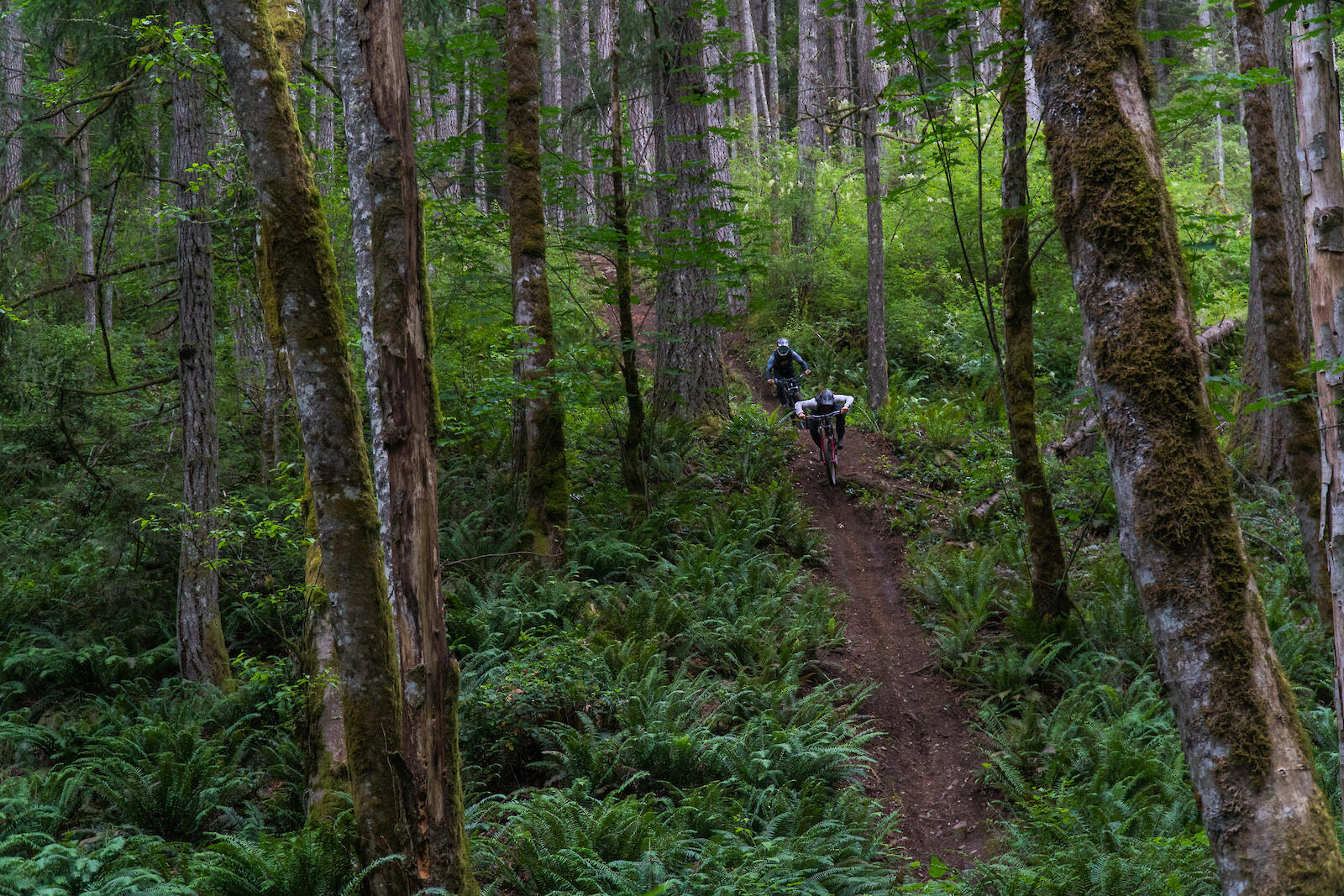 Prevost is an unsanctioned trail network maintained by volunteers, for more information you can check out an article we wrote about the fabled downhill trail network HERE. Please be respectful while riding and shuttling, this is an active forest service road with multiple trail user groups. Oh, and look before you leap, the features on this mountain are proper.
We consulted local World Cup downhill talent Mark Wallace for his favourite Prevost lap. Wallace suggested; Patchworx to Bubonic to Wolfgang. We wouldn't head there until you are well acclimated to the serious steeps, so best start with the likes of Memphis.
Once your hands resemble lobster claws, it's time to head into Duncan and get a quick bite for dinner, before driving north to Cumberland.
Cumberland
Mark and I had visited Cumberland before, several years ago, and to be completely honest our first experience left something to be desired. This time we wanted to leave nothing to chance and linked up with Martin from Island Mountain Rides, Dougal from UROC, and Jeremy the owner of the Riding Fool. With proper local guides present, we were able to leave Trailforks alone, shifting our focus to holding the wheel of the rider in front of us. This was a transformative experience for us and quickly propelled Cumberland from a 'would skip,' to a 'must ride' destination. We look forward to getting back there again soon!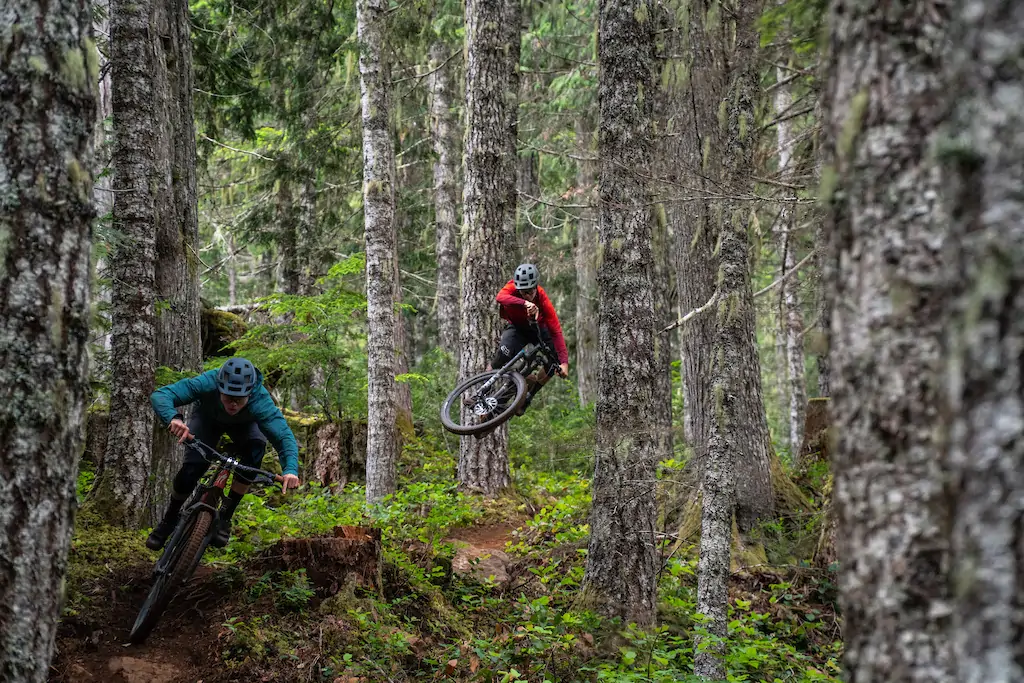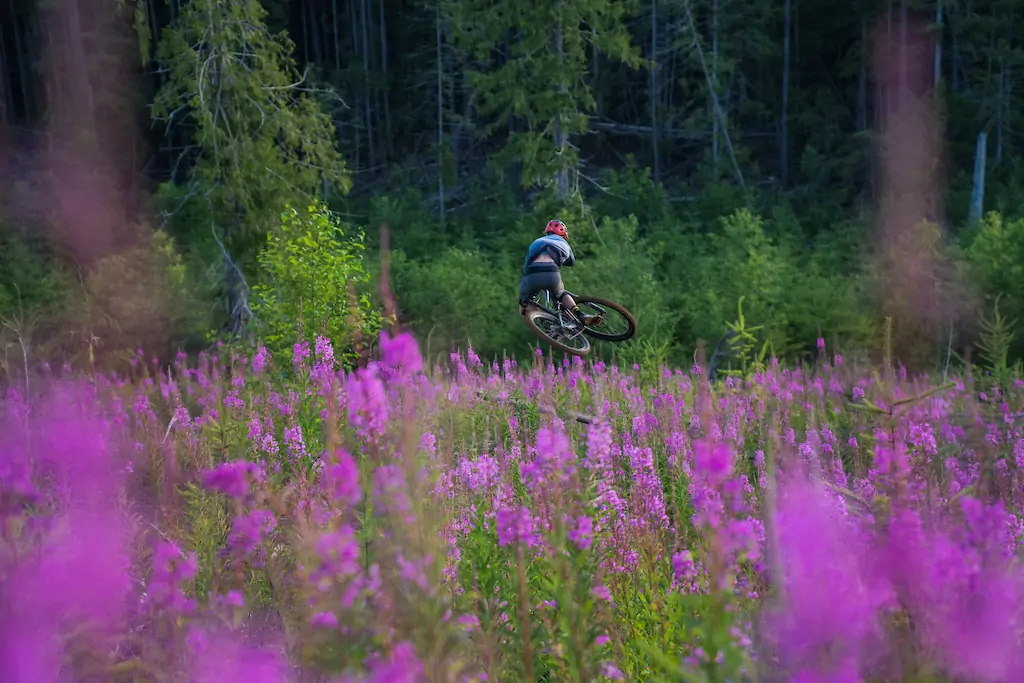 There are enough exciting trails to keep you busy in Cumberland for at least two days, even more if you hit up Island Mountain Rides for special access to Forbidden Plateau, located just outside of town.
Our top three trails in Cumberland in no particular order are; Chunder, Blockhead to Cupcake and Baker's Dozen to Knuckers.
Mount Washington
Mt. Washington has, for the eight years I've lived in BC, been one of those places on my 'want to ride' list, but it always managed to elude me, until last summer. Before pulling into the resort, the only thing I really knew about the riding was that they held the Steve Smith Memorial DH race on the infamous Monster Mile. Much to our surprise, there was an impressive range of trail offerings from natural, hand built technical trails to machine built flow that work really well!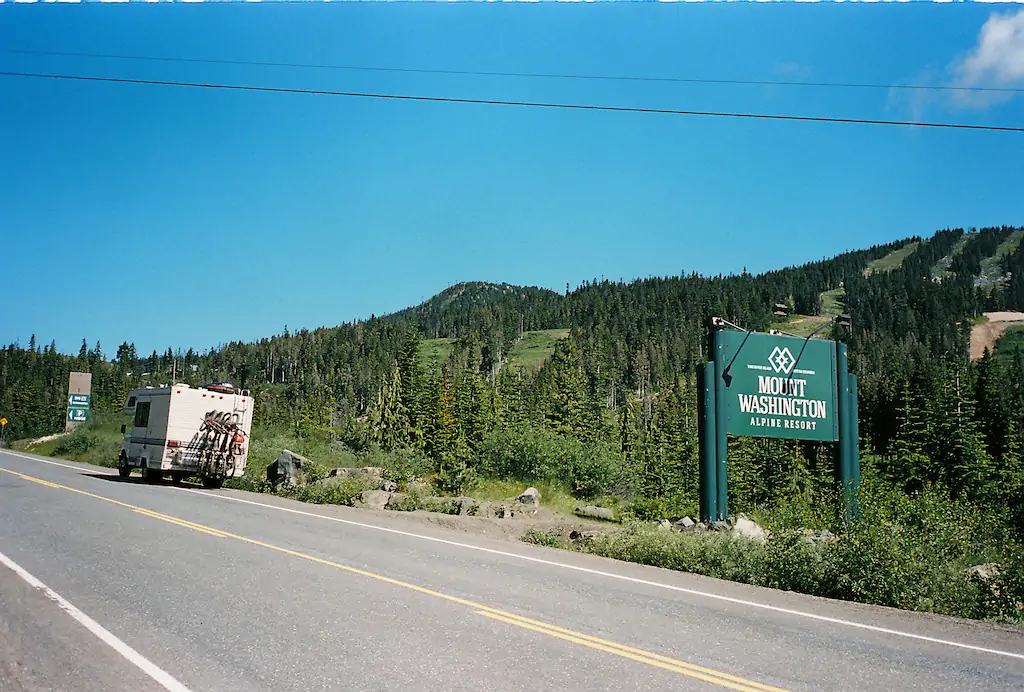 Last summer Mt. Washington had some pretty rad specials to get you up the hill. Family Fridays saw great deals to get the whole family out together between 5:30 and 7:30. Kids Passes were $5, Seniors $10 and Adults $15. Saturday evenings were ladies night, where ladies could take advantage of 2 for 1 evening ticket pricing, while Sunday night was the guys' night to take advantage of the same deal. Here's to hoping they bring these back for 2021!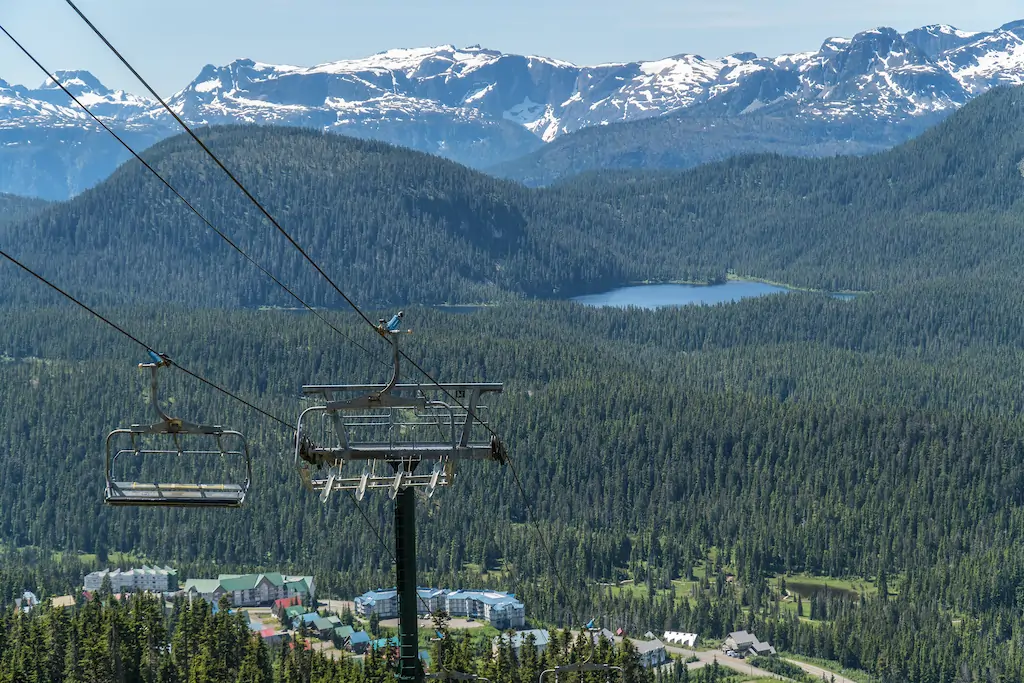 Our favourite lap in the Mount Washington Bike Park was Timewarp top to bottom because of the playful jump offerings, bonus gaps and the best left hander in the bike park. The Wiz to The Wizard to Back in Black was a close second, again for its abundance of fun features and good turns. Last but not least was Riptide Ridge to Helter Skelter, because letting off the brakes and going fast on a natural bike park trail is a great way to scare yourself.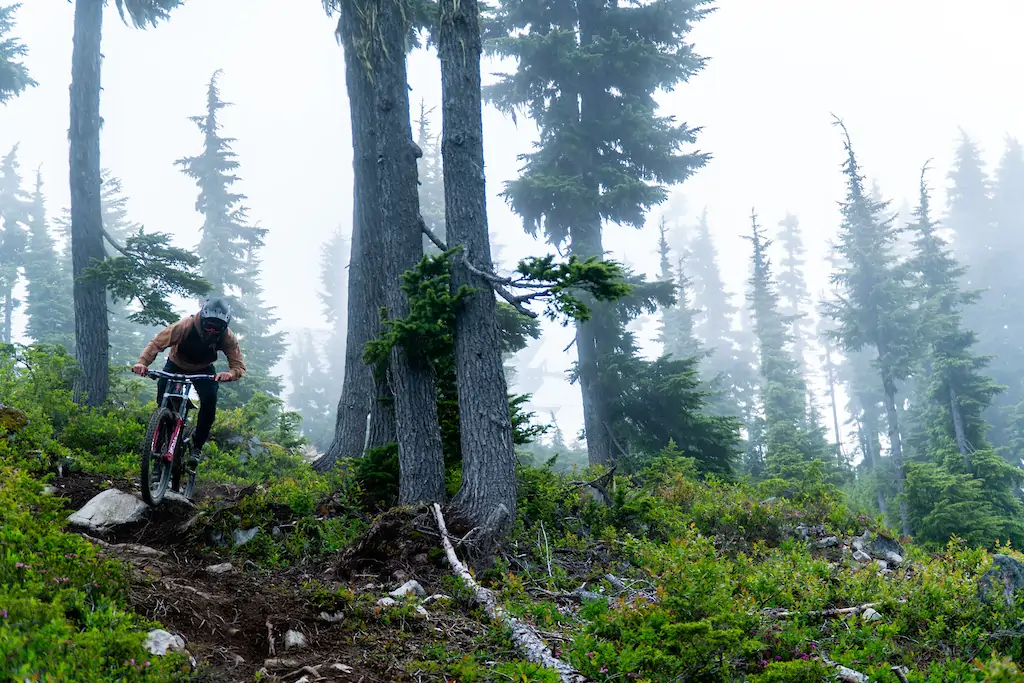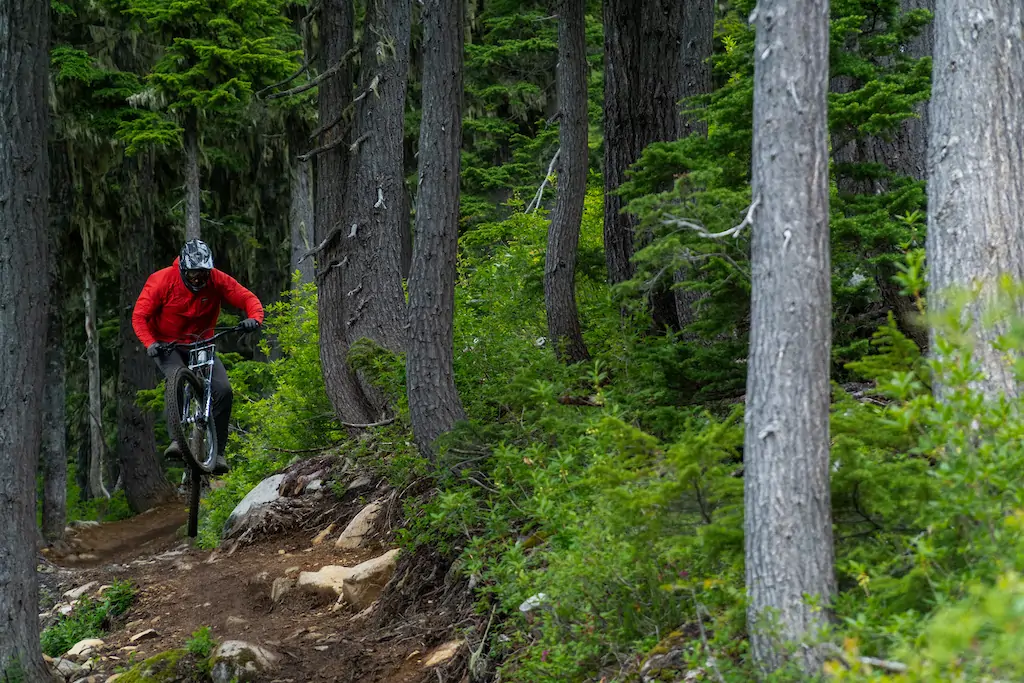 In talking with Mike Manara, Director of Sports & Guest Services, Mt. Washington continues to focus on trail development and expansion through a slow & steady approach. This isn't a sign of a lack of commitment to mountain biking, on the contrary says Manara, this gradual approach is because they want to ensure they get it right! They listen closely to the strong mountain bike community on the island and take that feedback to the trail network. Manara's idea of "slow & steady" is obviously different than others however, as Mt. Washington added 12 km of DH trails to their network last year alone, and look to add another 20 km in the coming years. These stats mean the mountain expects to more than double their network when compared to the first day they opened for the 2020 season. We look forward to returning annually to enjoy the progress of Mt. Washington!

After two and a half days of bike park laps, your legs and lungs should be sufficiently rested, so it's time to head to Nanaimo and smash a day on the pedals before the week's end.
Nanaimo
Admittedly, we've somewhat foolishly overlooked Nanaimo as a riding destination in the past, as we wrongly assumed it was all sterile xc. Turns out we were very wrong and there is a great offering of trails! It's important to note that the Benson riding area is unsanctioned and the Nanaimo Mountain Bike Club does not support riders exploring the network while they continue to work towards a land use agreement with the owners.
The NMBC has been investing some significant funds into the trail network up on Doumont to bring it into the modern age. The results are a network that has a fun mix of old school tech-jank, new school tech and some modern flow. Shoutout to the NMBC for their massive annual volunteer effort to clean up the garbage around the Doumont trails. It's sad that illegal dumping is still an issue in the region, but great to see trail users of all stripes come together and clean up their local forest.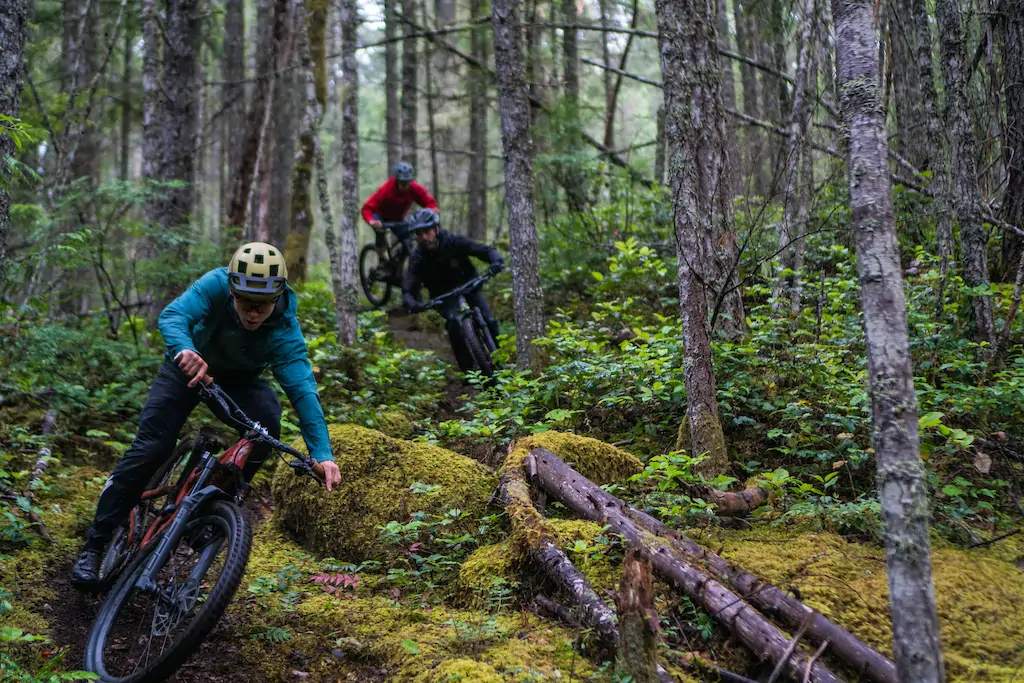 Our top the Doumont trails are; OFN to ASOP for some good corners, fun rock rolls and nice views, Bob's Your Uncle for some jumps and stunts, and Fine to Finer China for some high speed flow and trail gaps.
The Steve Smith Memorial Bike Park is not your average skills park, with an asphalt pump track and dirt jumps for all skill levels, it is an amazing community asset that is a ton of fun to ride. Located only a few minutes from the Departure Bay ferry terminal, this park is a convenient place to burn some time while waiting for your ferry, or to stretch your legs after arriving on the island.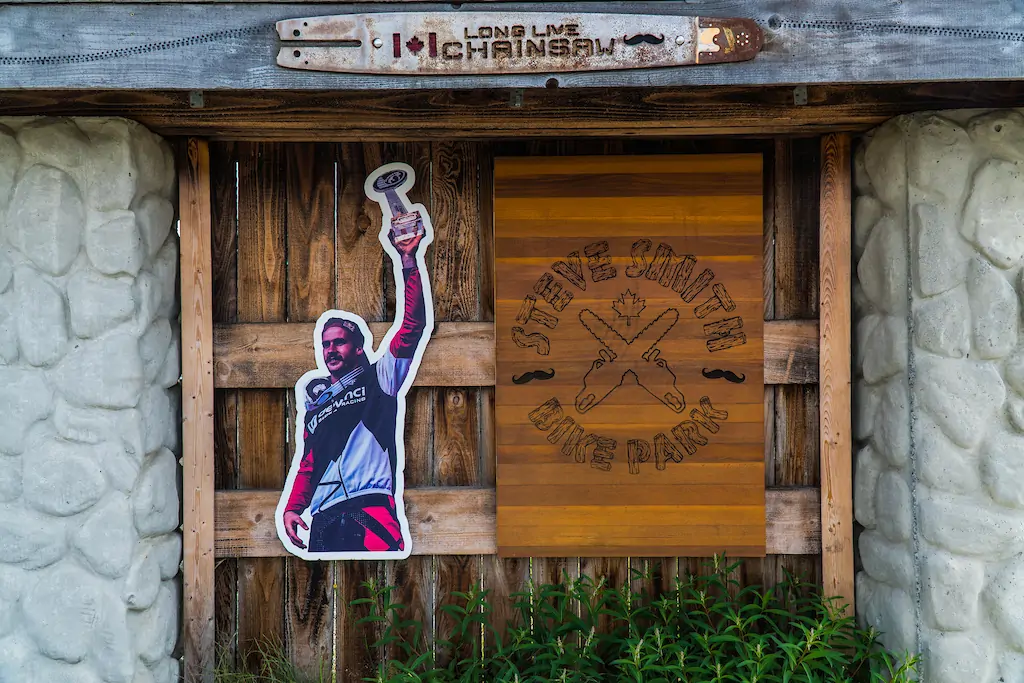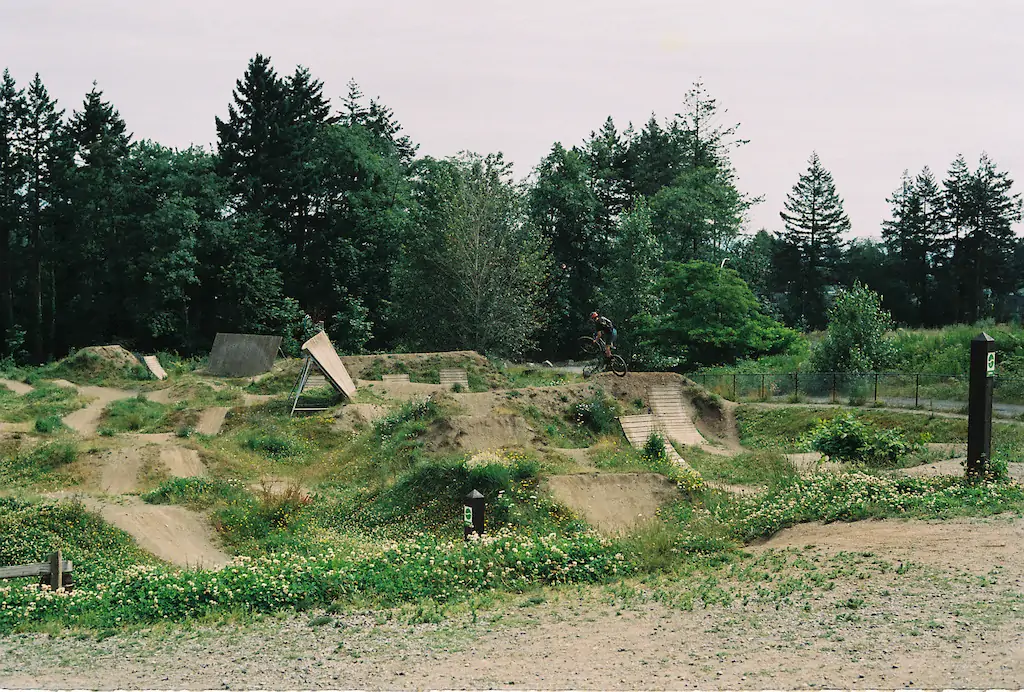 This concludes our Ride Island Itinerary for those of you looking for the bigger and badder trails Vancouver Island has to offer. We would like to take this opportunity to remind the readers that trails don't build themselves so if you have fun riding during your visit to the island, please consider donating to the associated local trail organizations below to support the folks who continue to help grow, develop and progress the trail offerings on the Island.