A Historic Ride on the Hudson Bay Brigade Trail
Words by Kevin Koopmans
Photos by Kevin Koopmans, Shawn Vogt, Trevor Howard, and Mika Laspa.
Riders: Trevor Howard, Perry Klassen, Kevin Koopmans, Mika Laspa and Shawn Vogt
The quest for adventure in beautiful wilderness, exploring areas less travelled, and experiencing the love of mountain biking in a unique way are a few of the reasons to strap an extra 15 kilos of gear to bike and back and set off bikepacking in the Cascade Mountains of British Columbia. The goal for our party of five was to retrace the steps of the fur traders of the Hudson Bay Company.  The "Brigade Trail" was constructed in 1849 to connect Fort Hope with Fort Kamloops and was used by hundreds of packhorses every year for a couple decades until less perilous routes were established. The terrain is beautiful as it is rugged, as the trail traverses three mountain passes, replete with steep slopes, breathtaking views, old growth forest and abundant flowers, lakes and streams.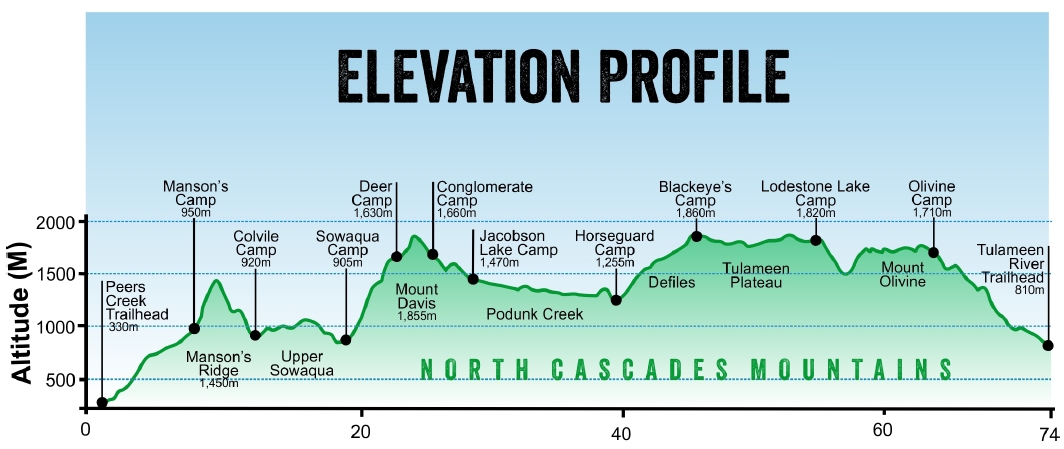 Recent work by the Hope Mountain Center for Outdoor Learning has upgraded 75km of the trail, coordinating volunteer efforts to flag, clear and rehabilitate the trail and constructing numerous backcountry camping sites. We set out with a mix of apprehension and excitement; to our knowledge the route had never been traveled in its entirety by mountain bike and very little information was available about how the trail was suited to bikes. The question in everybody's mind was "Is this even possible?" Speaking to several hikers, we were left with a distinct impression that attempting to mountain bike was the most ridiculous thing they'd ever heard.  But what do hikers know? All the more reason to try.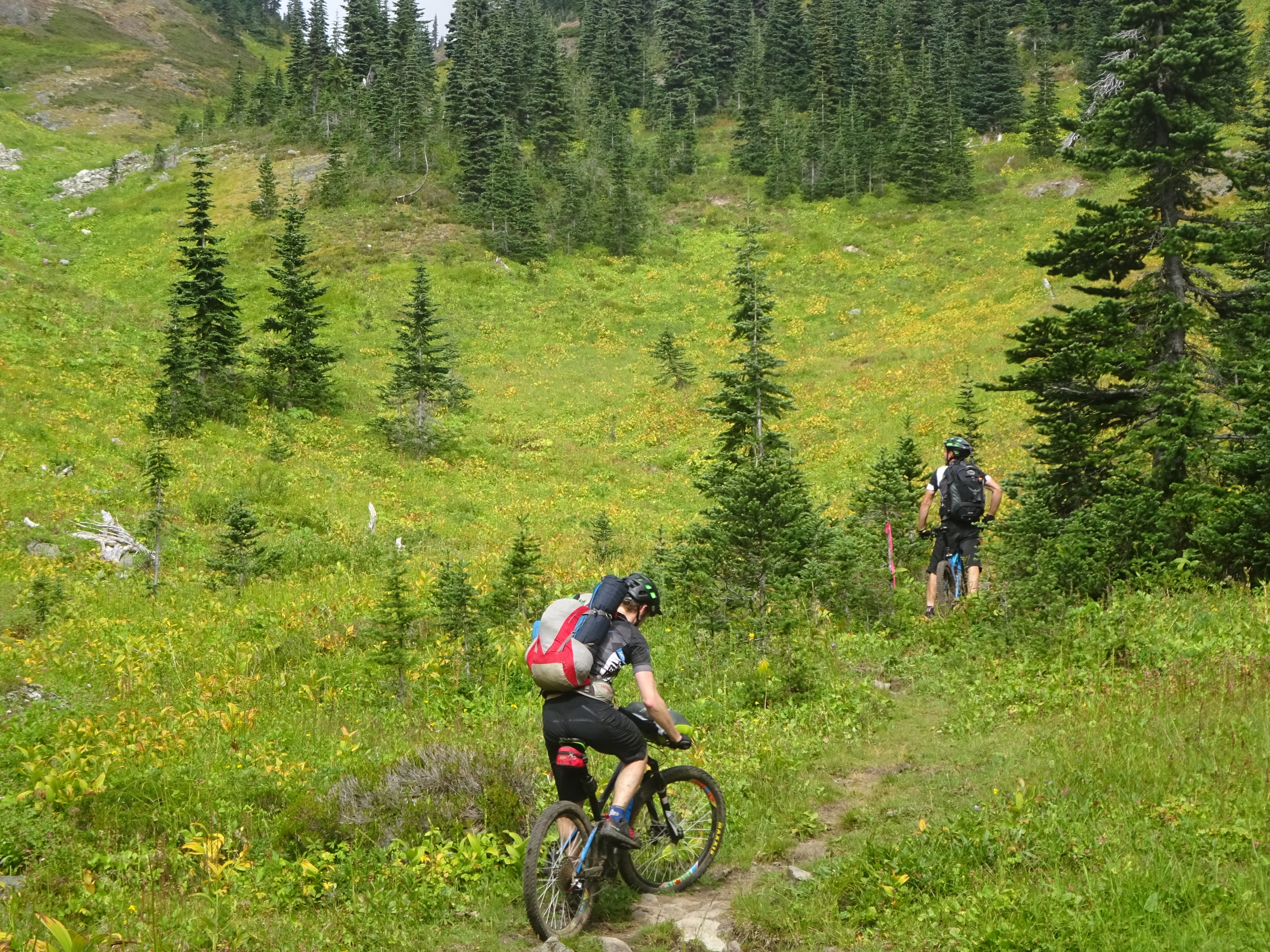 Before setting out, our expectations of how much of the trail we would actually be riding instead of pushing was pretty low. Anything over 50% would be a success. One of the things that makes British Columbia so beautiful, and in fact ensures that so much of it remains wilderness, is the nature of the mountains here.  They are pointy, with near vertical slopes etched with deep watercourses and ravines, meaning ascending and descending these beasts requires a strong dose of internal fortitude.  We came to learn that real men in the 1850's and their poor horses didn't mess around with a gentle 10% up track if they could climb pretty much straight up a 60% slope (Where was IMBA back then!). Sure, they built some super tight and twisty switchbacks, but only when the hillside got steep enough that if you accidentally drop your water bottle you probably need to ride down a couple switchbacks to retrieve it.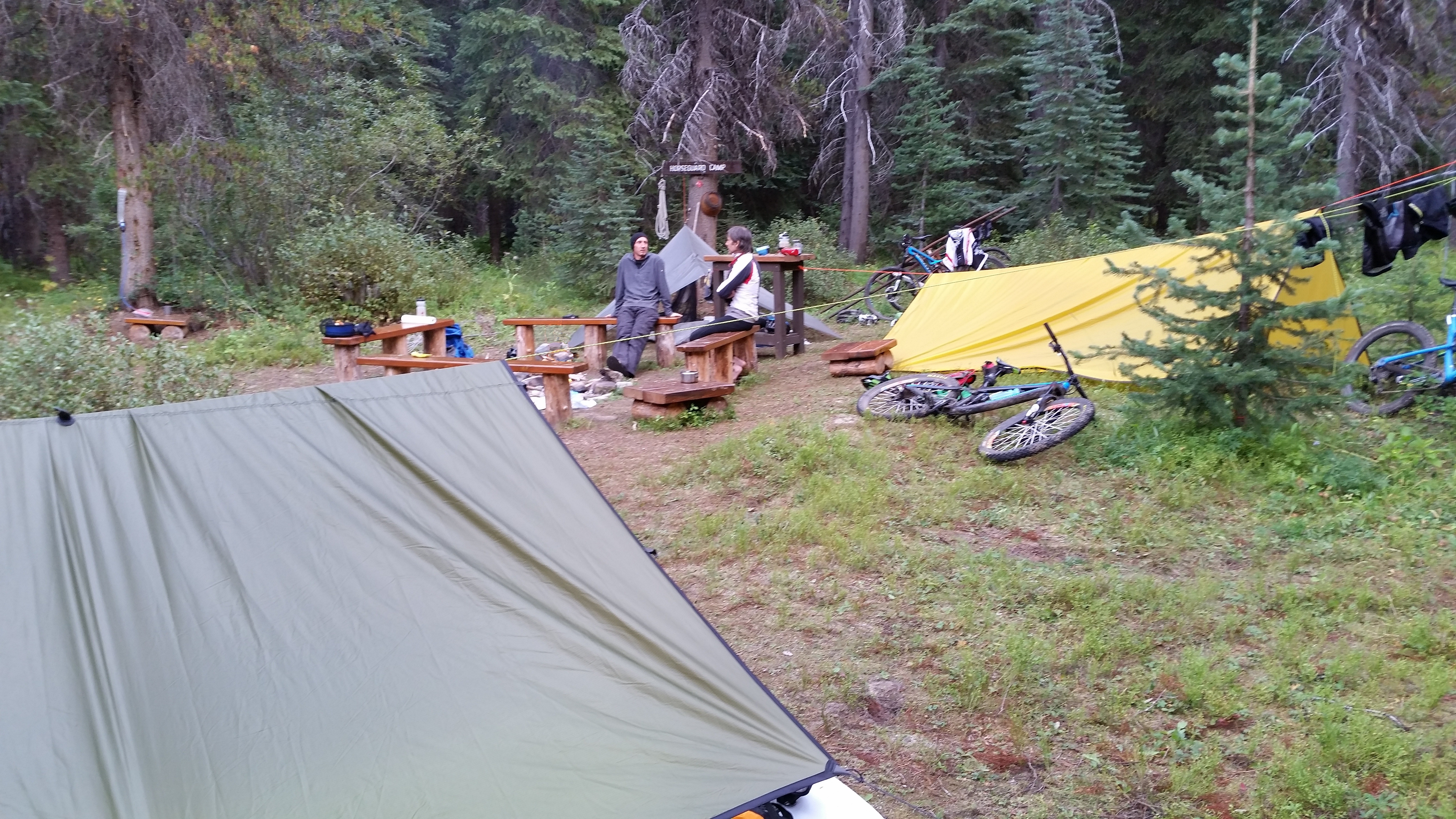 Due to the technical nature of the trail, it was essential to travel as fast and light as possible. Hoisting bikes over fallen trees and up mountains with 20 kilos. strapped to the bike just wouldn't work for us, nor would navigating technical singletrack or spending several long days in the saddle with heavy backpacks. Therefore we tried to keep our entire setup as minimalist as possible, with 3 – 4 kilos on the bike and approximately 10 kilos on our back, including water. We were fortunate to enjoy a favorable weather window, a safe bet in the summer months in BC, so we decided to forego tents and brought tarps in case of rain. Though we didn't encounter any rain, the tarp still provided some wind protection and a degree of psychological comfort.  We completed the trip with about 18 hours of pedaling spread over three days.  Slower riders, or those wanting to make the most of the experience should consider adding an extra day or two.  It would be possible to do the trail in two days, but probably not very enjoyable for anyone without a superhuman status card.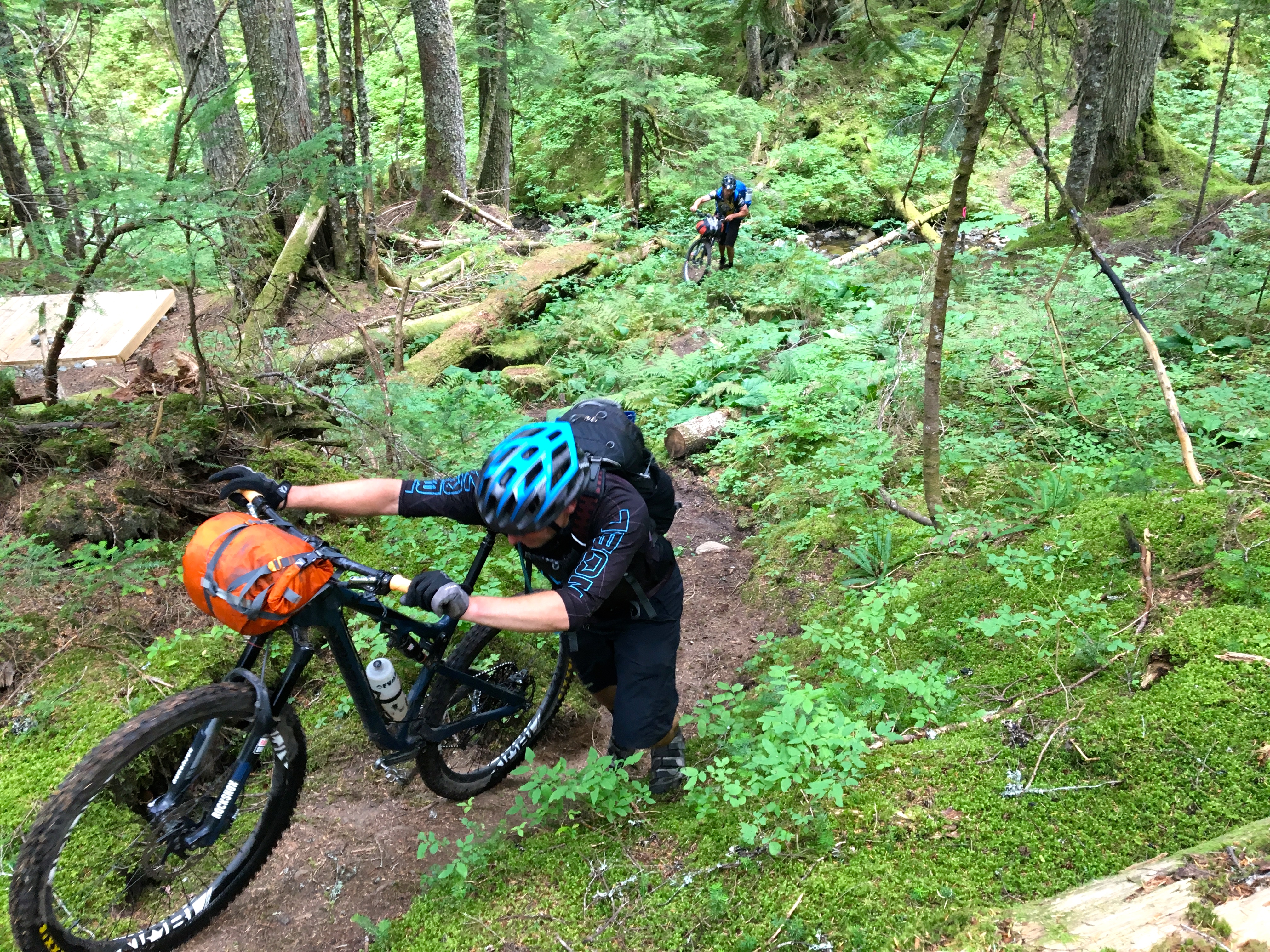 The journey provided me time to ponder the deeper questions of life like the ideal Brigade Trail steed. I took an immense amount of enjoyment from my setup, being thankful for a crazy strong set of NOBL wheels. This cutting edge, emerging BC company makes, hands down, the toughest and best carbon wheels available. Their unique and proprietary hub system provides infinite engagement and zero lag between pedal stroke and hub engagement, will never wear out, and are completely silent while coasting. It's so radically different, it's almost a bit eerie at first. I also loved my Rocky Mountain Thunderbolt (BC Edition, of course). While it's not a dedicated bikepacking rig like the Sherpa, it still proved itself tough enough to handle the rigors of days on the HBC trail including extra loads (increase the air pressure in the shock and fork accordingly), patiently bore my cursing and beatings on the ups, and didn't balk on some very technical descending.
For the best experience I recommend riding the trail from Tulameen to Hope.  Before you go, make sure your bike is ready and you have appropriate spare tubes, brake pads, and bars or gels at Lifecycles in Abbotsford or Vedder Mountain Bike Co. in Chilliwack. A great way to begin the ride is to begin in Princeton and enjoy the beautiful Trans-Canada Trail to Tulameen, and again when you finish on the Hope side connect into another incredible section of the Trans Canada trail through the Othello Tunnels downhill all the way into Hope. Proceed straight to 293 Wallace Street for the best craft beer and burger of your life.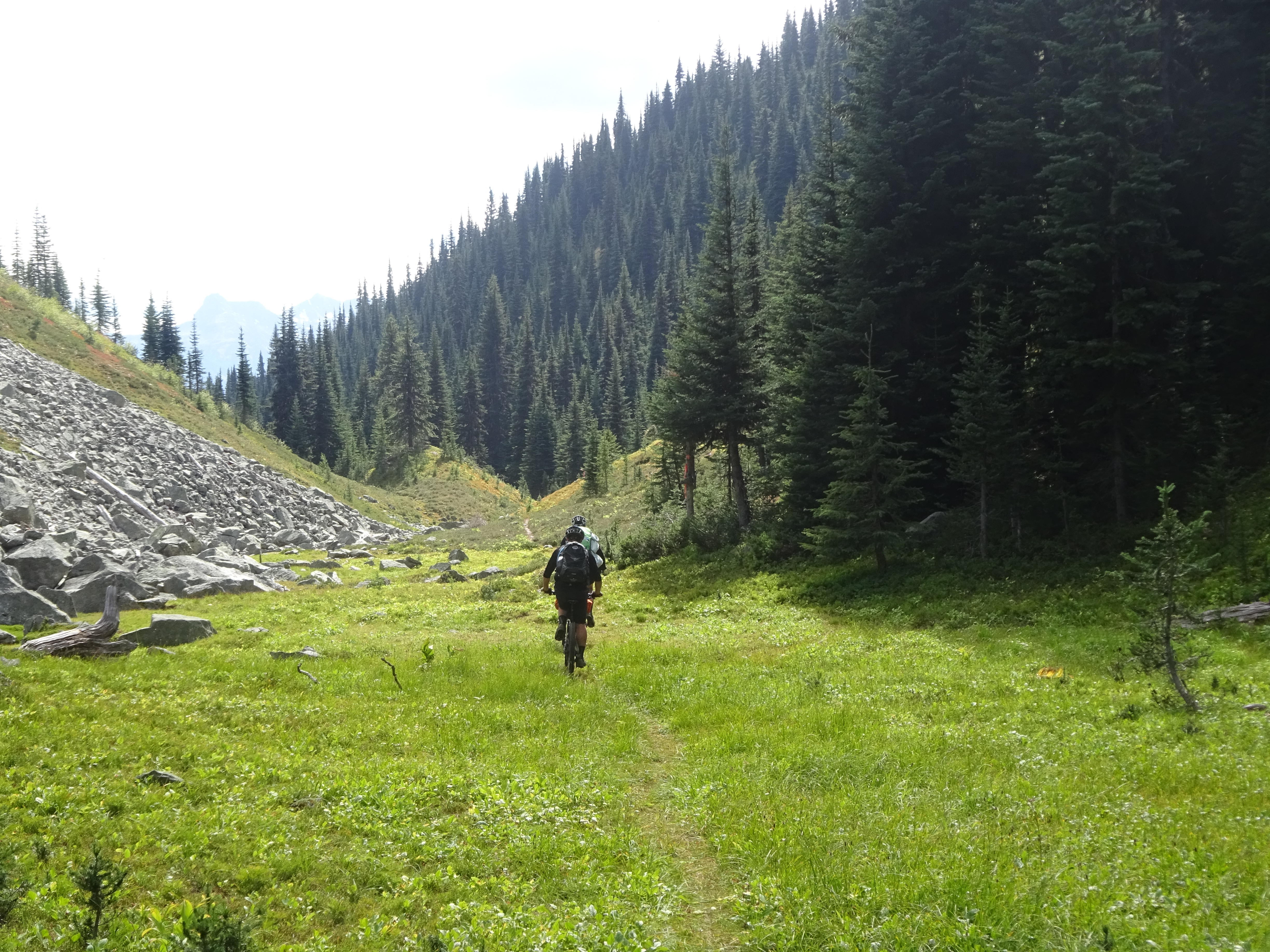 The HBC trail remains much as it would have appeared in it's original condition nearly two centuries ago. In fact, the trained eye can still find blazes on some old trees dating back to the original trail builders to mark the way. This means that the route has not been optimized for bikes, and requires hundreds of dismounts to cross streams, muddy stretches, huge roots, fallen trees, and other obstacles along the trail. As well, there are several extended hike-a-bike sections to ascend Mount Olivine, the Tulameen Plateau, Mount Davis, and Manson's Ridge. A skilled rider can ride pretty much all of the descents and nearly everything in between, making the trail well worth the hardships. For riders expecting to work hard, dismount often, and push up long steep trails the HBC provides an incredible backcountry experience including several continuous 1000 vertical meter descents, beautiful forests and creeks, spectacular views, and rustic backcountry camping facilities. For the mountain biker as tough as the Hudson Bay men who originally built the trail, this is among the best BC has to offer!