Riding Revelstoke with Photographer Bruno Long
Riding Revelstoke with photographer Bruno Long
Bruno Long is a professional adventure sports photographer based in Revelstoke, BC. Originally hailing from New Brunswick, he quickly left the East Coast behind after graduating from university and began his hunt for tall mountains and deep snow. After a 7-year stint in Jasper National Park, he relocated to Revelstoke with the hopes of carving out a life as a photographer in the Columbia Mountains. Working numerous jobs to help feed his healthy outdoor activity addiction, he also worked tirelessly on crafting his skills as a photographer and occasional writer. In the past several years, that hard work has paid off, with Long becoming a regular contributor to many ski and mountain bike magazine worldwide, including becoming a Senior Photographer with Bike Magazine and Forecast Magazine.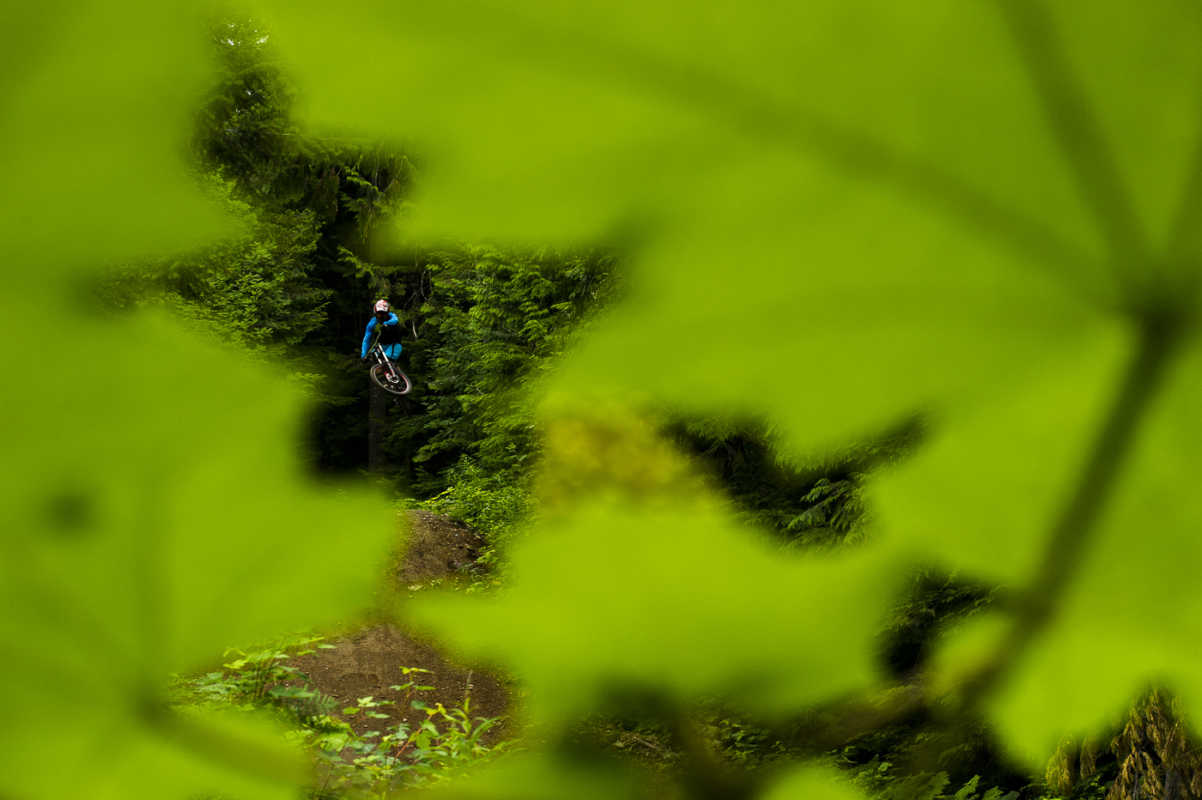 The jumps on Boulder Mountain's Hotdog Hallway were created with a small amount of money and a large amount of effort. Many hours were spent cutting, digging and shaping this area to give the Revelstoke DH community a nice set of jumps to improve their overall jumping skills. Local ripper Stu Dickson shows that all the hard work eventually paid off with a great set of large tabletop jumps in a beautiful setting.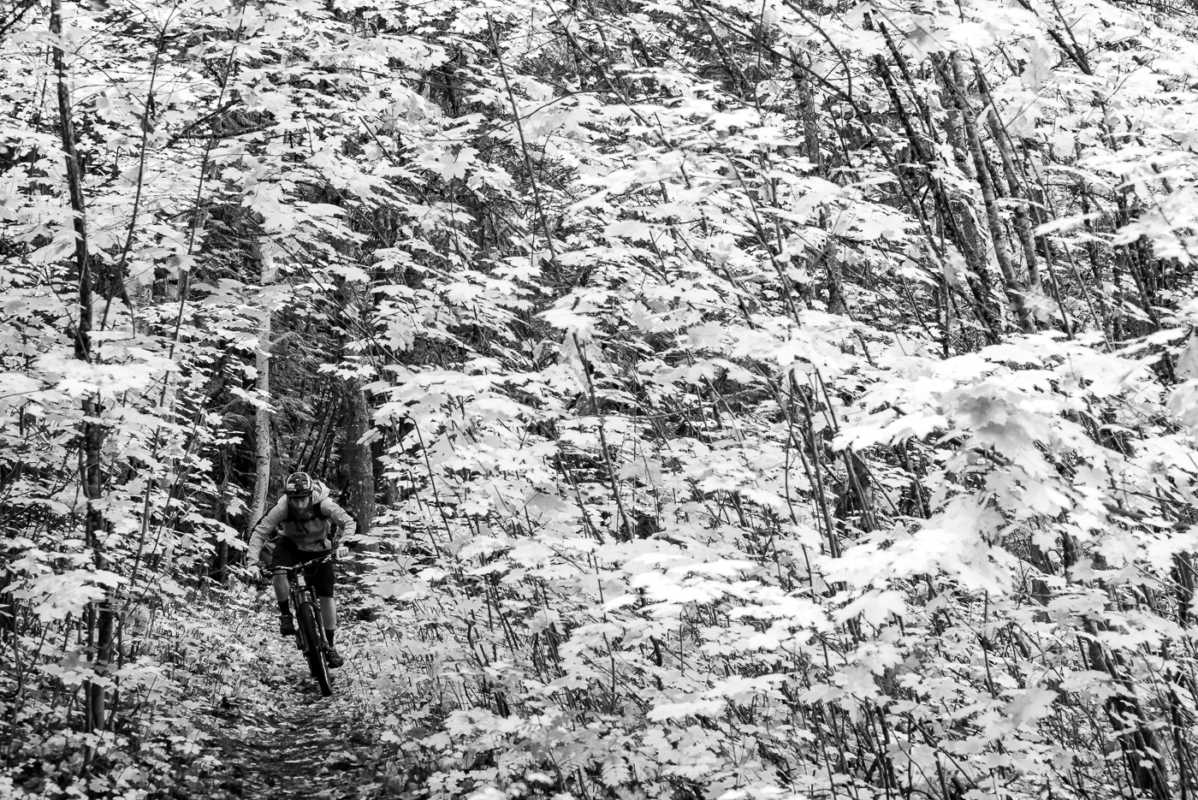 In the fall, a local trail area very close to town slowly turns into a beautiful little oasis. The CP Trails are a quick hit directly prom town and are home to a few special spots full of deciduous trees that leave the entire area glowing yellow with leaves. Turn that photo into a black and white image and you are given a unique look that remind me more of winter skiing than fall mountain biking. In this image, Mike Hopkins gets an introduction to the area shortly after making the move to Revelstoke from his hometown of Rossland.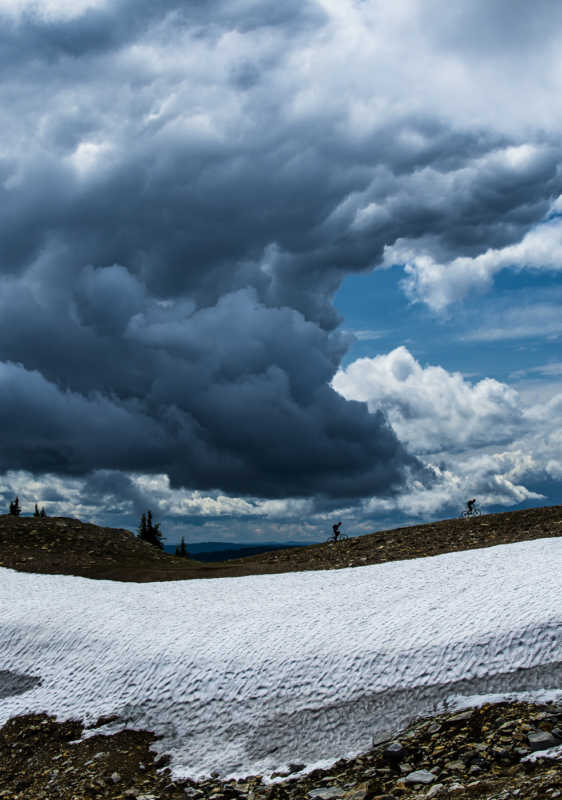 Joss Peak is one of the most beautiful alpine rides I've ever been on and have been lucky enough to ride it many times in spectacular weather. This day was no different, with Travis Hauck and Ned Woods climbing up towards the top of the ridge while storm clouds curled up into a massive wave that seems destined to barrel down on them and crush our alpine dreams in rain and thunder. However, the storm passed by and we enjoyed a beautiful sunny alpine day in the mountains without incident.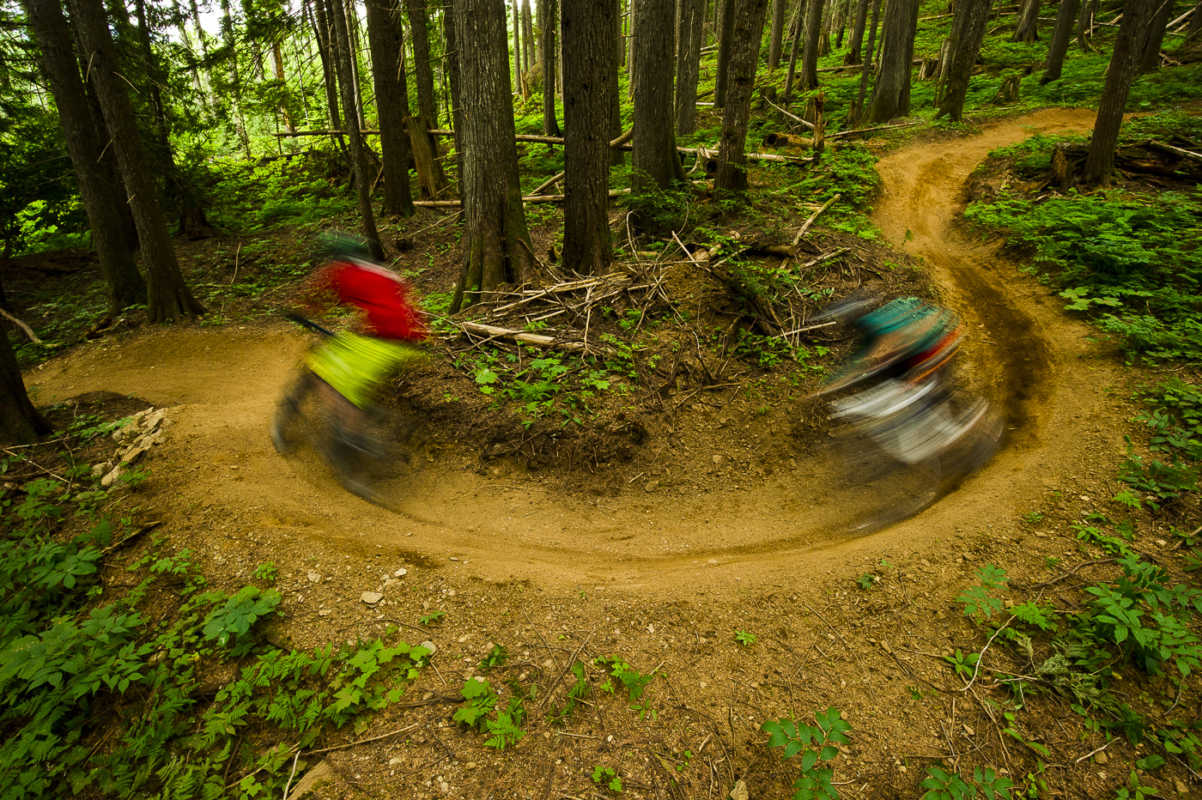 Logging Leftovers was a project that came more out of necessity than need. After the old trail on Boulder Mountain was logged, the local logging company donated some money to repair the trail and a large group of volunteers helped rebuild the trail into a machine-built flow-trail for all users. It has become one of Boulder Monutain's most popular trails, with fun rollers and flows berms, as displayed by Andrew Clark and Brodie Evans.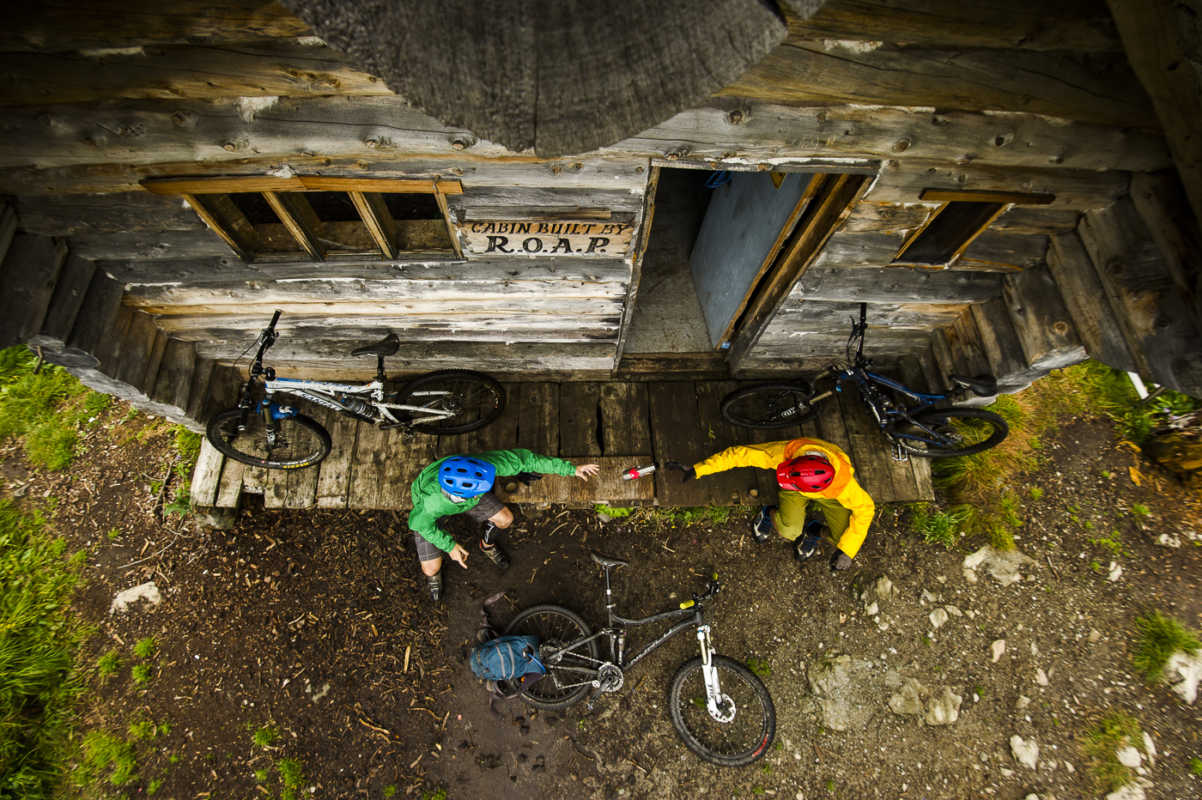 After a long cold ride to the far end of Revelstoke's ultra classic Keystone Standard Basin trail, it's always nice to share a nice warm cup of coffee with a friend. That's exactly what my brother Chris Long and Jordy Lebel are doing here, after getting stuck in a storm more than a few times on our way to the cabin turn around point.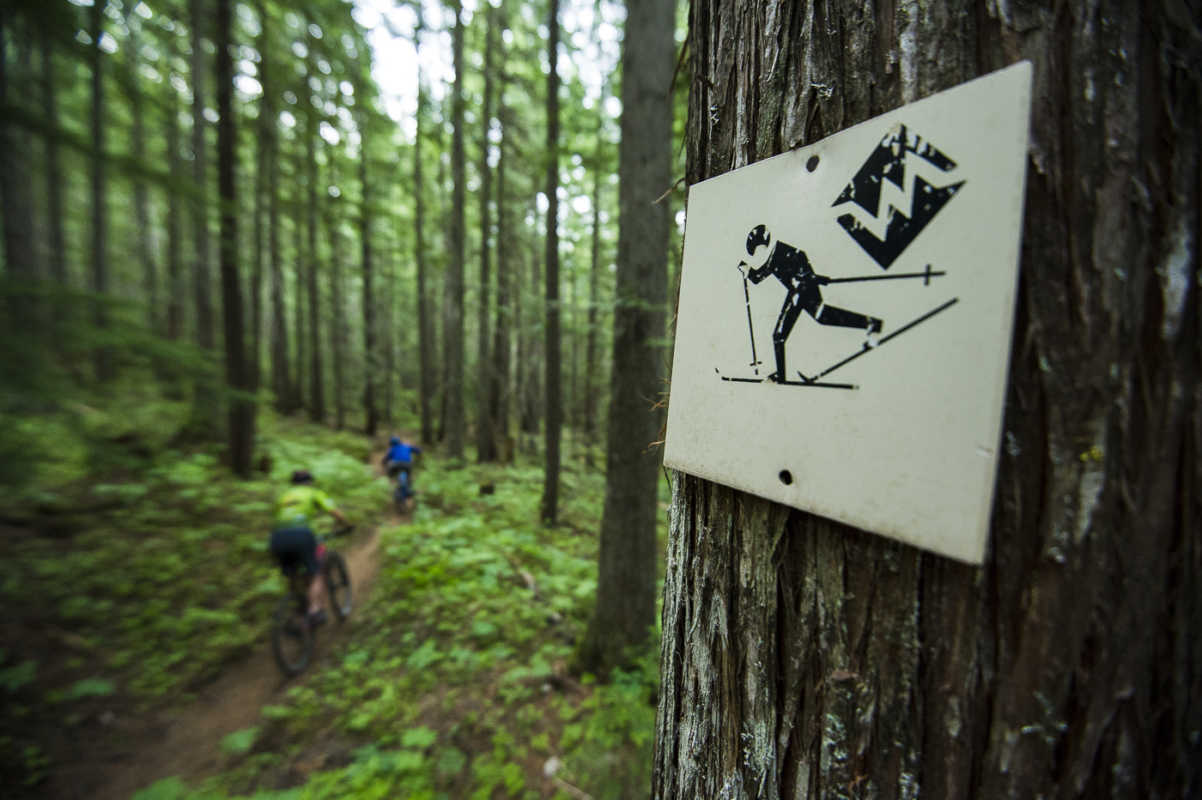 Revelstoke's Mount Macpherson trails are not only a mountain bike network, they also provide locals with an amazing cross country ski area in the winter months. In this image, local father-son duo Andrew and Keith McNab (who also happens to be the local bike club President) are a rip down one of the oldest trail in the network named Break-a-Leg. Thankfuly, no injuries on this day, only fun, flowy and technical descending.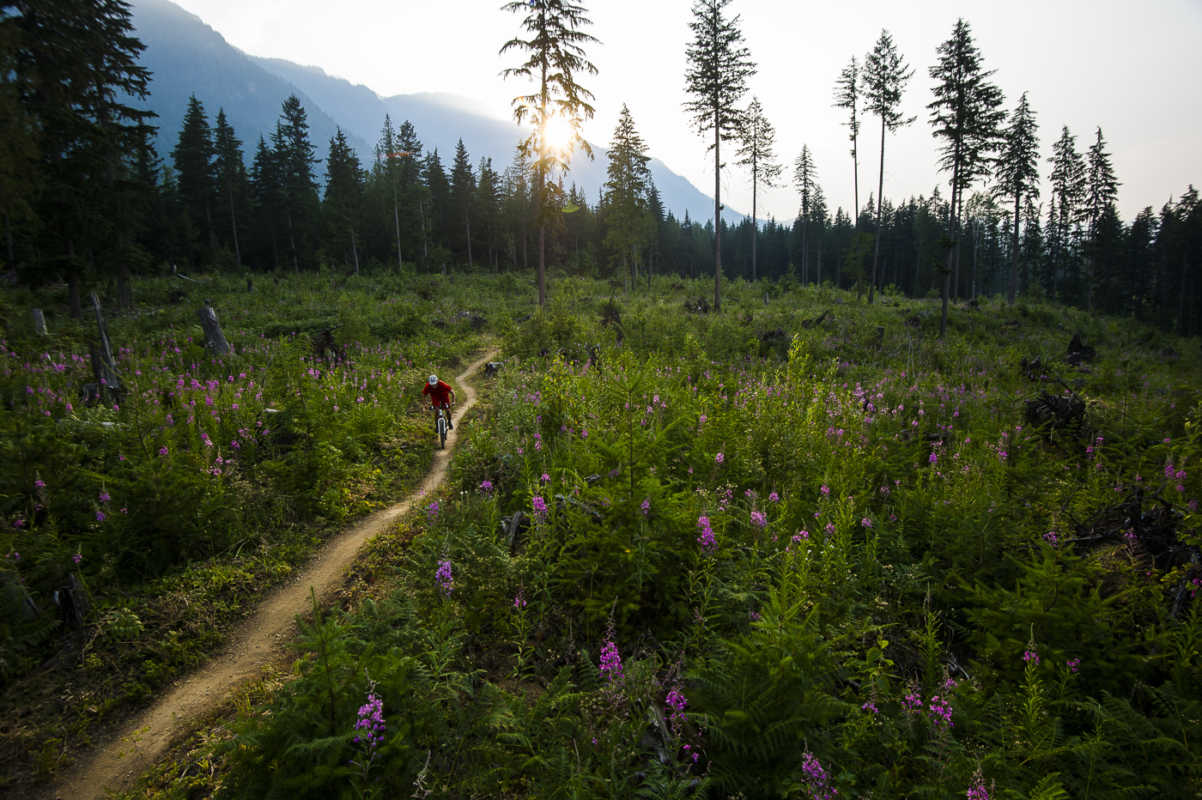 Local bike shop owner and Colombian transport Selim Bedoya Sabbagh takes an after work rip through one of the many trails running through cutbacks in the area, this one aptly named Stimulus. A few years after being logged and rebuilt, nature slowly begins to take over the area again, with greenery pushing its way towards the sun and fireweed slowly growing it's way towards the sky. Nature has an amazing way of reclaiming it's proper place despite major hardship.
Think you have what it takes to be our next #mtbBC Guestagrammer? Email us at media@mountainbiking.bc!