Bikes and Beer in BC's Interior
Video by Ambrose Weingart
Words and photos by Robin Munshaw
---
Dropping into Kamloops, sleet pelted the windshield as if the coastal rains were unwilling to let us go. We were on our way to meet Lisa Tedesco and her partner Marco van der Wilk, the winners of this year's Bikes and Beer tour. It would be difficult to find a more deserving candidate: for the past 15 years, Lisa has been a dedicated member of the mountain bike community. Racing BC Cup and coaching a DH team, legitimizing Vernon's trail network, starting a trail society in Salmo: she has given countless hours to the mountain bike community everywhere she goes. This dedication played out time and time again over the trip: on long drives, soft snoring could be heard over the Endless Biking van's ever-present reggae soundtrack as everyone caught up on some much-needed sleep. In the back, a soft glow lit one seat as Lisa sent emails and reviewed reports for her trail society. "I don't know if I could go a whole week without checking my trails emails but I'd love to have the chance to try", she wrote in her contest entry. Though she failed, I'm sure the community is better for it.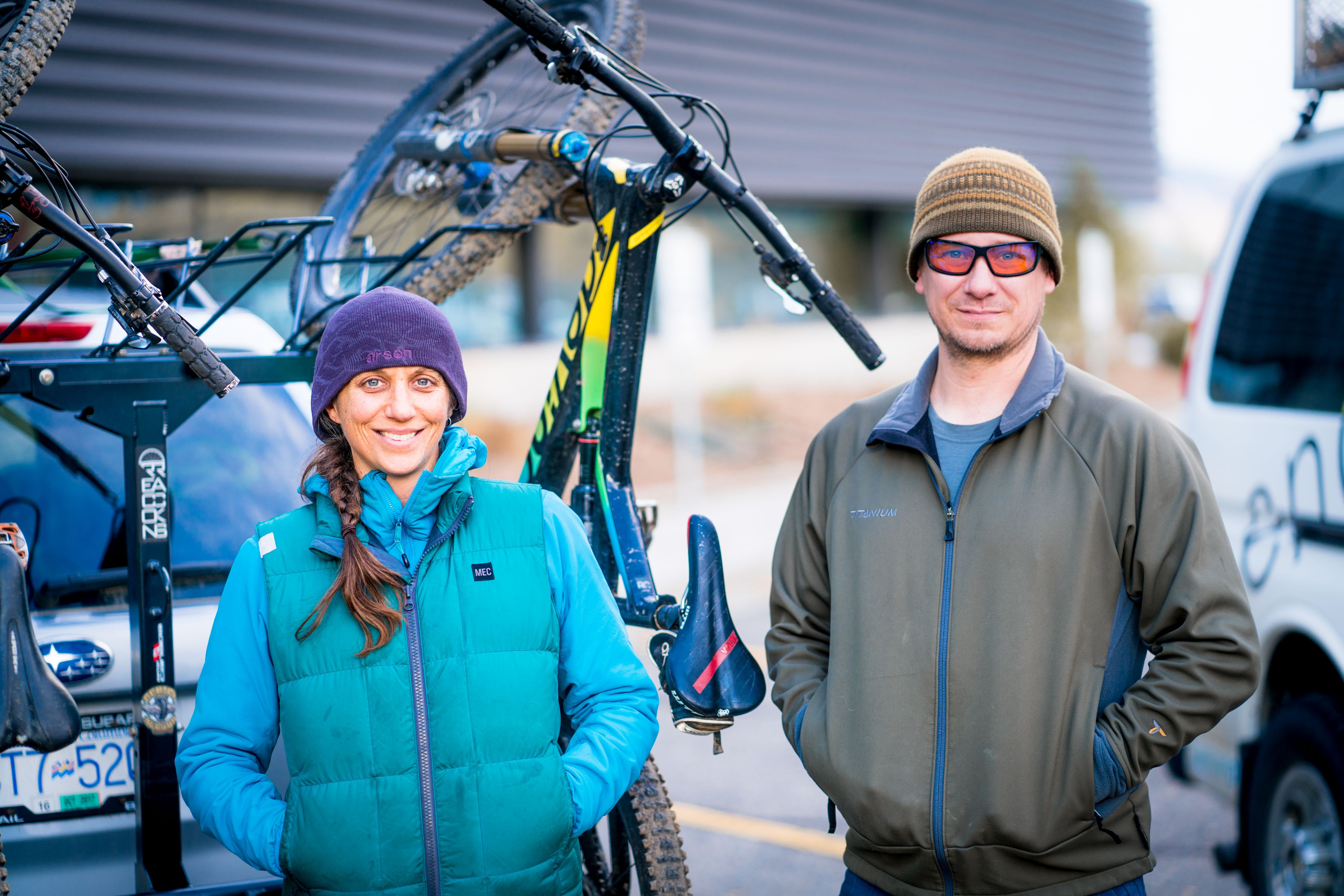 We met Lisa and Marco in town and headed straight to Pineview where we connected with local legend Ted Morton. With a grin that has set up shop on his face for the long-haul, Ted comes barreling into the parking lot led by two young local kids, catching air and giggling.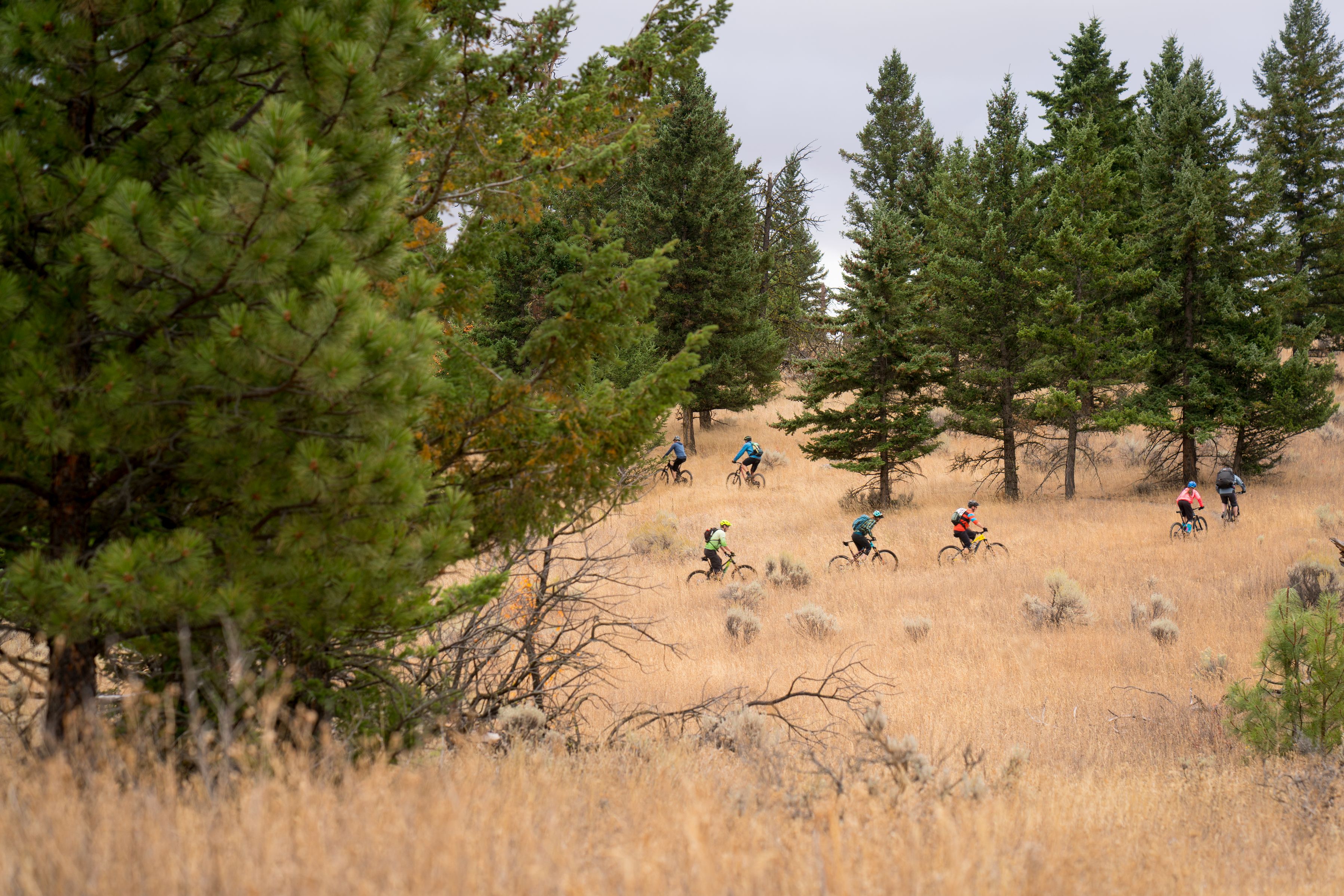 We gear up and climb Pineview's sinuous switchbacks to the top where the local beer festival, BrewLoops, had an outpost delivering beers to thirsty riders and locals that had made the chilly hike into the woods. After a pint to warm the soul, we headed for a quick lap down the aptly named Beer Run back to the cars and over to Iron Road brewery for a hard-earned second pint and an evening of local film-makers showcasing their craft on the big screen. We only got to experience one evening of BrewLoops, but talking with Michelle McAleese from Tourism Kamloops that evening, it seemed like we were missing out on some serious fun by only stopping by for a short time.
With carnival rides, bumper cars on the street, beer tasting, film festivals, live music, social rides, and growler hunts, it's an event not to be missed. Throughout the day, we all get to know each other and quickly establish that the group's riding level was high enough to get rowdy on this trip.
Lisa is the embodiment of everything good about small towns. She is open and generous, laughs easily and long, and tirelessly supports mountain biking in her home-town of Salmo. "It's definitely hard at times", she tells me, explaining trail operations in Salmo. Almost all of the trail maintenance in town is done by volunteers because funding is mostly for developing new infrastructure. There's nothing sexy about routine maintenance, so even with complete community support, it can be difficult to acquire funding to keep trails up and running.
Our second day started with breakfast at Hello Toast in downtown Kamloops – a meal that left us all in various states of food-coma but fueled for a day with Ted. With 2 big days in the saddle looming ahead of us, we gladly loaded up for a day of shuttling.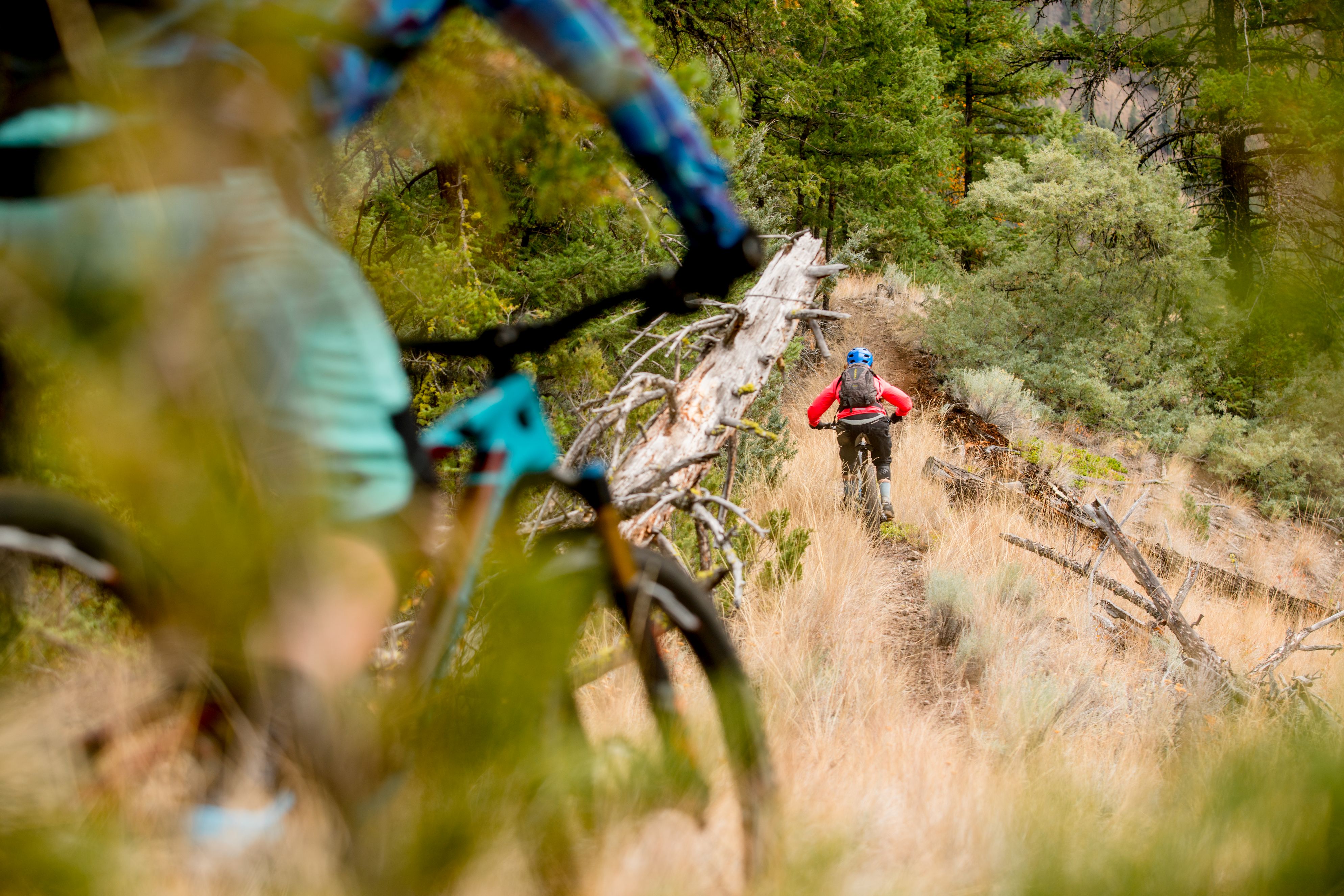 Climbing up above the valley floor, the colours of fall in Kamloops exploded in the hills around us. Shoulder-season riding in the interior of BC offers some of the best conditions to be found. Escaping the fall rains on the coast, heading to Kamloops was a welcome way to experience the region without the stifling heat of the summer months. Cool temperatures and tacky dirt from overnight rains are a welcome change from the scorching dust-bowl conditions that can prevail through the hottest months in the region.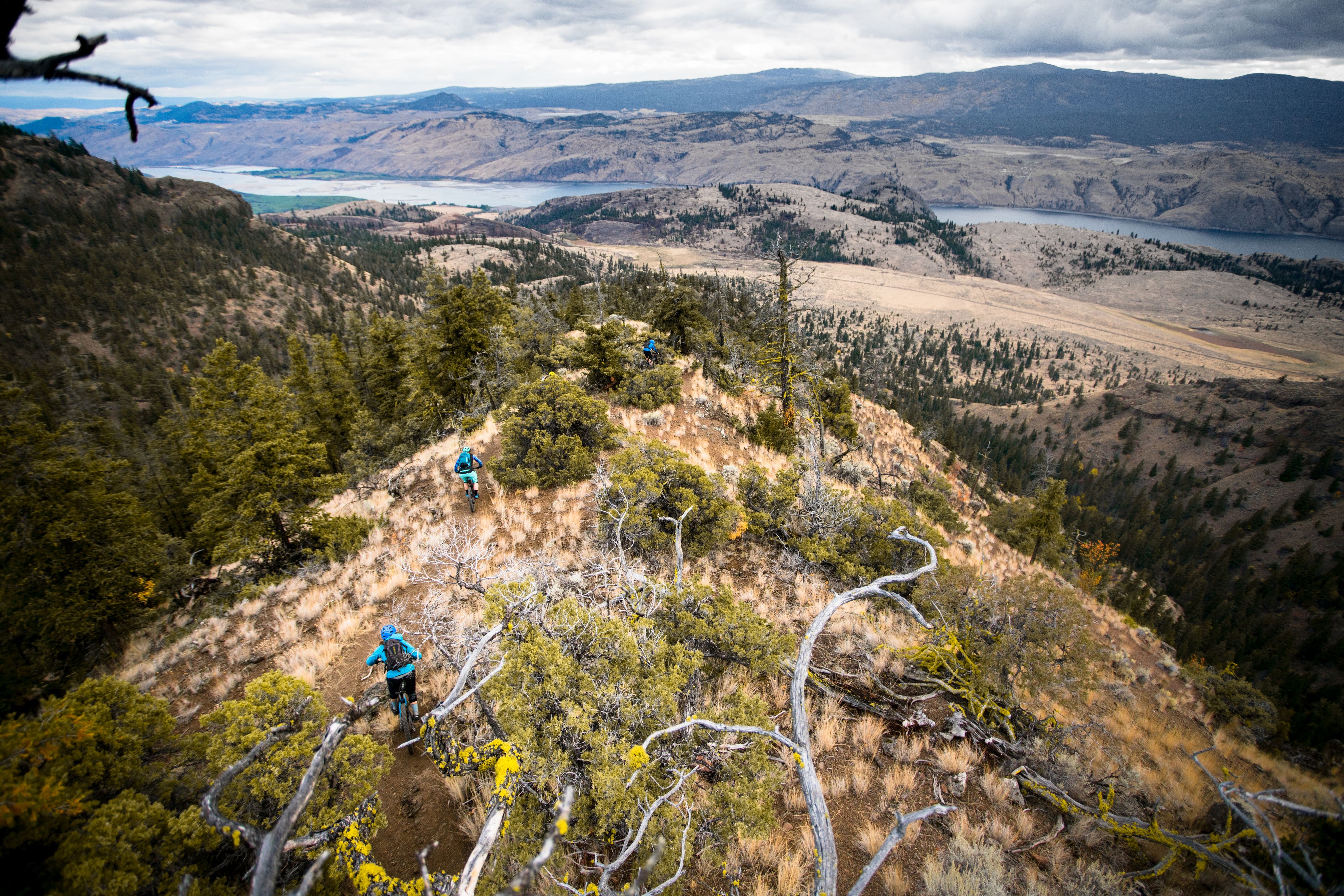 Every corner of the trails blaze with fall colours: trembling aspens throw storms of bright yellow leaves down on us with every breeze, and fiery red underbrush lines the trail to show you the way. With Ted as our guide, even seasoned interior riders like Lisa and Marco had a day of new experiences. Riding ahead to take photos of the crew coming down was an easy task – the hoots and hollers of the team mingled with Lisa gleefully calling out the Latin names of bunchgrasses and ant colonies she spied glimpses of through the lichen-clad pines.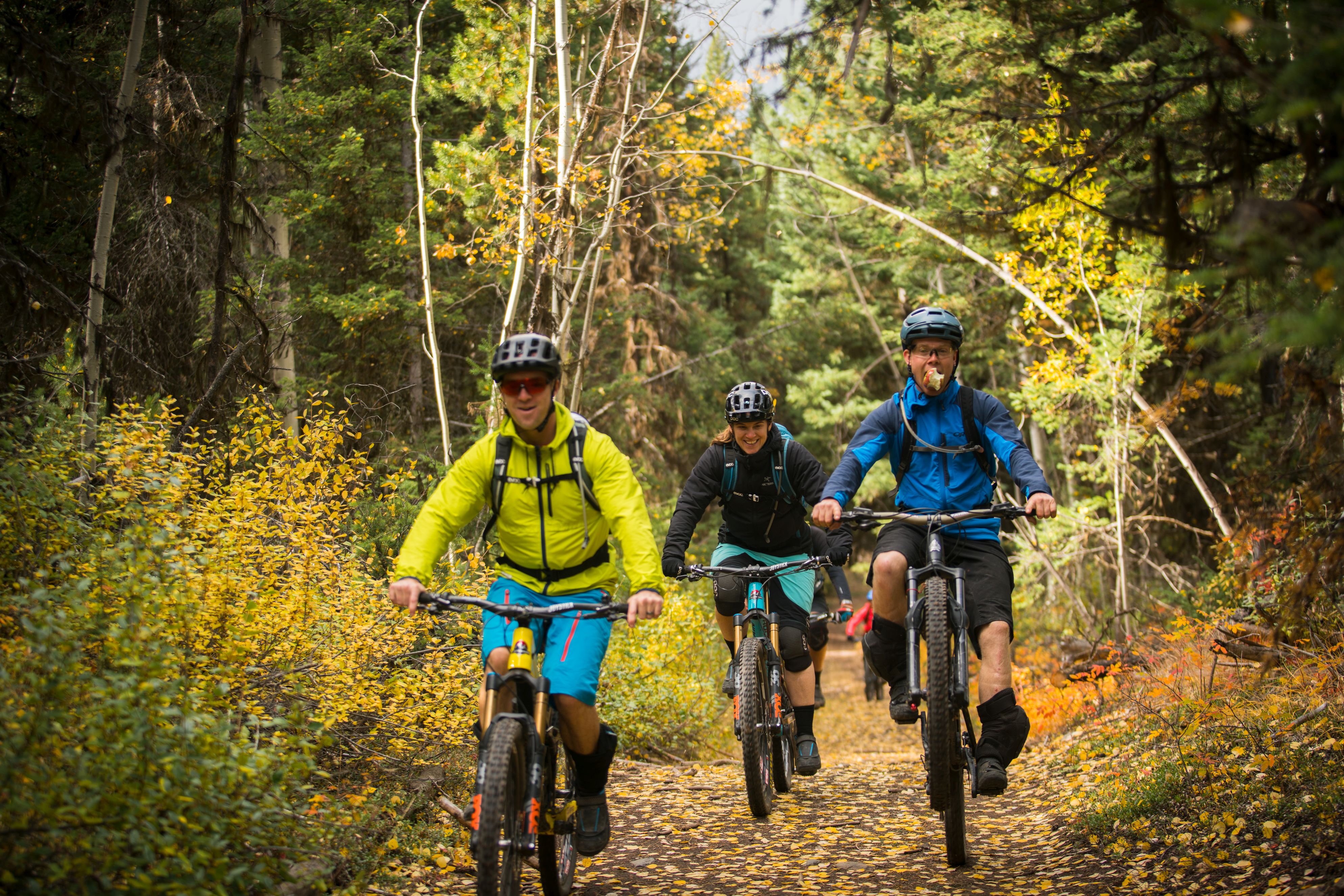 After a cruisy day of shuttles and beautiful views, we contentedly packed up and headed to Salmon Arm in the Shuswap, where we had dinner and brews waiting at the Barley Station Brew Pub. By the end of the meal, Darren and Martin had eyed up the beautiful Stanley insulated growlers long enough that it only took the slightest amount of nudging for them each to pick one up and fill it with local tasty brew, adding the perfect accessories to the "Bikes and Beer" tour.
After a cozy night at the Artist's House Bed and Breakfast, the hostess, Victoria, had us primed with coffee and homemade breakfast stuffs and sent us out like as many kids on a weekend to go play in the mountains. Local trail-builder Adrian Bostock with the Shuswap Trails Alliance shepherded us up to the Rubberhead zone and presented us with a feast of local cuisine to pack for lunch. Home-made bread and locally sourced sandwich fixings from Ecotreats meant our fuel came directly from the land we were riding. After a couple warm up trails we started out on the Larch Hills traverse to Sicamous.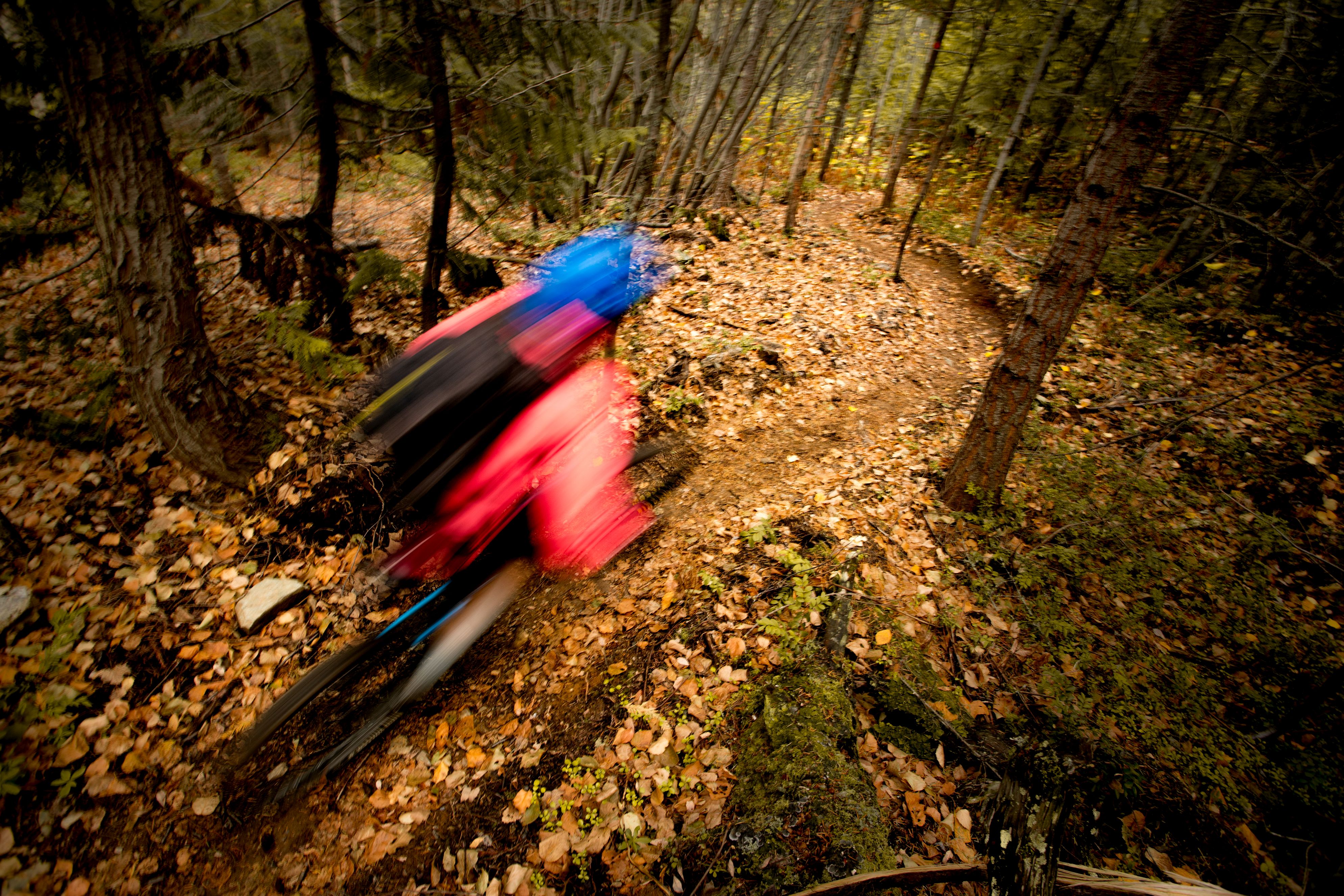 After the loose, open trails of Kamloops, the tacky, twisty trails of the interior rainforests were a stark contrast. At times, it was almost possible to believe I was riding on the coast, until we burst out onto a viewpoint over the rolling hills and winding valley lakes of Salmon Arm. The Larch Hills Traverse is a 38km epic leading from Salmon Arm to Sicamous. The countless hours put in by Adrian and his team on hand tools is evident as soon as you get on the trail: every foot of the traverse has been planned and built with tenacious care. As it winds along the ridgeline, the traverse punches through too many different zones to remember.
Boardwalks through lush wetlands give way to tight second-growth berms; salmon-berry tunnels suddenly open into mossy forests threaded by a perfectly buff ribbon of high-speed single-track; sustained climbs reveal open vistas over Shuswap Lake. With Adrian giving us the play-by-play of the trail and the area, we hardly noticed the trail disappearing below us.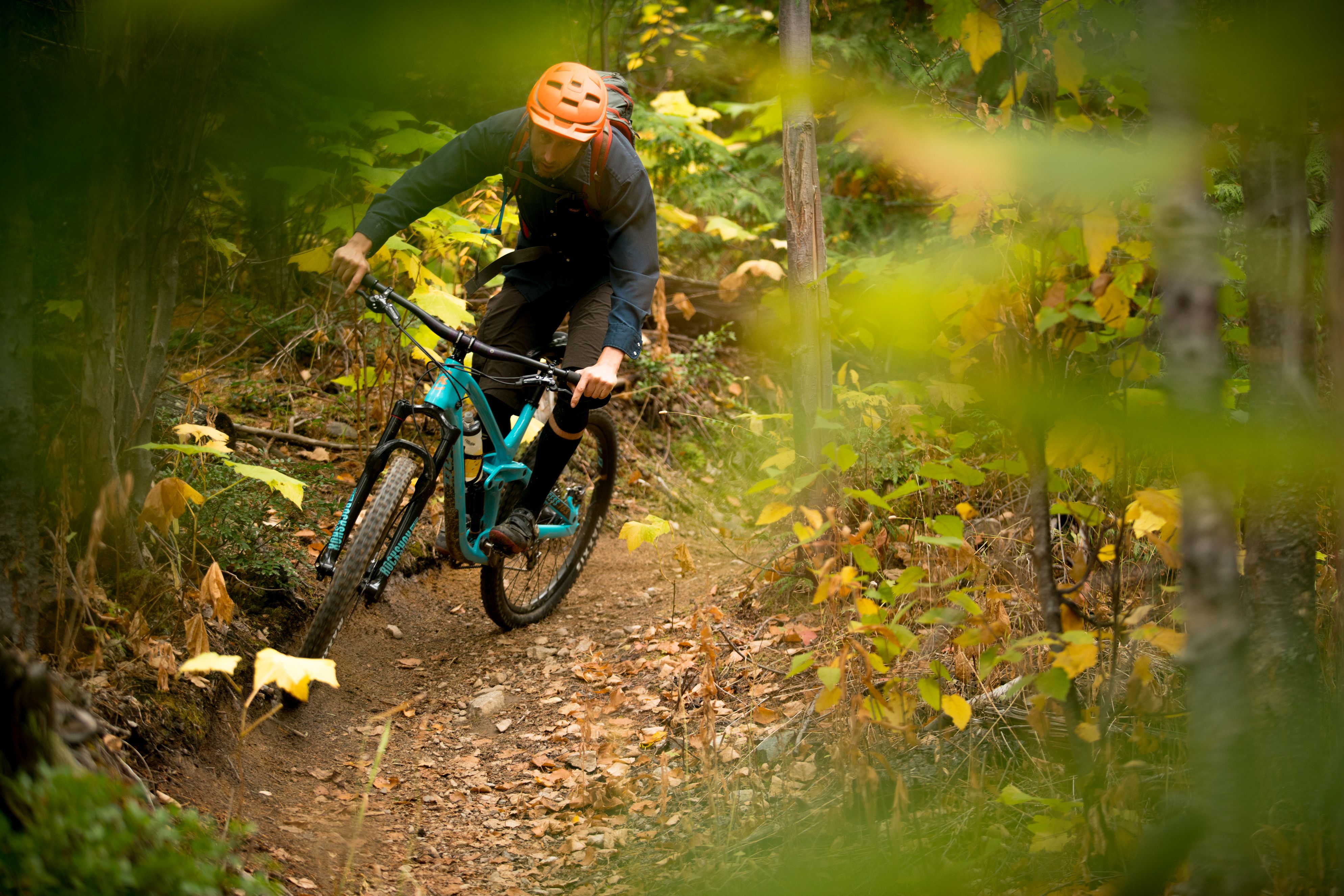 With one last sustained section of some of the most playful switchbacks and singletrack I've ridden, we were out onto the highway. Only our tired legs and thirst for the Barley Station growlers waiting in Sicamous were any indication that we had cruised through one of the most unique rides in the interior.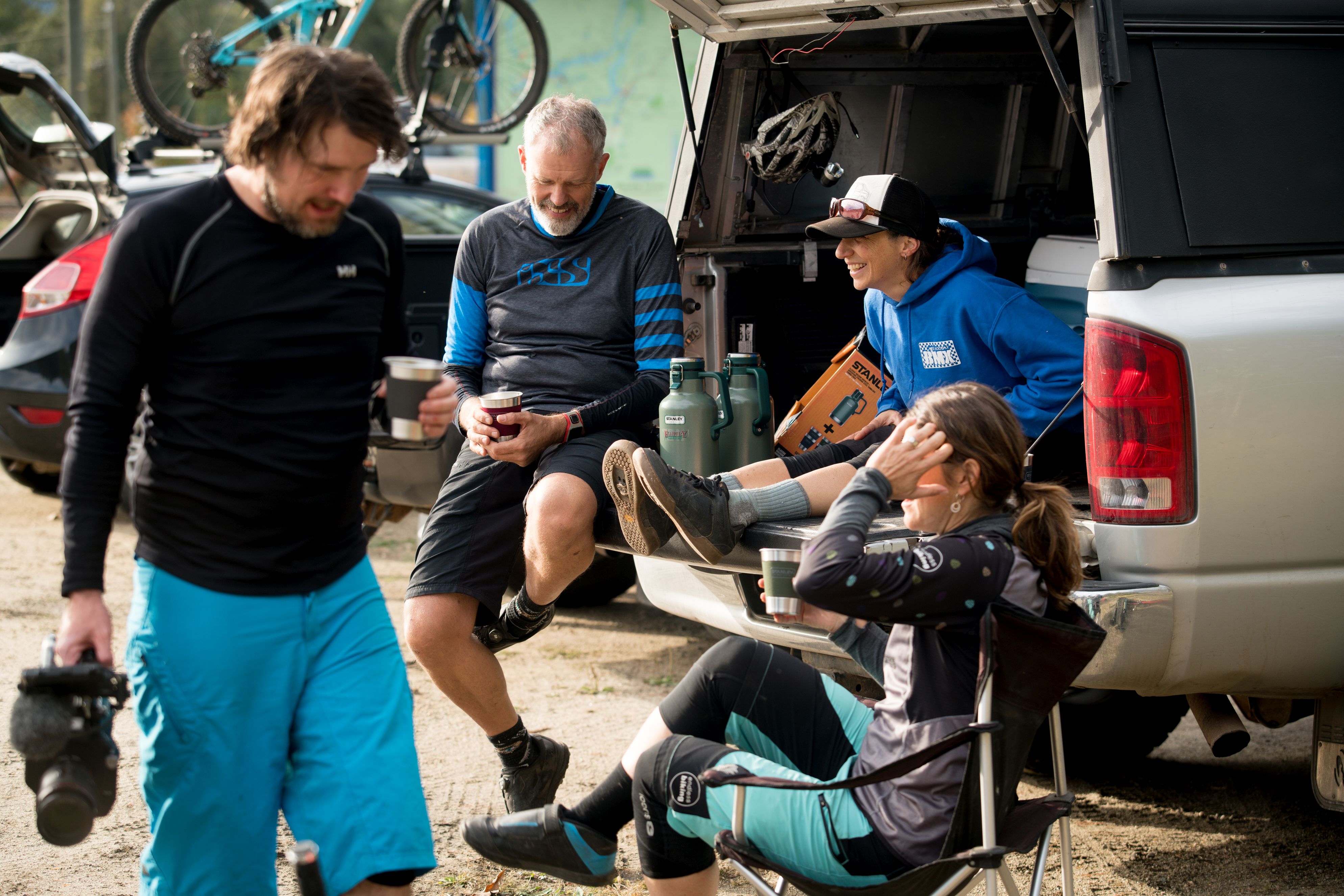 With a quick pit-stop to recover some energy by the fire at The Burner Grille, an iconic roadside restaurant that absolutely merits a stopover, we were on to Revelstoke.
Henning Schipper, Director of Trail Planning for the Revelstoke Cycling Association, met us early for breakfast. The air was cold and we thought we might still find some snow on the ridgelines from the rains a few days earlier. Henning was optimistic, however, so we packed up and headed for Frisby Ridge with fingers crossed. Henning has been heavily involved with trail advocacy since last summer. "If I want to have an opinion on trails," he said, "I have to be involved."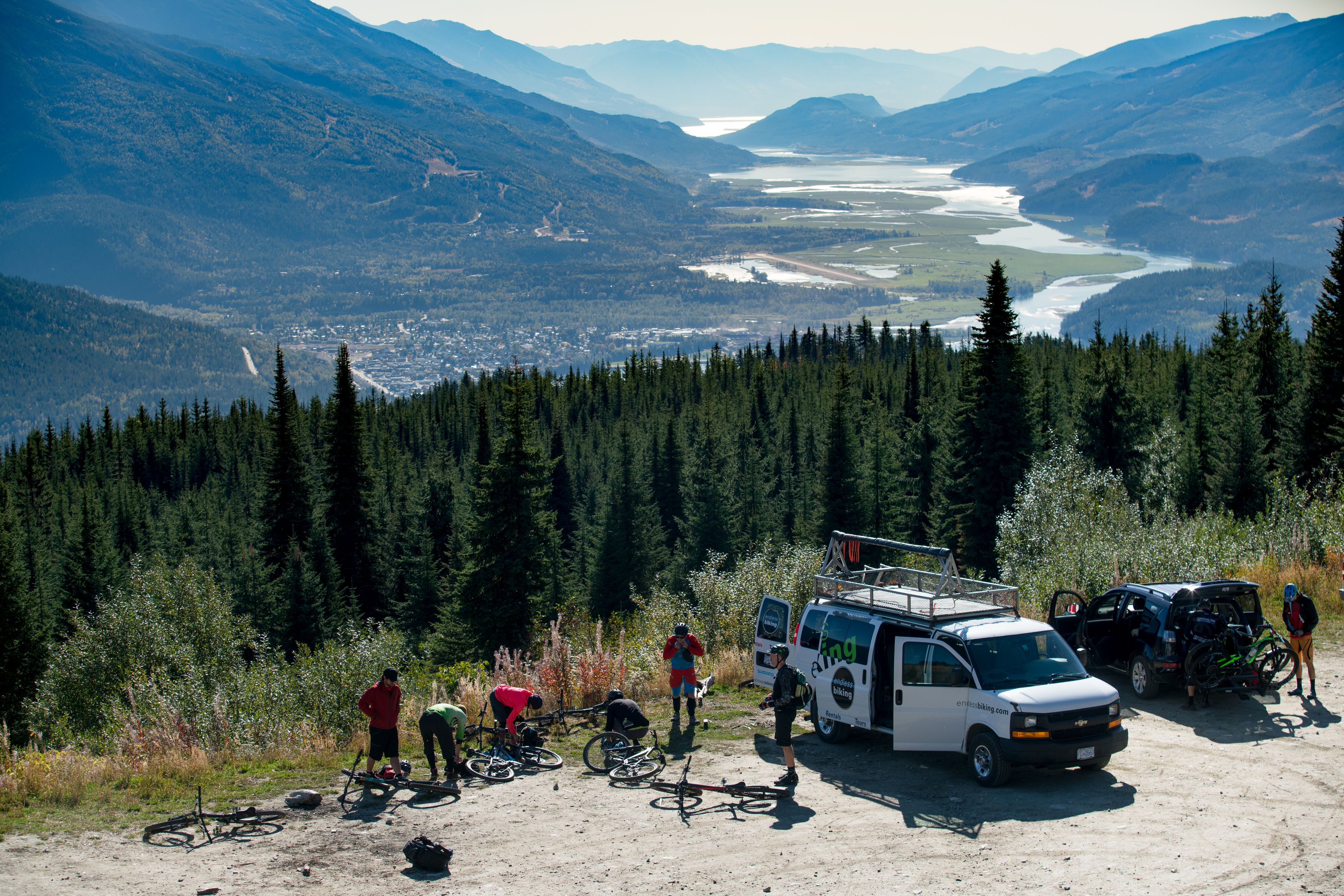 After a long climb to the parking lot bumping to Darren's unfaltering reggae beats, we found conditions looking prime in the alpine. The trail winds gently for 10km into the alpine: the consistent, moderate grade makes it easy to see how much energy and thought was put into routing the trail to be the perfect ride up and the perfect ride down at the same time.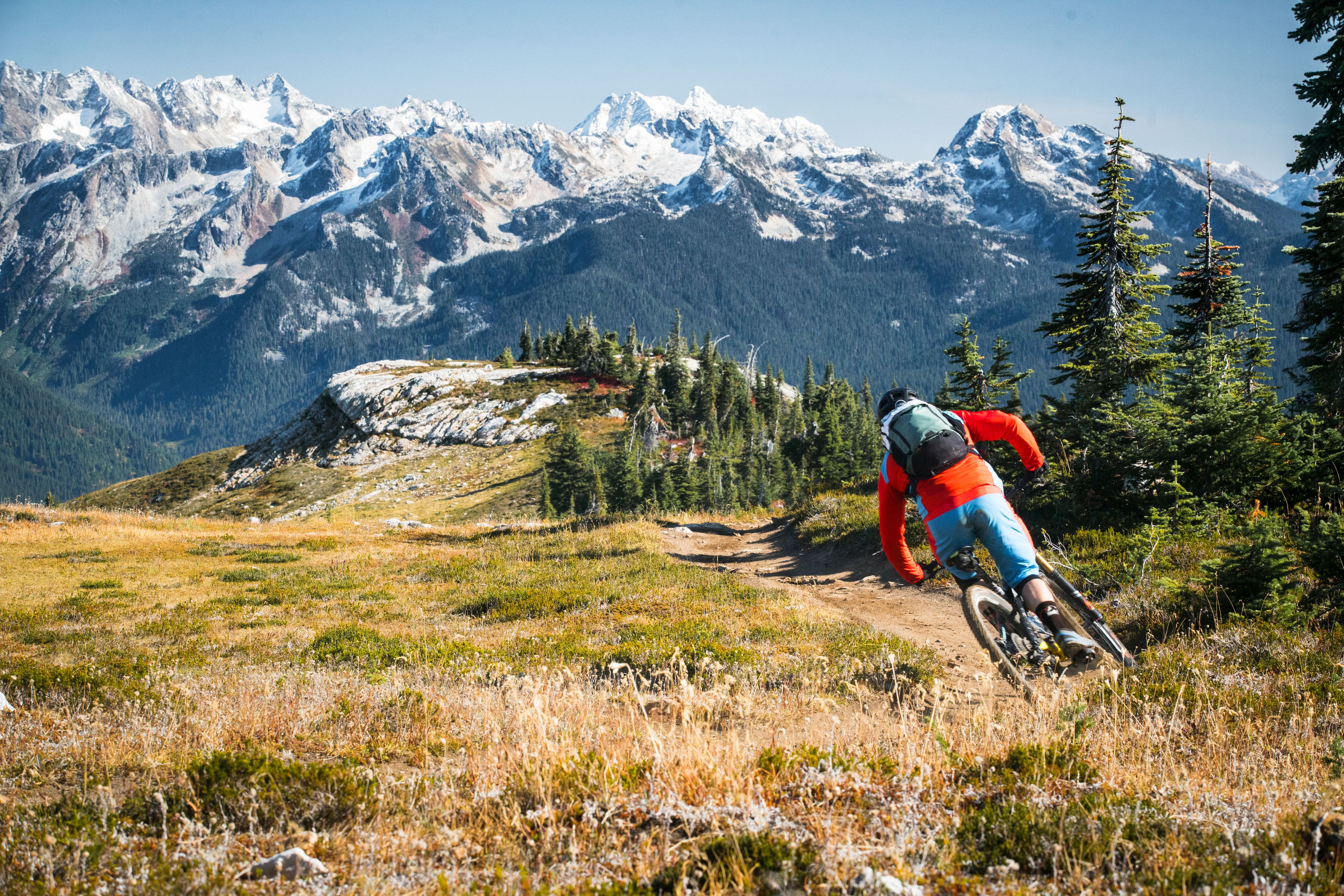 After 700m of climbing, we found great alpine conditions and tacky dirt – the snow, the bugs, and the summer heat were gone, leaving us with beautiful fall light and sunshine that was just warm enough to inspire a frigid swim in the alpine lake atop the ridge.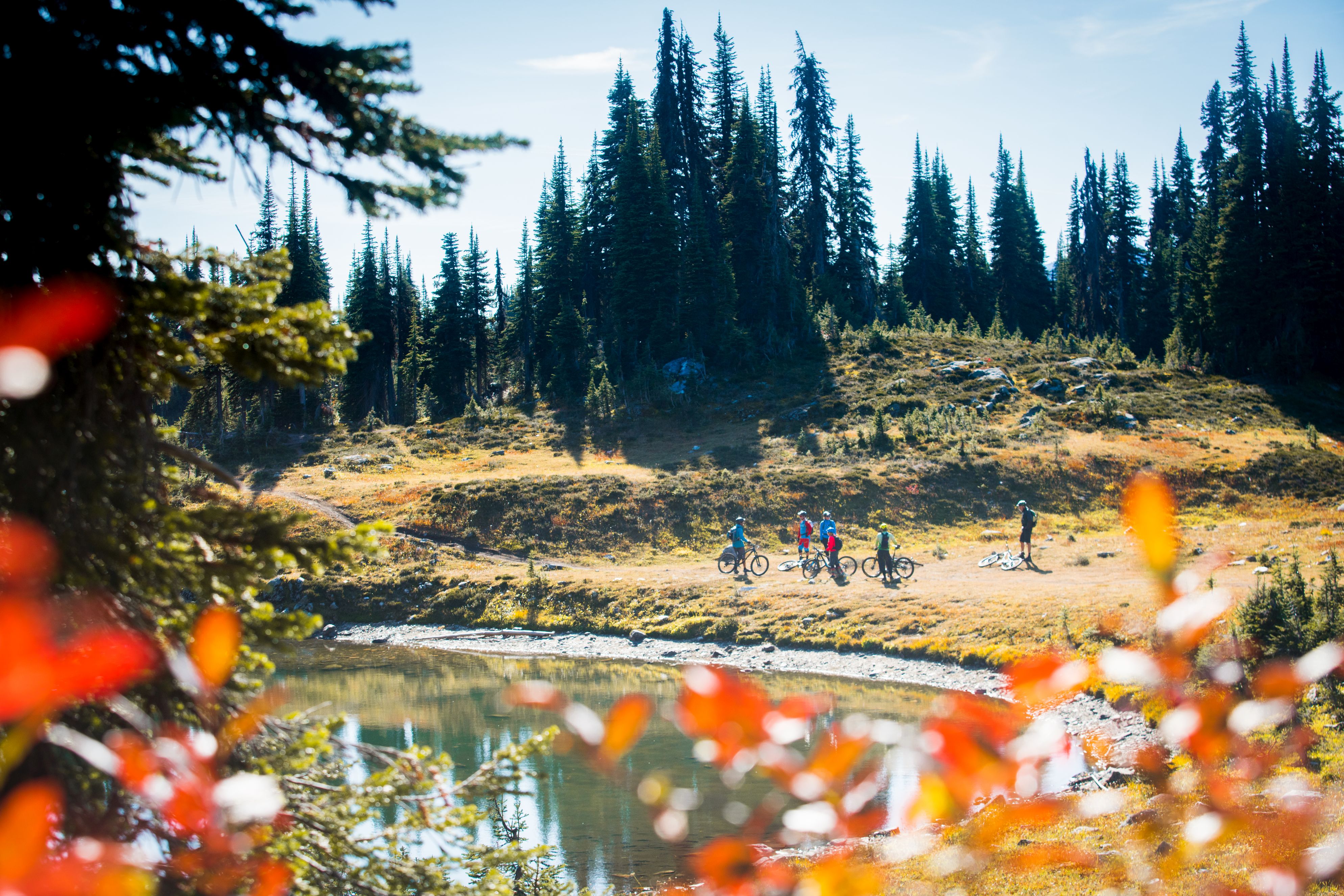 The trail crews in Revelstoke have done an amazing job keeping the trail buffed through its entire length. Henning told us of the difficulties of keeping a trail like that going. "Unfortunately, we had a rainy period last August and many people decided to ride the trail in the wet and destroyed large sections."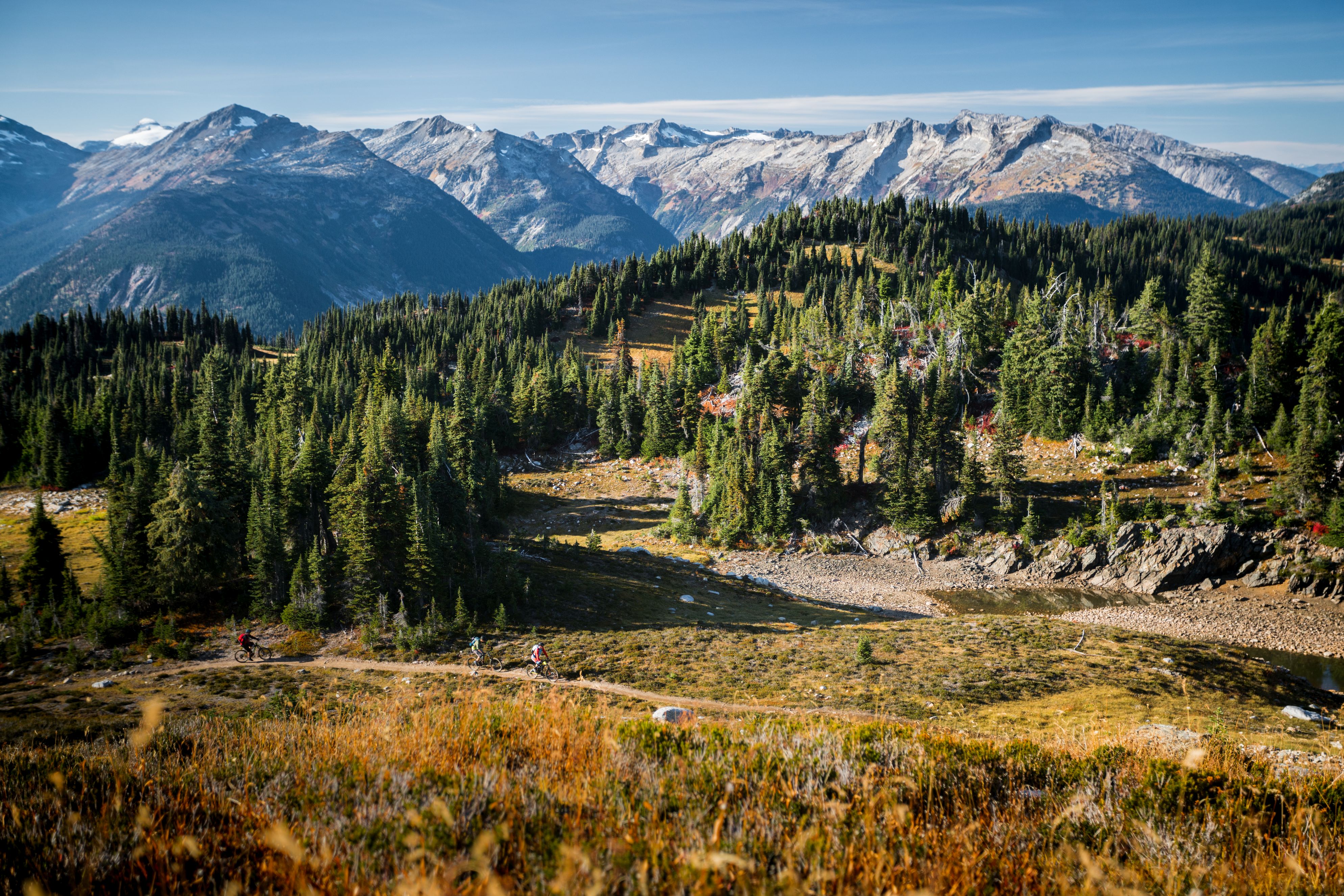 After a lengthy closure to restore the trail, Frisby Ridge is now open and better than ever. As soon as we hit the trees, the light disappeared, and it was full rally time. For minutes at a time, it seemed like we didn't need to touch our brakes, the natural flow of the trail managing your speed all itself.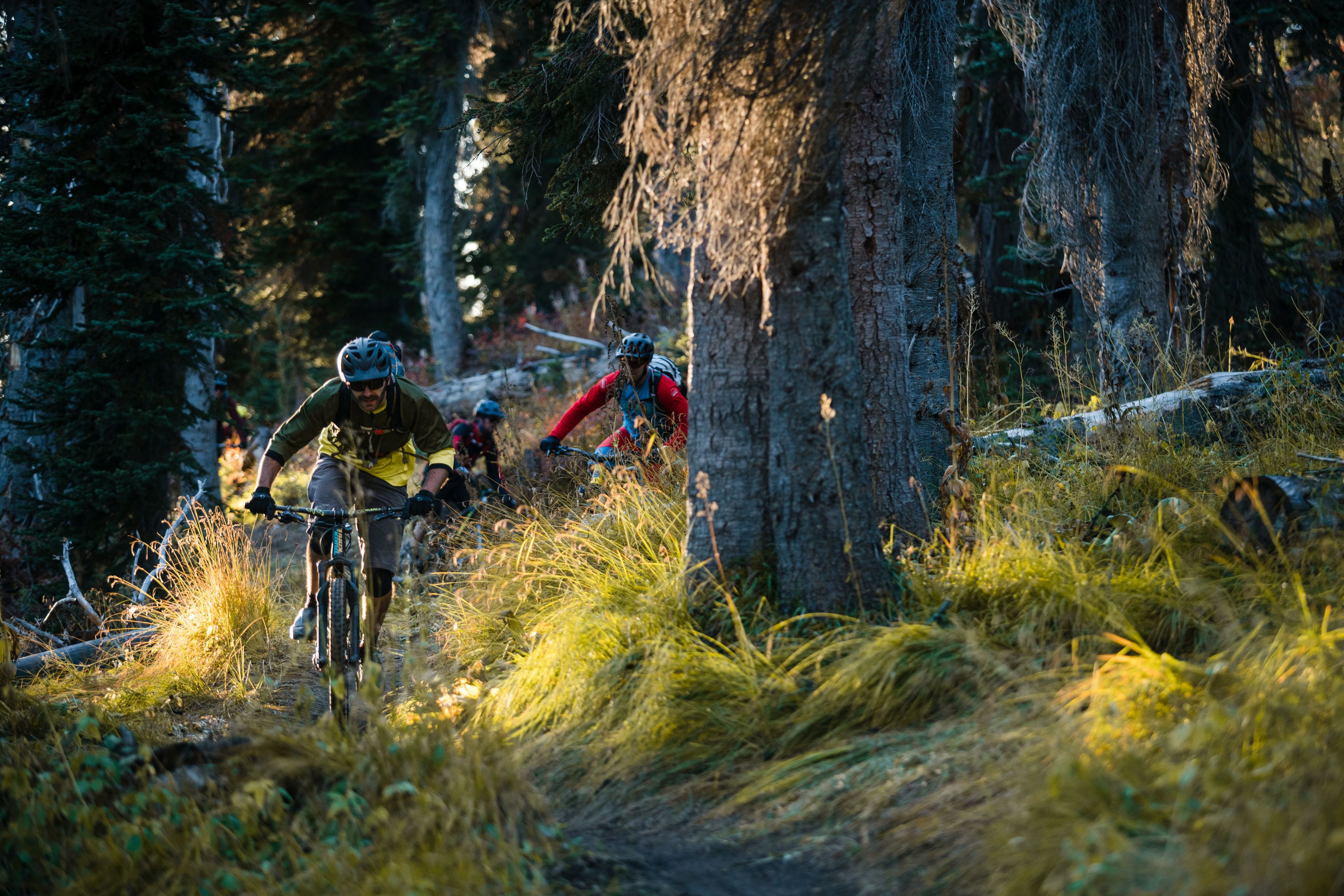 Bouncing though tight turns and playful rollers, we found ourselves back in the parking lot all-too quickly, nursing our aching legs with a medicinal brew. The last colour of sunset lit the sky as the full moon rose over Revelstoke below us, capping off what was likely our last spectacular alpine day of the year.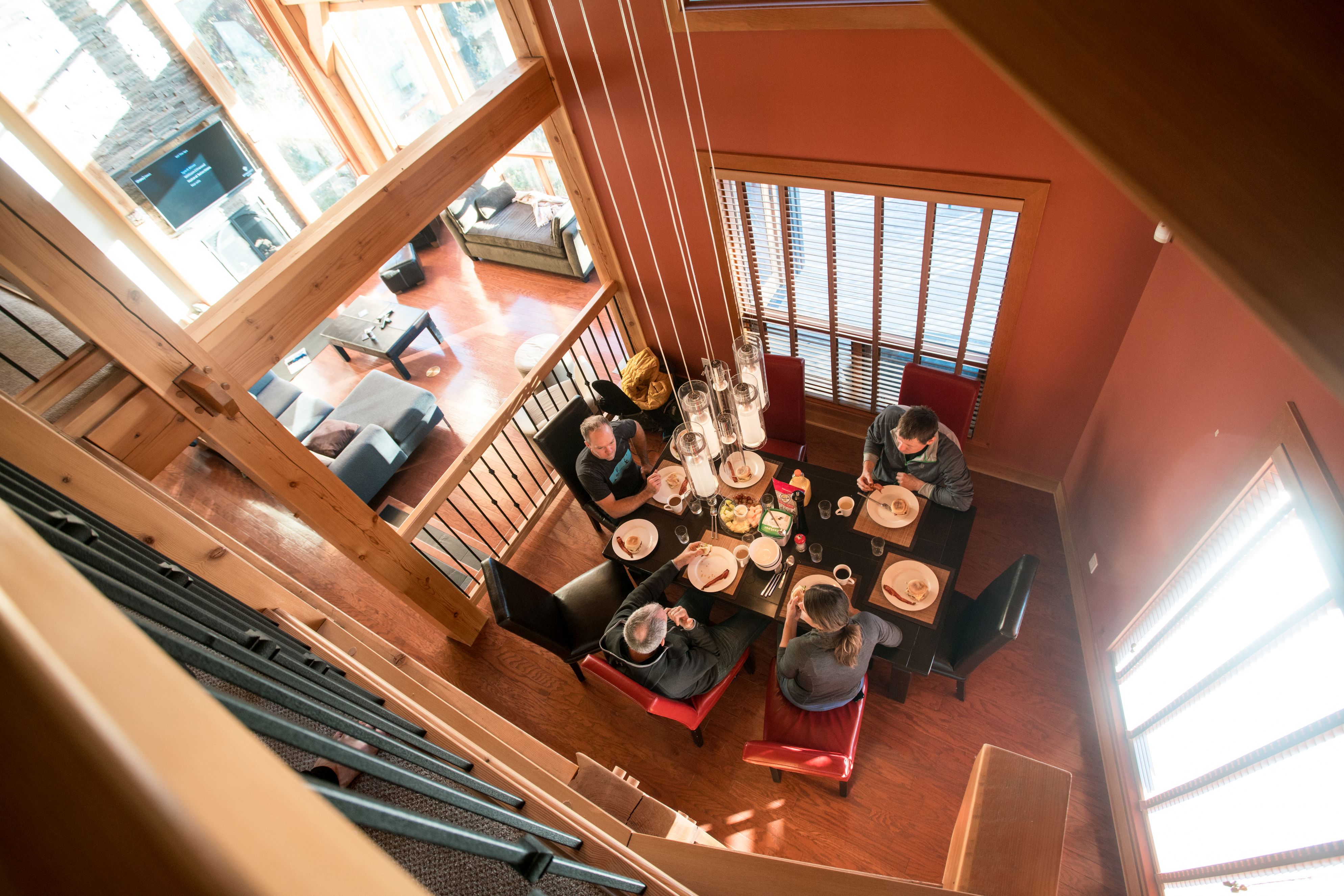 We awoke in Golden to sunrise streaming into our chalet. With a big family breakfast on the table, we made our game plan: meet up with David, Rueben, and Ryan, our local connections, and check out some of Golden's most iconic single-track. We headed over to the Moonrakers trails to ride LSD, which is a nod to the nearby peak Little Sir Donald.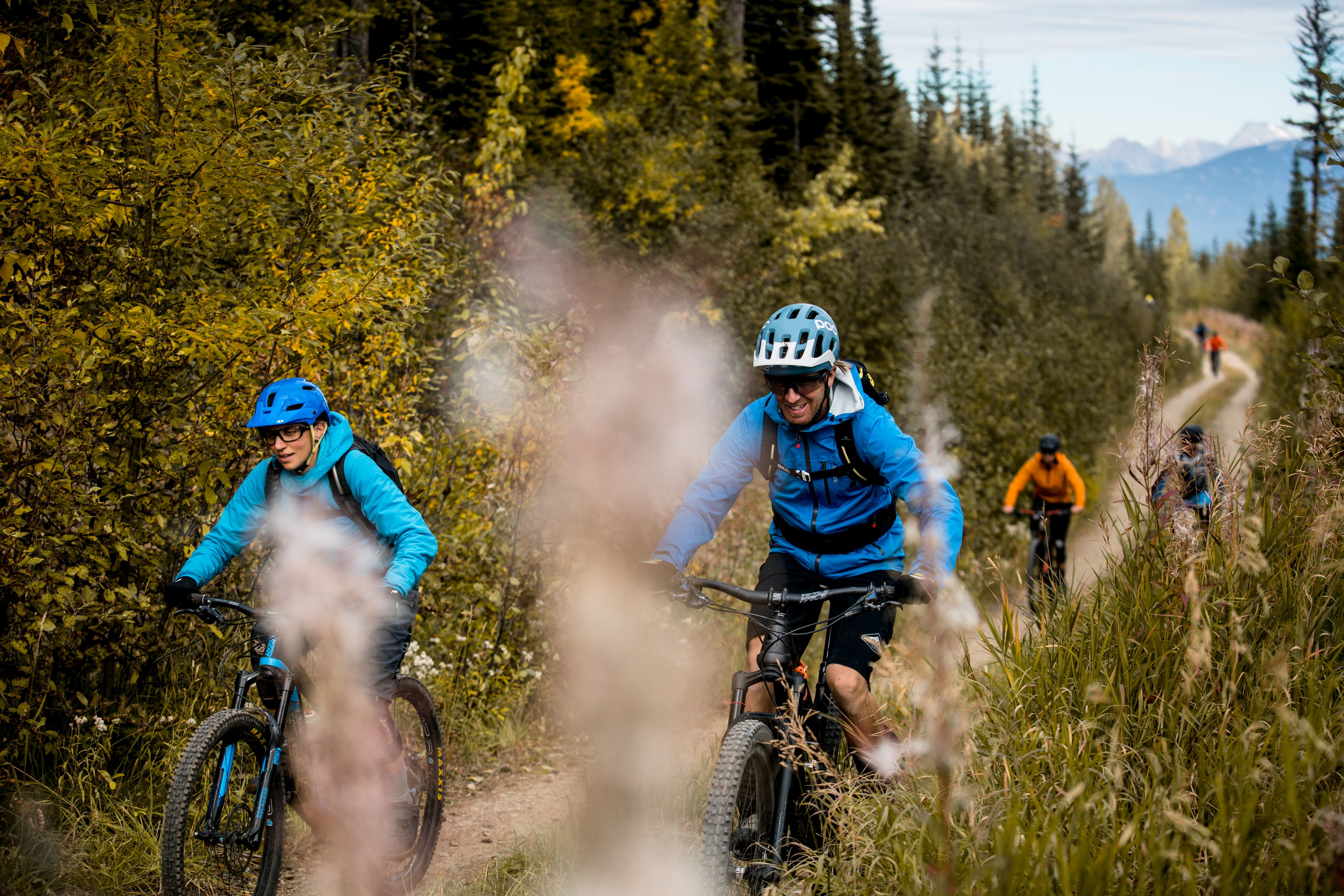 After a summer without rain, LSD was steep and deep: rivers of dust chased us down through rocky chutes and tight corners. Lisa giggled her way down, feeling right at home in the rowdy lines we found. "Give me that over berms any day" she said, charging into every line the locals told us we might want to scope out first.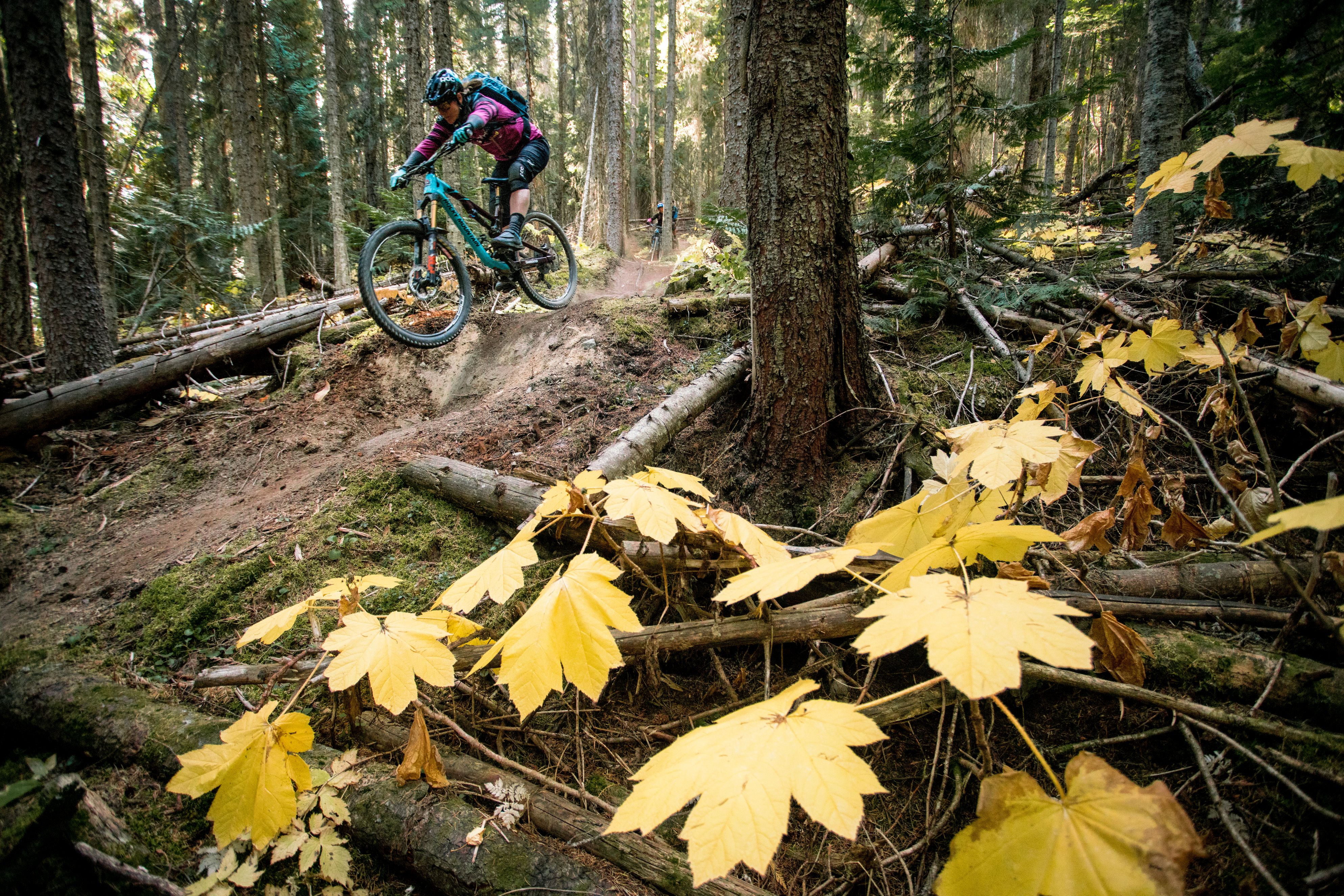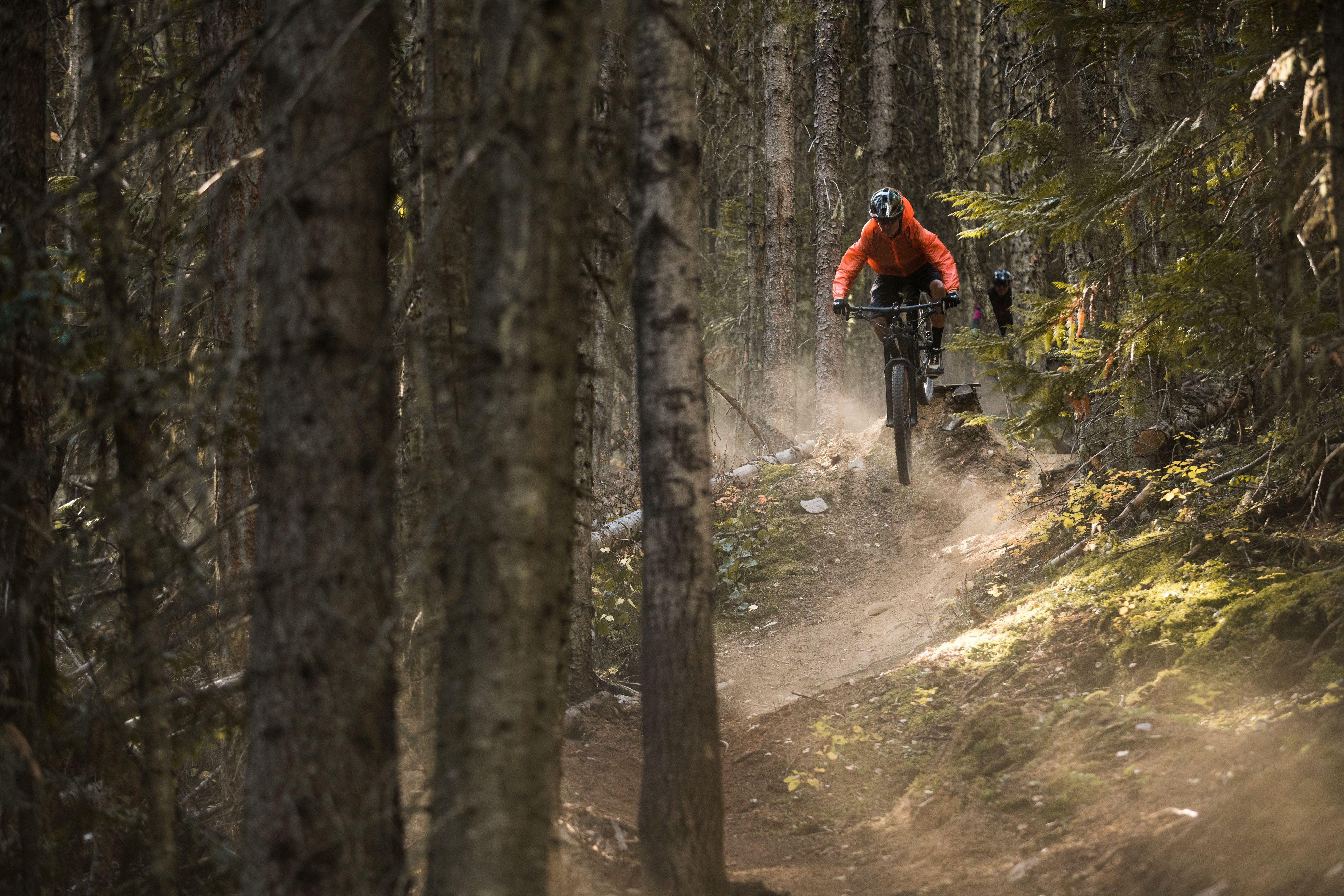 LSD drops riders into another Golden must-ride: Canyon Creek Trail. We embraced the stark contrast to the upper trails and let the wind of high speed ripping whip the dust off our clothes. As fun as Canyon Creek Trail is, it's hard not to stop on the way down and take it in: blowing a corner in several places would mean a long, straight-shot fall into the creek hundreds of meters below.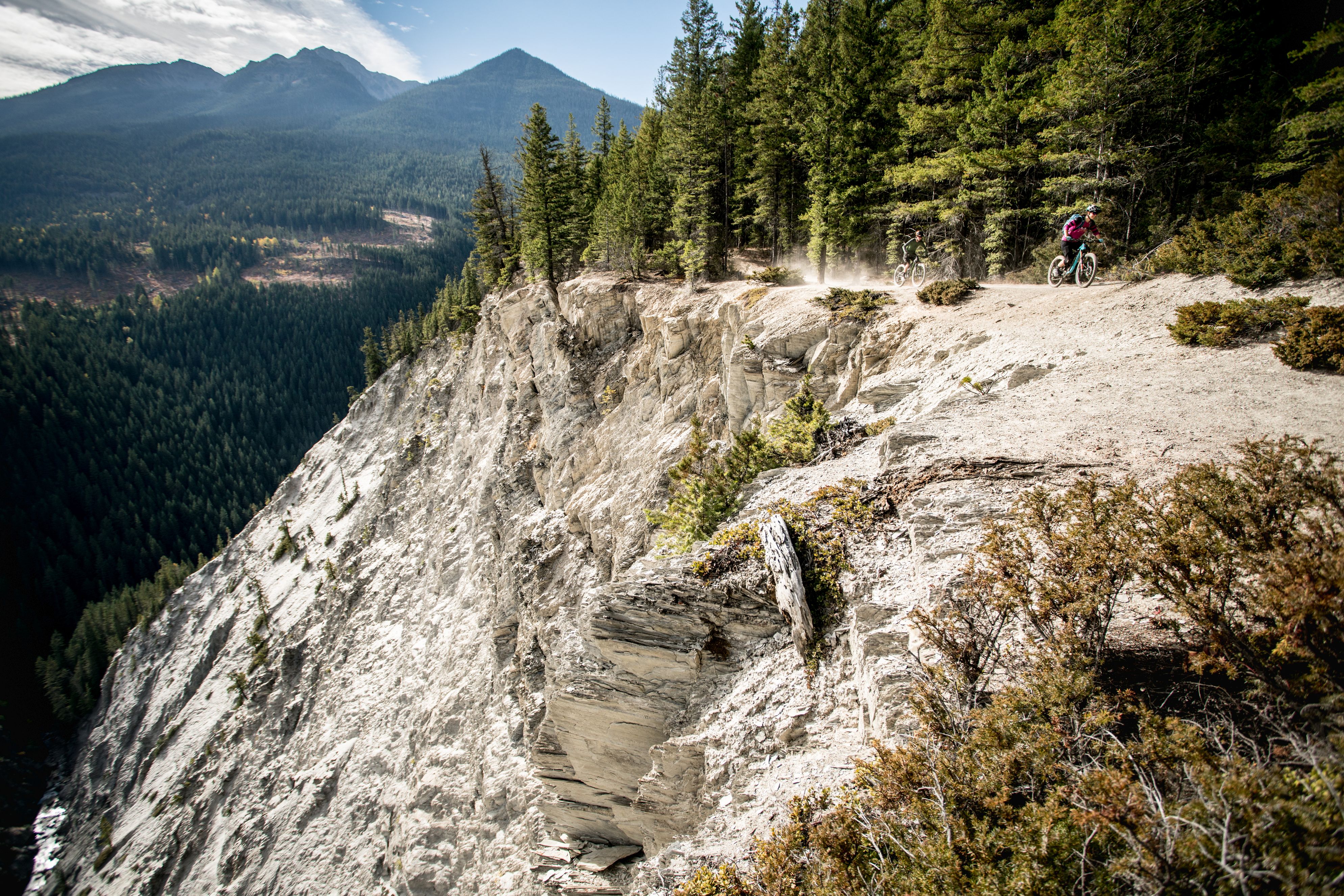 The lower Moonrakers trails wind along the valley, forming a vast network of smooth XC trails that have the speed to appeal to more experienced riders while being non-technical enough to allow beginner riders to hone their skills.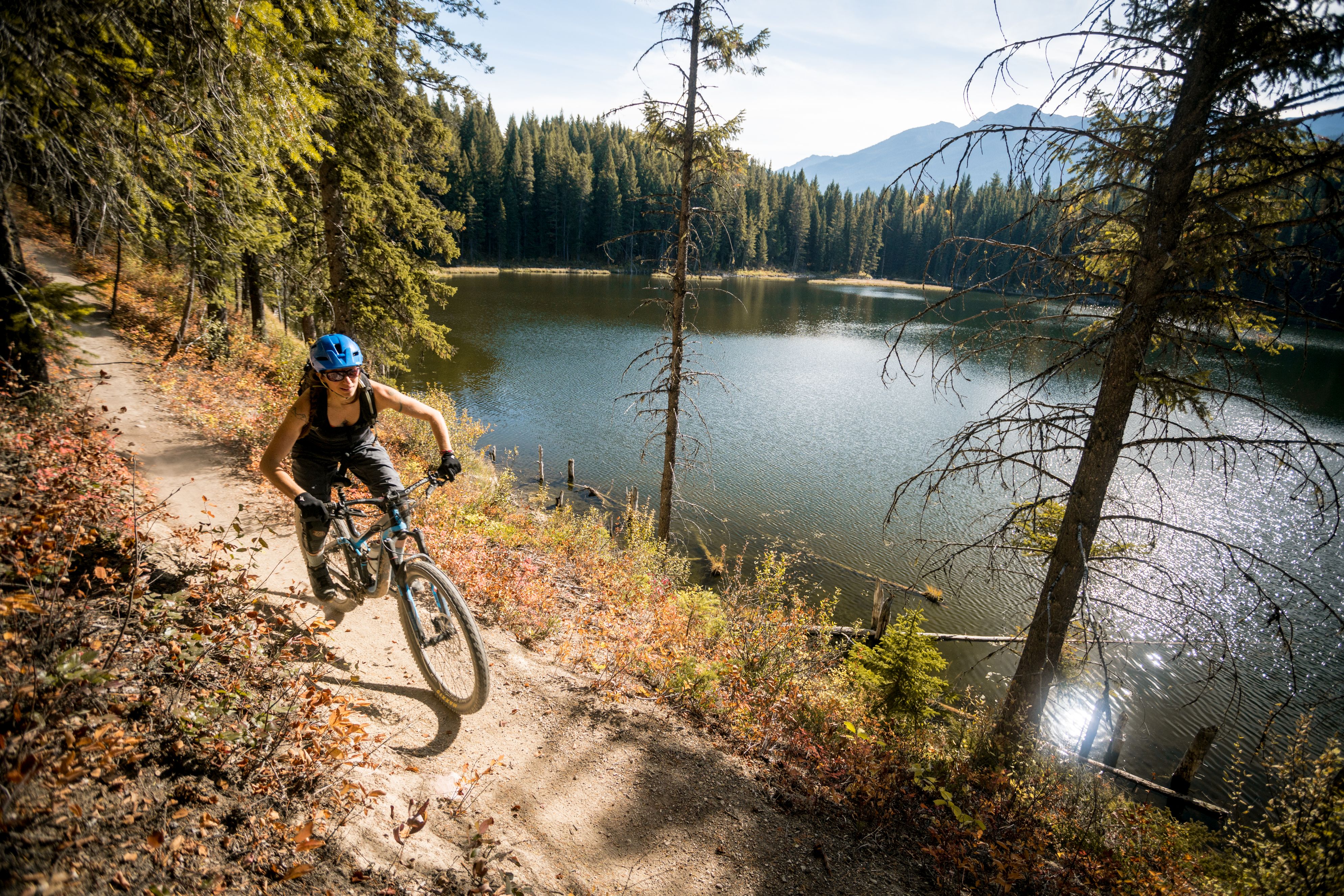 As we wound our way through kilometer after kilometer of beautiful singletrack, Ryan and I chatted about the season. "It's been a hard summer", he said, "With no rain, we haven't been able to do trail work." Compounding the dry conditions, an unusual wind storm hit in July, bringing thousands of trees down on the Mount 7 trail network across the valley.
Even with these setbacks, however, mountain biking in Golden is continuing to grow as people begin to see the amazingly diverse terrain it has to offer. Racing the setting sun, we managed to exit out to Whitetooth Brewery in time to bask with a beer in the last rays on their grassy patio.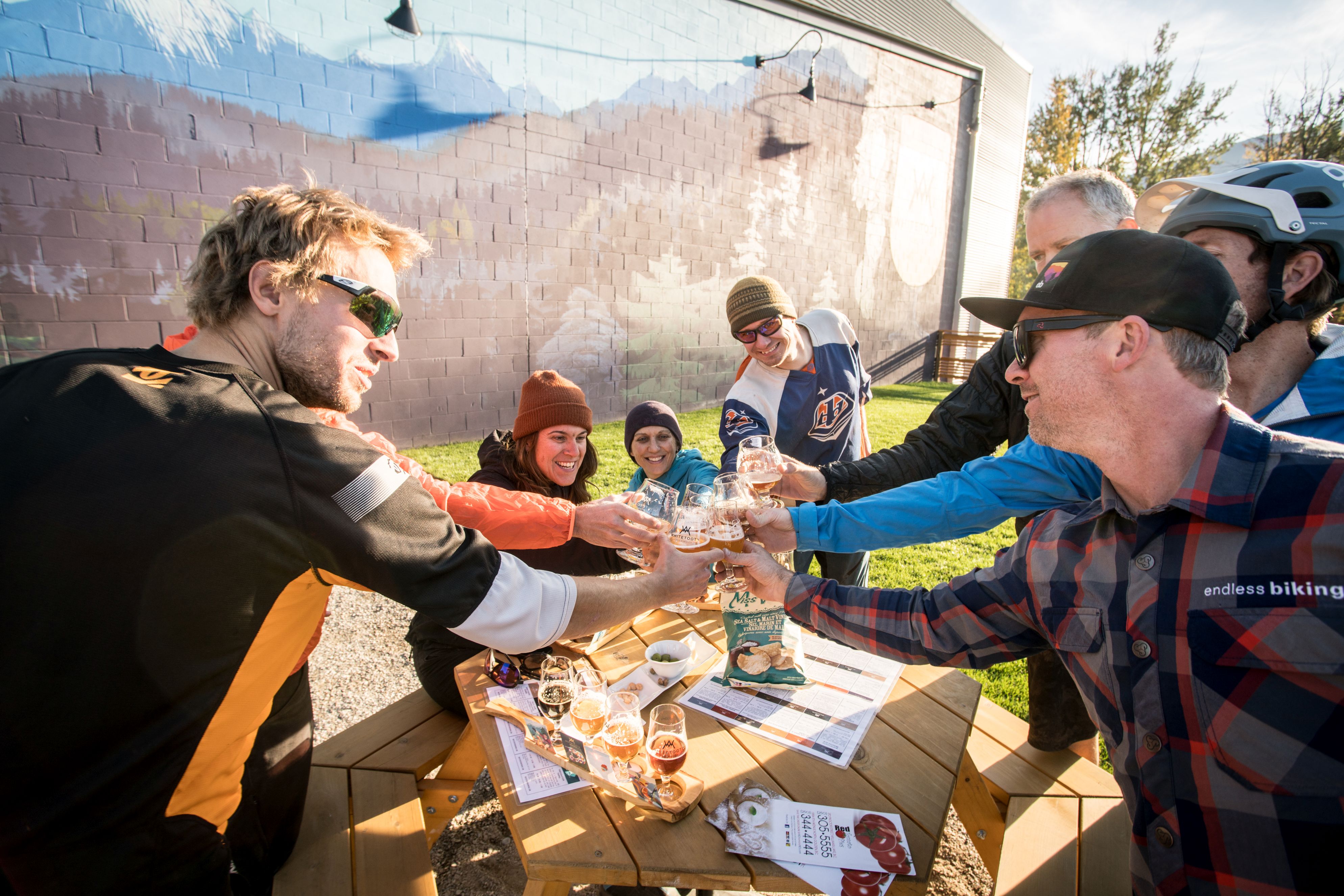 The next day we hit the road to our last destination of the trip: Valemount. The town is nestled between the Rockies, the Monashees, and the Cariboo Mountains. After a 5 hour drive from Golden, we were groggy despite our jaw-dropping route through the Icefields Parkway – one of Canada's most scenic drives.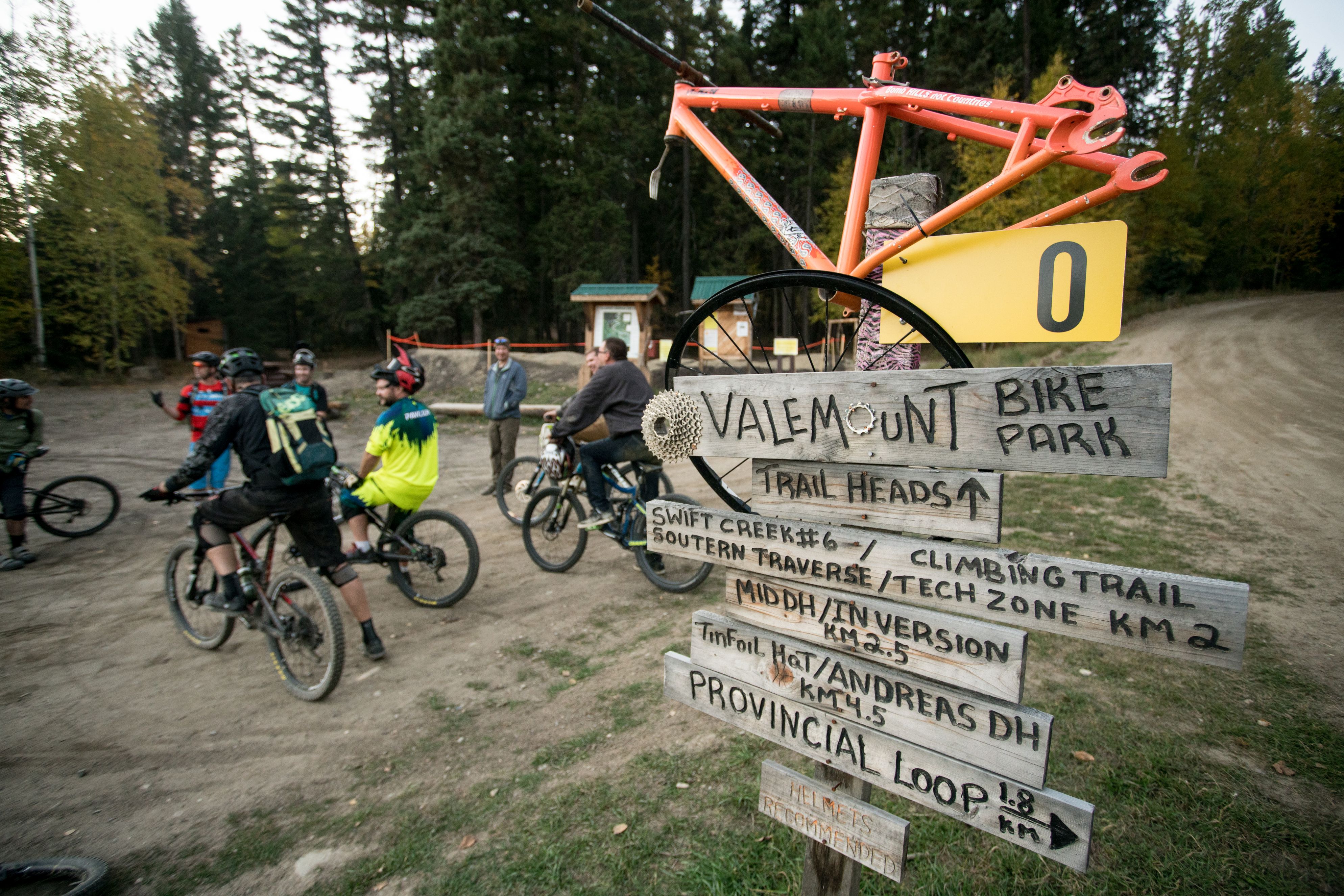 We agreed to meet our local contact, Curtis Pawliuk, at the Valemount bike park to make a plan for the next day. The sun was just about to set, and we were ready to find dinner and a beer in town, but Curtis was standing with bike gear on when we pulled in. "Of course we'll go for a lap!" he laughed as we pulled up. The Valemount Bike Park has been a labor of love for Curtis for the past 3 years. Since starting VARDA, the Valemount and Area Recreation and Development Association, Curtis' infectious energy and laugh have made big things happen.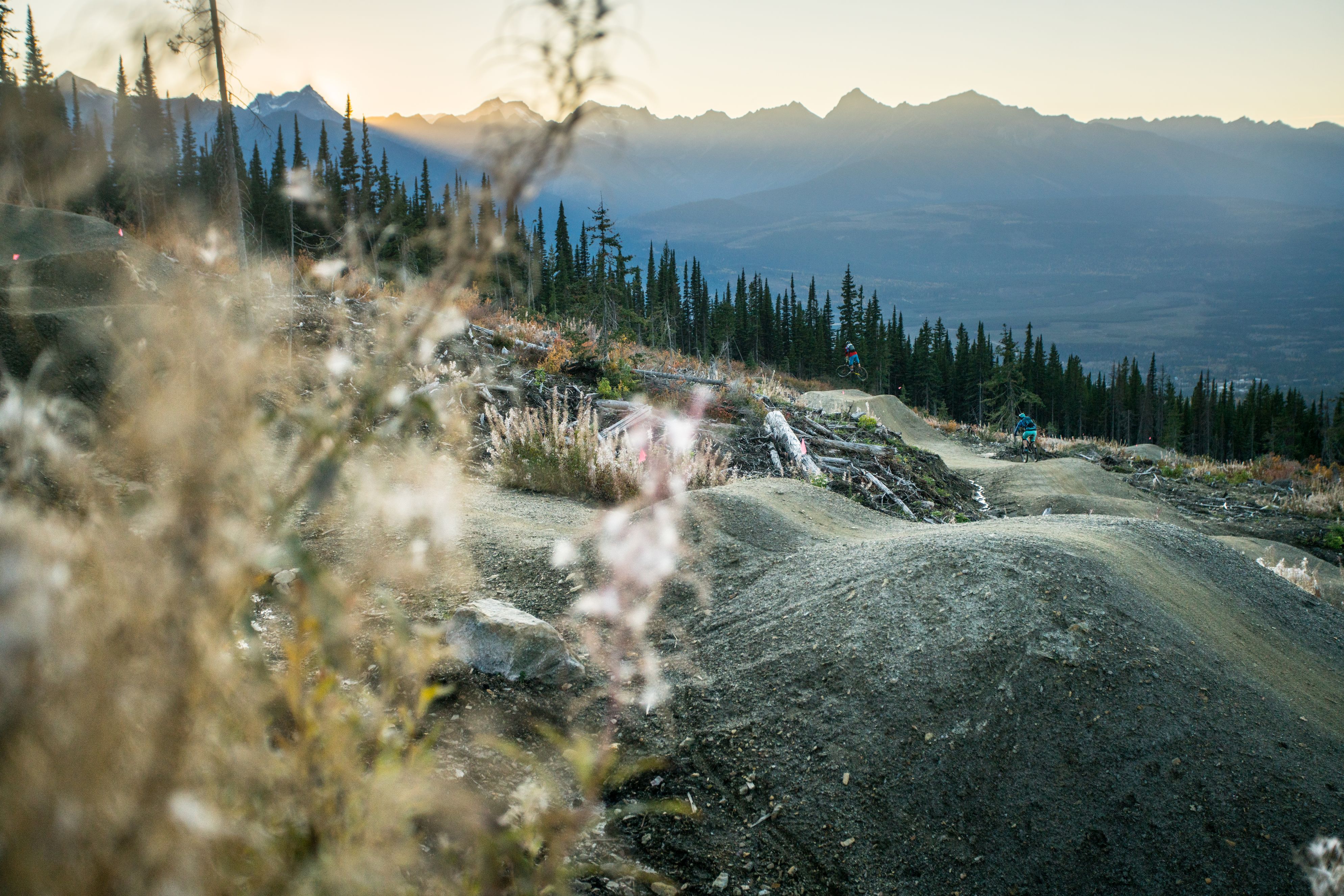 "VARDA has changed this town" he says. Valemount has seen an explosion of mountain bikers in the community, both locals and tourists. Michael Lewis, owner of Three Ranges Brewing, the local brewery, agrees. "Businesses used to close down for part of the year," he tells us. "We've had to extend our summer hours to accommodate all the bikers coming off the trails now." As Curtis leads us up through the bike park, he gives us a tour and points out some of the more iconic spots in the trail network.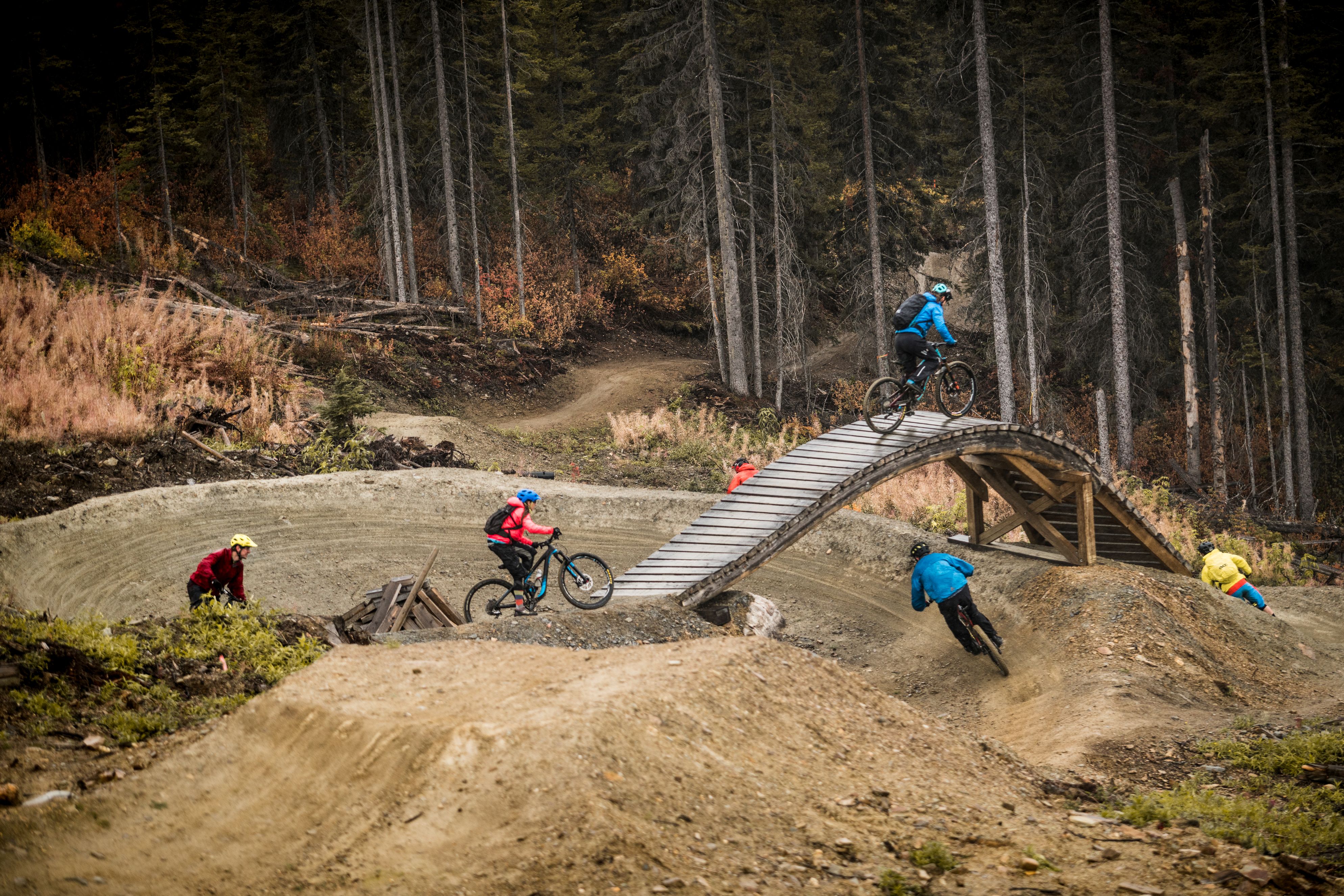 "There's our 270 berm" he says, pointing to a feature that dominates a passing cut block. Everywhere we look, beautiful jumps and sweeping berms poke through the trees and wind through cut blocks. Looking at photos, this could be Whistler Bike Park or Coast Gravity Park and nobody would know.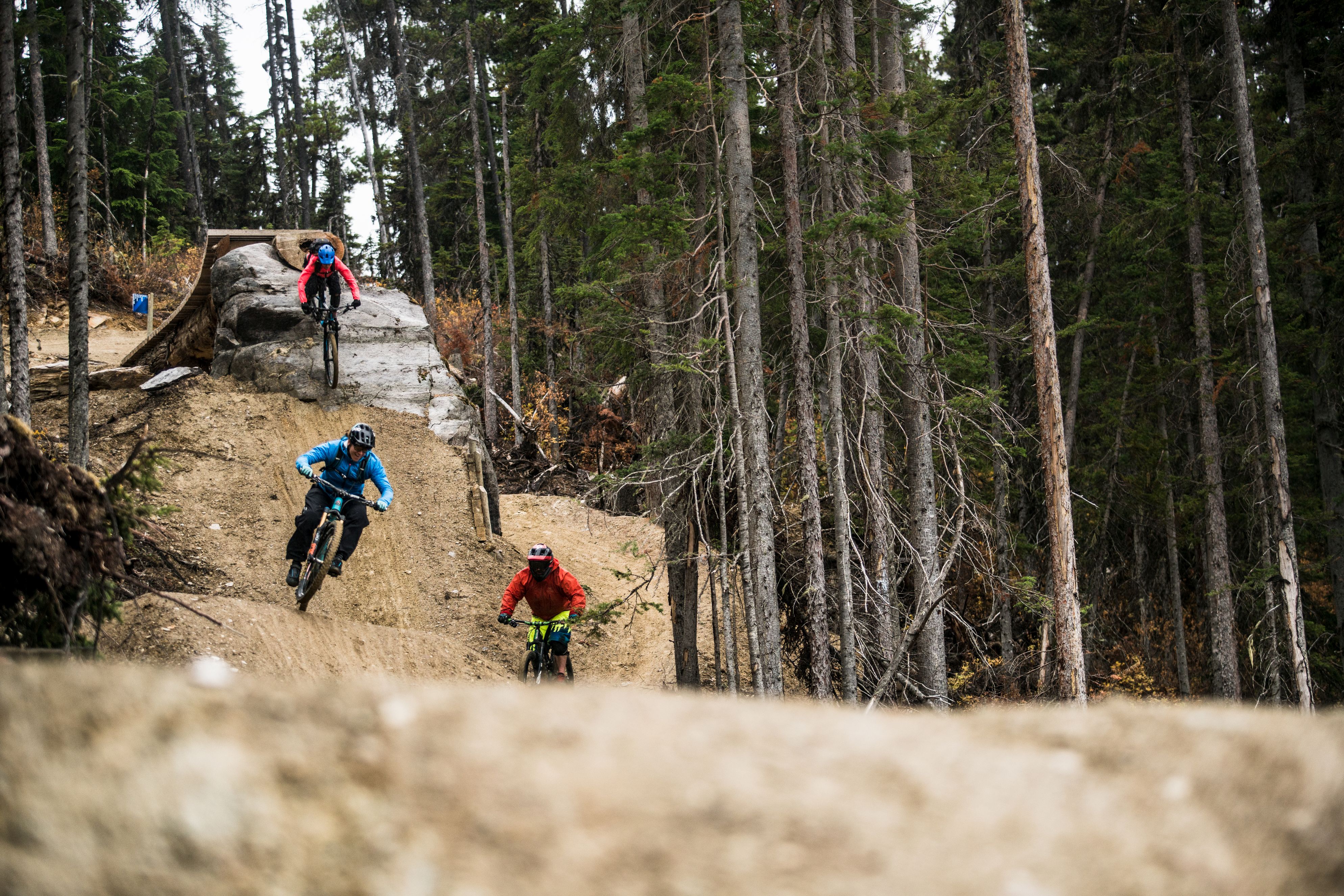 Except here there are no crowds and it's all completely free. Just as the sun is setting, we drop into High Roller, Valemount's premiere jump line. Still groggy from our drive, it was a shock to drop into smooth, high speed flow, but before long the entire crew was all smiles and stoke. "High turkey stumpy dick", Curtis tells us, giggling. "That's what we call the run we just did: High Roller to Turducken to Stump Town to Moby Dick".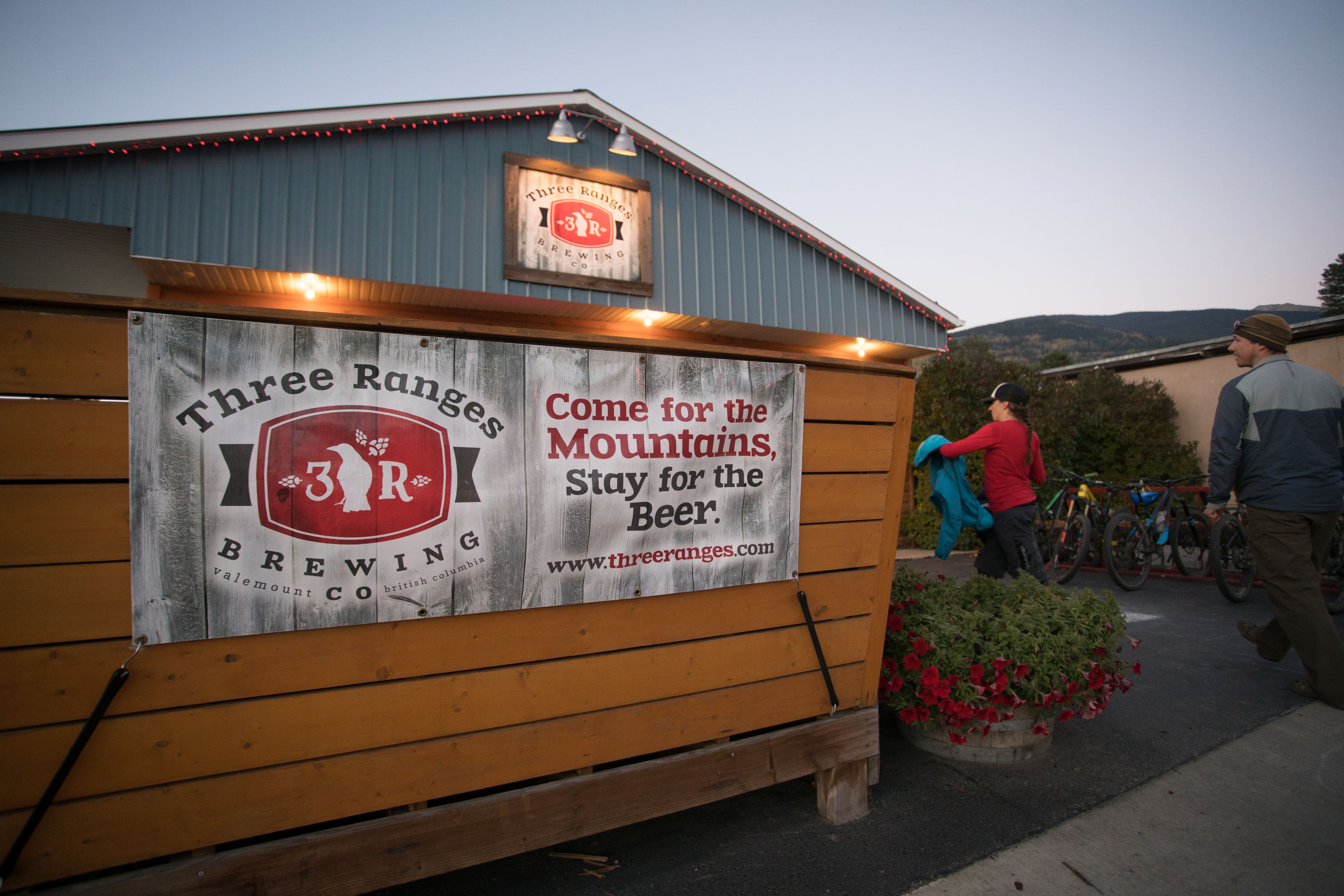 We head down to Three Ranges after our lap to meet the owner, Michael Lewis, and sample the local flavours. Curtis is obviously a figure in town, saying high and catching up with everyone we come across, local and tourist alike. At dinner he covers our bill by arm-wrestling for it with a friend at a neighboring table. All-too happy to have found a worthy opponent, his friend laughs and picks up a bill for some strangers that would considerably lighten any wallet. But in towns like this, people are more important than things, and he thinks nothing of it as he and Curtis laugh through their antics.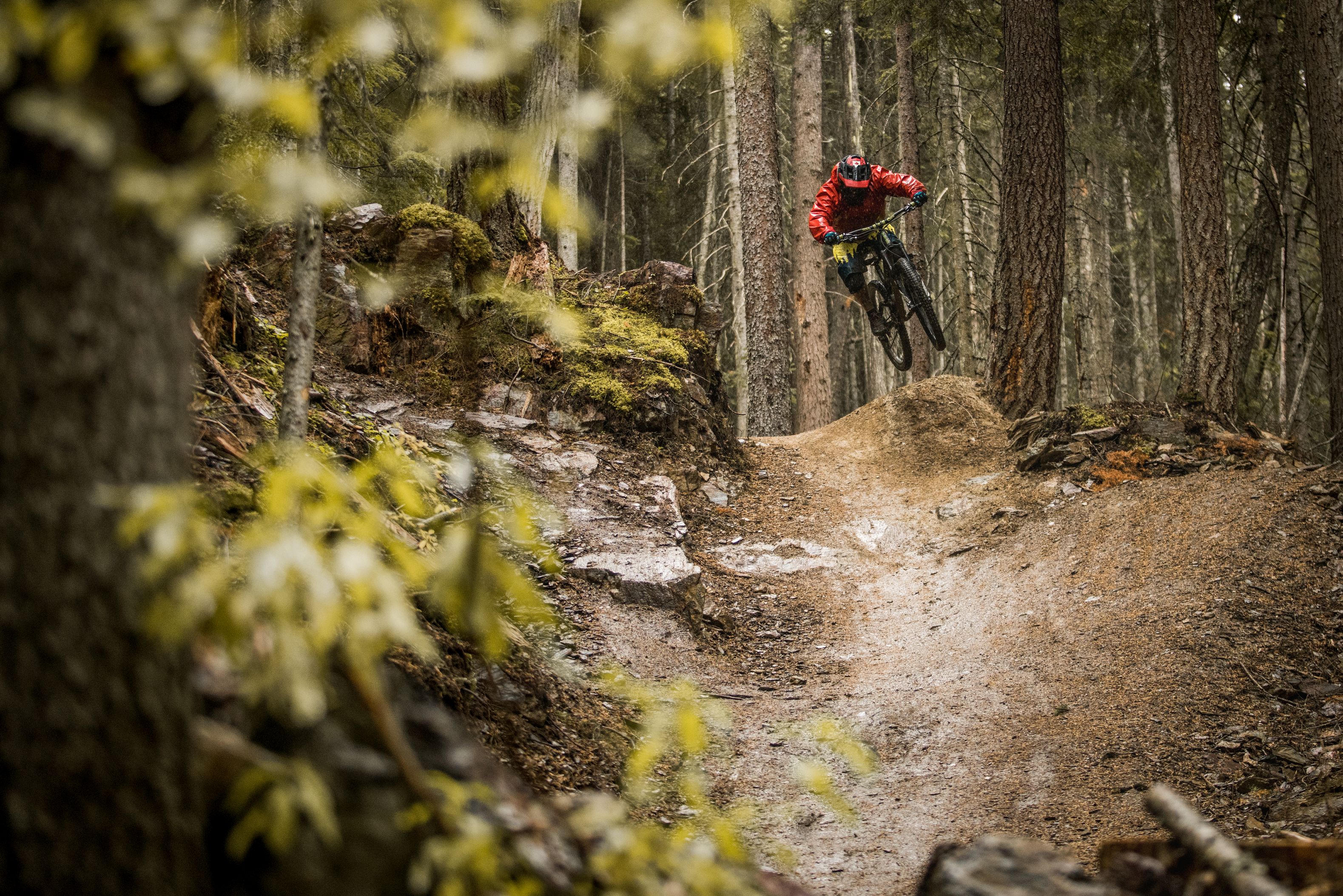 The last day of our trip, we finally lost the weather lottery and the clouds moved in. Standing atop the shuttle road in the rain, Curtis surprised us with a rare honor. "We just finished a brand new hand-cut DH trail, so we thought who better to open it for us than Lisa!"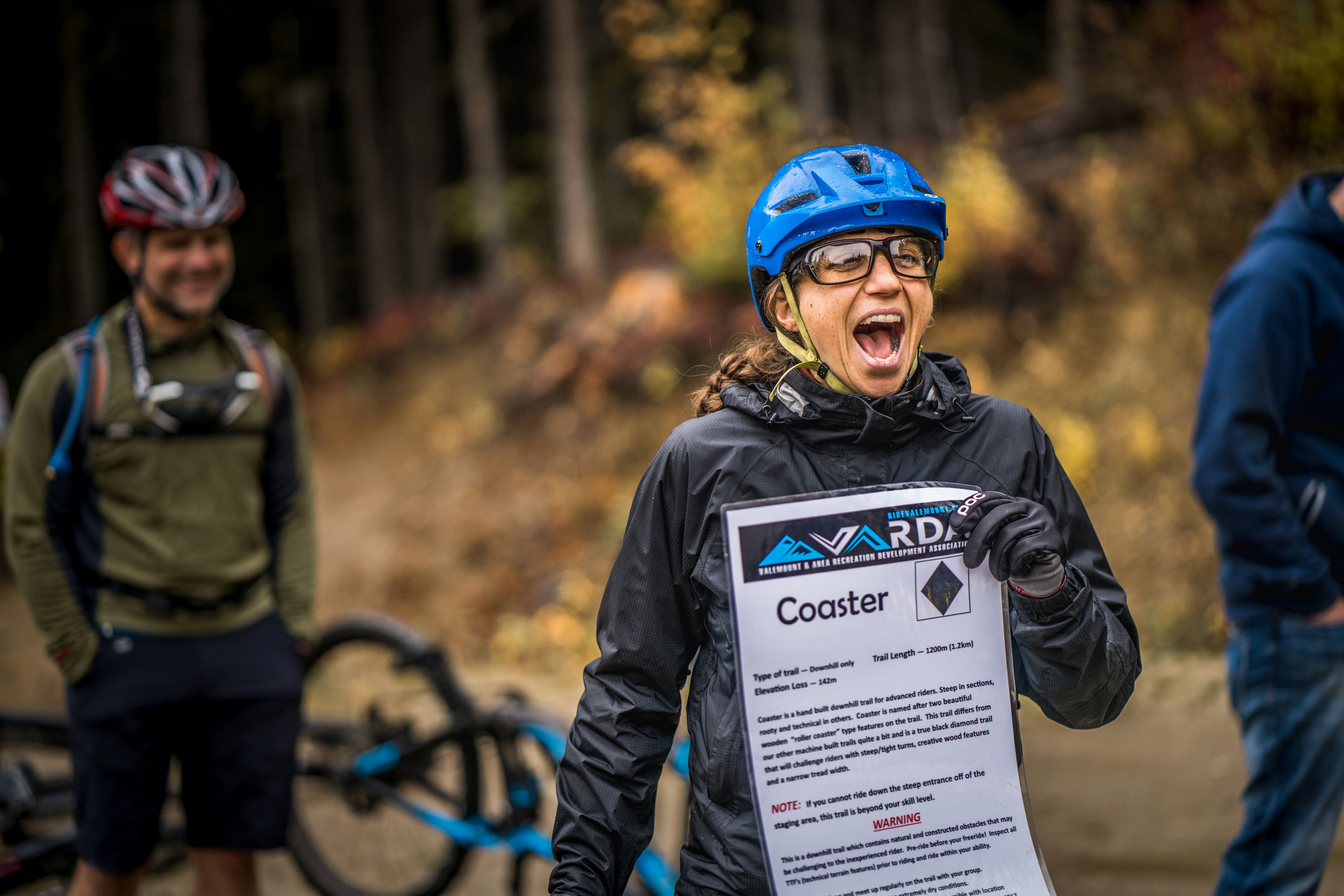 Charging the trail, it was obvious Lisa was in her element at the front of the train, and "Coaster" was christened. Covered in mud and cheeks aching from laughing, we coasted down to bike park's exit, just meters from the back door of the pub. Michael greeted us with growlers and a newly tapped cask brew.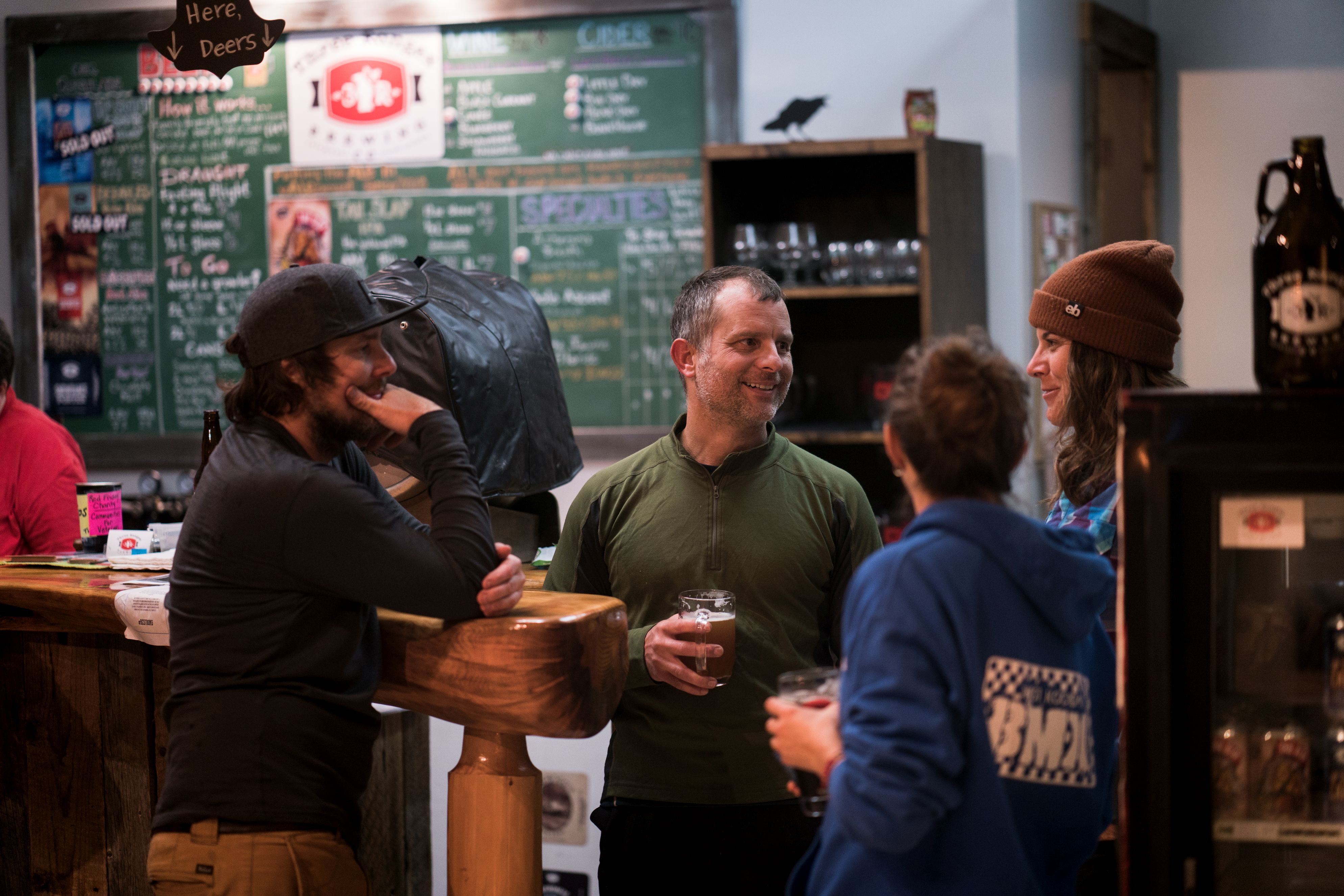 On the final day, grudgingly heading back to real life, we made one last stop that ended the trip more beautifully than any other way possible. We were invited to stop by Chu Chua, the community of the Simpcw Nation, north of Barrier, and check out their local trails. Tom and Sky Eustache met us for brunch and told us about their network as the morning's rain exhausted itself and faded away.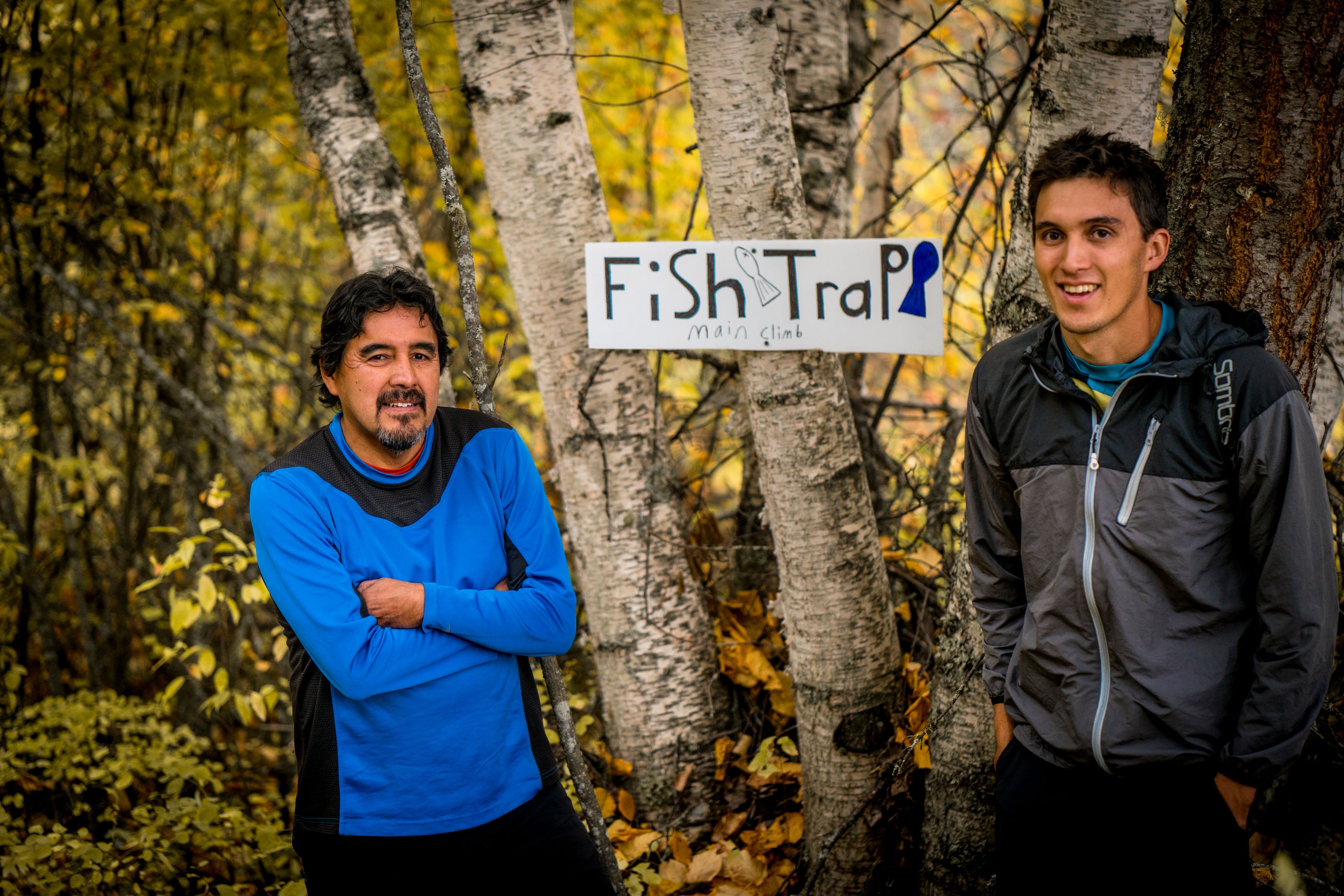 Tom began rehabilitating old trails near town years ago to have some local trails to ride. As the network developed and Tom established a trail crew, more people began to use the trails and in recent years the trails have become a system the community can be proud of.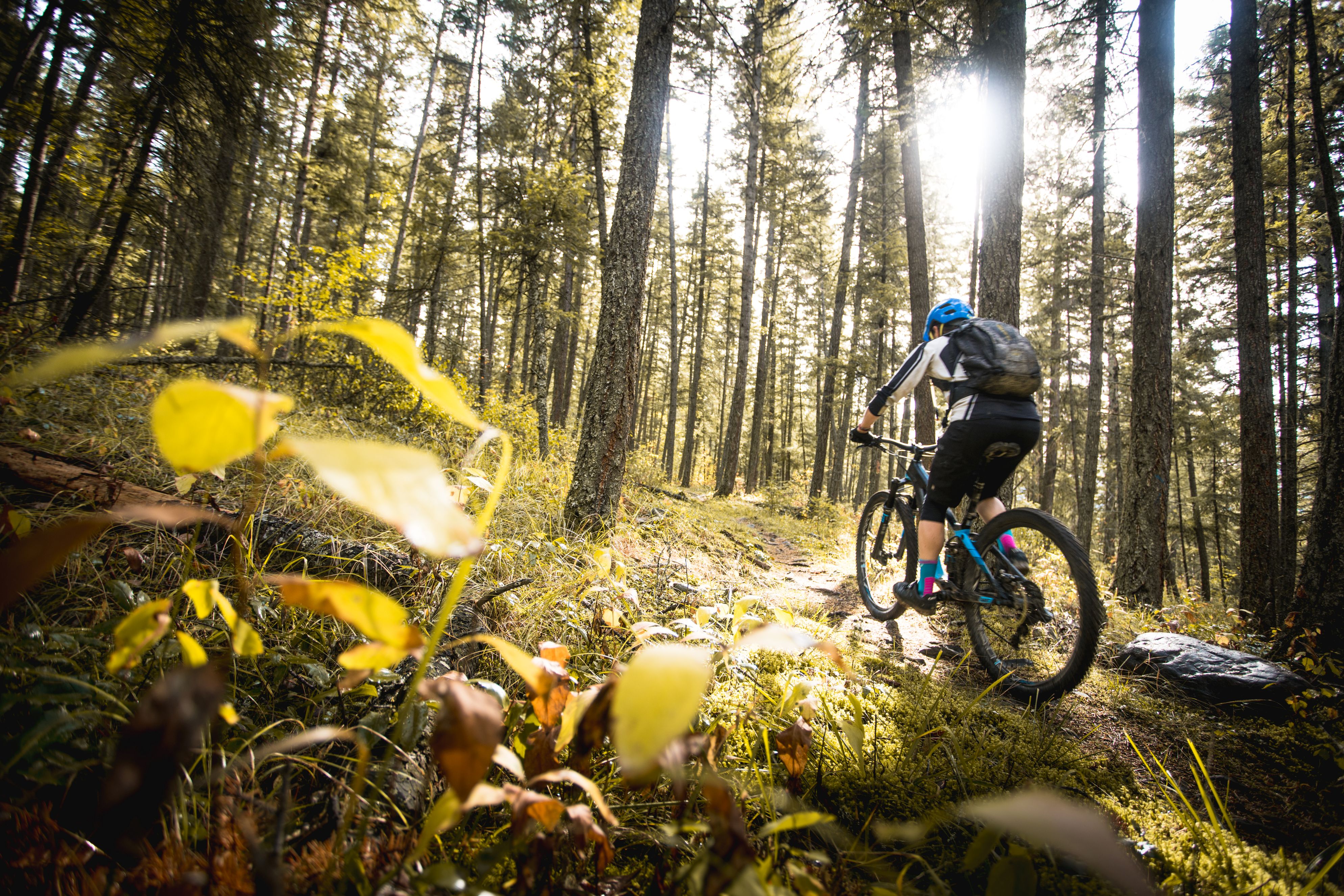 "They've changed lives" Tom told me as we meandered up his climb trail. With the network out their back doors, more people began to get inspired to get outside and a local running group has even been formed: "I've seen people lose 80, 90 pounds" he says.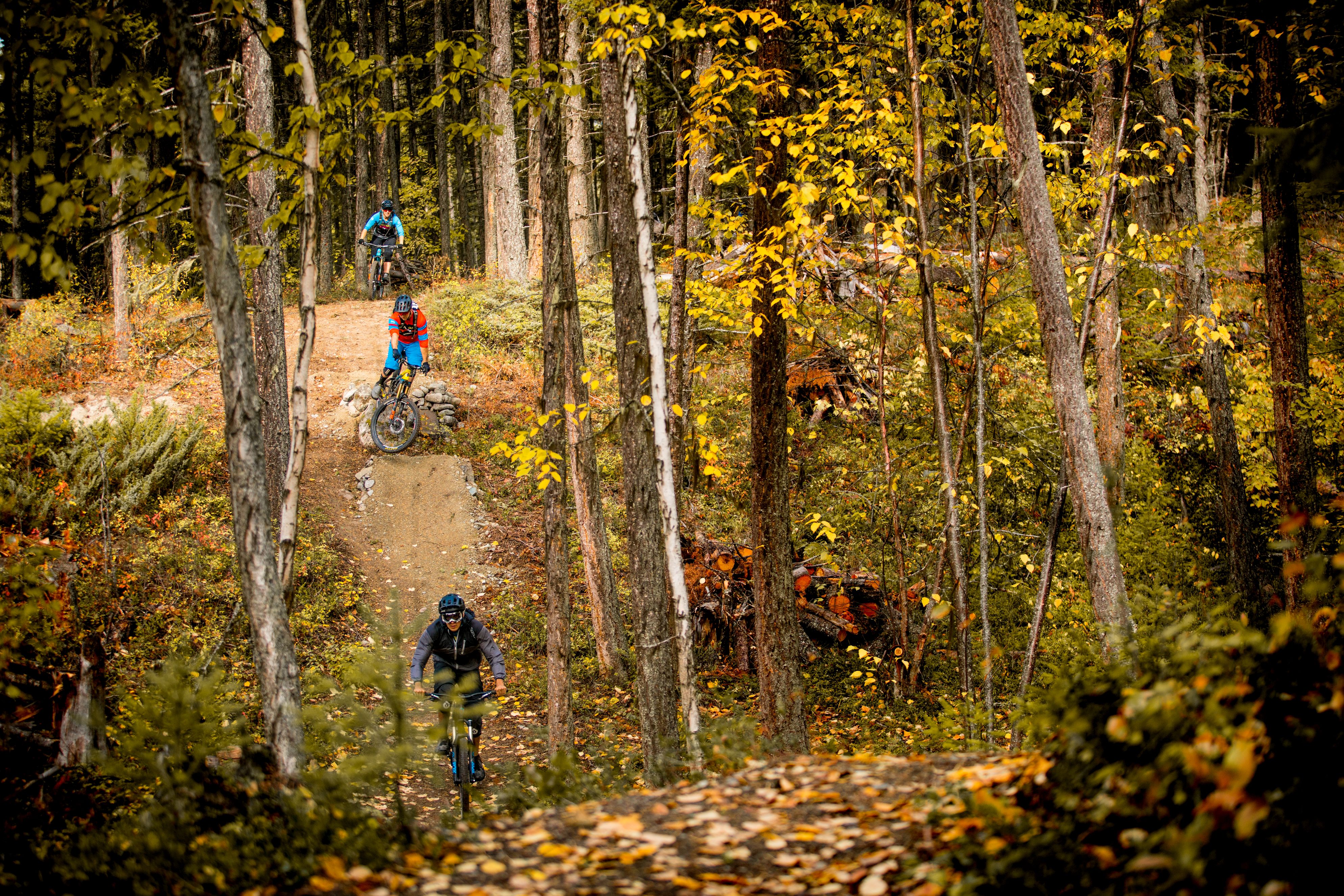 With only a short window to see their handiwork, we headed straight for the goods: Step It Up, their blue flow trail. The trail makes perfect use of the terrain on offer: with gullies strewn throughout the forest, the trail alternates between weaving gully runs and winding sections of berms and jumps between.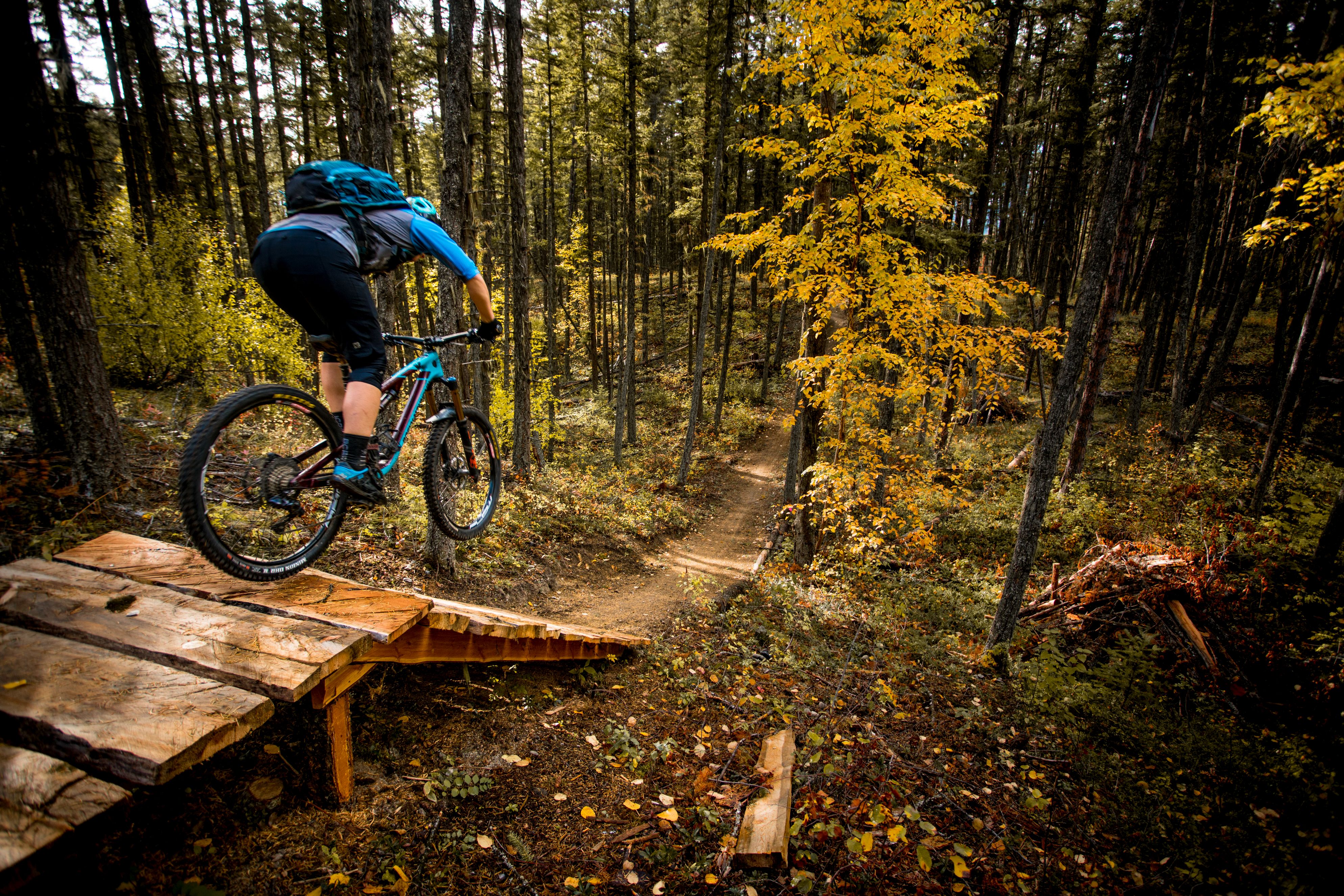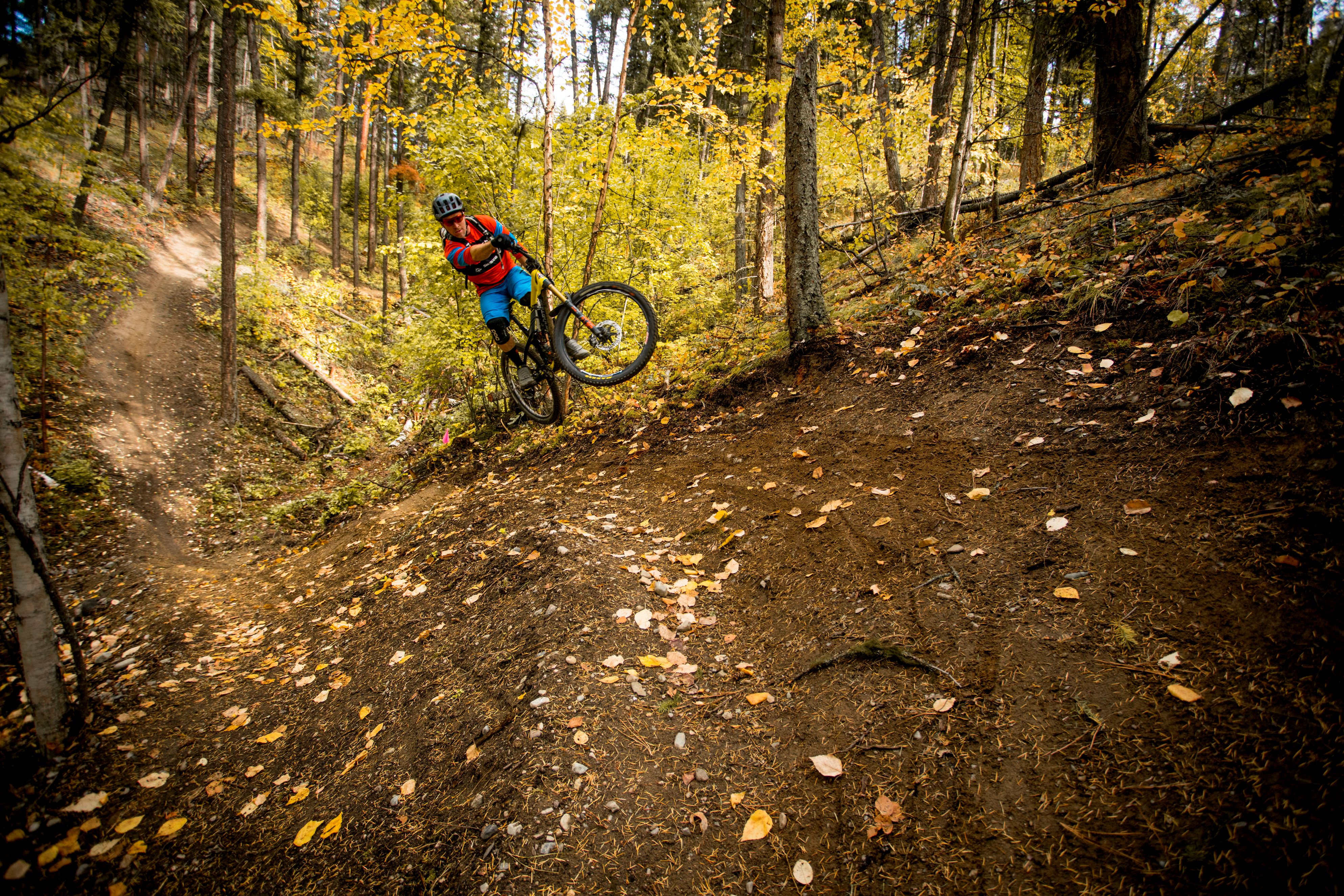 It's quickly apparent how much time and care has gone into their trails, with meticulously hand-built lines and signage everywhere. Despite this commitment, Sky has still managed to find time to put a pump-track in behind the local elementary school.
We had come on this trip to find fun trails and drink great beer, but we found something far more inspiring. We found a community of dedicated people scattered through BC's interior that were motivated to put their spades and sweat into the soil, and their voices into the community to fight for trail access for all. As we sat in the corner of the brewery with Michael and Curtis and watched it fill up on our last day in Valemount, the evening embodied why we sought out the places to ride that we did. Every town we stopped in, people welcomed us with open arms, excited to show us the best their community had to offer. Despite the challenges of finding time, man-power, and money to support trail networks, people everywhere are stepping up to take on the burden. In small towns, every trail was unique and the pride of the local riders.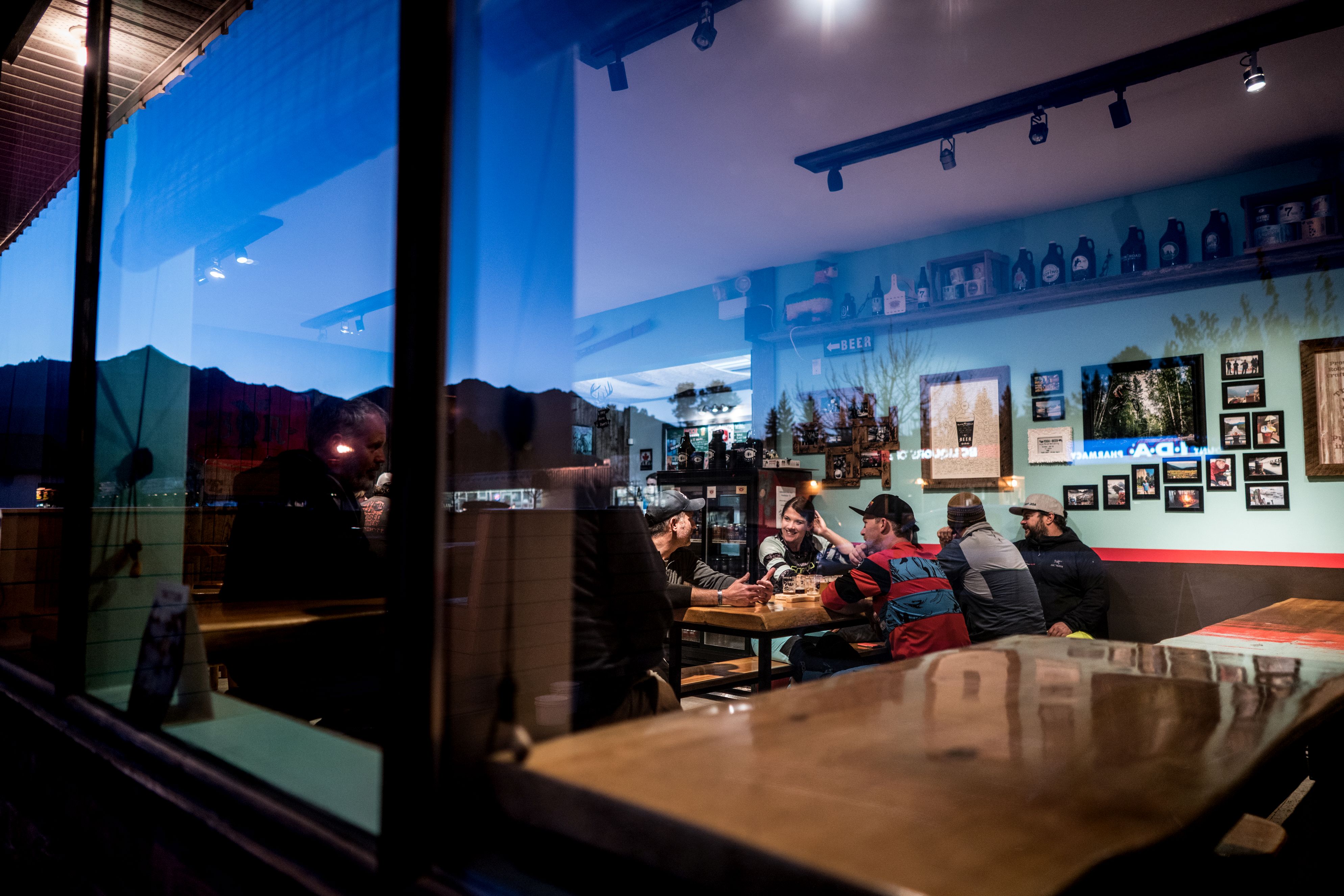 People we met genuinely wanted to chat instead of throwing out "How's it going" as a formality that didn't merit an honest reply. Meeting friends new and old, we sat in our damp clothes with frothy pints, nobody giving a second look to the mud-freckles on our faces. Rain pattered softly in the dark outside, fogged windows blurring the people inside as those people blurred the difference between new acquaintances and old friends.
Mountain Biking BC would like to thank the following organizations for their generous support:
Learn more about…